Cold Thai Noodle Salad
This post may contain affiliate links. Read my disclosure policy here.
Cold Thai Noodle Salad made with rice noodles and fresh veggies is the best cold pasta salad you'll serve this summer and it's perfect for your back to school lunches!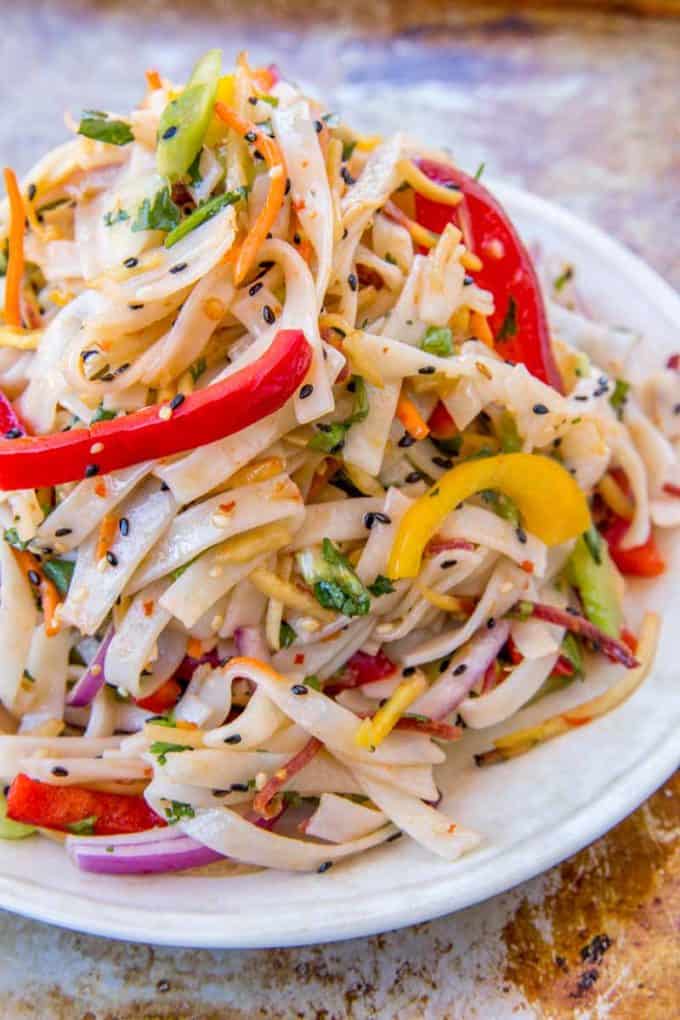 Cold Thai Noodle Salad is one of those recipes I hesitated trying as a private chef. For years and years I've cooked for families with dietary restrictions. Whether it is a caloric restriction, gluten, allergy or otherwise I started having an adverse reaction to cooking diet specific foods in my personal life There are only so many times you can make vegan pulled pork before banishing pulled veggie meats from your own kitchen! I'm looking at you Shosh!
Because of that aversion, I used to make this noodle salad for us with linguine noodles. Let me just tell you, it is 100 times better with the rice noodles.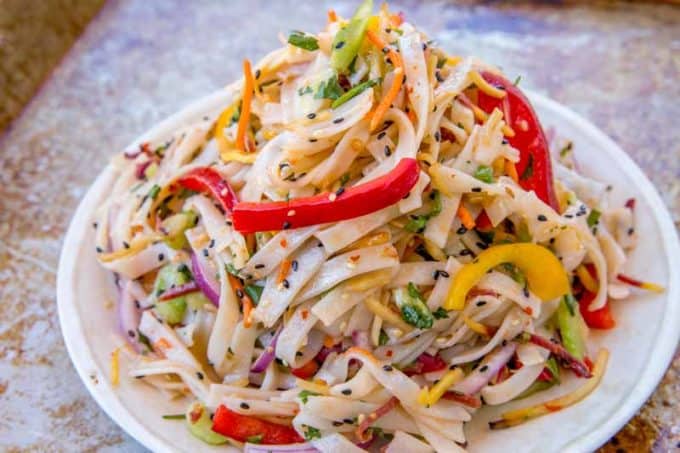 Want to swap out some ingredients in this Cold Thai Noodle Salad?
Add some green onions or scallions.
If you're not a fan of cilantro, swap it for parsley or basil to suit your tastes.
If you don't want to use sugar, a small amount of honey would be a wonderful swap as well.
Sesame oil adds quite a lot of flavor, but if you don't like the taste of it, leave it out altogether.
If you like peanut noodles, peanut butter would be an easy addition to this salad.
Looking for more Asian noodles?
This Thai Noodle Salad is the perfect summer salad, perfect for your lunch box and even kids love it. It's full of vegetables that bring a brightness and colorful presentation to the salad, but they're also deliciously crunchy and healthy. Yes, I know the person who brought you bacon cheeseburger meatloaf last week just said healthy. It's all about balance. So make this dish and serve it along side some Crispy Mongolian Beef… balance!
Looking for more Thai recipes?
Tools Used in the making of this Cold Thai Noodle Salad:
Rice Noodles: These rice noodles are amazing and make this dish what it is. Worth the extra effort to buy these online or in your local Asian grocery store. Plus, hey if you use tamari sauce in place of soy sauce, this dish is gluten free!
Rice Vinegar: Readily available in almost all grocers these days, this is a great vinegar to keep on hand. It does have a hint of sweetness to it, so don't replace with any other vinegar except perhaps a red wine vinegar if you absolutely need to.
Soy Sauce: Nothing much to say here except Kikkoman has the best flavor overall and I always recommend reduced sodium.
Sesame Oil: The flavor of sesame oil in this dish is unmistakeable and not really able to be substituted. Some Asian grocery stores will try and sell less expensive options that aren't actually sesame oil, so just be sure the one you're buying is authentic sesame oil.

Dinner, then Dessert, Inc. owns the copyright on all images and text and does not allow for its original recipes and pictures to be reproduced anywhere other than at this site unless authorization is given. If you enjoyed the recipe and would like to publish it on your own site, please re-write it in your own words, and link back to my site and recipe page. Read my disclosure and copyright policy. This post may contain affiliate links.