Sheet Pan Peanut Chicken and Vegetables
This post may contain affiliate links. Read my disclosure policy here.
Sheet Pan Peanut Chicken and Vegetables is an easy, but authentic weeknight dinner with almost no cleanup! Serve with rice or noodles.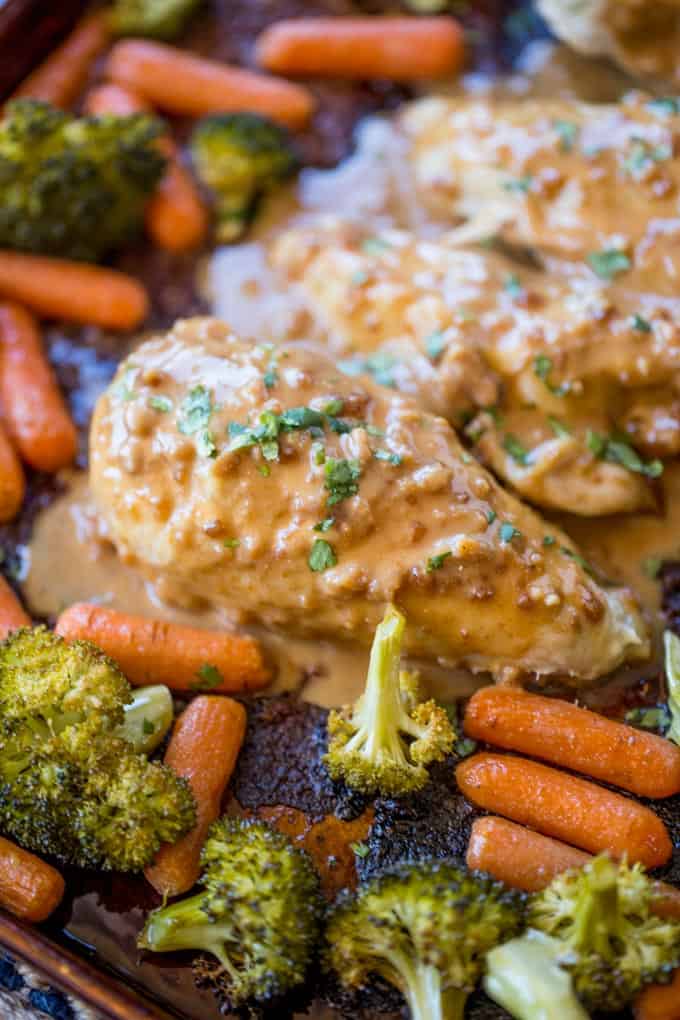 Sheet Pan Peanut Chicken and Vegetables made with peanut butter, garlic, coconut milk, lime and honey for a peanut sauce that rivals your favorite version from your neighborhood thai restaurant. Aside from the Sheet Pan Korean Chicken and Vegetables we make a lot of dishes on sheet pans these days including my favorite cashew chicken from the Cheesecake Factory.
Most meals we serve in the house include roasted vegetables because its a surefire way to get the little ones to eat them. Since I roast them nightly we started experimenting with sheet pan meals so I wouldn't have to actively cook during the hours of the night that all children seem to lose their minds.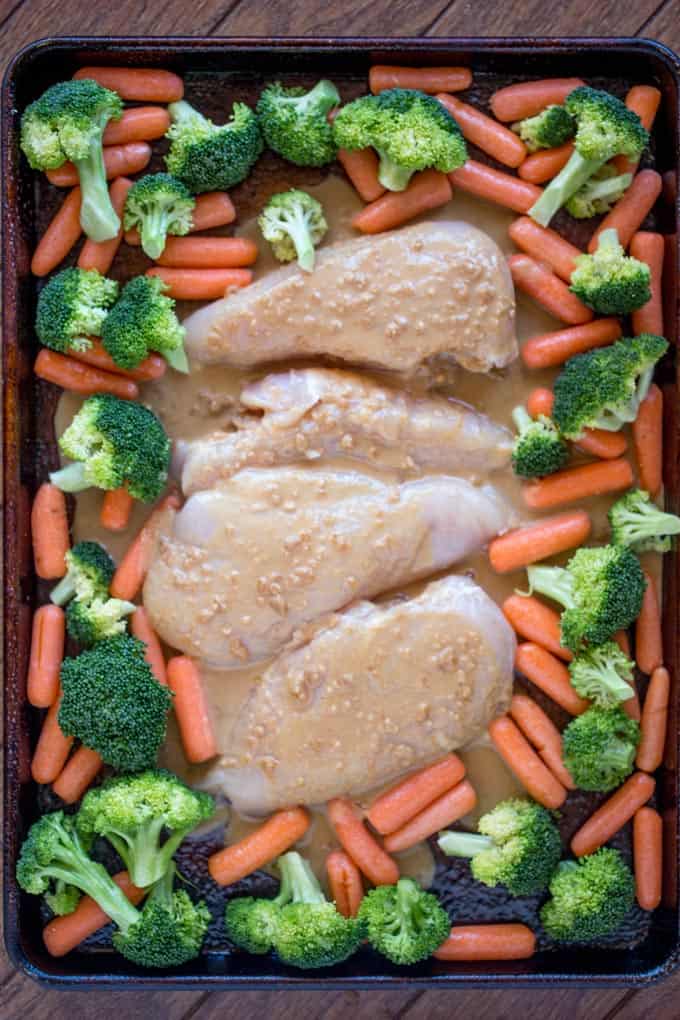 Let's talk customization because I know everyone wants to change things up:
Yes, lite coconut milk is fine
Agave instead of honey is fine too
Powdered ginger and garlic will work if necessary
Add a bit of soy sauce to the oil with the veggies for even more flavor
Please just remember the better the quality of your ingredients the better the meal will come out. So while substitutions will work, it will work the most successfully as written.
Looking for more savory dishes with peanut butter?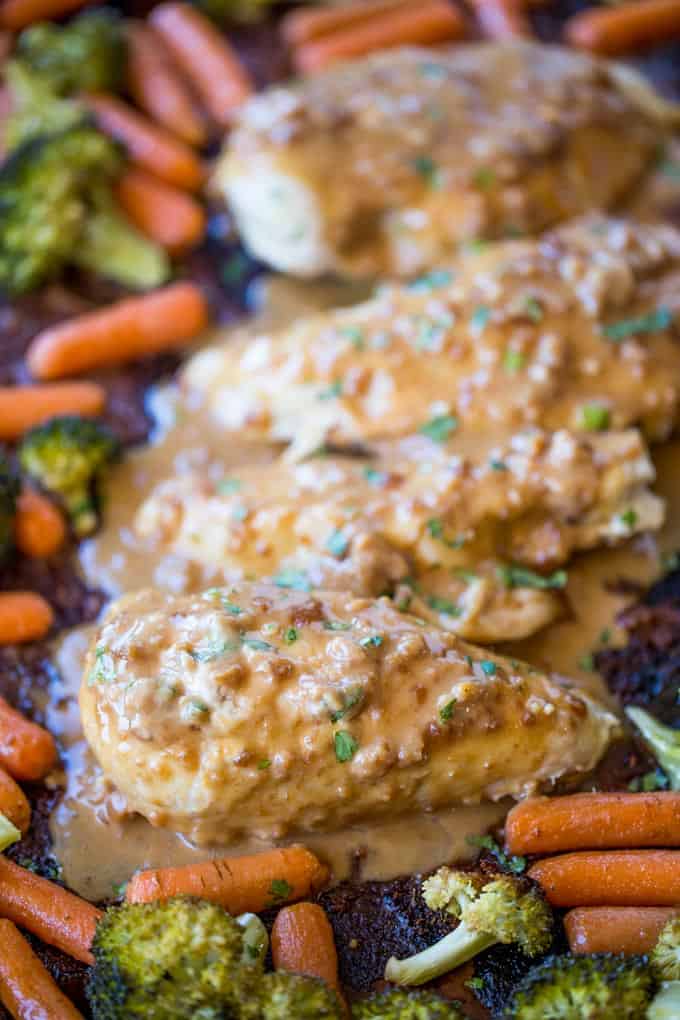 Tools used in the making of this Sheet Pan Peanut Chicken and Vegetables recipe:
Sheet Pan: A classic, inexpensive sheet pan that is high quality and can hold up to high temperatures in the oven.
Sesame Oil: The flavor of sesame oil in this dish is unmistakeable and not really able to be substituted. Some Asian grocery stores will try and sell less expensive options that aren't actually sesame oil, so just be sure the one you're buying is authentic sesame oil.
Coconut Milk: This coconut milk is the perfect size and has never let me down (and I am all for original coconut milk in this recipe), but for a lighter version I like this brand's lite coconut milk better.
Low Sodium Soy Sauce – I find regular soy sauce much too salty, remember you can always add salt but you can't subtract it. Starting with low sodium allows you to alter to your tastes if necessary.
MY OTHER RECIPES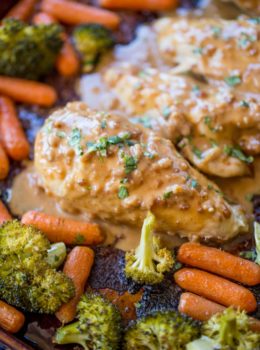 Sheet Pan Peanut Chicken and Veggies
Sheet Pan Peanut Chicken and Vegetables is an easy, but authentic weeknight dinner with almost no cleanup! Serve with rice or noodles.
Prep Time 10 minutes
Cook Time 30 minutes
Total Time 40 minutes
Ingredients
4 chicken breasts boneless skinless
1/2 can coconut milk 7 ounces
1/3 cup creamy peanut butter
2 tablespoons soy sauce low-sodium
2 tablespoons honey
1 tablespoon rice wine vinegar
1 tablespoon lime juice
1/2 teaspoon sesame oil
1 tablespoon minced ginger
1 tablespoon minced garlic
1 tablespoon canola oil
1 pound baby carrots
1 pound broccoli florets
cilantro for garnish
Instructions
Preheat the oven to 375 degrees.

In a large bowl mix the chicken, coconut milk, peanut butter, soy sauce, honey, rice wine vinegar, lime juice, sesame oil, garlic and ginger.

Place the chicken into the middle of your cookie sheet scraping the leftover marinade on top of the chicken.

Add the canola oil, carrots and broccoli to the bowl, mix and add to the pan (don't worry about the small amounts of chicken sauce on it).

Cook for 25-30 minutes or until the chicken is cooked through (longer for larger pieces of chicken breast).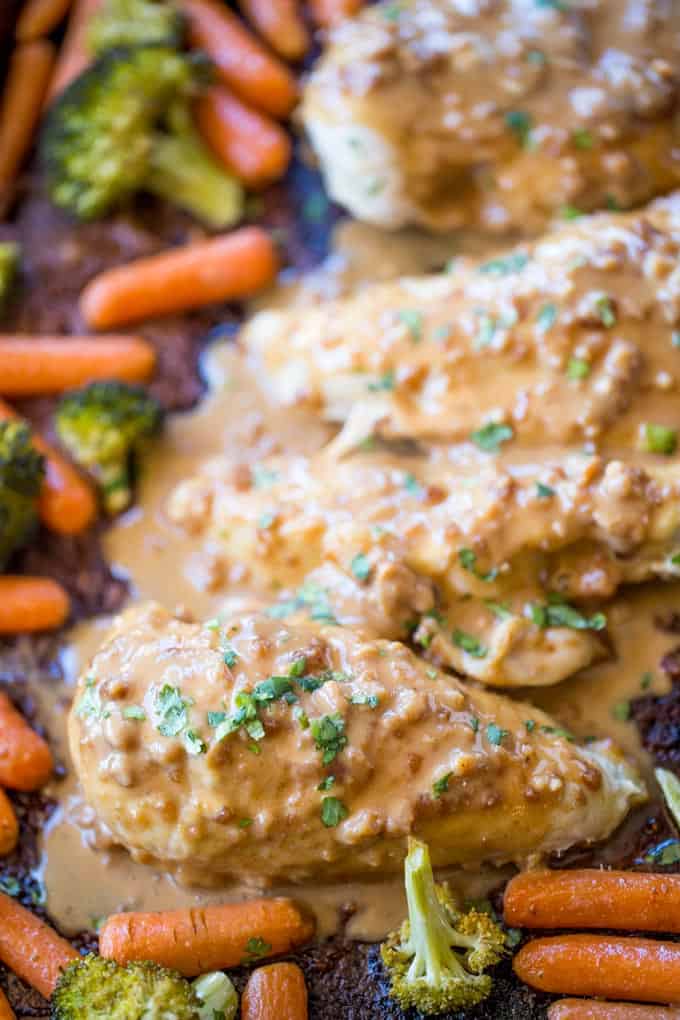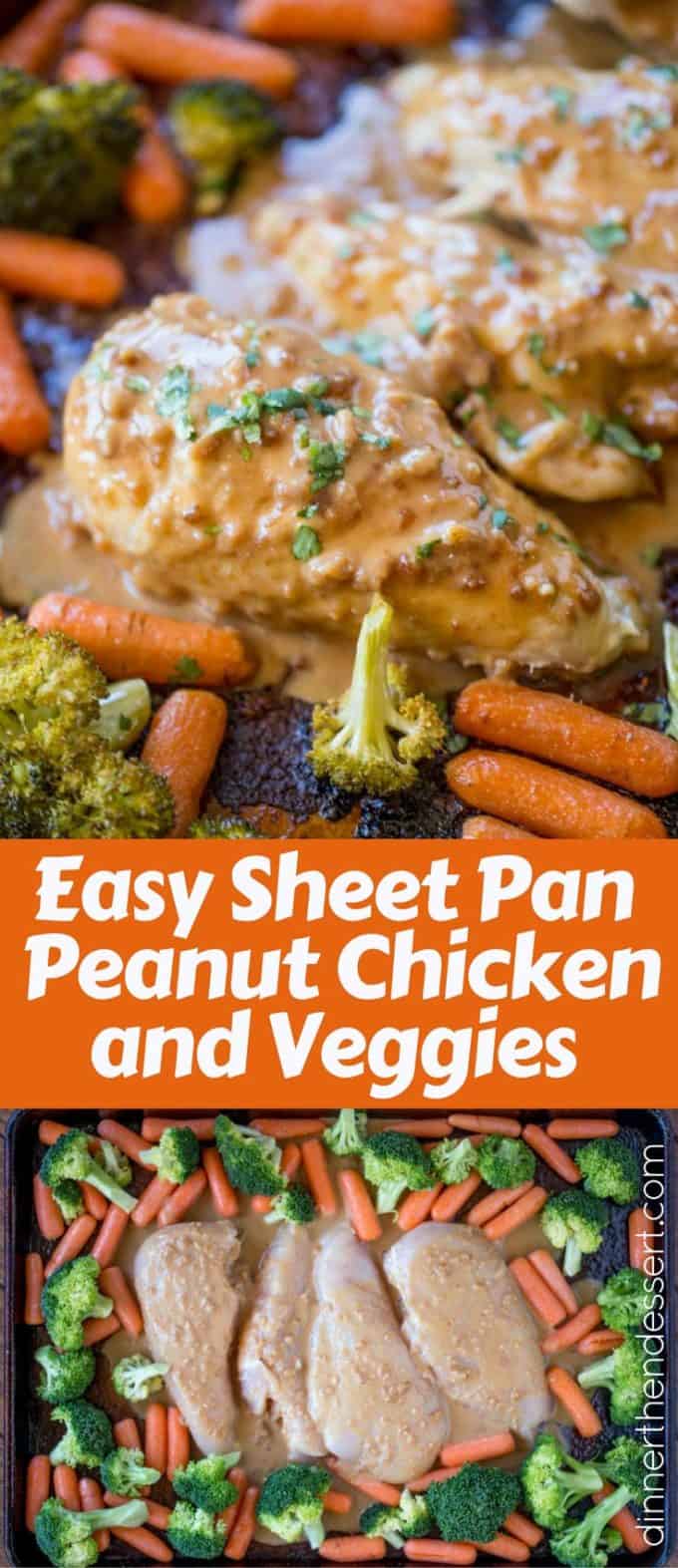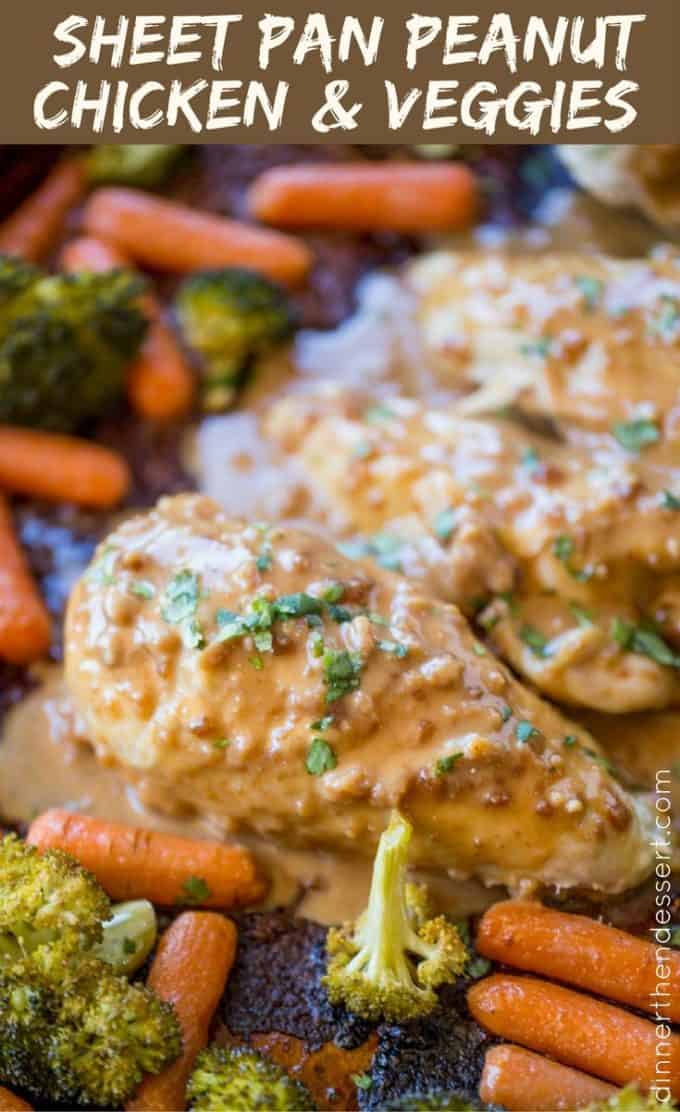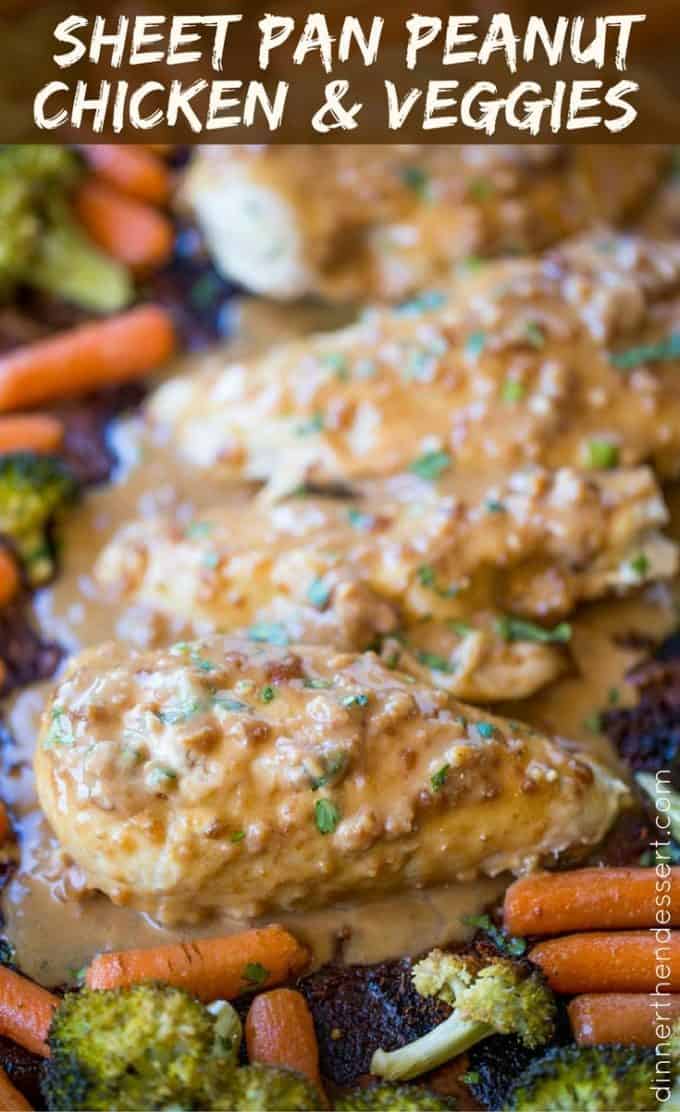 Dinner, then Dessert, Inc. owns the copyright on all images and text and does not allow for its original recipes and pictures to be reproduced anywhere other than at this site unless authorization is given. If you enjoyed the recipe and would like to publish it on your own site, please re-write it in your own words, and link back to my site and recipe page. Read my disclosure and copyright policy. This post may contain affiliate links.