Thai Basil Chicken is chicken stir fry with bright basil flavor! Chicken thighs in a spicy savory sauce with Thai chilies and fresh basil!
Quick cooking Thai Chicken Dishes like Thai Peanut Chicken and this Thai Basil Chicken stir fry make a perfect flavorful meal for hectic weeknights.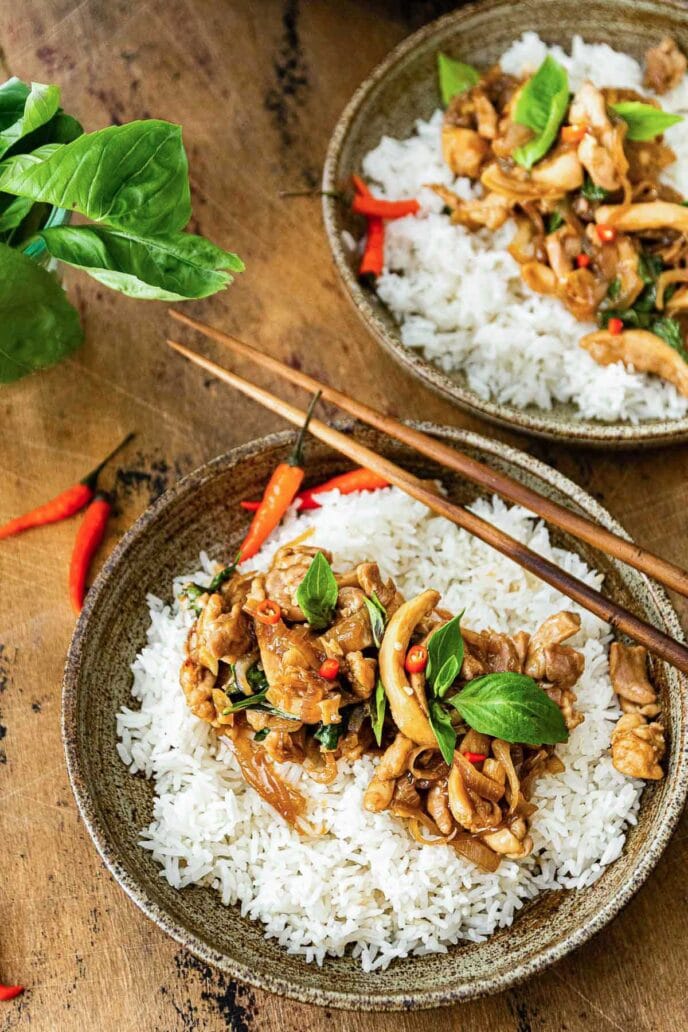 If you love Thai food, this 15-Minute Thai Basil Chicken is sure to become a go-to recipe in your house. Not only is it delicious, but the simple stir fry dish comes together in a flash. You'll want all your chicken stir fry ingredients ready to go, because once this recipe starts, you'll be adding in ingredients, stirring, and finishing it all off in no time at all.
It's amazing that this simple recipe for Thai Basil Chicken Stir Fry makes the juiciest chicken with rich flavors. With just 15 minutes and some pantry ingredients, Thai Basil Chicken is one of the easiest yet authentic Thai cooking recipes you can try. Enjoy this amazing Thai chicken dish over steamed fragrant White Rice, like jasmine rice, or with easy Thai Noodles.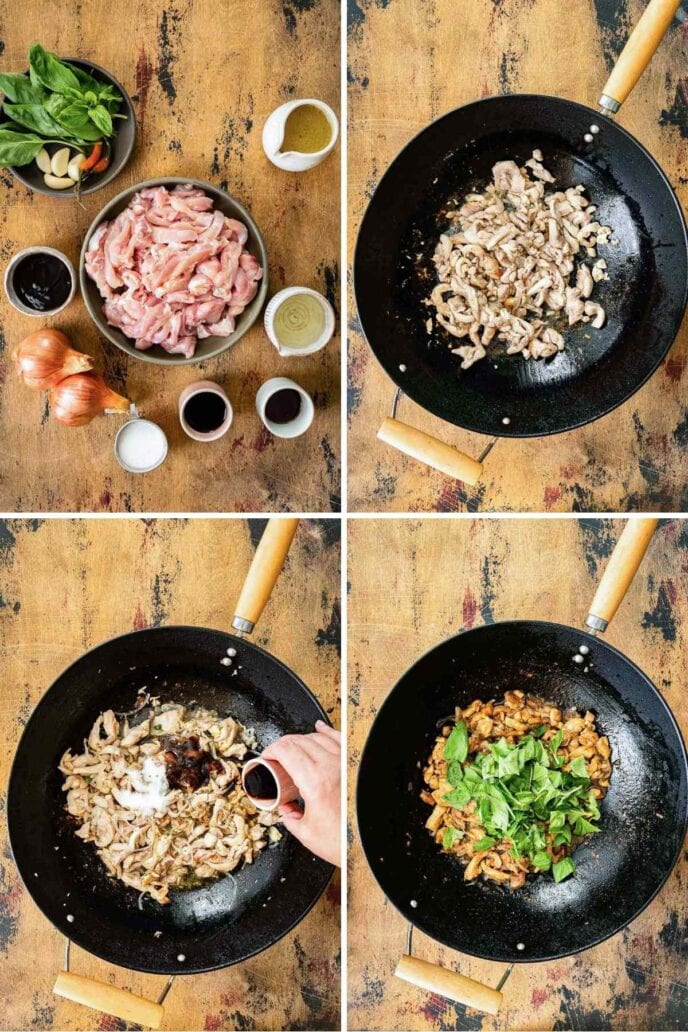 What Is Thai Basil Chicken?
Thai Basil Chicken, also known as Pad Krapow Gai, is a popular Thai stir-fry dish that features tender chicken, aromatic Thai basil, and a savory sauce. It is a flavorful and spicy dish that showcases the vibrant and aromatic flavors of Thai cuisine. The chicken is typically chopped into small pieces and stir-fried with garlic, Thai chilies, and shallots in a hot wok or skillet. The sauce, made with ingredients like oyster sauce, soy sauce, fish sauce, and sugar, adds depth and umami to the dish. The star ingredient, Thai basil, brings a unique herbal and slightly peppery taste that elevates the overall flavor profile of the dish. Served over steamed rice, Thai Basil Chicken is a delicious satisfying meal that combines heat, sweetness, the freshness of basil, and the flavorful depth of Thai cooking.
How to Make Thai Basil Chicken
Prep Time: To start this Thai Basil Chicken, chop chicken into bite-sized pieces, and slice the shallots on a cutting board to prepare them for the recipe.
Cook: Add the vegetable oil and chicken to a large skillet over high heat. Once the chicken cooks through you can add the garlic, chilies, and shallots. Cook until the shallots are translucent.
Sauce: Add the soy sauce, chicken broth, fish sauce, and sugar to the hot skillet. Let the sauce simmer, stirring occasionally until it has reduced, just a couple of minutes.
Basil: For the last step, add the basil leaves to the chicken mixture and cook until the basil is wilted. Remove the pan from the heat so it stops cooking. Serve hot over steamed rice or with noodles.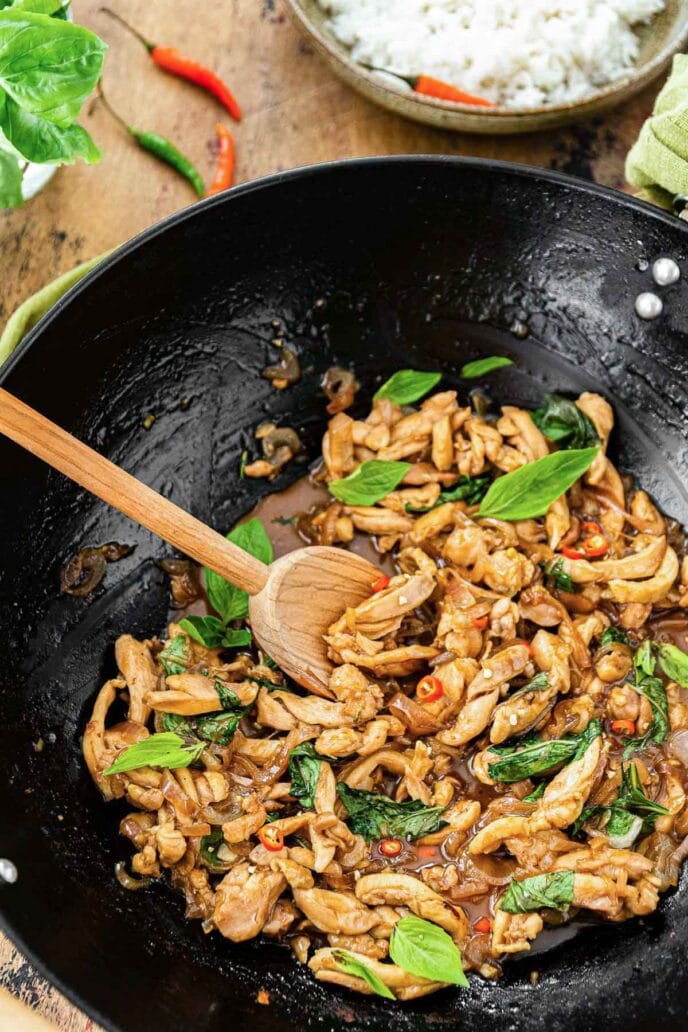 Perfect Sides for Thai Stir Fries
FAQs for Thai Basil Chicken
What does pad krapow mean?
In Thai, "pad" means fried and "krapow" is actually the real name for Thai basil, also known as Holy basil. So Pad Krapow means a stir fry dish with Thai basil leaves. Gai is the Thai word for chicken, so Pad Krapow Gai translates to a Thai basil chicken stir fry.
Is Thai Basil Chicken spicy?
This is a fairly spicy Thai Chicken Stir-Fry dish thanks to the Thai chili pepper. They are also called bird's eye chilis and they are much spicier than jalapeno and serrano chilies. If you want to tone down the heat, reduce the amount of chilies or swap them out with less spicy chilies.
What's the difference between Italian or Sweet Basil and Thai Basil?
Regular basil, or Italian basil, has a sweet and slightly peppery taste, commonly used in Mediterranean and Italian cuisines. Thai basil has a more pronounced anise or licorice-like flavor with hints of mint and citrus. Thai basil is often used in Southeast Asian dishes, especially in Thai cuisine, to add a distinctive herbal and aromatic element to stir-fries, curries, and noodle dishes.

Create a free account to

Save Recipes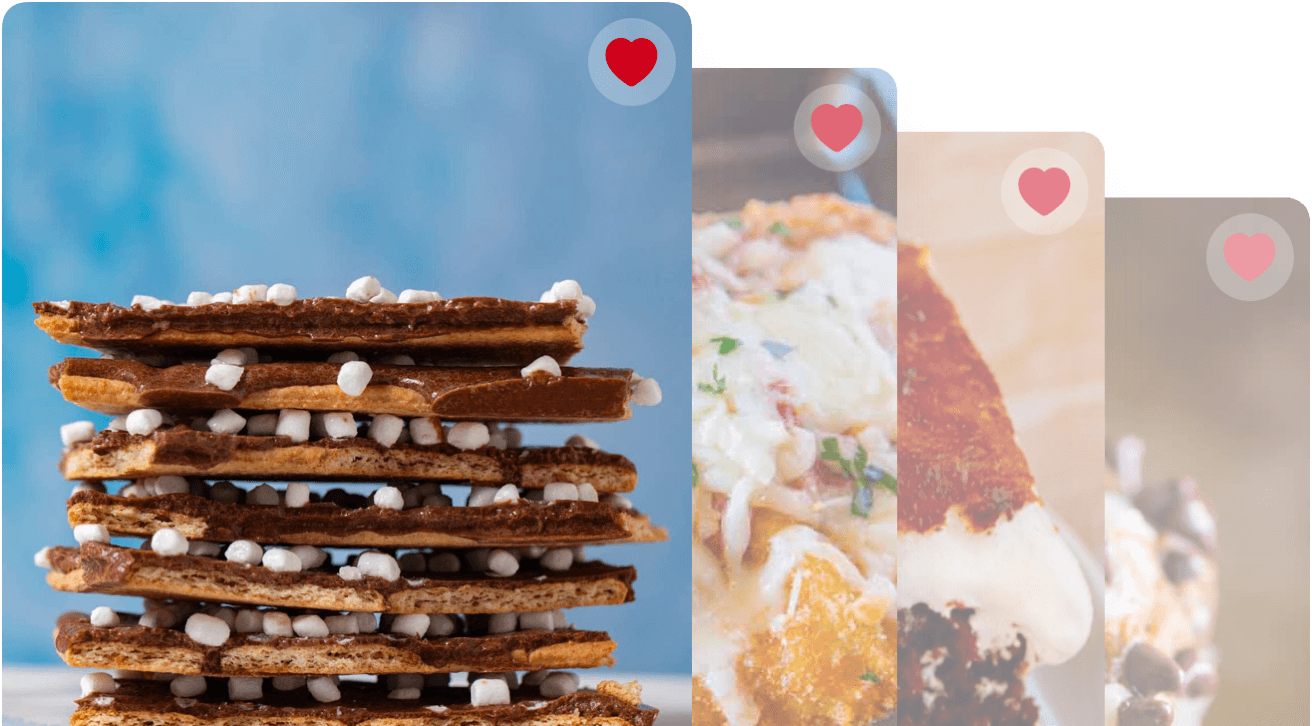 Key Ingredients
Chicken: Boneless chicken thighs are great for stir fries because they stay juicy and flavorful despite the high heat and short cooking time. The thighs are chopped into small pieces for a quicker cook time.
Aromatics: Garlic is common in Thai cooking, adding it's signature pungent and aromatic flavor. Shallots are used for their mild onion-like flavor. They are thinly sliced and cooked with the garlic and chilies to add sweetness without overpowering the delicate taste of the Thai basil.
Thai Chilies: Thai chilies are small, hot peppers that provide a fiery heat to Thai recipes. They are much hotter than jalapenos and serrano peppers, but not quite as hot as habanero peppers.
Sauces: This delicious Thai Basil Chicken recipe is made with a blend of popular, flavorful Asian sauces. Oyster sauce, low-sodium soy sauce, and fish sauce all add different layers of savory, umami, and salty flavor to the dish.
Chicken Broth: Chicken broth is used to create a flavorful sauce and provide moisture to the stir-fry, while bringing out the stronger flavors of the Asian sauce mixture.
White Sugar: White sugar is used to balance out the flavors by adding a touch of sweetness. It helps to round out the spiciness and saltiness of the sauce ingredients.
Fresh Basil: Fresh basil leaves are a key ingredient in Thai Basil Chicken. They provide a fresh and aromatic flavor, adding a distinctive Thai taste to the dish. The basil is thinly sliced and added at the end to retain its bright flavor and fragrance.
Can Thai Basil Chicken be made ahead of time?
This Thai Basil Chicken is also great for meal prep. Once you've baked the rich, flavorful chicken, it will last well in the freezer for up to 6 months. You can easily make the recipe a double batch, and freeze the other half for a ready-made freezer meal. Keep the chicken in a freezer bag or another freezer-safe airtight container and save it for later.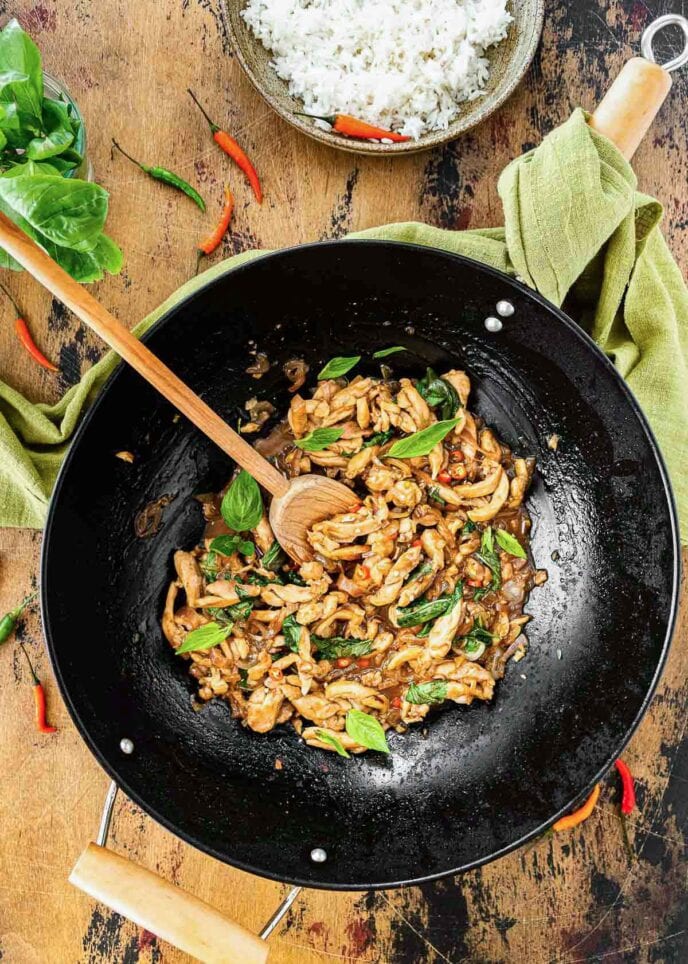 Variations
Stir Fry Sauce: You can make a slightly different, popular stir fry sauce for Thai Basil Chicken. Combine ½ cup dark soy sauce, ½ cup stock, 1 tablespoon honey, 1 teaspoon sesame oil, 1 teaspoon rice vinegar, some ginger, and 2 minced garlic cloves. Cook the pieces of chicken in this stir fry sauce along with the basil like normal.
Brown Sugar: For a darker flavor, you can use brown sugar instead of white sugar. You could also use coconut sugar instead of granulated sugar too.
Seasonings: For some extra flavor mix in coriander powder, dry mustard, ginger, or cayenne powder. Try some lemongrass, mint, or scallions for a more bright, fresh flavor.
Basil: If you can't find Thai basil, or just want a dish that's a bit more familiar in flavor, you can use traditional basil instead. If you can find it, lemon basil would add a punch of bright citrus flavor too.
Add-Ins: For some delicious vegetable add-ins, mix some chopped bell pepper, red onion, carrots, and snap peas into the recipe. Apart from veggies, try mixing in peanuts, bamboo shoots, bean sprouts or unsalted cashews for some crunch.
Chicken: 15-Minute Thai Basil Chicken can also be made with ground chicken or chicken breast. The boneless chicken breast cooks faster, so keep your eye on it to make sure it doesn't burn or fry out.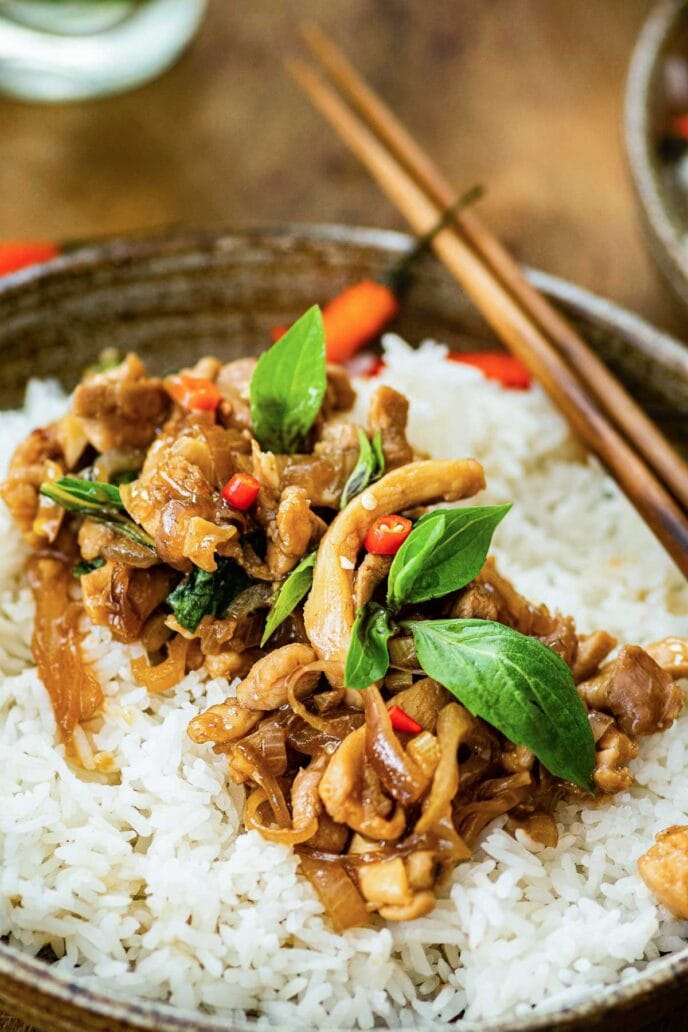 How to Store
Store: After no more than 2 hours at room temperature, you need to store any leftover Thai Basil Chicken. It will stay good for up to 4 days in the refrigerator. Store the chicken and sauce in an airtight container after it has cooled.
Reheat: For best results, reheat your chicken and sauce in a covered skillet over low heat until it's warmed through. Slowly heating it and covering the pan allows it to reheat evenly without drying out.
Freeze: Once it has completely cooled, store your Thai Basil Chicken in a freezer safe container with the sauce. Freeze for up to 3 months and thaw overnight in the fridge before reheating in a skillet.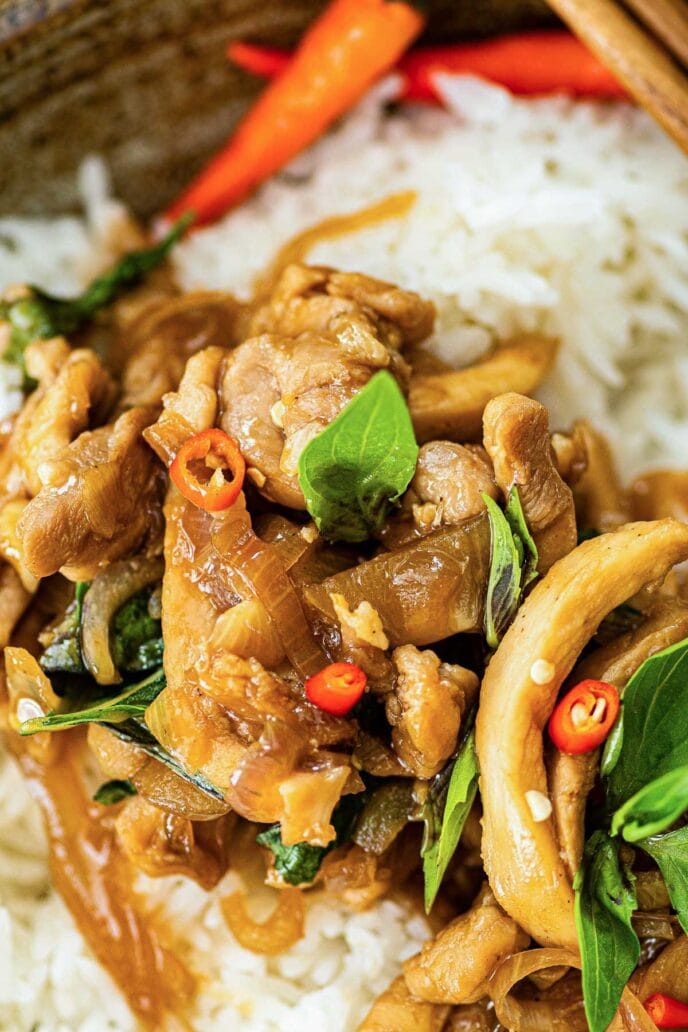 Ingredients
2

tablespoons

vegetable oil

5

chicken thighs

, chopped into 1/4" pieces

4

cloves

garlic

, minced

2

Thai chilies

, minced

2

shallots

, thinly sliced

1/2

cup

chicken broth

1

tablespoon

oyster sauce

1

tablespoon

low sodium soy sauce

1

teaspoon

fish sauce

1

tablespoon

white sugar

1

cup

fresh basil

, thinly sliced
Instructions
Add the vegetable oil and chicken to a large skillet or wok on high heat and cook until the chicken is cooked through, about

3-5 minutes

.

Add in the garlic, chilies, and shallots to the pan and cook for an additional

3-4 minutes

until they are translucent.

Add in the chicken broth, soy sauce, fish sauce, and sugar, mixing well, and let it reduce for

2-3 minutes

until thickened.

Mix in the basil leaves and cook for

30 seconds

until wilted.
Nutrition
Calories:
412
kcal
|
Carbohydrates:
9
g
|
Protein:
25
g
|
Fat:
31
g
|
Saturated Fat:
7
g
|
Polyunsaturated Fat:
9
g
|
Monounsaturated Fat:
11
g
|
Trans Fat:
0.2
g
|
Cholesterol:
139
mg
|
Sodium:
607
mg
|
Potassium:
460
mg
|
Fiber:
1
g
|
Sugar:
5
g
|
Vitamin A:
642
IU
|
Vitamin C:
35
mg
|
Calcium:
40
mg
|
Iron:
2
mg