Savory, delicious skinless chicken thighs baked in a quick homemade Thai peanut sauce that's ready in just 35 minutes then topped with crushed peanuts. 
Thai dishes like Baked Thai Peanut Chicken is savory and delicious, especially if you want to make something fast and easy. I've made some really popular Thai recipes before that you all loved, including Chicken Pad Thai, CPK Thai Peanut Chicken Pasta (this recipe has a cult following on the site!) and Pad See Ew (Thai Stir Fried Noodles) so I'm adding another Thai dish to the list, especially one with such a nice cooking time.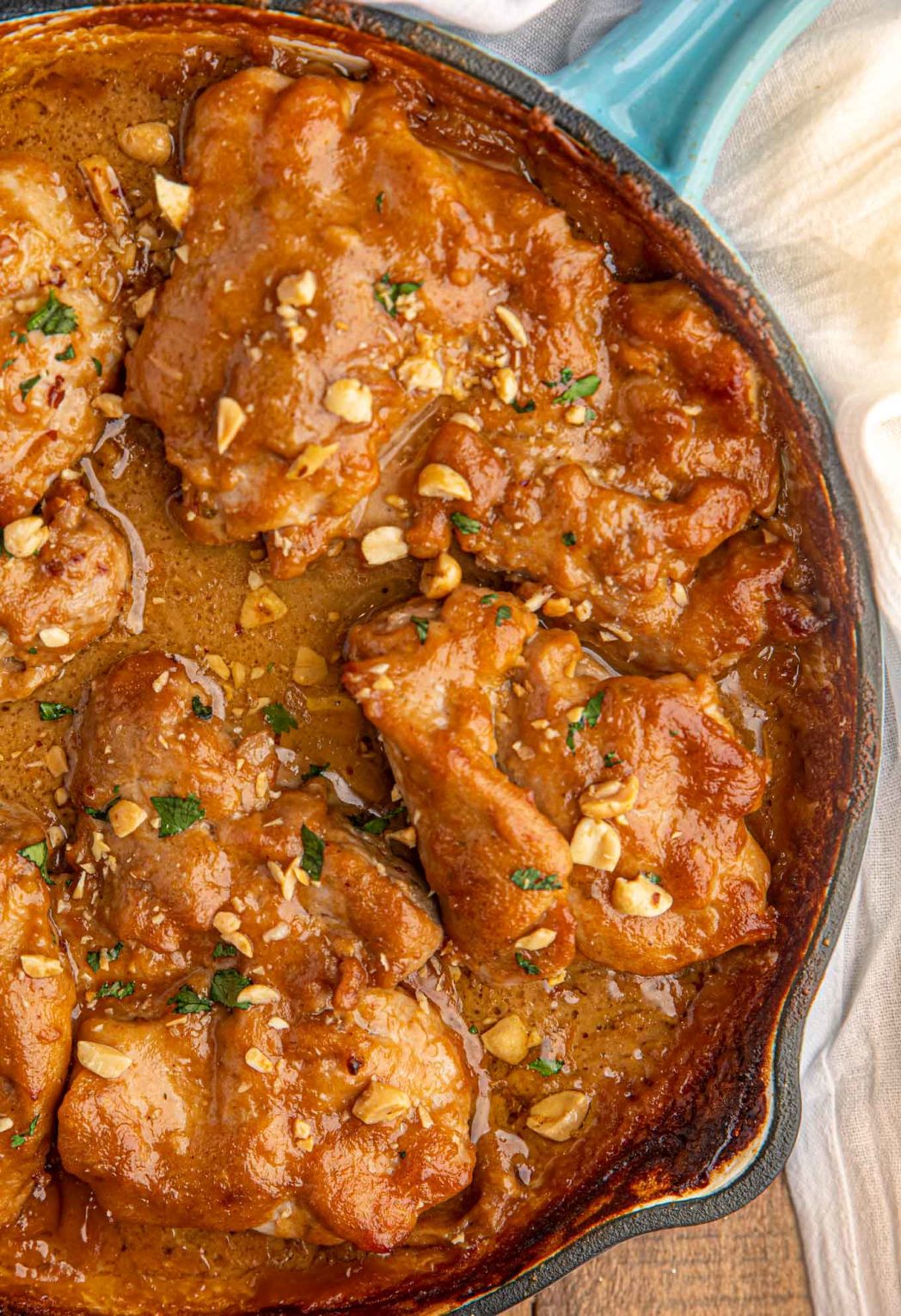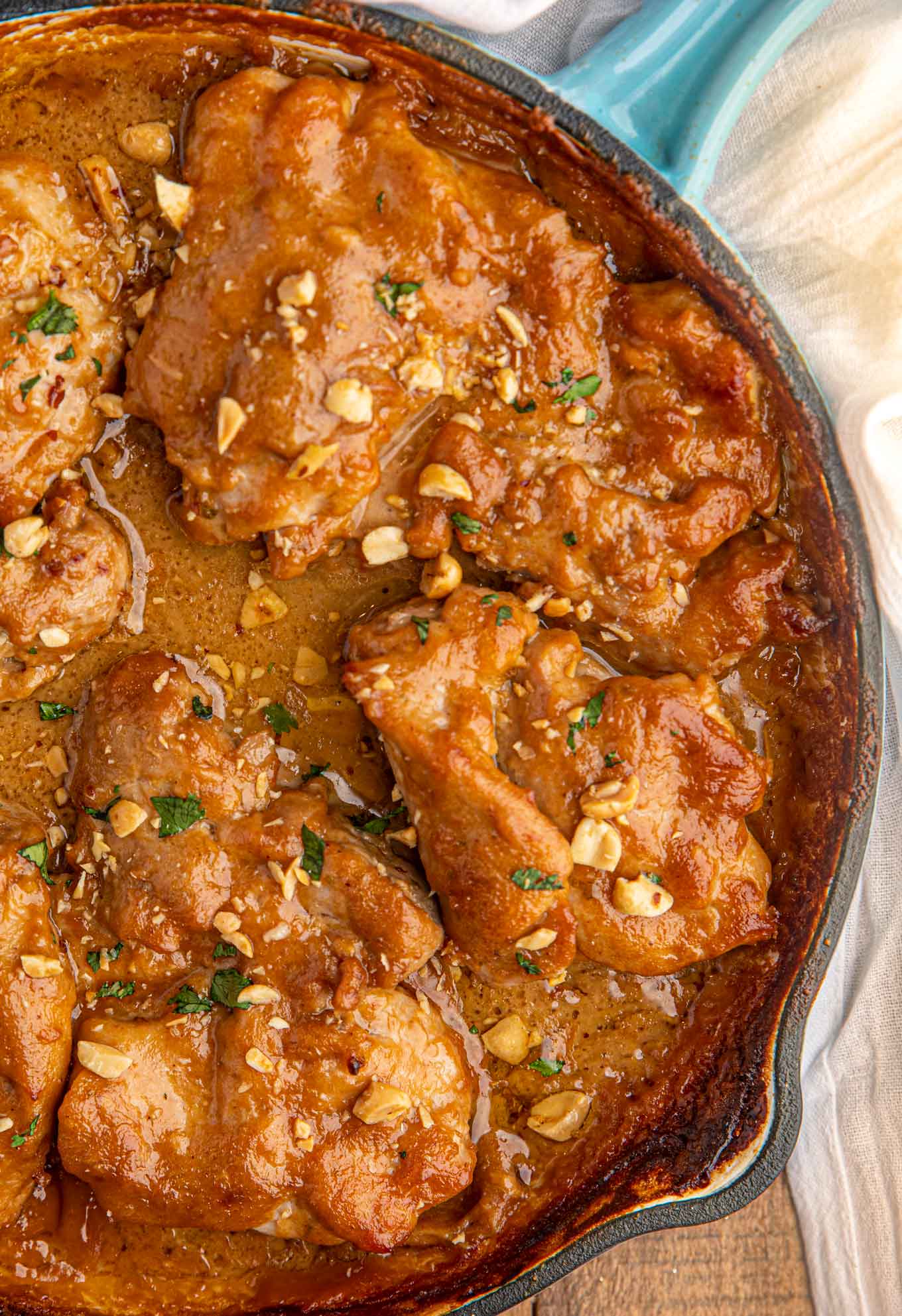 BAKED THAI PEANUT CHICKEN
If you are craving something delicious but don't want to spend the money to go out to dinner, try making Baked Thai Peanut Chicken. It's quick, it's delicious, and it's so easy. Peanut sauce is thick and savory, and it brings out the natural flavor of the chicken perfectly.
Plus the recipe only takes a quick second to prepare so you can go on with your weeknight routine without having to worry about dinner. If this is your first time making Thai peanut sauce, you'll be able to trick everyone into thinking you're a pro.
If you liked this recipe and want some more like it, try our Thai Green Curry or Thai Peanut Chicken Wraps. For those times when you want to whip out the crockpot, check out our Slow Cooker Thai Peanut Chicken.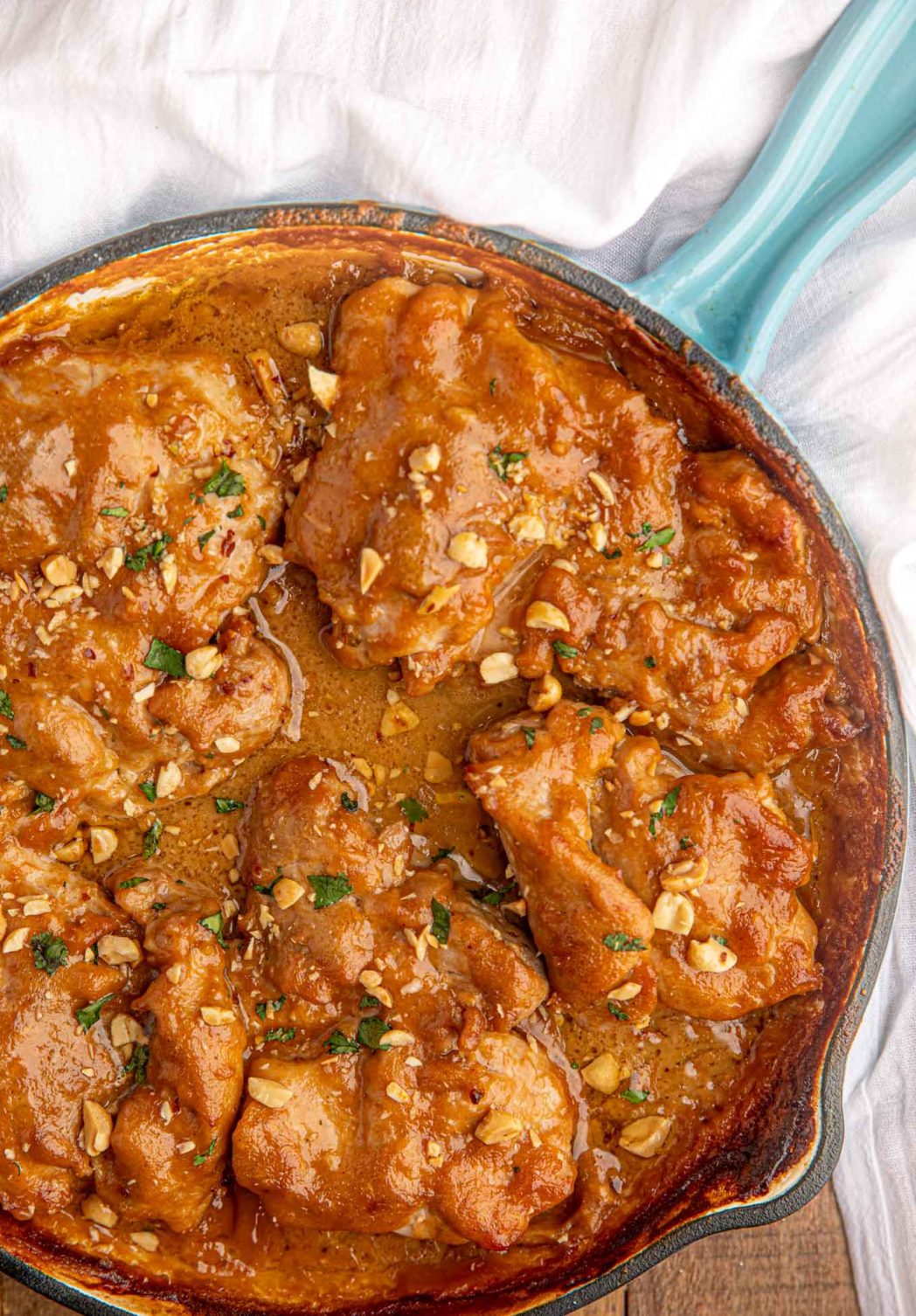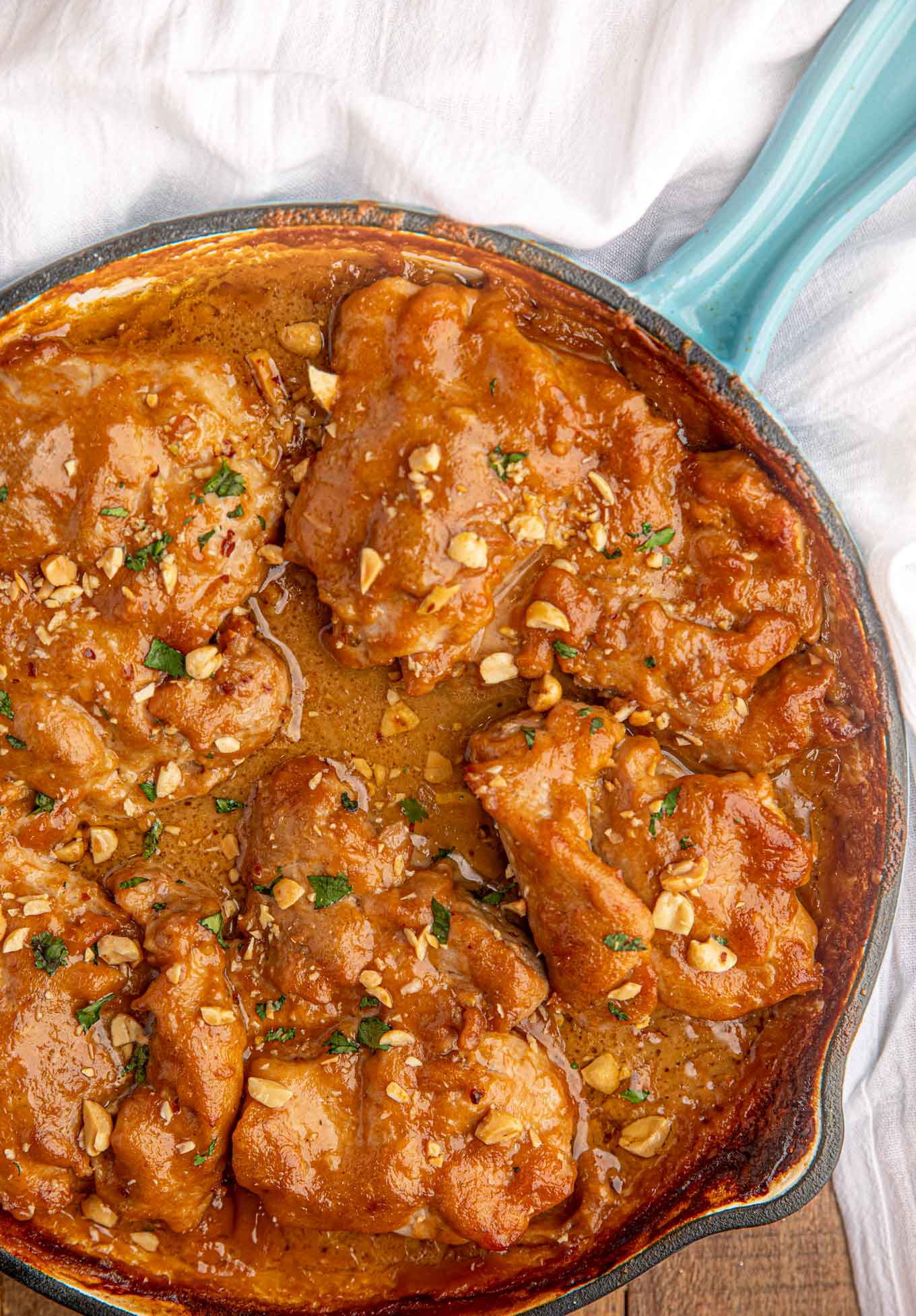 HOW TO MAKE PEANUT CHICKEN
Preheat your oven to 350 degrees F.
Mince both the garlic and fresh ginger.
Mix your chicken, coconut milk, peanut butter, soy sauce, honey, vinegar, lime juice, sesame oil, garlic and ginger in a large bowl.
Make sure that the chicken gets thoroughly soaked.
Put the chicken a baking dish with the smooth side down
Pour the rest of the sauce over it.
Put it in the oven for 35 minutes.
Check the thickest part with a probe thermometer to make sure it's cooked through.
Serve it up alone or on top of steamed rice.
Chop up some fresh cilantro as garnish.

Create a free account to Save Recipes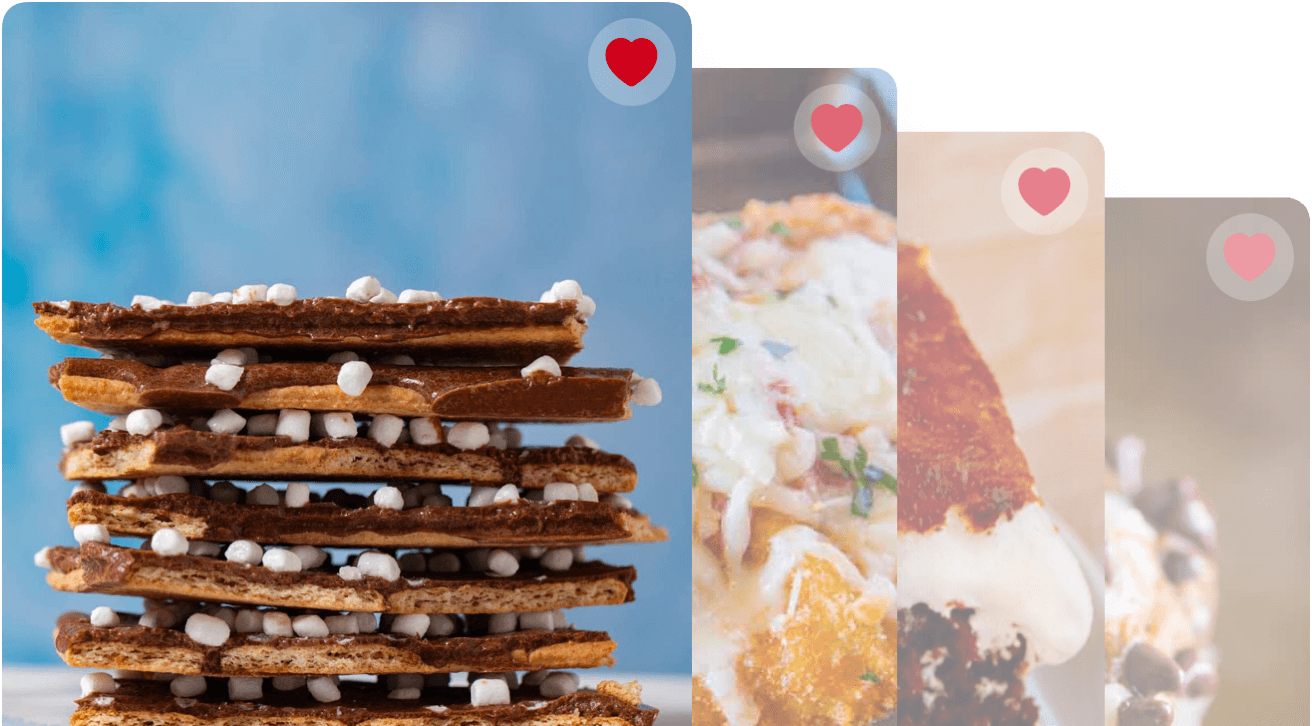 VARIATIONS AND TOPPINGS
Cilantro: Some chopped cilantro can add some great color and flavor to the dish.
Veggies: You can try a variety of chopped vegetables in this recipe, such as bell peppers, green onions and snow peas, just to name a couple.
Crushed Red Pepper Flakes: Dust the top of the chicken with red pepper flakes for a crunch that also has some spice to it.
Fish Sauce: Fish sauce is an umami lover's dream, since it is packed with flavor and can cover a lot of ground. Add a teaspoon or two to your sauce and stir just before serving for a more umami flavor.
Sriracha: They say that sriracha goes with anything (there's even sriracha ice cream for the brave.) A few drops on Thai chicken is perfect for anyone who likes their food to bite back a little.
Rice Noodles: Instead of serving Baked Thai Peanut Chicken over rice, try rice noodles instead. They have a great texture and absorb sauce well so that each bite is full of flavor.
SIDE DISHES
Now that you have a main course, here are some ideas for sides.
PEANUT SAUCE 
Peanut sauce is popular in a ton of Asian dishes, and is the most well known in Thai food. But where does it come from? South America is probably not the answer you were thinking, was it?
Peanuts are native to South America, and when merchants and missionaries from Portugal and Spain began to travel to Asia, specifically Indonesia, they brought peanuts with them. The legumes thrived in the Indonesian climate and were quickly developed into a tasty sauce called bumbu kacang. 
Peanut sauce picked up steam in South Asia, mostly China, Vietnam and Singapore, and is now used in too many recipes to name, from stir-fry to French fries. Peanut sauce is also an international favorite that you can find at your grocery store, but it's much more fun and tasty to make your own.
In a lot dishes, including our Baked Thai Peanut Chicken (and Thai Peanut Shrimp), peanut butter is used as a base for the sauce instead of chopped peanuts.
HOW LONG DOES THAI PEANUT CHICKEN KEEP?
Serve: Don't leave cooked chicken out for longer than 2 hours, or it will start to grow things.
Store: Your leftovers will be good in the fridge for up to 3 days.
Freeze: In an airtight container, Baked Thai Peanut Chicken is good for up to 4 months.
WHEN IS IT SAFE TO EAT?
According to the USDA's website, chicken is fully cooked at 165 degrees F (73.8 degrees C).  Since we are cooking this chicken in the oven for so long you'll likely have no issues with temperature but when it comes to salmonella better safe than sorry!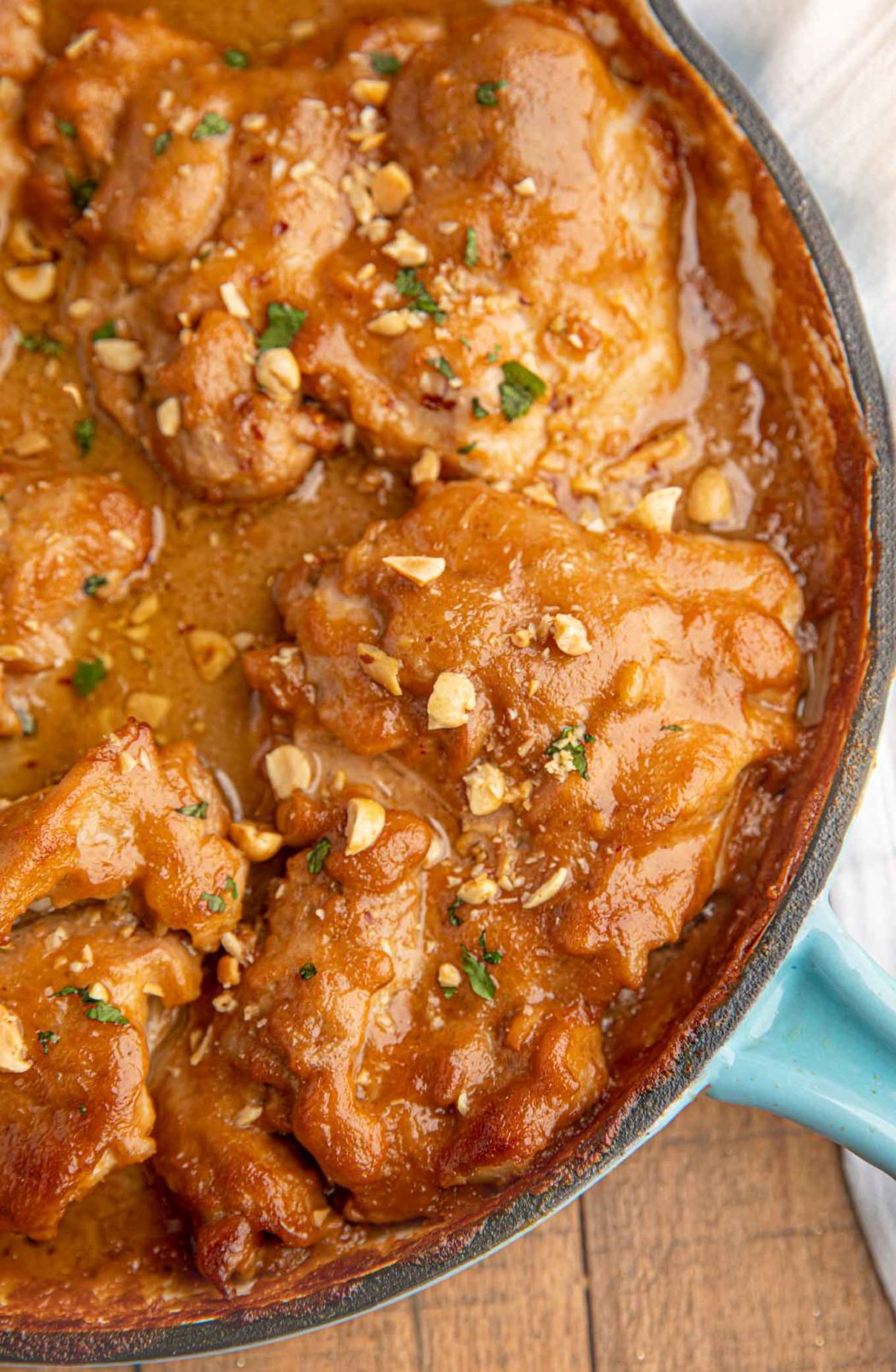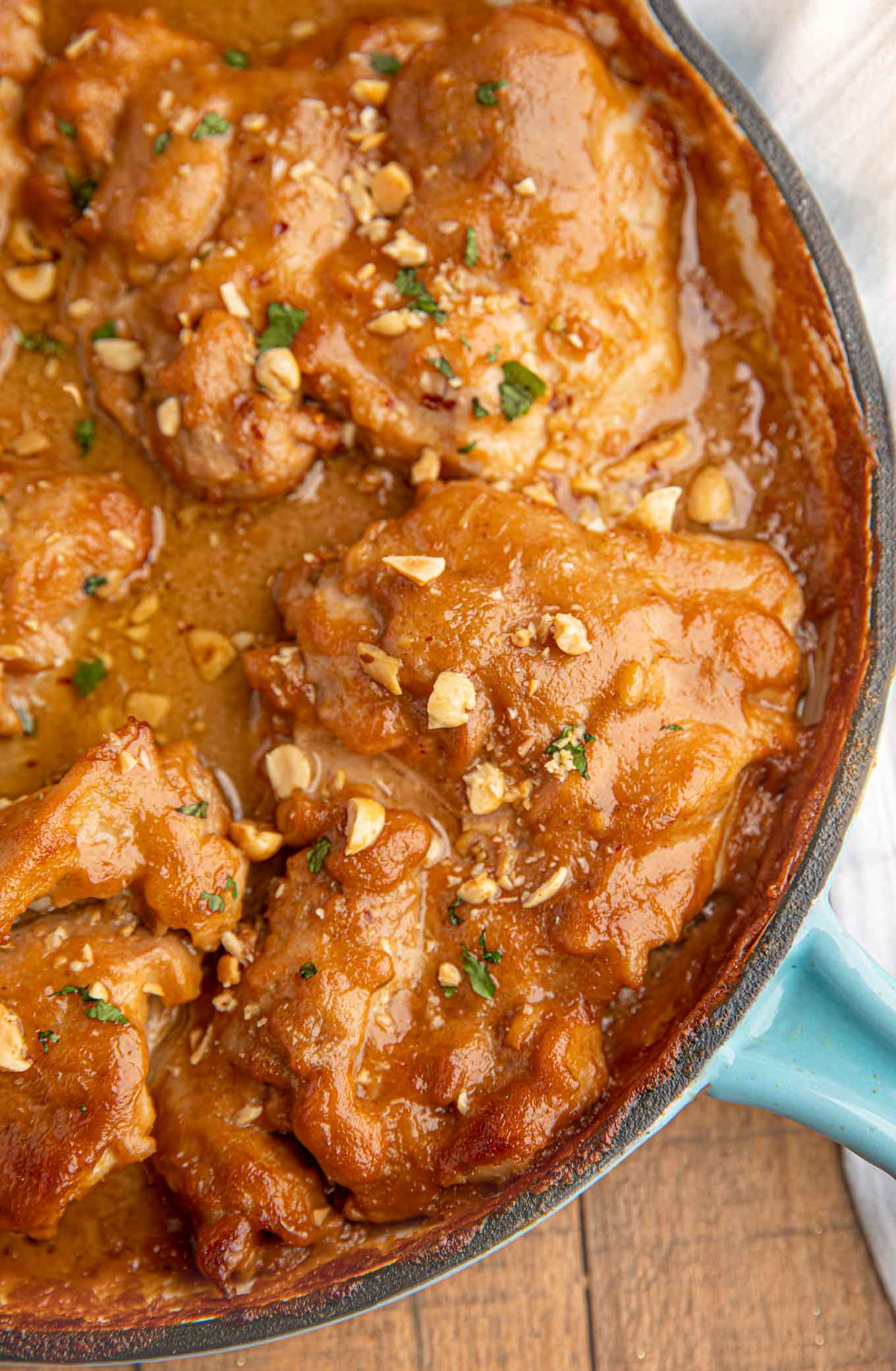 Ingredients
5

chicken thighs

, boneless skinless

1/2

can

coconut milk

, 7 ounces

1/3

cup

creamy peanut butter

2

tablespoons

soy sauce

, low-sodium

2

tablespoons

honey

1

tablespoon

rice wine vinegar

1

tablespoon

lime juice

1/2

teaspoon

sesame oil

3

cloves

garlic

, minced

1

tablespoon

ginger

, minced

cilantro

, for garnish
Instructions
Preheat the oven to 375 degrees F.

In a large bowl mix the chicken, coconut milk, peanut butter, soy sauce, honey, rice wine vinegar, lime juice, sesame oil, garlic and ginger.

Place the chicken, smooth side down into your baking dish.

Pour the sauce over it.

Cook for

30-35 minutes

or until the chicken is cooked through (to 165 degrees F).
Nutrition
Calories:
291
kcal
|
Carbohydrates:
11
g
|
Protein:
23
g
|
Fat:
18
g
|
Saturated Fat:
9
g
|
Cholesterol:
89
mg
|
Sodium:
490
mg
|
Potassium:
413
mg
|
Fiber:
1
g
|
Sugar:
7
g
|
Vitamin A:
23
IU
|
Vitamin C:
2
mg
|
Calcium:
23
mg
|
Iron:
2
mg