Easy Pad Thai with Shrimp, tofu, rice noodles, and peanuts in a quick sauce made from authentic fish sauce. Ready in less than 30 minutes!
Asian Recipes like this Pad Thai are a classic comfort food. Discover the delicious world of Thai cuisine with our collection of flavorful dishes, including Thai Green Curry, Thai Basil Chicken, and Thai Red Curry.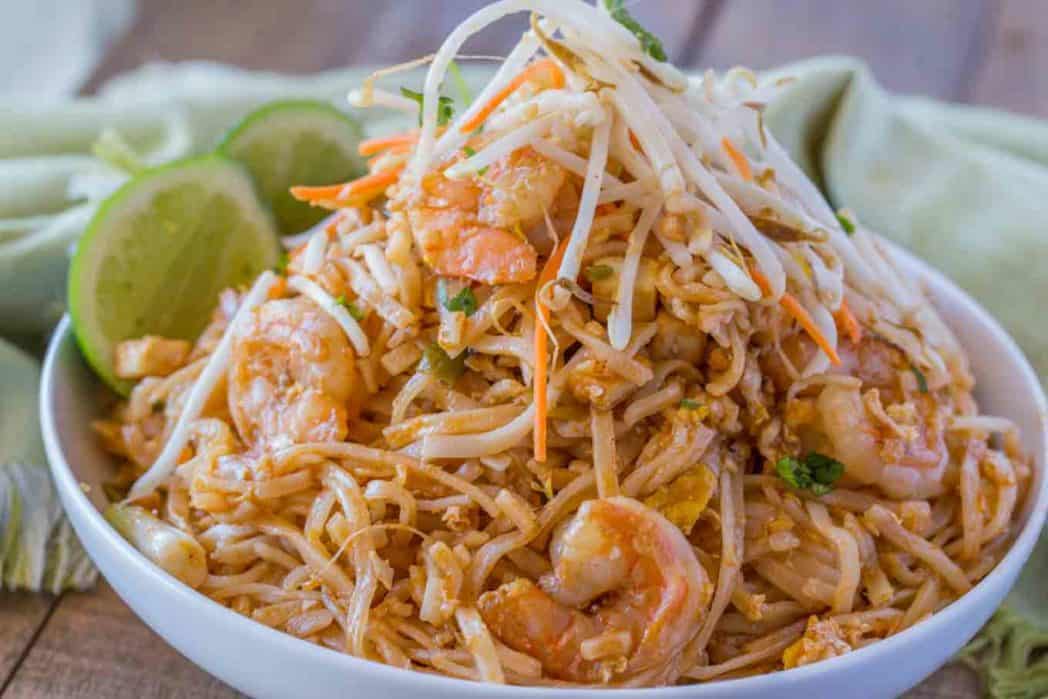 Pad Thai is a fantastic dish that is synonymous with Thai cuisine. Its harmonious blend of sweet, sour, and spicy flavors is guaranteed to captivate your taste buds. This quick and easy recipe features an appetizing combination of rice noodles, succulent shrimp, and tofu, all brought together with a tangy sauce. Perfect for a family meal or a party appetizer, this authentic Pad Thai recipe will transport you to the vibrant streets of Thailand.
Once you gather the ingredients, the hardest ones are the rice noodles and the fish sauce, the rest of the dish is a breeze to make. One of the most prominent flavors of Thai food is the inclusion of fish sauce. Though fish sauce can seem like a scary ingredient, it is actually similar to eating anchovies in Caesar dressing.
You can taste the flavor of umami (a savory/salty flavor) but you don't actually taste a "fishy" taste from it. Many people who make Chicken Pad Thai would never even guess that there was seafood in the dish based on the fish sauce.
The origins of Pad Thai can be traced back to World War II when rice was scarce, and the Thai government encouraged the consumption of noodles. This delectable dish has since become a beloved staple of Thai cuisine, showcasing the perfect balance of flavors and textures. Prepare this dish at home, and impress your family and friends with your culinary prowess.
You'll want to serve Pad Thai with Light Crispy Chinese Chicken Salad or papaya salad. Other great appetizers include Crab Rangoon or Egg Rolls.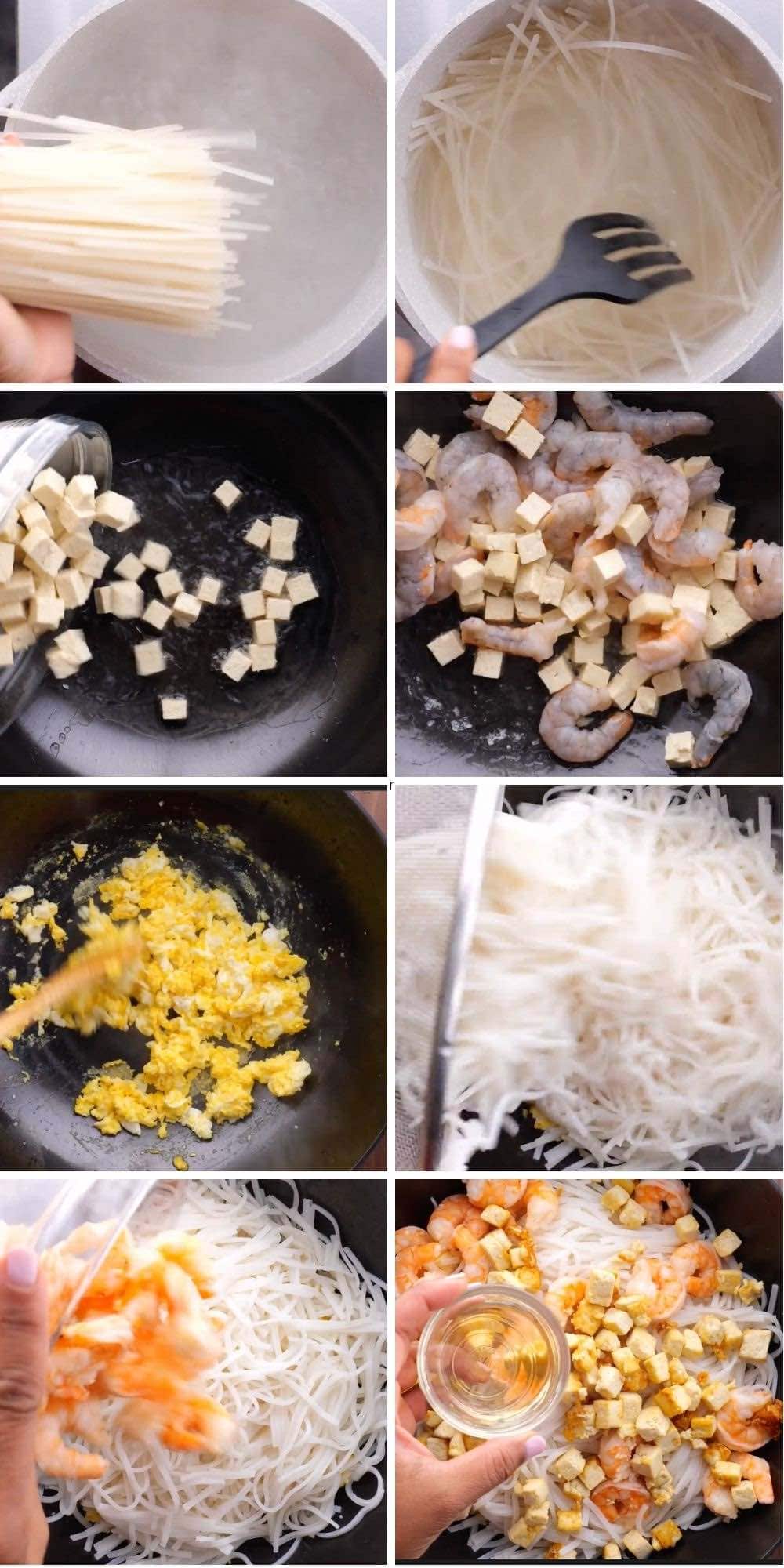 How to Make Pad Thai
Homemade Pad Thai can be easily made in your kitchen with readily available ingredients and a few simple steps. No need to go to the Pad Thai restaurant to get the real thing. Check it out!
Step One: Prepare the rice noodles in hot water.
Step Two: Cook shrimp and tofu on medium-high heat.
Step Three: Cook the eggs.
Step Four: Combine ingredients and sauce.
Step Five: Garnish with fresh bean sprouts and serve!
More Delicious Take-Out Recipes
Frequently Asked Questions
What is Pad Thai?
Pad Thai is a rice noodle dish traditionally made with chicken, shrimp, and tofu that also has eggs, fish sauce, sugar, and vinegar. A quick stir fry with soaked rice noodles, it is a classic Thai recipe that is very popular in Thai restaurants.
How can I thicken my Pad Thai sauce?
If you'd like to have a little thicker sauce, simply add a tablespoon of cornstarch to a quarter cup of water. Mix it really well to make a cornstarch slurry. Add the slurry while making the sauce in step six in the instructions.
What proteins are used in Pad Thai?
Most restaurants will offer a version of Pad Thai that includes shrimp, chicken, and tofu. We stick with shrimp and tofu in this version to help create an easy recipe because Shrimp Pad Thai is the most classic representation of this recipe. Some people will add chicken to the shrimp and tofu, but adding the chicken flavor in on top of it only muddles the flavors instead of enhancing them.
How do you cook Rice Noodles?
There are two schools of thought about rice noodles. Some people like the all-soaking method where you soak in cold water for 30-45 minutes before draining. The second method is to boil them for one minute, steep for 5 minutes, then drain and rinse before adding to recipes. I prefer to boil/steep and rinse because I can do that while cooking the rest of the ingredients in the wok.
Can you make Pad Thai ahead?
You can certainly cook the ingredients minus the shrimp and noodles ahead of time. Then when ready to eat, soak/cook the noodles while cooking the shrimp and toss it all together. The whole recipe is such a breeze to make though, it would also work to just prep the ingredients ahead and stir fry when ready.
Can I make Pad Thai without fish sauce?
Fish sauce is a key ingredient in Pad Thai, but you can replace it with soy sauce or tamari if you're vegetarian or have a fish allergy.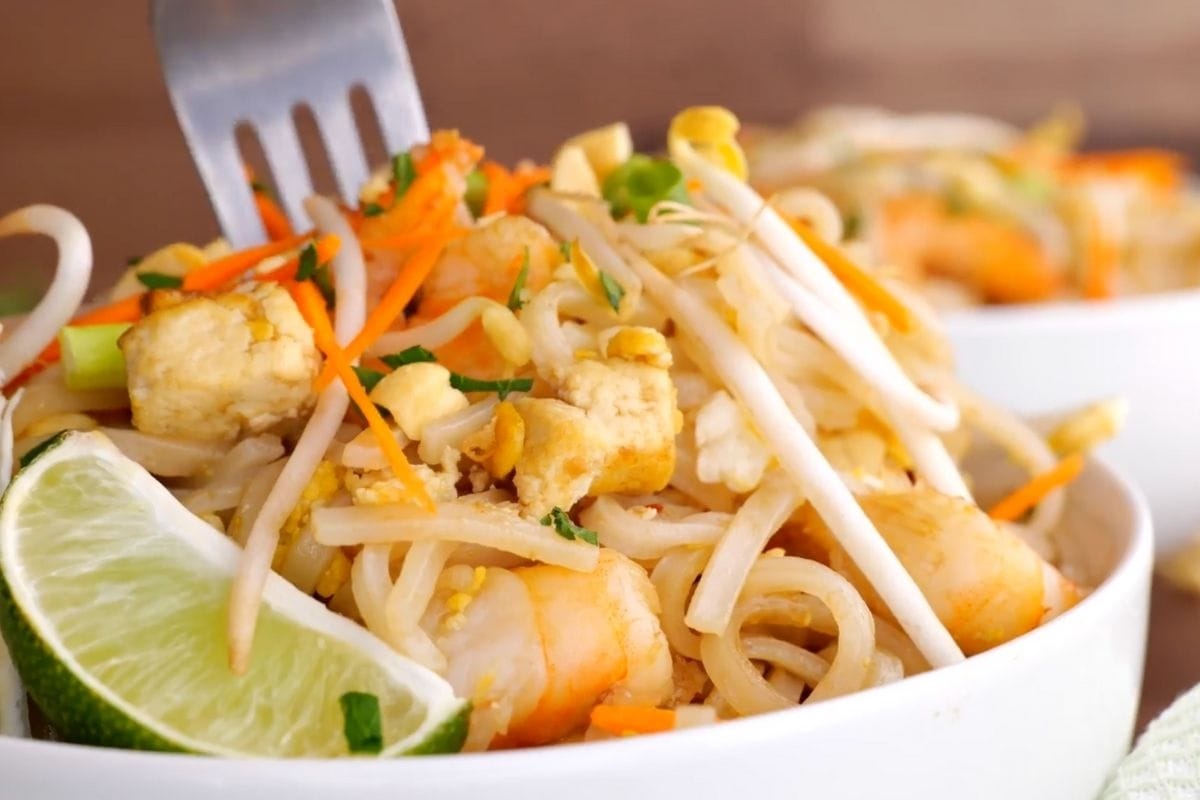 Create a free account to

Save Recipes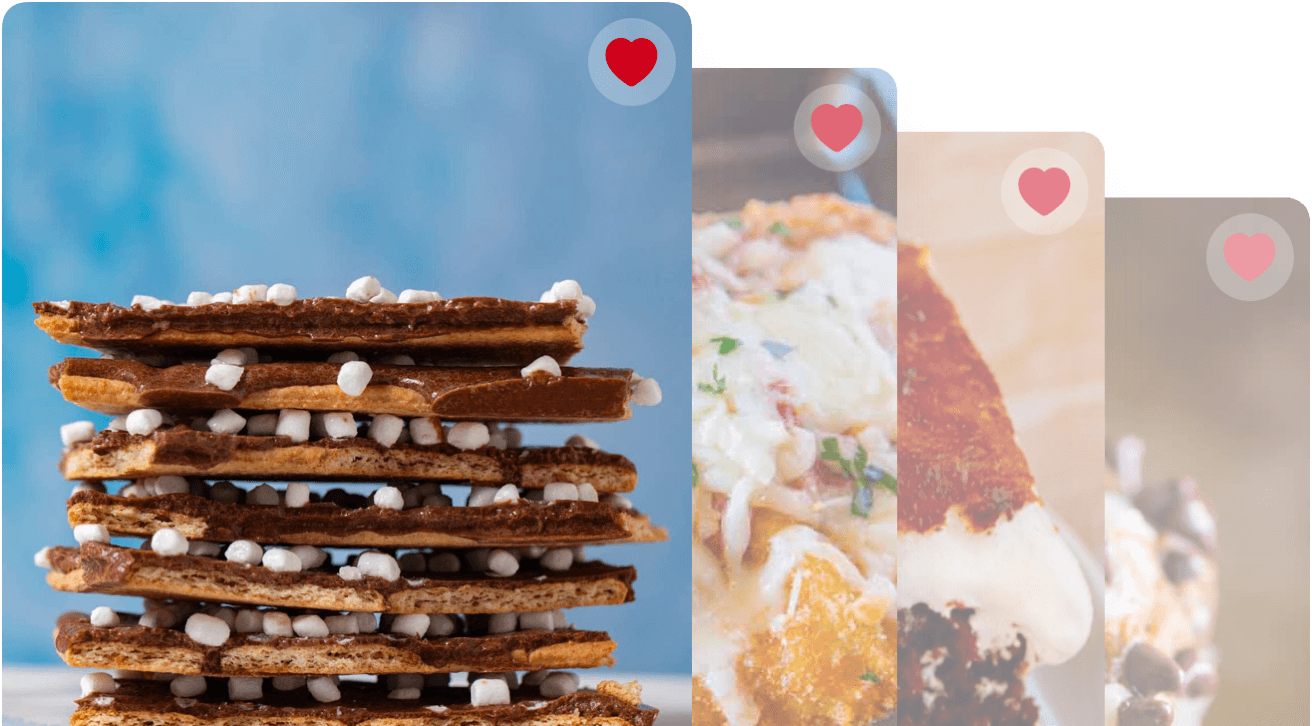 Key Ingredients in Pad Thai
Pad Thai Sauce is actually a very easy mix of the finest ingredients including fish sauce, vinegar, sugar, and chili peppers. The sugar helps to temper the strong fish sauce flavor, the vinegar adds acidity and a bright flavor while the chili peppers add the traditional spice.
Fish Sauce: Yes, this is a strong flavor, but when tempered with the other ingredients you won't taste the fish sauce flavor on its own. What is fish sauce? It's fermented fish. Leaving the ingredient out will impact the flavors of the recipe significantly. If you are vegan/vegetarian, try substituting tamari or a vegetarian mushroom oyster sauce for the fish sauce.
Rice Vinegar: The rice vinegar acts to provide a tangy dimension of flavor to the recipe and helps to blend in the fish sauce. In a pinch, if you don't have rice vinegar you can substitute apple cider vinegar which has a similarly sweet profile.
Sugar: The sugar does not make this recipe sweet. It balances the umami, vinegar, and salty flavors of the rest of the sauce ingredients. Don't leave the sugar out. You can use palm sugar, brown sugar, or coconut sugar for an even more authentic flavor!
Crushed Pepper Flakes: The dish is not spicy but does balance the flavors with a bit of heat from crushed red pepper flakes. You can swap this for a hint of Sriracha in a pinch.
Lime Juice: Fresh lime juice from lime wedges adds a punch of freshness since the rest of the sauce ingredients are bottled or packaged.
Tamarind Paste: Tamarind Paste in Pad Thai Sauce is a classic ingredient that we leave out in this recipe. Why leave it out? We feel like we mimic the authentic flavors without the tamarind paste. If you prefer to add in the paste, add in 2 tablespoons of paste in step 6 with the rest of the sauce ingredients and stir well until combined.
Rice Noodles: As the foundation of the dish and cooked in hot water, these gluten-free noodles provide a light and satisfying texture. Flat rice noodles are the best, but you can use regular round rice noodles too.
Shrimp: Succulent and tender, shrimp adds a delicious seafood element to the dish.
Tofu: Extra-firm tofu provides a hearty and protein-rich component.
Peanuts: The nutty flavors of roasted peanuts are unmistakable and shouldn't be skipped unless you have an allergy of course!
Substitutions in Pad Thai
There's not much to substitute if you're going for the authentic flavor of the street-food version of this recipe. However, you will still get incredible flavor from this dish, even with a bit of subbing.
Shrimp: Substitute with chicken, beef, or a combination of proteins.
Fish Sauce: Replace with soy sauce or tamari for a vegetarian or fish allergy-friendly option.
Can you make Pad Thai Ahead of TIme?
You can certainly cook the ingredients minus the shrimp and noodles ahead of time. Then when ready to eat, soak/cook the noodles while cooking the shrimp and toss it all together. The whole recipe is such a breeze to make though, it would also work to just prep the ingredients ahead and stir fry when ready.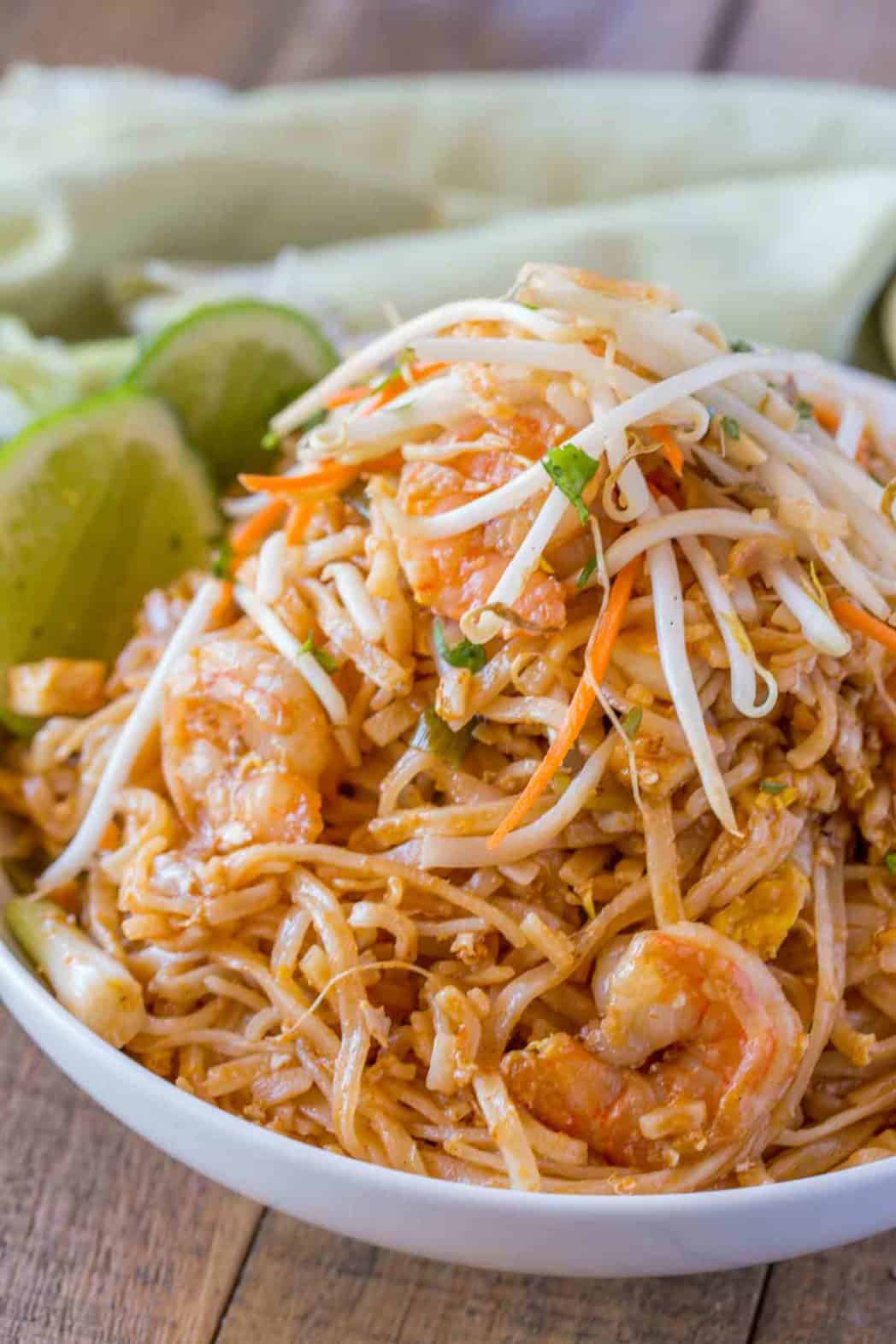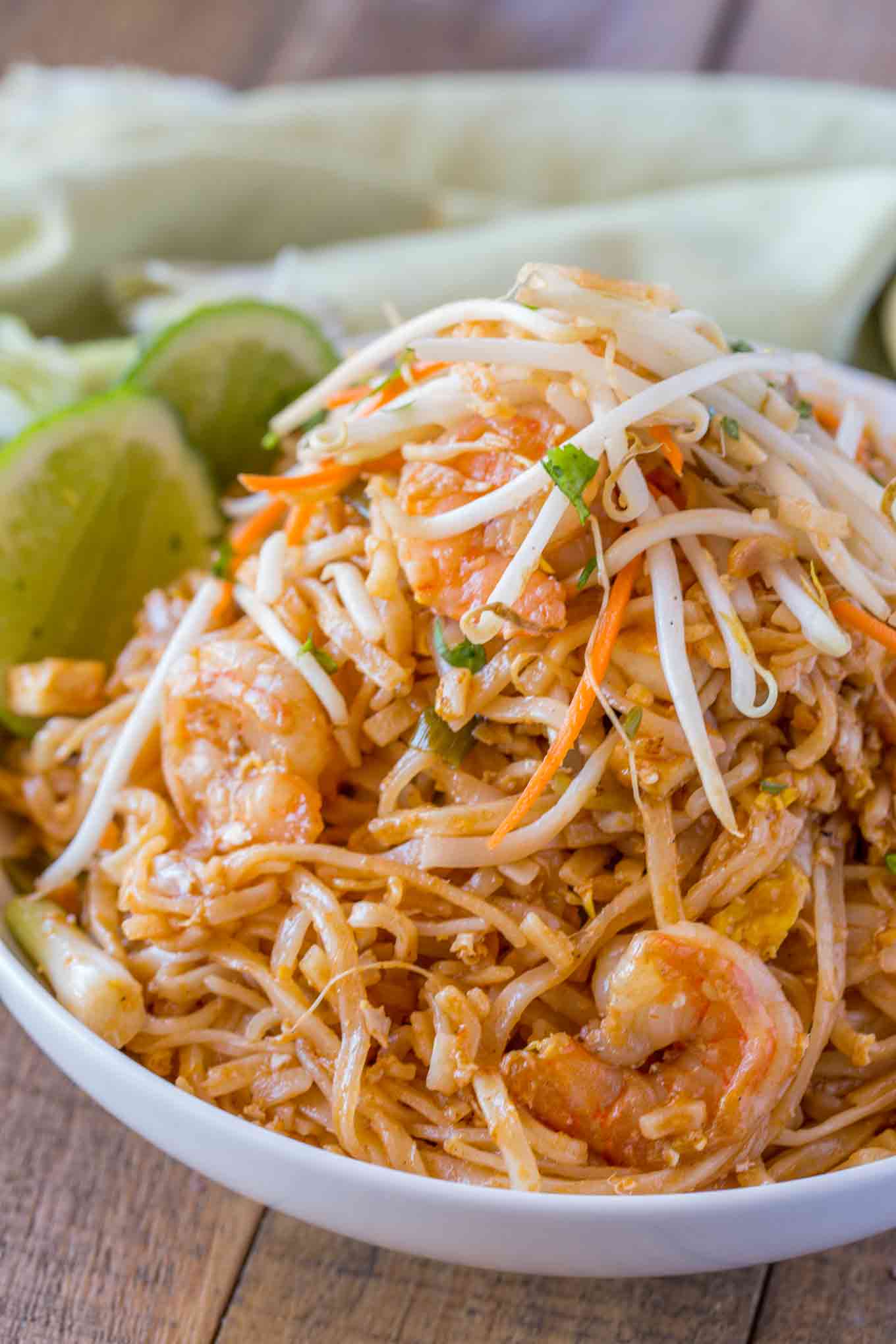 Variations on Pad Thai
There are numerous ways to customize and create variations of Pad Thai to suit your personal preferences or dietary needs. Some popular alternatives include:
Vegetarian Pad Thai: Omit the shrimp and add more tofu or a mix of your favorite vegetables.
Spicy Pad Thai: Increase the amount of crushed red pepper flakes or add fresh Thai chilies for an extra kick.
Beef Pad Thai: Replace shrimp with thinly sliced beef for a different protein option.
How to Serve Pad Thai
Pad Thai is a delicious and satisfying meal on its own, but you can also serve it alongside other Thai dishes to create a complete and diverse dining experience. Consider offering appetizers such as Spring Rolls or Chicken Satay.
More Asian Noodle Recipes
How to Store Pad Thai
Serve: This dish is best served fresh and hot. Keep at room temperature for up to 2 hours before storing.
Store: Place in an airtight container and refrigerate for up to 4 days. Reheat in a wok or frying pan with a little oil and soy sauce or chicken broth.
Freeze: This recipe can be frozen for up to 3 months in a sealed container or freezer-safe bag. Thaw overnight in the refrigerator and reheat on the stovetop in the sauce for best taste.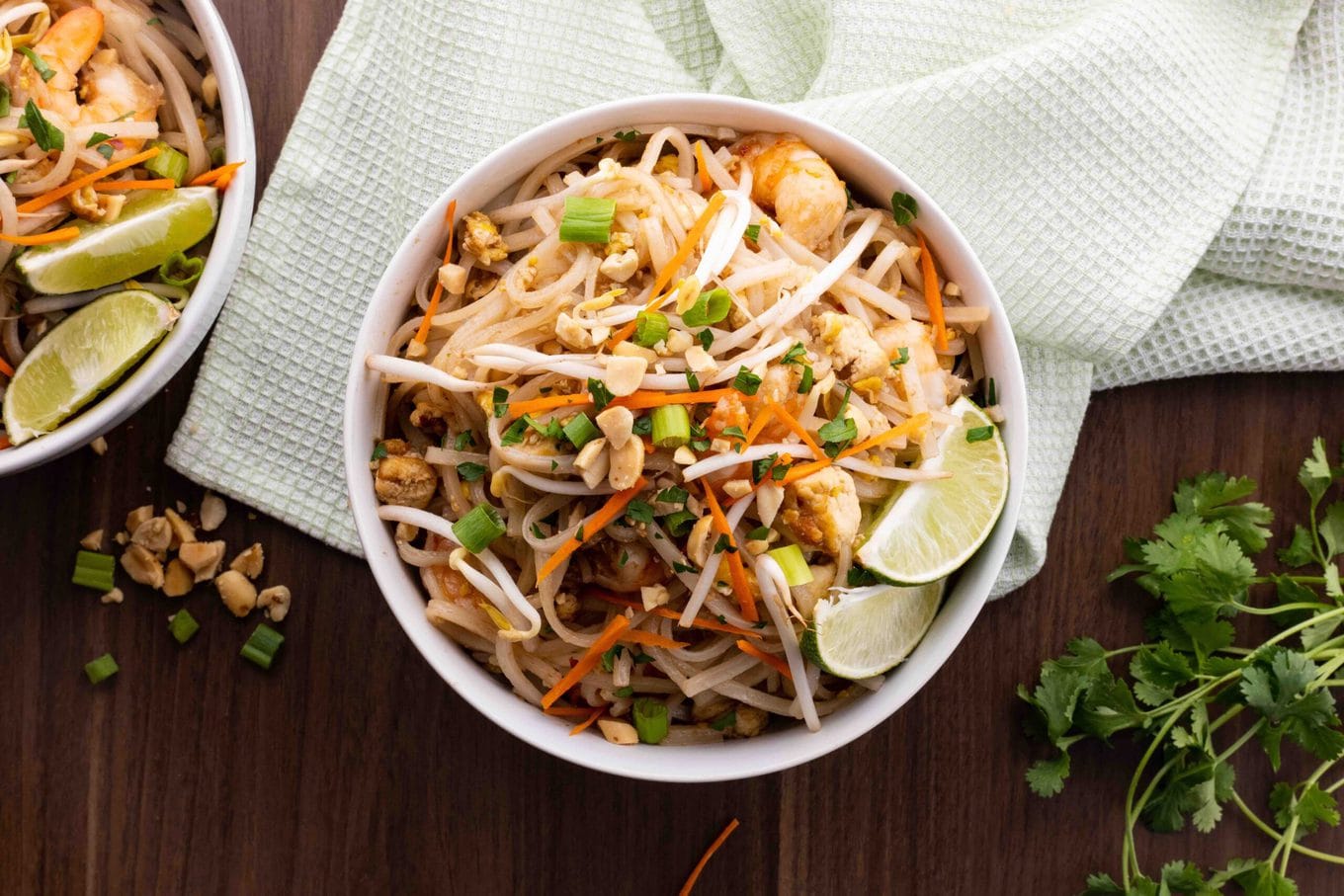 Ingredients
14

ounce

rice noodles

1/4

cup

vegetable oil

1

pound

shrimp

, peeled and deveined

8

ounces

extra firm tofu

, cut into ½ inch cubes

3

large

eggs

2

tablespoons

rice vinegar

1/4

cup

fish sauce

1/3

cup

sugar

1/2

teaspoon

crushed red pepper flakes

1

cup

bean sprouts

3

carrots

, julienned

1/4

cup

crushed peanuts

2

green onions

, chopped

1

lime

, cut into wedges

cilantro

, for garnish (optional)
Instructions
Add the rice noodles to boiling water for

1 minute

, then turn off the heat and let sit for

five minutes

.

When softened rinse with cold water and set aside.

Add vegetable oil to a wok on high heat and add the shrimp and tofu cubes.

Cook for

1-2 minutes

on each side, then remove the shrimp and tofu from the pan (leave the oil in the pan).

Add the eggs into hot oil, and chop with a spatula into little pieces as your cooking them.

Add softened noodles, shrimp, tofu, rice vinegar, fish sauce, sugar and red pepper.

Serve topped with peanuts, bean sprouts, carrots, green onions and lime wedges.
Optional
Some recipes call for Tamarind Paste. We don't add it because it is an obscure ingredient and the recipe tastes great, even without it. If you prefer to add in the paste, add in 2 tablespoons of paste in step 6 with the rest of the sauce ingredients and stir well until combined.
Nutrition
Calories:
555
kcal
|
Carbohydrates:
73
g
|
Protein:
26
g
|
Fat:
16
g
|
Saturated Fat:
2
g
|
Cholesterol:
272
mg
|
Sodium:
1549
mg
|
Potassium:
387
mg
|
Fiber:
3
g
|
Sugar:
14
g
|
Vitamin A:
5305
IU
|
Vitamin C:
11.2
mg
|
Calcium:
175
mg
|
Iron:
3.6
mg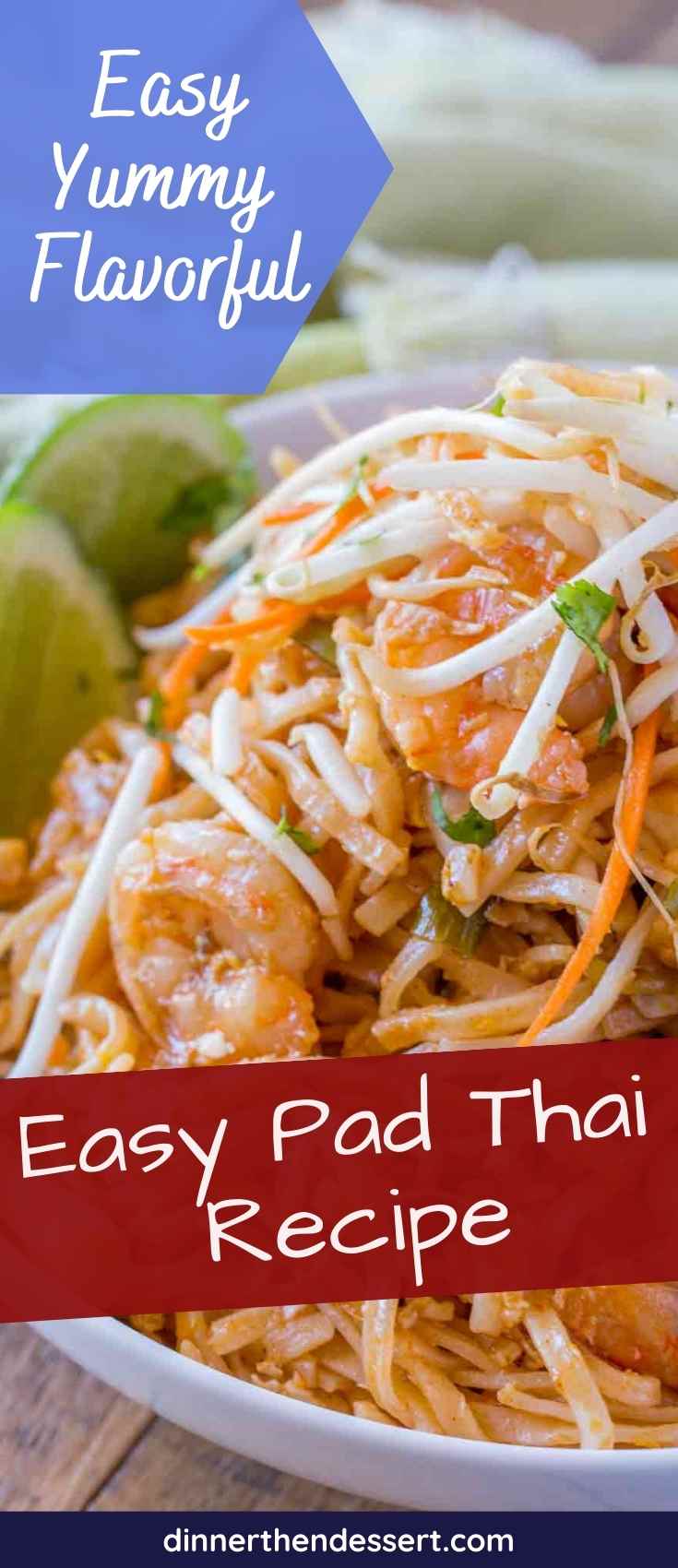 Photos used in a previous version of this post.