Easy Pad Thai with shrimp, tofu, rice noodles and peanuts in a quick sauce made from fish sauce, sugar and more in less than 30 minutes.
Asian Recipes like this Pad Thai are a classic comfort food. Pair this recipe with Thai Green Curry for a perfectly delicious authentic take-out meal.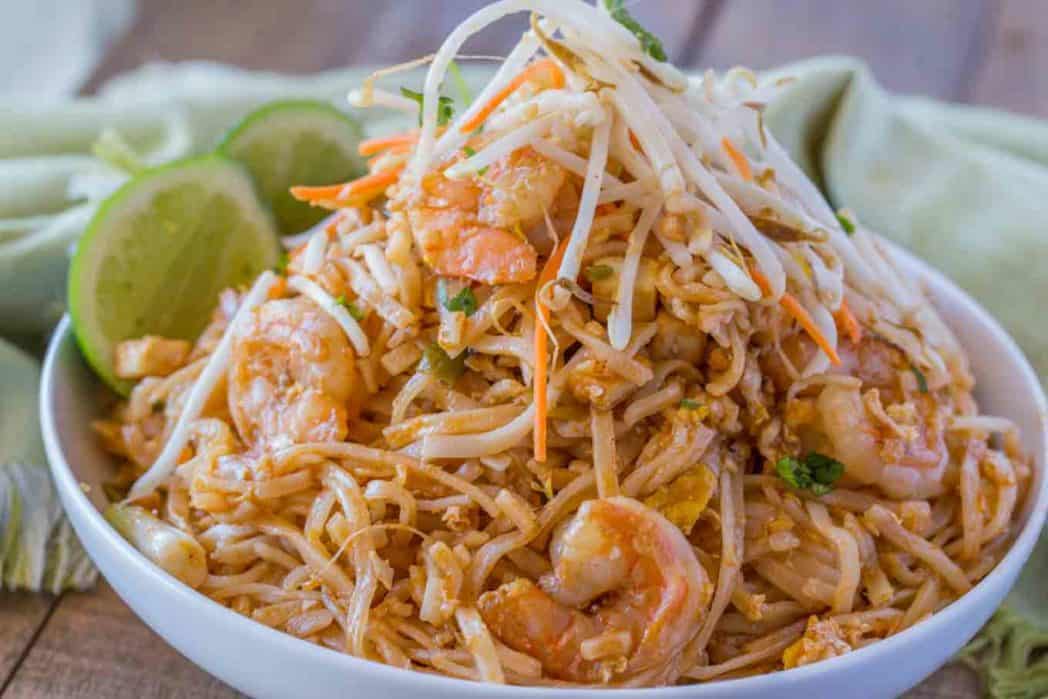 This is an authentic Pad Thai recipe given shared with us by a friend's grandmother and it's COMPLETELY EASY. Once you gather the ingredients, the hardest ones are the rice noodles and the fish sauce, the rest of the dish is a breeze to make.
One of the most prominent flavors of Thai food is the inclusion of fish sauce. Though fish sauce can seem like a scary ingredient, it is actually similar to eating anchovies in caesar dressing.
You can taste a flavor of umami (a savory/salty flavor) but you don't actually taste a "fishy" taste from it. Many people who make Chicken Pad Thai would never even guess that there was seafood in the dish based on the fish sauce.
You'll love to serve Pad Thai with Light Crispy Chinese Chicken Salad or papaya salad. Other great appetizers include Crab Rangoon or Egg Rolls.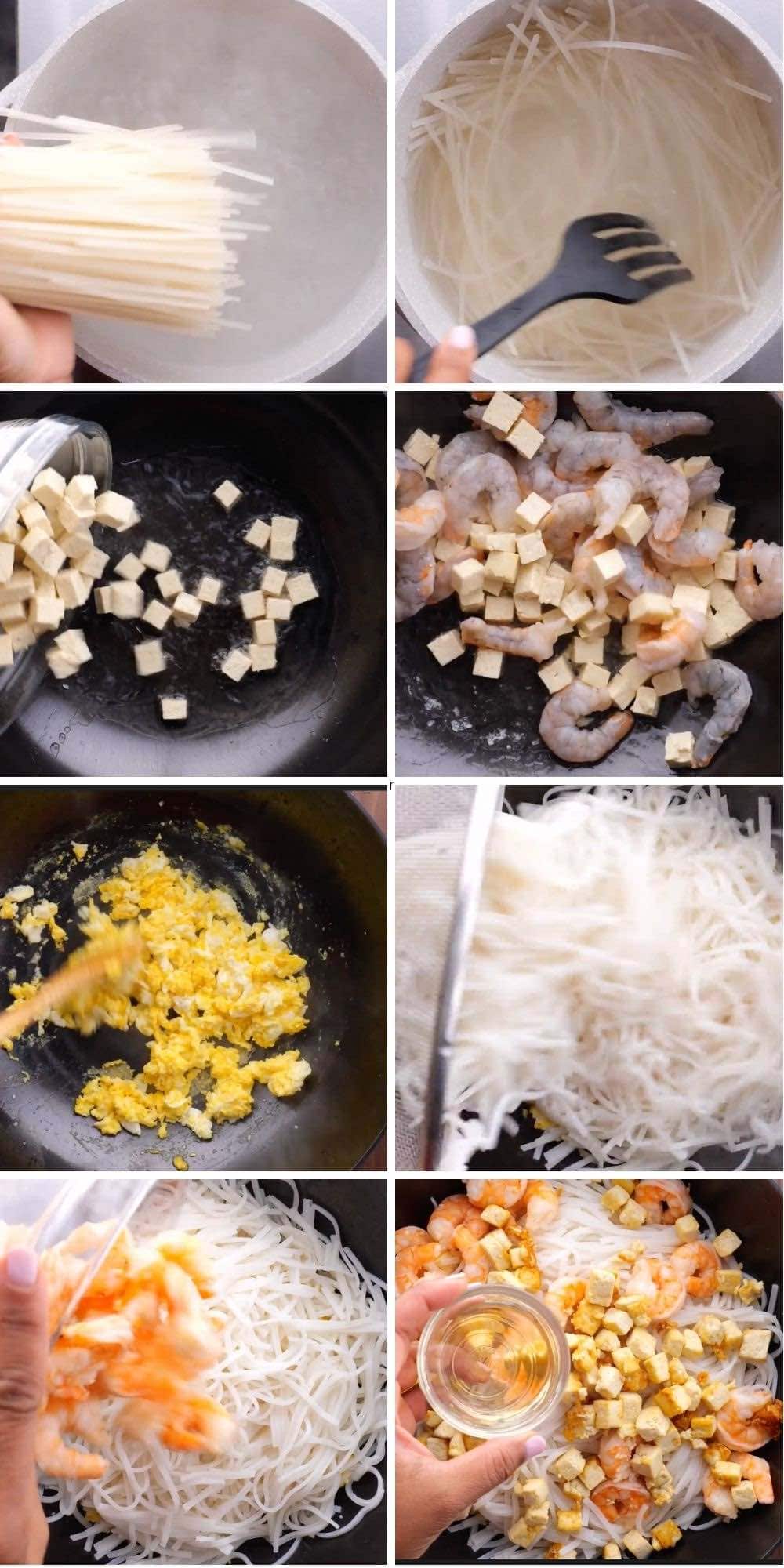 More Delicious Take-Out Recipes
Frequently Asked Questions
What is Pad Thai?
Pad Thai is a rice noodle dish traditionally made with chicken, shrimp and tofu that also has eggs, fish sauce, sugar and vinegar. A quick stir fry with soaked rice noodles it is a classic Thai recipe that is very popular in Thai restaurants.
What proteins are used in Pad Thai?
In most restaurants they'll offer a version of Pad Thai that includes shrimp, chicken and tofu. We stick with shrimp and tofu in this version to help create an easy recipe and because Shrimp Pad Thai is the most classic representation of this recipe. Some people will add chicken to the shrimp and tofu, but adding the chicken flavor in on top of it only muddles the flavors instead of enhancing them.
How do you cook Rice Noodles?
There are two schools of thought about rice noodles. Some people like the all soaking method where you soak in cold water for 30-45 minutes before draining. The second method is to boil them for one minute, steep for 5 minutes, then drain and rinse before adding to recipes. I prefer to boil/steep and rinse because I can do that while cooking the rest of the ingredients in the wok.
Can you make Pad Thai ahead?
You can certainly cook the ingredients minus the shrimp and noodles ahead of time. Then when ready to eat, soak/cook the noodles while cooking the shrimp and toss it all together. The whole recipe is such a breeze to make though, it would also work to just prep the ingredients ahead and stir fry when ready.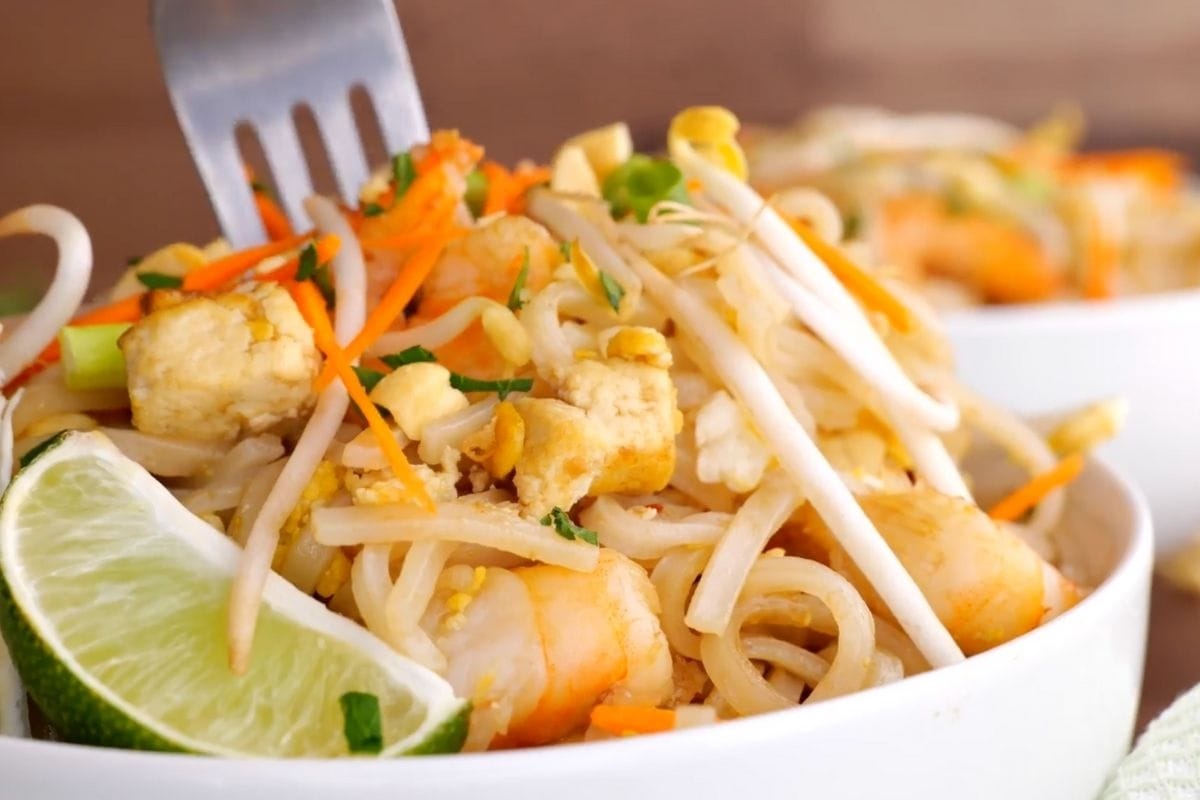 Ingredients in Pad Thai Sauce
Pad Thai Sauce is actually a very easy mix of fish sauce, vinegar, sugar and chili peppers. The sugar helps to temper the strong fish sauce flavor, the vinegar adds acidity and a bright flavor while the chili peppers add the traditional spice.
Fish Sauce: Yes, this is a strong flavor, but when tempered with the other ingredients you won't taste the fish sauce flavor on its own. What is fish sauce? It's fermented fish. Leaving the ingredient out will impact the flavors of the recipe significantly. If you are vegan/vegetarian I suggest substituting a vegetarian mushroom oyster sauce for the fish sauce.
Rice Vinegar: The rice vinegar acts to provide a tangy dimension of flavor to the recipe and helps to blend in the fish sauce. In a pinch if you don't have rice vinegar you can substitute apple cider vinegar which has a similarly sweet profile.
Sugar: The sugar does not make this recipe sweet. It balances the umami, vinegar and salty flavors of the rest of the sauce ingredients. Don't leave the sugar out.
Crushed Pepper Flakes: The dish is not spicy but does balance the flavors with a bit of heat from crushed red pepper flakes. You can swap this for a hint of Sriracha in a pinch.
Lime Juice: This adds a punch of fresh flavor since the rest of the sauce ingredients are bottled or packaged.
Tamarind Paste: Tamarind Paste in Pad Thai Sauce is a classic ingredient that we leave out in this recipe. Why leave it out? We feel like we mimic the authentic flavors without the tamarind paste. If you prefer to add in the paste, add in 2 tablespoons of paste in step 6 with the rest of the sauce ingredients and stir well until combined.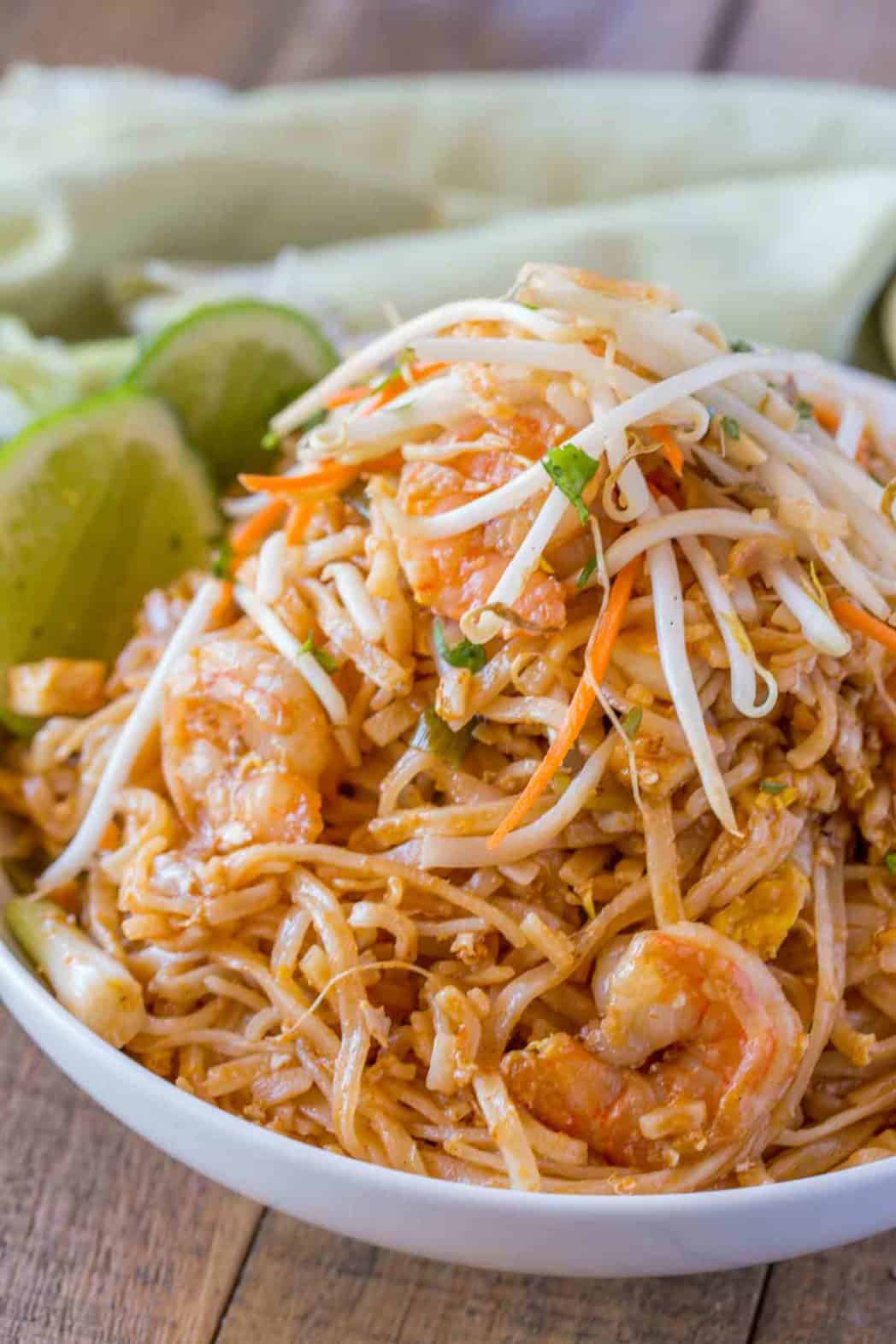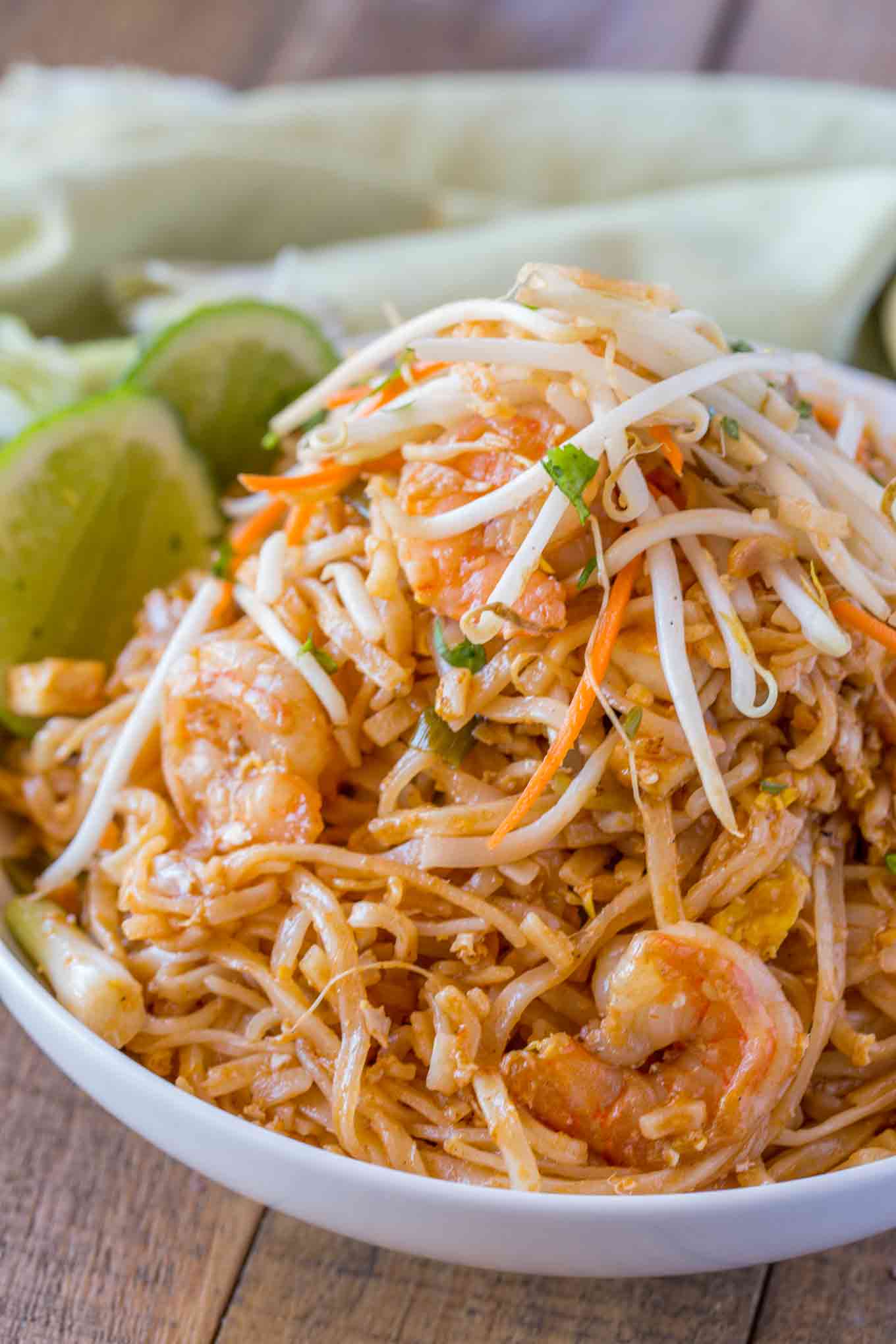 More Asian Noodle Recipes
How to Store Pad Thai
Serve: This dish is best served fresh and hot. Keep at room temperature for up to 2 hours before storing.
Store: Place in an airtight container and refrigerate for up to 4 days. Reheat in a wok or frying pan with a little oil and soy sauce or chicken broth.
Freeze: This recipe can be frozen for up to 3 months in a sealed container or freezer safe bag. Thaw overnight in the refrigerator and reheat on the stove top in sauce for best taste.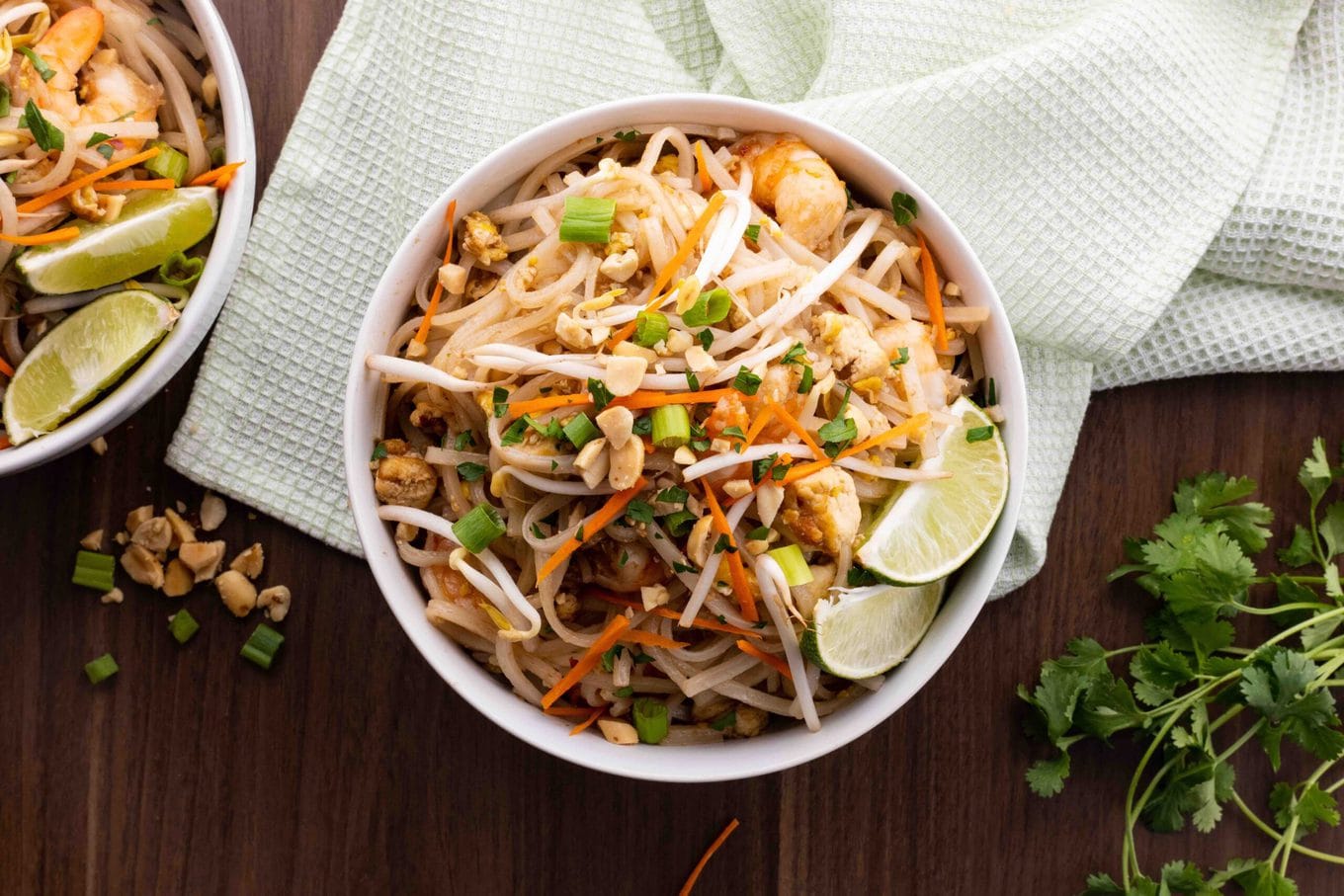 Ingredients
14

ounce

rice noodles

1/4

cup

canola oil

1

pound

shrimp

, peeled and deveined

8

ounces

extra firm tofu

, cut into ½ inch cubes

3

large

eggs

2

tablespoons

rice vinegar

1/4

cup

fish sauce

1/3

cup

sugar

1/2

teaspoon

crushed red pepper flakes

1

cup

bean sprouts

3

carrots

, julienned

1/4

cup

crushed peanuts

2

green onions

, chopped

1

lime

, cut into wedges

cilantro

, for garnish (optional)
Instructions
Add the rice noodles to boiling water for

1 minute

, then turn off the heat and let sit for

five minutes

.

When softened rinse with cold water and set aside.

Add canola oil to a wok on high heat and add the shrimp and tofu cubes.

Cook for

1-2 minutes

on each side, then remove the shrimp and tofu from the pan (leave the oil in the pan).

Add the eggs into hot oil, and chop with a spatula into little pieces as your cooking them.

Add softened noodles, shrimp, tofu, rice vinegar, fish sauce, sugar and red pepper.

Serve topped with bean sprouts, carrots, green onions and lime wedges.
Nutrition
Calories:
555
kcal
|
Carbohydrates:
73
g
|
Protein:
26
g
|
Fat:
16
g
|
Saturated Fat:
2
g
|
Cholesterol:
272
mg
|
Sodium:
1549
mg
|
Potassium:
387
mg
|
Fiber:
3
g
|
Sugar:
14
g
|
Vitamin A:
5305
IU
|
Vitamin C:
11.2
mg
|
Calcium:
175
mg
|
Iron:
3.6
mg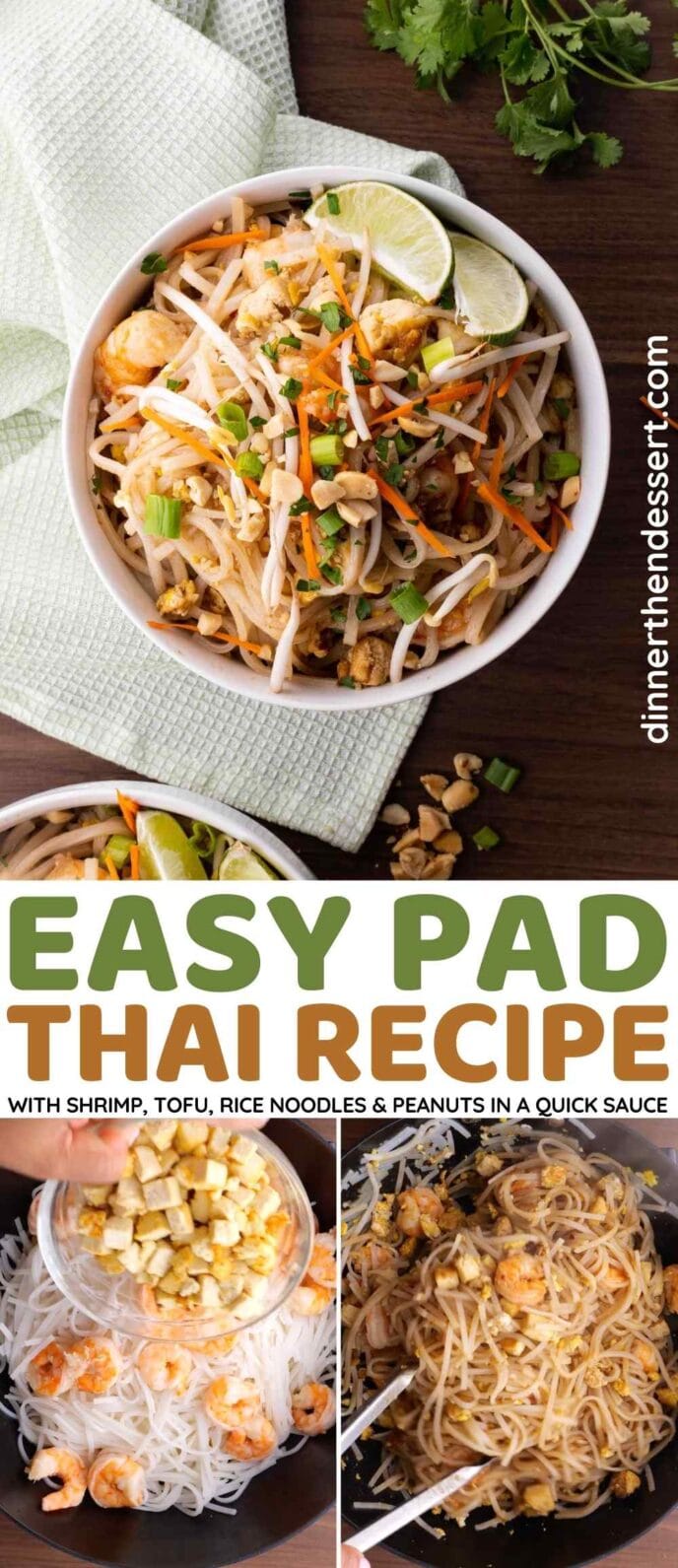 Photos used in a previous version of this post.