Pad See Ew is a Thai Stir Fry Noodle Dish made with extra thick rice noodles in a sweet and savory sauce made from soy sauce, fish sauce, oyster sauce and sugar in less than 30 minutes.
I recently shared my Easy Pad Thai recipe, our favorite Thai noodle recipe, but we are equally opportunity noodle lovers here and our other favorites are Chicken Lo Mein and Classic Chinese Chow Mein.
 Pad See Ew Recipe (Pad Siew)
Thai food is one of our favorites and with just a few new ingredients in your pantry it can be a household favorite for you too. We are all used to Chinese food copycat recipes, but Thai food is possibly even more flavorful and naturally generally healthier too.
Once you start experimenting with these flavors and ingredients like fish sauce, dark soy sauce and oyster sauce (which is also an ingredient in my favorite fried rice) you'll see they aren't as unusual as they may seem (or smell) individually. In fact the flavors of this Pad See Ew all come together to make a delicious stir fry sauce you'll find yourself experimenting with for different recipes too.
What is pad see ew noodles made from?
Pad See Ew Noodles, also called sen yai are extra thick, flat rice noodles that are soaked before stir-frying. You can certainly use thinner rice noodles, but the traditional ones used in this Thai Noodle dish are very wide noodles, similar to those used in Drunken Noodles (Pad Kee Mao)
Is there gluten in Pad See Ew?
There's no gluten in the rice noodles or many of the ingredients, but you have to ensure you are using tamari instead of soy sauce if you are trying to avoid gluten in your diet.
What Sauce is in Pad See Ew?
Pad See Ew sauce is made with fish sauce, oyster sauce, soy sauce and sugar which is added to soaked wide, flat, rice noodles in a stir fry.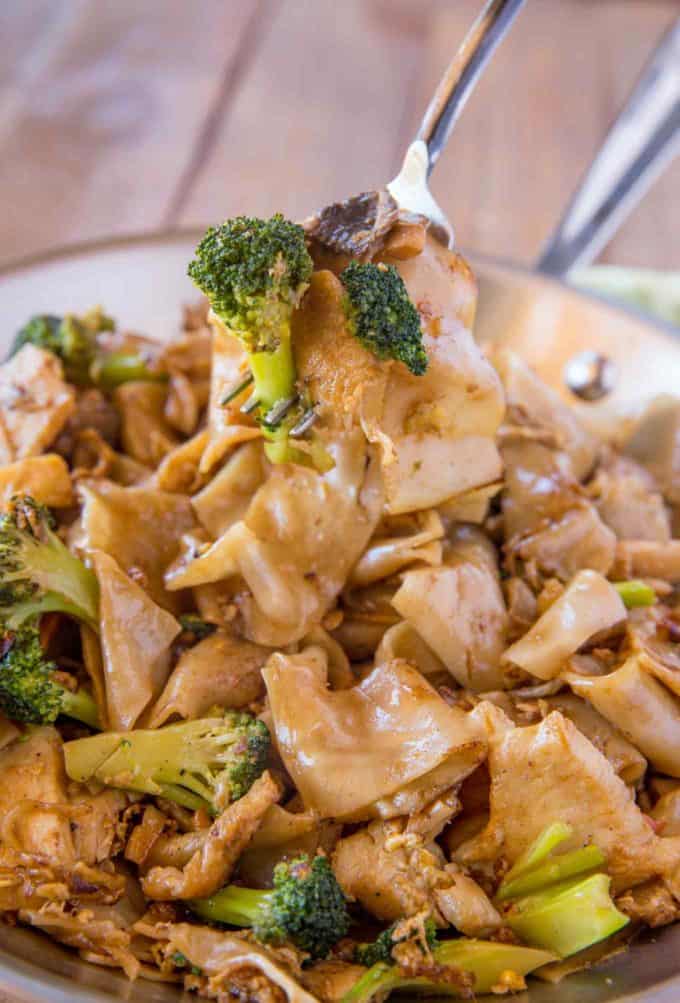 How do you cook Rice Noodles?
There are two schools of thought about rice noodles. Some people like the all soaking method where you soak in cold water for 30-45 minutes before draining. The second method is to boil them for one minute, steep for 5 minutes, then drain and rinse before adding to recipes.
If I am in a rush I prefer to boil/steep and rinse because I can do that while cooking the rest of the ingredients in the wok. For this recipe I actually soaked the noodles in water until they went from translucent to white, this took about 30 minutes.
What to serve with Pad See Ew?
We love serving this with Chicken Satay with Peanut Sauce, Papaya Salad and Crab Rangoon.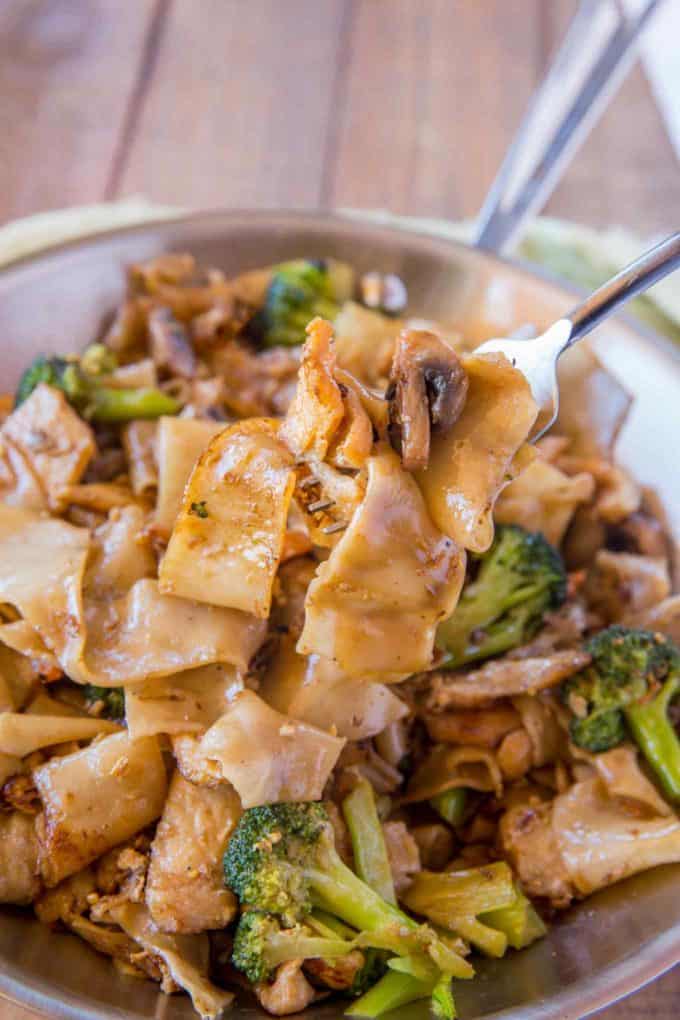 Instructions
Soak the noodles for

30 minutes

in cold water or boil them for

one minute

and steep them in the hot water for

five minutes

before draining.

Cut the chicken into thin strips and toss with soy sauce.

Add 2 tablespoons of canola oil to the wok or large skillet on medium high heat.

Sear the chicken on both sides for

2-3 minutes

.

While the chicken is cooking add the soy sauce, dark soy sauce, fish sauce and oyster sauce to a bowl and whisk them together.

Add in the egg to the skillet and chop it up with a spatula while cooking.

Add in the garlic, broccoli and mushrooms with the remaining oil.

Cook on high heat before adding in the noodles and chicken.

Cook the noodles until slightly crispy

2-3 minutes

.

Add in the sauce, toss well and let cook for another

1-2 minutes

or until noodles caramelize a little.
Nutrition
Calories:
542
kcal
|
Carbohydrates:
59
g
|
Protein:
33
g
|
Fat:
19
g
|
Saturated Fat:
2
g
|
Cholesterol:
113
mg
|
Sodium:
1763
mg
|
Potassium:
893
mg
|
Fiber:
3
g
|
Sugar:
6
g
|
Vitamin A:
520
IU
|
Vitamin C:
64.1
mg
|
Calcium:
64
mg
|
Iron:
2.2
mg