Olive Garden Italian Salad Dressing copycat recipe made with Romano cheese, vinegar, oil and garlic in just seconds with all the flavors you love.
We've had a lot of copycat recipes on the site, this salad dressing recipe is one of my favorite ones because its spot on and so easy to make. We serve this with Olive Garden Five Cheese Ziti al Forno (Copycat) and breadsticks as the perfect Olive garden copycat meal.
 Olive Garden Italian Salad Dressing (Copycat)
Olive Garden Italian Salad Dressing has a cult following and for good reason. the dressing is full of flavor from the Romano cheese to the spices, and you can enjoy it at home with little effort. This version of the Olive Garden Salad Dressing has no mayo in it, but it does call for similar ingredients including raw egg. If you're uncomfortable using raw eggs buy pasteurized ones.
If you're looking for your favorite copycat recipes, that's actually one of the things the site is most known for, we LOVE a good copycat recipe. If you have any requests please let me know below in the comments section.
How to Thicken Salad Dressing:
The only ingredient in the mix here that may take any effort at all is the pectin. The use of pectin in the recipe is to create a thicker, viscous dressing that pours like a creamy dressing would. You are welcome to leave out the pectin if the consistency of the dressing is not important to you.
It is important to note that when working with a copycat recipe, you have to stay close to the original. In the case of this one we use pectin and corn syrup where I normally wouldn't use either. In my The Best Caramel Popcorn recipe I actually make a homemade version of corn syrup using the recipe below:
Homemade Corn Syrup (½ cup)
8 tablespoons of sugar
2 tablespoons hot water
Combine the ingredients in a small saucepan on low heat and stir until the grainy texture is gone and the sugar has melted into the water.
Do not allow the sugar mixture to brown, turn it off as soon as the sugar is melted.
How to safely cook with raw eggs:
You can either purchased pasteurized raw eggs or you can bring a pot full of water to a temperature of 140 degrees (use a thermometer) and allow the eggs to cook in the water for 3 minutes. If you're using extra large eggs, increase the time to 4 minutes. Do not allow the temperature to go past 140 degrees as you may inadvertently start cooking the interior of the eggs.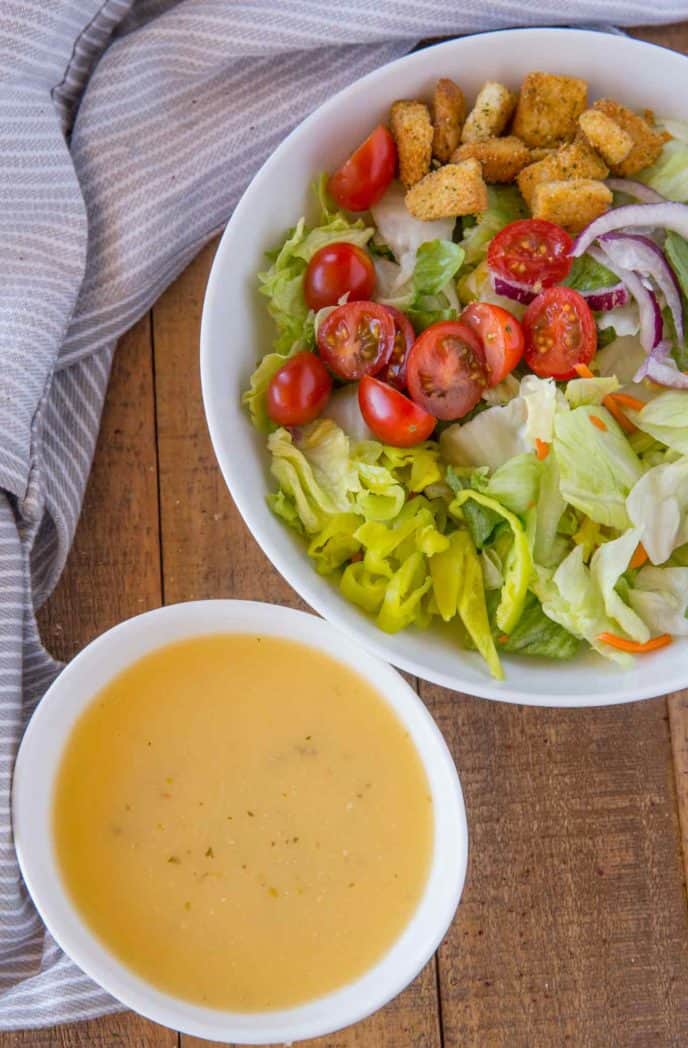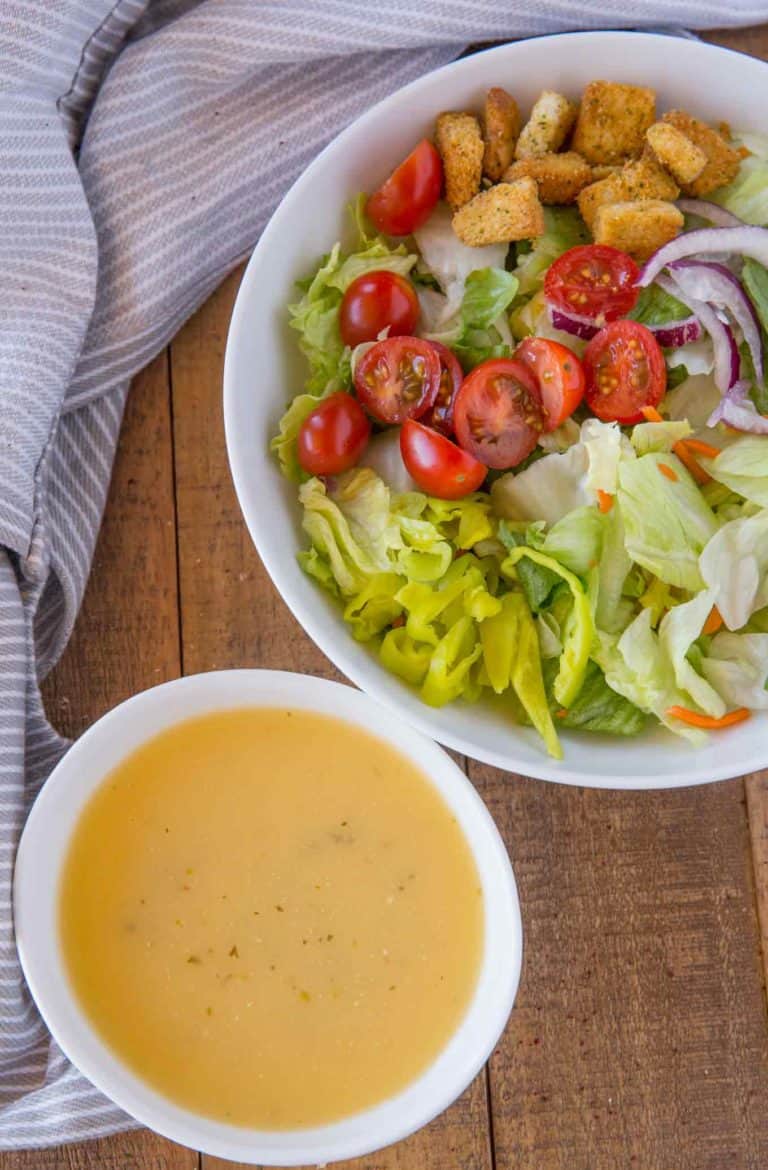 How do you make an Olive Garden Salad?
Olive Garden salad is an easy mix of ingredients:
Iceberg Lettuce
Shredded Carrots
Sliced Tomatoes (I use grape)
Pepperoncini Peppers (I use sliced so it's easier to share and eat)
Croutons
Sliced red onions
Pitted Black Olives
Italian Salad Dressing
Here's some of my favorite copycat recipes you can serve with this Italian Salad Dressing:


Ingredients
1/3

cup

white vinegar

1/3

cup

water

1/3

cup

canola oil

1/4

cup

corn syrup

3

tablespoons

Romano cheese

grated

1

tablespoon

instant pectin

2

tablespoons

raw egg

beaten

1

teaspoon

kosher salt

1

teaspoon

lemon juice

1

clove 

garlic

minced

1/8

teaspoon

dried oregano

1/8

teaspoon

crushed red pepper flakes
Instructions
Process all the ingredients in a food processor until the chili flakes are tiny specks.

Refrigerate for an

hour

before serving.
Nutrition
Calories:
89
kcal
|
Carbohydrates:
6
g
|
Fat:
6
g
|
Cholesterol:
10
mg
|
Sodium:
220
mg
|
Potassium:
3
mg
|
Sugar:
5
g
|
Vitamin A:
25
IU
|
Vitamin C:
0.2
mg
|
Calcium:
16
mg
|
Iron:
0.1
mg