Animal-Style French Fries are golden brown, topped with melty American Cheese, buttery melted caramelized onions and a signature fry sauce.
Serve with a fork or eat with your fingers if you dare, these fries are a cult favorite! Served with a Double Double Animal-Style Cheeseburger, McDonald's Shamrock Shake (Copycat), or the yummy Cheesecake Factory Luau Salad (Copycat) these Copycat Recipes will have you thinking you're eating at your favorite place in your own kitchen.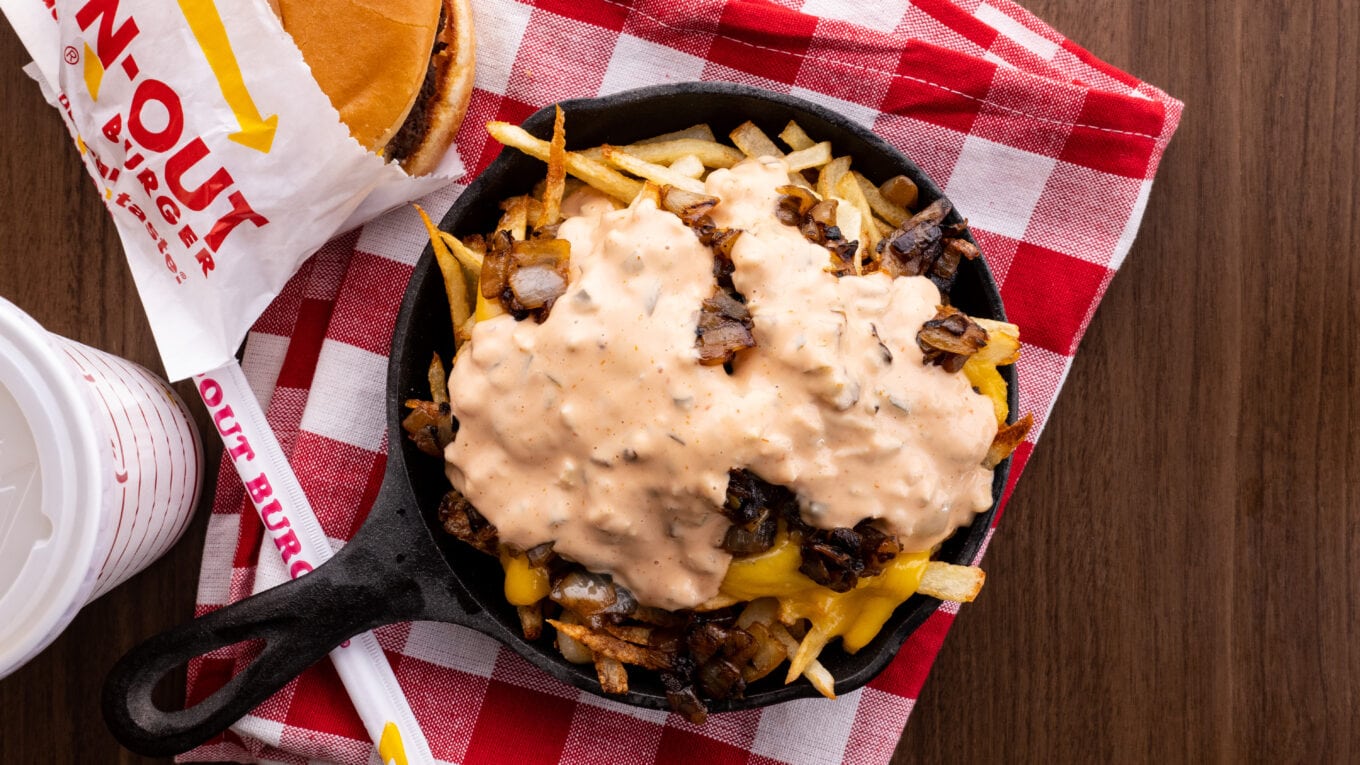 Want to know a secret? You can now make Animal-Style Fries at home! In-N-Out is an American fast food burger chain that started in California in 1948. It has an amazing secret menu that includes a special sauce with a slightly savory sweet flavor that we will make here. Making this entire secret menu item at home is so easy because it is literally just cheese fries topped with this secret sauce. 
Animal Style French Fries are a wonderful take on American classic fries. This recipe takes it a step further by double frying the french fries for extra crispiness. Because In-N-Out French fries are only fried once before serving, you don't get the ultra crispy fries you are used to in a fast food place. Any other burger shop you go to is going to fry frozen pre-fried potatoes so that they get the elusive double fry.
Almost everyone loves the incredibly satisfying taste of the cheese, fried onions, and Animal-style sauce that tops the fries. And because this recipe makes a more crispy french fry, they won't immediately get soggy under the weight of its toppings. You can enjoy these fries at a birthday party or summer BBQ with friends along with homemade Cheddar Bacon Ranch Cheeseburgers.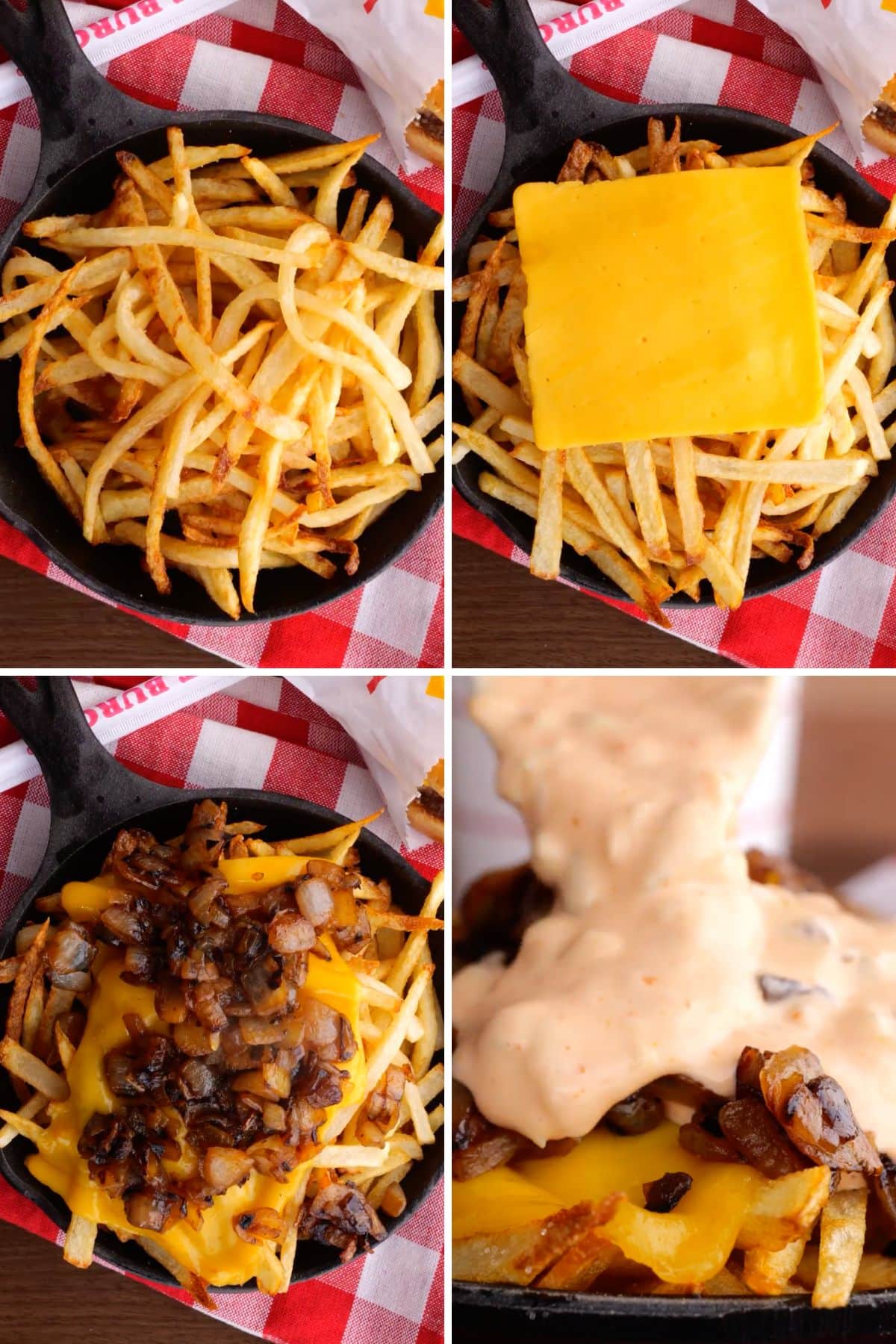 How to Make In-N-Out Animal Style French Fries
While this recipe has a few steps involved, it's actually very easy to do. Just follow the steps to get the crispiest fries and the yummiest topping!
Step One: Slice the potatoes into fries and soak them in water. Go to the next step. 
Step Two: Mix the sauce together and set to the side. 
Step Three: Fry the onions then set them aside while you make the fries.
Step Four: Cook the fries in the oil. Once they are done and have cooled a bit, fry them again. 
Step Five: Assemble everything together. Fries first, then the cheese on the fries to melt it. Top the cheese with the caramelized onions and finish it off with the secret sauce. Serve immediately and enjoy! 
More Yummy Copycat Recipes
Frequently Asked Questions
Why do we soak the potatoes in water before frying them?
Soaking the french fries in cold water before frying helps to remove excess starch and gives you that crispy, golden brown restaurant style french fry you love.
How long should I soak the fries in water? 
For best results, soak them at least an hour in water to help remove excess starches. You can also leave them in water over night if you'd like. 
Is this recipe vegan? 
No, In-N-Out Animal Style French Fries are not vegan. But you can make them vegan by substituting the butter, cheese, and mayonnaise with your favorite vegan equivalents. 
Does this recipe taste exactly like the restaurant version?
Many factors go into the flavor of the restaurant version. What oil is used, what mayo is used, as well as the type of ketchup, sugar, and relish will influence the final flavor. But no matter what, this recipe will taste absolutely amazing because it is fresh. You're whole family love eating this copycat version!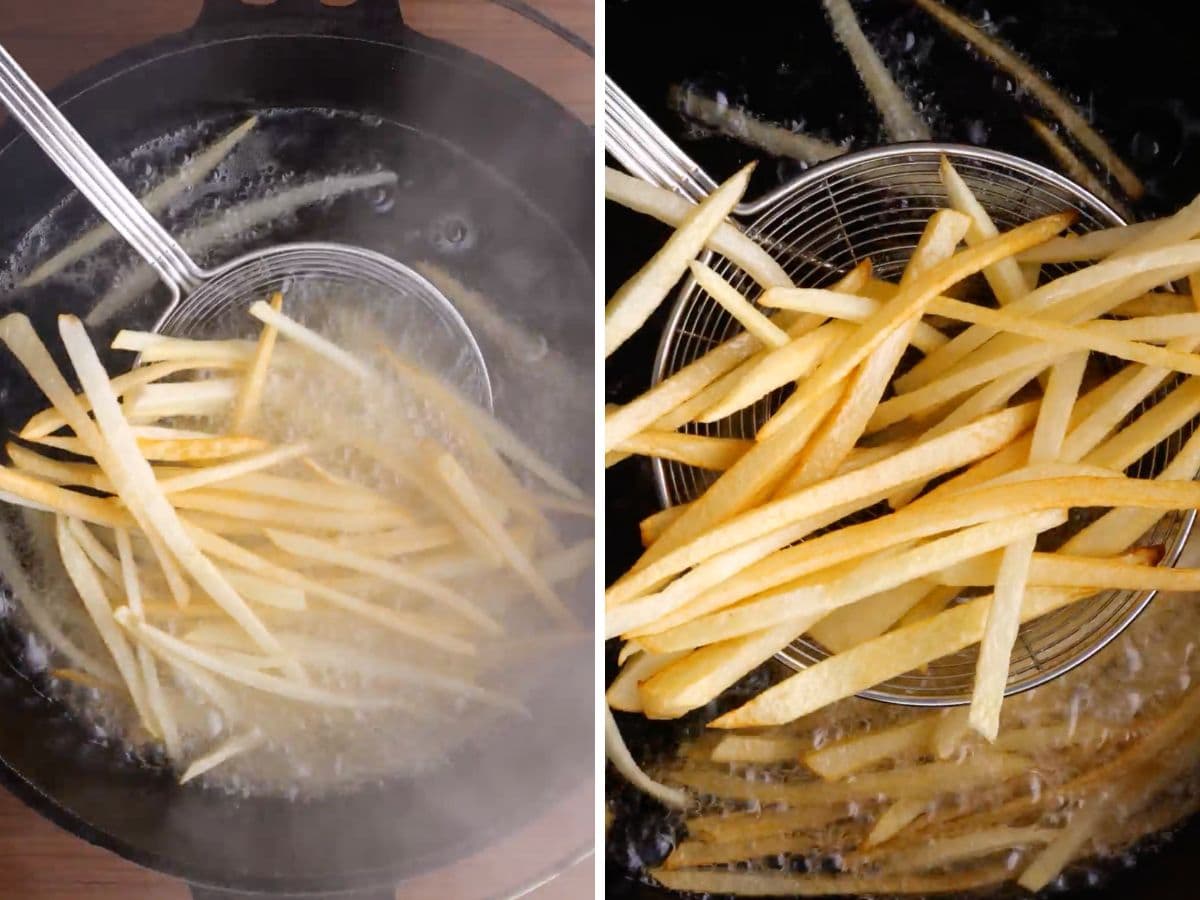 Create a free account to

Save Recipes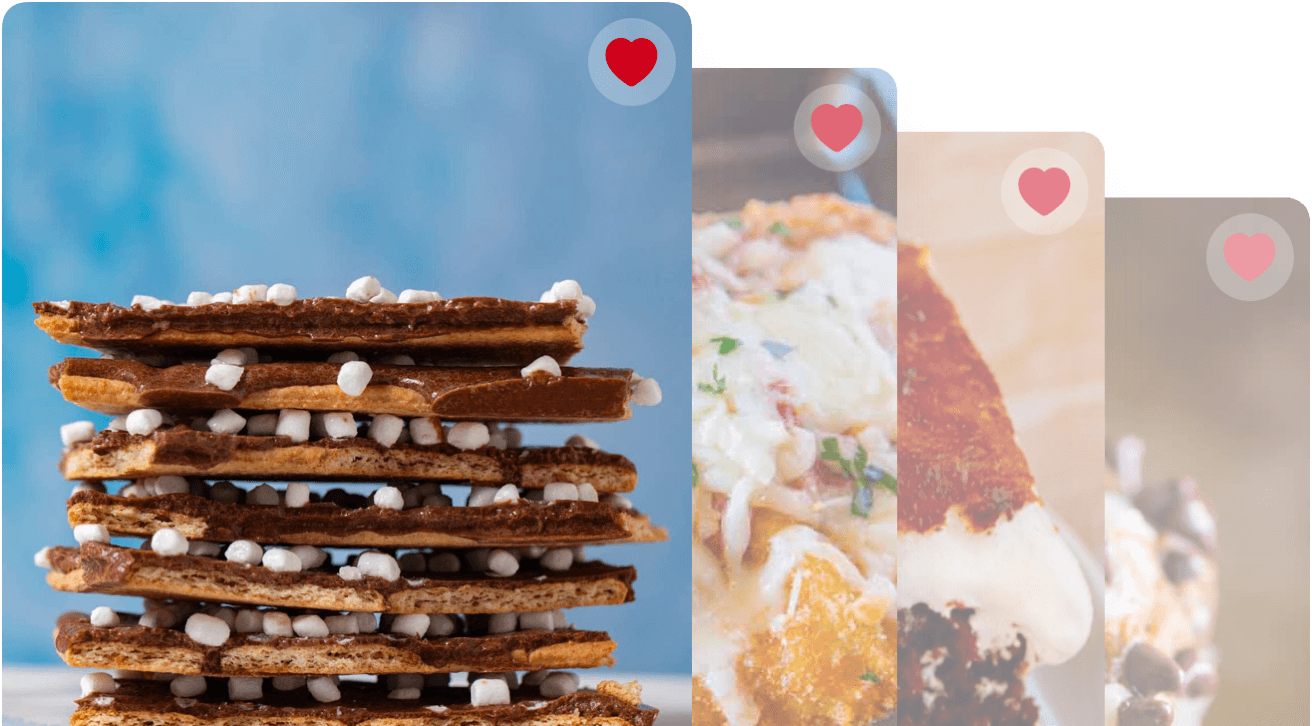 Key Ingredients in In-N-Out Animal Style French Fries
While the secret menu is not known by everyone, the ingredients to make it at home can be easily found at your local grocery store. Check it out!
Fries: We are using russet potatoes that are cut into fry shapes. Be sure to soak them to help them get crispy. 
Secret Sauce: It's a simple mixture of mayonnaise, ketchup, relish, sugar, and vinegar. 
Cheese: We're using classic American cheese slices, but you can use cheddar slices for your fries! 
Onion: Diced onions that have been cooked to a perfect caramelization is a great addition to the fries. We're using yellow onions, but you can use white onion or purple onion in a pinch. 
Air Fryer In-N-Out Animal Style French Fries
If you'd like to use less oil, then the air fryer is a great option as you'll only use a mere fraction of the oil.
Prepare the fries and let them soak according to the recipe.
Then, once they are dried, spray or coat with a little bit of vegetable oil and place them in batches in the air fryer basket in a single layer. Don't over lap them.
Cook for 15-20 minutes on 375 degrees.
Once the batches are finished, you'll want to keep them warm by putting them on a baking sheet and keeping them in the oven. Keep the temperature between 100-200 degrees. 
Top with the cheese, onions, and sauce when everything is cooked. 
Oven-Baked In-N-Out Animal Style French Fries 
If you don't have an air fryer, you can easily cook the fries in the oven. This is also a great option since you'll be using much less oil.
Preheat oven to 375 degrees.
Prepare the fries and let them soak according to the recipe. 
Once you've dried the fries off, layer them on the baking sheet and spray vegetable oil on top, or coat them in a bit of oil. 
Let them cook for 15-20 minutes. 
To crisp them up, turn up the heat to 450 degrees and cook at that temperature for an additional 10 minutes. You may have to adjust the timing depending on your oven.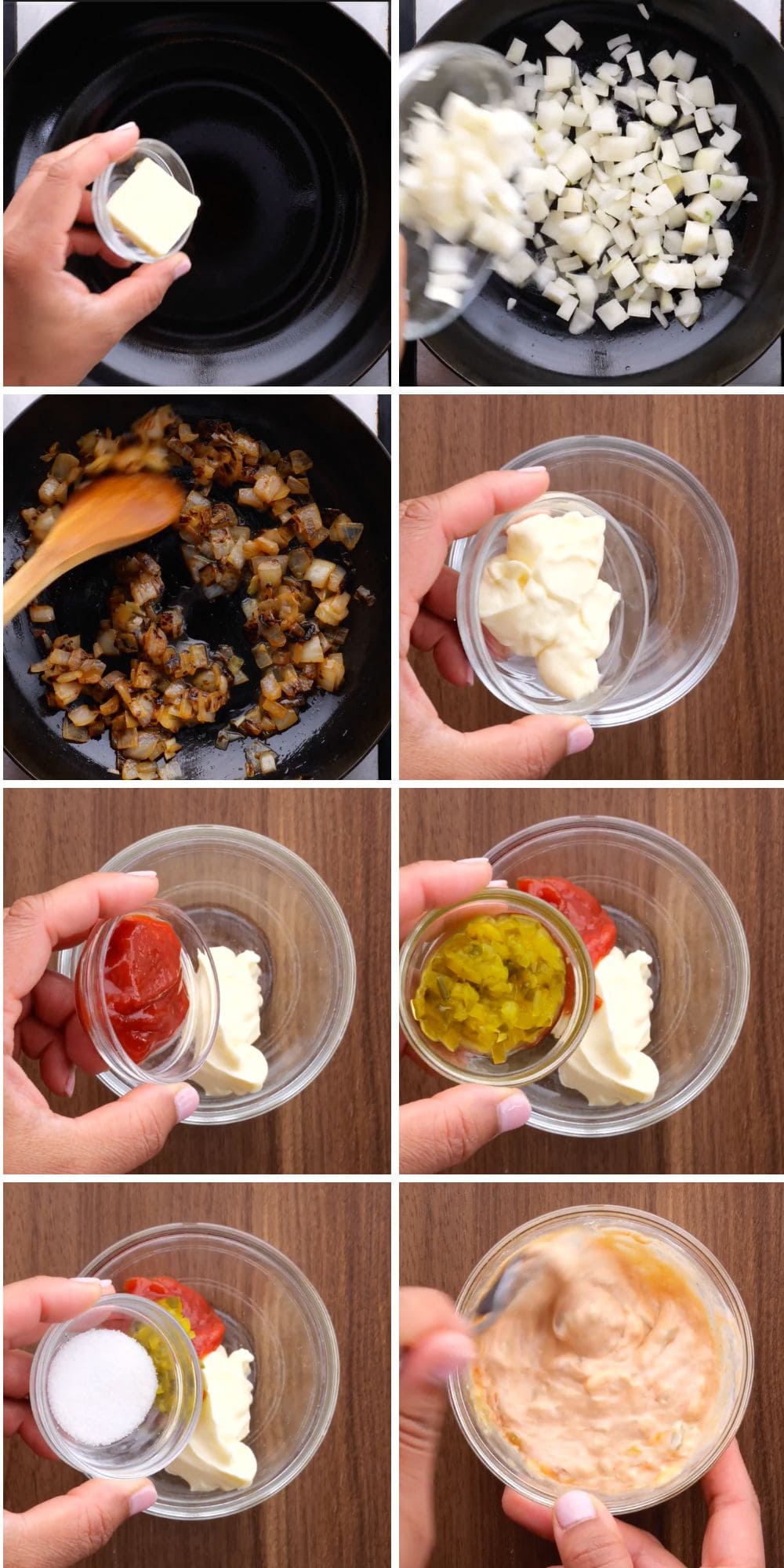 Can I make Animal Style French Fries ahead?
Yes, absolutely! But keep the sauce, onions, cheese, and fries separate if you want to make ahead of time.
Option One: You can make the Animal Style fry sauce, onions, and fries the day before, and store them separately in the fridge overnight. Then, just reheat everything and serve hot.
Option Two: To have the freshest fries possible, you can also slice and store the potatoes in cold water overnight and continue the recipe when you're ready to cook them and then add the other ingredients you made the day before. 
Variations on In-N-Out Animal Style French Fries
While the classic Animal-Style French Fries are made to be eaten as is, you can make some variations to enhance what's already amazing! Check it out!
Green Onions: Add some fresh chives or scallions to the top for a pop of flavor and color. 
Dipping Sauce: The creamy and garlicky Homemade Ranch Dressing is a great flavor to dip your fries in. Also, try dipping in our Spicy Mayo really takes it up a notch. 
How to Store In-N-Out Animal Style French Fries
Serve: Serve hot and fresh immediately. Do not leave Animal Style Fries components at room temperature longer than 2 hours.
Store: You can store the Animal Style sauce in an airtight container in the refrigerator for up to 4 days and use on a fresh batch of Animal Style fries all week!
Freeze: You can freeze the once fried potatoes in a single layer on a baking sheet and then transfer to a freezer safe bag. Fry from frozen (be very careful of splattering) to golden brown and serve with fresh Animal Style toppings.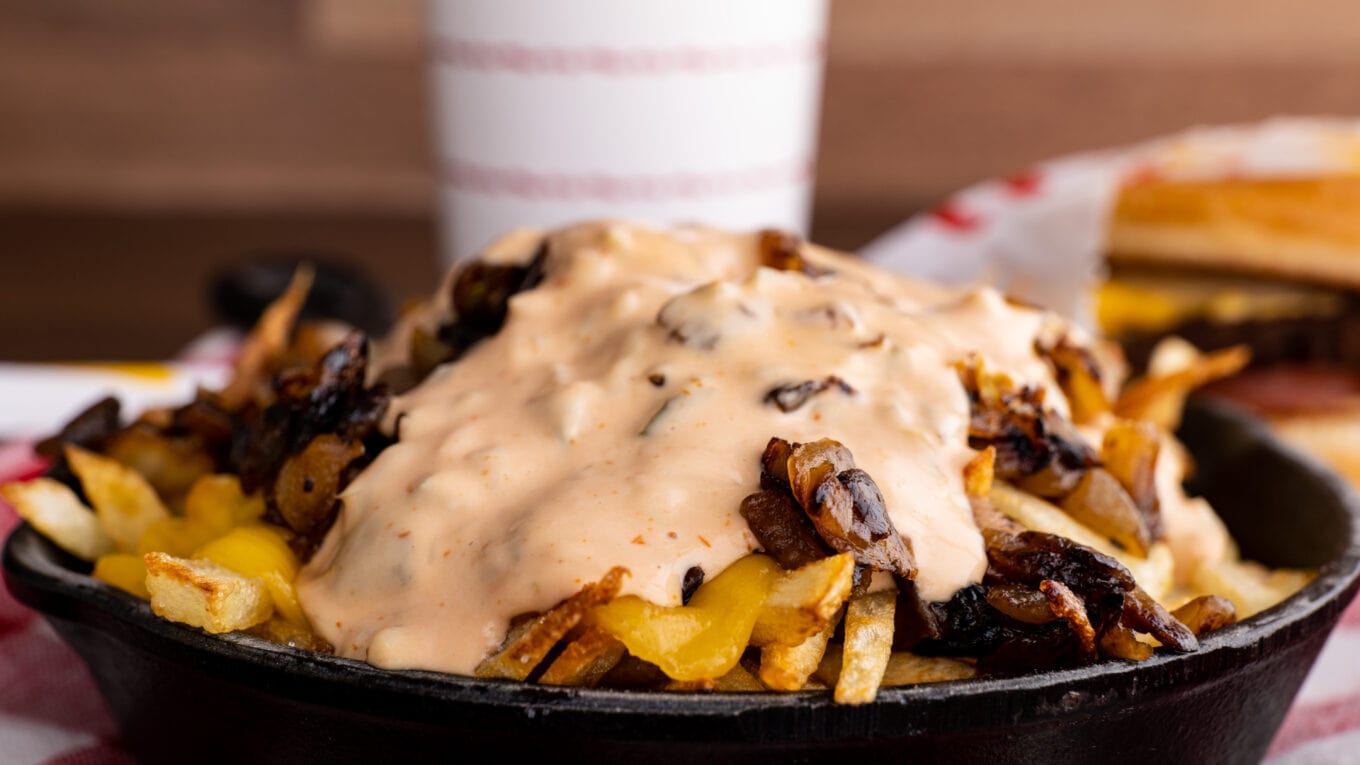 Ingredients
2

pounds

russet potatoes

, peeled and cut into ¼ inch fries

4

slices

American Cheese

1

large

onion

, finely chopped (about 1 ½ cups)

3

tablespoons

water

, for sizzling onions

2

teaspoons

butter

1/2

teaspoon

kosher salt

vegetable oil

, for frying
Animal-Style Sauce
8

teaspoons

mayonnaise

1

tablespoon

ketchup

2

teaspoons

sweet pickle relish

1/2

teaspoon

sugar

1/2

teaspoon

distilled white vinegar
Instructions
Keep the sliced potatoes in a bowl of cold water while you prepare the rest of the ingredients.
For the Onions
Heat 1 tablespoon butter in a skillet over medium-high heat until shimmering.

Add onions and ½ teaspoon kosher salt to skillet.

Reduce heat to medium low, and cook, tossing and stirring occasionally until onions are well browned, about

15 minutes

.

Once onions begin to sizzle heavily and appear dry, add 1 tablespoon water to skillet and stir.

Continue cooking until water evaporates and onions start sizzling again.

Repeat process, adding 1 tablespoon of water with each iteration until onions are meltingly soft and dark brown, about 3 times total.

Transfer to a small bowl and set aside while leaving any residual butter in the pan.
For the Animal Sauce
To make the animal fry spread: Add mayonnaise, ketchup, relish, sugar, and vinegar to a small bowl and stir to combine.
For the Fries
Dry the potatoes. Heat oil to 365 degrees

Fry for

3-4 minutes

or until the fries start turning a bit whiter.

Remove with slotted spoon and do the next batch.

To double fry, put the potatoes back in the hot oil after they've cooled and fry a second time for

2-3 minutes

, or until golden brown.

Place fries on plate, cover with slices of American Cheese, melted onions, and the animal style spread.

Serve immediately!
Nutrition
Calories:
318
kcal
|
Carbohydrates:
48
g
|
Protein:
9
g
|
Fat:
11
g
|
Saturated Fat:
5
g
|
Polyunsaturated Fat:
2
g
|
Monounsaturated Fat:
3
g
|
Trans Fat:
0.2
g
|
Cholesterol:
22
mg
|
Sodium:
799
mg
|
Potassium:
1043
mg
|
Fiber:
4
g
|
Sugar:
6
g
|
Vitamin A:
346
IU
|
Vitamin C:
16
mg
|
Calcium:
260
mg
|
Iron:
2
mg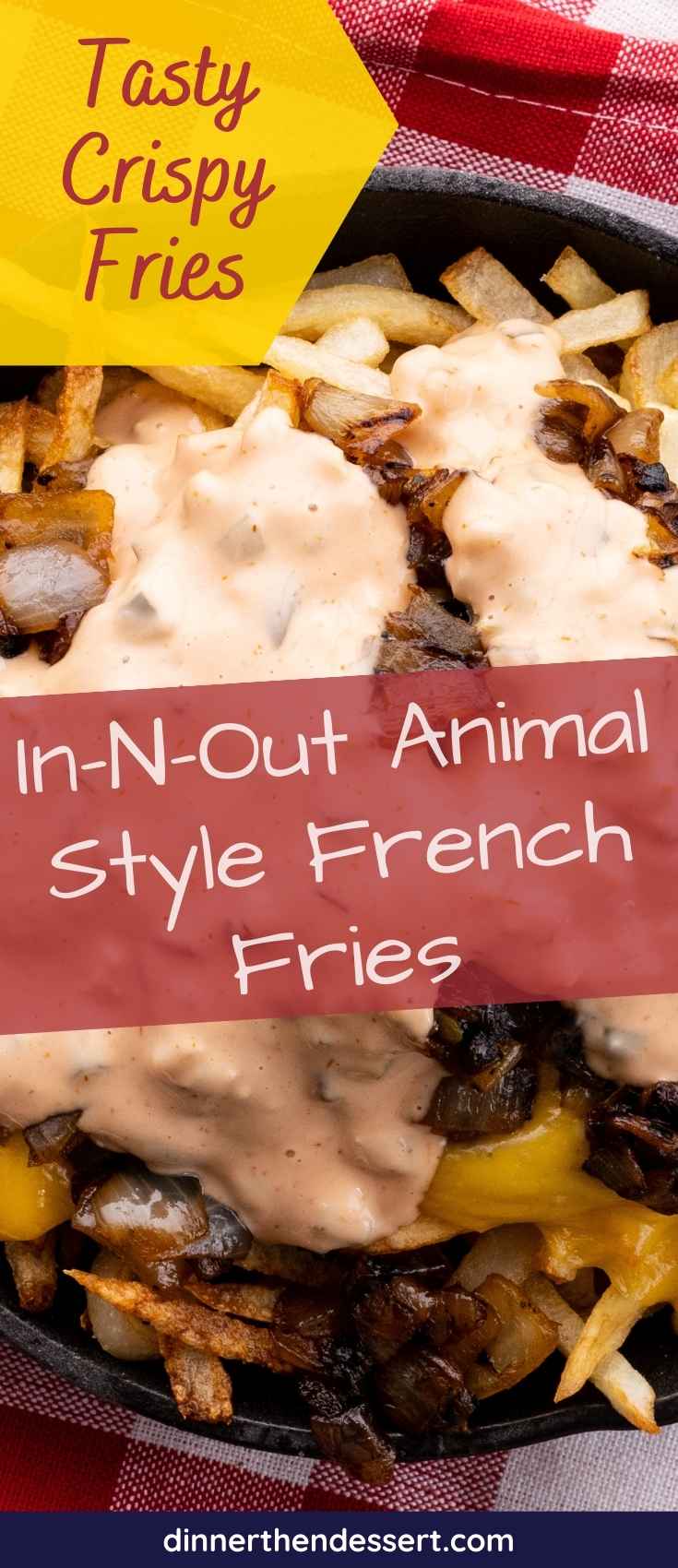 Photos used in a previous version of this post.