Quick and EASY Beef Stroganoff  with a creamy sour cream mushroom gravy, egg noodles and crazy tender steak that's still cooked to a medium doneness, it's the perfect weeknight meal!
We LOVE a good stroganoff dinner and have versions with meatballs and even in the slow cooker for more easy options. I am slightly obsessed with how delicious stroganoff is with such a small amount of effort.
 Easy Beef Stroganoff
We love good beef dinners, and using different cuts for each one. We use chuck roasts in recipes like Ultimate Slow Cooker Pot Roast and Slow Cooker Roast Beef (Sliceable!). We love Flank Steak for recipes like Spinach Artichoke Stuffed Flank Steak and Easy Mongolian Beef; but Ribeye is the king of steaks.
We love ribeye but because of the costs we actually plan ahead for this dish. Supermarkets usually work in cycles where the same thing goes on a great sale around once a quarter. Ribeye follows this cycle but ALSO follows most sports/grilling/male centered holidays that grocery stores promote.
This means usually every other month you'll find a sale for ribeye steaks for under six dollars a pound. When this happens I go to the grocery store and annoy my butcher for 4-5 packages of steak, cut to my specifications. Then we seal the steaks and keep them in the freezer for future meals.
Best Meat Cuts for Beef Stroganoff:
Classically round or rump steak is used because the cost per pound is lower. These cuts require tenderizing and longer cooking times. This recipe uses ribeye meat (New York Steak would also be a great choice) that is cooked to a medium doneness.
The resulting flavors are more reminiscent of steakhouse meets beef stroganoff to a simmered canned soup variety of the dish.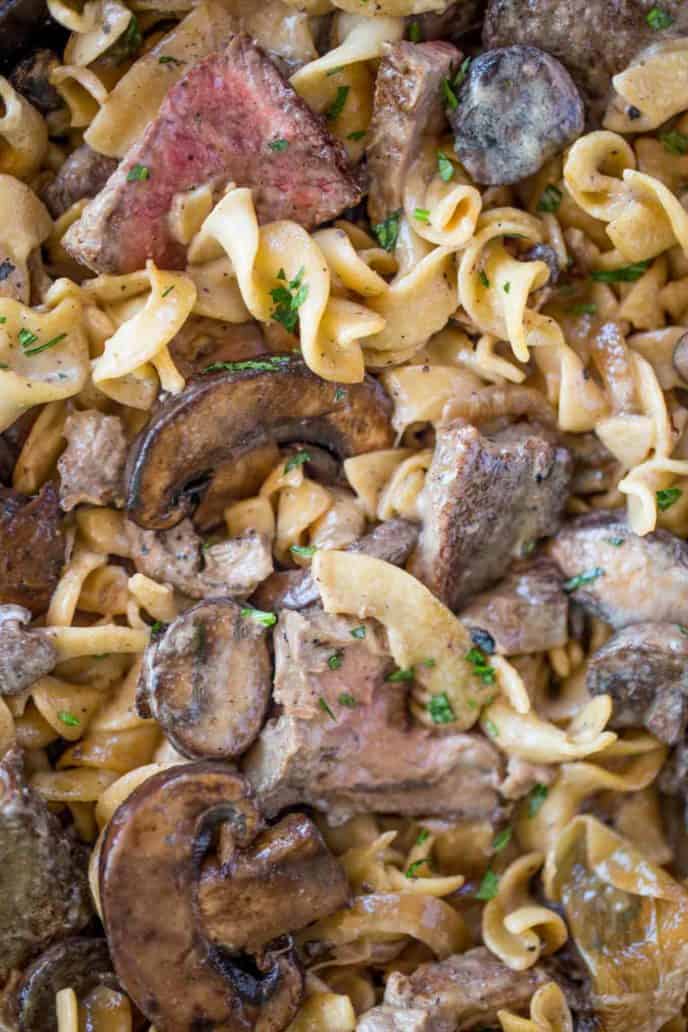 Why use ribeye steak?
Look, we could certainly use the leaner cuts, but with a tender ribeye steak and this pasta you've elevated the flavors of this buttery, rich, creamy pasta waaaay past what people would expect. I've served this dish to company who have replied with, "If my mom made beef stroganoff like this I wouldn't have pretended I was already full."
Best thing about it is it actually takes LESS time to make this way too.
How to select the perfect Ribeye Steak:
Look for the biggest deckle: This is the strip of beef that wraps around the "eye" of the steak (the part in the center, closest to the bone.
The deckle is the single most tender piece of meat in the cow with perfect marbling (chef secret)
Get a THICK steak, minimum 1 ½ inch cut of steak.
Don't just grab what's in the meat department already wrapped. Your store's butcher can cut you a fresh set to YOUR specifications for the same price.
Let the meat rest for 5 minutes before slicing and adding it to the pasta.
How to Make Beef Stroganoff:
Set your pasta to cook while cooking your steak in the cast iron skillet.
While the steak is resting cook the mushrooms and sour cream gravy.
Combine the pasta with the sauce and at the very last seconds toss in the steak.
This method will give you the most luxurious and crazy tender beef stroganoff you've ever eaten.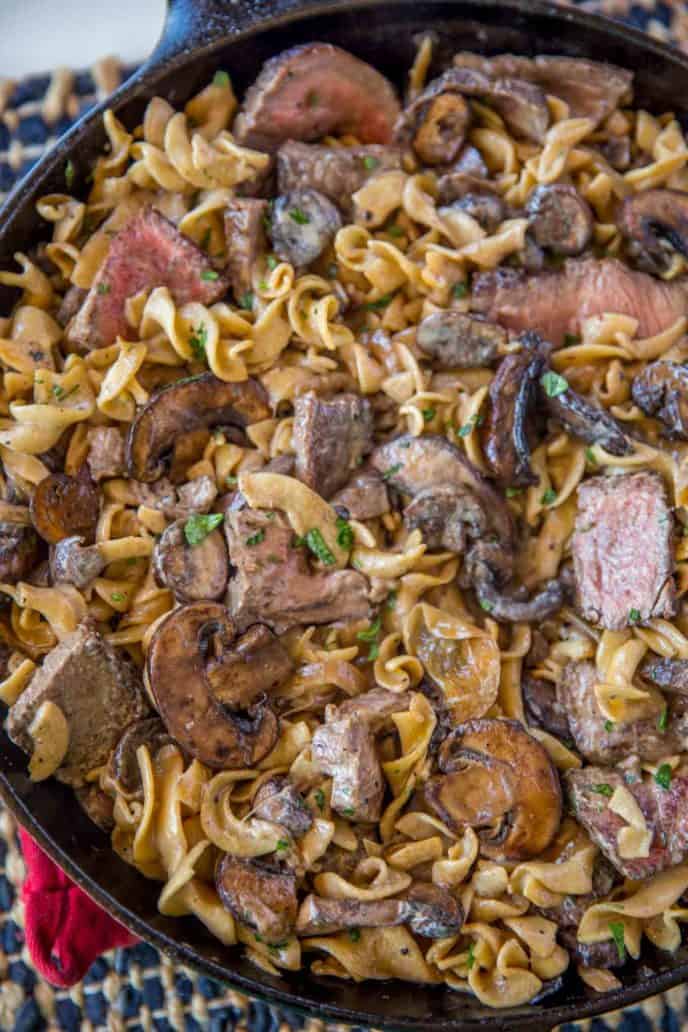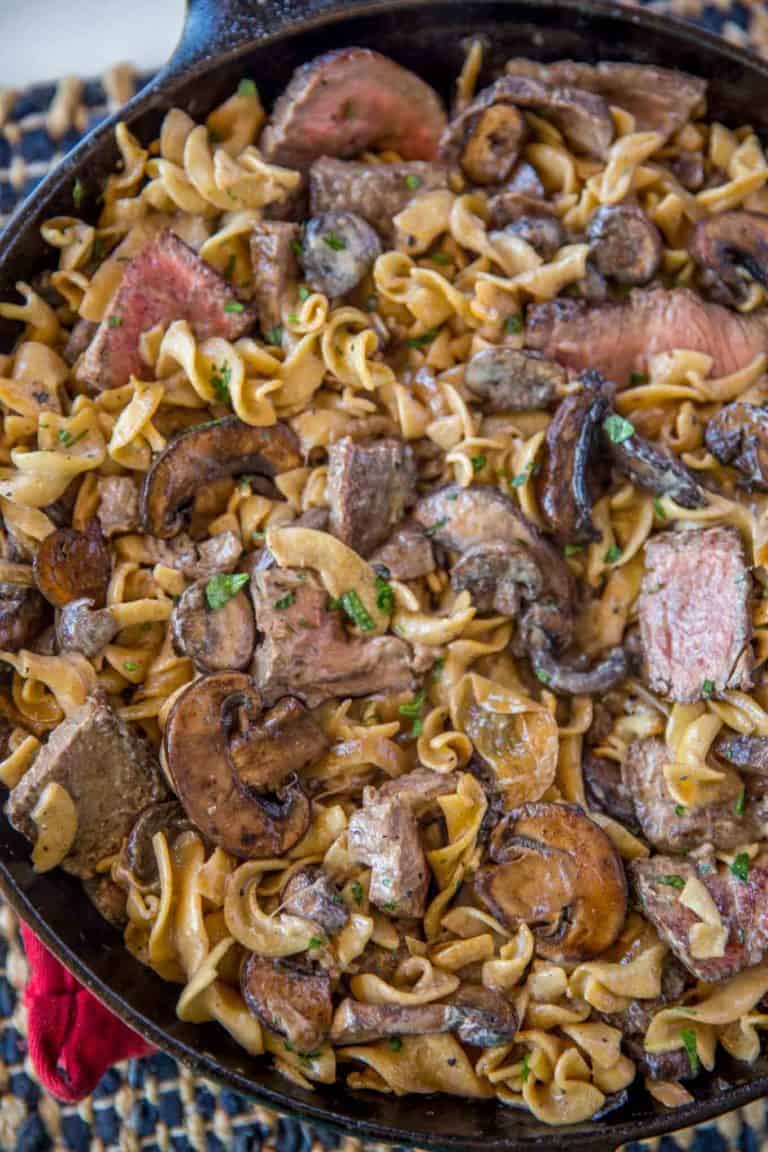 Tools Used in the making of this Crazy Tender Beef Stroganoff:
Cast Iron Skillet: This is my most used pan in my kitchen, heavy, keeps heat well and gives the BEST sear ever.
Pig Tail Flipper: I use this to flip the chicken without damaging the skin and its super easy. I use this tool EVERY time I cook something that requires flipping, it is amazing.
Beef Base: I almost never buy boxes of broth because I keep the beef, chicken and vegetable version of this Better Than Bouillon.
Recipe
Save
Easy Beef Stroganoff
Yield:

6

Servings

Prep Time:

15

minutes

Cook Time:

25

minutes

Total Time:

40

minutes

Course: Main Course
Cuisine: Russian
Author: Sabrina Snyder
Quick and EASY Beef Stroganoff with a creamy sour cream mushroom gravy, egg noodles and crazy tender steak that's still cooked to a medium doneness, it's the perfect weeknight meal!
Ingredients
1

pound

egg noodles

1/4

cup

unsalted butter

, divided

8

ounces

crimini mushrooms

, sliced

1

yellow onion

, thinly sliced

2

pounds

ribeye steak

, sliced thinly against the grain

1/2

teaspoon

Kosher salt

1/2

teaspoon

ground black pepper

1/4

cup

flour

3

cups

beef stock

*see note

1

tablespoon

Worcestershire sauce

1/4

cup

sour cream
Instructions
Note: click on times in the instructions to start a kitchen timer while cooking.
Cook the pasta to one minute shy of the directions on the box.

Add the mushrooms and onions, and brown for 4-5 minutes before removing from the pan and setting aside.

Salt and pepper the steak meat and add to the pan.

Sear on high heat for 3 minutes on each side.

Add the beef stock and Worcestershire sauce to the pan, bring to a boil, then reduce heat to medium.

Simmer, covered for 15-20 minutes, then add in the sour cream.

Mash together the last part of the butter and the flour, then whisk the mixture well into the broth and let cook for 2-3 minutes until the sauce thickens.

Add in the pasta, mushroom and onions, stirring well to combine before serving.
Recipe Notes
Note: I use a thickened beef stock paste/base in place of normal beef stock. If you use a similar stock base you can double the strength of it for an even more flavorful sauce.
Nutrition Information
Yield: 6 Servings, Amount per serving: 776 calories, Calories: 776g, Carbohydrates: 63g, Protein: 45g, Fat: 38g, Saturated Fat: 18g, Cholesterol: 190mg, Sodium: 566mg, Potassium: 1043mg, Fiber: 3g, Sugar: 4g, Vitamin A: 480g, Vitamin C: 1.7g, Calcium: 75g, Iron: 5g
All images and text © for Dinner, then Dessert.
Keyword:
Crazy Tender Beef Stroganoff
Save