Slow Cooker Roast Beef that you can slice into tender slices cooked to a perfect medium temperature. Enjoy for dinner or sliced thinly in sandwiches, you will never buy the deli variety again!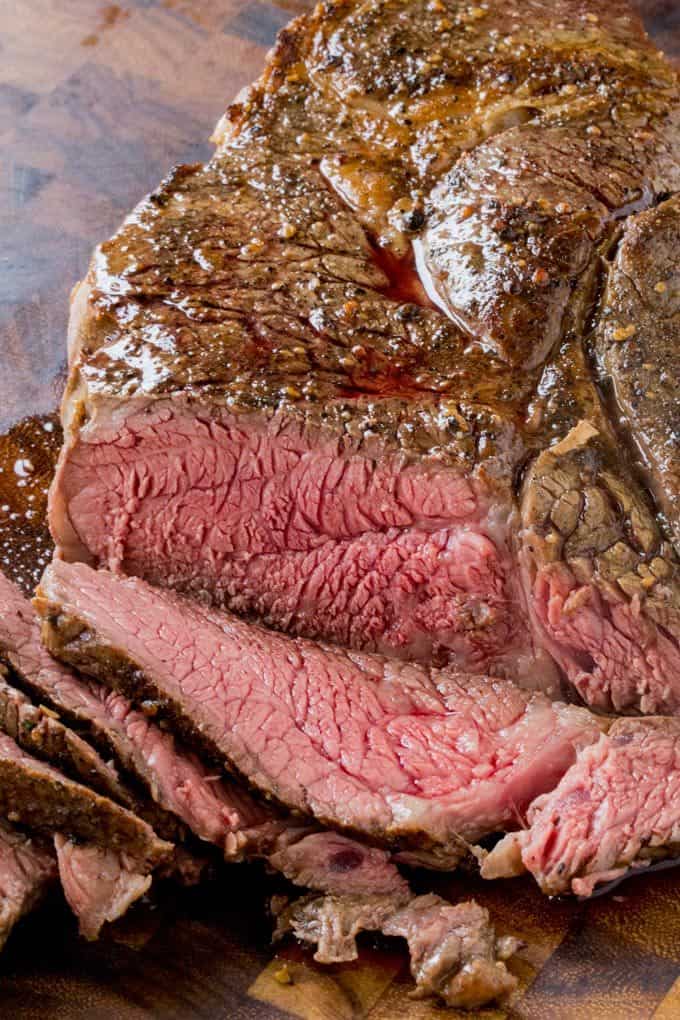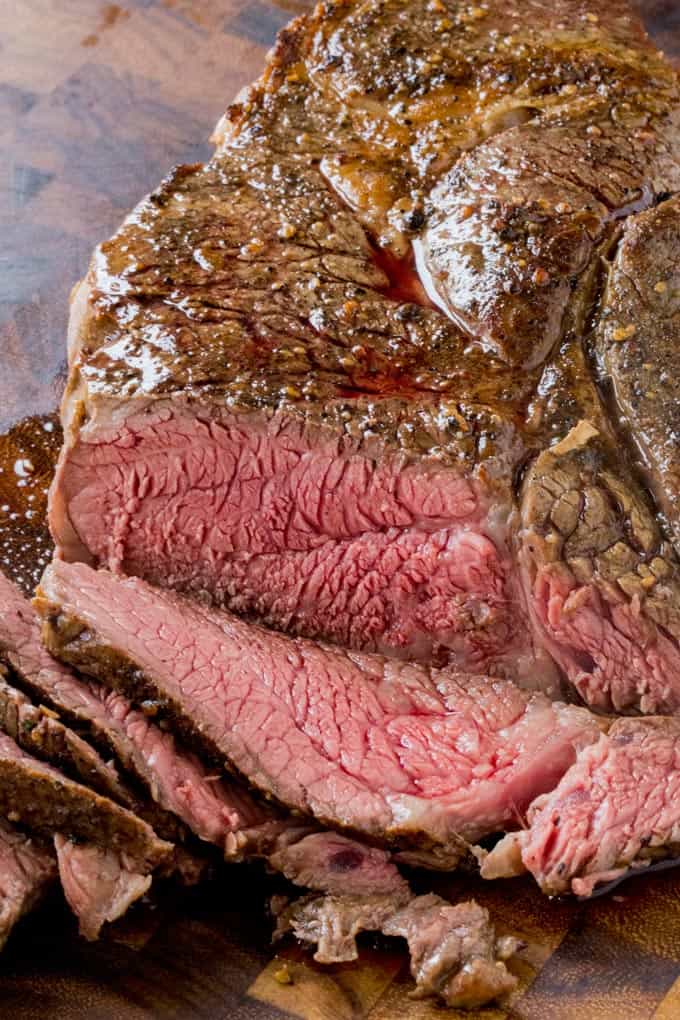 Slow Cooker Roast Beef. Yes, no joke, this was made IN A SLOW COOKER. The crust is gorgeous because I browned it before cooking, but that amazing tender medium center of the roast beef is 100% slow cooker.
The recipe for this came from a new series I've started in 2017 of slow cooker sandwiches. I've combed through list after list of the top sandwiches people crave and I've started making slow cooker versions of them all. Most delicious project ever. This Slow Cooker Roast Beef can be served in thick slices for a beautiful meal worthy of company or it can be sliced thinly and used in place of deli roast beef (coming Friday!).
At the beginning of this month I spoke at a blogging conference where I met Gina from Skinnytaste. I had so much fun meeting her my friend surprised me with one of her cookbooks.  So when I came across Gina's recipe for this roast beef in her book I immediately tested it out. It felt so meant to be that I would come across a recipe for one of the sandwiches on my long list. The verdict?
It is perfect! I added garlic to the recipe and skipped the broth, but the technique is what is golden here. It tastes like a shortcut Prime Rib dinner without the effort and high price tag! Win win! If you're looking for a side dish to this Slow Cooker Roast Beef, I would recommend Classic Steakhouse Creamed Spinach and the Richest, Cheesiest, Crispy Mashed Potatoes. It may as well be Chistmas dinner because your meal is going to be amazing.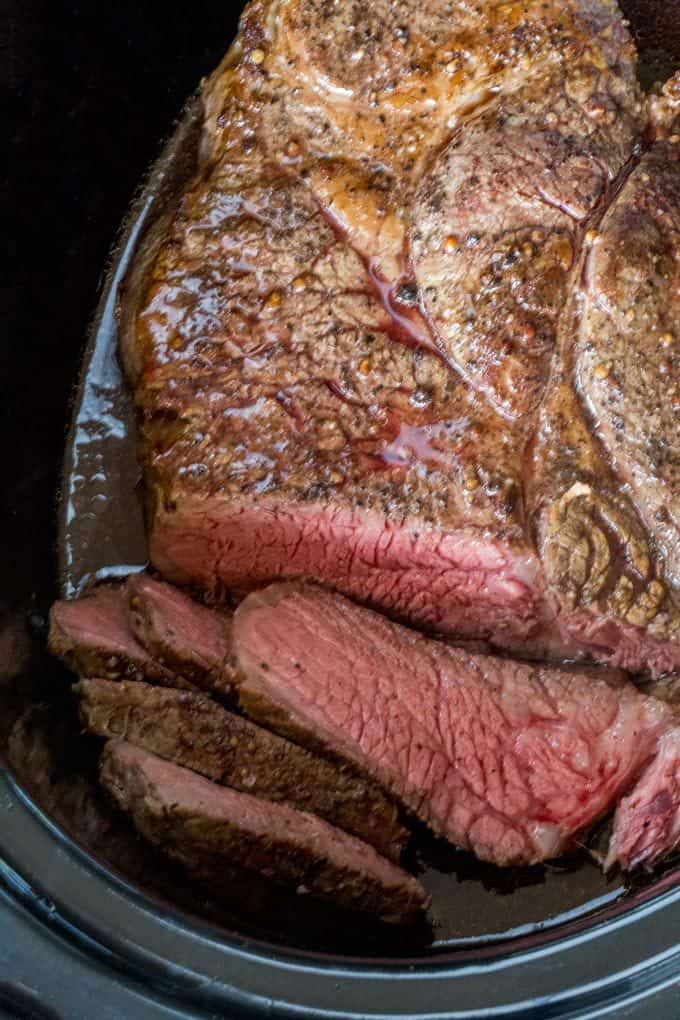 Looking for more Slow Cooker Beef dishes?
If you're keeping track here are the sandwiches we've got so far:
There's more on the way too, I've made and photographed a lot of slow cooker sandwiches, so if you're enjoying this series definitely stick around, more are coming!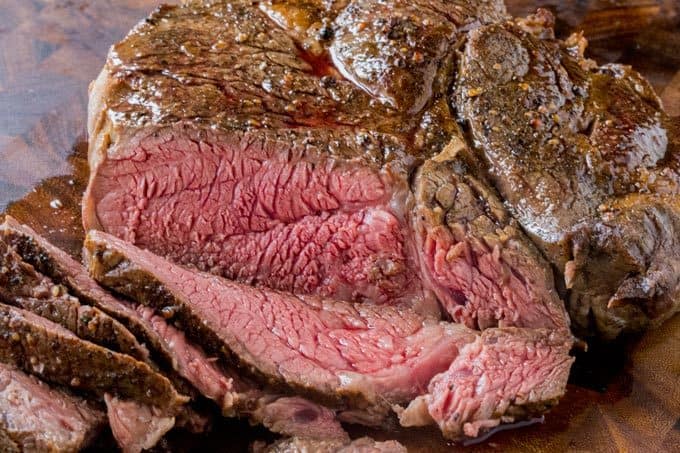 Tools Used in the making of this Slow Cooker Roast Beef:
Slow Cooker with Thermometer Probe: This slow cooker is a new addition to our house but it is an amazing new toy I've been having fun with. The thermometer fits through the lid without letting the heat escape.
Thermometer: If you don't have that slow cooker, this thermometer can stay in the slow cooker with no issues.
Skinnytaste Fast and Slow: An amazing book by an even more amazing blogger. Her food doesn't taste like it lost flavor to be better for you.


Ingredients
5

pounds

chuck roast

2

teaspoons

Kosher salt

1/2

teaspoon

coarse ground black pepper

2

cloves

garlic

minced

1

tablespoon

canola oil
Instructions
Rub the chuck roast with the salt, pepper and garlic.

Heat up your slow cooker insert (if cast aluminum) or a large pot on high heat with the canola oil.

Sear the beef on each side for

3-4 minutes

.

Put the beef and the drippings from the pan into your slow cooker.

Cook on low for

90 minutes

.

Using a standard meat thermometer or a slow cooker with a thermometer probe, cook to 135 (medium rare) or 140 (medium) degrees.
Nutrition
Calories:
351
kcal
|
Protein:
36
g
|
Fat:
22
g
|
Saturated Fat:
9
g
|
Cholesterol:
130
mg
|
Sodium:
540
mg
|
Potassium:
627
mg
|
Vitamin A:
25
IU
|
Vitamin C:
0.2
mg
|
Calcium:
33
mg
|
Iron:
3.9
mg