Ross Geller's Turkey Moist Maker Sandwich in all its glory. Turkey breast, stuffing, cranberry sauce and the important moist maker layer, this is the sandwich of your dreams.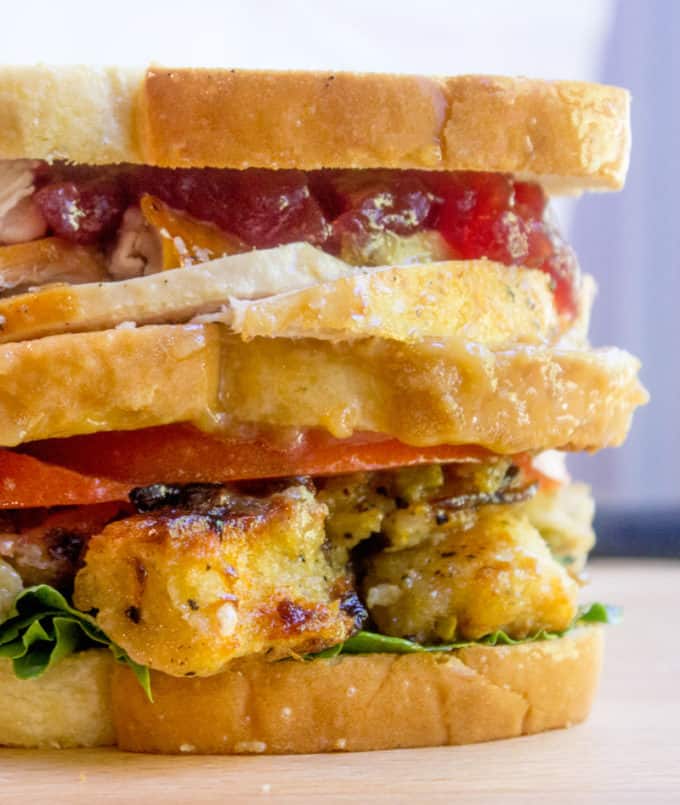 Turkey Moist Maker Sandwich, just say it to yourself over and over again because no, you're not living in Ross Geller's dreams, you are seeing one of the best sandwiches…ever.
Yesterday I posted my recipe for Slow Cooker Crispy Turkey Breast (which was brought to you by the non-profit organization, The National Turkey Federation) and today I'm sharing my favorite way use that delicious turkey in a sandwich. I'm dating myself a bit here, but I went through all of high school and college watching Ross, Rachel, Monica, Chandler, Phoebe and my love, Joey (yes I was one of the 15 people who watched all two seasons of Joey).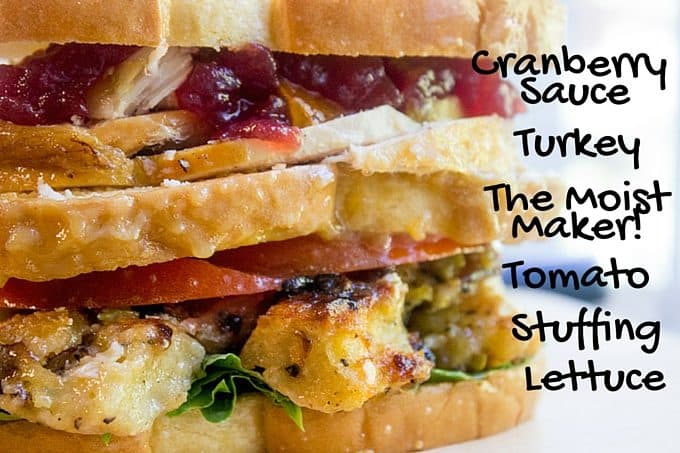 Need a refresher in how awesome this sandwich is? Here's a clip of poor Ross' meltdown when someone ate his sandwich.
The sandwich is sweet from the cranberry sauce, savory from the turkey, salty from the gravy fresh from the tomato and lettuce and crunchy from the stuffing. This Turkey Moist Maker Sandwich is not just about reliving the glory days of Friends, but it's also an amazingly well balanced sandwich. Monica definitely knew what she was doing.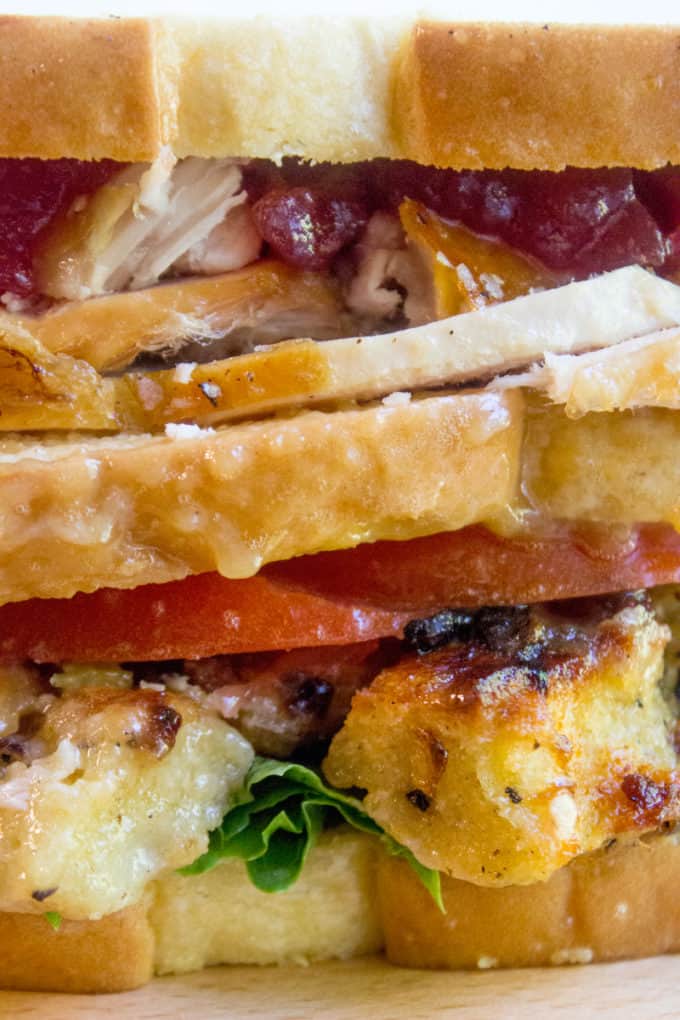 You can certainly make this sandwich after Thanksgiving with your leftovers but we made this sandwich all year round. I'd rather not wait until November so I took about thirty minutes and made the stuffing (any of your favorite stuffing recipes) and gravy from my Slow Cooker Crispy Turkey Breast and we've been enjoying the most awesome Turkey Moist Maker Sandwich for lunch all week.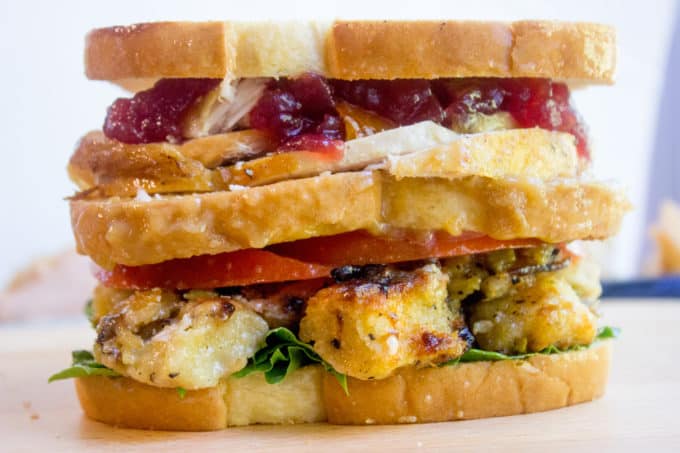 Ingredients
4

tablespoons

butter

1/4

cup

flour

2

cups

turkey broth

(the leftover in the slow cooker works great, in a pinch you can use Chicken Stock)

Kosher Salt and Fresh Cracked Black Pepper to taste

12

slices

Slow Cooker Crispy Turkey Breast

12

slices

sandwich bread

, toasted

1/2

cup

mayonnaise

8

slices

lettuce

8

slices

tomato

2

cups

stuffing

1

cup

cranberry sauce
Instructions
Add the butter and flour together in a pan and stir until browned.

Add in the stock and whisk until combined and thickened,

3-5 minutes

.

Add salt and pepper to taste (I added ¼ teaspoon Kosher salt and ¼ teaspoon fresh cracked black pepper).

To make each sandwich:

Add 1 tablespoon of mayonnaise to 2 slices of bread.

Top with two leaves of lettuce.

Add ½ cup of stuffing on top of the lettuce.

Add two sliced of tomato on top of the stuffing.

Dip a slice of bread with no mayo on it into the gravy and put on top of the tomato.

Add 3 slices of Crispy Slow Cooker Turkey Breast.

Add ¼ cup cranberry sauce and top with final piece of bread with mayonnaise on it.
Nutrition
Calories:
820
kcal
|
Carbohydrates:
95
g
|
Protein:
13
g
|
Fat:
44
g
|
Saturated Fat:
13
g
|
Cholesterol:
43
mg
|
Sodium:
1585
mg
|
Potassium:
400
mg
|
Fiber:
6
g
|
Sugar:
34
g
|
Vitamin A:
1160
IU
|
Vitamin C:
17
mg
|
Calcium:
246
mg
|
Iron:
4.7
mg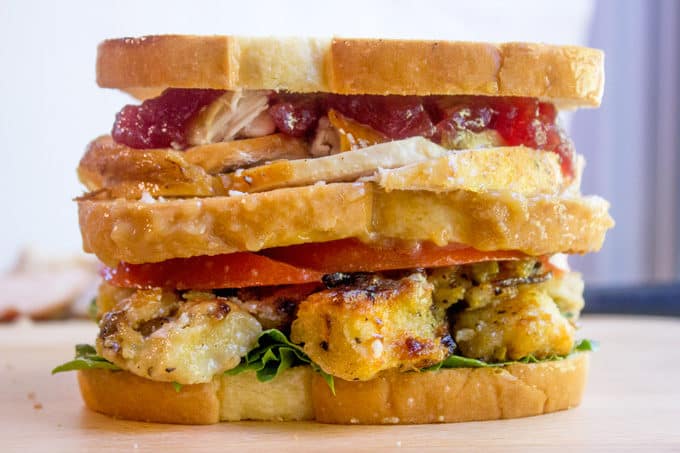 Don't forget to visit the National Turkey Federation on Twitter and Facebook to learn more about turkey, its amazing healthy benefits and of course to check out any of their over 2000 turkey recipes!