Froot Loop Cereal Bars are a fun fruity twist for marshmallow cereal treats. Easy no-bake rainbow snacks kids will want to make (and eat) all summer long!
If there is an easier go-to Snack Recipe than Rice Krispie Treats, we haven't found it yet. No matter what kind of cereal you use, these chewy marshmallow treats are always a winner with kids of all ages!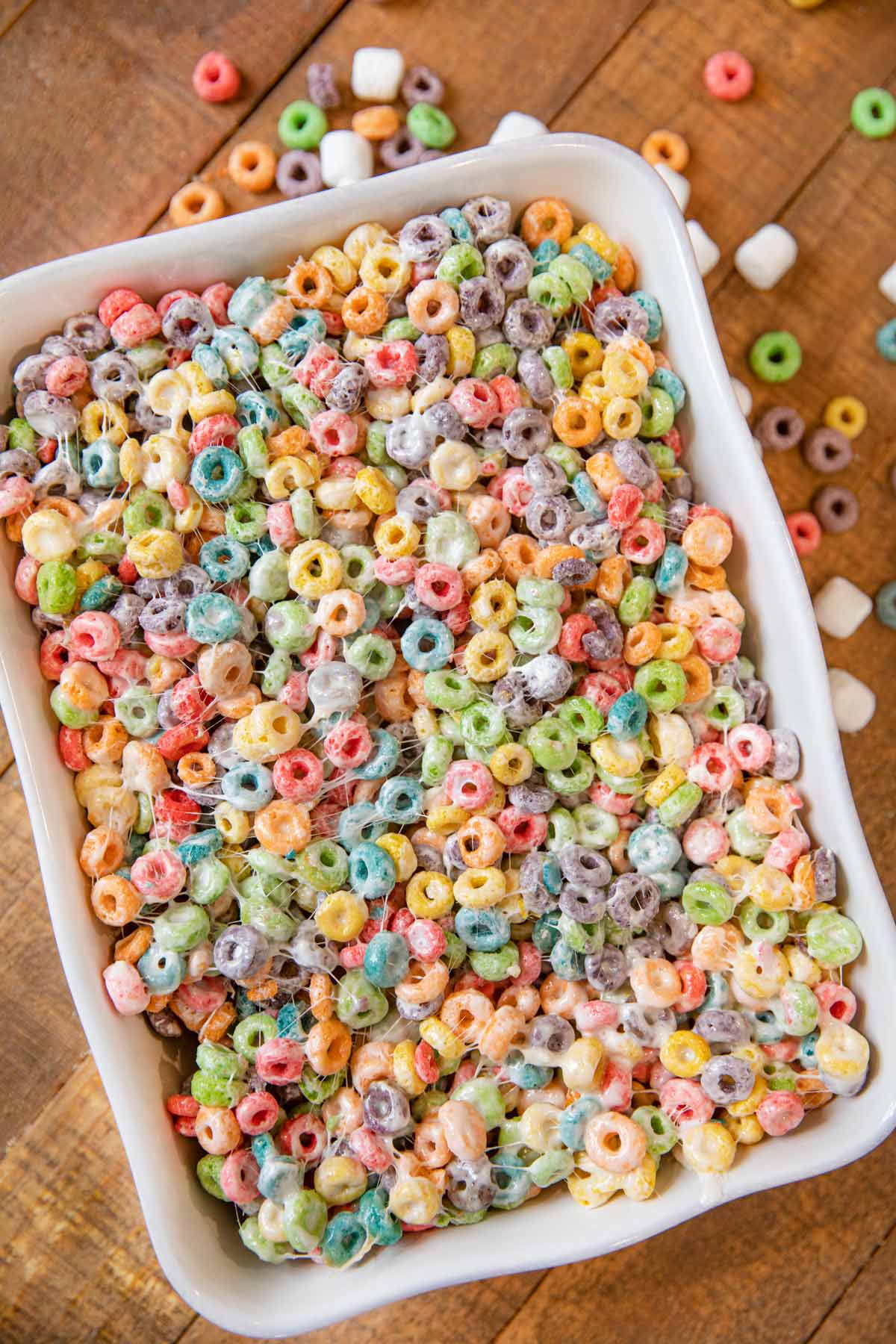 FROOT LOOP CEREAL BARS
Follow your nose, and sweet tooth, to tasty colorful summer treats that may or may not break some of the rules. We'd love to say these treats are packed with natural fruit flavors, but there's a reason they are called Froot Loops and not Fruit Loops. Sugary Froot Loops aren't the healthiest cereal, but it's fun to indulge occasionally. Plus you can always be good next time with healthy Granola Bars.
Froot Loops are actually one of the best cereals to make marshmallow treats with. The buttery marshmallow coating mellows out the sweetness so the berry flavoring stands out. Froot Loop Cereal Bars are great for making ahead of time too! The crunchy rings get soft and chewy, yet hold their shape and bright colors, even after days at room temperature.
These bars are so easy to make, you can take a break and let the kids or non-cook parent take over. Melting marshmallows on the stove gives you better control so you don't overheat them, but you can always let kids use the microwave instead. Just make sure to stir every few seconds and oven mitts when handling a hot bowl.
MORE NO BAKE CEREAL BARS YOU NEED TO TRY!
Froot Loop Cereal Bars are a fun treat that are sure to bring a smile to everyone's face. The rainbow loops are perfect for St. Patrick's Day treats or as a colorful snack at birthday parties and potlucks. Unlike regular Rice Krispies, these bars aren't gluten free but you can always swap the Froot Loops for a brand that is!
The only thing that would make these colorful Froot Loop Cereal Bars even more exciting is sprinkles! You can mix large sprinkles in with the cereal or over the top of your bars in the pan, pressing gently so they stick. Drizzle Froot Loop Cereal Bars with White Chocolate Ganache before adding the sprinkles so they really pop out.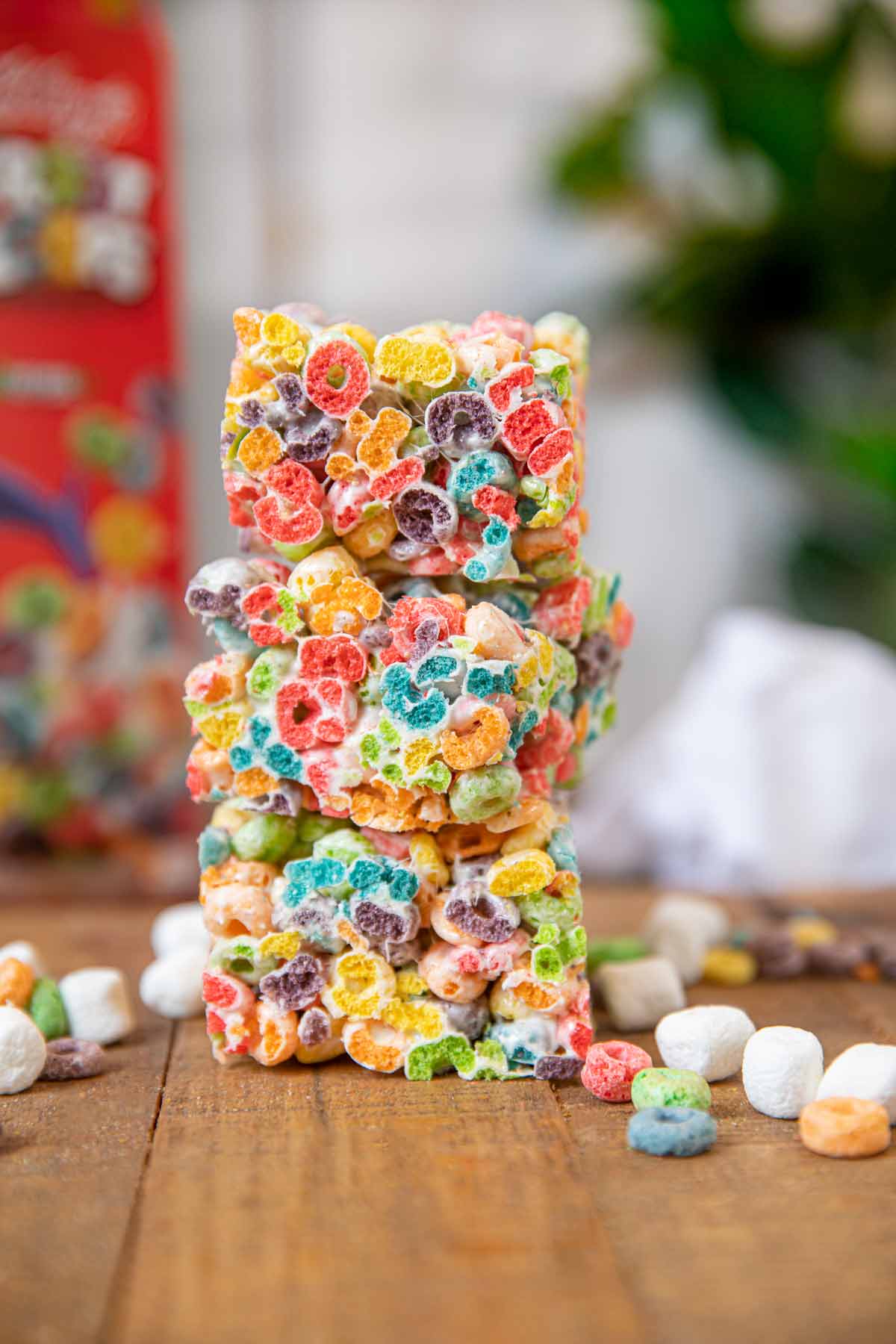 Create a free account to

Save Recipes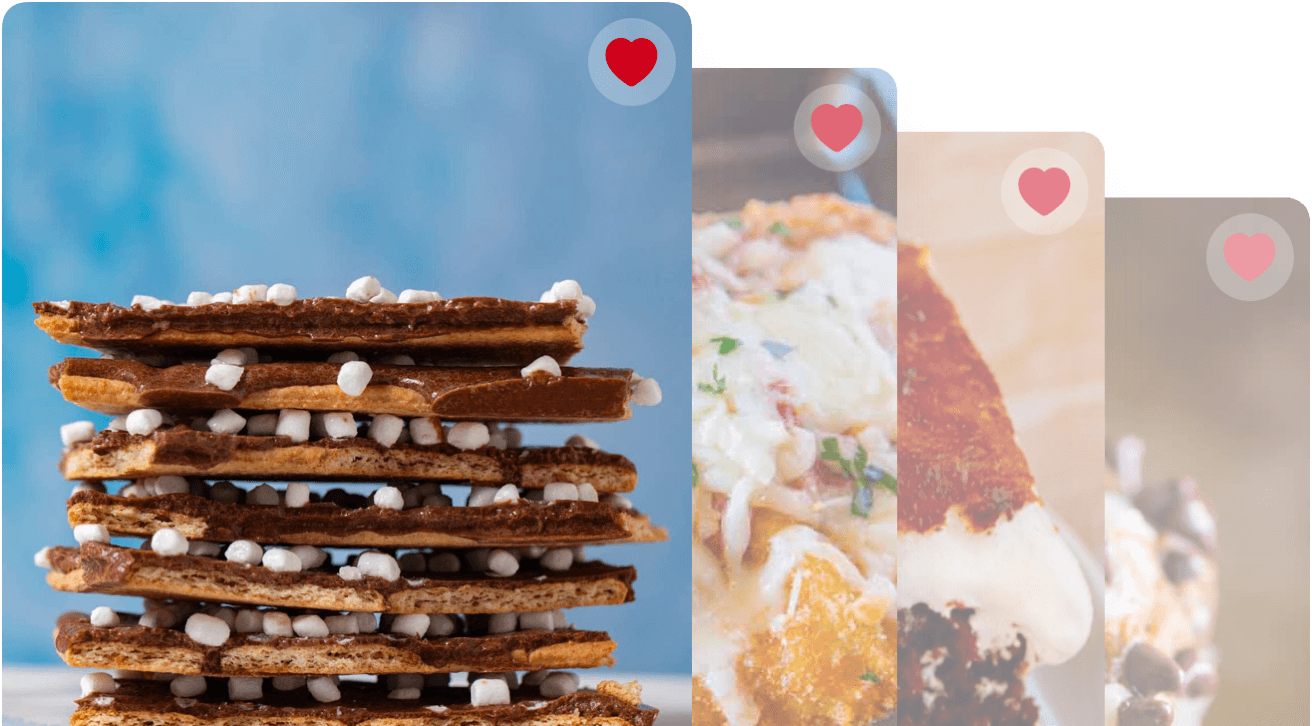 VARIATIONS ON FROOT LOOP CEREAL BARS
Cereal: Other colorful "fruity" cereals to try are Trix, Very Berry Cheerios, Apple Jacks, or Berry Froot Loops. Be on the look out for limited edition flavors around the holidays too!
Marshmallows: Mix the cereal in with the melted marshmallows, wait a couple minutes, then stir in 1 cup mini rainbow marshmallows or ¼ cup mallow bits. Waiting keeps the marshmallows from completely melting. You could also use Froot Loops with Marshmallow Bits!
Sprinkles: Use any sprinkles you like either as a topping or mixed in with the Froot Loops. If you mix rainbow jimmes (long sprinkles) with the cereal, they may melt a bit but they will still be fun and tasty!
White Chocolate: Dip Froot Loop Cereal Bars halfway in white chocolate then add sprinkles for an easy party treat. Flavor your white chocolate with strawberry extract, or other fruit flavors, to make it even more tasty.
Cake Batter: Microwave ¾ cup white cake mix for 1 minute, stirring every 15 seconds, to bake off raw flour. Stir cake mix into marshmallow mixture before adding cereal for Birthday Cake Cereal Bars.
Cereal Milk Glaze: Combine ¾ cup powdered sugar, 2 tablespoons water, and 3 tablespoons skim milk powder to make the Cereal Milk Glaze on store bought cereal bars.
MORE DELICIOUS BROWNIE AND BAR RECIPES
HOW TO STORE FROOT LOOP CEREAL BARS
Serve: Cool Froot Loop Cereal Bars for at least one hour before cutting to serve. If the room temperature is too hot to set bars, place in a pantry or refrigerate until set.
Store: For best taste and softness, store Froot Loop Cereal Bars covered in plastic wrap at room temperature. If you do refrigerate, bring to room temperature for at least 30 minutes before serving.
Freeze: Froot Loop Cereal Bars can be frozen in a sealed container for up to 1 month. Store already cut for easy snacking and leave at room temperature until thawed.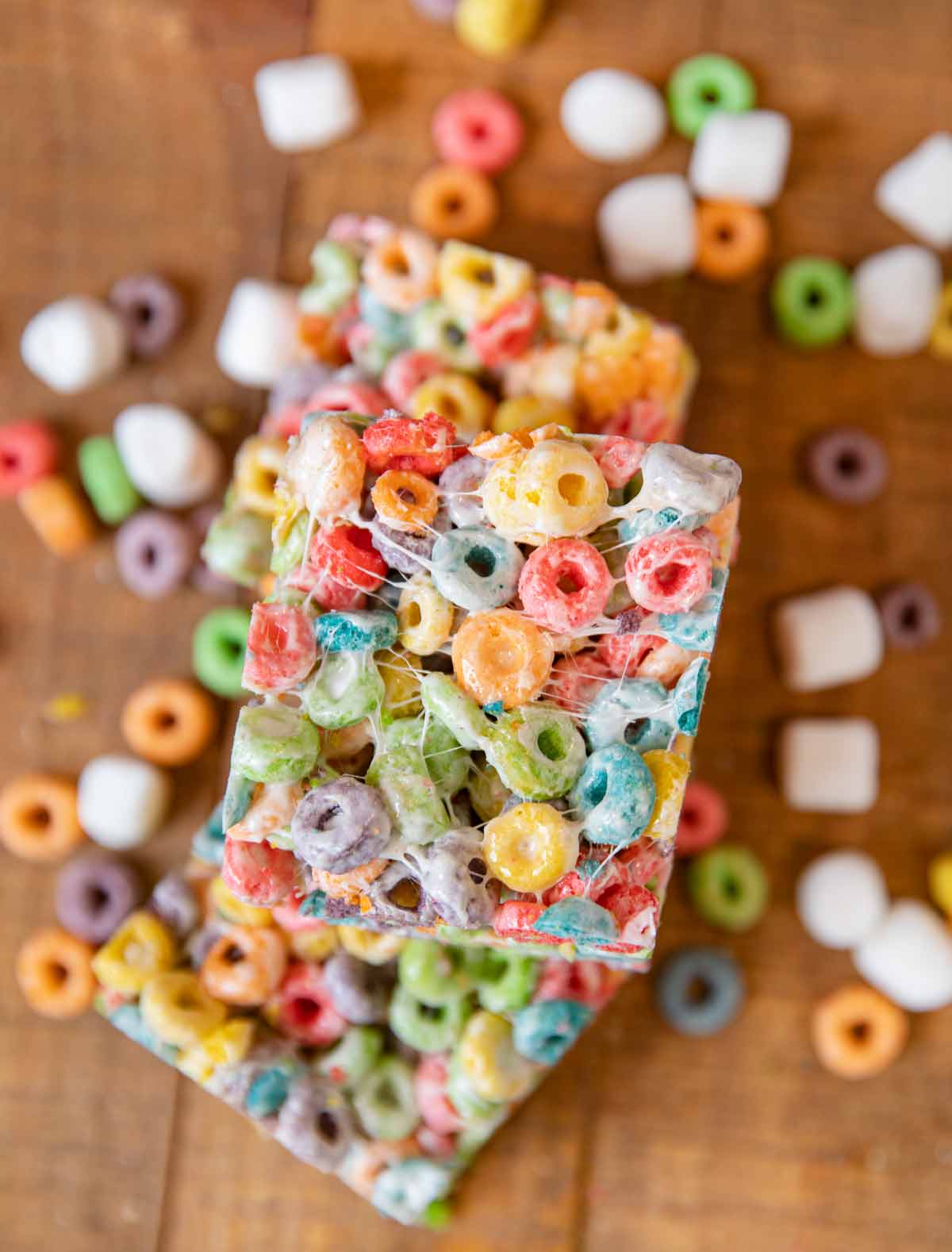 Ingredients
4

tablespoons

unsalted butter

12

ounces

mini marshmallows

7

cups

Froot Loops Cereal
Instructions
Grease a 9x13 baking pan.

Add butter to a large pot on medium low until melted then mix in the marshmallows until they are just melted (do not let this sit while melted for too long or the bars will be brittle).

Add in the Froot Loops and mix well until combined.

Gently press the cereal mixture into the baking pan and allow to cool completely before cutting into bars.
Nutrition
Calories:
140
kcal
|
Carbohydrates:
28
g
|
Protein:
1
g
|
Fat:
3
g
|
Saturated Fat:
2
g
|
Cholesterol:
8
mg
|
Sodium:
76
mg
|
Potassium:
15
mg
|
Fiber:
1
g
|
Sugar:
18
g
|
Vitamin A:
306
IU
|
Vitamin C:
7
mg
|
Calcium:
3
mg
|
Iron:
2
mg