Homemade Pancakes are made with basic pantry ingredients. The best part of these Classic Pantry Pancakes are that they also make the best pancakes from scratch ready for toppings and mix-ins.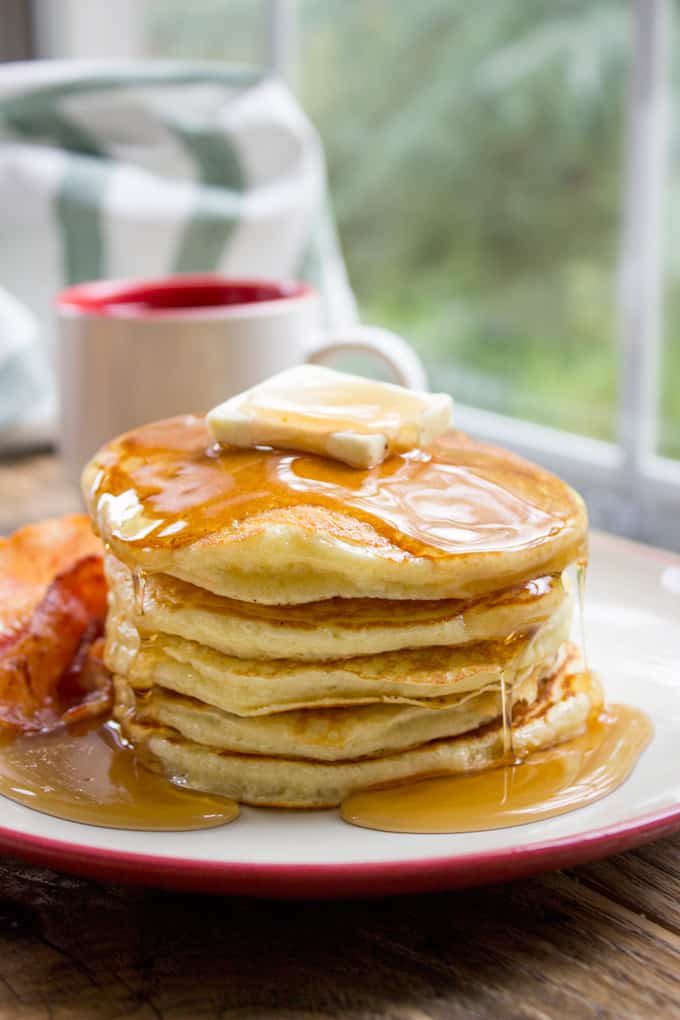 Homemade Pancakes are my answer to the last minute "I need more than cereal this morning but I am too lazy to make something fancy" feeling I had yesterday morning. I have more pancake recipes than any sane person should, but as I was looking through them they all required at least a hint of preparation. Buttermilk, sour cream, mascarpone, cornmeal, fresh fruit… the list went on. These pancakes are made from scratch and are easy to make.
Want to know what I had in the cupboard and fridge? Me too, but I was too lazy to check, so I used this recipe to make my favorite EASY homemade pancakes. They're delicious, fluffy (sometimes crispy when I add more butter to the pan and cook on high…I get funny cravings like that) and they take almost no time at all to make. And as I was eating them yesterday I thought that they were a better Friday post for this week than the Triple Berry Belgian Waffles I was going to post. It only felt right that my last minute easy breakfast was going to make a last minute post substitution.
These Classic Pantry Pancakes are about as easy as pancakes can get, I put everything in one bowl, mix with a whisk and use my ¼ cup ice cream scoop to immediately scoop onto a griddle. And you will LOVE them. I have been making them for years, way before Pinterest, back when I used to email myself recipes so I didn't lose them.
The best part of these Classic Pantry Pancakes are that they also make the best base pancakes for toppings and mix-ins:
Chocolate Chips – Sometimes I get fancy when I have the remnants of a few bags of chocolate chips and I do a mixture of different kinds <–This gets me some serious wife brownie points
Fruit – Chopped up and mixed in or on top we can't go any further down the list without the obvious.
Apple Rings – Yes this is a fruit too, but for the little ones I dip apple rings in this batter and cook, then they get a serving of fruit with their fun donut looking pancake rings.
Lemon and Poppy Seeds: Yep, why not, add a bit of lemon juice, some lemon zest and a teaspoon of poppy seeds. Instant fancy.
Peanut Butter – Sometimes I add peanut butter chips to the batter and top with a warmed fruit sauce or jam. Best PB&J ever.
Nutella – Because, well, Nutella makes everything better. Smear between layers and go all out and top with Vanilla Ice Cream… who says you can't have those days? Heck, add rainbow sprinkles to it while you're at it.
Experiment with different syrups, fruit, icing, maple with cinnamon added. You don't have to doll up the pancakes all the time, sometimes an awesome strawberry syrup on top is enough to make the meal.
Or if you are still looking for other pancake ideas? How about Cinnamon Roll Pancakes? Or Cornmeal Bacon Pancakes? or Gingerbread Pancakes with Cinnamon Syrup?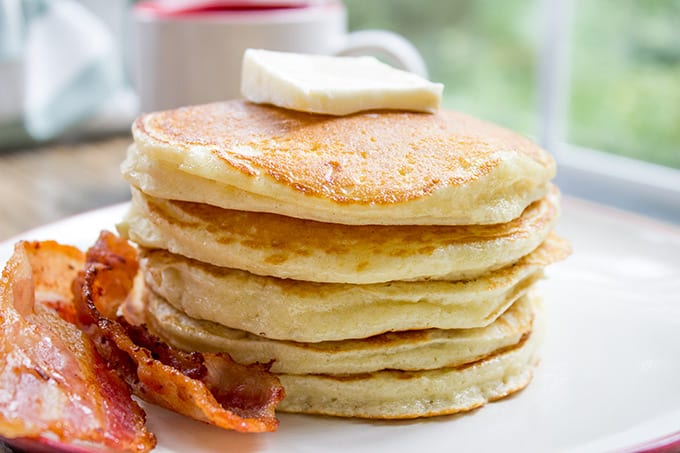 Ingredients
1 1/2

cups

all-purpose flour

3 1/2

teaspoons

baking powder

1/4

teaspoon

salt

4

teaspoons

white sugar

1 1/4

cups

milk

1

egg

4

tablespoons

butter

melted
Instructions
Add the dry ingredients and whisk together, then add the wet and combine fully (although I tend to just put everything in a bowl and whisk - these pancakes are really fuss free.)

Heat a pan or griddle on medium heat and coat with a small layer of butter.

Using a ¼ cup scoop, cook the pancakes on both sides until browned, about a minute on each side.

Enjoy with your favorite toppings or mix-ins.
Nutrition
Calories:
176
kcal
|
Carbohydrates:
22
g
|
Protein:
4
g
|
Fat:
7
g
|
Saturated Fat:
4
g
|
Cholesterol:
39
mg
|
Sodium:
148
mg
|
Potassium:
259
mg
|
Sugar:
4
g
|
Vitamin A:
265
IU
|
Calcium:
127
mg
|
Iron:
1.3
mg
Obligatory syrup pour. 😉