Honey Cornmeal Pancakes with Bacon & Honey Butter Drizzle
This post may contain affiliate links. Read my disclosure policy here.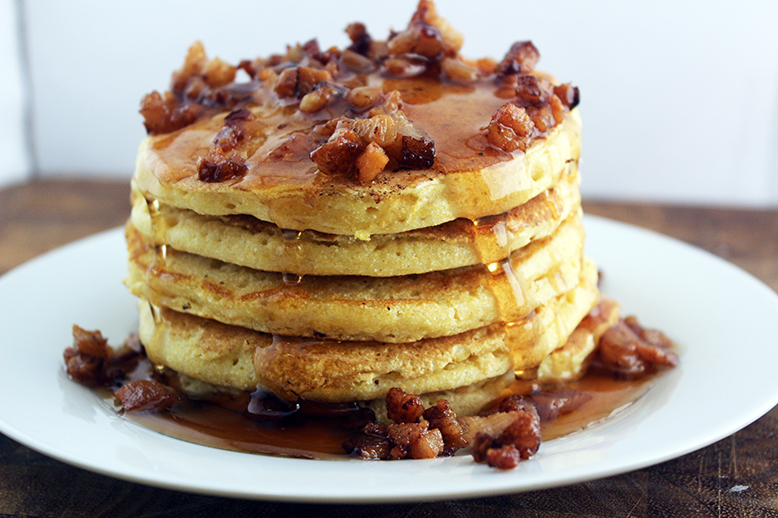 After five days of cereal or bananas for breakfast, eating these Honey Cornmeal Pancakes with Bacon and Honey Butter drizzle are enticing enough to wake up before the kids just to make them. With just a small amount of honey and some salty crispy bacon bits, this plate of food is the perfect beginning to a relaxing, lazy weekend.
In our household pancakes have become a weekend tradition. Flavors are chosen based on what is in the house, so with last night's dinner still fresh in our minds [Crispy Colby Cornmeal Cakes], these pancakes seemed like an easy choice.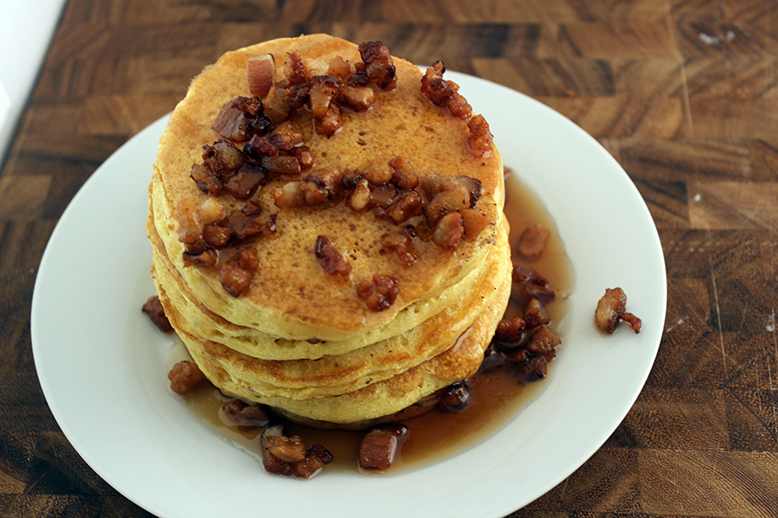 Let's begin by dicing the bacon and cooking it until crisp…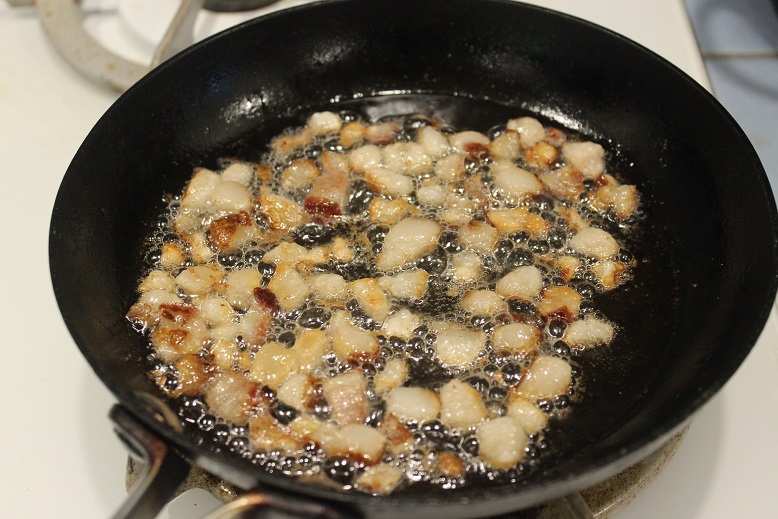 Whisk the dry ingredients together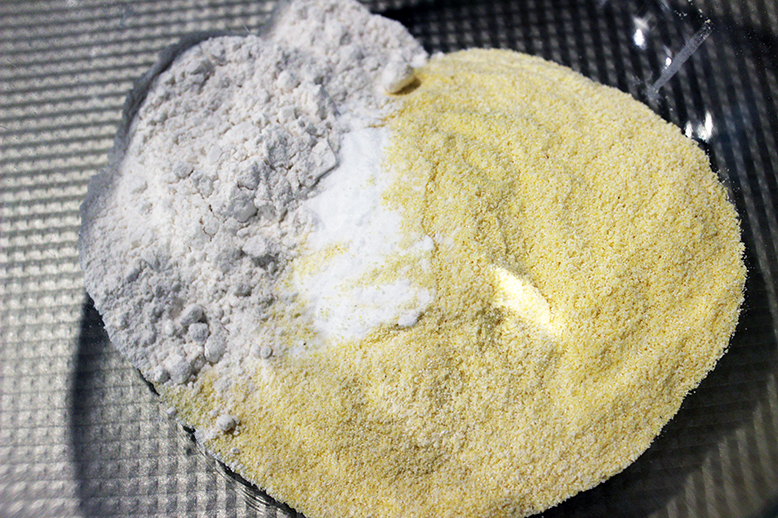 Then mix the wet ingredients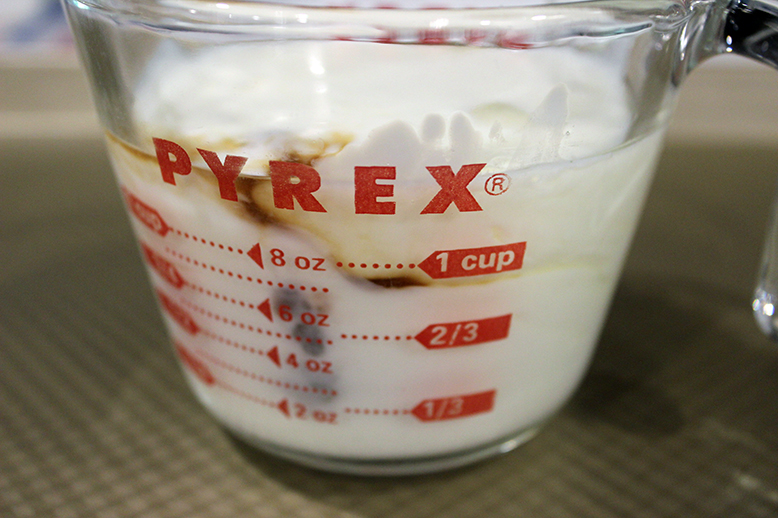 Cook them with 1/4 cup scoops, it will make 10 pancakes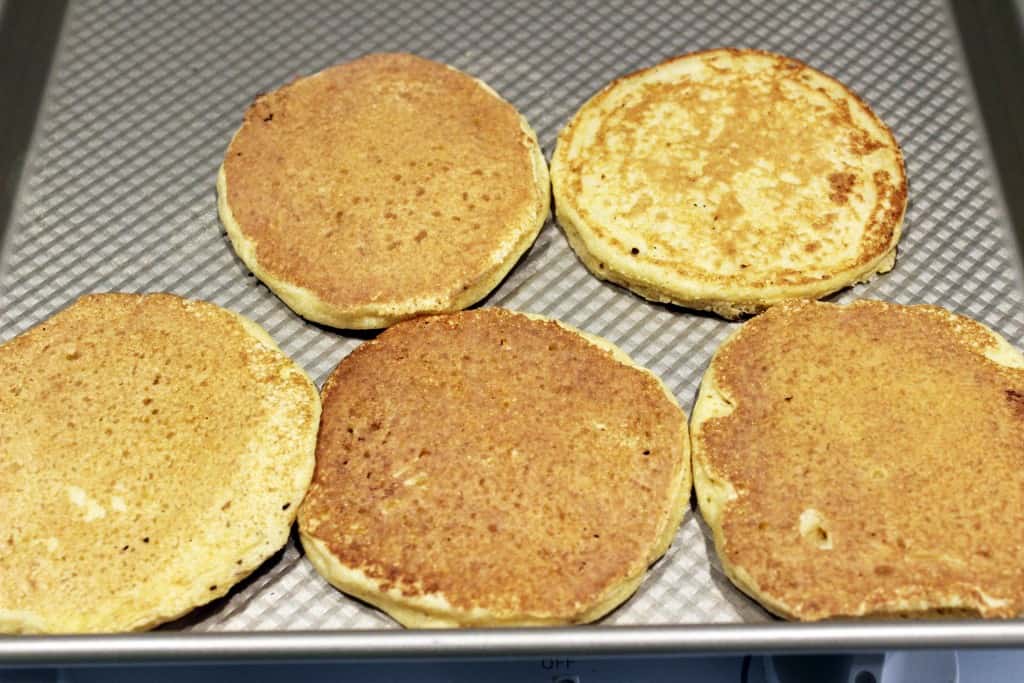 To make the honey butter, simply melt the butter in a saucepan, add the honey and stir until combined.
Then enjoy with a nice tall glass of milk, or in my case a couple of cups of coffee.
MY OTHER RECIPES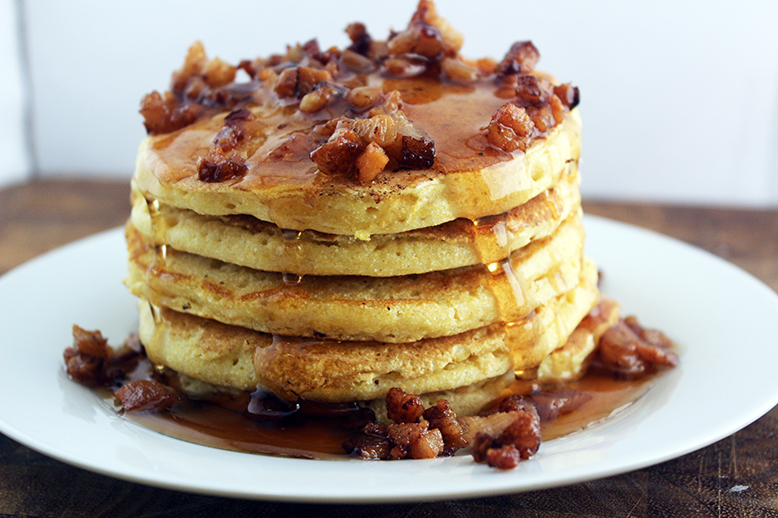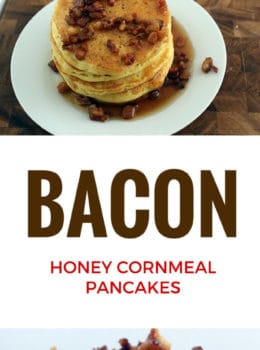 Honey Cornmeal Pancakes with Bacon
Slightly sweet cornmeal pancakes topped with crispy salty bacon and Honey Butter drizzle
Prep Time 15 minutes
Cook Time 15 minutes
Total Time 30 minutes
Ingredients
3/4 cup flour
3/4 cups cornmeal
3 ?4 teaspoon baking soda
1 egg , beaten
1 1/4 cups low fat buttermilk
2 teaspoons vanilla
2 tablespoons honey
3 thick cut slices of bacon , diced, cooked and drained
Maple syrup or honey butter to drizzle on top [melt 2T butter and mix into 1/2 cup honey]
Instructions
Mix flour, baking soda, and cornmeal.

Mix egg, buttermilk, vanilla and honey.

Mix the wet ingredients into dry ingredients until just combined.

Using 1/4 cup scoop, makes 10 pancakes.

Top with bacon.

To make honey butter sauce, put butter in a saucepan and melt gently. Once melted put honey in saucepan and warm gently, stirring until combined.
Dinner, then Dessert, Inc. owns the copyright on all images and text and does not allow for its original recipes and pictures to be reproduced anywhere other than at this site unless authorization is given. If you enjoyed the recipe and would like to publish it on your own site, please re-write it in your own words, and link back to my site and recipe page. Read my disclosure and copyright policy. This post may contain affiliate links.