Easy Pineapple Topping perfect for ice cream sundaes, cheesecakes and more made in just a few minutes with just three ingredients!
You don't need to buy pre-made dessert toppings to enjoy your favorite ice cream favorites at home including Easy Strawberry Topping, Homemade Cool Whip, Easy Hot Fudge Sauce and Easy Whipped Cream.
Pineapple Topping
Pineapple Topping is such an easy recipe I almost hesitate to even use the word recipe for this. You can of course make this recipe with a can of crushed pineapple as I have here. This makes the recipe take less than five total minutes start to finish. OR if you have a sweet ripe pineapple you can make it from a fresh pineapple and make the most amazing pineapple topping ever (which you can bottle and can for later!).
If you want to make this recipe with fresh pineapple you will have to pulse chunks of fresh pineapple (remove the core) in the food processor. Once you remove the small pieces you can squeeze out about half the juice. You don't need too much of the juice, if you were to squeeze it completely dry and add the liquids back in it would be roughly 1/4 cup of pineapple juice to 20 ounces of fresh pineapple bits.
If you want to make this recipe even more fun you can roast or grill your pineapple first before pulsing it in the food processor too.
You can add brown sugar to the recipe instead of white sugar.
You can add a bit of jalapeno to the recipe to add a sweet and spicy flavor to the mix.
You can add bits of maraschino cherries to make a banana split topping instead of just pineapples.
HOW TO STORE PINEAPPLE TOPPING
Pineapple Topping will last tightly sealed in the refrigerator for 3-4 days. You can make the sauce ahead of time as long as you keep it refrigerated in a sealed container.
What can you use this pineapple topping on:
TIPS FOR MAKING PINEAPPLE TOPPING
Make this recipe using frozen or canned pineapple as a time saver.
If you need to make the flavor a little brighter and more of a punch add a bit of lemon juice to the mixture.
Use a food processor to break down the pineapple if you use canned chunks or fresh pineapple.
To add more flavor you can also add vanilla extract to give it a sweeter flavor.
For a fun brunch option you can also serve this over French Toast or Easy Cinnamon Rolls (in 1 Hour!).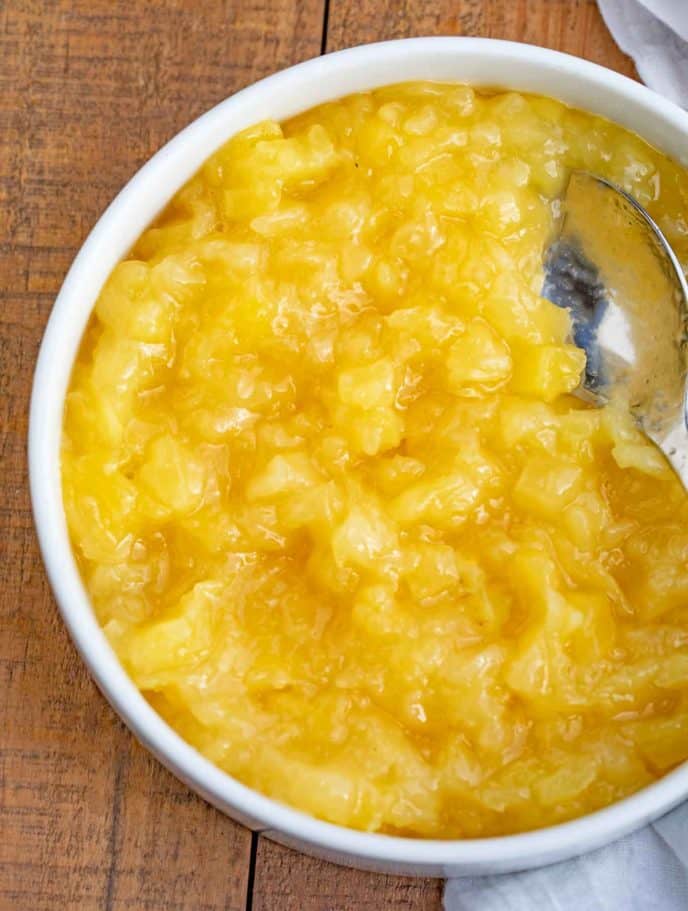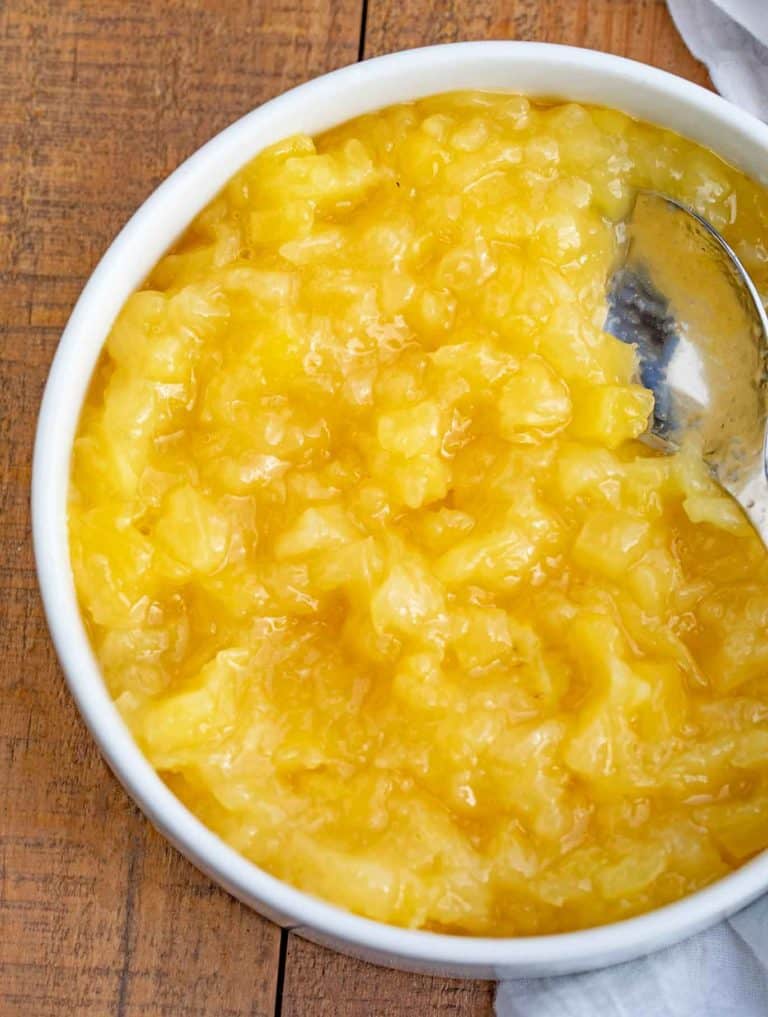 Recipe
Save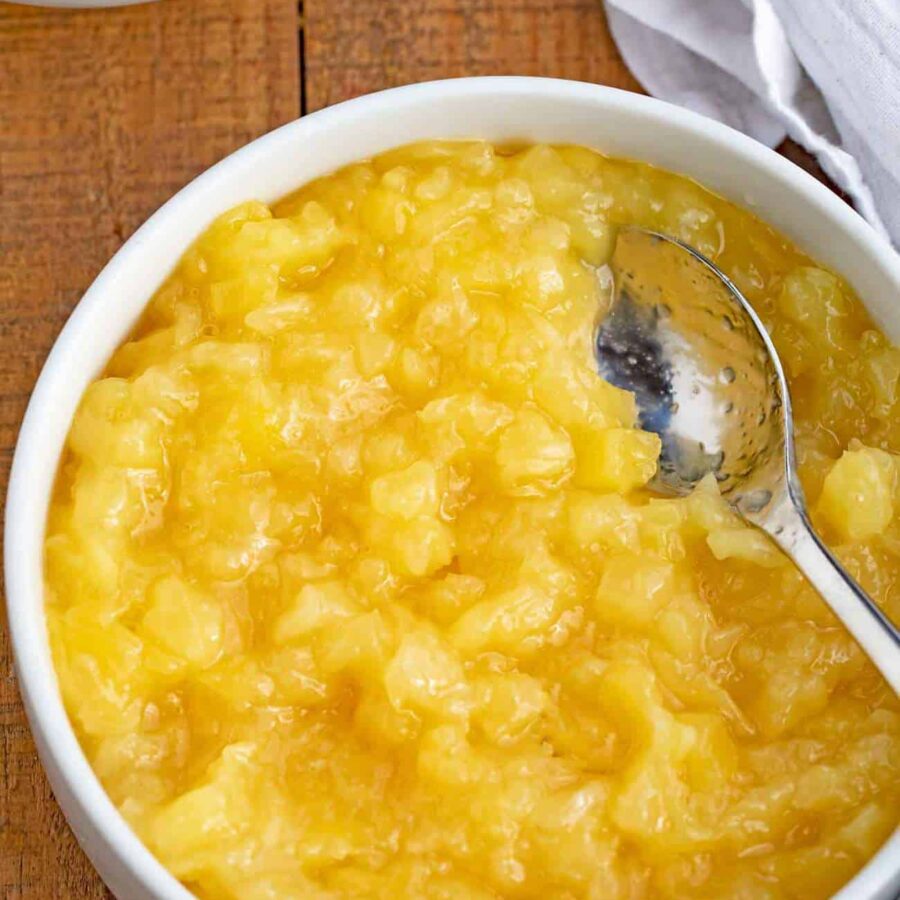 Pineapple Topping
Yield:

8

servings

Prep Time:

3

minutes

Cook Time:

2

minutes

Total Time:

5

minutes

Course: Dessert Sauce
Cuisine: American
Author: Sabrina Snyder
Easy Pineapple Topping perfect for ice cream sundaes, cheesecakes and more made in just a few minutes with just three ingredients!
Instructions
Note: click on times in the instructions to start a kitchen timer while cooking.
Add all the ingredients together in a medium saucepan and bring to a boil.

Continue to cook, stirring regularly, for 2-3 minutes, until thickened.
Nutrition Information
Yield: 8 servings, Amount per serving: 94 calories, Calories: 94g, Carbohydrates: 24g, Potassium: 87mg, Sugar: 22g, Vitamin A: 35g, Vitamin C: 6.7g, Calcium: 11g, Iron: 0.2g
All images and text © for Dinner, then Dessert.
Keyword:
pineapple topping
Save