Blueberry Zucchini Bread is the ultimate moist quick bread recipe made with cinnamon, vanilla, grated zucchini, and fresh blueberries.
This delicious quick bread recipe is perfect for Breakfast or as a simple Dessert. It's an amazing twist on Classic Zucchini Bread by adding tart and sweet juicy blueberries.
BLUEBERRY ZUCCHINI BREAD
This easy quick bread is wonderfully tender and packed full of flavor. Zucchini Bread is a traditional baked good that you've probably tried before. Adding fresh blueberries to the mix gives it a whole new twist with plenty of flavor.
Zucchini Blueberry Bread is one of the most versatile sweet bread recipes ever. You can make it for a bake sale or potluck, enjoy a slice with some butter for a snack, serve it with freshly brewed coffee in the morning, or make it for a delicious dessert. If you're serving it as a dessert and want to make the Zucchini Blueberry Bread slightly more decadent, serve each slice of bread with a scoop of Vanilla Ice Cream. The combination of sweet bread, fruit, and creamy ice cream are truly wonderful!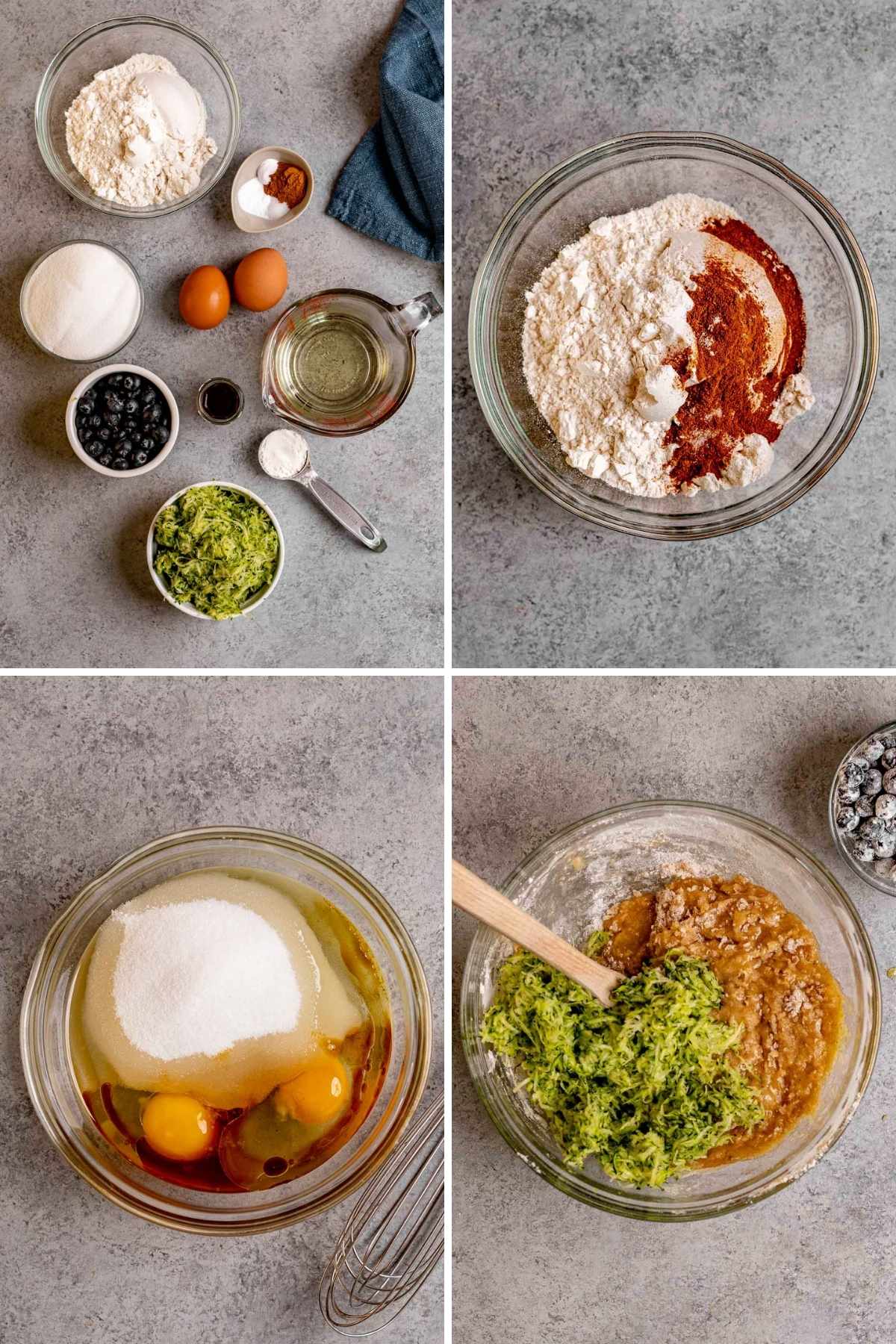 WHY USE ZUCCHINI?
If you're new to zucchini bread, you might be wondering why you would add veggies to sweet bread recipes. Well, the zucchini adds a lot to this Blueberry Bread. The flavor of the shredded zucchini is mild enough you won't really notice it. As the Zucchini Bread recipe bakes, the sweet flavors of the zucchini are drawn out, and that's what you'll taste. On top of that, the zucchini adds extra moisture to the batter for the most moist bread recipe ever.
Blueberry Zucchini Bread is also a nice way to get picky eaters having some fruit and veggies. The blueberries and zucchini both go so perfectly in the cinnamon quick bread that even people who don't typically like zucchini have raved about this recipe.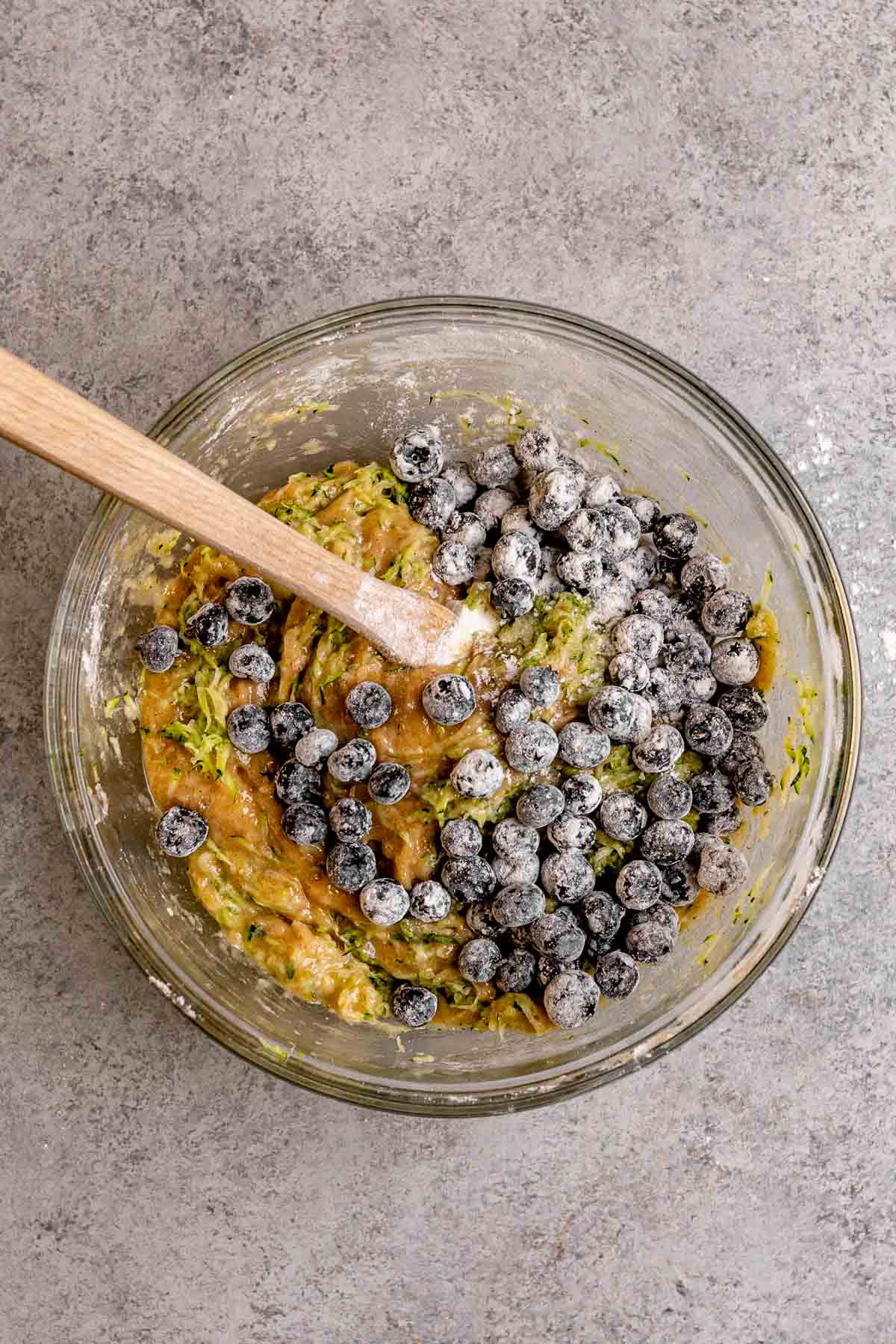 MORE QUICK BREAD RECIPES
TIPS FOR MAKING BLUEBERRY ZUCCHINI BREAD
Prep time: To get the recipe started, preheat the oven and spray your loaf pan with cooking spray. If you don't have cooking spray lightly grease the pan with butter or line it with parchment paper. Next shred the zucchini in a food processor.
Dry ingredients: Sift the all-purpose flour, salt, baking soda, baking powder, and cinnamon into a medium bowl.
Wet ingredients: In a separate bowl whisk together the eggs, oil, vanilla, and sugar. Once the mixture is smooth add the dry ingredients to the bowl. Stir until just combined without over-mixing.
Blueberries and Zucchini: Toss the blueberries with the remaining flour until they are coated. Add the shredded zucchini to the sweet bread batter. Then fold in the blueberries.
Bake time: Pour the batter into the baking pan and pop it into the preheated oven. Bake for 45-50 minutes. Continue to bake until a toothpick inserted in the center comes out without any batter on it and the bread springs back after you touch it. Let the bread cool for 15 minutes at room temperature. Then take it from the pan and slice it with a serrated knife.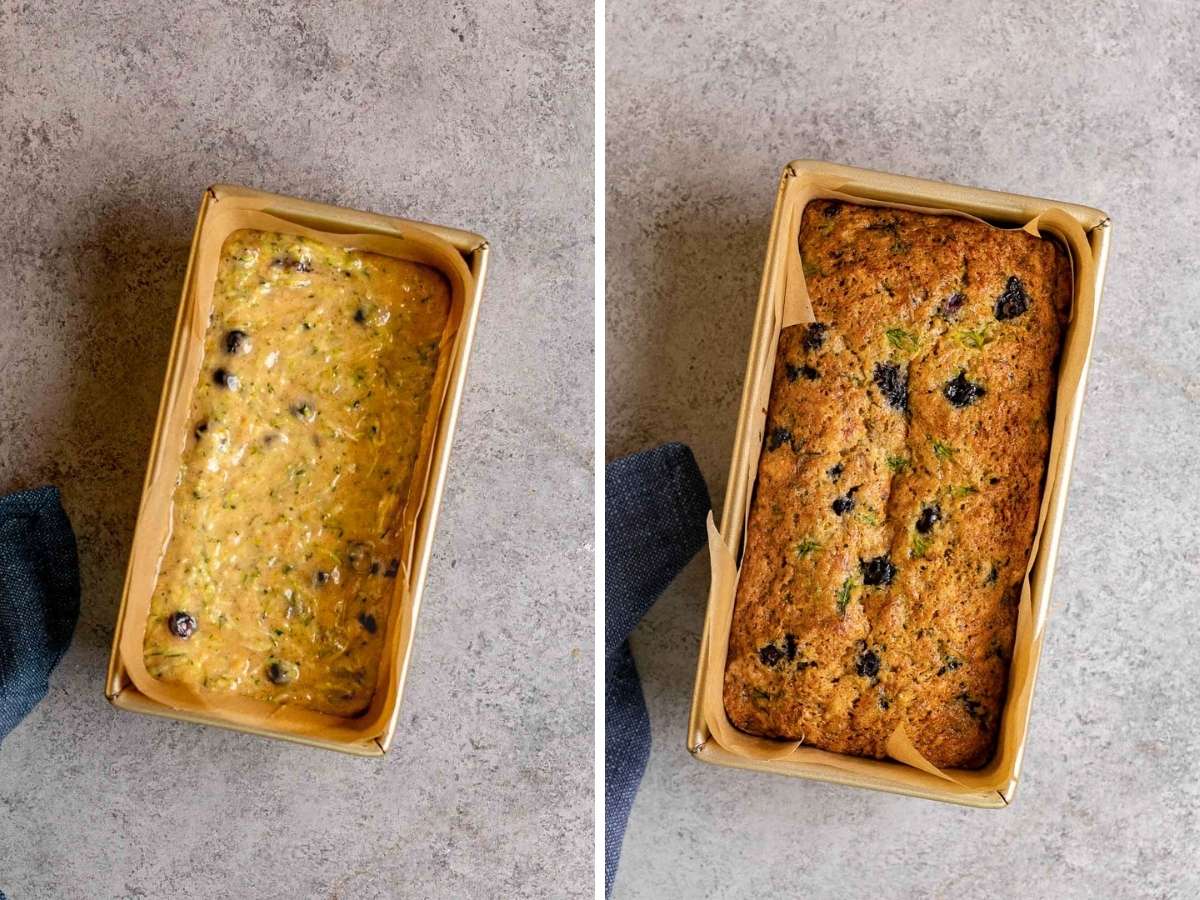 Create a free account to

Save Recipes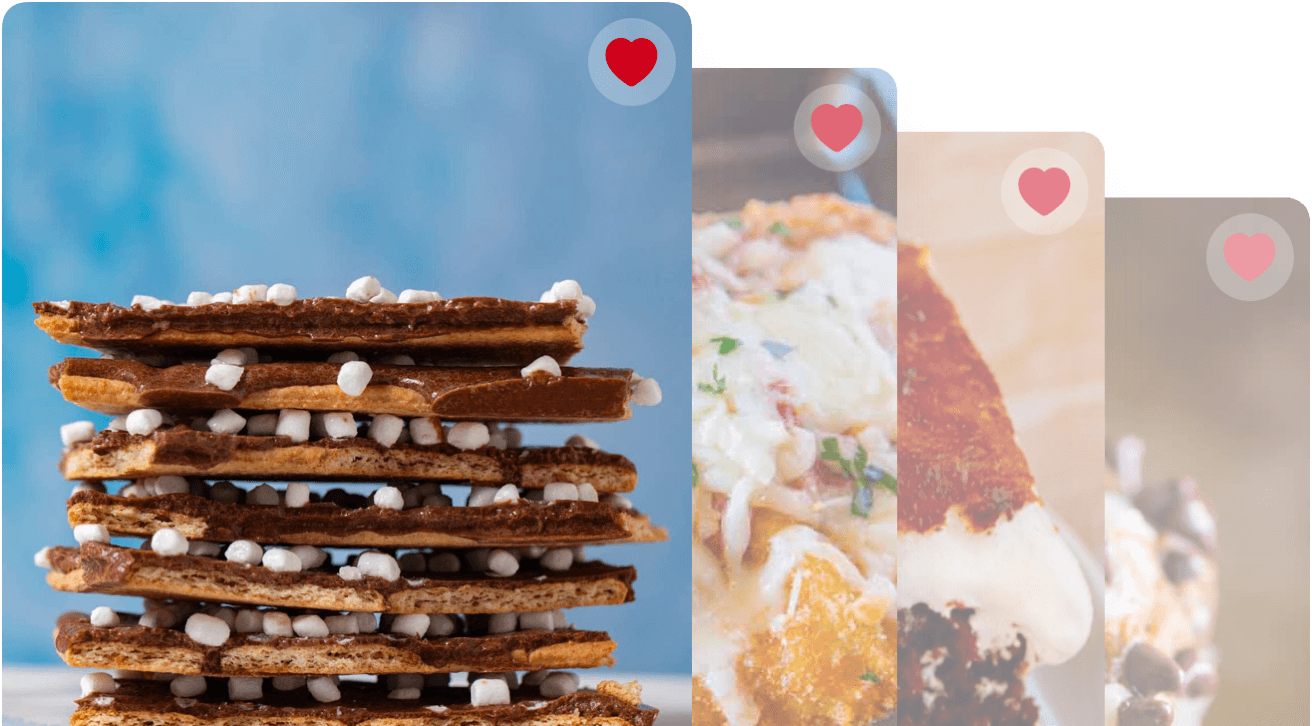 VARIATIONS ON BLUEBERRY ZUCCHINI BREAD
Lemon Blueberry Bread: To make Lemon Blueberry Zucchini Bread, cover the Zucchini Bread recipe in a simple lemon glaze. To make the lemon glaze combine 2 cups of powdered sugar and 4 tablespoons lemon juice. Whisk the lemon juice into the sugar and then drizzle it over the bread for Lemon Blueberry Zucchini Bread.
Flour: To make a slightly healthier bread recipe, replace the all-purpose flour with whole wheat flour.
Oil: You can use substitutes for vegetable oil. Coconut oil, melted butter, or Greek yogurt will work nicely.
Spices: To experiment with the flavor in the bread, mix in some other spices like nutmeg, cloves, allspice, or ginger.
Nuts: For some crunchy texture add in chopped nuts like pecans, almonds, macadamia nuts, or cashews.
Mini loaves: To make small bread loaves, perfect for gifts, you can use the same recipe to make the batter for 3 mini loaf pans. They will bake quicker in the mini loaf pans so make sure to keep your eye on them in the oven.
MORE BLUEBERRY DESSERT RECIPES
HOW TO STORE BLUEBERRY ZUCCHINI BREAD
Serve: You can keep your Zucchini Bread recipe at room temperature for up to 3 days. To make sure it doesn't go stale, cover the bread in tin foil or plastic wrap.
Serve: You can also seal the bread in an airtight container to store in the refrigerator for 1 week.
Freeze: For make-ahead Zucchini Blueberry Bread, wrap the loaf tightly in tin foil and store it in the freezer for 3-4 months.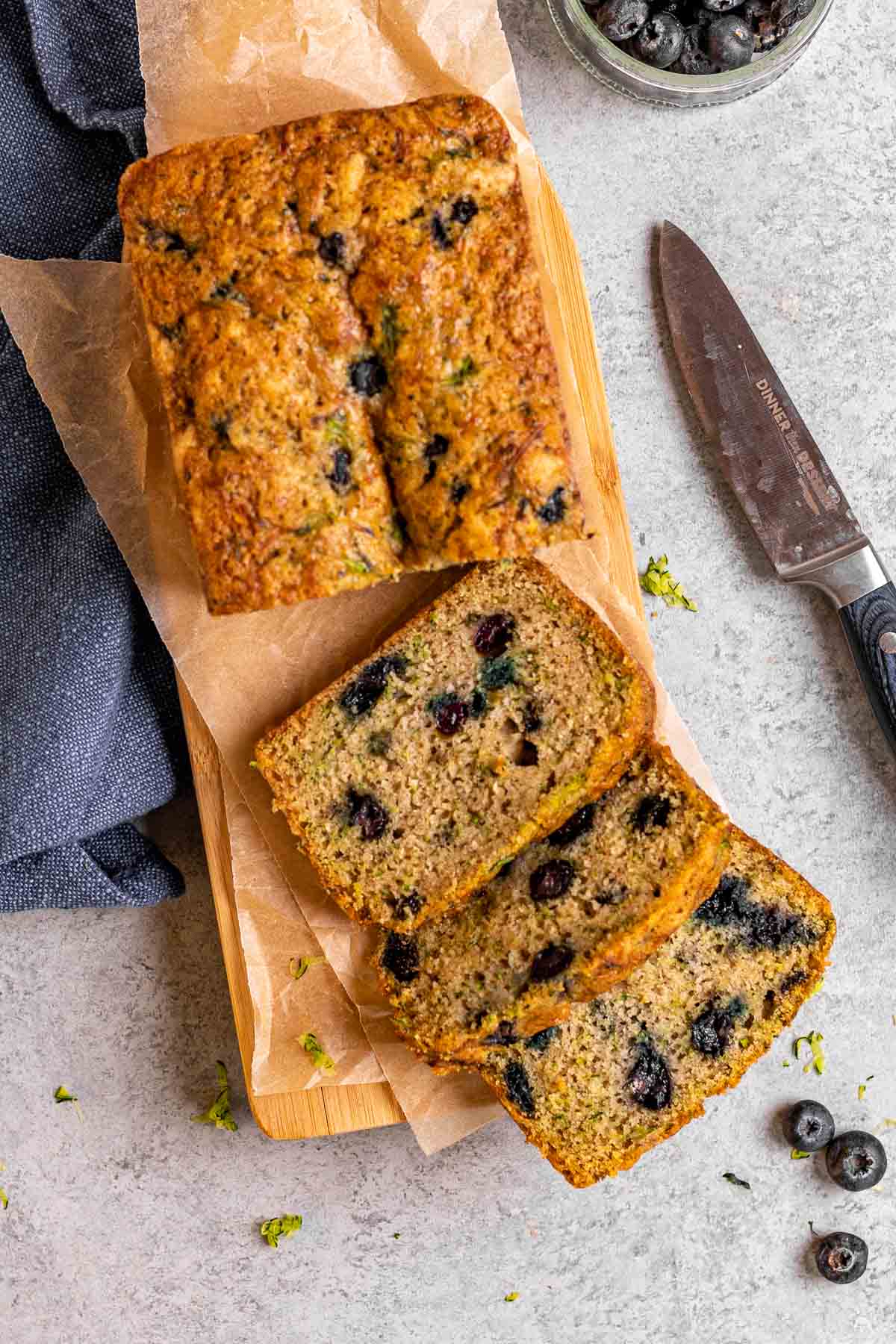 Ingredients
1 1/2

cups

flour

1/2

teaspoon

salt

1/2

teaspoon

baking soda

1/2

teaspoon

baking powder

1

teaspoon

ground cinnamon

2

large

eggs

1/2

cup

vegetable oil

2

teaspoons

vanilla extract

1

cup

sugar

1

cup

blueberries

1

tablespoon

flour

1 1/2

cups

zucchini

, grated
Instructions
Preheat oven to 325 degrees and spray the 9x5 loaf pan with baking spray.

Sift flour, salt, baking soda, baking powder, and cinnamon together in a bowl.

In a second large bowl, whisk together the eggs, oil, vanilla, and sugar.

Add the flour mixture to the wet ingredients until just combined.

Toss blueberries with remaining 1 tablespoon flour to coat.

Add in the zucchini, stir well then add the blueberries and fold them into the mixture.

Bake for

45-50 minutes

, until it springs back when touched then let cool for

15 minutes

before removing from loaf pan.
Nutrition
Calories:
226
kcal
|
Carbohydrates:
32
g
|
Protein:
3
g
|
Fat:
10
g
|
Saturated Fat:
8
g
|
Cholesterol:
31
mg
|
Sodium:
156
mg
|
Potassium:
95
mg
|
Fiber:
1
g
|
Sugar:
18
g
|
Vitamin A:
83
IU
|
Vitamin C:
4
mg
|
Calcium:
18
mg
|
Iron:
1
mg