Angel Food Cake is light and fluffy, made with egg whites, sugar, almond and vanilla flavor, ready in under 90 minutes!
We always have something baking in this kitchen, and right now we're working on Vanilla Pound Cake, Red Velvet Cupcakes, and Easy Chocolate Cake!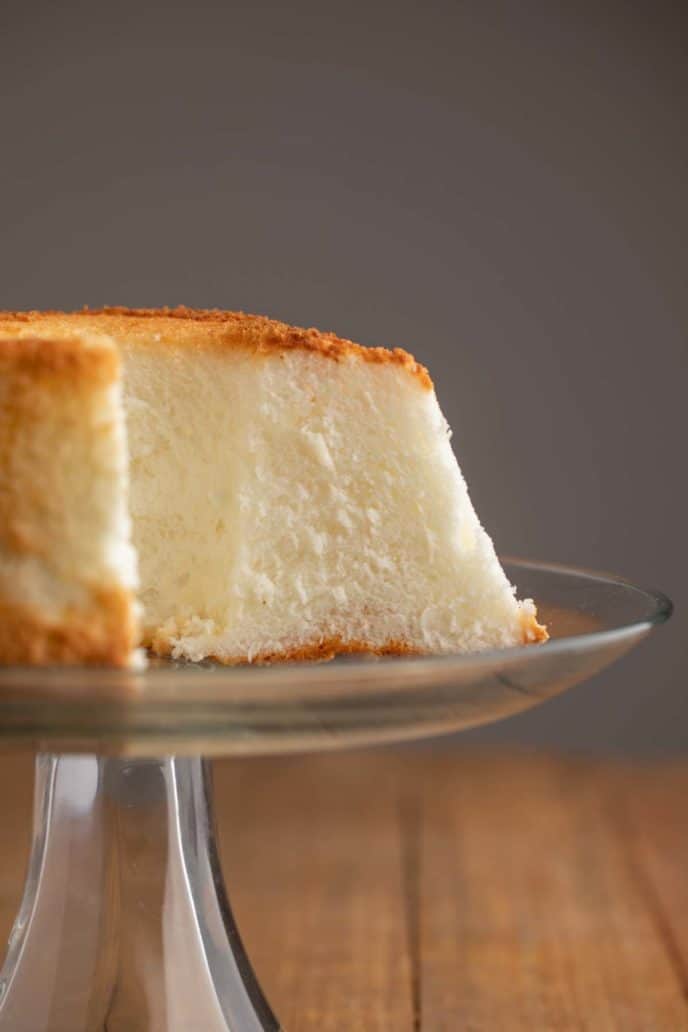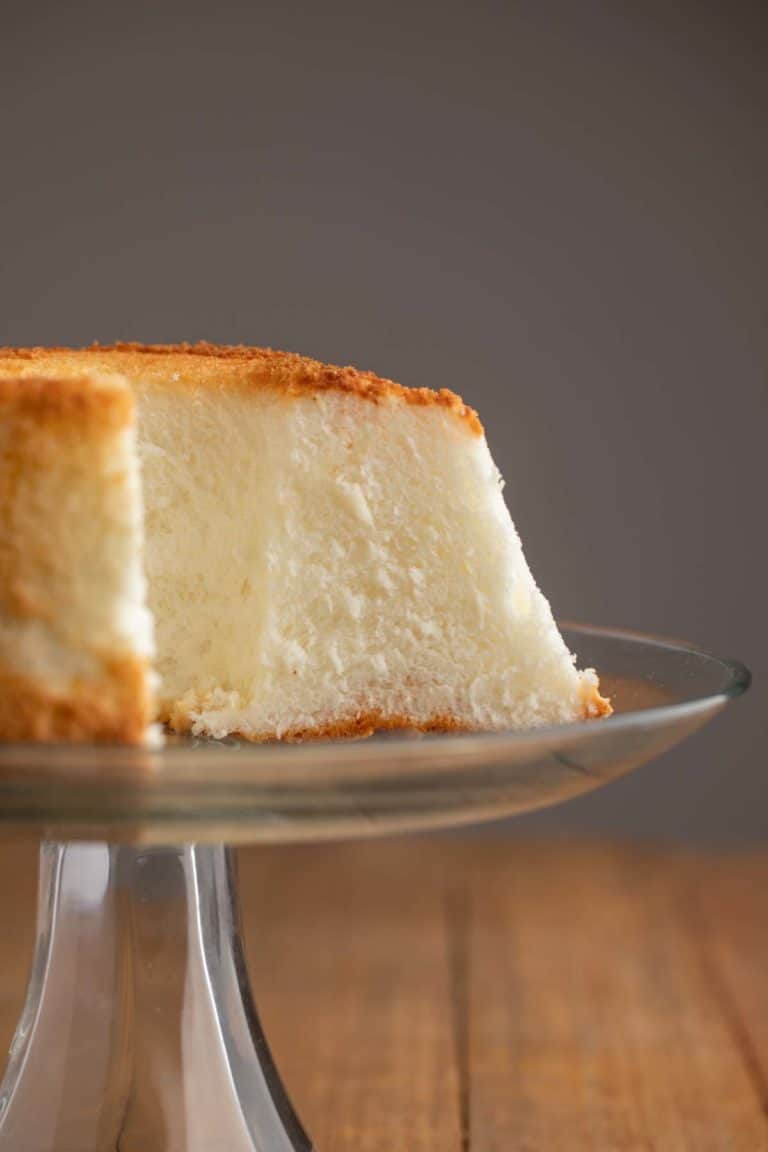 ANGEL FOOD CAKE
Angel Food Cake is a CLASSIC recipe, and also one of my go-to desserts when we're looking for something on the lighter side, especially around the holidays. This is made out of egg whites, cake flour, sugar, and two different flavors, almond and vanilla extract. You can make this in a tube pan or as a bundt, based on your preference. And top with whipped cream, nuts, fruit, or chocolate!
How do you make Angel Food Cake?
Make sure everything is completely grease free before starting (if not it can cause the cake to fall).
Line your pan with only parchment paper.
Beat egg whites to stiff peaks, then add in cream of tartar and extracts.
Gently fold in dry ingredients to preserve egg whites.
Bake in tube pan at 325 degrees for an hour.
Remove from oven, add plate and flip pan over and let cool upside down.
What is the difference between Angel Food Cake and Sponge Cake?
The main difference between angel food cake and sponge cake is that angel food cake uses only egg whites, while sponge cake uses both the whites and the yolks. Because of this, angel food cake has a lighter texture while sponge cake is more dense.
Can you make Angel Food Cake the day before?
This angel food cake recipe can be made ahead and stored on the counter, wrapped tightly with plastic wrap. Add any toppings just before serving so they don't make the cake soggy.
This angel food cake recipe will last about a week on the counter.
WHY DID MY ANGEL FOOD CAKE FALL?
Your cake may have fallen for several reasons. First, make sure you're not over-mixing the batter. You want to gently fold the egg whites in. Second, watch your oven temperature, and use an oven-safe thermometer to make sure that it's really cooking at what you set it for.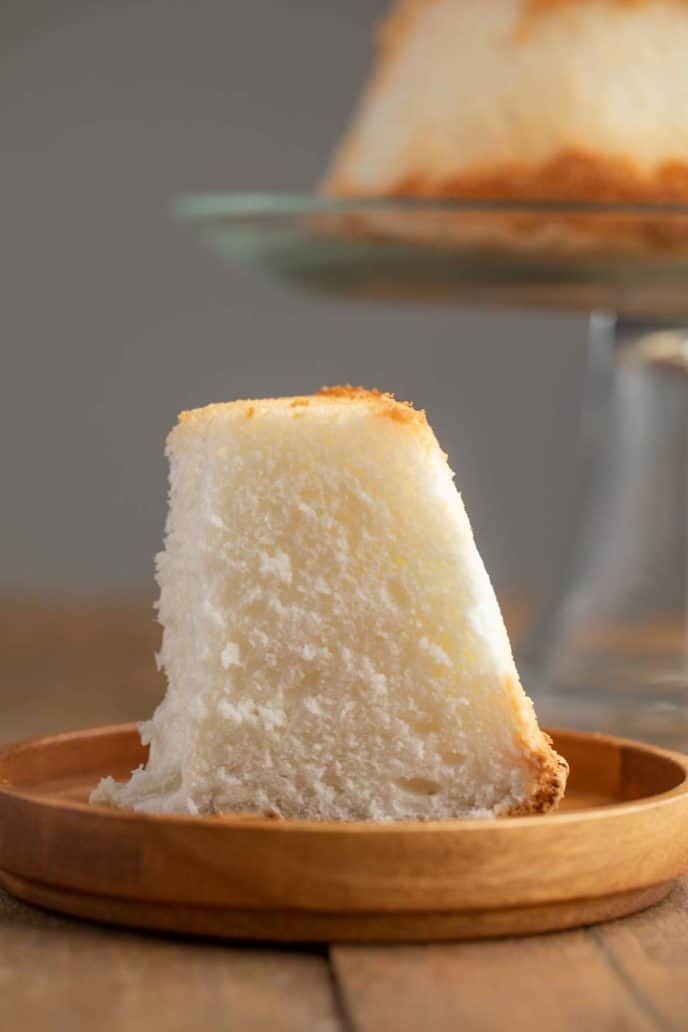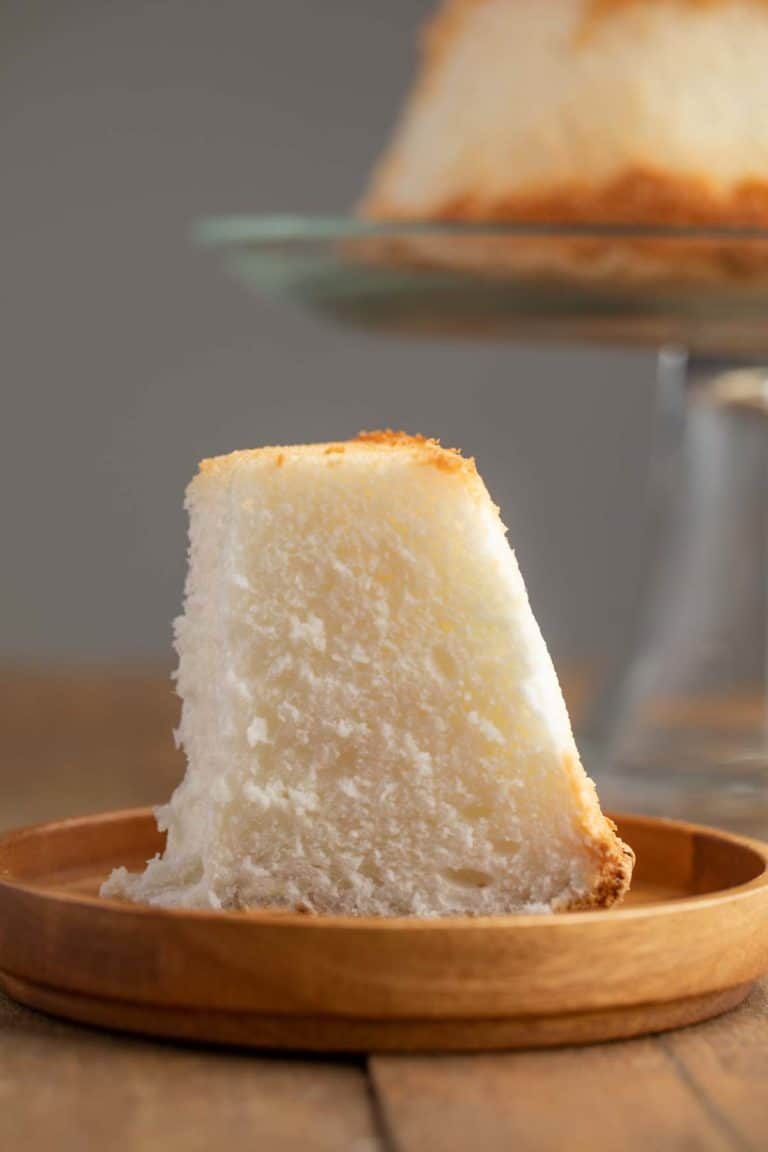 Create a free account to

Save Recipes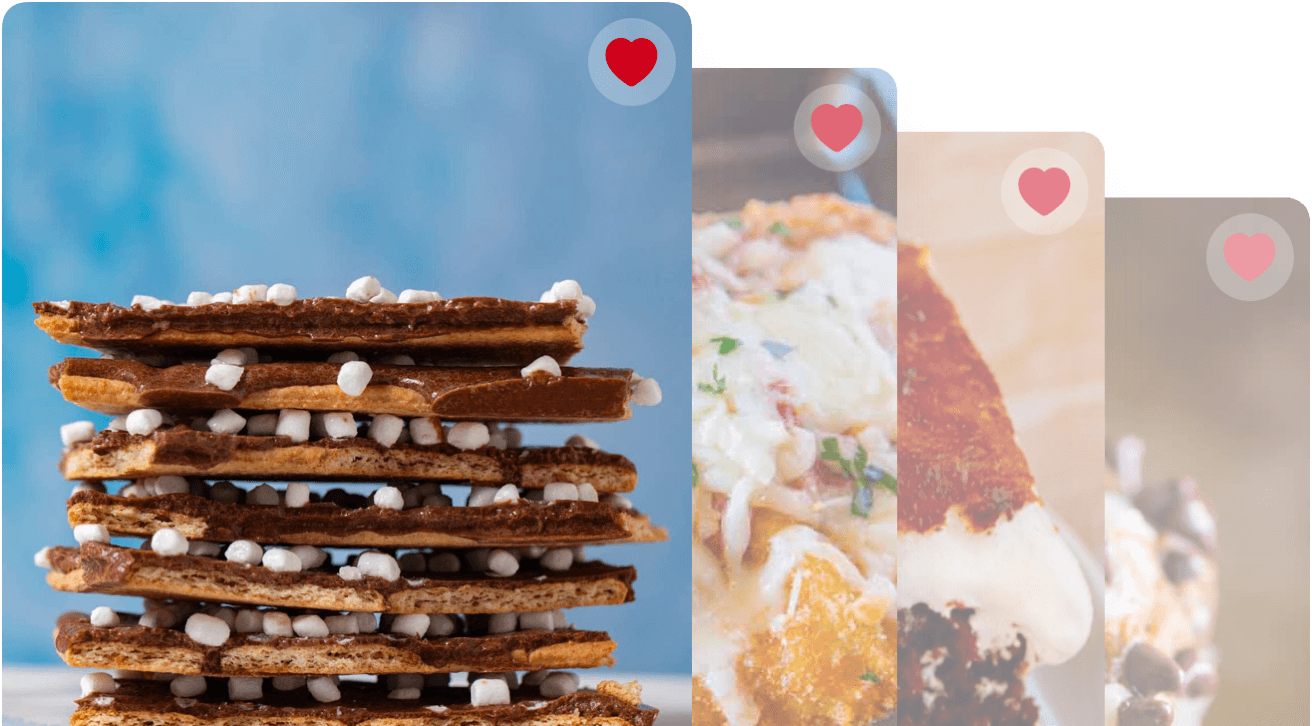 CAN I MAKE ANGEL FOOD CAKE IN A CAKE PAN?
You can technically make angel food cake in any cake pan, but you want to find one that's deep enough to lift the cake up as it bakes and help it to rise. That's why a bundt pan or tube pan is the usual angel food cake pan of choice.
Can you freeze Angel Food Cake?
Angel food cake is perfect for making ahead and freezing as a whole cake, or as individual serving pieces. Wrap the cake tightly in plastic wrap, then in aluminum foil to protect the cake.
WHAT TO TOP ANGEL FOOD CAKE WITH
Fresh berries
Powdered sugar
TIPS FOR MAKING ANGEL FOOD CAKE
Cool your angel food cake upside down in the pan to help prevent the cake from flattening as it cools.
If you're making this around the holidays, save the egg yolks and use them to make this eggnog recipe.
Make sure you beat your egg whites until they form stiff peaks, which means the peak does not fall back into the bowl easily. I like to use a stand mixer set on medium-high for this part.
I use an ungreased angel food cake pan, only lined with parchment paper for this recipe. You can find these with removable bottoms
Make sure your egg whites do not have any yolks in them, which will prevent the eggs from whipping properly. If the eggs are not entirely fat free, they won't beat into the consistency we're looking for. You also want to make sure that your egg whites are at room temperature.
If your cake starts to brown too much around the edges before it's done baking, you can cover the pan with aluminum foil to stop it from burning.
This recipe calls for cake flour instead of all purpose flour, which can be substituted with 1 cup 14 tablespoons all purpose flour and 2 tablespoons cornstarch
Bring the cake to room temperature before you eat it, especially if it has been refrigerated.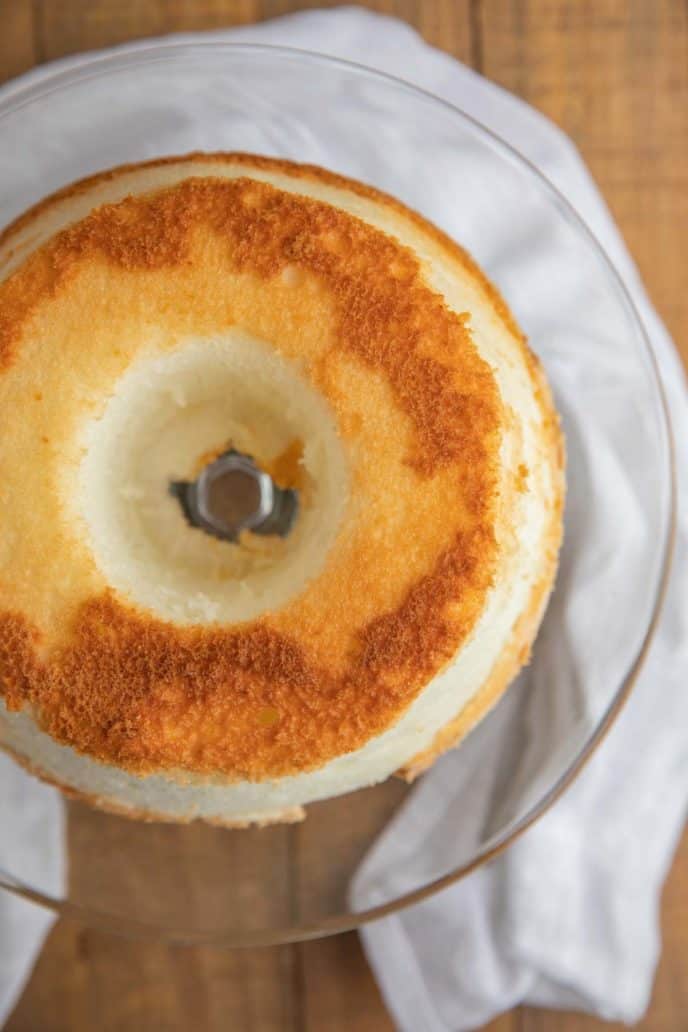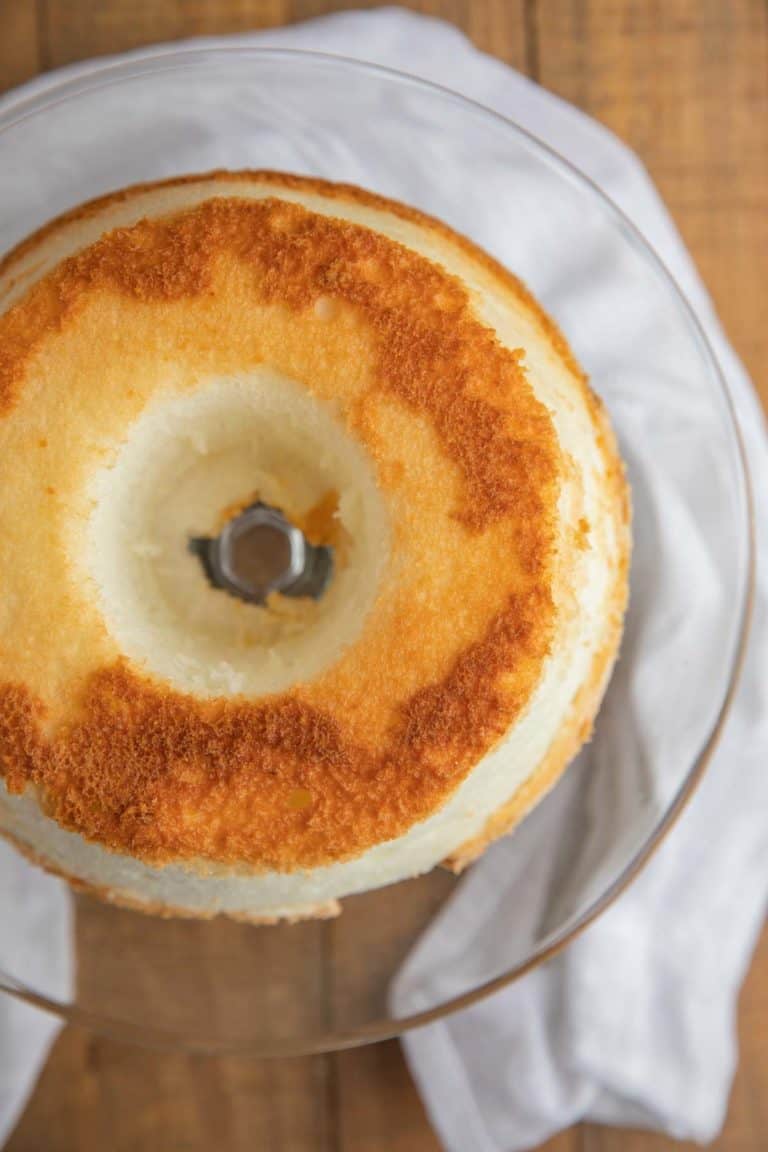 Ingredients
1 1/4

cups

cake flour

1 3/4

cups

white sugar

1/4

teaspoon

salt

1 1/2

cups

egg whites

1

teaspoon

cream of tartar

1/2

teaspoon

vanilla extract

1/2

teaspoon

almond extract
Instructions
Make sure your pan, stand mixer, sifter and whisks is clean, dry and grease free, then line only the bottom of a tube pan with parchment paper

Sift the flour, sugar and salt together.

Beat the egg whites to stiff peaks, add in the cream of tartar, vanilla and almond extracts and beat until they're just combined.

Gently fold the dry ingredients into the egg whites then pour into the tube pan.

Place into the oven, then turn it on to 325 degrees and cook for

60 minutes

before removing from the oven placing a metal plate over it and flipping the tube pan over to let it cool upside down before removing it.
Notes
Note: click on times in the instructions to start a kitchen timer while cooking.
Nutrition
Calories:
177
kcal
|
Carbohydrates:
39
g
|
Protein:
4
g
|
Sodium:
99
mg
|
Potassium:
103
mg
|
Sugar:
29
g
|
Calcium:
4
mg
|
Iron:
0.1
mg