Loaded Breakfast Pancakes are all your favorite breakfast foods in one! Classic pancake batter loaded with eggs, potatoes, bacon, and cheese.
These easy, savory and slightly sweet Loaded Pancakes are like a hearty Breakfast Casserole wrapped in a delicious, Classic Pancake for the ultimate Breakfast Dish in one amazing bite!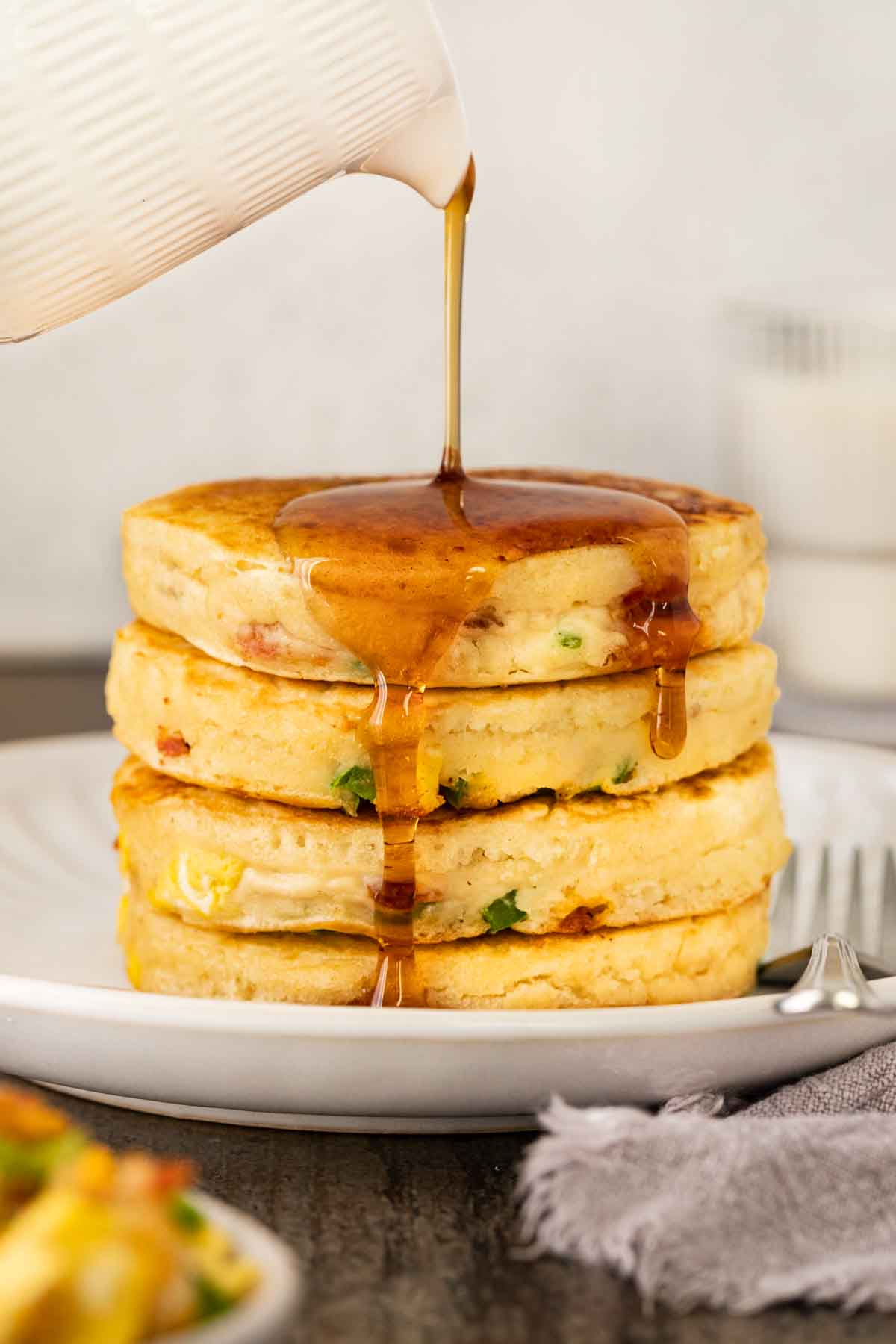 We all have our favorite breakfast recipes but sometimes it can be hard to choose which of the delicious dishes to make. Classic mashups like Sausage Pancake Muffins and these Loaded Breakfast Pancakes are a fun twist that don't make you choose between sweet or savory. Instead of the standard sweet mix-ins like chocolate chips, or berries, these pancakes get a hearty, cheesy bacon, egg, and potato filling.
These amazing Loaded Pancakes might be packed with a buffet full of breakfast options but they are still super easy to make Cooked tater tots, scrambled eggs, cheese, and bacon are all mixed together to make the filling. In a separate bowl, you whip up your favorite homemade pancakes. After you add the batter to the griddle, just scoop the savory filling over the top, and then finish it all off with another layer of pancake batter. The finished pancakes have the classic pancake taste on the outside with delicious cheesy potatoes, bacon, and eggs at the center.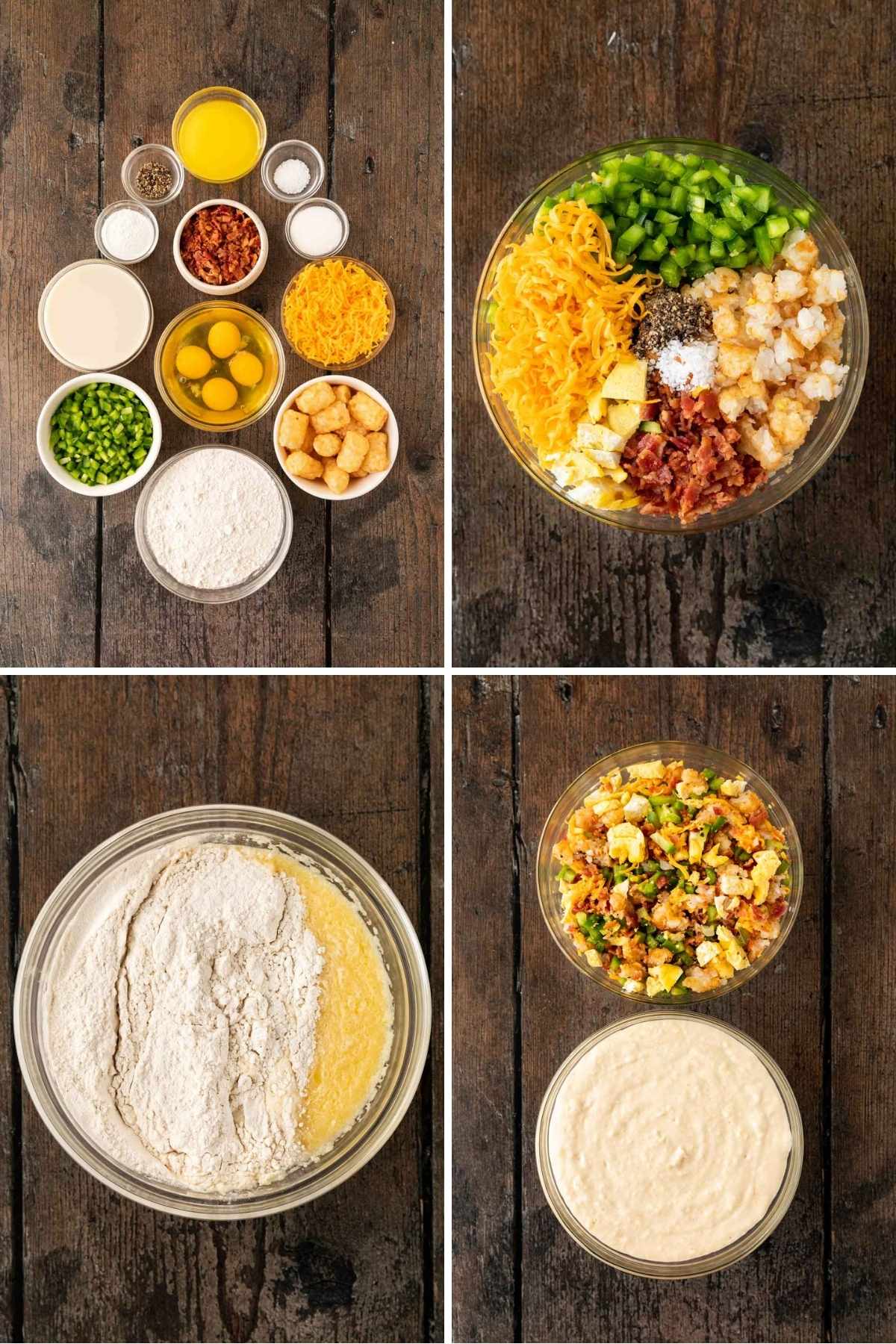 These Loaded Pancakes are a fun, easy breakfast that's extra filling and packed with protein. In fact, the potato and bacon center makes it the perfect breakfast for dinner meal option. Though not all the classic pancake toppings will go as well with this savory dish, these pancakes still taste amazing with warm maple syrup and butter. The savory twist does mean that you can add other toppings like creme fraiche or sour cream and chives. You could even serve them with Biscuits and Gravy and smother them in extra sausage gravy or swap them for the biscuits entirely.
How to Make Loaded Breakfast Pancakes
Prep: Bake the tater tots according to the package. Whisk the eggs until combined in a microwave safe bowl. Microwave for 1 minute, stir, then cook for another 1-2 minutes until the eggs are just set. Cool the tots and eggs then cut into bite size pieces.
Filling: Add the cooled eggs and tater tots to a large mixing bowl with the bell pepper, bacon, cheddar cheese, salt, and pepper. Mix until well combined.
Batter: Add all the dry ingredients to a mixing bowl, and whisk them together. Add in the wet ingredients and stir until just combined.
Cook: Heat your skillet over medium heat and lightly grease. Once hot, add ¼ cup of pancake batter onto the skillet. Let the pancake batter set for 30 seconds, then scoop ¼ cup of potato filling into the center of the pancake. Carefully spread the mixture out evenly, leaving a small border of batter on the edge. Cover the filling with 2 tablespoons of batter evenly distributed. Flip pancake and cook until golden brown and set.
Serve: You'll have to cook in batches, so to keep the finished pancakes warm while you make the rest, you can tent them in foil or put them in a slightly warmed oven. Once they're all done, serve with maple syrup.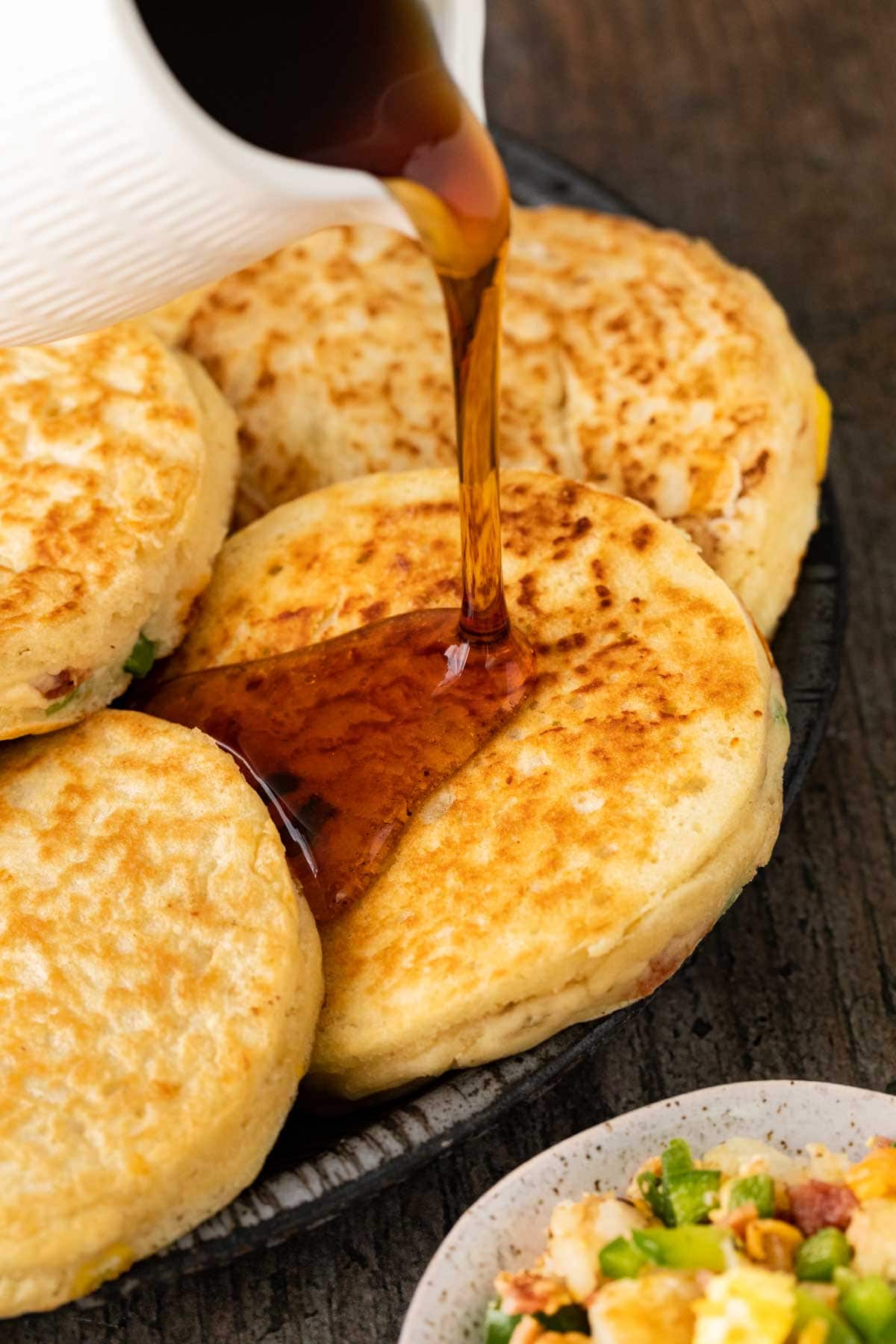 More Amazing Pancake Recipes
FAQs for Loaded Breakfast Pancakes
What is the secret of amazing pancakes?
The secret to ultra rich, moist pancakes that are still light and fluffy, aka the most amazing pancakes, is melted butter. The melted butter helps emulsify the eggs and milk, for a smoother lighter batter that puffs up instead of being cakey.
What makes pancakes more fluffy?
The key to making fluffy pancakes is to make sure your baking powder is fresh and that you don't overmix the batter. You can beat the wet ingredients really well to create a lot of air and sift the flour mixture so it's easy combine everything, but when you put them together, only whisk until there are no more dry spots.
What do Loaded Breakfast Pancakes taste like?
These Loaded Breakfast Pancakes taste have the delicious buttery taste of pancakes along with the savory goodness of egg and bacon omelet and side of hashbrowns. It's quite literally like taking a bite of your pancakes with breakfast sides all at once.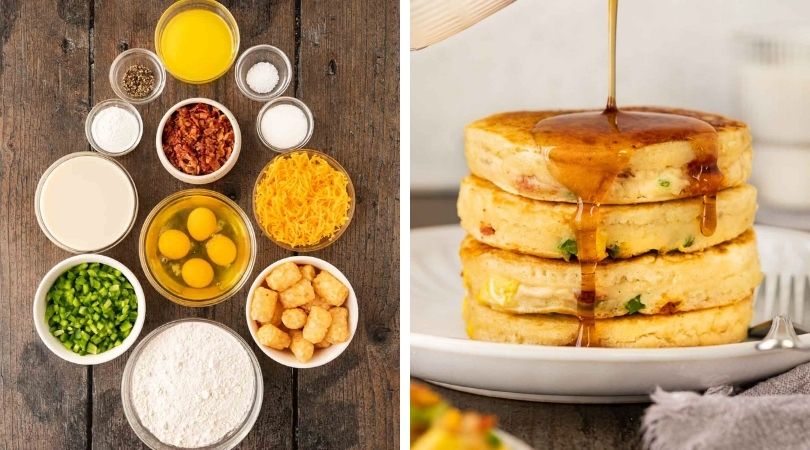 Create a free account to

Save Recipes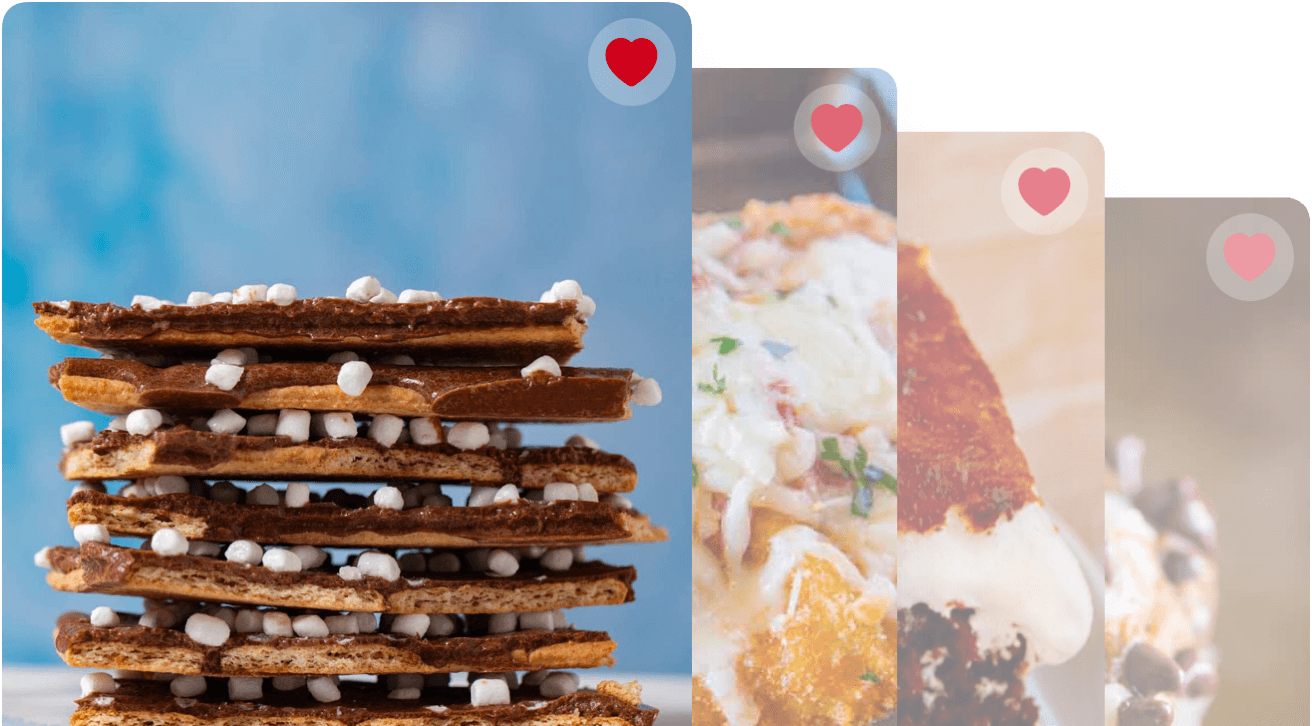 Key Ingredients
Pancake Batter: The batter is made with all the classic pantry ingredients you'd find in a basic pancake recipe, including a little sugar. The hint of sweetness tastes amazing with all the savory flavors and adds a little depth to this rich, buttery pancake recipe.
Tater Tots: You want to make the tater tots beforehand because they won't have time to cook in the batter. Plus, oven baking makes them nice and crispy for that tasty almost fried flavor that makes tots so amazing.
Eggs: In addition to the eggs in the batter, the pancakes are loaded with actual scrambled eggs which might sound crazy at first but trust us, it works! The microwave makes cooking them a breeze, and keeps you from dirtying another pan.
Add-ins: Delicious add-ins like bacon or sausage, bell pepper, and shredded cheese with the eggs make an omelet-like filling. Cook the meat ahead of time and drain the grease well so your batter isn't greasy. Mince the peppers instead of dicing or you will end up with big, raw chunks that will overpower the pancakes.
Can you make Loaded Breakfast Pancakes ahead of time?
Yes, you can prepare both the pancake batter and the filling mixture the day before and store separately until you are ready to make this tasty breakfast. Bring the egg and potato filling to room temperature before cooking or warm in the microwave for 30-45 seconds so it isn't cold. It won't have time to heat up as the pancakes cook so it's important that it's at least room temp before adding it.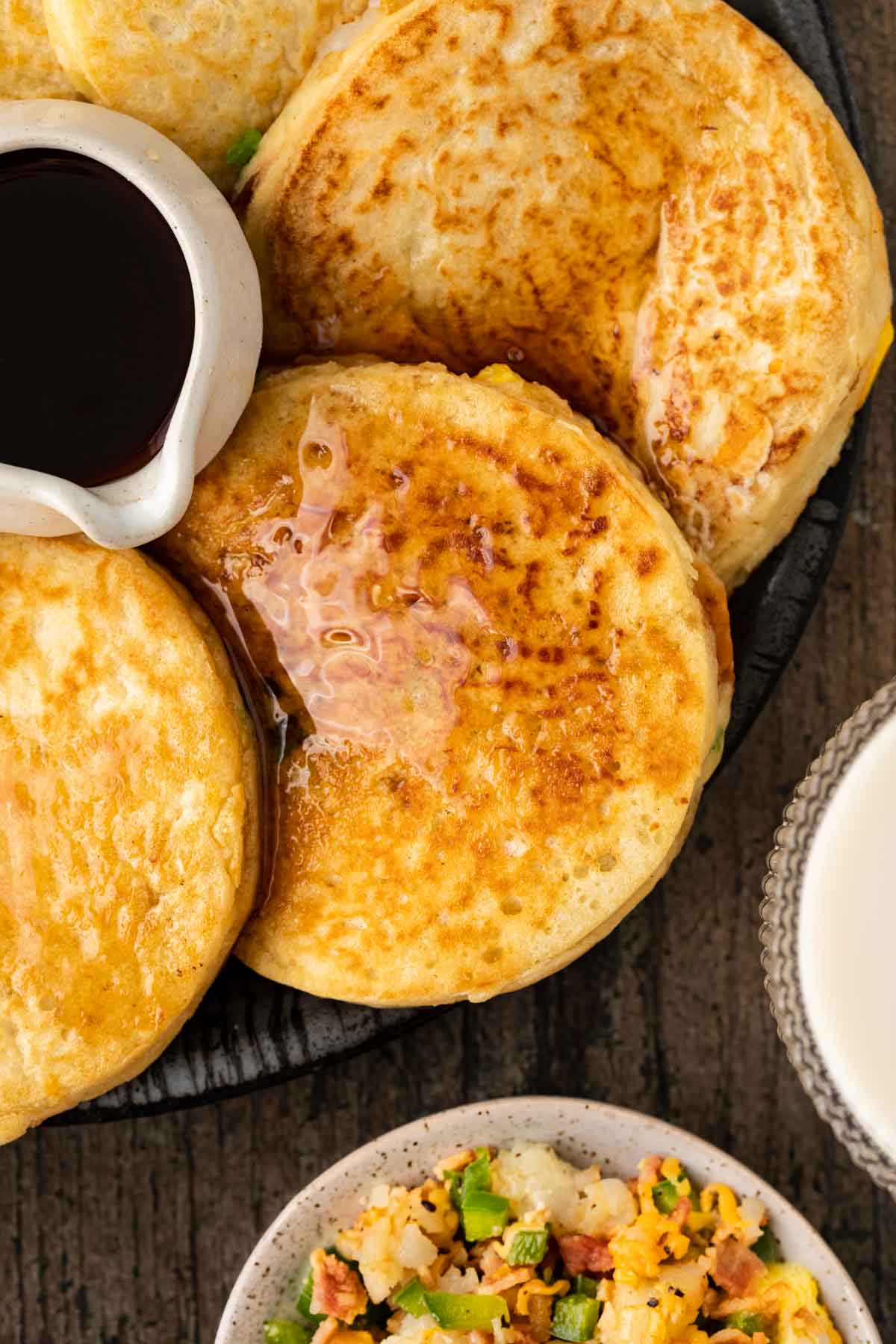 Variations
Meat: Instead of one or the other, why not do half bacon and half sausage. You can lighten up the recipe with turkey bacon or sausage, or chop up some leftover Baked Ham during the holidays.
Hash browns: Instead of the fluffy tater tot filling, you could cook shredded hash browns for a more crispy potato filling. You could also use Diced Breakfast Potatoes, just make sure to chop them into smaller pieces.
Cheese: Switch up the cheese with pepper jack, provolone, Monterey Jack, or Gouda. You can also serve them with some whipped ricotta or creme fraiche and a sprinkle of chives for a fancy topping. For even more decadent, rich pancakes, swap up to half of the milk with whole fat ricotta cheese.
Vegetables: For some more veggie add-ins try minced mushrooms, tomatoes, fire-roasted bell peppers, scallions, or fresh corn. Give these pancakes a little heat with diced jalapenos or canned green chilies, just make sure to drain the chilies so your batter isn't too wet.
Muffins: To make tasty, savory Loaded Breakfast Pancake Muffins, divide the 2/3 of the batter between 2 muffin tins with liners. Top with filling then the remaining batter. Bake at 350 for 20-25 minutes.
Sheet Pan Loaded Breakfast Pancakes
If you want to make these Sheet Pan Loaded Pancakes, you'll need to double the pancake recipe but you can keep the filling ingredients the same.
Preheat the oven to 425 degrees.
Prepare the batter as usual and let rest while you make the fillings.
Cook the eggs with the tater tots in the microwave per the recipe.
Chop up egg mixture and combine with the bacon, bell peppers, cheese, and seasonings.
Spray a large baking sheet (13×18) with baking spray.
Pour 2/3 of the pancake batter into the baking sheet and spread evenly.
Sprinkle the filling mixture over the batter so it's evenly distributed and not in large clumps.
Pour remaining batter over the filling.
Bake for 15 minutes, or until the pancake batter is cooked through and golden.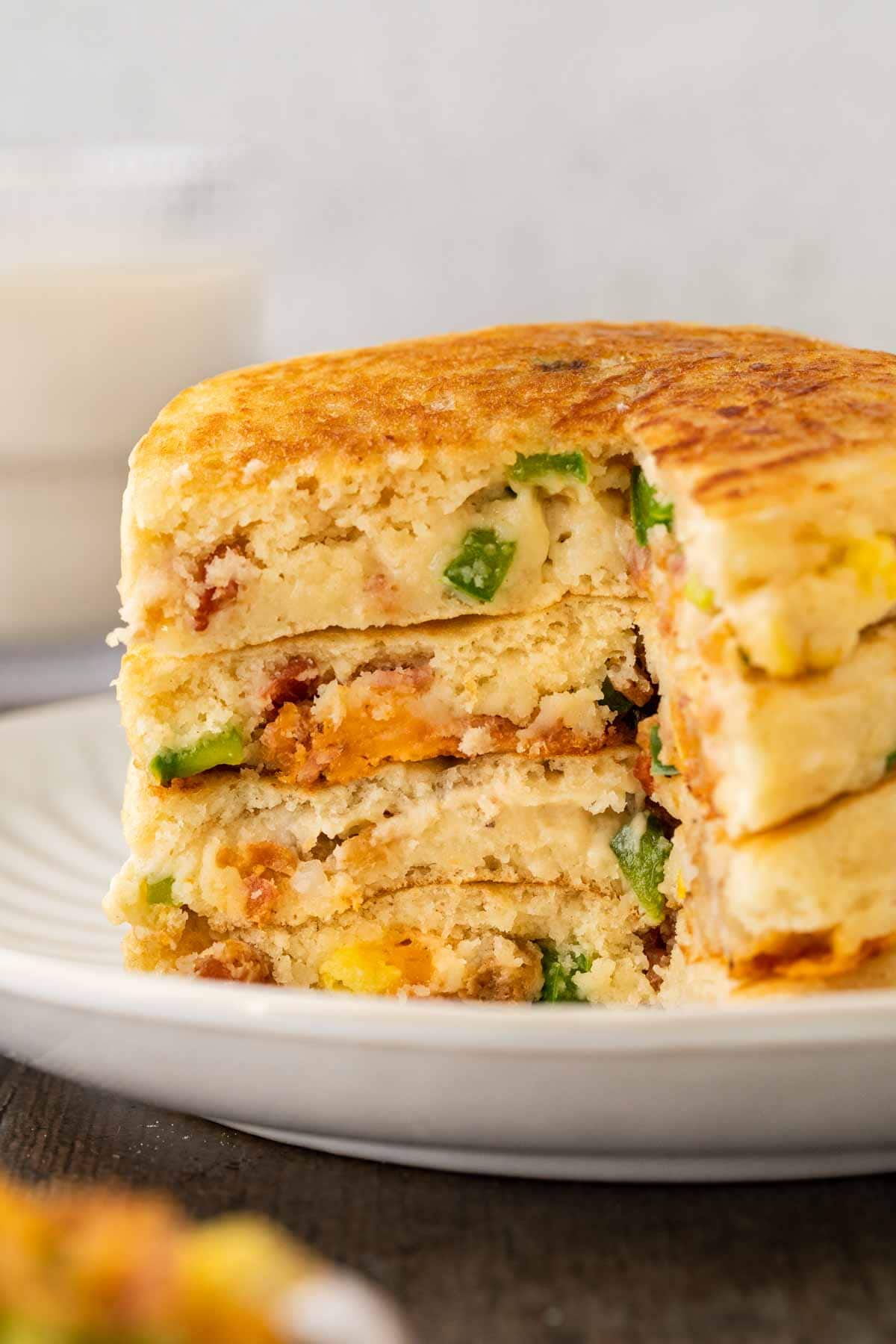 More Sweet and Savory Breakfast Recipes
How to Store
Store: These pancakes can be at room temperature for up to 2 hours before they need to be stored in the fridge. After they've cooled, transfer them to a sealed container and keep in the fridge for 2-3 days.
Reheat: It's best to reheat these pancakes in the oven on a baking sheet, covered with foil. This will keep them from drying out or getting too crispy on the outside.
Freeze: To freeze leftover Loaded Breakfast Pancakes, put the pancakes in a zip lock bag with parchment paper between each one. They'll stay good for 3 months. Reheat from frozen or thaw in the fridge overnight first.


Ingredients
Filling:
15

tater tots

3

large

eggs

1

green bell pepper

, minced

1/2

cup

bacon

, cooked and crumbled (or cooked breakfast sausage)

1/2

cup

cheddar cheese

, shredded

1/2

teaspoon

kosher salt

1/4

teaspoon

coarse ground black pepper
Pancake Mix:
1 1/2

cups

flour

3 1/2

teaspoons

baking powder

1/4

teaspoon

salt

4

teaspoons

white sugar

1 1/4

cups

whole milk

1

large

egg

4

tablespoons

unsalted butter

, melted
Instructions
Filling:
Cook the tater tots according to the instructions on the bag.

In a medium microwave safe bowl mix together the eggs until well beaten.

Microwave for

1 minute

, stir and microwave for an additional 1-2 minutes until cooked through.

Let eggs and tater tots cool then chop into large chunks.

To a large mixing bowl with the cooled scrambled eggs and tater tots add the bell pepper, bacon (or sausage), cheddar cheese, salt, and black pepper.

Mix it all together well.
Pancake Batter:
Add the dry ingredients and whisk together, then add the wet and combine fully.
To Cook:
Heat a lightly greased large skillet or griddle on medium heat.

Using a ¼ cup scoop, add the pancake batter to the griddle and let set for

30 seconds

.

Add in ¼ cup of the filling to the center of the pancake and carefully spread it evenly, leaving a border around the edges.

Spoon an additional 2 tablespoons of batter on top of the filling to cover it.

Flip carefully and cook for

30 seconds

.

Serve with maple syrup.
Nutrition
Calories:
287
kcal
|
Carbohydrates:
28
g
|
Protein:
11
g
|
Fat:
15
g
|
Saturated Fat:
7
g
|
Polyunsaturated Fat:
2
g
|
Monounsaturated Fat:
4
g
|
Trans Fat:
1
g
|
Cholesterol:
125
mg
|
Sodium:
512
mg
|
Potassium:
392
mg
|
Fiber:
1
g
|
Sugar:
4
g
|
Vitamin A:
499
IU
|
Vitamin C:
13
mg
|
Calcium:
197
mg
|
Iron:
2
mg