Home Fried Potatoes are easy to fry up on the stovetop until wonderfully crispy on the outside and fluffy inside with onions, peppers, and paprika.
Easy Home Fried Potatoes are similar to Classic Diced Hash Browns. They're the ultimate comfort food for breakfast and make a great savory Side Dish to go with eggs or balance out a sweet breakfast.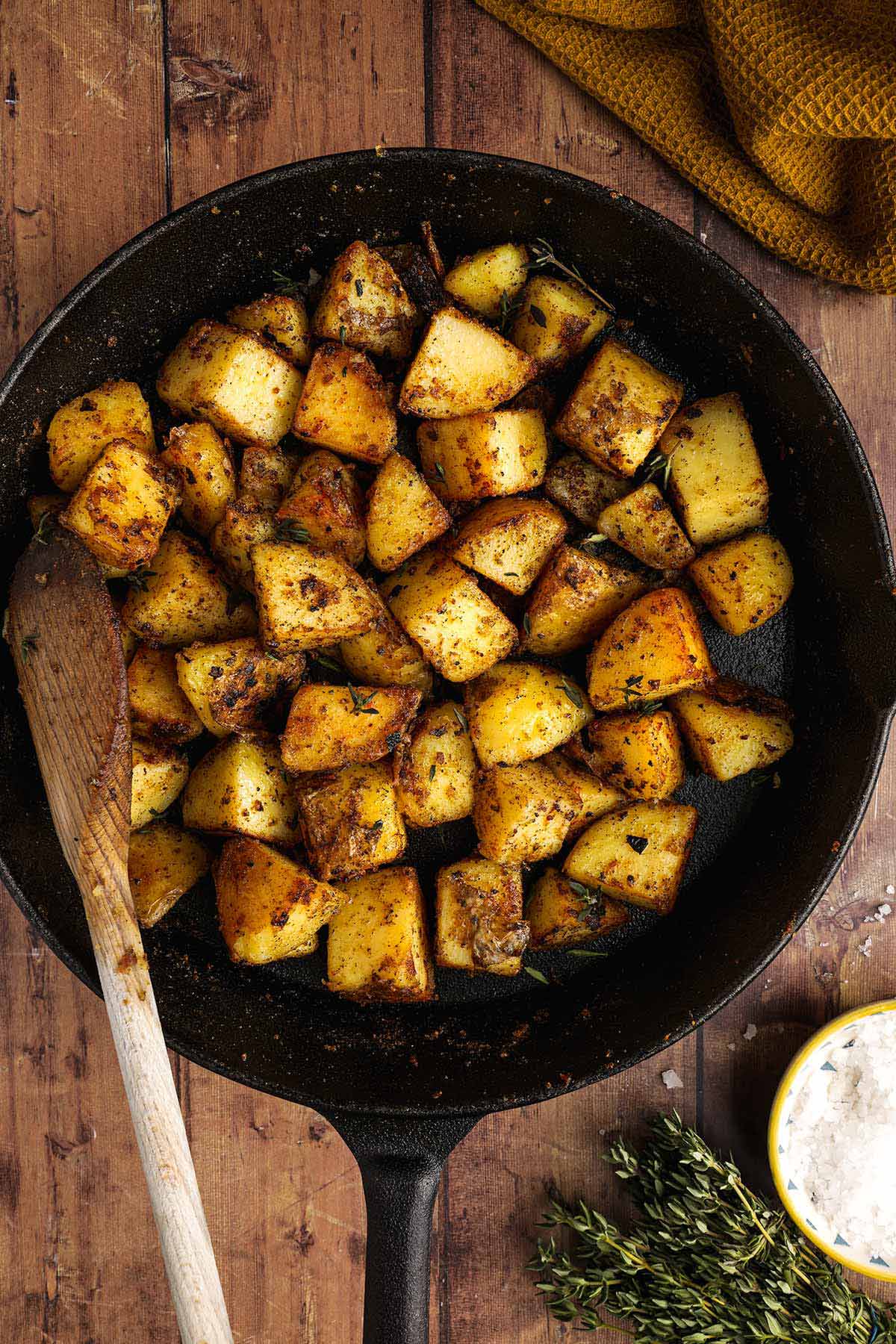 Crispy Skillet Home Fries are the perfect breakfast potato dish! They're quick to make, and oh so delicious with their buttery, crispy edges and slightly smoky seasonings. Since they have veggies, they can be a main dish on their own but they also go with all your breakfast favorites. Recreate diner combos by serving them with Fluffy Pancakes or Waffles. Or make a quick and hearty breakfast by throwing a fried egg or two on top of a hot bowl of fresh, crispy browned potatoes.
Home Fried Potatoes is a simple three-step cooking process. Start by boiling the potatoes in a large pot of water. This does most of the cooking so you don't get raw potatoes and burnt outsides. Then fry the onion and bell pepper pieces in butter. For the third step, fry the Home Fried Potatoes in oil in the skillet to give them the perfect crisp texture and then stir everything together to serve. It's quick, easy, and tastes amazing every time.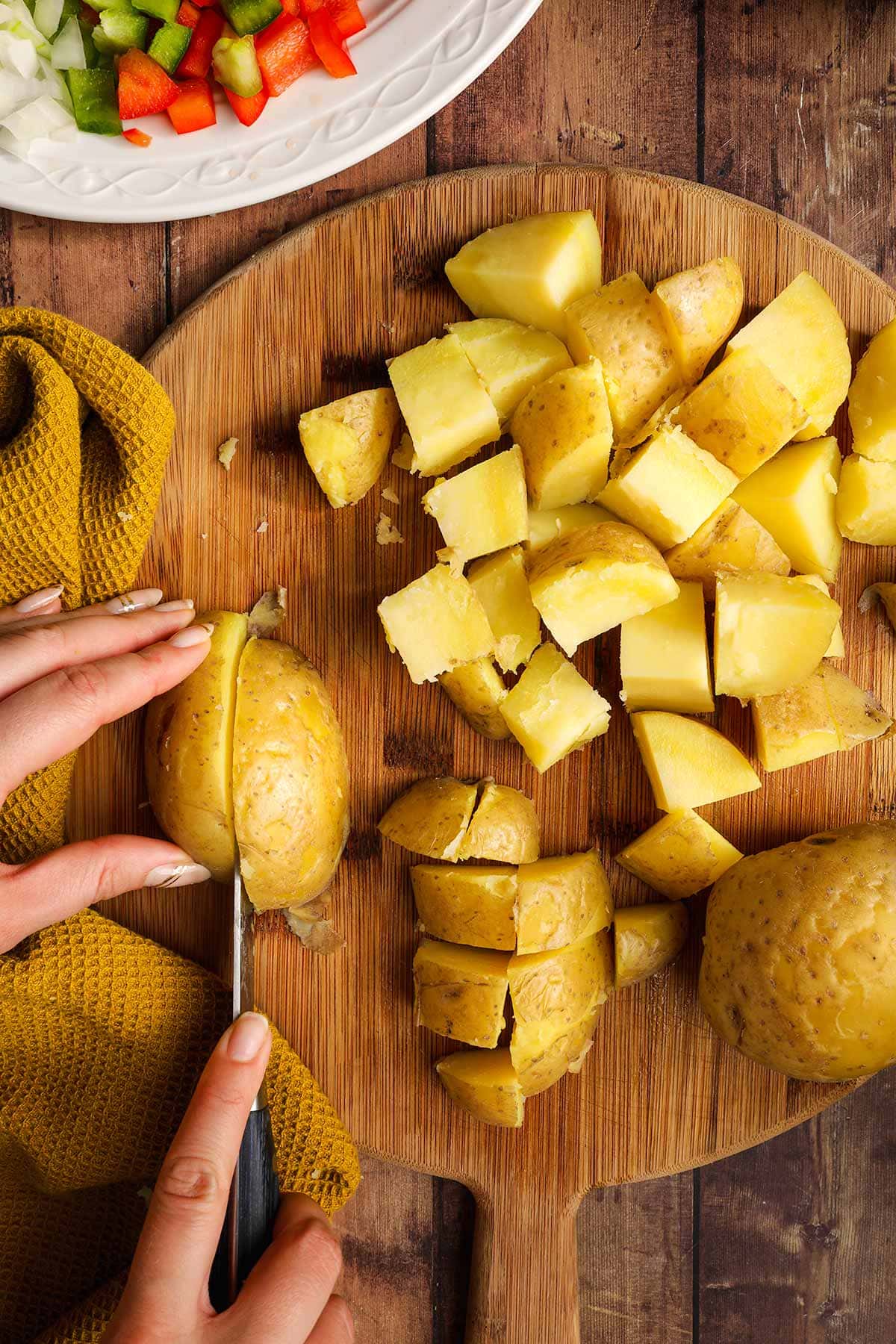 What are Home Fried Potatoes?
Home Fried Potatoes, also known as Country Potatoes, are a classic breakfast dish made by pan-frying diced potatoes in oil until crispy and golden brown, then tossing them with sauteed peppers and onions and various seasonings like garlic and paprika. They can be served as a side dish or topped with ingredients such as cheese, bacon, or eggs to make a breakfast skillet dish.
What is the difference between Home Fried Potatoes and Hashbrowns?
The main difference between Home Fried Potatoes and Hashbrowns is the texture and shape of the potatoes. Home Fried Potatoes are diced into small cubes and fried until crispy, while Hashbrowns are grated into thin strands and fried until crispy and formed into a patty. Hashbrowns are also usually made only with potatoes, while Home Fried Potatoes can include other ingredients such as onions, bell peppers, and spices.
How to Make Home Fried Potatoes
Boil: Bring whole potatoes to a low boil in a large pot filled with enough water to be about an inch above the potatoes. Cook for 12 minutes, then drain and let the parboiled potatoes sit to cool. Once cooled, cut into bite-sized cubes.
Vegetables: Melt butter in a large skillet over medium-high. Add the onions and peppers and cook until softened. Transfer cooked veggies to a separate dish.
Fry potatoes: Add vegetable oil and chunks of potatoes to the same skillet. Fry until you have browned potatoes on all sides. You can add a little extra frying time for a crispier texture according to your taste.
Serve: Season the hot potatoes with paprika, salt, and pepper, then add the veggies back in to coat with seasonings. Serve hot or keep in the oven on low to keep them crispy.
FAVORITE POTATO RECIPES
FAQs for Home Fried
Potatoes
Should you peel the potatoes?
Some people peel their potatoes for Home Fried Potatoes, while others leave the skin on for added texture and nutrients. Yukon potatoes have thin skins so it's easier to just leave them on because you won't notice them.
Why do you boil the potatoes before frying?
Boiling the potatoes before frying ensures the potatoes are cooked through and evenly plus makes them crispier when fried. Raw potato chunks don't cook quickly in a skillet and longer cook times equal moisture released, and that means soggy or burnt potatoes by the time they are done.
What potatoes are best for crispy Home Fried Potatoes?
Russet potatoes or Yukon potatoes are best for making crispy Home Fried Potatoes because they are starchy and have a dry texture, which allows them to fry up crispy on the outside and tender on the inside.
Why won't my fried potatoes get crispy?
Fried potatoes may not get crispy if there is too much moisture on the surface, causing the oil to steam instead of fry. To achieve crispy potatoes, be sure to dry the potatoes thoroughly after washing and/or boiling, and use a high smoke point oil with a neutral flavor. Additionally, avoid overcrowding the pan, which can cause the temperature of the oil to drop and prevent the potatoes from crisping up.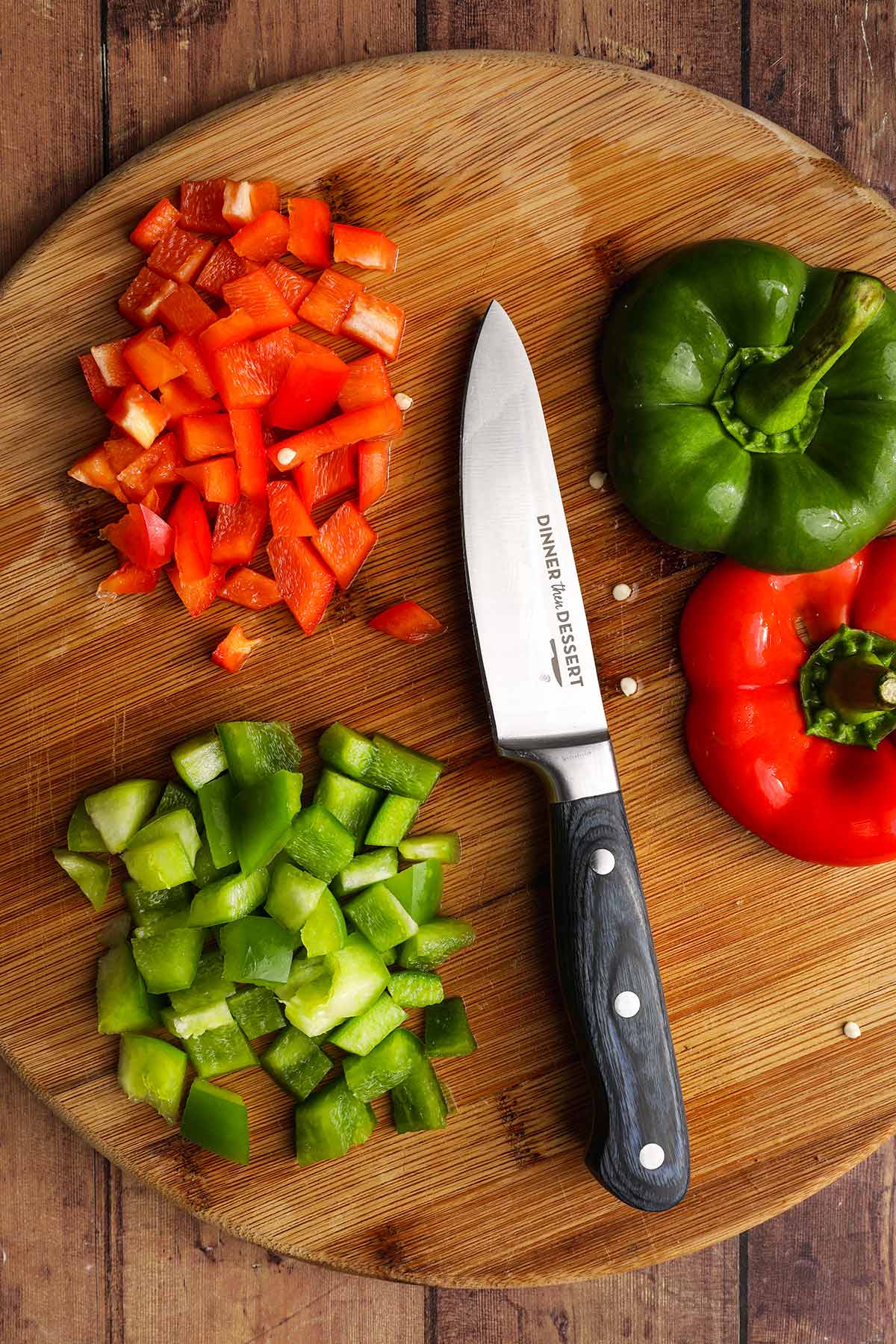 Create a free account to Save Recipes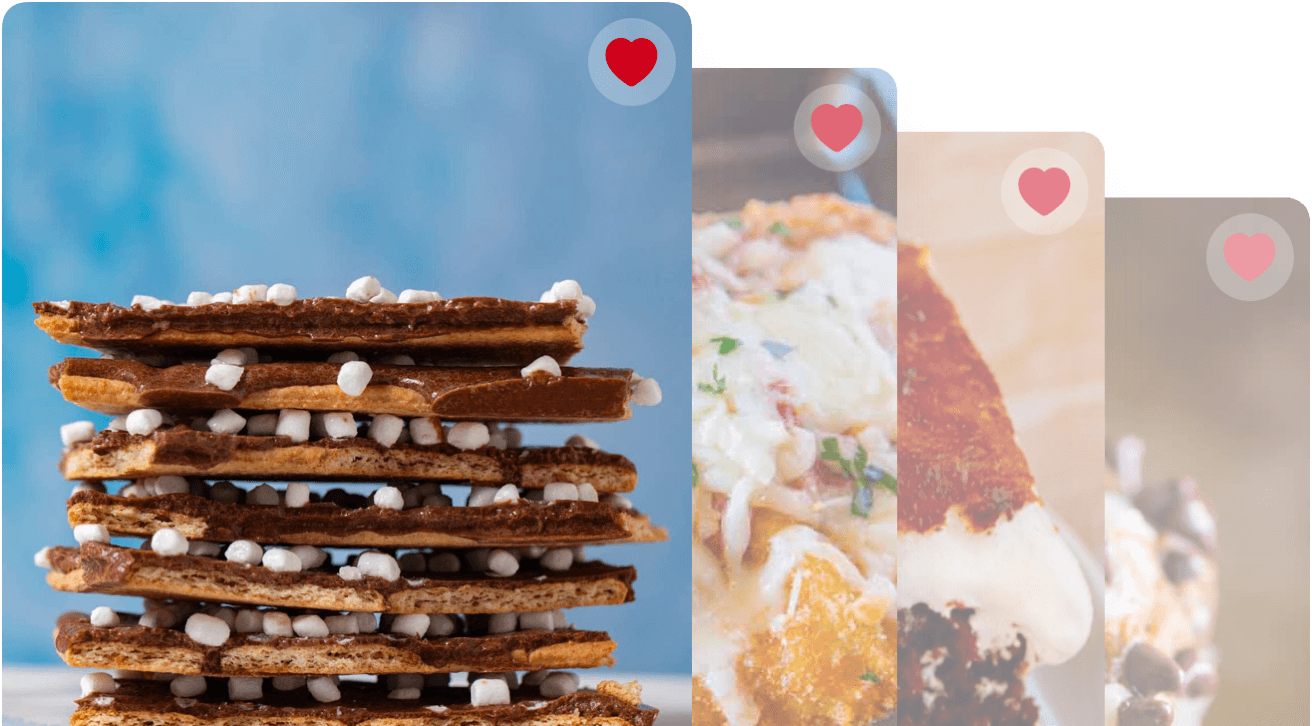 Key Ingredients
Potatoes: Yukon gold potatoes are perfect for making Crispy Skillet Home Fries. They have a naturally buttery flavor, and a creamy texture that's great for frying.
Veggies: The medium onion, green bell pepper, and red bell pepper add extra texture and color to the recipe. The mild onion flavor also tastes amazing with the crispy potatoes.
Seasonings: A simple blend of salt, paprika, and black pepper are all the seasonings you need in this delicious dish. The salt enhances the flavor, paprika adds a smoky flavor, and black pepper provides a slight heat, and they all compliment the natural flavors of the potatoes and veggies.
Fats: This recipe uses both butter and vegetable oil for the fat. The butter is used to flavor and cook the onions and peppers. The vegetable oil has a high smoke point perfect to fry the potatoes to maximum crispiness.
Can Home Fried Potatoes be Made Ahead of Time?
Home Fried Potatoes can be cooked ahead of time and stored in the freezer or refrigerator. To reheat, spread the potatoes in a single layer on a baking sheet and bake at 350 degrees for 10-15 minutes, until heated through and crispy. Alternatively, they can be reheated in a skillet on medium-high heat until crispy, adding a little bit of oil if necessary.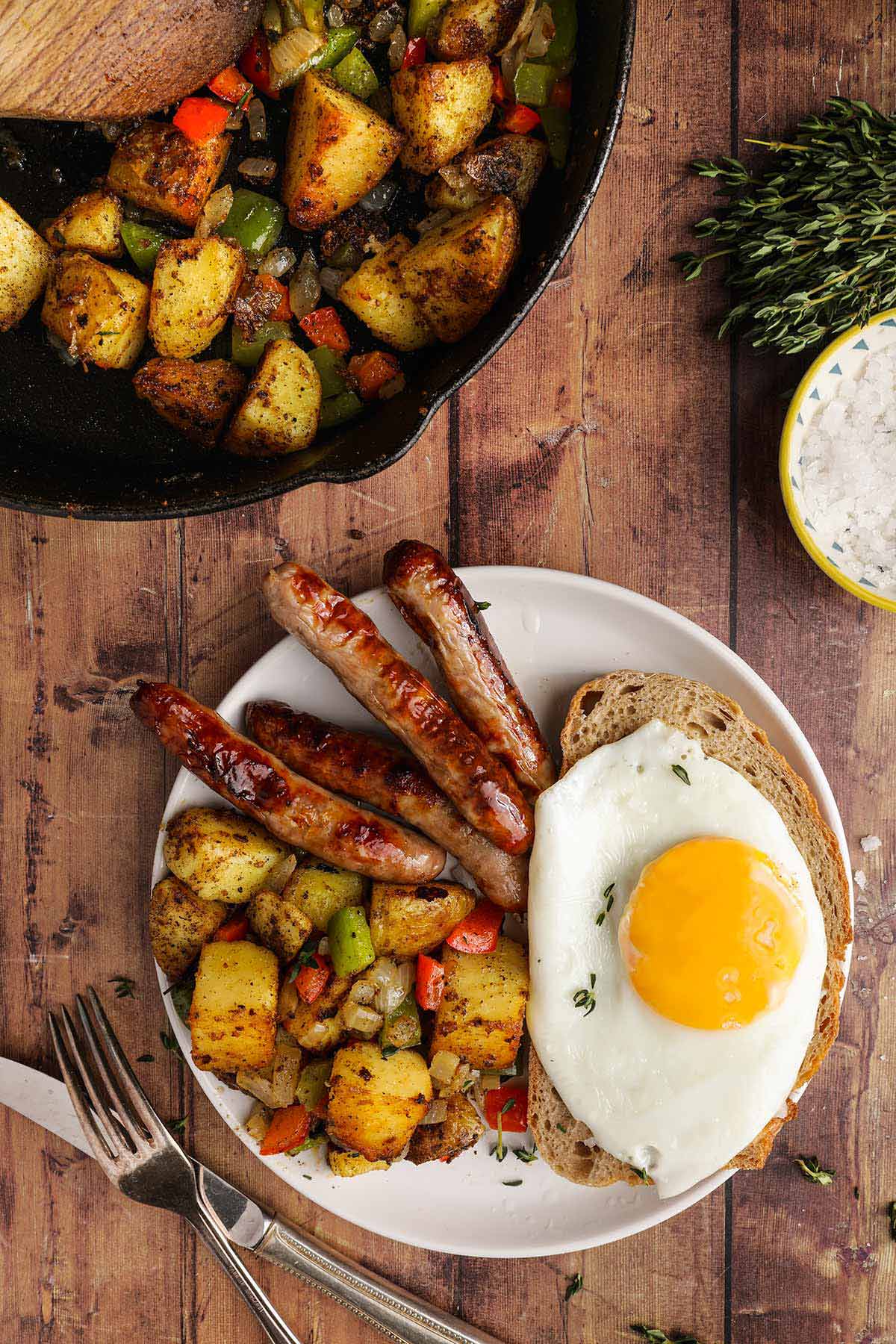 Variations
Extra seasonings: There are lots of dry seasonings you can sprinkle over these Home Fried Potatoes for extra flavor. For a bold garlicky flavor add garlic powder or garlic salt. For some fresh herbs try fresh parsley, rosemary, basil, or oregano. You could also add some heat with cayenne pepper or red pepper flakes.
Bacon: To add some nice crispy bacon to the potato dish, fry bacon slices in the skillet separately. Once the cooked bacon has cooled a little, crumble it into bacon bits and add it to the pan along with the veggies at the end. This is great with breakfast sausage too, just make sure to cook it separately and drain first so the potatoes aren't greasy.
Vegetables: There are lots of veggies like spinach, mushrooms, diced tomatoes, or zucchini that you could add to this fried potato recipe. Just make sure to cook them until slightly softened before adding.
Toppings: Serve these crispy potatoes smothered and covered with toppings like cheese, sour cream, Salsa, sliced avocado and green onions. Fried or scrambled eggs or tofu make a quick and easy breakfast bowl!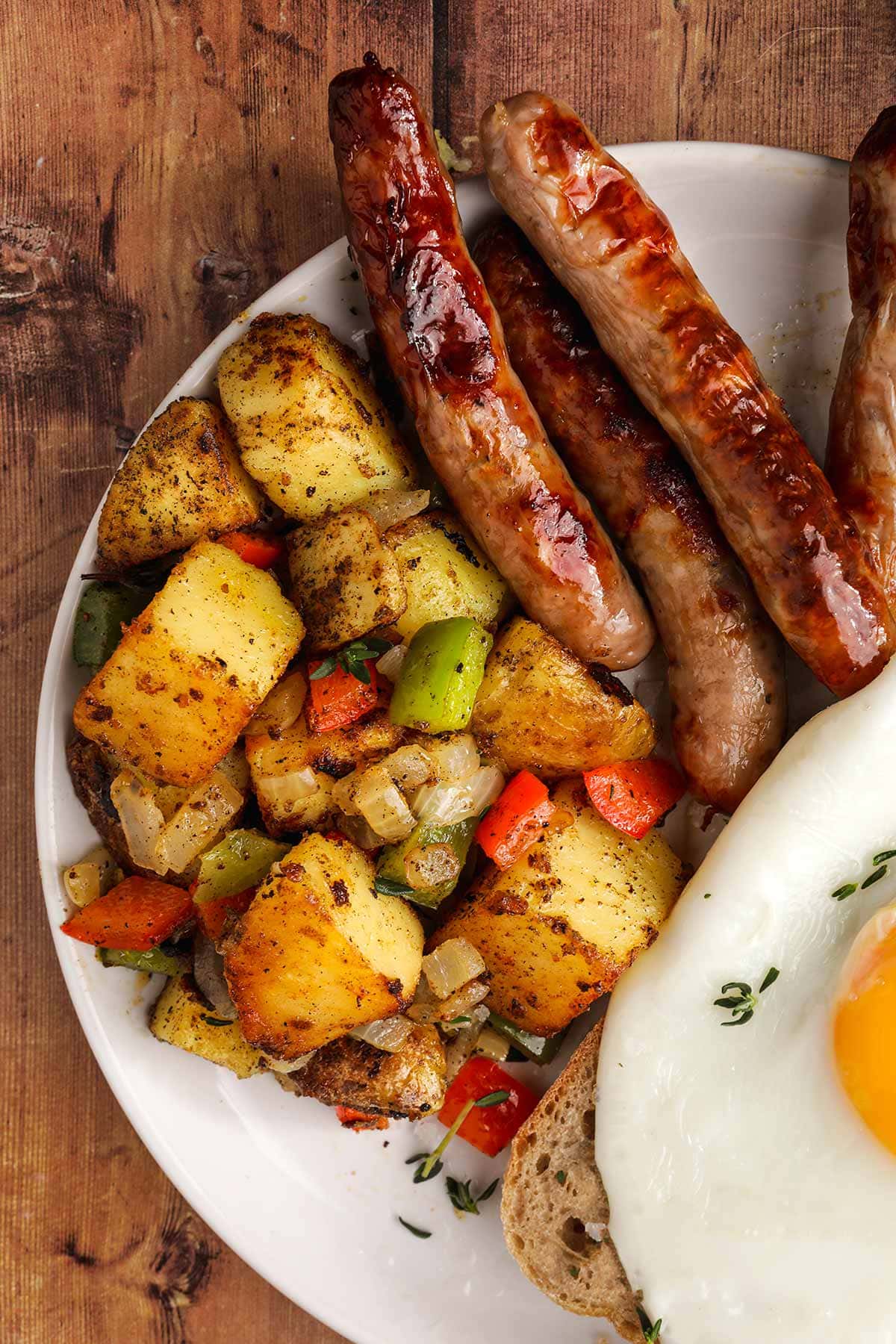 COMFORTING SIDE DISHES
How to Store
Store: These Skillet Home Fries can be at room temperature for 2 hours, before they need to be stored. Line an airtight container with a paper towel to absorb excess moisture, and refrigerate for up to 4 days.
Reheat: You can reheat leftover fries in the oven or on the stove top. For the oven, bake the potatoes in a single layer for 10-15 minutes until heated through and crispy. Heat them in a skillet over medium-high heat, adding a little bit of oil if necessary, and fry them for 5-7 minutes.
Freeze: After cooling, place the fried potatoes in a single layer on a baking sheet and freeze until solid, about 1-2 hours. Then transfer the frozen potatoes to an airtight container or freezer-safe bag and freeze for up to 6 months. You can reheat them from frozen, just adjust the cooking times as needed.


Ingredients
4

yukon gold potatoes

, scrubbed clean

2

tablespoons

unsalted butter

1/2

yellow onion

, diced

1/2

green bell pepper

, diced

1/2

red bell pepper

, diced

2

tablespoons

vegetable oil

1

teaspoon

kosher salt

1

teaspoon

paprika

1/2

teaspoon

coarse ground black pepper
Instructions
Add potatoes to a pot of cold water (the water level should be 1″ above the potatoes).

Bring to a low boil and cook for

12 minutes

when boiling.

Drain the potatoes and let them sit to cool.

When cooled, chop the potatoes into 1/2-3/4" chunks.

Add the butter to a large heavy skillet on medium-high heat.

Add the bell peppers and onion and cook for

3-4 minutes

until softened.

Remove vegetables from the skillet, add in the vegetable oil and cooked potatoes.

Cook, until potatoes are browned and crispy on all sides.

Season with salt, paprika, and pepper.

Add the vegetables back in, stir and serve.
Nutrition
Calories:
256
kcal
|
Carbohydrates:
33
g
|
Protein:
4
g
|
Fat:
13
g
|
Saturated Fat:
5
g
|
Polyunsaturated Fat:
4
g
|
Monounsaturated Fat:
3
g
|
Trans Fat:
1
g
|
Cholesterol:
15
mg
|
Sodium:
594
mg
|
Potassium:
810
mg
|
Fiber:
5
g
|
Sugar:
3
g
|
Vitamin A:
947
IU
|
Vitamin C:
66
mg
|
Calcium:
30
mg
|
Iron:
2
mg