German Potato Salad is a traditional warm potato salad with bacon and caramelized onions mixed with a tangy vinegar and sugar dressing.
As summer is quickly approaching we love making easy picnic and bbq friendly side dishes including Easy Macaroni Salad, Easy Cole Slaw and Texas Caviar.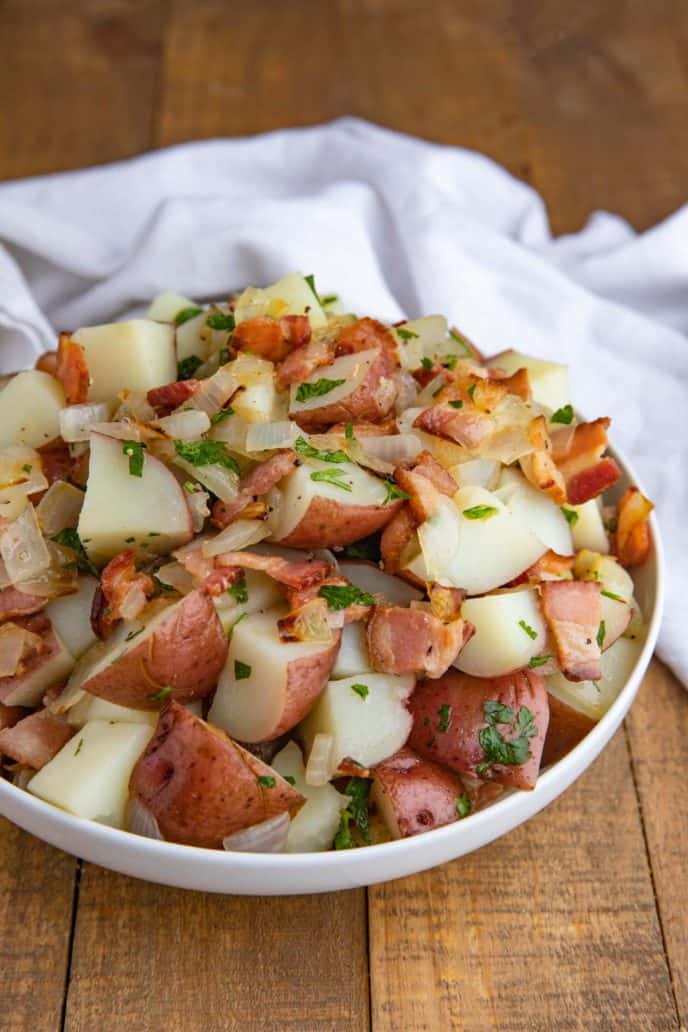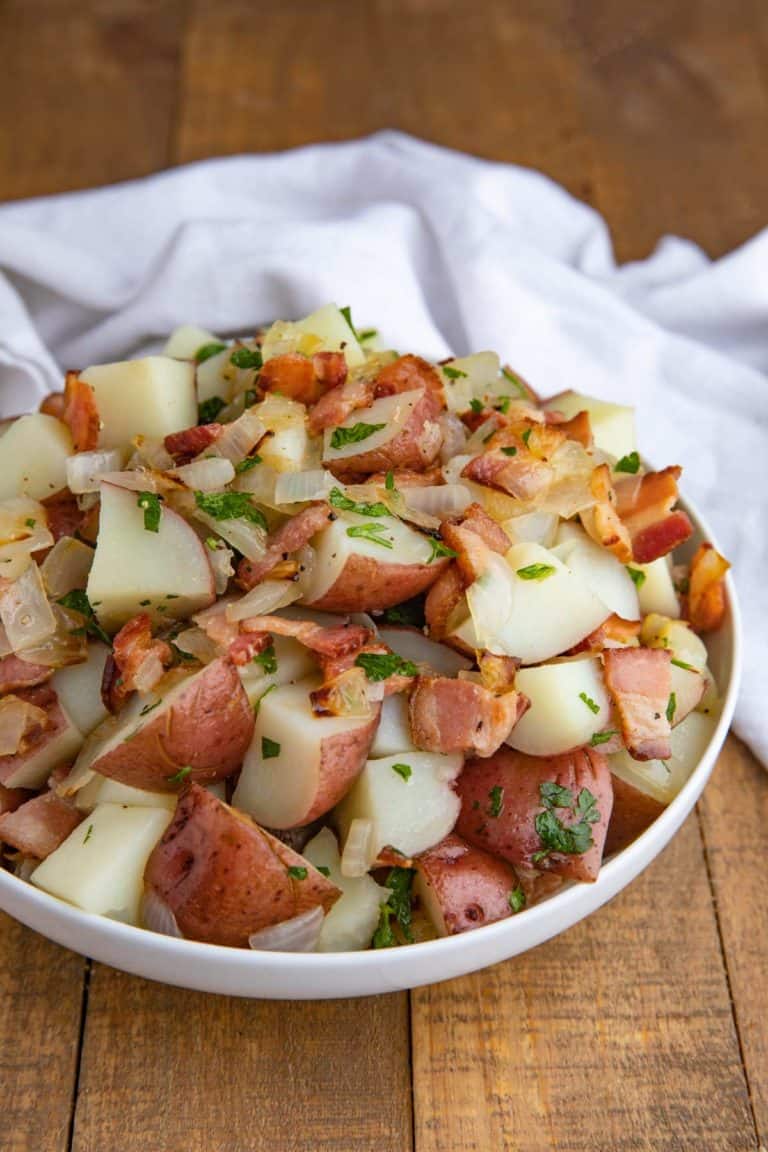 GERMAN POTATO SALAD
German Potato Salad isn't like your classic American mayonnaise based Potato Salad Recipe with eggs, celery and mustard. This potato salad comes from Germany and is made with bacon, caramelized onions, vinegar and sugar and it's tossed together while the potatoes are still piping hot so they can soak up the dressing.
Serve it hot or cold?
People often ask if German Potato Salad is best served hot or cold. The answer is either. We serve this salad warm in our house but if we are serving it cold I like to add crispy bacon to the potato salad fresh just before serving so it is crispy (if possible).
When warm, the sweet and sour dressing that soaks into the potatoes has a comforting flavor that is great served along side a grilled steak or chicken.
When served cold this is a great side dish for hot dogs or hamburgers, perfect for your summer cookout.
Potatoes
We use red potatoes in making this potato salad because they're a traditional ingredient in this german potato salad, but you can use yukon gold potatoes or russet potatoes (russet potatoes will not hold their shape as well), but I recommend red potatoes if possible.
You can also use baby red potatoes and halve them to prevent them from breaking while tossing them with the dressing.
Vinegar
The traditional method for making the vinegar dressing is to use a traditional white vinegar (distilled white vinegar). If you have an aversion to such a strong vinegar flavor you can swap the vinegar out for apple cider vinegar which is naturally sweeter and less vinegary. You can also use white wine vinegar which is a more muted flavor than white vinegar.
How to Make German Potato Salad
Cut red potatoes into large chunks add to pot with cold water and cook.
Cook bacon and reserve some bacon fat.
Cook onion in bacon fat and add in dressing ingredients.
Add onion mixture to steaming hot potatoes.
Toss potatoes, dressing, bacon and parsley together before serving.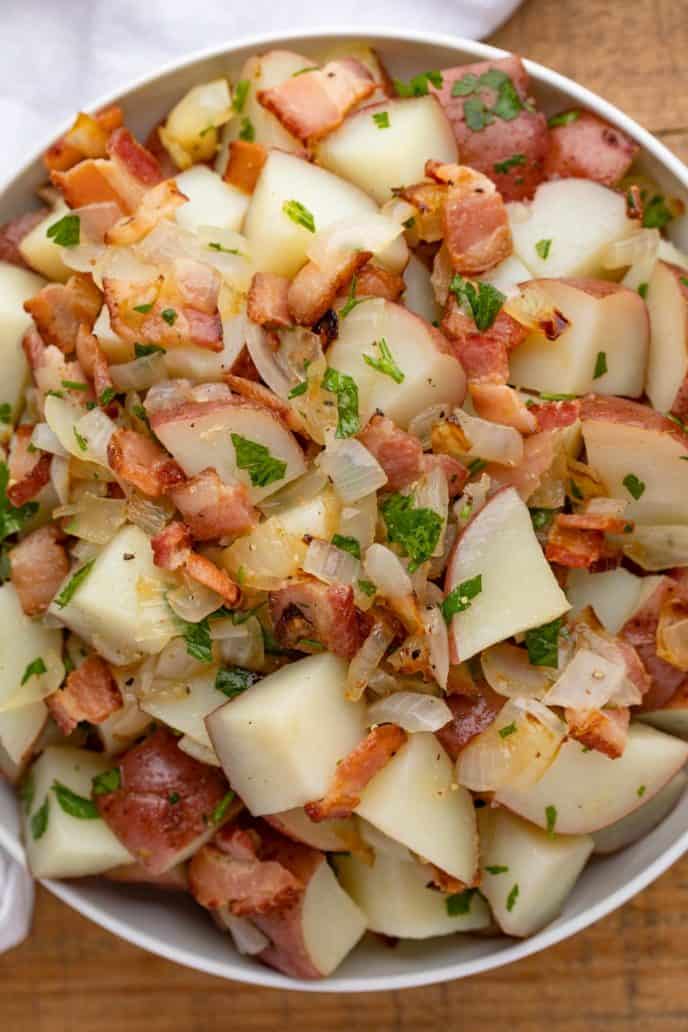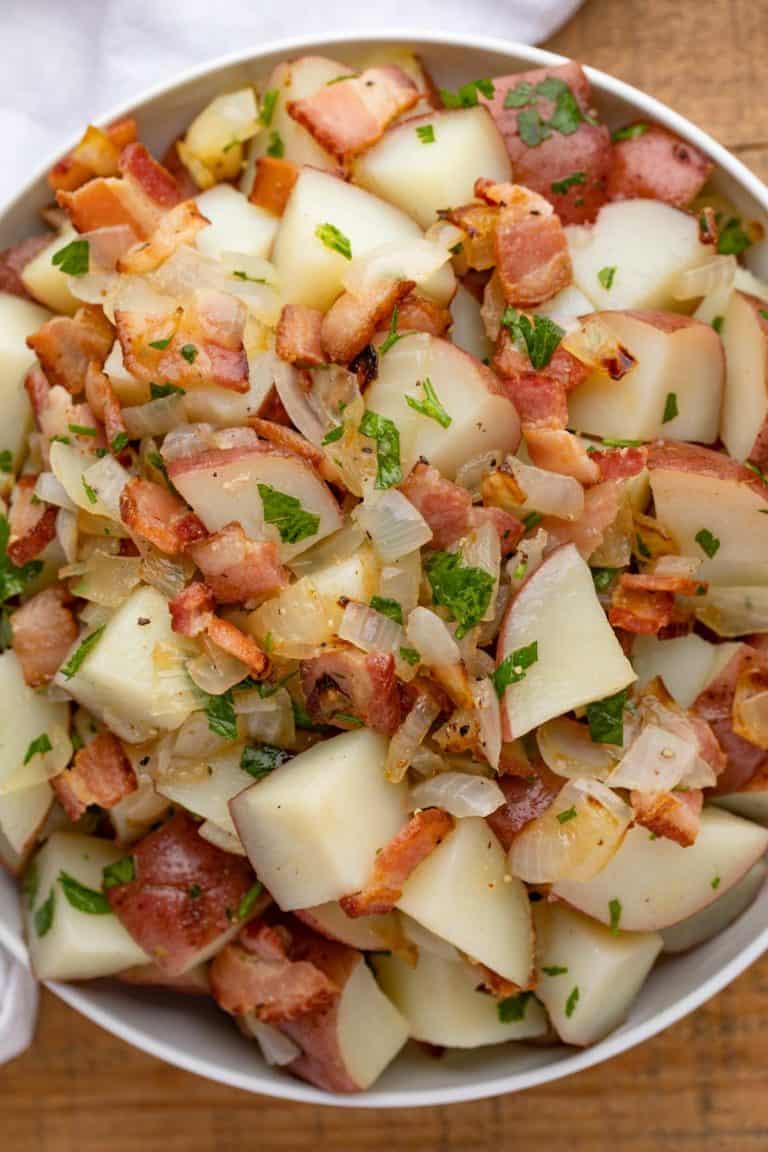 Create a free account to

Save Recipes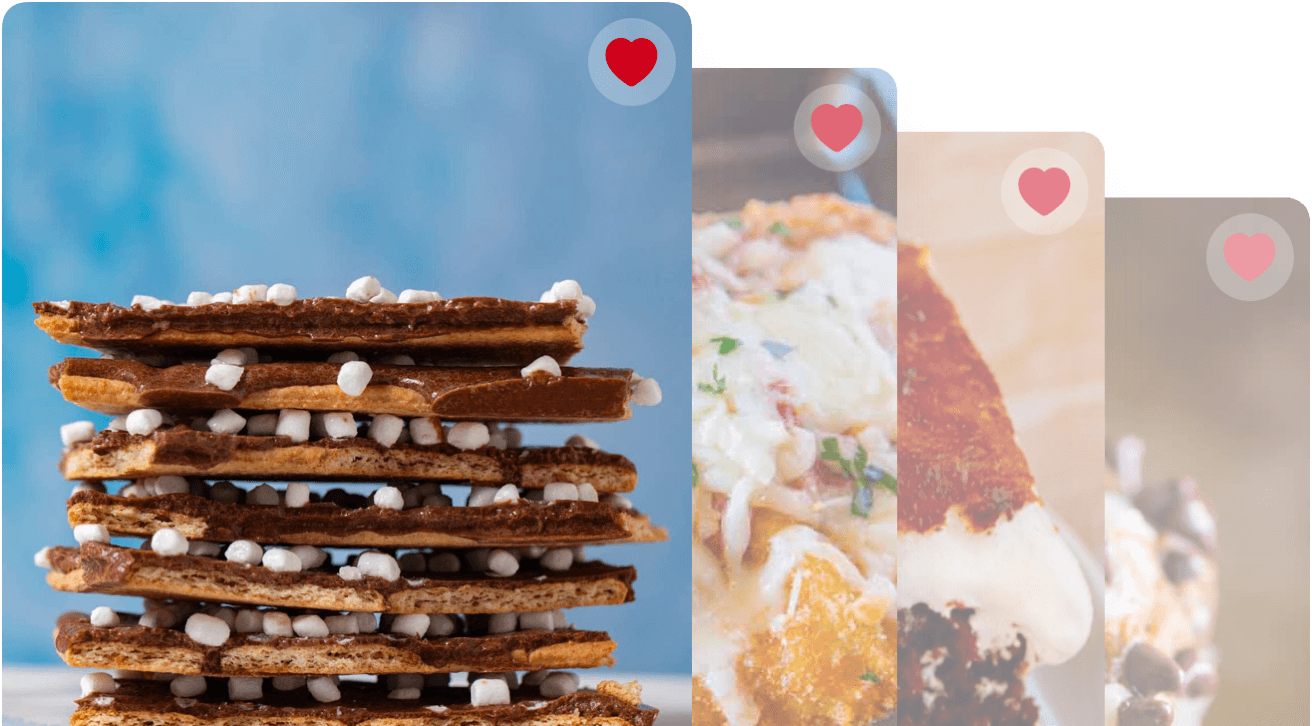 Additional Mix-in Options:
This recipe is a traditional recipe so I recommend making it as written below the first time you try it, but you can add in some more fun flavors the next time you make it.
Eggs: Sliced hard boiled eggs added on top of the salad because mixing them in would crush the yolks and they look beautiful garnished on top for a German Potato Salad with Eggs.
Sour Cream: Whisk in ½ cup of sour cream to the dressing just before adding to the potatoes to make a Creamy German Potato Salad (you can cut back on the vinegar by 1 tablespoon since the sour cream is tangy).
No Bacon: You can make German Potato Salad without bacon and in place of the bacon fat cook sliced celery in butter on medium-high heat until caramelized to add a bit of crunch and flavor. Cook your onions in butter too. You can also use olive oil in place of butter if preferred.
Mayonnaise: If you'd like to use mayonnaise in place of the bacon grease in this dish you can. Cut back on the amount of fat to cook the onions, skip the water and mix ½ cup mayonnaise with the sugar, salt, celery seed and pepper and toss the potatoes, bacon and onions once the potatoes have cooled completely. Do not mix while warm.
Dill: Dill is a classic German herb so it makes sense to make a dill potato salad as an option, if you want you can swap the fresh parsley to make this German Potato Salad with Dill or even swap the celery seed for dill. Remember fresh dill always tastes significantly better than dried, so I recommend this option only if using fresh.
Dijon Mustard: A quick, easy addition. Using a tablespoon of dijon mustard added into the potatoes with the onion mixture (do not add the mustard into the pan), and toss it together while warm. Using a whole grain dijon mustard would also be a delicious option.
Food Safety Recommendations
Refrigeration: This German Potato Salad can be safely refrigerated for 3-5 days before being discarded.
Room Temperature: If left at room temperature, German Potato Salad should not be consumed after being left out for more than 2 hours because food bacteria can grow at temperatures between 40°F and 140°F (this is why a 37°F helps to preserve food longer).
Freezer: Since this German Potato Salad does not contain mayonnaise and we use red potatoes which are more freezer friendly you can technically freeze this recipe for up to 3 months. Be aware the flavors will be adversely affected and the texture of the bacon will not remain crispy upon reheating.
What to Serve with German Potato Salad?
We love serving this recipe with Super Crispy Fried Chicken, Easy Grilled Chicken or Easy Pulled Pork because it makes the perfect side dish for your favorite summer flavors!
More easy summer side dishes:
This German Potato Salad will be the hit of any bbq you have this summer! This delicious recipe is full of bacon, caramelized onions, and a delicious dressing. You won't miss the mayonnaise in this potato salad recipe!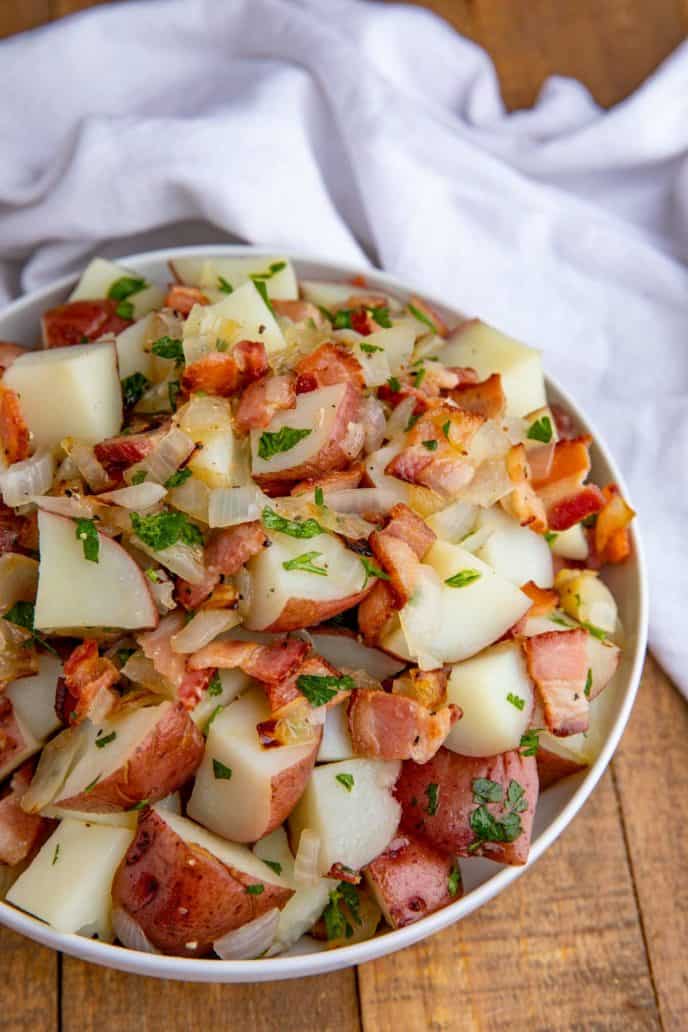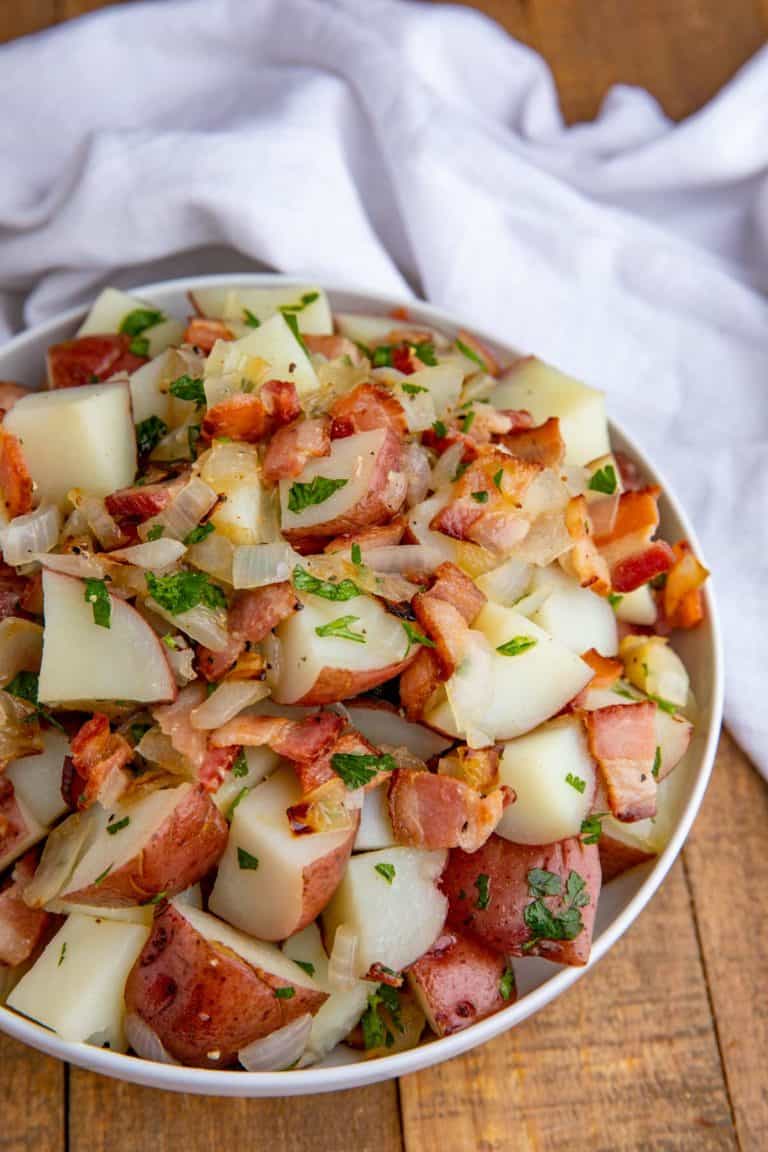 Ingredients
2

pounds

red potatoes

, cut into 1" chunks

8

slices

bacon

, diced

1

yellow onion

, diced

1/4

cup

white vinegar

2

tablespoons

sugar

2

tablespoons

water

1

teaspoon

salt

1

teaspoon

celery seed

1/4

teaspoon

coarse ground black pepper

1/4

cup

parsley

, chopped
Instructions
Add the potatoes to a large pot covered with cold water and bring to a boil and cook for an additional

12-15 minutes

or until you can easily pierce the potato with a small knife.

In a large skillet cook the bacon on medium heat until crispy, then remove.

Discard all but 4 tablespoons of bacon fat, then add the onion to the remaining bacon fat in the pan and cook on medium heat until it just starts to brown, about

4-5 minutes

, stirring occasionally.

Add in the vinegar, water, sugar, salt, celery seed and pepper and stir together until the mixture is boiling and the sugar is dissolved.

Put the potatoes in a large mixing bowl, pour over the onion mixture and add in the parsley.

Gently toss the mixture together until most of the dressing is absorbed then add in half the bacon toss together another few seconds and garnish with remaining bacon before serving.
Nutrition
Serving:
0.5
cup
|
Calories:
143
kcal
|
Carbohydrates:
16
g
|
Protein:
4
g
|
Fat:
7
g
|
Saturated Fat:
2
g
|
Cholesterol:
12
mg
|
Sodium:
367
mg
|
Potassium:
472
mg
|
Fiber:
2
g
|
Sugar:
2
g
|
Vitamin A:
140
IU
|
Vitamin C:
10.6
mg
|
Calcium:
14
mg
|
Iron:
0.8
mg