Waldorf Salad is a delicious classic fruit and nut salad (or dessert!) served over lettuce that's a holiday favorite with apples, grapes celery and walnuts.
Fun and easy dessert salads of yester-year definitely have a fond spot in my heart. You're familiar with them if you read this site as we've already covered Ambrosia Salad, Grape Salad and Watergate Salad (Pistachio Delight).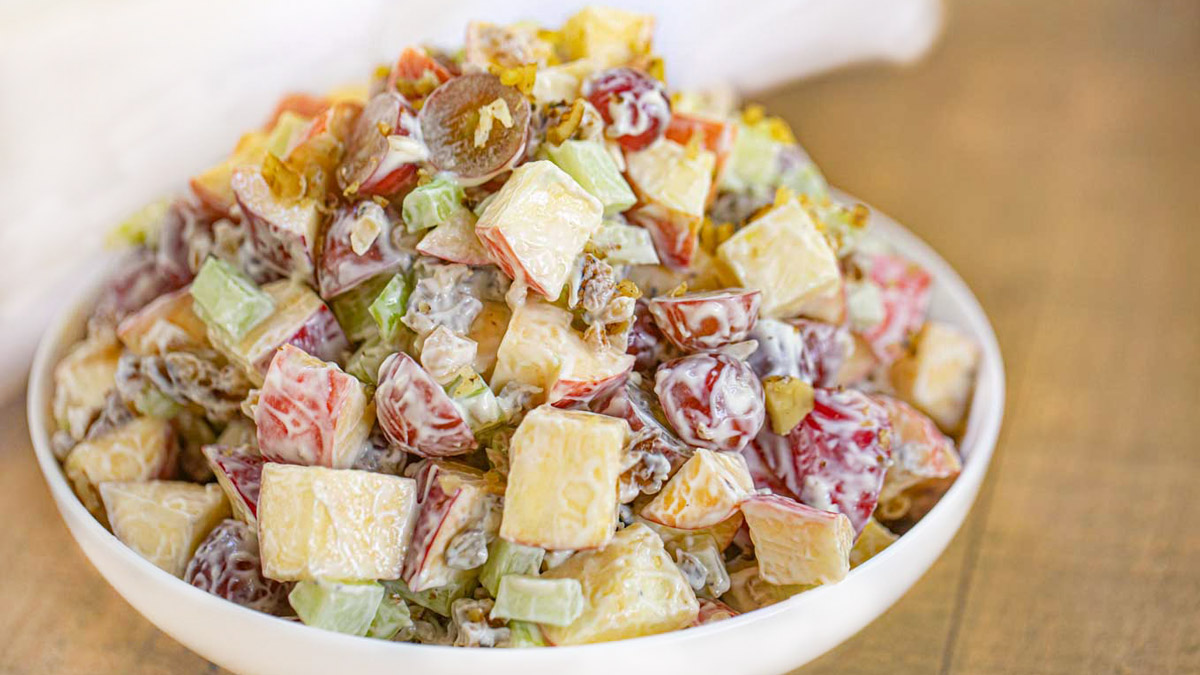 CLASSIC WALDORF SALAD
Waldorf Salad is a delicious, filling side dish that's been around since the 1880's. As far as fruit salads go, this one is one of the absolute easiest, plus you can make your own delicious salad dressing from scratch to go with it. Waldorf salad is great to make for potlucks, weekend get togethers, and weeknight dinners when you're not all that anxious to cook anything complicated.
The Perfect Holiday Side Dish
This recipe may scream HOLIDAYS!!!! to you as much as it does to me, we like to serve this during big holiday pot luck meals during Thanksgiving and Christmas. The addition of cut up fruit that can sit without turning brown thanks to the dressing is a great addition to your holiday meal. Make your Classic Roast Turkey with a side of Green Bean Casserole, Baked Mac and Cheese and Easy Mashed Potatoes to serve with this Waldorf Salad. Holidays done! Well, not quite done. Make some pies too. 🙂
Is Waldorf Salad a side or a dessert?
Waldorf Salad is generally served as an appetizer or a light meal but with so much fruit in it you can serve it as a dessert as well if you add just a bit of sugar to the mayonnaise dressing and cut back on the black pepper.
Why is it called Waldorf Salad?
A man named Oscar Tschirky, aka Oscar of the Waldorf, was the maître d' of New York City's Waldorf-Astoria Hotel in the 1880's, and he's credited with inventing the original recipe for Waldorf Salad. This Waldorf Salad recipe is very close to the original.
He also invented Eggs Benedict, which you definitely need to try out, and popularized Thousand Island salad dressing. He wrote a large cookbook, even though he wasn't a chef, and his picture is up in the Waldorf-Astoria Hotel to this day.
More Classic Salad Recipes:
HOW TO MAKE WALDORF SALAD
Whisk mayonnaise, lemon juice, sugar, salt and pepper together in a large bowl.
Add in the apples, grapes, celery and walnuts and stir well together.
Serve chilled.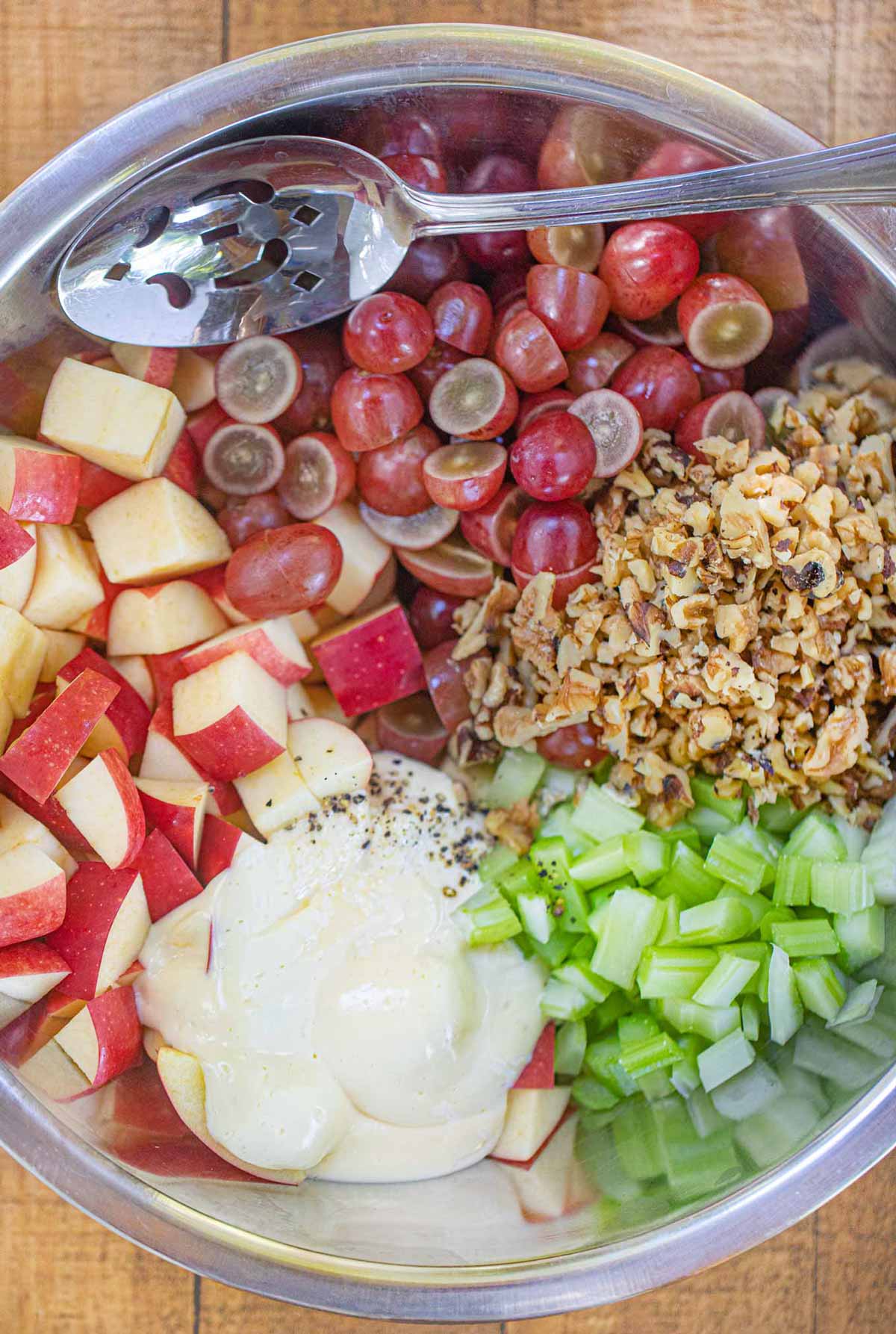 VARIATIONS ON WALDORF SALAD
Add ins: You can customize your Waldorf Salad with all sorts of additions. Try stirring in some cranberries, golden raisins, sliced pecans, chopped cauliflower, or even a handful of marshmallows. If you do go the marshmallow route you should wait to mix them in until you're ready to serve the salad to keep the fruit juice from seeping in and making them soggy and disgusting.
Waldorf Chicken Salad: If you want to add some leftover chicken breast to your salad, you absolutely can. Cut the cooked chicken breast (you can use my Baked Chicken Breast or Grilled Chicken Breast recipes) into small bite sized pieces and stir them into the salad until they are thoroughly mixed in. The chicken tastes delicious served chilled, and the natural sweetness of the fruit compliments the flavor really well.
WHAT TO SERVE WITH WALDORF SALAD
Make a classic meal from start to finish with an Ultimate Pot Roast, Green Bean Casserole and this Waldorf Salad for dessert.
HOW LONG IS WALDORF SALAD GOOD?
Serve: This salad is best served chilled, so I wouldn't recommend keeping it out of the refrigerator for longer than about 2 hours. It also has mayonnaise in it, which can go bad at room temperature if it's out too long.
Store: Your salad will last up to 5 days in the fridge as long as you keep it wrapped up tight in plastic wrap or in a sealable container.
Freeze: You shouldn't freeze this salad because of the mayonnaise. The mayo doesn't thaw out very well because ice crystals form and change the texture when it thaws out.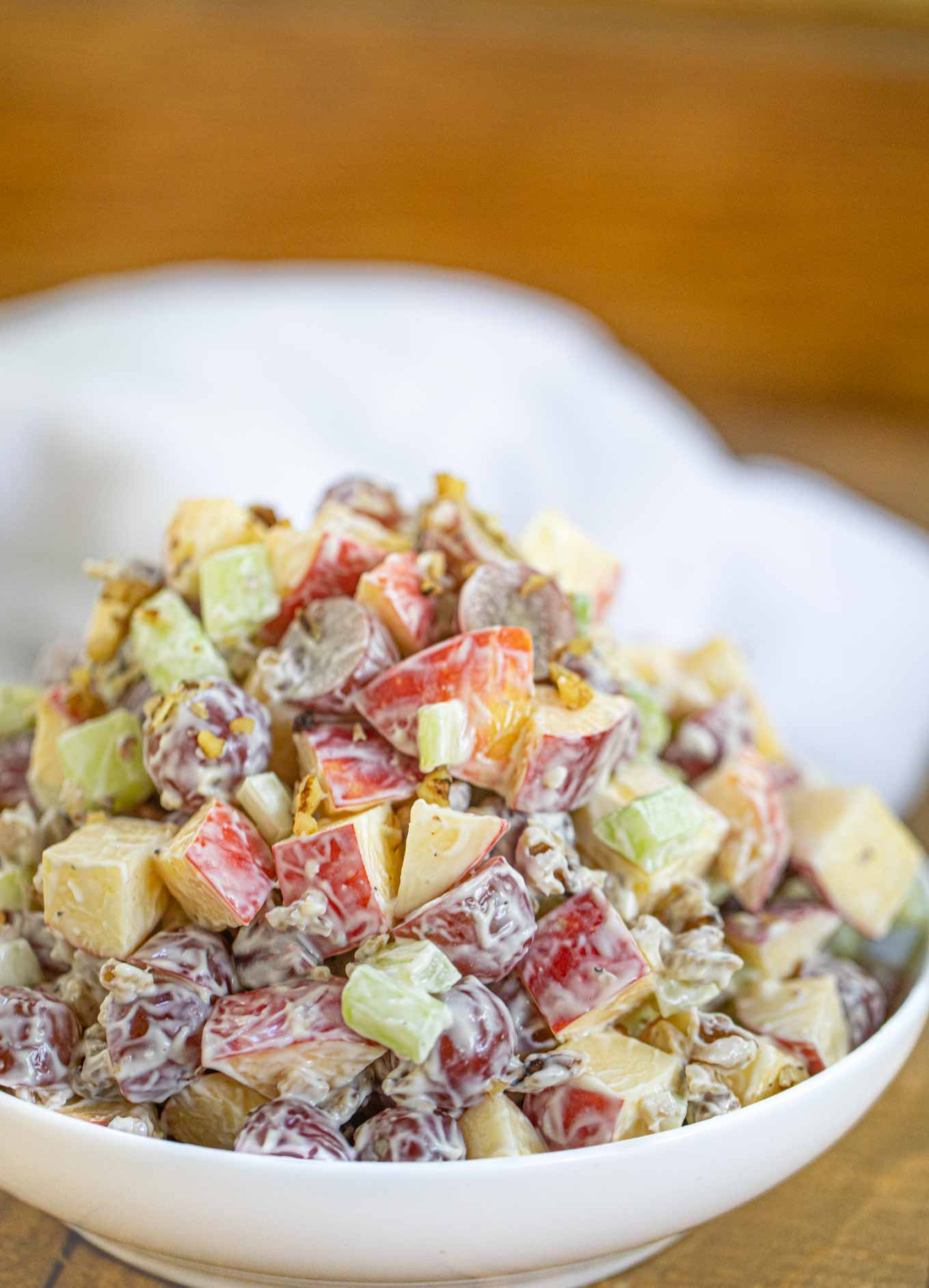 Recipe
Save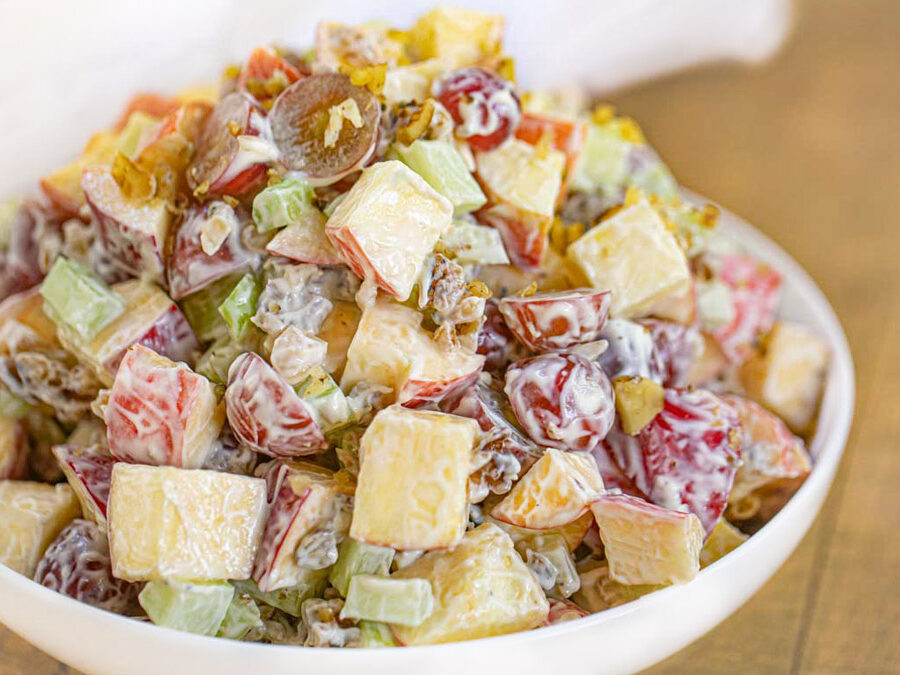 Waldorf Salad
Yield:

8

Servings

Prep Time:

5

minutes

Total Time:

5

minutes

Course: Side Dish
Cuisine: American
Author: Sabrina Snyder
Waldorf Salad is a delicious classic side (or dessert!) that is a holiday favorite made with apples, grapes celery and crunchy walnuts in just 10 minutes.
Ingredients
1/2

cup?

mayonnaise

1

tablespoon

lemon juice

1

teaspoon

sugar

1/2

teaspoon

kosher salt

1/8

teaspoon

coarse ground black pepper

3

fuji apples

, cored and chopped

1 1/2

cups

red grapes

, halved

2

stalks celery

, diced

3/4

cup

walnuts

, chopped
Instructions
Note: click on times in the instructions to start a kitchen timer while cooking.
Whisk mayonnaise, lemon juice, sugar, salt and pepper together in a large bowl.

Add in the apples, grapes, celery and walnuts and stir well together.

Serve chilled.
Nutrition Information
Yield: 8 Servings, Amount per serving: 231 calories, Calories: 231g, Carbohydrates: 17g, Protein: 2g, Fat: 18g, Saturated Fat: 2g, Cholesterol: 6mg, Sodium: 249mg, Potassium: 201mg, Fiber: 3g, Sugar: 13g, Vitamin A: 110g, Vitamin C: 5g, Calcium: 22g, Iron: 1g
All images and text © for Dinner, then Dessert.
Keywords:
easy fruit salad, fruit salad, Grape Salad, grapes, Waldorf Salad
Save