Easy Cast Iron Pancake recipe for a giant homemade pancakes baked in the oven. Deliciously tender skillet baked pancake with crispy edges.
From Blueberry Pancakes to Birthday Cake Pancakes to these cast-iron skillet pancakes, hot and fluffy Pancakes are one of those classic Breakfast Dishes the whole family loves!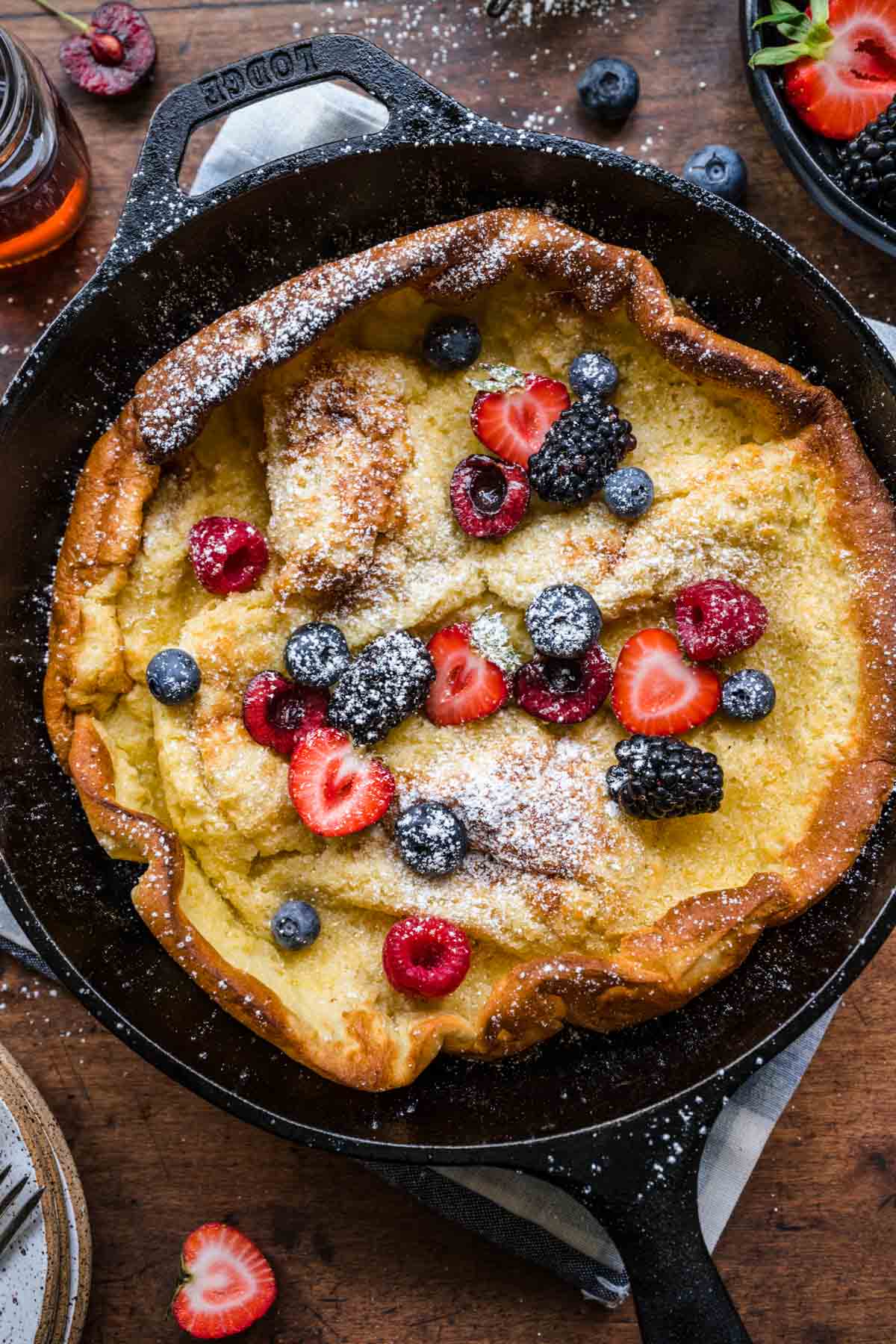 Cast Iron Pancakes, are an easy way to make amazing pancakes without a griddle and feed everyone all at once. Instead of individual pancakes, it's a giant pancake that is light and fluffy on the inside with buttery crisp edges. It's served in slices like a quiche or a cake, with all your favorite toppings for a fun new way to enjoy delicious pancakes for breakfast!
These deep dish pancakes turn a common Breakfast Dish into a special pancake breakfast for the holidays without having to prepare fancy toppings or add a bunch of ingredients. It uses the same basic baking ingredients you use to make regular pancake batter, but the quantities are slightly different. There are more eggs but a lot less flour and milk. The extra eggs make fluffier pancakes that puff up similar to a souffle as they bake, keeping the inside moist while the cast iron cooks the edges and crust. The result is a tender pancake with the crispiest edges.
Make a lazy weekend morning brunch all in your oven with these Skillet Baked Pancakes plus some Crispy Oven Bacon and Oven Scrambled Eggs. Serve with classic pancake toppings like maple syrup, fresh fruit, and powdered sugar. During the holidays, you can double the pancake batter to feed a crowd, just cook in two separate skillets. This giant pancake could also be dessert and served like a Pizookie (Cookie Pizza) with Vanilla Ice Cream and chocolate syrup.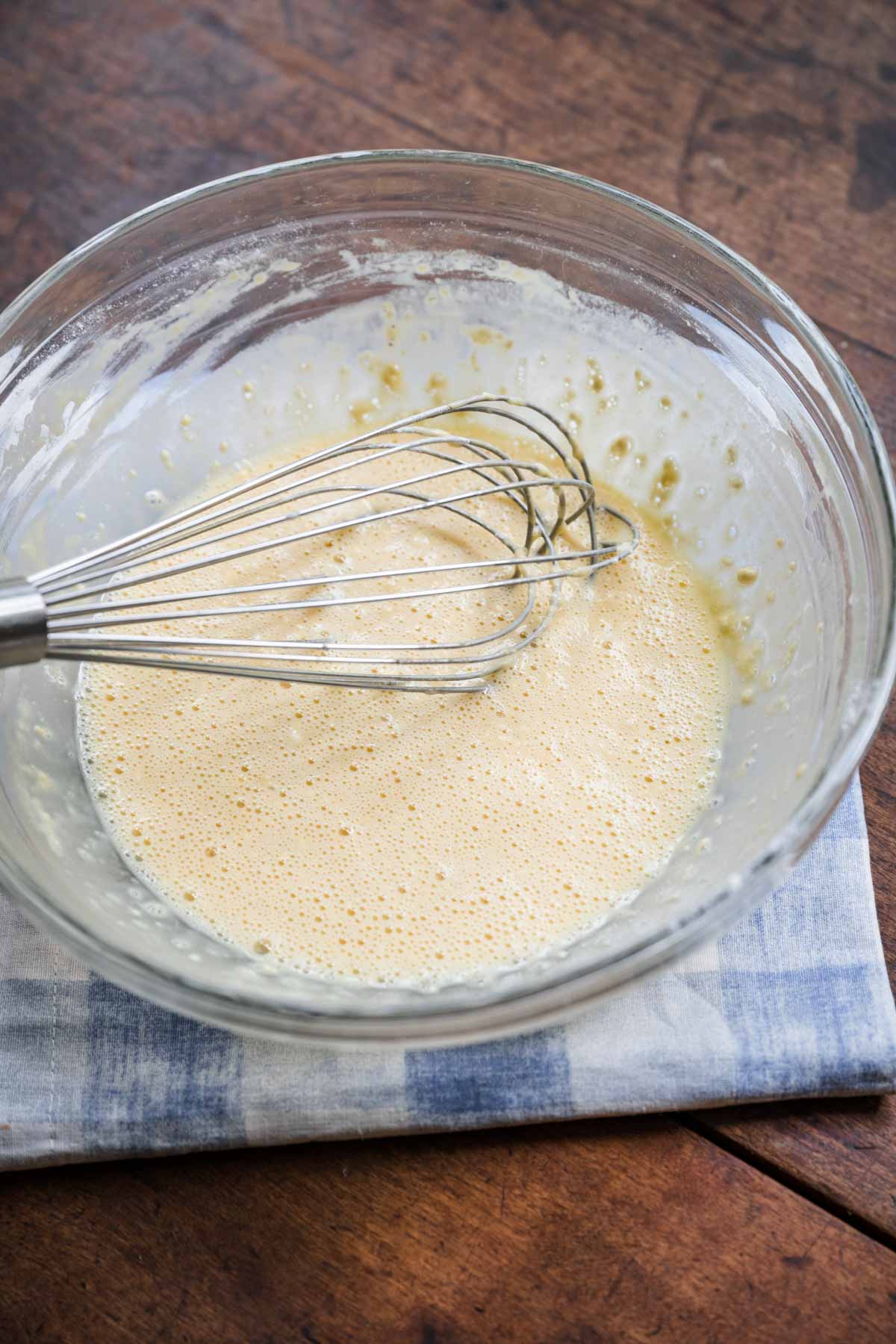 What is the difference between Cast Iron Pancakes and Dutch Baby Pancakes?
Cast Iron Pancakes are like a cross between a regular pancake and a Dutch Baby. They have almost identical ingredients as a Dutch Baby but the batter is prepared more like a basic pancake. Cast Iron Pancake batter is mixed by hand until just combined then poured into the hot skillet and baked. Dutch Baby Pancakes on the other hand are blended until very smooth and the excess melted butter used to grease the skillet is added to the batter. This extra mixing makes a Dutch Baby a denser, thicker pancake versus the thinner, lighter Skillet Baked Pancake.
How to Make Cast Iron Pancakes
Prep: Preheat the oven, and heat your cast-iron skillet on the stovetop. Melt the butter in the hot skillet and brush the melted butter over the inside of the pan.
Wet Ingredients: Whisk the eggs in a medium bowl for 2 minutes until they're light and frothy. Next, add the milk, granulated sugar, and vanilla. Continue whisking until the ingredients are well blended.
Batter: Sift the dry ingredients directly into the mixing bowl. Whisk until just combined. It's normal for there to still be a few lumps throughout the pancake batter so do not overmix.
Bake: Pour the pancake batter into the hot skillet and bake for 15 minutes in the hot oven. Lower the oven temperature and continue baking for 5 minutes.
Serve: Your Skillet Baked Pancake is done when the center is set with golden brown edges. Let the pancake cool a few minutes before slicing and serving with your favorite toppings.
FAQs for Cast Iron Pancakes
How do you keep pancakes from sticking to cast iron?
First off, you need to use a well-seasoned cast iron skillet to prevent the pancakes from sticking. Brushing a hot skillet with melted butter is forms a temporary non-stick surface over the seasoned pan. It has the bonus of giving the pancakes buttery, crispy edges too!
Do I have to use a cast-iron skillet?
While it's best to bake pancakes in cast iron, because cast iron cooks more quickly and evenly, you can use any oven-safe skillet. Just make sure you grease the pan well with oil or butter so the pancake doesn't stick.
How do you clean a cast iron pan after cooking pancakes?
Cleaning a cast iron pan should be done gently to maintain its seasoning and prevent damage. Once cooled down, rinse the pan with hot water and use a non-metal brush or sponge to scrub off any stuck-on bits. Avoid using soap or a dishwasher as this can strip the pan's seasoning and dry the skillet thoroughly after cleaning to prevent rust. If needed, lightly oil the pan after cleaning to maintain its non-stick coating.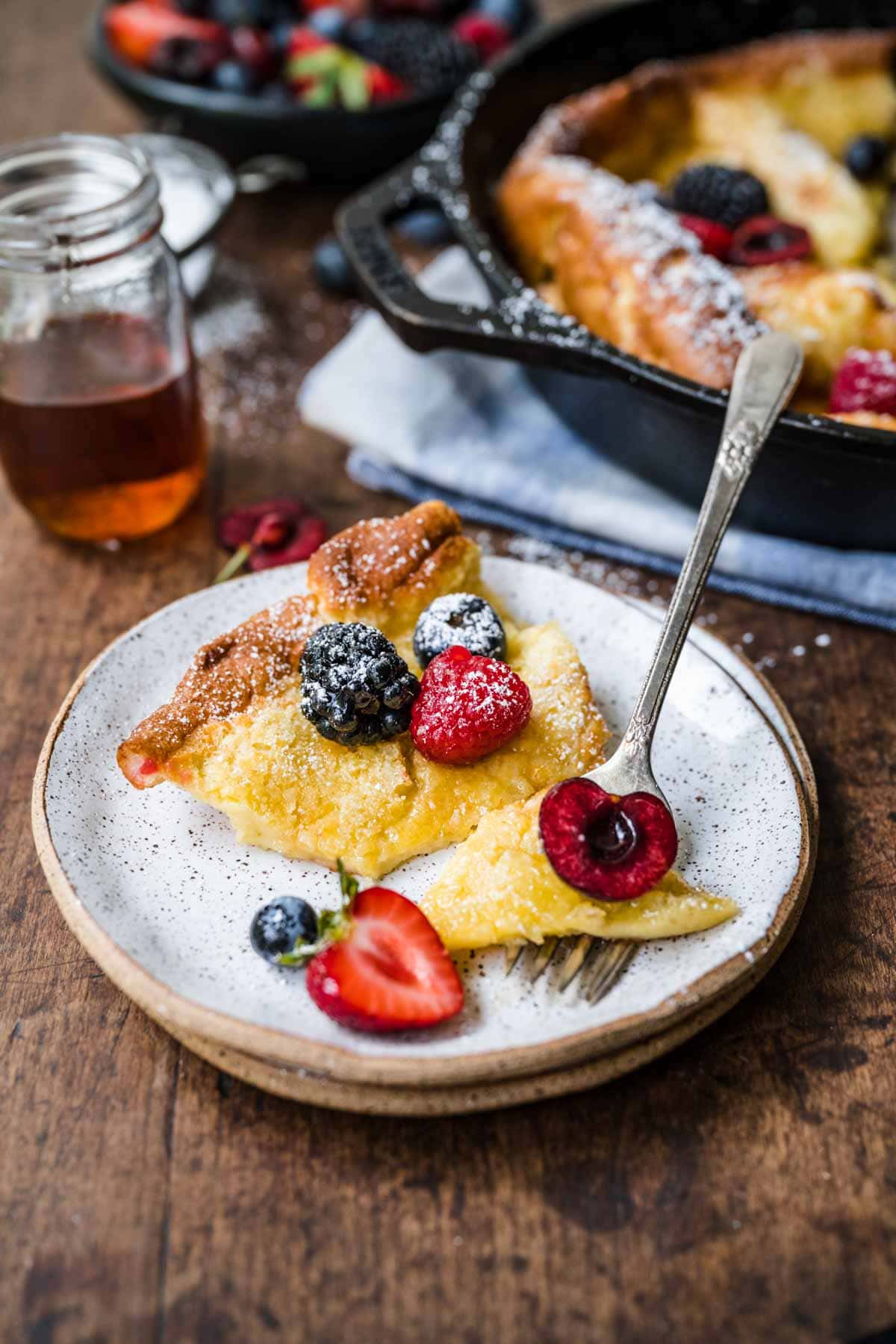 Create a free account to

Save Recipes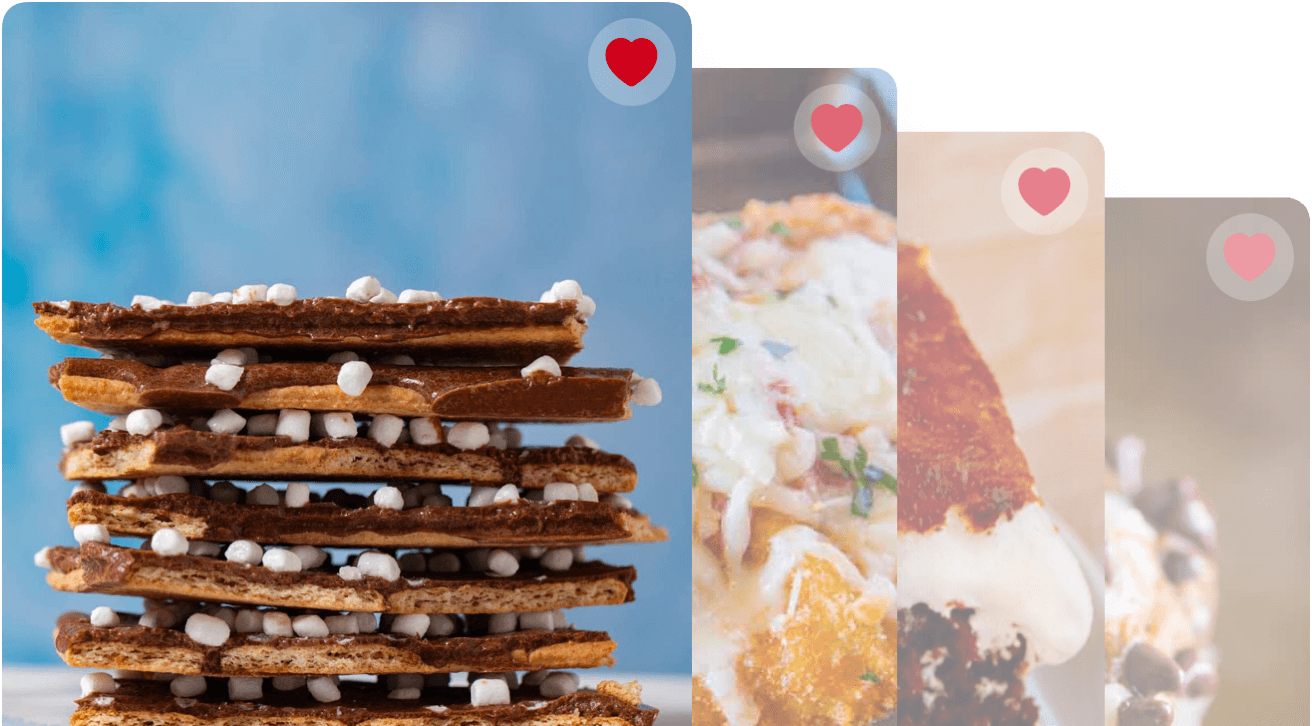 Key Ingredients
Butter: Butter adds a rich flavor and ensures that the pancakes don't stick to the pan. As it melts in the cast iron pan, it not only creates a non-stick surface but also forms a buttery, crispy edge on the pancakes.
Eggs: Eggs play a crucial role in this recipe, serving as the primary leavening agent instead of using baking powder or soda. Beating the eggs for a full 2 minutes adds a bunch of air which gives the pancakes structure.
Milk: Milk provides moisture to the pancake batter, and provides the fat content that helps make the pancakes tender. You could swap the milk with buttermilk for a subtle tangy flavor and extra tender, fluffy pancakes.
Sugar: A little bit of sugar adds a hint of sweetness and helps give the pancakes their delicious golden brown color. You don't want to add too much sugar since you can sweeten them up with toppings like syrup and berries.
Vanilla: Vanilla extract adds a subtle, aromatic warm flavor and an extra sweet, creamy note. You could also use almond extract for a light, nutty sweet flavor.
Flour: You want to sift the flour before adding to remove the clumps so that you only have to lightly mix the batter. You don't want to mix too much or the batter will lose all the air you created with the eggs and the pancakes will be dense.
Can Cast Iron Pancakes be made ahead of time?
Yes, Cast Iron Pancakes can be made ahead of time. Once cooked, allow them to cool completely, then wrap them tightly in plastic wrap or store in an airtight container. They can be refrigerated for up to 3 days or frozen for up to 3 months. To serve, you can reheat them in a warm oven or microwave until heated through.
Variations
Blueberry Pancake: To make a Giant Blueberry Pancake add 1 cup fresh blueberries to the batter before baking. You can also use other fresh berries like sliced strawberries, raspberries, or blackberries.
Chocolate Chip: Another classic variation on pancakes are chocolate chip pancakes. Mix in 1 cup of semisweet chocolate chips with the batter. You can also try out dark chocolate chips, butterscotch chips, or peanut butter chips for different flavors.
Peanut Butter: For a protein-packed pancake, add some peanut butter powder to the pancake batter. Then serve the cooked pancakes peanut butter on top and some sliced bananas.
Gluten-free: To make the Skillet Pancake gluten-free all you have to do is replace the all-purpose flour in the flour mixture with a gluten-free substitute. Oat flour, almond flour, or coconut flour would all work nicely.
Apple Cinnamon: Make a Skillet Baked Pancake that tastes like apple pie by adding diced green apples and a teaspoon of apple pie spice, or cinnamon, nutmeg, allspice, ginger, and cardamom. Serve with fresh apple slices tossed in cinnamon sugar and Whipped Cream on top.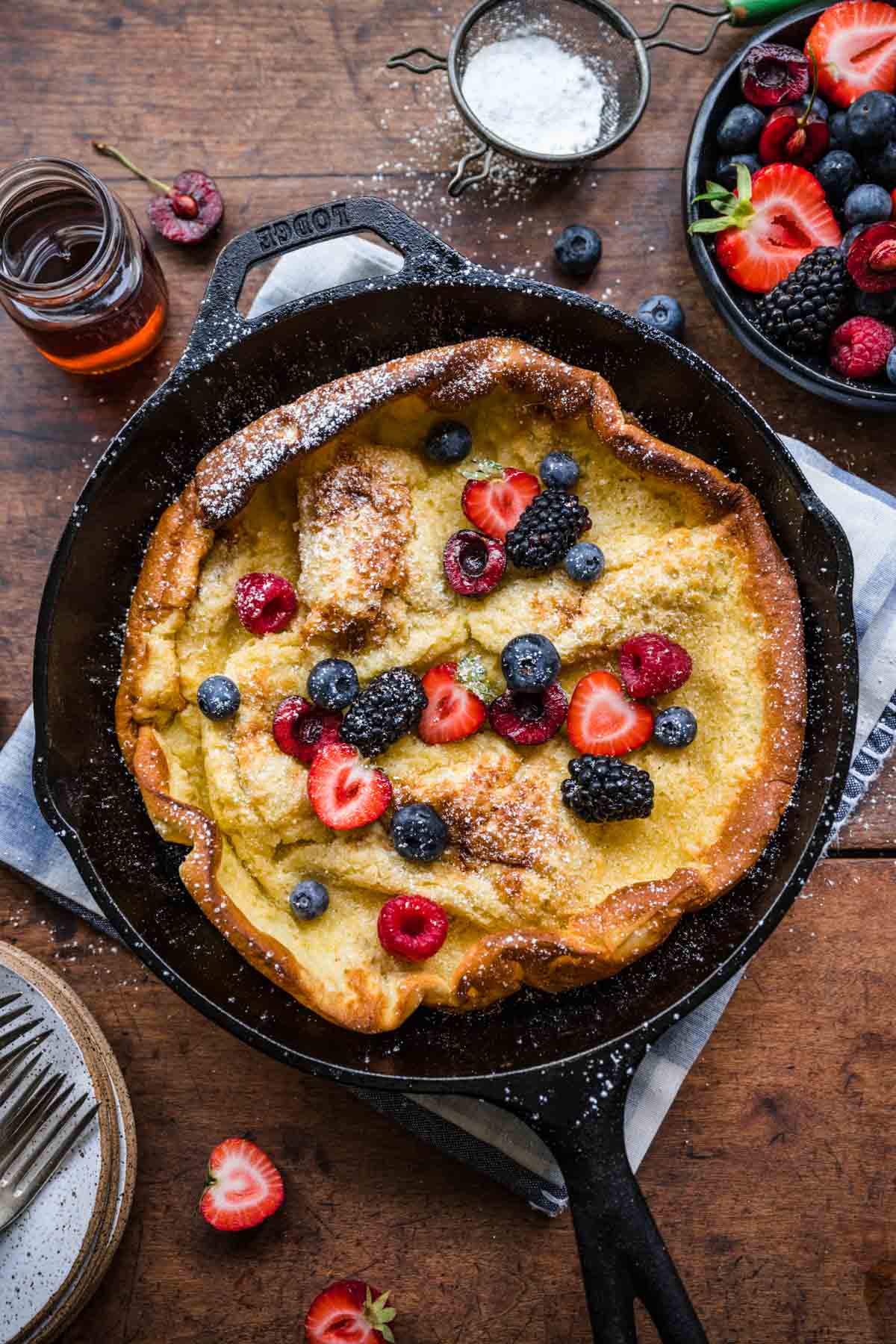 More Classic Breakfast Recipes
How to Store
Store: Don't leave your Skillet Baked Pancake at room temperature for more than 2 hours. Let the leftover pancake cool, then cover it or slice it to store in an airtight container. It will stay good in the fridge for 2-3 days.
Reheat: If you are reheating your pancakes in the microwave, loosely cover them with a damp paper towel. This will add a bit of steam to keep them from drying out. You can also reheat them in a low temperature oven or on the stove top.
Freeze: You can also put the pancake slices in a freezer bag to store frozen for up to 3 months. Let them thaw in the fridge before reheating in the microwave or oven.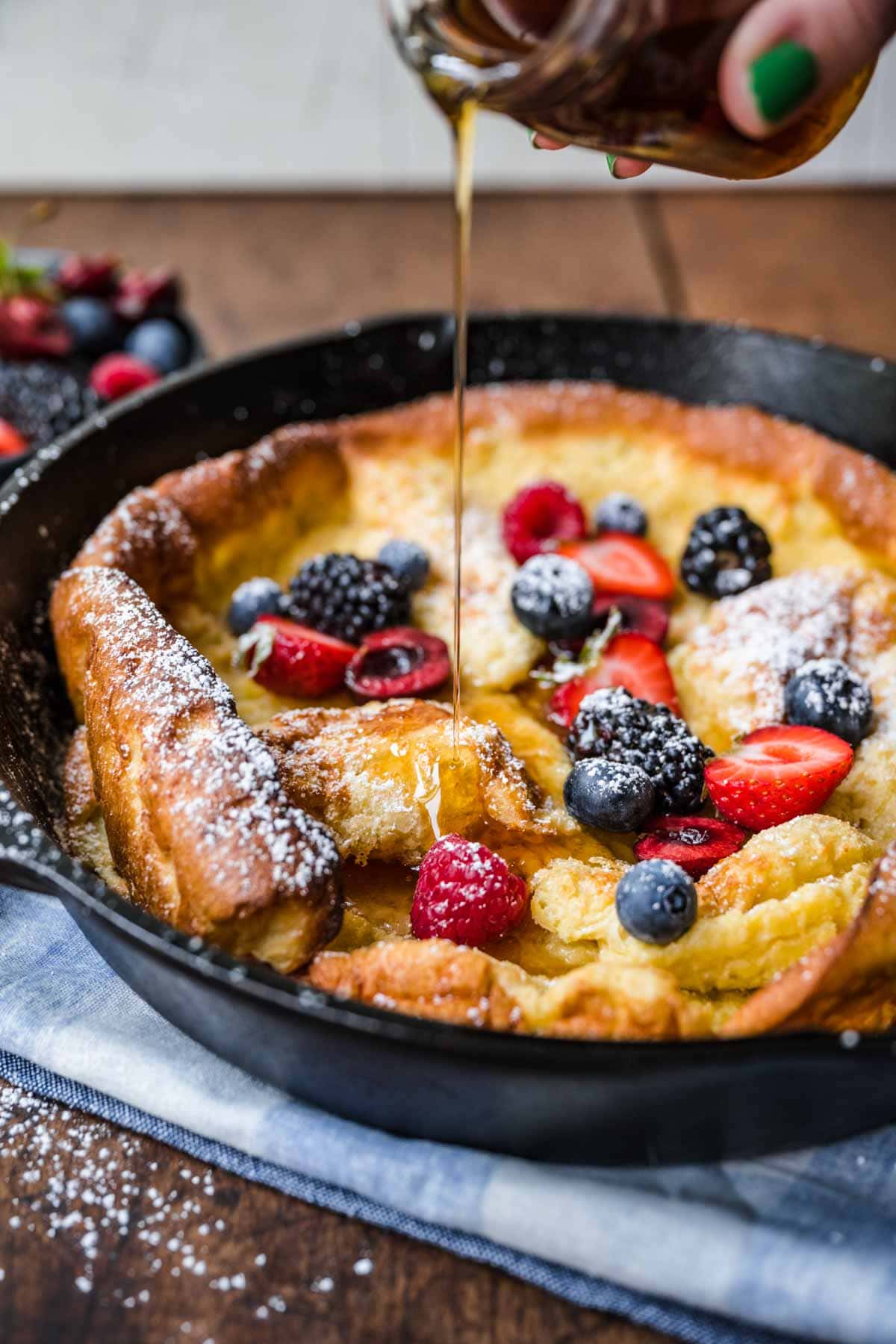 Ingredients
2

tablespoons

unsalted butter

3

large

eggs

, room temperature

1/2

cup

whole milk

1

tablespoon

sugar

1

teaspoon

vanilla extract

1/2

cup

flour

1/2

teaspoon

salt
Instructions
Preheat oven to 450 degrees.

Heat a 9 inch cast iron pan on the stovetop and melt butter.

Brush butter all over the inside of the skillet.

Whisk eggs in a medium bowl until light, a full

2 minutes

.

Whisk in milk, sugar, and vanilla extract until well blended.

Sift flour and salt into the bowl and whisk until just combined.

Add pancake batter to the skillet and bake for

15 minutes

.

Reduce temperature to 350 degrees and bake for

5 minutes

.
Nutrition
Calories:
129
kcal
|
Carbohydrates:
11
g
|
Protein:
5
g
|
Fat:
7
g
|
Saturated Fat:
4
g
|
Cholesterol:
105
mg
|
Sodium:
239
mg
|
Potassium:
72
mg
|
Fiber:
1
g
|
Sugar:
3
g
|
Vitamin A:
285
IU
|
Calcium:
37
mg
|
Iron:
1
mg