Skillet Baked Pancake is the perfect way to make pancakes without standing over a griddle. You just cook it all in one skillet in the oven!
Classic Pancakes are a classic Breakfast Dish that's always a family favorite. This recipe gives you the same texture and flavor but baked in the oven. Instead of flipping pancakes, you just pour all the batter into one cast-iron skillet to bake and slice it into wedges to eat.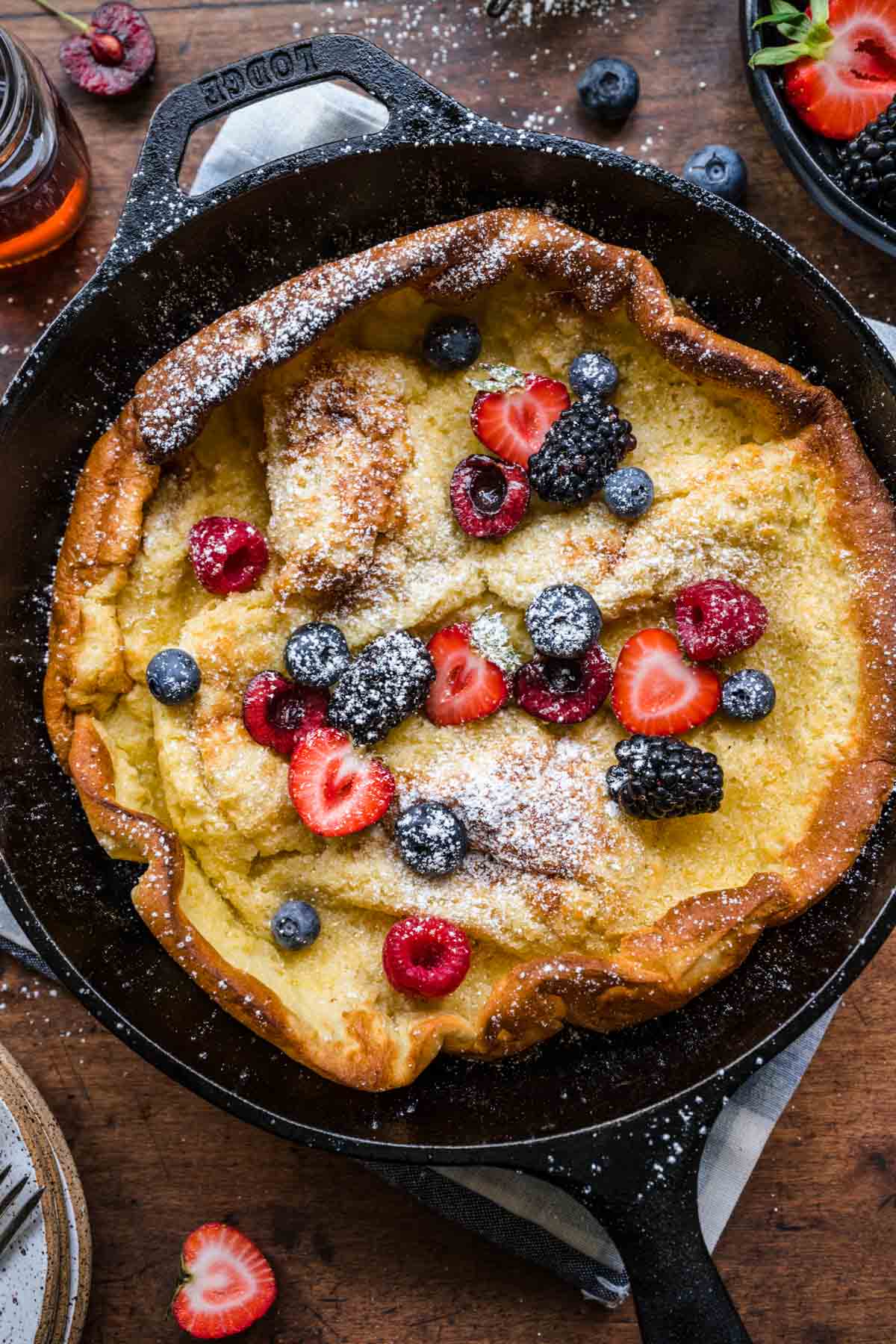 SKILLET BAKED PANCAKE
This simple variation on pancakes is perfect for the holidays or any morning you want a special breakfast. It's nice to get the same taste of a regular pancake without having to spend your morning frying them. Instead, just combine the easy ingredients, and pop the oven-safe skillet in the hot oven to do the rest of the work. The recipe instructions are easy to follow and make a pancake breakfast for multiple people all with one cooking time.
Think of this pancake as a cross between a Dutch Baby and a regular pancake. It's the same simple ingredients, taste, and texture as a regular pancake, but it's all baked in a 9-inch skillet like a Dutch Baby.
Once the recipe is done in the oven, just slice it into wedges and serve it with your favorite pancake toppings. For the perfect weekend morning, enjoy deep dish pancake with maple syrup, bacon, eggs, and coffee.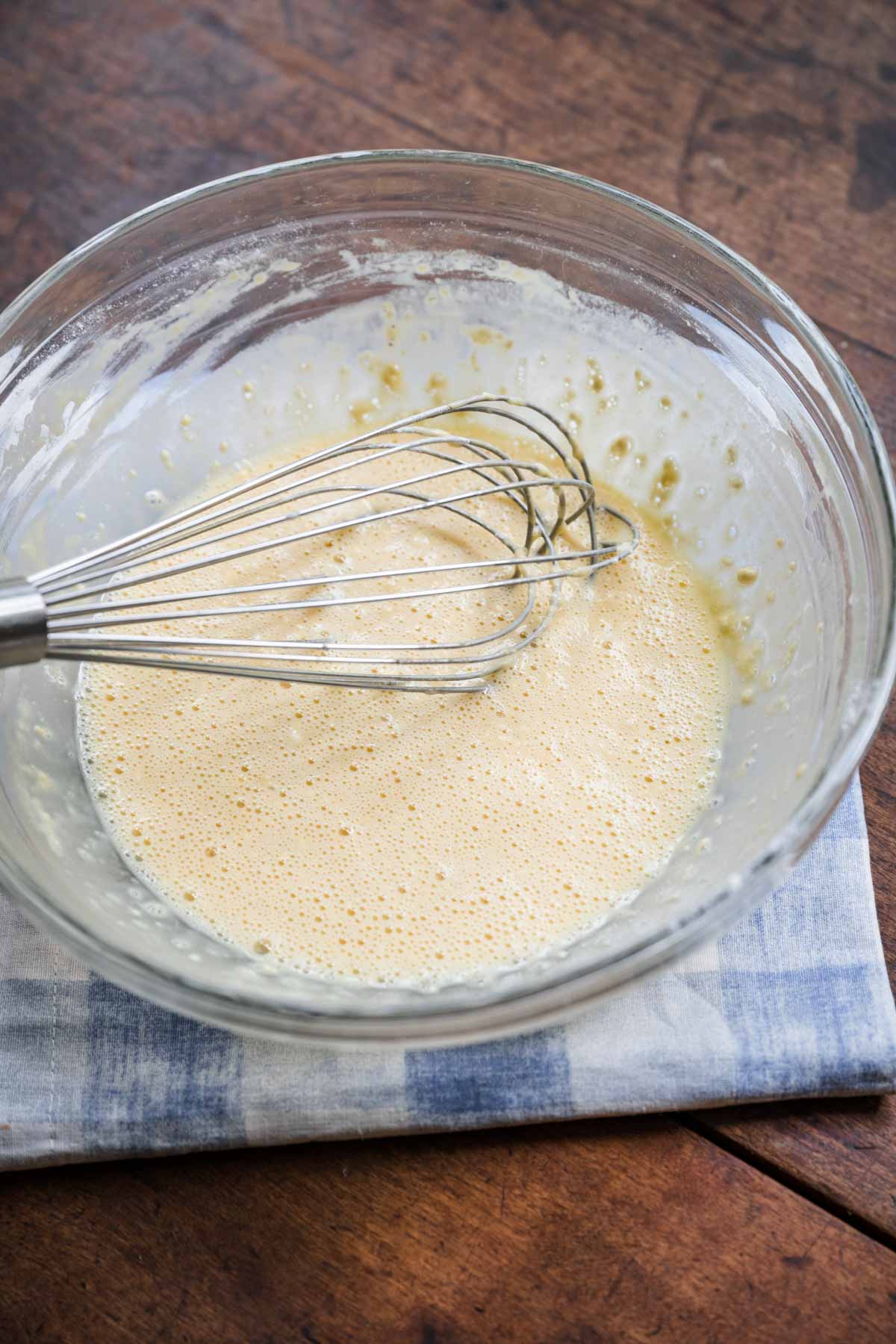 DELICIOUS PANCAKE TOPPINGS
There are lots of classic pancake toppings you can pour over these pancakes like maple syrup, blueberry sauce, powdered sugar, or cinnamon sugar. You can also try out dessert toppings like Whipped Cream, Nutella, Chocolate Sauce, or Strawberry Topping. Another great way to enjoy Skillet Pancakes is with fresh fruits like sliced apples, bananas, and mixed berries.
MORE CLASSIC BREAKFAST DISHES
FREQUENTLY ASKED QUESTIONS
How do I prep this Skillet Baked Pancake recipe?
To get the recipe started, preheat your oven to 450 degrees, and heat your skillet on the stovetop. Put the 9-inch cast-iron skillet on the stovetop and add butter to the center to melt. Using an already hot skillet will help the batter to cook more quickly and evenly. Brush the melted butter over the base of the skillet until it's coated. 
What are the wet ingredients for Skillet Baked Pancake?
Whisk the eggs in a medium bowl for 2 minutes until they're light and frothy. Next, add the milk, granulated sugar, and vanilla. Continue whisking until the ingredients are well blended.
What are the dry ingredients for Skillet Baked Pancake?
Sift the dry ingredients directly into the mixing bowl. Whisk until just combined. It's normal for there to still be a few lumps throughout the pancake batter. If you mix it until all the lumps are gone, the batter will be overmixed and make dense pancakes. 
How long do I bake this recipe?
Pour the batter into the hot skillet and bake for 15 minutes in the oven. Lower the oven temperature and continue baking for 5 minutes. Take the Skillet Pancake out once it's baked through to the center with golden brown edges.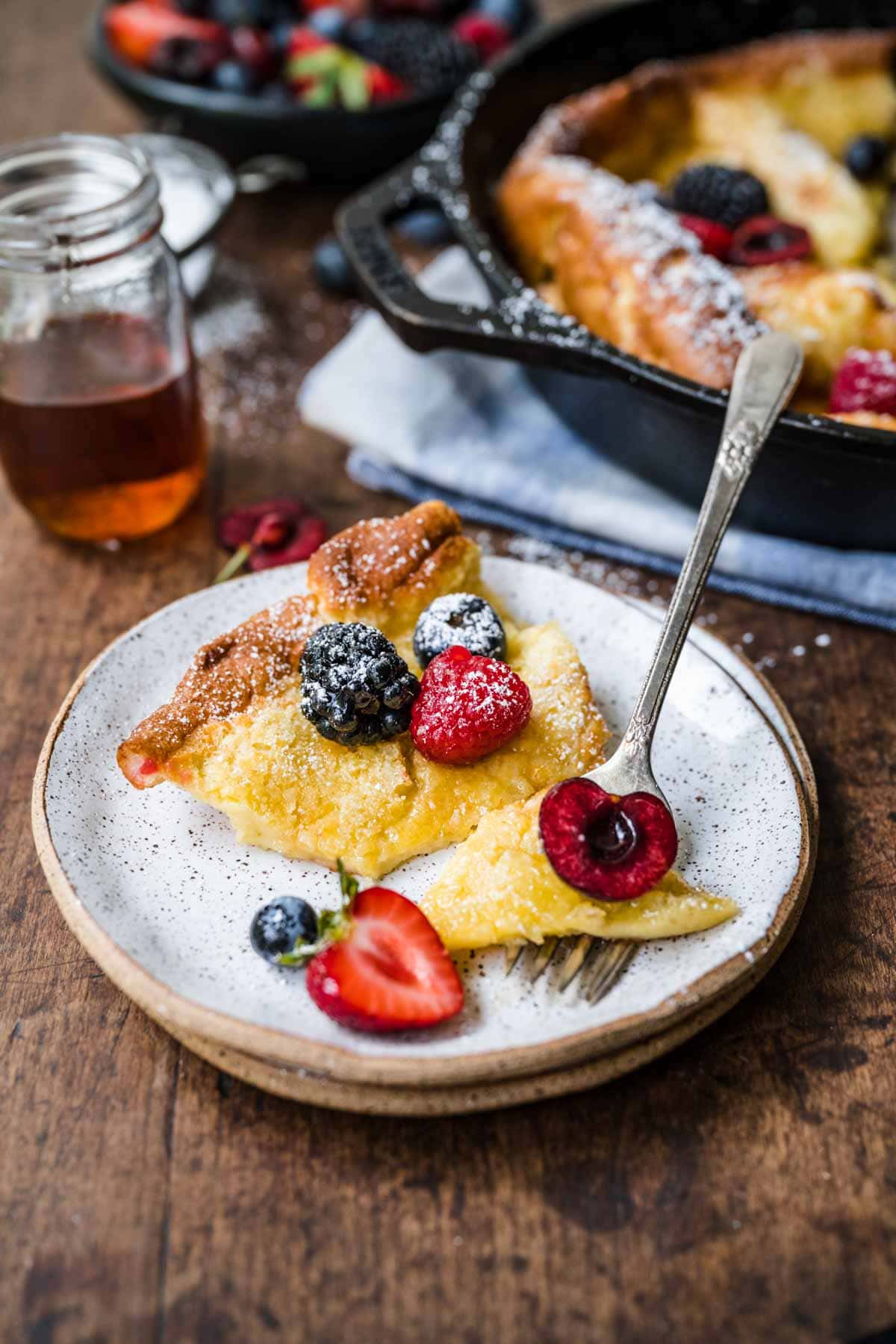 Create a free account to

Save Recipes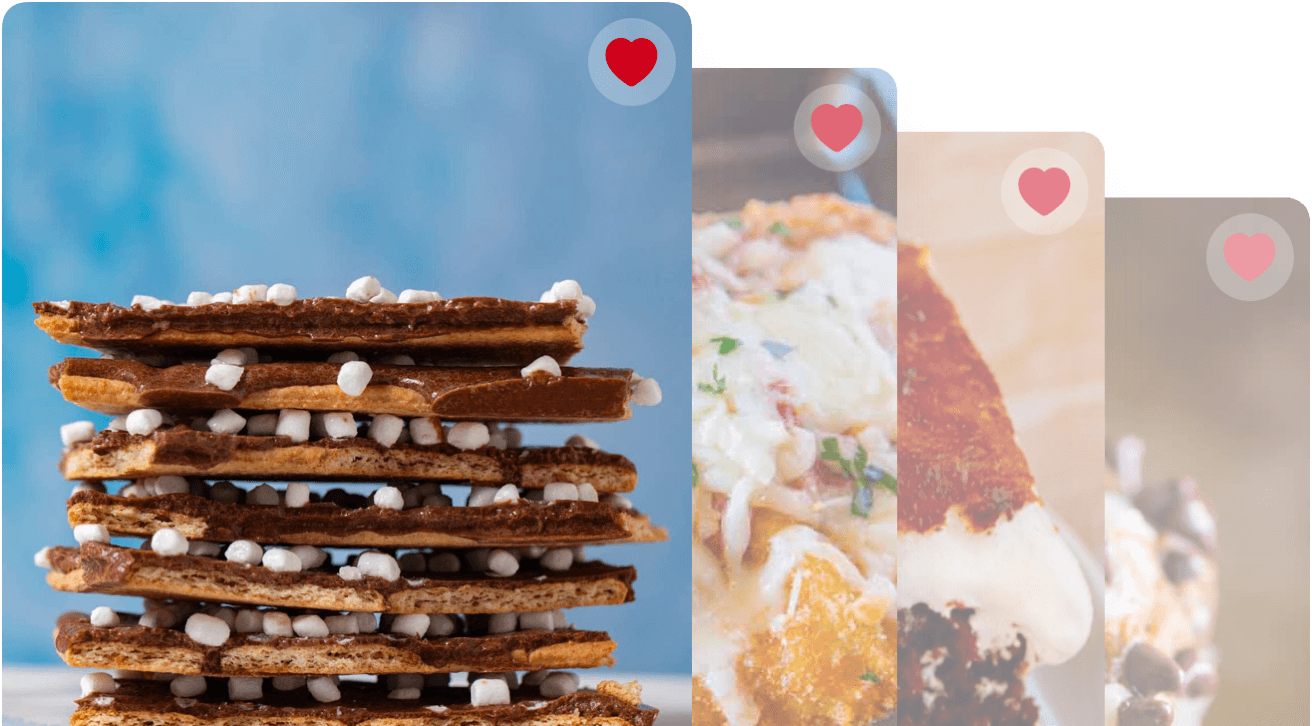 VARIATIONS ON SKILLET BAKED PANCAKE
Blueberry pancake: To make a Skillet Blueberry Pancake add 1 cup fresh blueberries to the batter before baking. You can also use other fresh berries like sliced strawberries, raspberries, or blackberries.
Chocolate chip pancake: Another classic variation on pancakes are chocolate chip pancakes. Mix in 1 cup of semisweet chocolate chips with the batter. You can also try out mini chocolate chips, butterscotch chips, or peanut butter chips for different flavors.
Nuts: For some crunchy additions, try mixing in chopped pecans, almonds, macadamia nuts, or cashews.
Gluten-free pancakes: To make the Skillet Pancake gluten-free all you have to do is replace the all-purpose flour in the flour mixture with a gluten-free substitute. Oat flour, almond flour, or coconut flour would all work nicely.
MORE PANCAKE RECIPES
HOW TO STORE SKILLET BAKED PANCAKES
Serve: Don't leave your Skillet Baked Pancake at room temperature for more than 2 hours.
Store: Let the leftover pancake cool, then cover it or slice it to store in an airtight container. It will stay good in the fridge for 2-3 days.
Freeze: You can also put the pancake in a freezer bag to store frozen for up to 3 months. Let it thaw in the fridge before reheating the breakfast dish in the microwave or oven.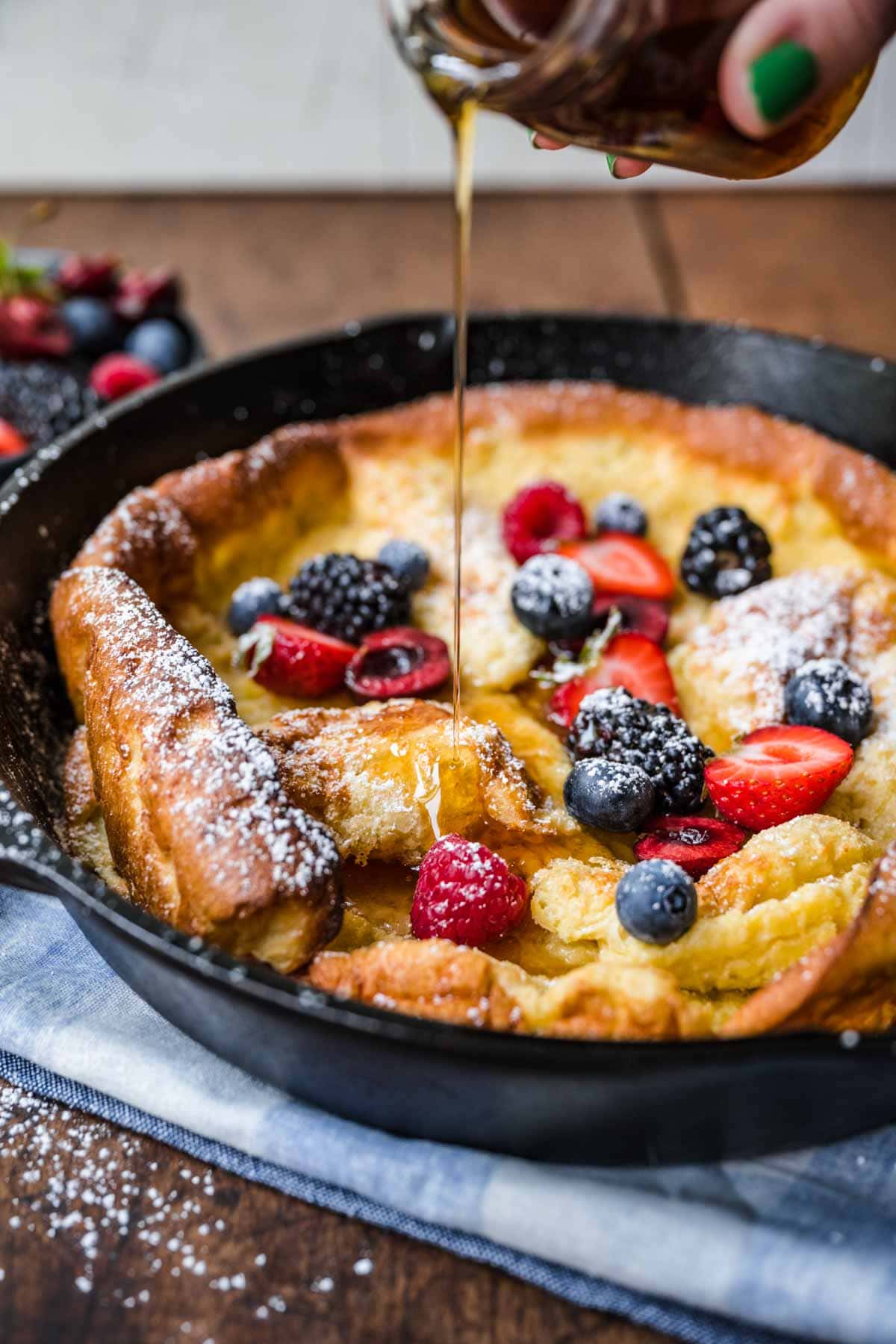 Ingredients
2

tablespoons

unsalted butter

3

large

eggs

, room temperature

1/2

cup

whole milk

1

tablespoon

sugar

1

teaspoon

vanilla extract

1/2

cup

flour

1/2

teaspoon

salt
Instructions
Preheat oven to 450 degrees.

Heat a 9 inch cast iron pan on the stovetop and melt butter.

Brush butter all over the inside of the skillet.

Whisk eggs in a medium bowl until light, a full

2 minutes

.

Whisk in milk, sugar, and vanilla extract until well blended.

Sift flour and salt into the bowl and whisk until just combined.

Add pancake batter to the skillet and bake for

15 minutes

.

Reduce temperature to 350 degrees and bake for

5 minutes

.
Nutrition
Calories:
129
kcal
|
Carbohydrates:
11
g
|
Protein:
5
g
|
Fat:
7
g
|
Saturated Fat:
4
g
|
Cholesterol:
105
mg
|
Sodium:
239
mg
|
Potassium:
72
mg
|
Fiber:
1
g
|
Sugar:
3
g
|
Vitamin A:
285
IU
|
Calcium:
37
mg
|
Iron:
1
mg