Perfect Fluffy Pancakes are the ultimate way to start the day. Use pantry ingredients like sugar, baking powder, and vanilla to make the best pancakes ever!
Delicious, airy homemade Pancakes are one of those classic Breakfast Recipes that can make any morning absolutely wonderful. Serve them up with maple syrup, eggs, and bacon for the perfect, filling family meal. For more go-to breakfast dishes try our recipes for Waffles and French Toast.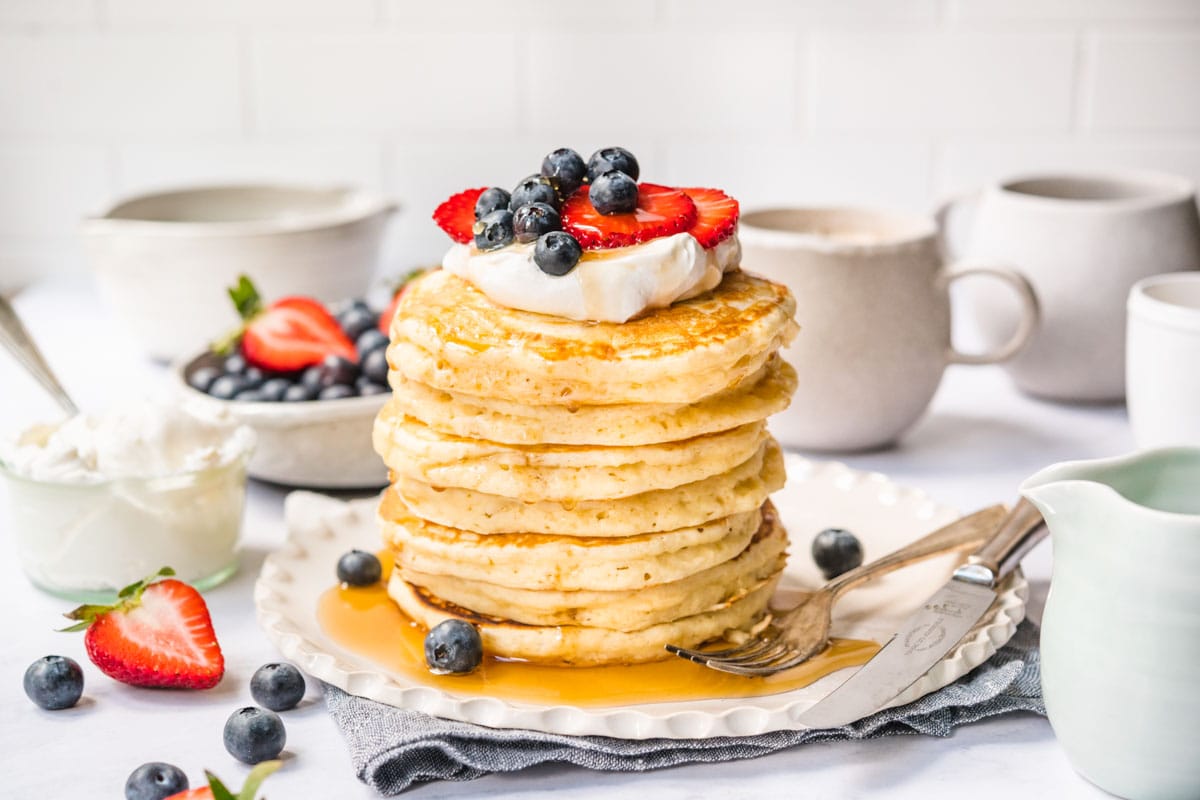 PERFECT FLUFFY PANCAKES
This Perfect Fluffy Pancake recipe uses simple ingredients and easy instructions to make the fluffiest pancakes ever. It's the ideal pancake recipe because they are quick, simple, and turn out wonderfully airy every time. Just whisk together a few pantry staples, give it some time to sit, spend a few minutes frying them up, and you'll have delicious pancakes from scratch. They're the fluffiest pancakes ever in just a few easy steps!
A morning spent making and eating pancakes with your kids can make an ordinary day start out special. Whip up this Fluffy Pancake recipe on weekends when everyone has time to indulge in a big breakfast. This will become your go-to breakfast to enjoy as a family because they're easy but still delicious and indulgent.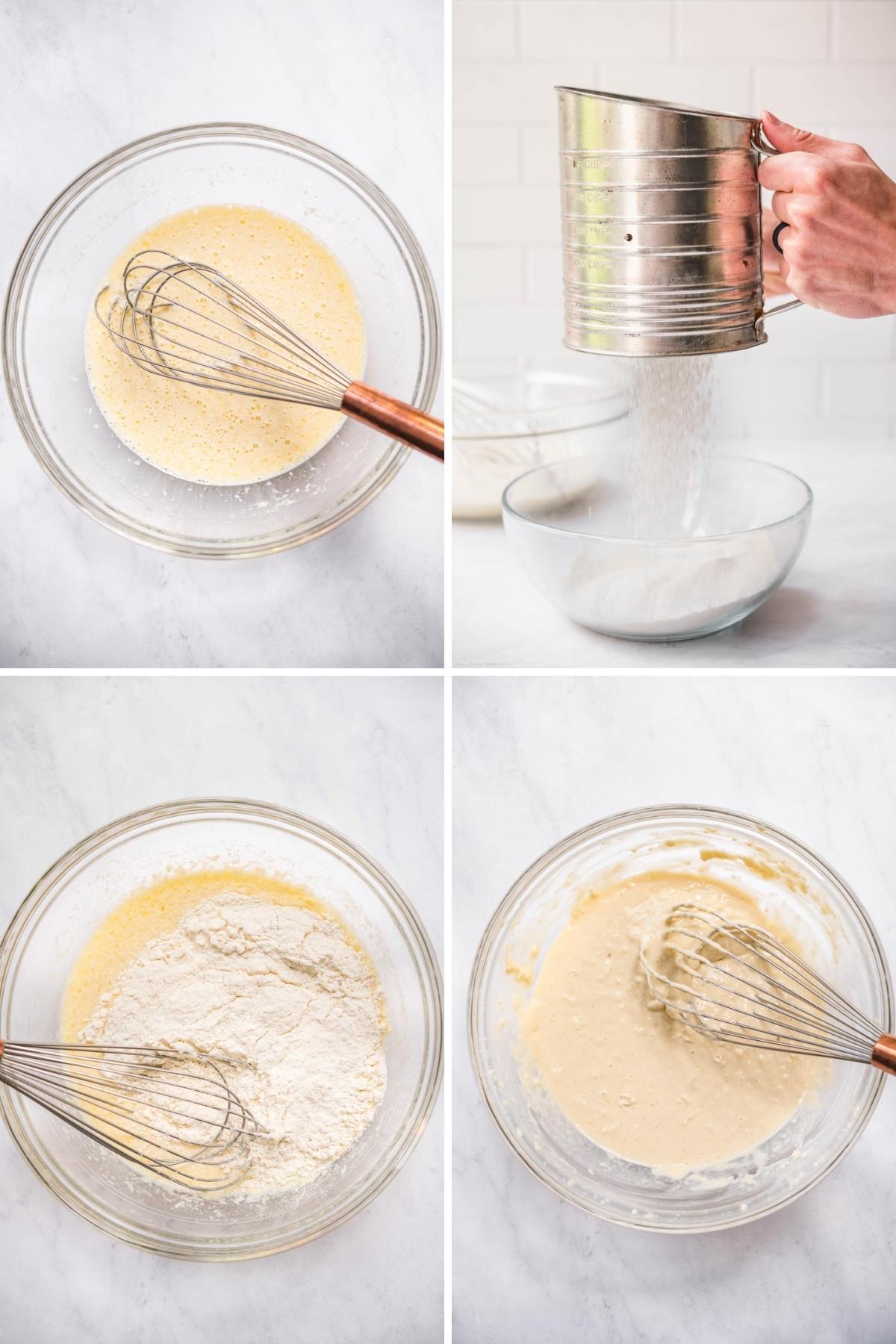 Pancakes are great for sharing, but since you have to cook pancakes a few at a time it can be difficult to have everybody eating together. If you're cooking pancakes for a big group, try keeping the pancakes warm in the oven. As you cook them up, just put the finished pancakes on an oven-safe plate in the preheated oven. Then instead of everyone eating in shifts as you cook pancakes, everyone can eat together once you've finished the whole recipe. Just take the stack of warmed pancakes from the oven and serve!
CLASSIC PANCAKE TOPPINGS
One of the best things about pancakes is deciding what delicious toppings to serve them with. You can serve up this Perfect Pancake recipe with standard toppings like melted butter and maple syrup, or mix things up with other favorites. Here are some toppings to try to change up this basic pancake recipe:
Nutella
Whipped Cream and chocolate sprinkles
Honey
Brown sugar
Marmalade
A sprinkle of cinnamon sugar
Fresh fruits
MORE CLASSIC BREAKFAST DISHES
TIPS FOR MAKING THE PERFECT FLUFFY PANCAKES
Dry ingredients: Start the pancake recipe by sifting the flour, baking powder, salt, and white granulated sugar, into a mixing bowl. Sift the ingredients twice so there are no lumps and they are well combined.
Wet ingredients: In a separate bowl whisk together the butter, milk, egg, and vanilla.
Pancake batter: Transfer the dry ingredients to the bowl with the milk mixture. Whisk until just combined. Do not over-mix or the pancakes will turn out too dense. It's normal for there to be some lumps left in the batter.
Sit: Let the batter sit for 5 minutes before cooking. This resting time is crucial for the ingredients to combine properly and make the Perfect Fluffy Pancakes.
Cooking: Preheat your griddle or cast-iron skillet to medium heat. Don't make it too hot, or the pancakes will burn on the outside before the middle cooks. Add cooking spray, unless you're using a nonstick griddle. Use a ¼ cup measurer to scoop the pancake batter and pour it on the griddle. Using the cup measurer gets you regular and nicely sized pancakes that are easy to cook evenly. Cook for a few minutes until air bubbles form, then flip the pancake and cook for an additional 20 seconds or until golden brown on the edges and cooked in the center.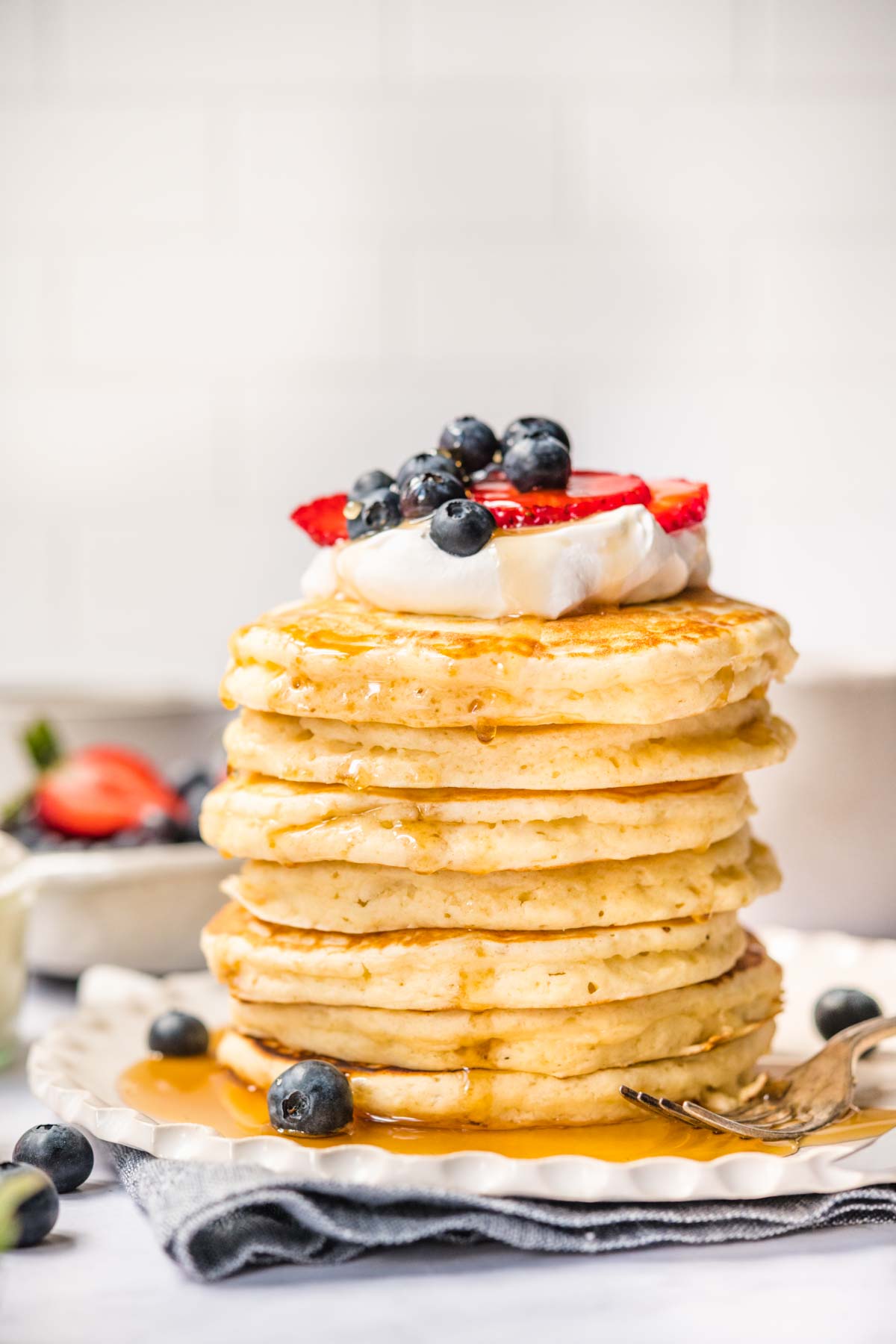 Create a free account to

Save Recipes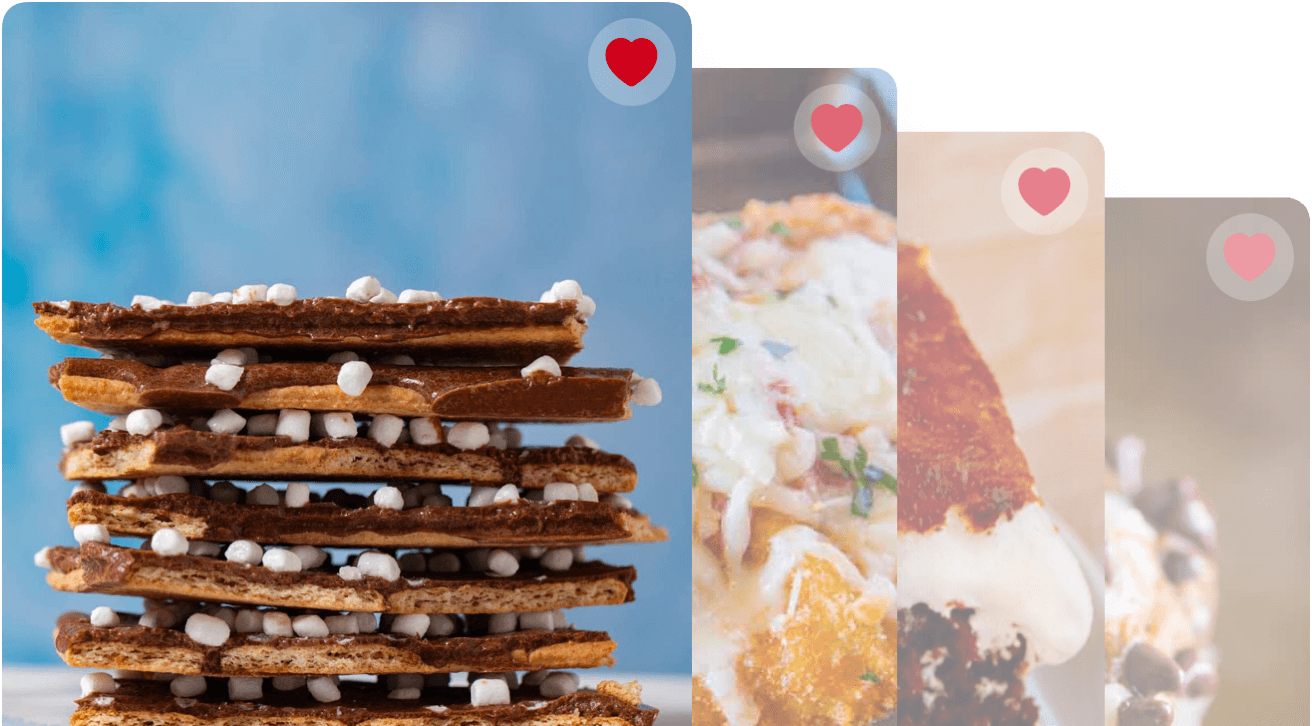 VARIATIONS ON FLUFFY PANCAKES
Add-ins: You can make lots of variations on these perfect pancakes with delicious mix-ins. Try adding chocolate chips, pecans, peanut butter, coconut flakes, bacon bits, toffee bits, or butterscotch chips.
Vegan Pancakes: To make the perfect vegan pancake recipe, you'll need to replace the milk and the egg. For the milk, try a simple substitute like almond milk, coconut milk, or soy milk. For the egg, either use a flax egg or mashed banana. ¼ cup mashed banana is equal to 1 egg.
Blueberry Pancakes: To make classic Blueberry Pancakes, add a cup of frozen or fresh blueberries to the batter. You could also make strawberry or raspberry pancakes, or use a variety of berries for a mixed berry pancake.
MORE PANCAKE RECIPES
HOW TO STORE FLUFFY PANCAKES
Serve: After you've finished the Fluffy Pancake recipe, don't leave them at room temperature for more than 2 hours.
Store: Once the pancakes have cooled you can put them in a Ziplock bag or another airtight container to store in the fridge. The homemade recipe will keep well in the refrigerator for 2-3 days.
Freeze: You can also make the pancakes ahead of time and freeze them. Frozen pancakes will keep well for 3 months. When you're ready to serve up the frozen pancakes, let them thaw in the fridge. Then place the pancakes on a baking sheet and cover them with foil to reheat. Enjoy a delicious family breakfast as good as fresh!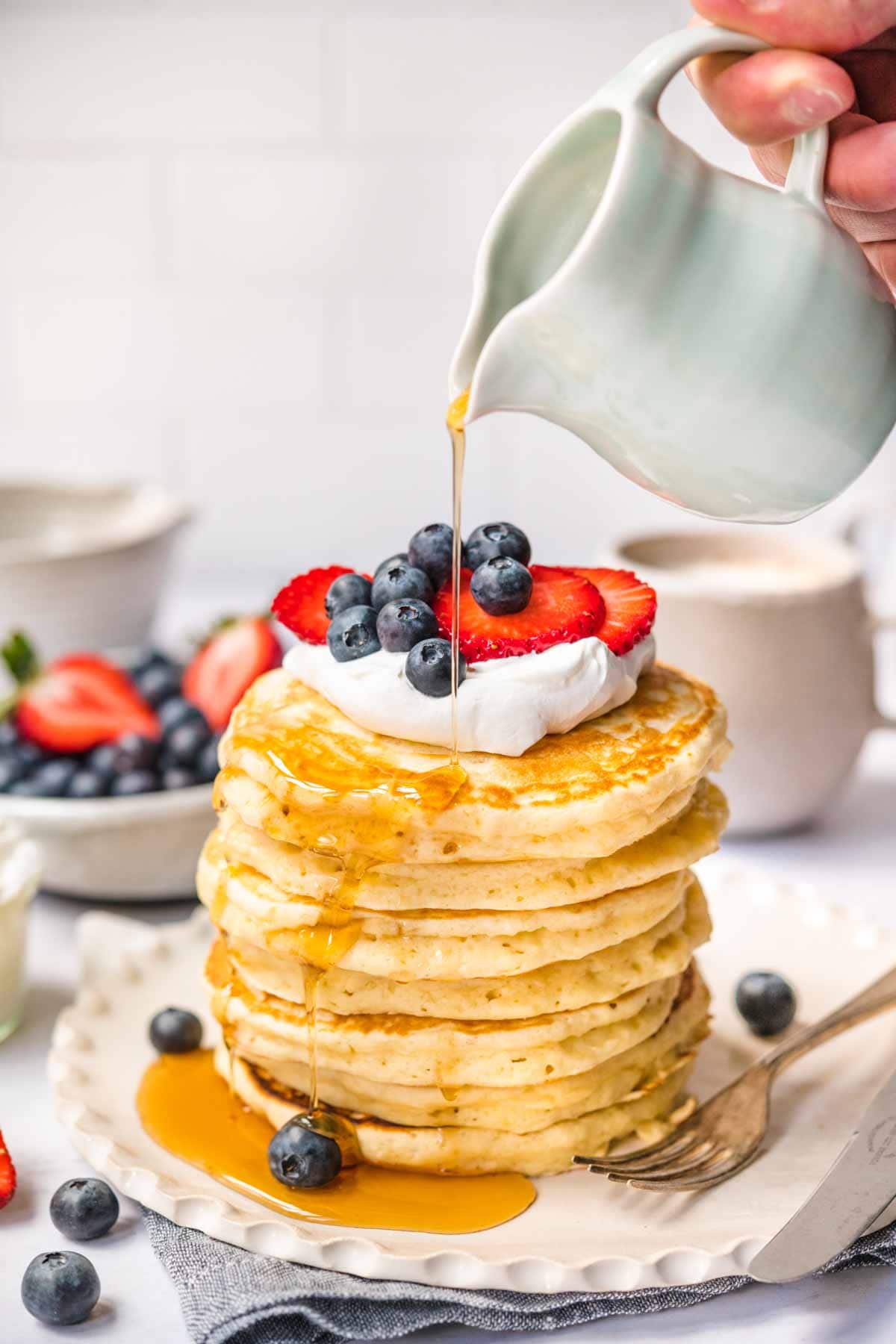 Ingredients
1 1/2

cups

flour

3 1/2

teaspoons

baking powder

1

teaspoon

salt

1

tablespoon

sugar

3

tablespoons

unsalted butter

, melted

1 1/4

cups

whole milk

1

large

egg

, beaten

1

teaspoon

vanilla extract
Instructions
Sift the flour, baking powder, salt, and sugar twice into a large bowl.

In a medium bowl whisk together butter, milk, egg, and vanilla extract until smooth.

Add in flour mixture and whisk until just combined.

Scoop ¼ cup batter onto lightly buttered griddle on medium heat and cook until bubbles form.

Flip and cook for

20 seconds

.
Nutrition
Calories:
219
kcal
|
Carbohydrates:
30
g
|
Protein:
6
g
|
Fat:
8
g
|
Saturated Fat:
5
g
|
Cholesterol:
51
mg
|
Sodium:
425
mg
|
Potassium:
348
mg
|
Fiber:
1
g
|
Sugar:
5
g
|
Vitamin A:
302
IU
|
Calcium:
170
mg
|
Iron:
2
mg