Mini Pancakes, or Silver Dollar pancakes, are easy fun breakfast bites made with classic pancake batter. Perfect for brunch and parties.
Classic, Fluffy Pancakes are a go-to recipe to whip up when you need a Breakfast you know your family will love. These Mini Pancakes are a fun way to switch up your breakfast routine without any extra work!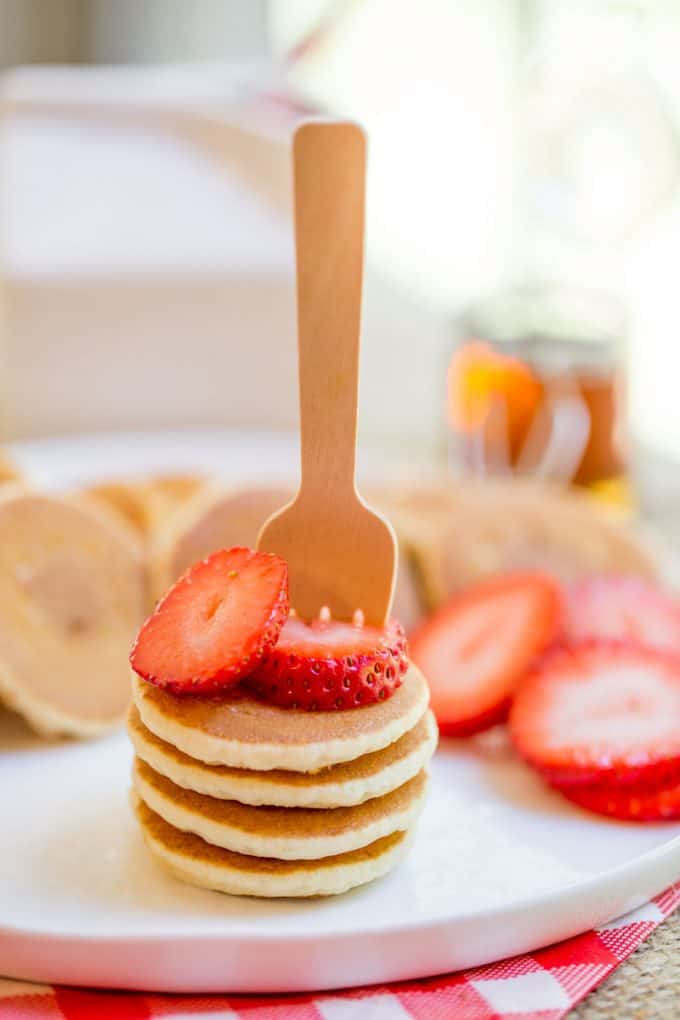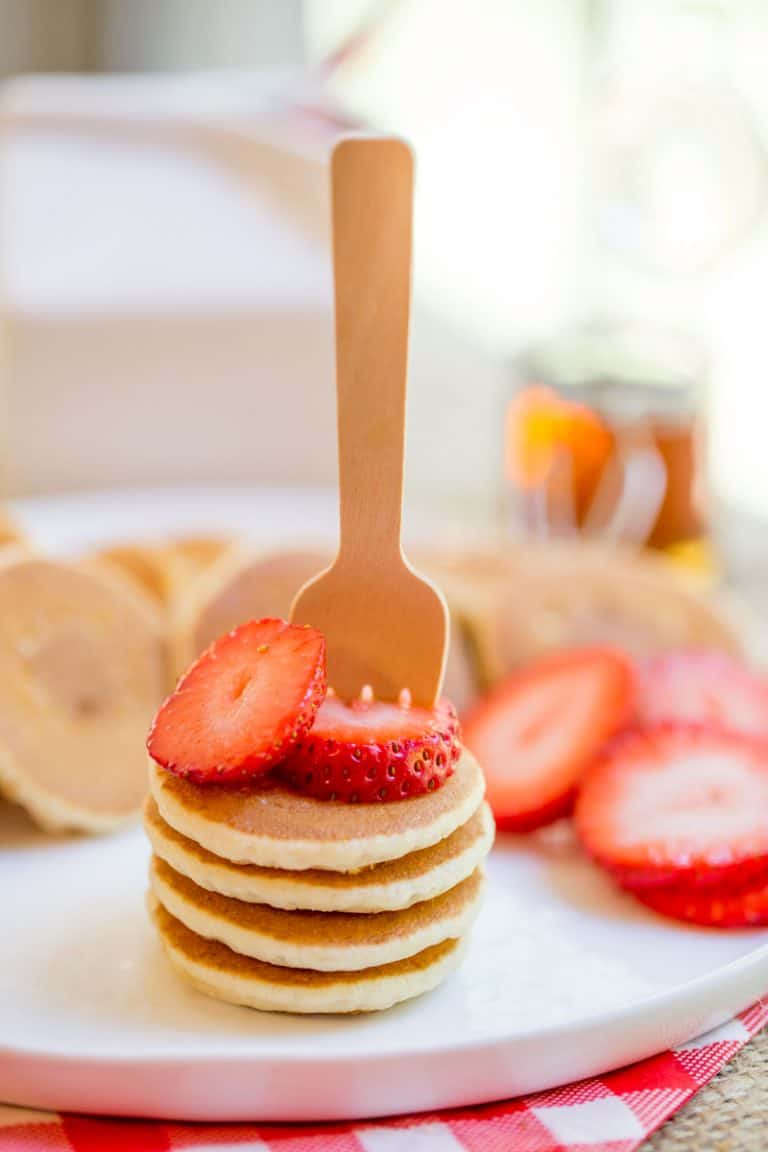 What could be more enjoyable than starting off with a stack of warm delicious pancakes for breakfast? Well, mini stacks of the cutest Silver Dollar Pancakes of course! With all the ease of full-sized pancakes, these miniature pancakes are the perfect cute, bite-size breakfast option. Whether it's a special brunch menu, a quick weekday breakfast for your family, or a buttery snack anytime of day, mini pancakes are a real treat everyone will love!
These adorable bite-sized homemade pancakes come together with a simple pancake recipe and everyday ingredients. They are made with flour, baking powder, salt, sugar, milk, eggs, and melted butter. You spoon a little less than a tablespoon of batter onto your hot griddle that has more butter on it. They have the quickest cooking time, less than 2 minutes total. Make sure to have your mini spatula ready to flip 'em, stack 'em and serve 'em in mere moments.
Mini Silver Dollar Pancakes are super versatile too! Their bite-sized convenience makes them an ideal choice for social events like brunches, parties, or even a casual family breakfast where everyone can customize their own mini pancake stack with their favorite toppings like maple syrup. Skewer them with fresh fruit pieces like a breakfast kabob, or serve them with Whipped Cream and Caramel Sauce for a fun dunkable treat!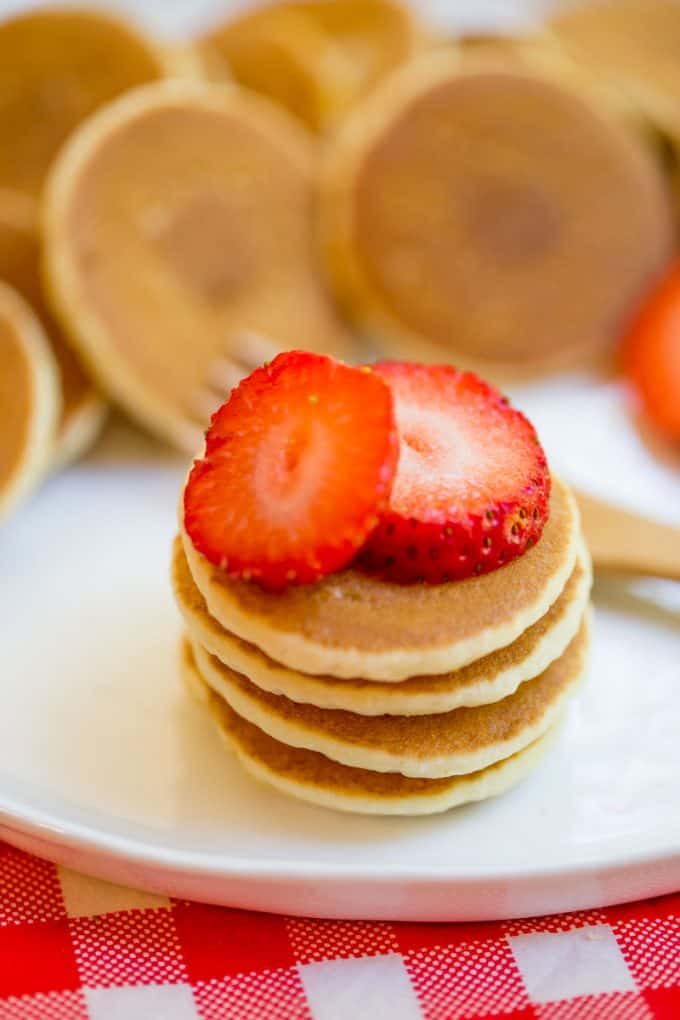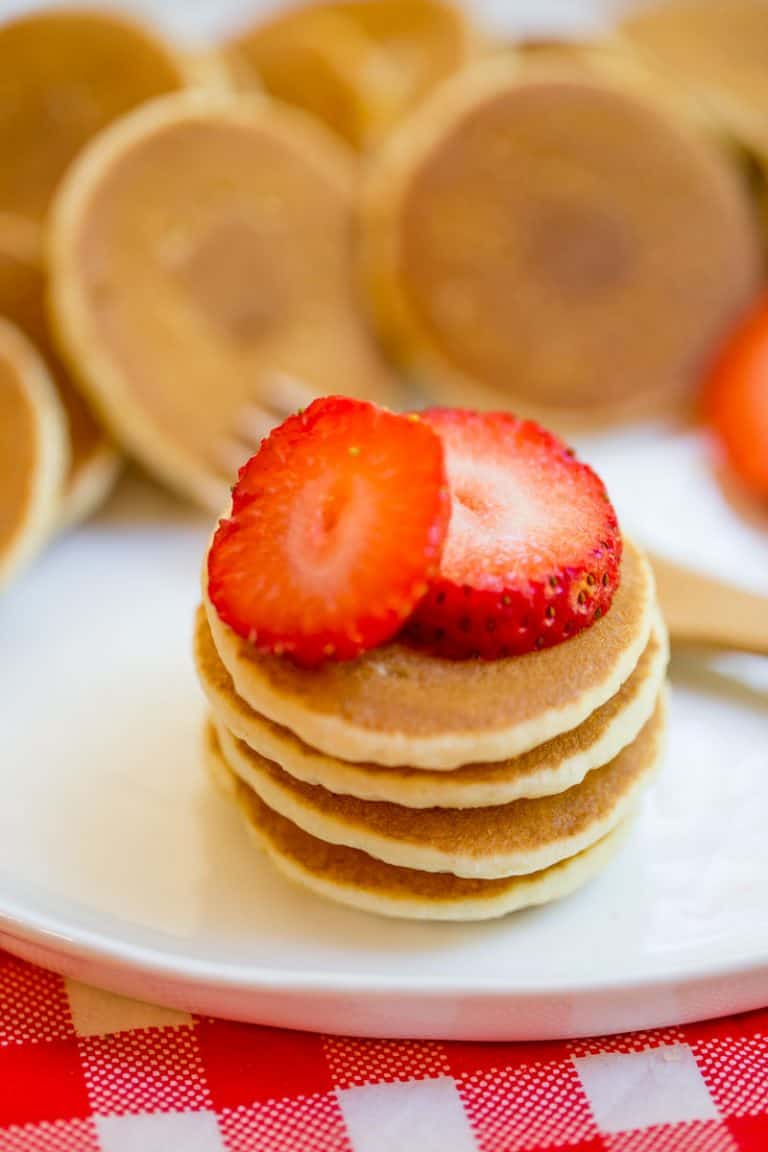 What are Silver Dollar Pancakes?
Silver Dollar Pancakes, also known as Mini Pancakes, are small pancakes roughly the size of an old silver dollar coin. They have the same light, fluffy texture and sweet flavor as regular pancakes but are made in bite-sized portions. This makes them an ideal finger food, perfect for serving at gatherings or as a fun breakfast bites.
How to Make Mini Pancakes
Sift: In a large bowl, whisk the flour, baking powder, and salt to sift the ingredients and remove clumps.
Batter: In a different bowl, mix the melted butter, eggs and milk until combined, then stir in the sugar. Whisk the egg mixture into the flour mixture until smooth.
Heat: Heat a non-stick pan or griddle over medium-low heat. Brush the pan with a small layer of butter.
Cook: Using a tablespoon, add ¾ full scoops of batter to the hot griddle. Cook for 45 seconds, flip and cook another 45 seconds until lightly browned and cooked through.
More Fun Twists on Pancakes
FAQs for Mini Pancakes
Why are my pancakes not thick and fluffy?
Your pancakes might not be thick and fluffy due to insufficient leavening agent like baking powder, overmixing the batter which can develop gluten and make pancakes tough, or your griddle might be too hot causing the pancakes to cook too quickly on the outside before the insides can rise.
What is the best way to reheat them?
The best way to reheat mini pancakes is in a toaster oven or conventional oven set at a low temperature, around 350 degrees. Arrange them in a single layer on a baking sheet and heat for about 10 minutes or until warmed through.
How do I keep my Mini Pancakes from burning?
To prevent your mini pancakes from burning, keep the griddle heat around medium-low heat. If they seem to be cooking too fast, simply lower the heat and let the pan cool off a bit before you continue cooking them. Have everything ready to go, like your spatula and a plate, because once you start cooking the pancakes, it goes really quickly.
Should my pancake batter be thick or runny?
Pancake batter should be somewhat thick but still pourable, closer to a heavy cream consistency than a truly runny one. If the batter is too thick, the pancakes may turn out overly dense, but if it's too thin, the pancakes may spread out and won't be fluffy. Striking a balance is key to achieving perfect, fluffy pancakes.
Why are they called Silver Dollar Pancakes?
The term 'Silver Dollar Pancakes' originates from their similarity in size to the silver dollar coins that were popular in the United States between 1878 and 1935. Just like the coin, these pancakes are small and round, making them easy to eat and serve.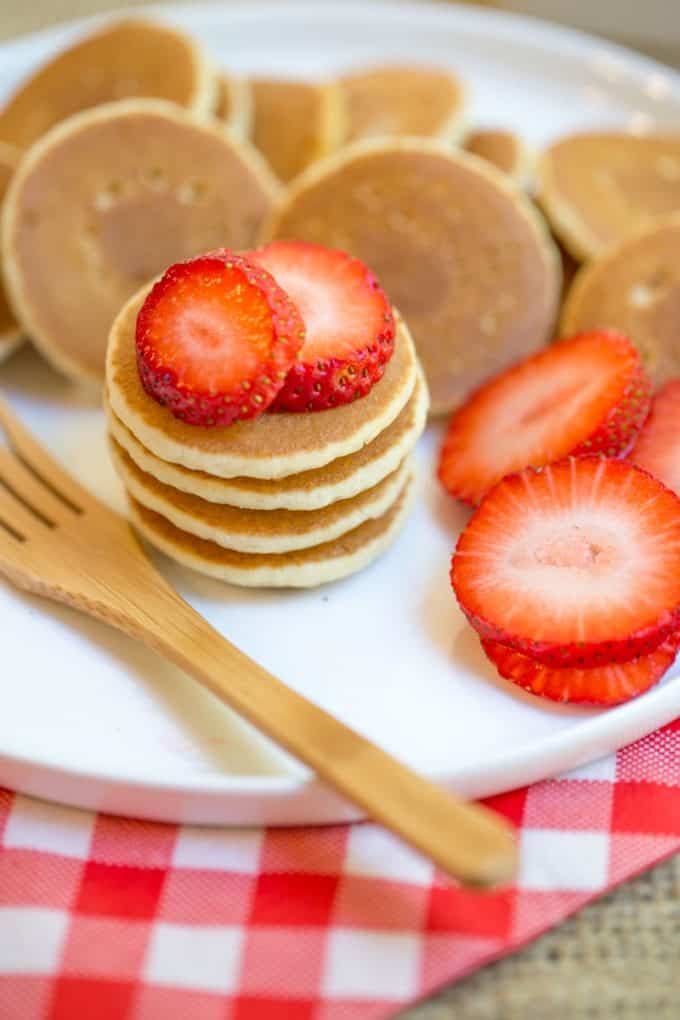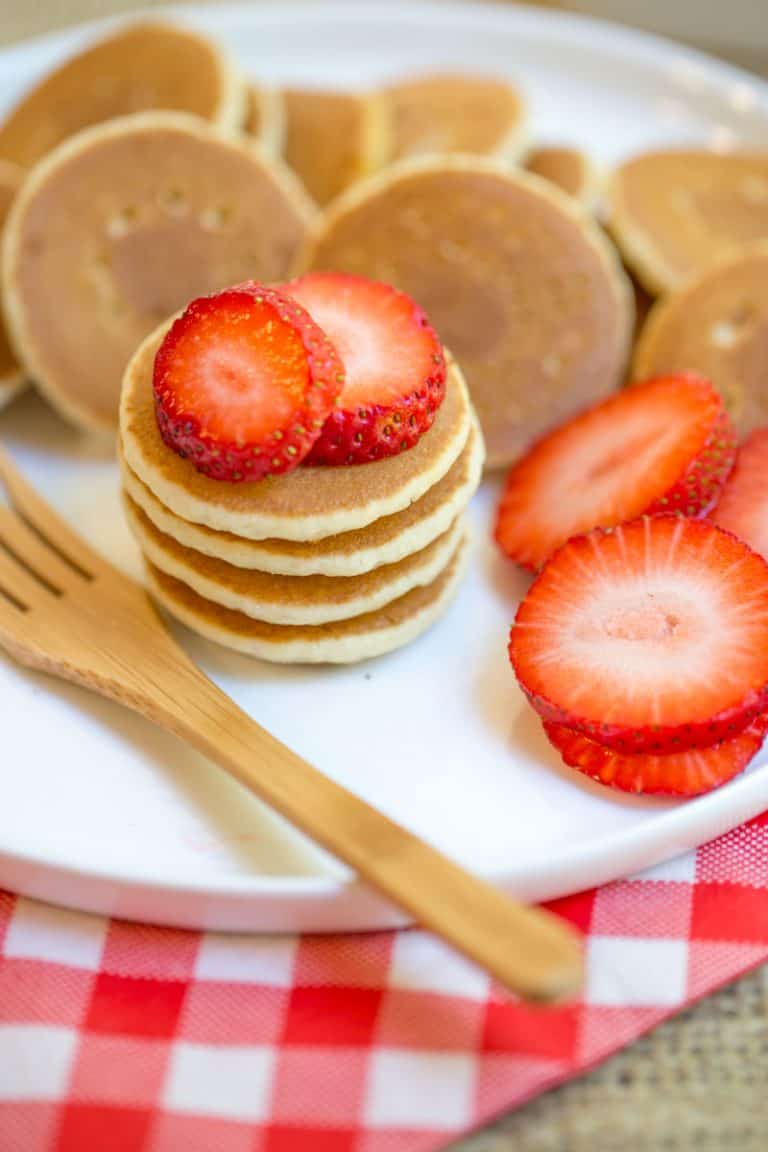 Create a free account to

Save Recipes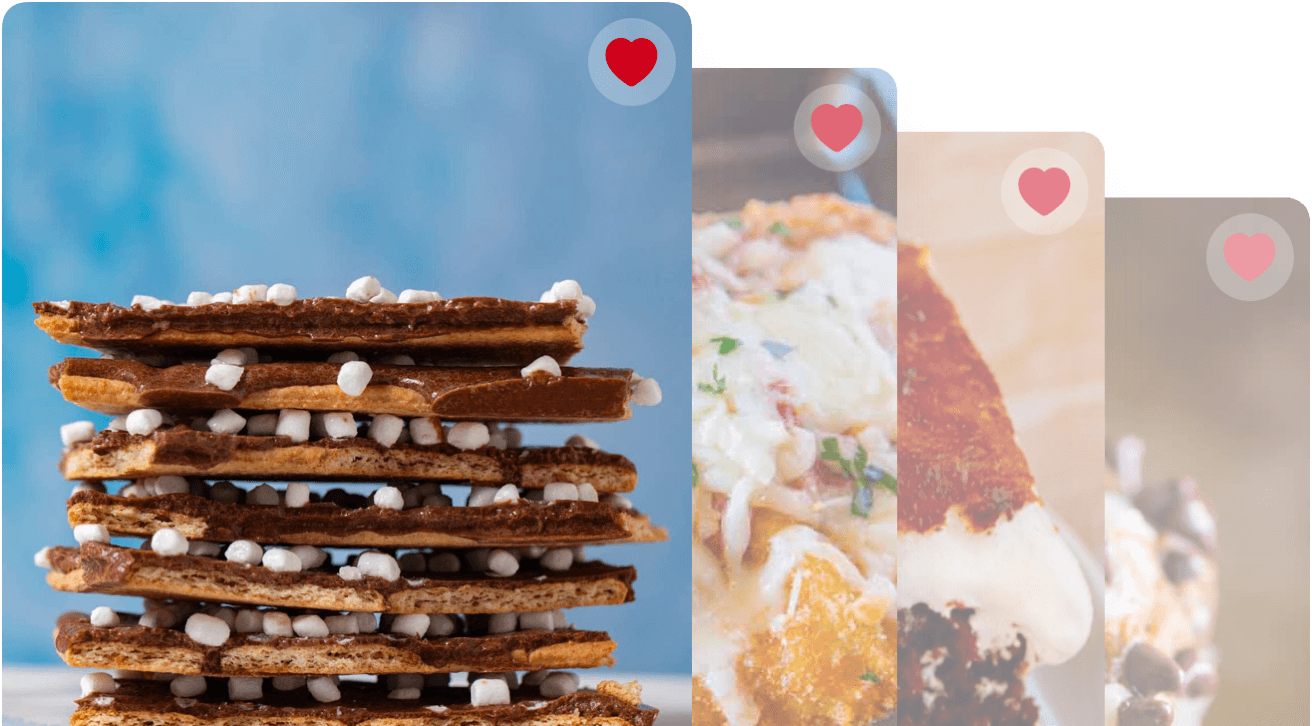 Key Ingredients
Flour: A pantry staple, all-purpose flour is the primary dry ingredient that forms the pancakes. It has a balanced protein content, which ensures the pancakes are tender yet firm.
Baking Powder: Baking powder is what helps the batter to rise for light and airy pancakes. It releases air bubbles into the wet batter, the key to the fluffiest pancakes, so you want to cook them as soon as it's combined.
Salt: Salt enhances the sweetness from the sugar and provides some balance, bringing out the best in every ingredient for extra delicious, bite-sized homemade pancakes!
Sugar: A couple teaspoons of granulated sugar are all that's needed to make these pancakes the perfect amount of sweet.The granulated texture of the sugar also helps create a delicate, crisp exterior.
Milk: Milk adds moisture for softer pancakes and the fats in milk enrich the batter, adding to the pancakes delicious buttery and creamy flavor.
Egg: The egg's yolk adds richness, while the egg white provides an airy structure to the pancakes. The water content in eggs also creates steam during cooking, for fluffier pancakes.
Butter: Butter gives these pancakes a slightly creamy taste and when melted and mixed into the batter, it helps create soft pancakes. Also, cooking the pancakes in butter gives them an amazing golden-brown buttery crust.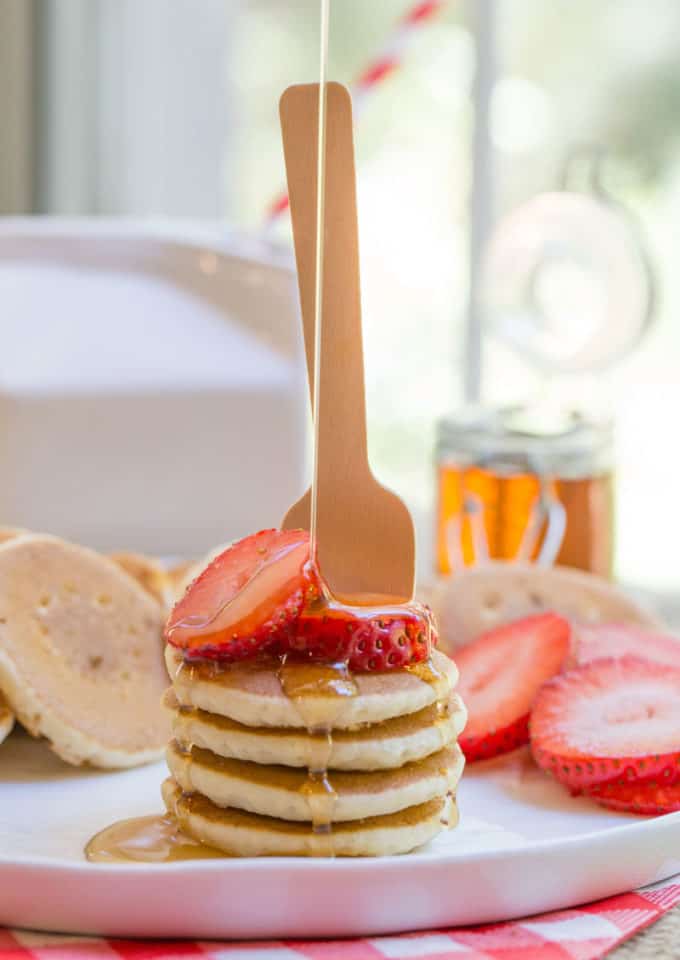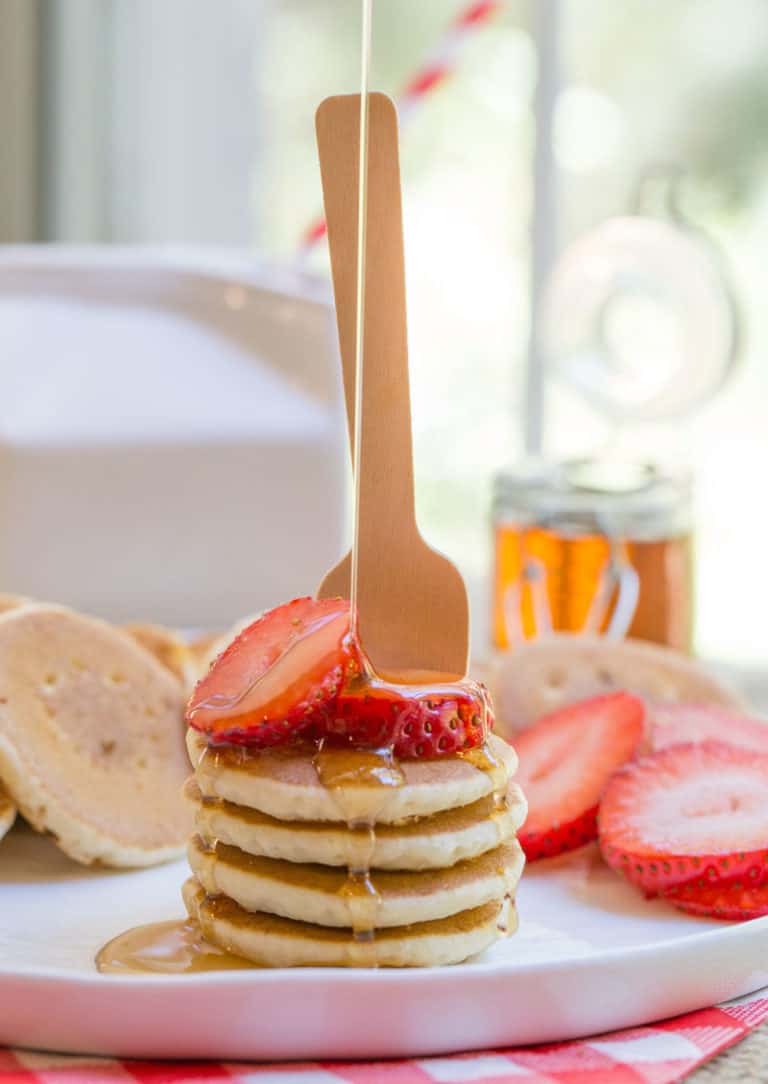 Can Mini Pancakes be made ahead of time?
Absolutely! Mini pancakes are great for meal prepping and freezing for later. Make a large batch and allow them to cool in a single layer on a baking sheet lined with parchment paper. After they have cooled, freeze the pancakes for an hour. Transfer the frozen Mini Pancakes to an airtight container and freeze for up to 3 months. Reheat them from frozen in the toaster oven or regular oven so they don't dry out.
Variations
Chocolate Chips: Since these are tiny pancakes, you want to use mini chocolate chips so they don't overwhelm the batter. Mix the chocolate chips into the batter because you won't have time to sprinkle them on once they are on the griddle, before you need to flip them.
PB & J: Whip a couple tablespoons of peanut butter with some confectioner's sugar and some milk until it's a smooth, easily spreadable consistency. Alternate spreading the peanut butter mixture and some fruit jelly on the pancakes and layer them to make tasty PB&J Mini Pancake Stacks.
Whole Wheat: For a healthier twist, substitute the all-purpose flour with whole wheat flour. You can also use gluten-free flour or swap the butter with a neutral-flavored oil or liquid coconut oil.
Banana-Nut: Incorporate mashed ripe bananas and chopped nuts into your batter for bite-size pancakes that taste like Banana Bread.
Cinnamon Vanilla: Add a teaspoon each of ground cinnamon and vanilla the batter for a warm, sweet Cinnamon Vanilla Pancakes that taste amazing with maple syrup!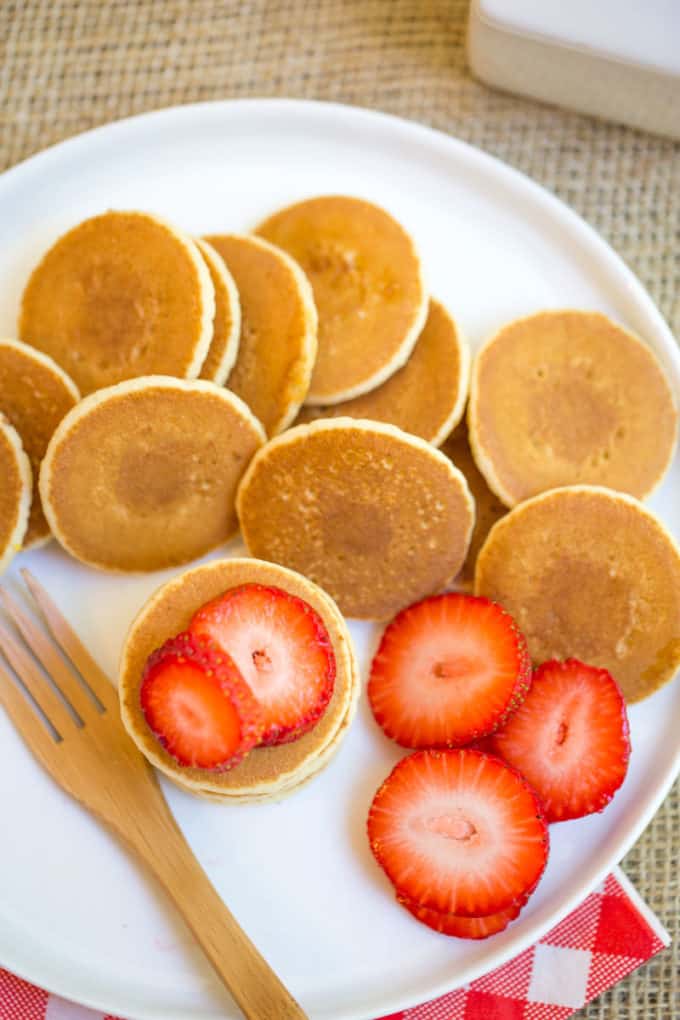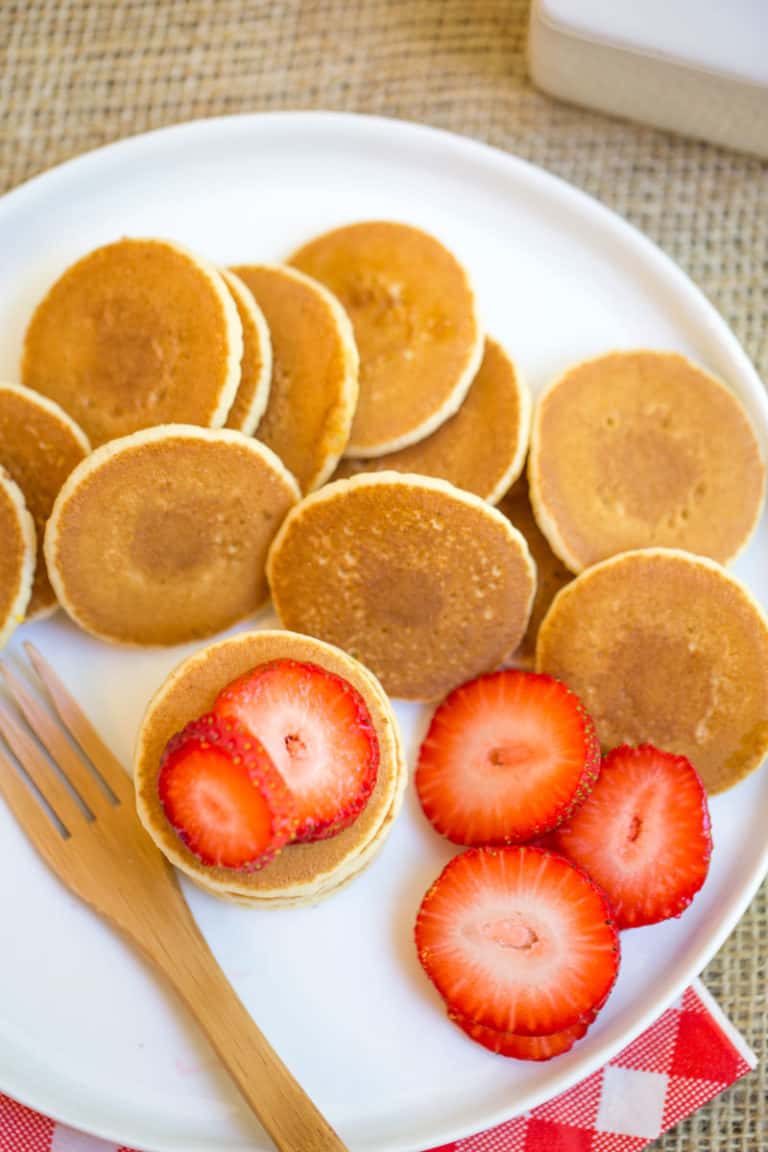 The Best Classic Breakfast Recipes
How to Store
Store: To store mini pancakes, allow them to cool completely, then place them in an airtight container or resealable plastic bags. They can be refrigerated for up to 4 days.
Reheat: To reheat, use a microwave or a toaster oven until warmed through. If you use the microwave, heat 5-6 at a time and loosely cover with a damp paper towel so they don't dry out.
Freeze: Mini Pancakes can be frozen for up to 3 months and you don't need to thaw them before reheating! Let them cool completely before freezing on a flat tray before transferring to a storage container. Freezing first keeps them from sticking together.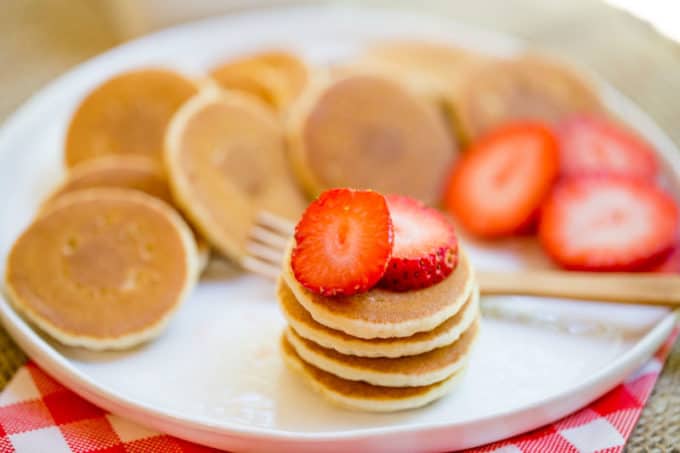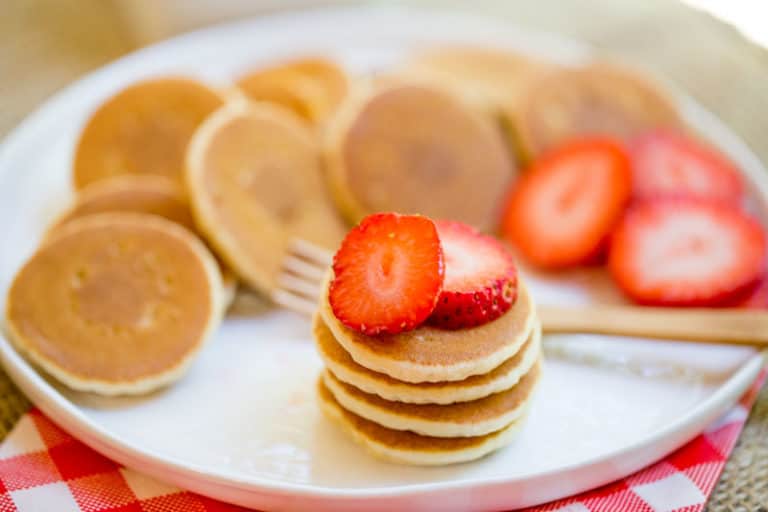 Ingredients
1 1/2

cups

all-purpose flour

3 1/2

teaspoons

baking powder

1/4

teaspoon

salt

4

teaspoons

white sugar

1 1/4

cups

milk

1

large

egg

4

tablespoons

butter

, melted
Instructions
Sift the flour, baking powder, and salt in a large bowl. Stir in the sugar.

Whisk the eggs, milk and melted butter in another bowl, then whisk into the flour mixture until smooth.

Heat a pan or griddle on medium-low heat and coat with a small layer of butter.

Using a tablespoon measure use about ¾ of a tablespoon of batter (just scoop with the tablespoon measure but don't scrape out the entire amount, a quick pour will leave enough behind).

Cook the pancakes on both sides until lightly browned, about

45 seconds

on each side.

Enjoy with your favorite toppings or mix-ins.
Nutrition
Calories:
28
kcal
|
Carbohydrates:
4
g
|
Protein:
1
g
|
Fat:
1
g
|
Saturated Fat:
1
g
|
Polyunsaturated Fat:
0.1
g
|
Monounsaturated Fat:
0.3
g
|
Trans Fat:
0.04
g
|
Cholesterol:
7
mg
|
Sodium:
54
mg
|
Potassium:
16
mg
|
Fiber:
0.1
g
|
Sugar:
1
g
|
Vitamin A:
47
IU
|
Calcium:
26
mg
|
Iron:
0.2
mg