Mashed Potato Pancakes are hot, buttery, and crispy with cheddar cheese, green onions, and garlic. Super easy to make on the stovetop!
This Potato Pancake recipe is the perfect way to use up leftover Mashed Potatoes. Mix the cold potatoes with flour, eggs, and a few other ingredients for a fresh potato dish that's perfect for a snack, Appetizer, or Side.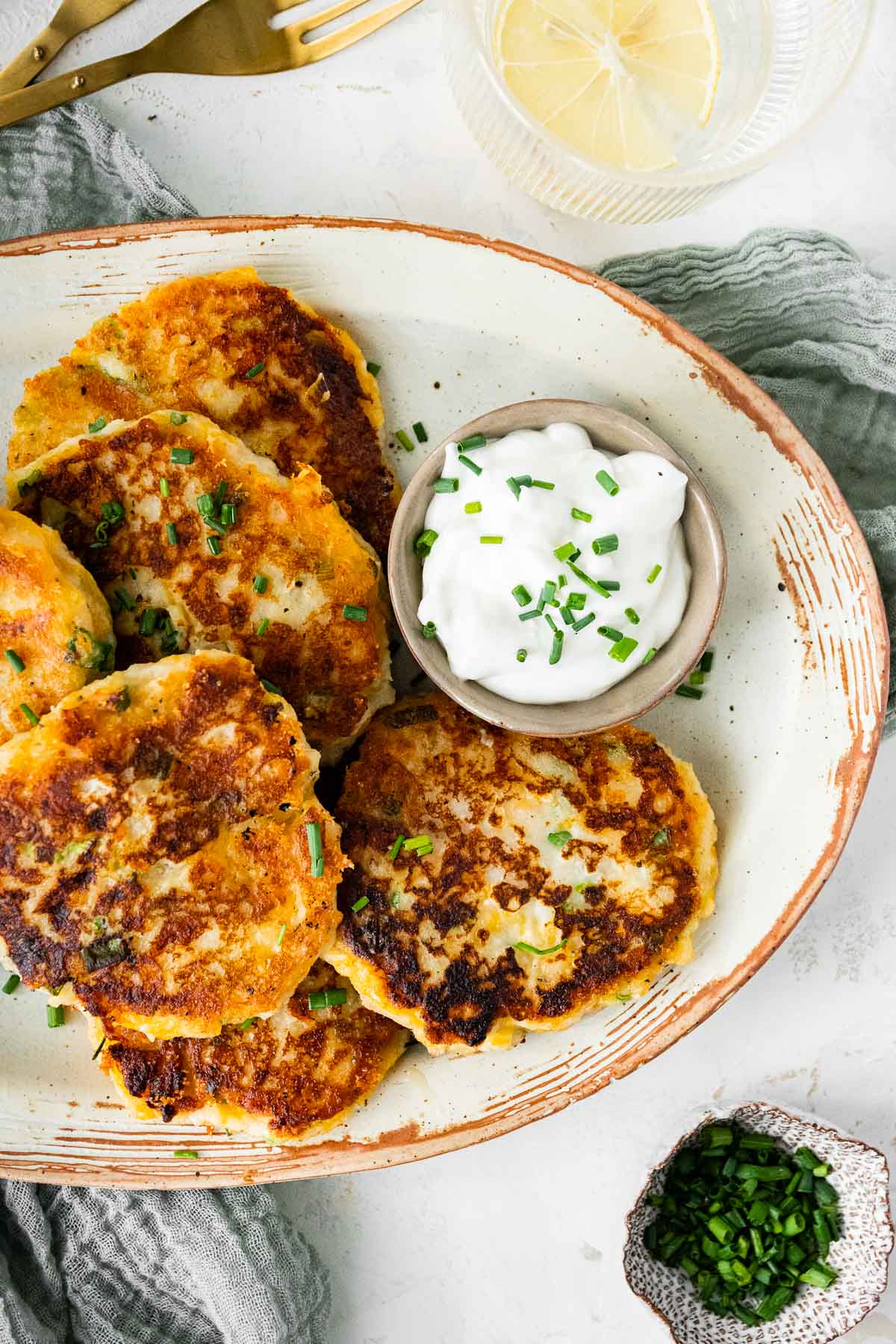 Recipes like this, that use up leftover dishes, are super popular. Sure, you could just pop cold mashed potatoes in the microwave to eat them again, but making a completely new dish is so much more satisfying. Once you've mixed the mashed potatoes with a handful of simple ingredients, you can fry them up to crispy perfection on your stovetop, and enjoy. 
These savory pancakes are a family favorite. They're the perfect filling, and flavorful dish to serve on the side of your favorite comfort food meals. Little Potato Cakes taste amazing with hearty dishes like Roast Chicken, Pot Roast, or Chili.
Delicious Potato Pancakes are also wonderfully versatile. You can serve them up with different toppings and dipping sauces to experiment with the flavor. Try adding a dollop of sour cream and topping that off with chives or caramelized onions. You could also serve them with shredded cheese, or hot sauce. Another classic way to enjoy this potato dish is to add apple sauce for a sweeter, more comforting flavor. 
Amazing Potato Side Dishes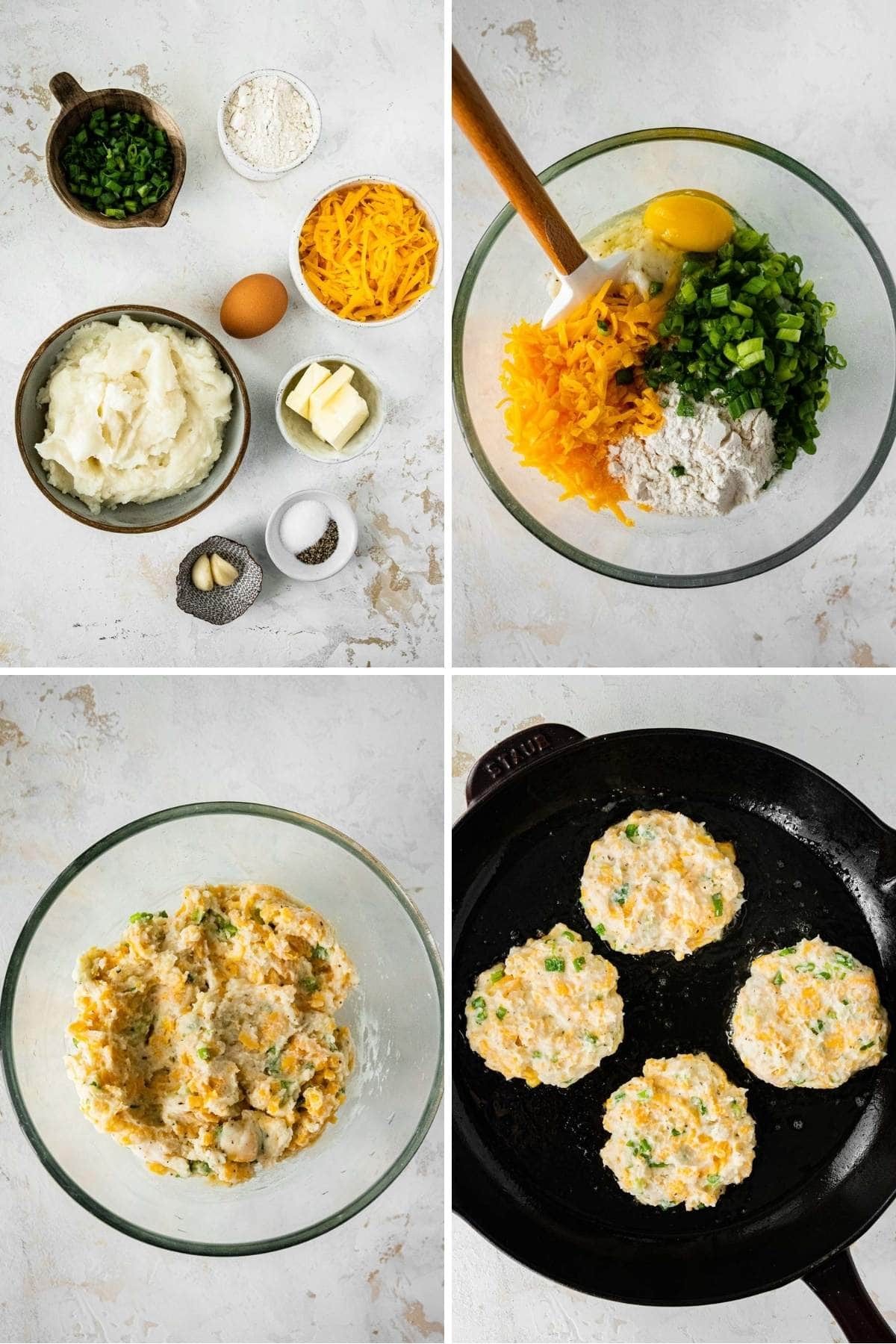 Frequently Asked Questions About Mashed Potato Pancakes
Why is flour mixed into the Potato Pancakes?
Flour is an important ingredient as it will provide a crispy texture on the outside of the Pancakes, but it will also help hold the Potatoes together once they are combined with the cheese, seasonings, and green onions.
Do you have to use green onions in Mashed Potato Pancakes?
Green onions will add some nice flavor to your Pancakes, but they aren't required if you aren't a fan of them. Another way to get onion flavor without adding any onions at all is to add onion powder. Many people who don't even like onions at all, still enjoy the flavor that onion powder brings. Start with a teaspoon and see how you like it.
Key Ingredients
Mashed Potatoes: The base of the Mashed Potato Pancakes is made with 2 cups of cold, leftover mashed potatoes. The creamy potato mixture is easy to mix with the other ingredients and fry into the perfect side dish. 
Flour: Flour and an egg give the pancakes their delicious and crispy texture. 
Mix-Ins: For the amazing, savory flavor just mix in a few simple seasonings like minced garlic, salt, and pepper. Green onions also add some color and bold flavor. 
Cheese: Potatoes and cheese make an excellent pairing. Shredded cheddar cheese mixes right in with the other ingredients and adds an amazing, comforting, cheesy taste to the whole dish. 
How to Make Mashed Potato Pancakes
Potato Mixture: Add the mashed potatoes, egg, flour, garlic, salt, pepper, cheddar cheese, and green onions. Mix in a large, shallow bowl until the ingredients are all well combined. 
Cooking: Heat 1 tablespoon of butter in a heavy nonstick skillet over medium-high heat. Use a ½ cup measure or a large ice cream scoop to scoop the potato mixture into the pan. Use the back of your spoon to flatten the potato cakes so that they're 1″ inch thick. Fry Potato Pancakes for 8-10 minutes on one side, then flip and cook on the other side until you have the perfect golden brown crispy crust.
Repeat: Remove the cooked Potato Pancakes and cook the next batch. You might need to add some more butter. If you have several batches to make, keep finished Pancakes warm in an oven set to 200-to-250 degrees F.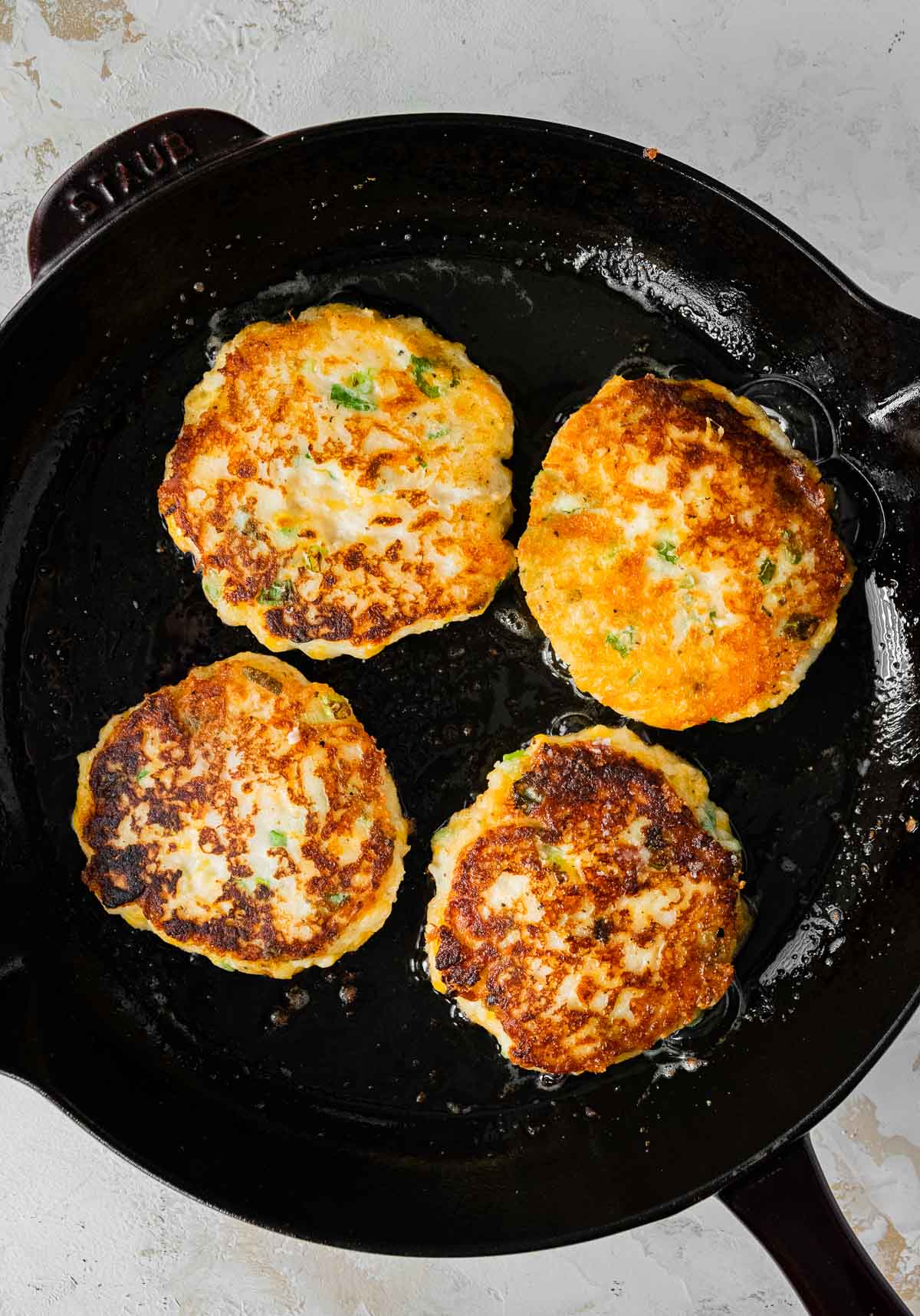 Create a free account to Save Recipes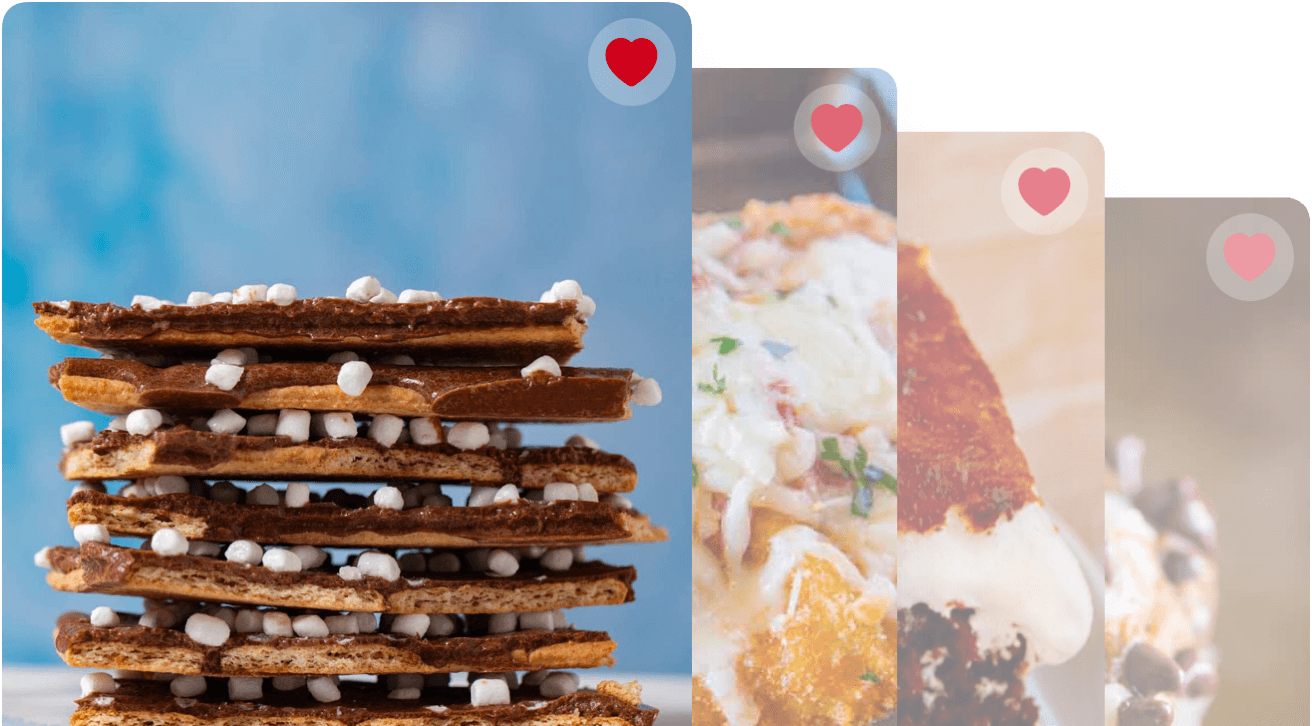 Variations
Cheesy Potatoes: You can add different kinds of cheese to go along with the cheddar. Parmesan, mozzarella, Swiss, provolone, Monterey Jack, or Pepper Jack cheese would be very tasty.
Vegetables: To add some extra texture, color, and flavor to the dish, try mixing in grated onion, carrot, or zucchini.
Seasonings: To experiment with the flavor, mix in fresh parsley, onion powder, rosemary, paprika, or cumin. You could also add a hint of heat with red pepper flakes or cayenne pepper.
Bacon Pieces: Some people would argue that bacon makes anything better, even sweet baked goods. The argument holds up with Potato Pancakes. Mix bacon bits right into the potato mixture for some amazing, salty flavor. Cook up crispy bacon, then crumble it into small pieces to easily stir into the recipe. Serve a little over the top to really get your bacon-loving family and friends excited about these.
Sauces: Top Mashed Potato Pancakes with a drizzle of your favorite sauce for extra flavor and texture. Something spicy like Buffalo Sauce or Spicy Mayo would add a unique kick to the Pancakes. Other classic sauces to try are hollandaise, Ranch, or Fry Sauce.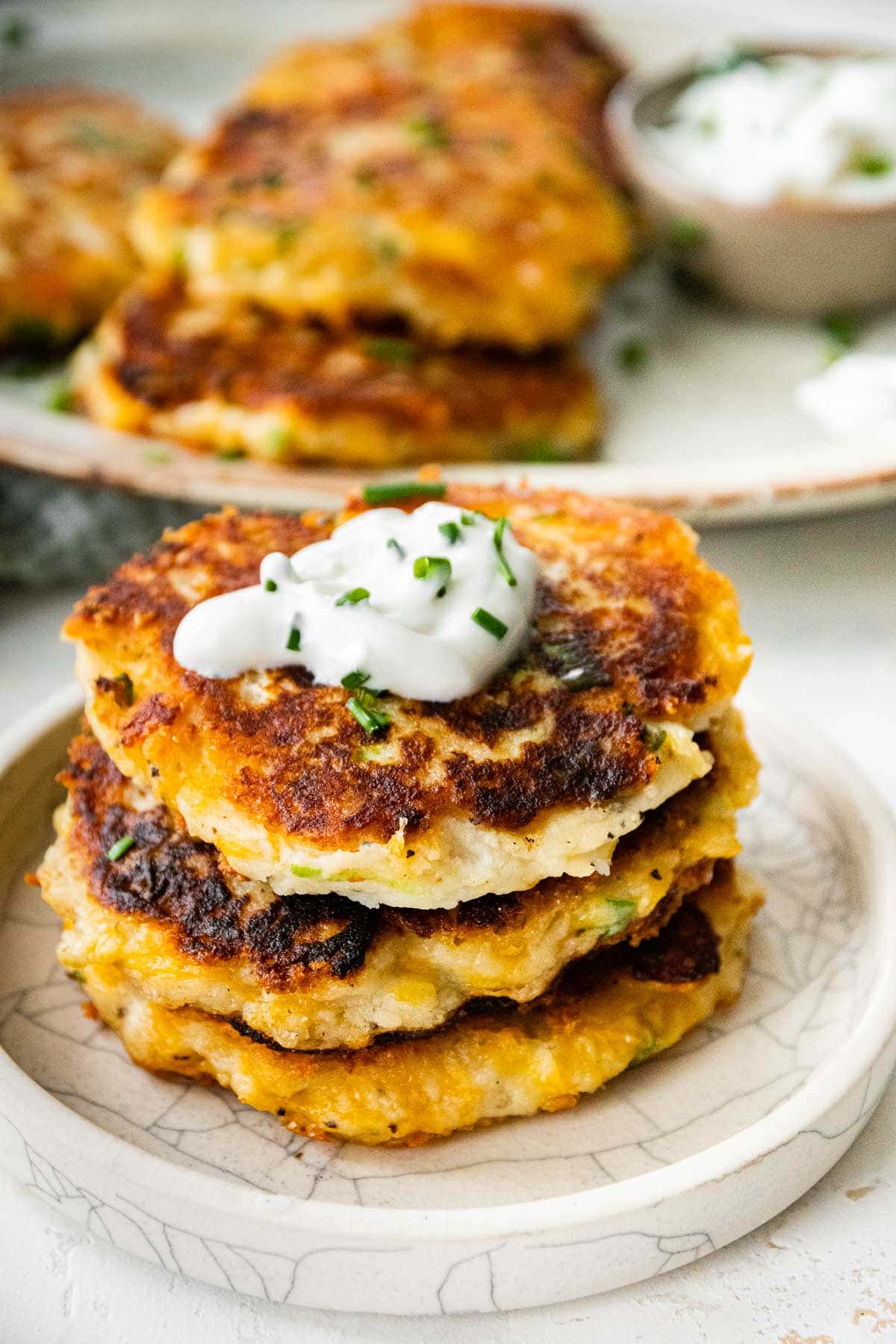 Serving Ideas for Mashed Potato Pancakes
More Amazing Side Dishes
How to Store Mashed Potato Pancakes
Serve: Don't leave Crispy Potato Pancakes at room temperature for more than 2 hours.
Store: Once they've cooled, you can put them in an airtight container to store in the fridge for 2-3 days.
Freeze: As long as they're properly sealed, you can keep frozen Potato Pancakes for up to 3 months.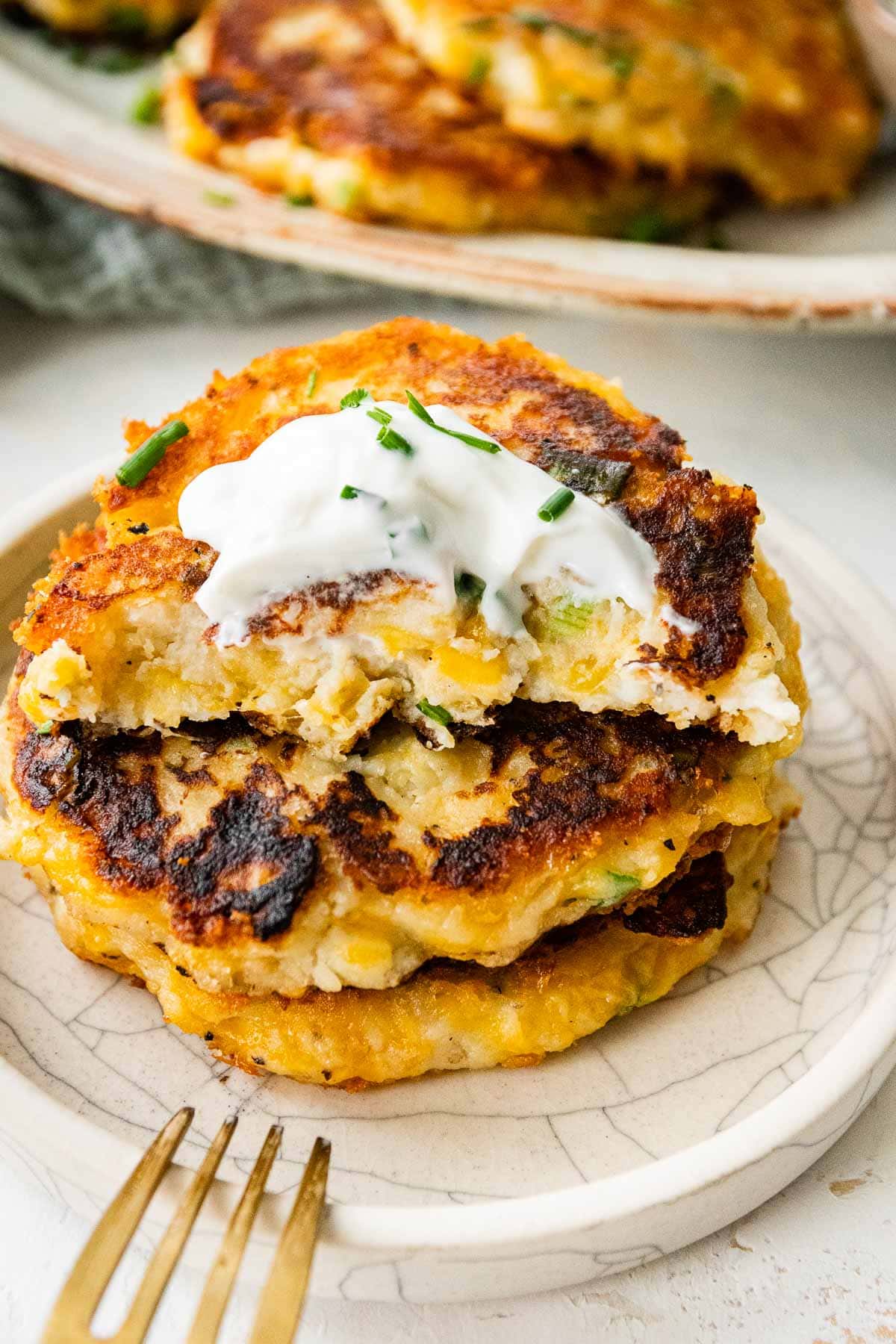 Ingredients
2

cups

mashed potatoes

, cold

1

large egg

1/2

cup

flour

2

cloves

garlic

, minced

1/2

teaspoon

kosher salt

1/4

teaspoon

coarse ground black pepper

1/2

cup

cheddar cheese

, shredded

1/2

cup

green onions

, thinly sliced

4

tablespoons

unsalted butter
Instructions
In a large bowl add the mashed potatoes, egg, flour, garlic, salt, pepper, cheddar cheese, and green onions.

Mix until well combined.

Heat 1 tablespoon of butter in a large heavy skillet on medium-high heat.

Scoop ½ cup potions of the mixture into the pan.

Flatten the scoops into a 1" thick pancake shape.

Cook for

8-10 minutes

, then flip and cook an addition

6-8 minutes

until the second side is also golden brown.

Add more butter as needed when cooking (add more after you flip).

Cook the rest of the pancakes in a second batch (recipe should make 8-10).
Nutrition
Calories:
172
kcal
|
Carbohydrates:
19
g
|
Protein:
5
g
|
Fat:
9
g
|
Saturated Fat:
5
g
|
Polyunsaturated Fat:
0.5
g
|
Monounsaturated Fat:
2
g
|
Trans Fat:
0.2
g
|
Cholesterol:
43
mg
|
Sodium:
217
mg
|
Potassium:
209
mg
|
Fiber:
1
g
|
Sugar:
1
g
|
Vitamin A:
340
IU
|
Vitamin C:
14
mg
|
Calcium:
66
mg
|
Iron:
1
mg