Avocado BLT Pasta Salad will be a hit at your BBQ or picnic!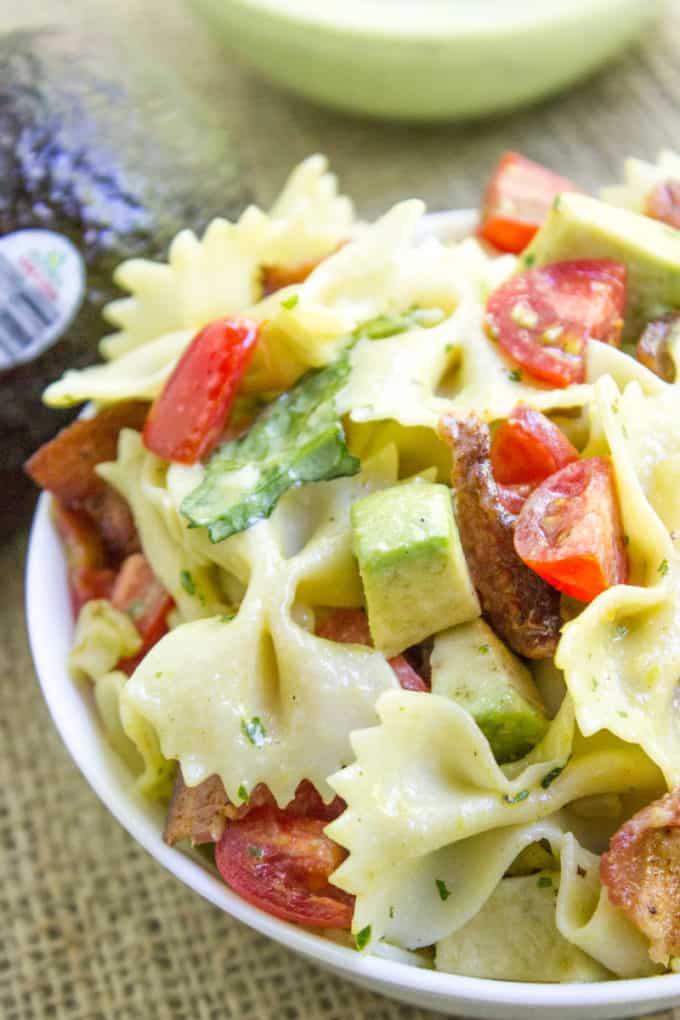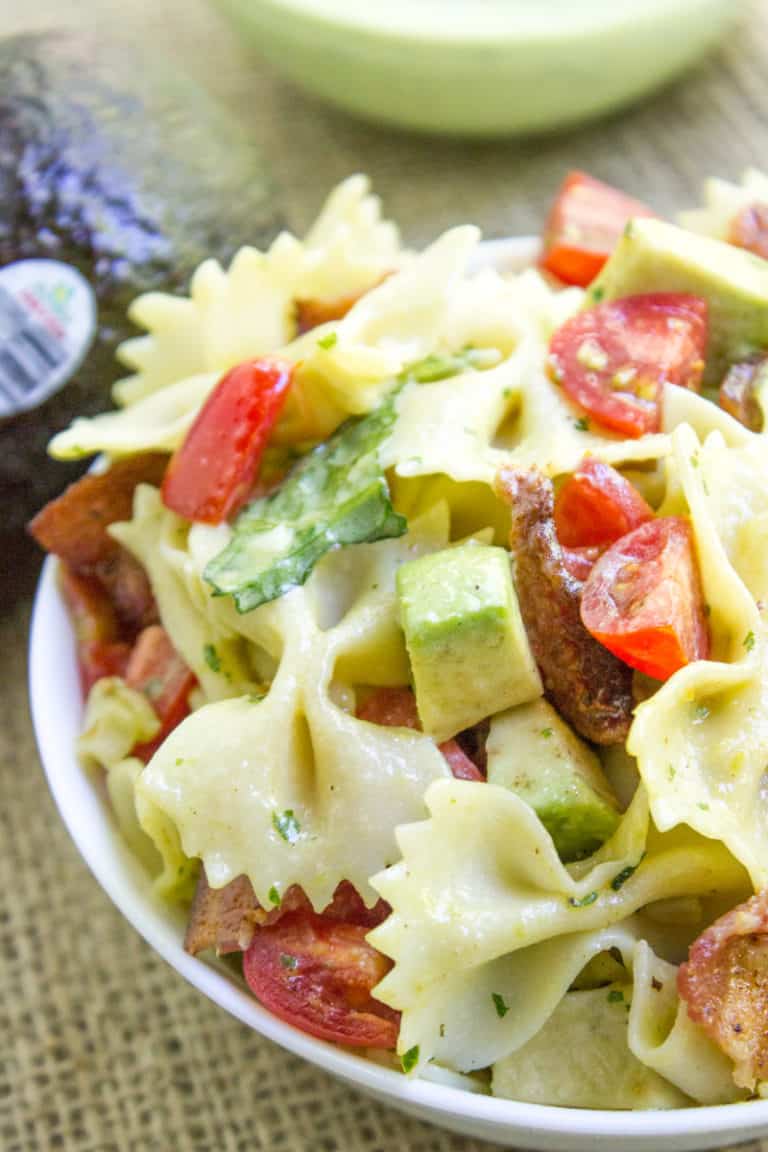 Avocado BLT Pasta Salad is a quick and easy delicious lunch or light dinner option perfect for the warm weather we've all been so excited for.  As more clients want lighter, fresher meals, things that they don't have to turn on the oven for, like pasta salad, are a perfect option for a family picnic, or meals on the patio with a fruity drink.
Want more ways to use avocados?
Just like in this Avocado BLT Pasta Salad, toss your cubed avocados with lemon or lime juice to prevent browning.
Making a guacamole or using just half the avocado? Just sprinkle on the lemon or lime juice over the top.
If your avocados don't feel quite ripe yet, add them to a brown paper bag with a banana or apple. The fruit emits a totally natural gas that speeds up the ripening process of the avocado.
Have an avocado ready to go and you need it to wait? Keep it in your fridge, it will slow down the ripening process.
Testing if the avocado is fresh? Fresh avocados have a bit of give when you apply pressure. If it feels like a baseball, they're not ripe, if there is no resistance to your slight pressure, the avocado is a bit overripe.
Avocados From Mexico are an easy way to add fresh fun flavors to your Cinco de Mayo celebrations.
Want chunks of avocados on top of your favorite salads? Make a Spicy Avocado Caesar Salad with an avocado and a bit of hot sauce blended with your favorite Caesar dressing. Add some Cotija cheese, lettuce and croutons tossed with a small pinch of cayenne for a fun play on the classic Caesar dressing.
Classic Mexican staples like tacos, burritos and nachos are fun with added chunks of Avocados From Mexico or guacamole, but you can also make a delicious avocado quesadilla. Sliced thinly and topped with cheese, the creamy, fresh flavors of the avocados are a natural fit to the cheese inside the quesadilla.
As a spread on your sandwiches: blend an Avocado From Mexico with some mayonnaise or yogurt with a pinch of salt and a squeeze of lemon or lime juice for a great sandwich spread.


Ingredients
Salad:
1

pound

pasta bowties

, cooked and drained

1/2

pound

bacon

, cooked and crumbled

2

cups

chopped romaine

1

large Avocado From Mexico

, diced

1

tablespoon

lime juice

1

cup

tomato

, diced
Dressing:
1

Avocado From Mexico

1/2

cup

mayonnaise

1/2

cup

cilantro

1

teaspoon

hot sauce

1/4

cup

olive oil

1

tablespoon

minced garlic

1/4

teaspoon

Kosher salt

2

tablespoons

lime juice
Instructions
To make the dressing:

Add the mayonnaise, hot sauce, olive oil, minced garlic, Kosher salt and 2 tablespoons lime juice to a small food processor and blend until smooth.

To make the salad:

Add the lime juice to the chunks of Avocados From Mexico, and layer the pasta, bacon, romaine, avocados and tomatoes.

Add the dressing and gently combine.
Nutrition
Calories:
744
kcal
|
Carbohydrates:
37
g
|
Protein:
16
g
|
Fat:
49
g
|
Saturated Fat:
10
g
|
Cholesterol:
33
mg
|
Sodium:
1582
mg
|
Potassium:
693
mg
|
Fiber:
8
g
|
Sugar:
6
g
|
Vitamin A:
2365
IU
|
Vitamin C:
16
mg
|
Calcium:
49
mg
|
Iron:
2.9
mg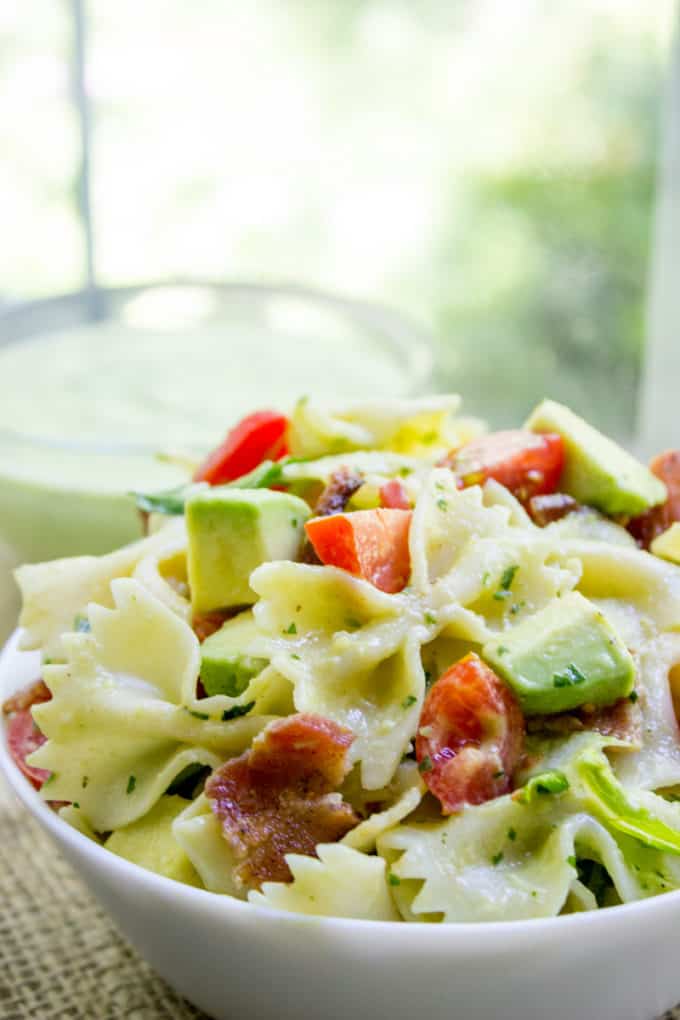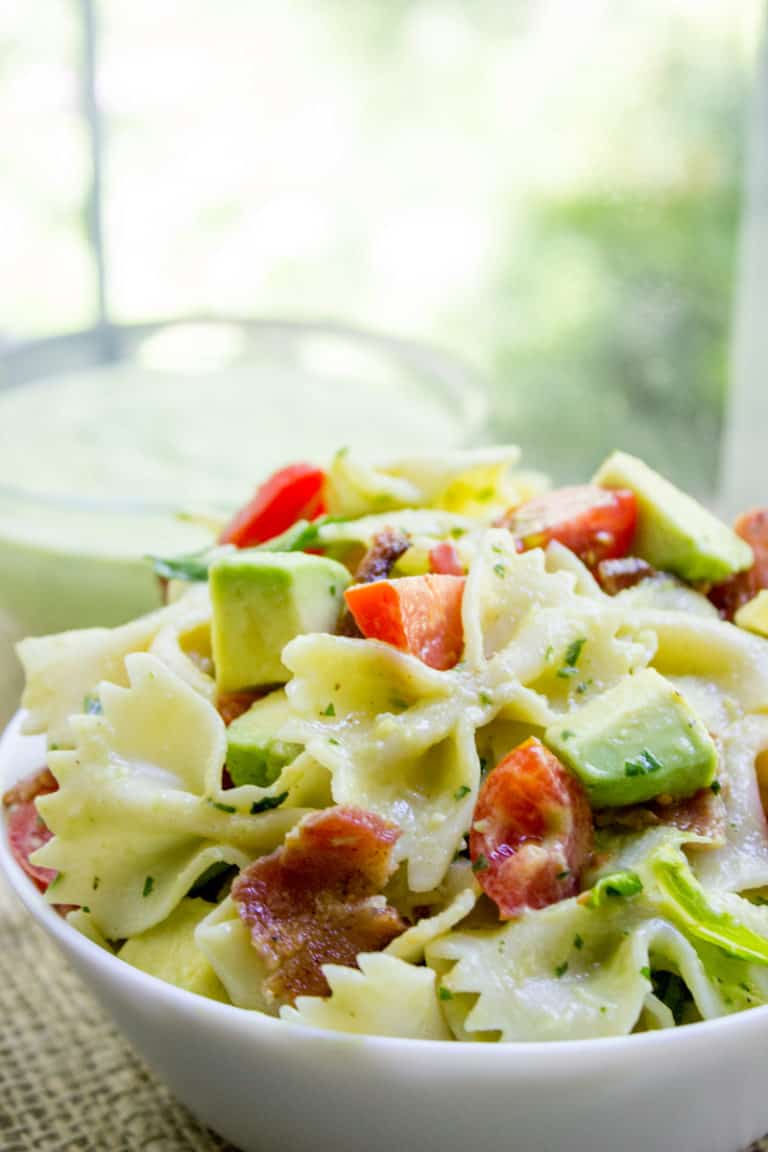 Check out Avocados From Mexico to learn more about all the ways you can enjoy avocados all year round! This is a sponsored post written by me on behalf of Avocados From Mexico.