Fry Sauce is a favorite condiment for burgers, french fries and onion rings made with paprika, ketchup and Worcestershire sauce in just a few minutes. 
Fry Sauce is a delicious dipping sauce from Utah that is incredibly easy to make. If you've gotten hooked on making your own sauces after trying my Easy Tartar Sauce, Quick and Easy Marinara Sauce, and Buffalo Wing Sauce recipes, you know just how easy and customizable they are.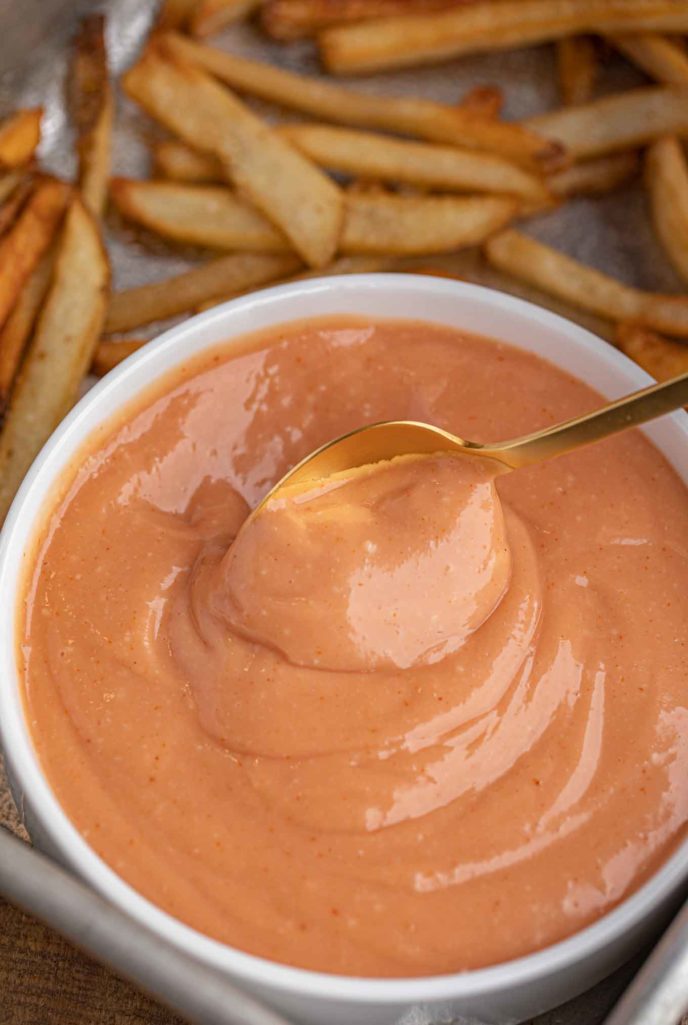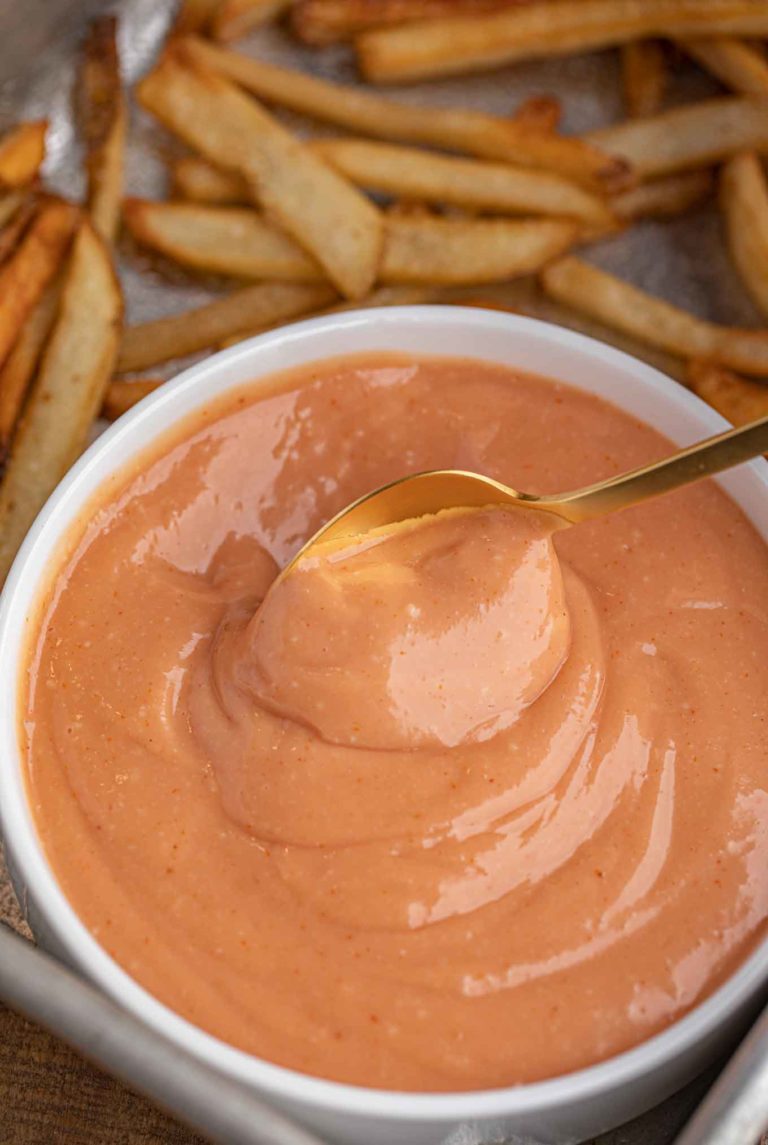 FRY SAUCE
What's delicious on French fries, hot dogs onion rings, chicken wings, and a dozen other appetizers and side dishes? Fry Sauce is a distinct, yummy sauce that is essentially a mixture of ketchup and mayonnaise with a handful of other ingredients that tailor the flavor to your own personal taste. This is one of those easy recipes that you can make a dozen times with minor tweaks and get a delicious product every time.
HOW TO MAKE FRY SAUCE
Whisk together mayonnaise, sugar, salt, paprika, ground mustard, and onion powder until smooth.
Stir in the ketchup, vinegar, and Worcestershire sauce until well blended.
Cover and refrigerate until chilled, about 30 minutes.
Store covered in refrigerator.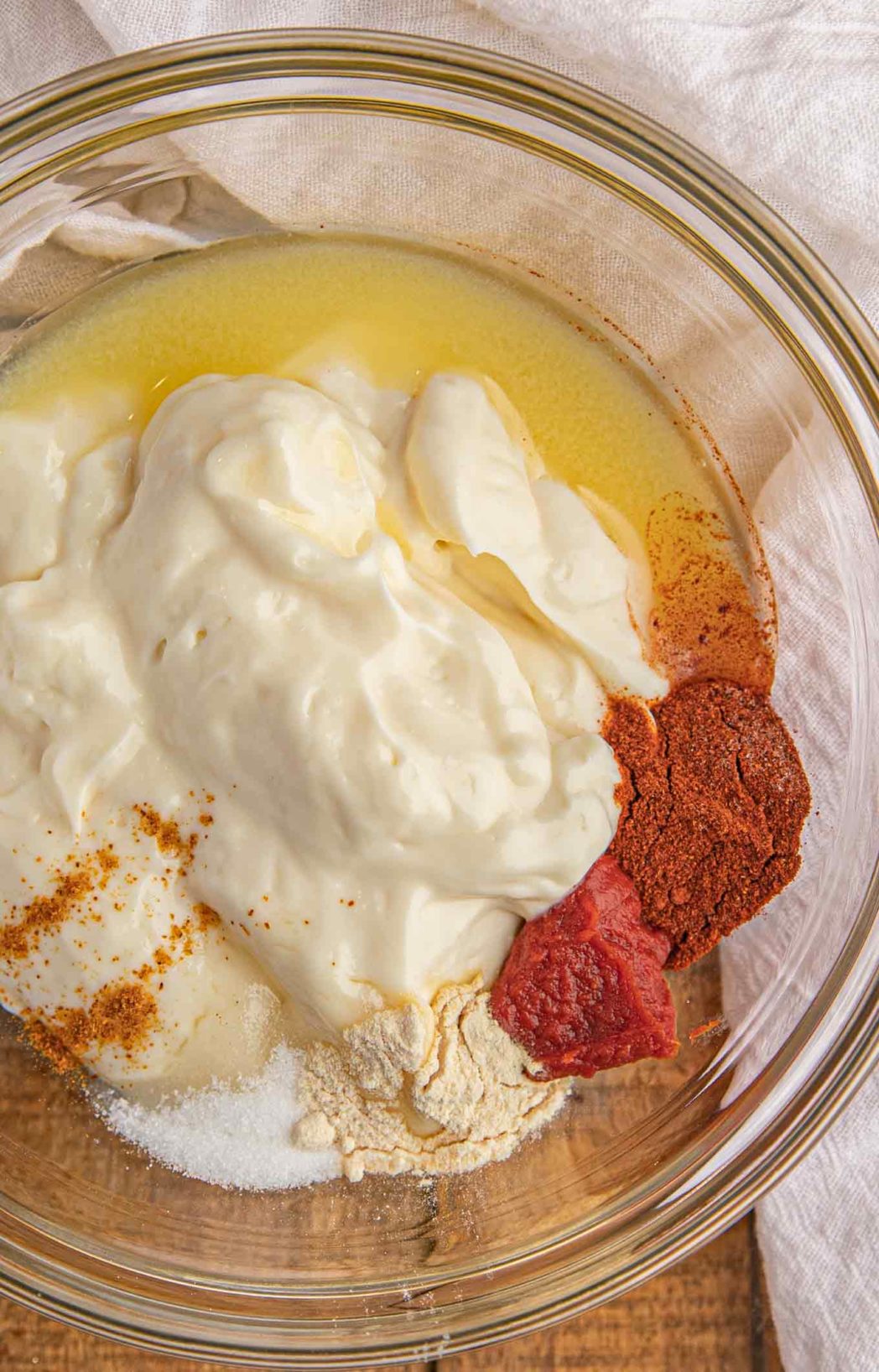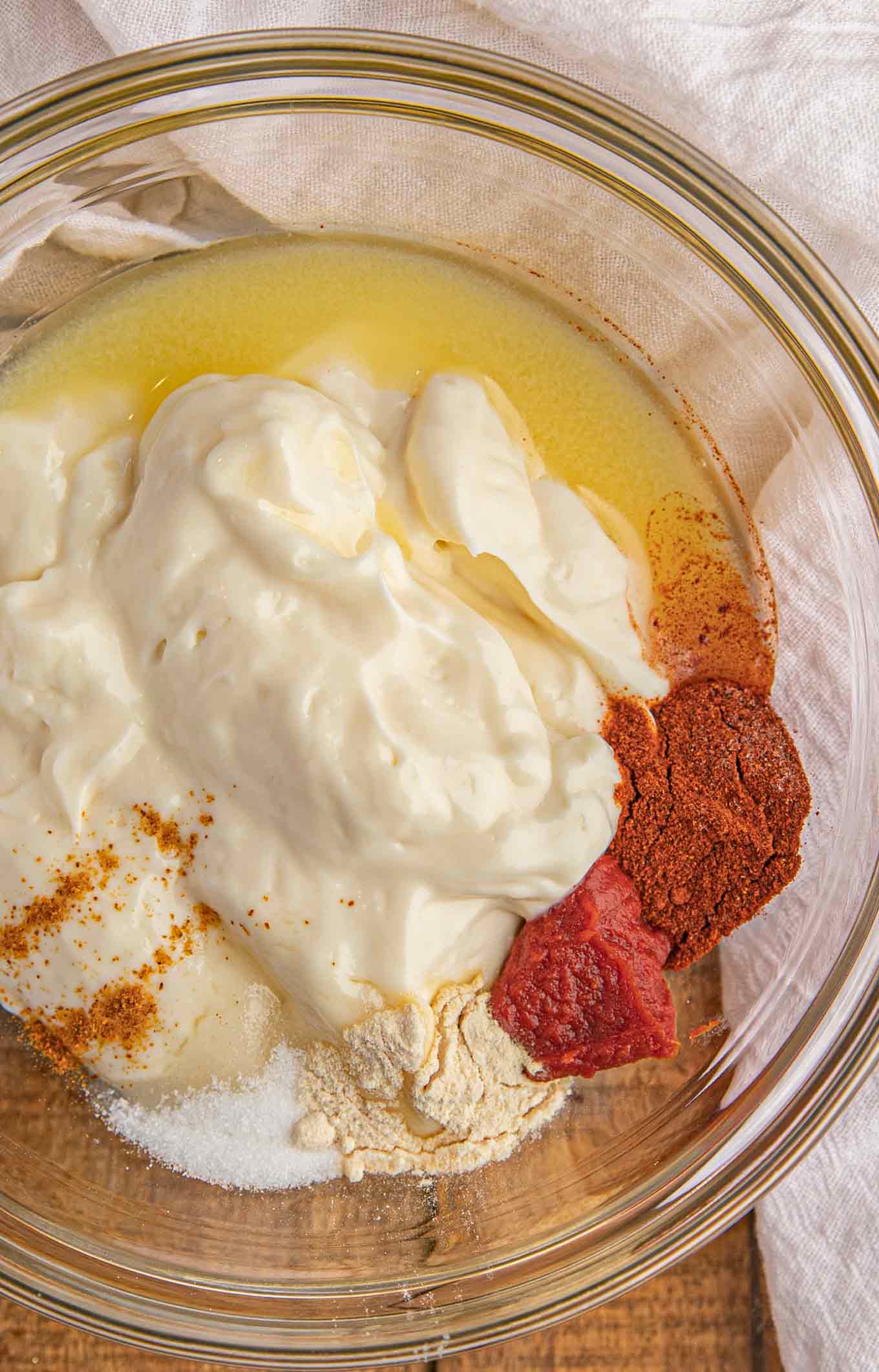 Create a free account to

Save Recipes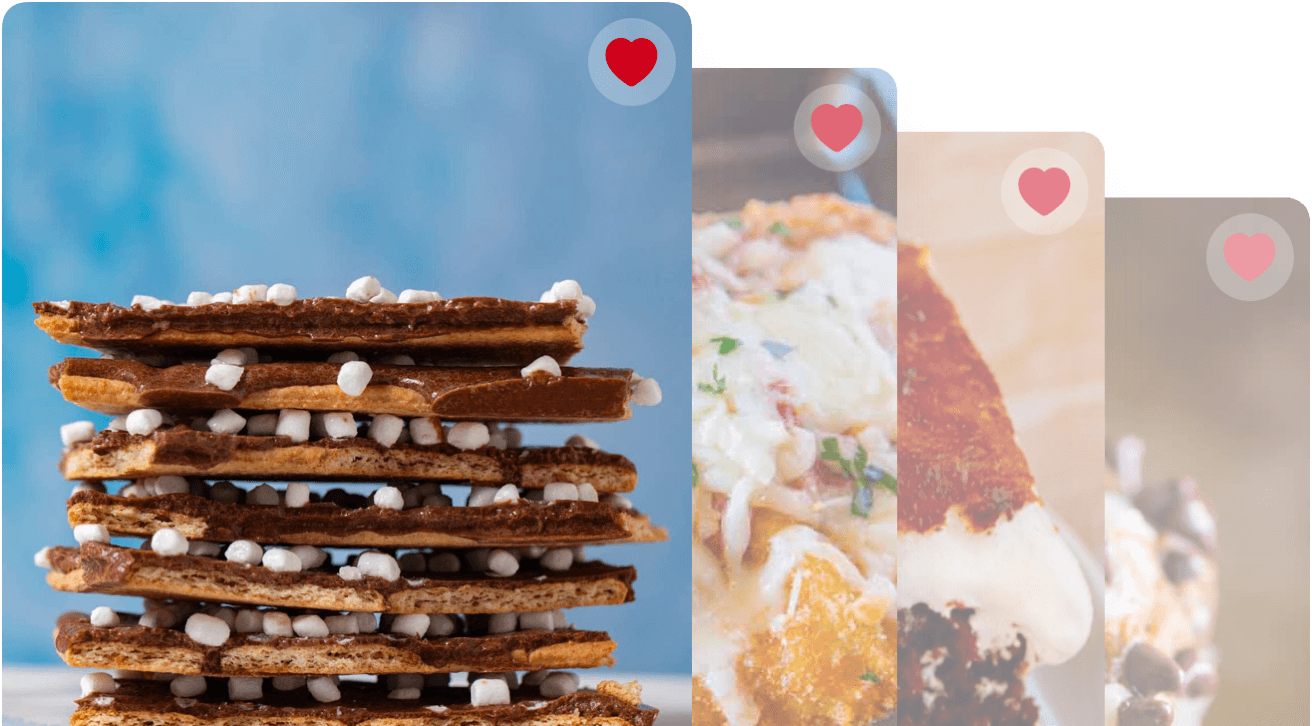 VARIATIONS ON FRY SAUCE
Juice: Mix in a little pickle juice, lemon juice, apple cider vinegar, or horseradish to give the Fry Sauce a strong flavor kick. With all of these add ins, but specifically the apple cider vinegar and horseradish, start with smaller amounts and add more to taste since these flavors are extremely strong.
Spices: Add a pinch of black pepper, garlic powder, onion powder, paprika, or cayenne pepper to the Fry Sauce. You can alter the flavor with just a dash of any of these spices without revising the recipe from scratch.
Hot Fry Sauce: To make your Fry Sauce closer to hot sauce, add more than a dash of cayenne or red pepper flakes and a good amount of sriracha. Keep in mind that spices foods get hotter as you eat them so start small and work up.
UTAH FRY SAUCE 
A version of Fry Sauce was written up in Louisiana in the 1900s, but the kind that we know and love today comes from Utah. Don Carlos Edwards, of Salt Lake City's Don Carlos' Barbecue, wrote up a Fry Sauce recipe and served it up in his restaurant.
Don Carlos' Barbecue eventually became none other than Arctic Circle, the popular burger chain, and Fry Sauce has been served at every location. Other restaurants picked up the idea, many with their own unique variations.
Fry Sauce even traveled to Puerto Rico, where it's called "mayo ketchup." The condiment mogul Heinz announced in 2018 that they would soon be releasing their own version of mayo ketchup for retail in the United States.
HOW LONG IS FRY SAUCE GOOD?
Store: Transfer the Fry Sauce from the small bowl you mixed it in to an airtight container, like a sealable bag or empty ketchup bottle. Store it in the fridge and the Fry Sauce will last you up to 2 weeks before you should chuck it and make more. I do not recommend freezing it.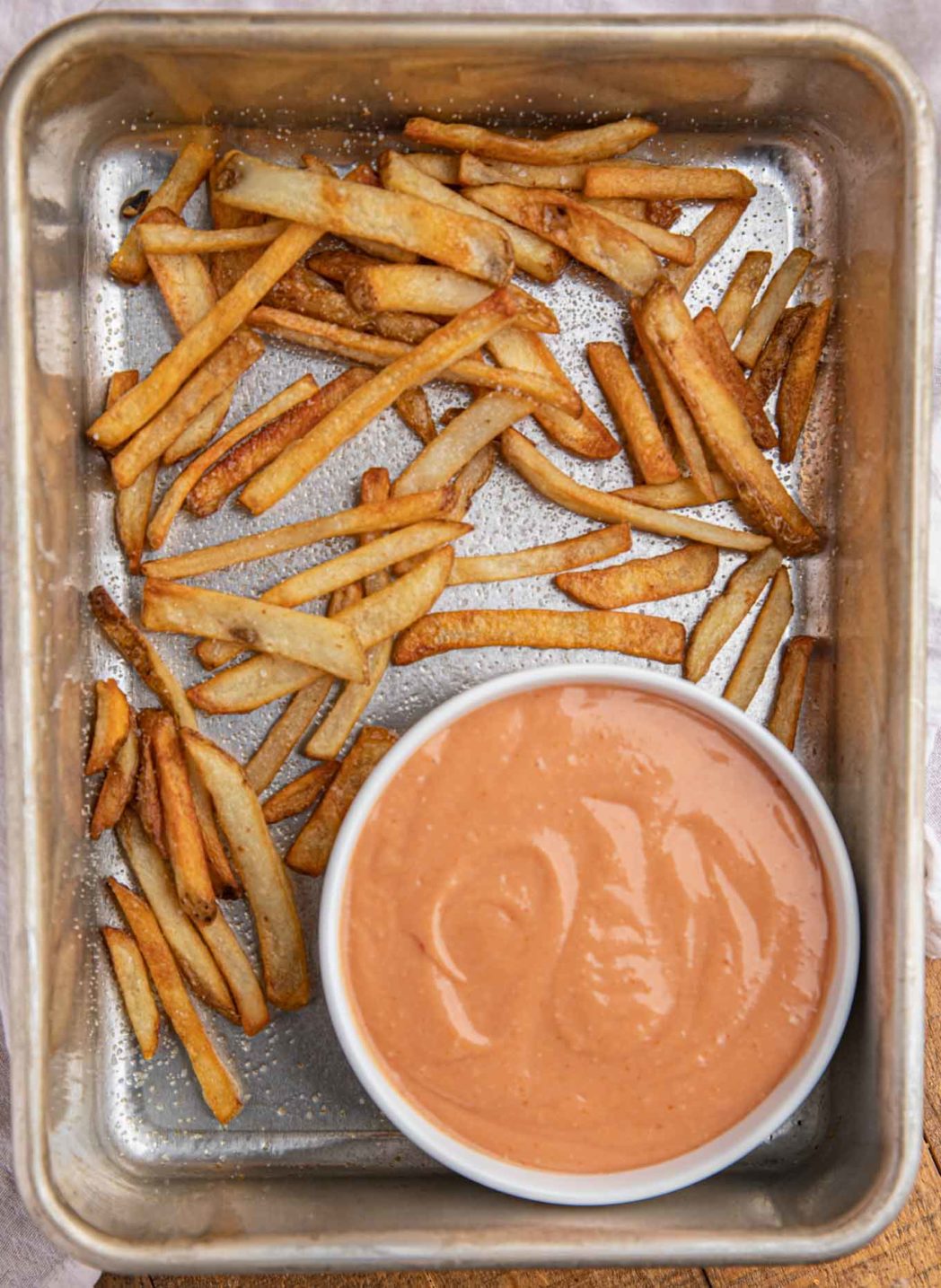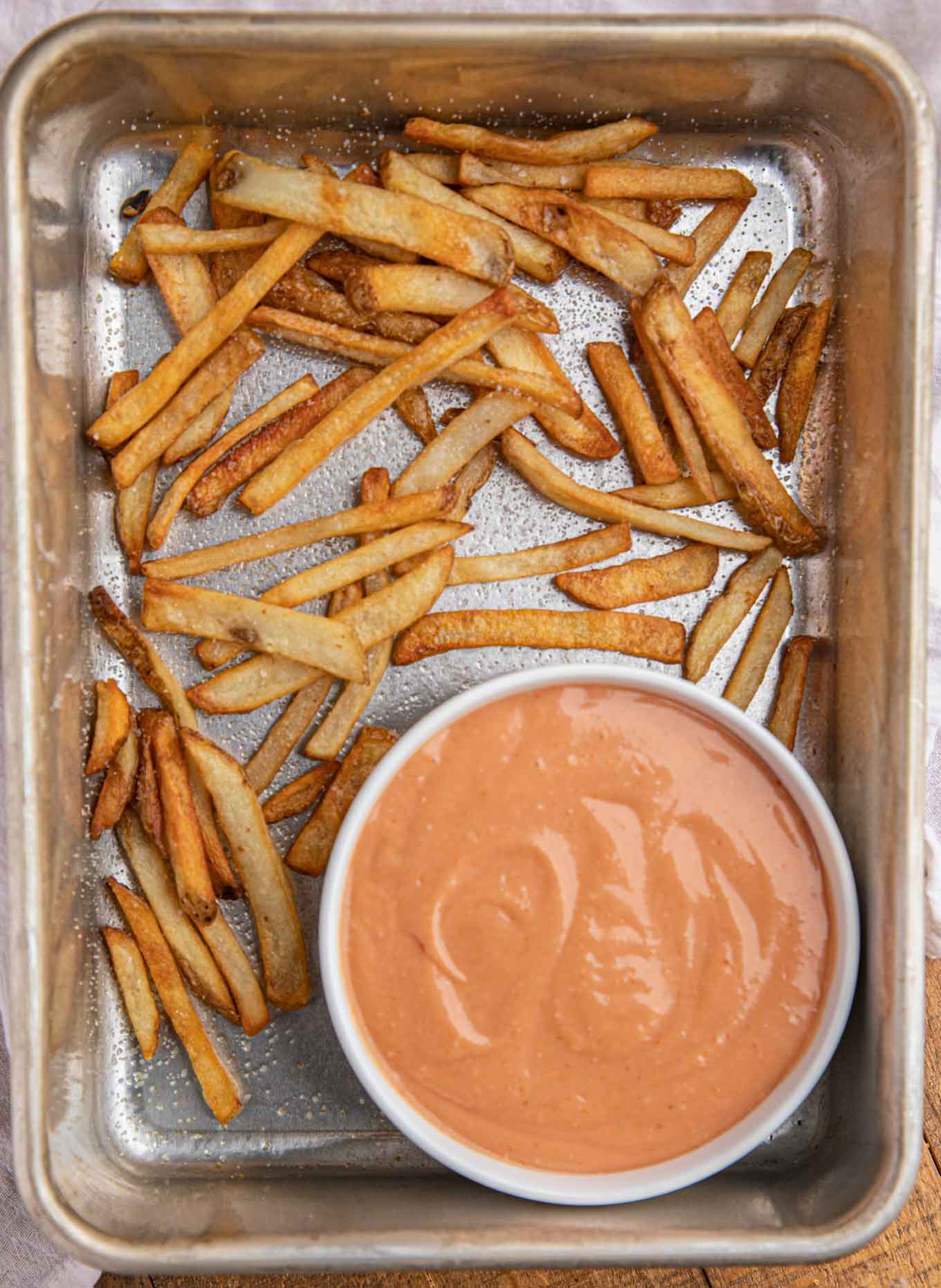 Ingredients
1 1/8

cup

mayonnaise

, (this is 1 cup + 2 tablespoons)

1/4

cup

white sugar

1/2

teaspoon

kosher salt

1/4

teaspoon

paprika

1/4

teaspoon

ground mustard

1/2

teaspoon

onion powder

1/2

cup 

ketchup

2

tablespoons

red wine vinegar

2

teaspoons

Worcestershire sauce
Instructions
Add all the ingredients together in a large bowl and whisk well until full combined.

Refrigerate, covered, for at least

1 hour

before serving.
Nutrition
Calories:
103
kcal
|
Carbohydrates:
4
g
|
Protein:
1
g
|
Fat:
9
g
|
Saturated Fat:
1
g
|
Cholesterol:
5
mg
|
Sodium:
196
mg
|
Potassium:
24
mg
|
Fiber:
1
g
|
Sugar:
4
g
|
Vitamin A:
44
IU
|
Vitamin C:
1
mg
|
Calcium:
2
mg
|
Iron:
1
mg