Classic Tartar Sauce made with just a few ingredients and in just a few minutes, you'll never buy bottled sauce again!
You'll love this tartar sauce with our Crispy Baked Fish Sticks, Beer Battered Fish and even for your kids on Beer Battered Crispy Fish Tacos. It is the PERFECT swap for the bottled sauce.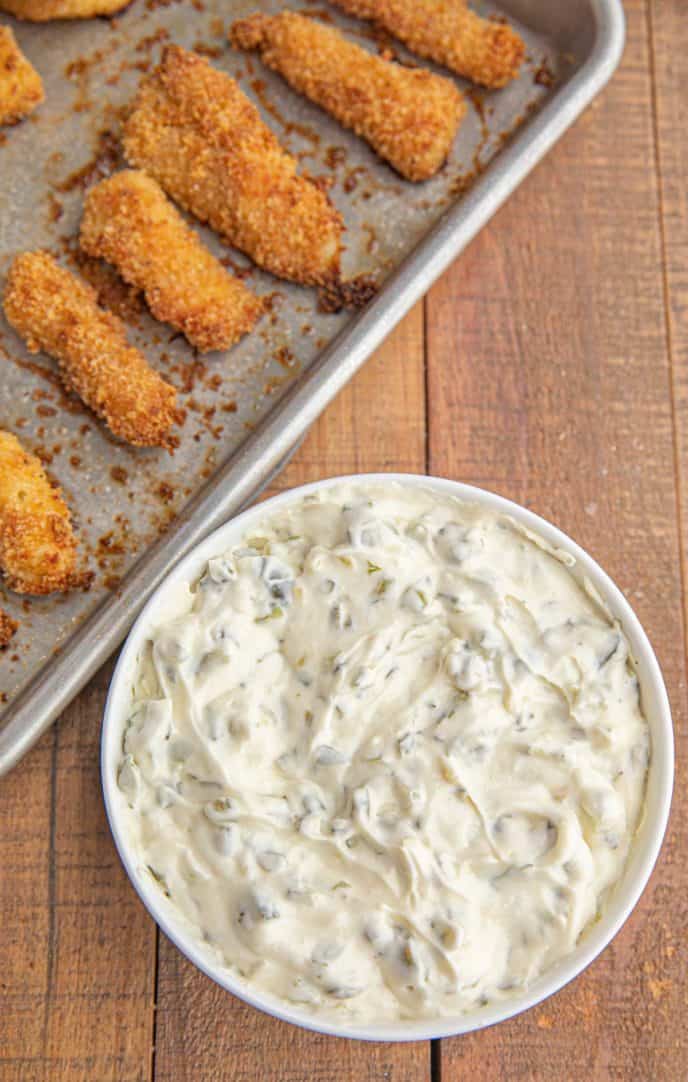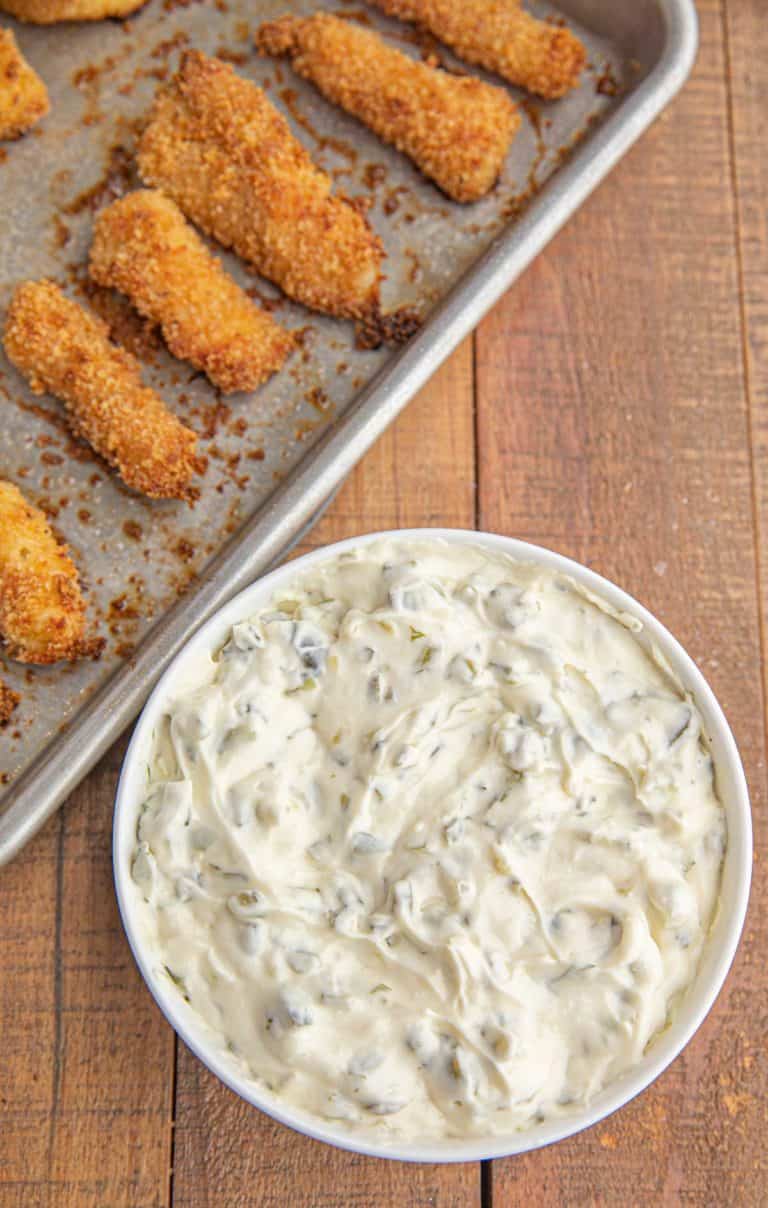 CLASSIC TARTAR SAUCE
Classic Tartar Sauce wasn't a recipe I sought out to learn for the heck of it one day. A few years ago we had some pretty bad luck with our fridge and it didn't end so well for all the food inside.
So I cleaned it out completely and had to start over. A month or so later, I had made some fried shrimp and of course I hadn't thought to replace my jar of tartar sauce that seemed to live on the door of my fridge forever.
So off to the internet I went! I found a few recipes and made them all, at once, because yes, I am a food scientist at heart. Also, I love GOOD tartar sauce, and no offense to the pre-made variety, but we can do better.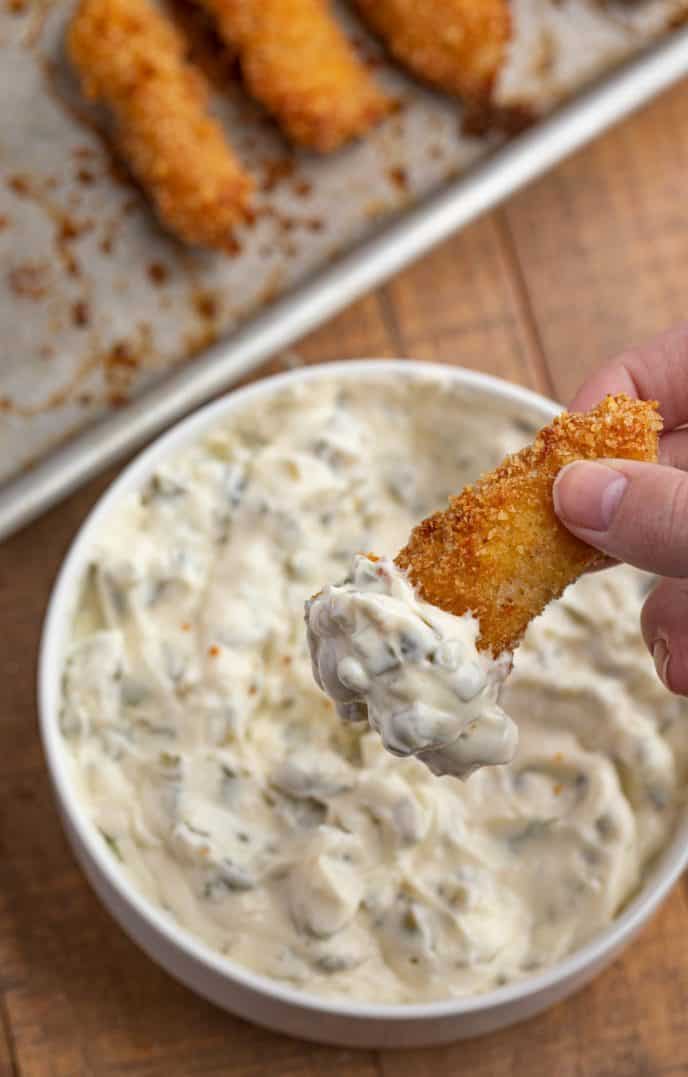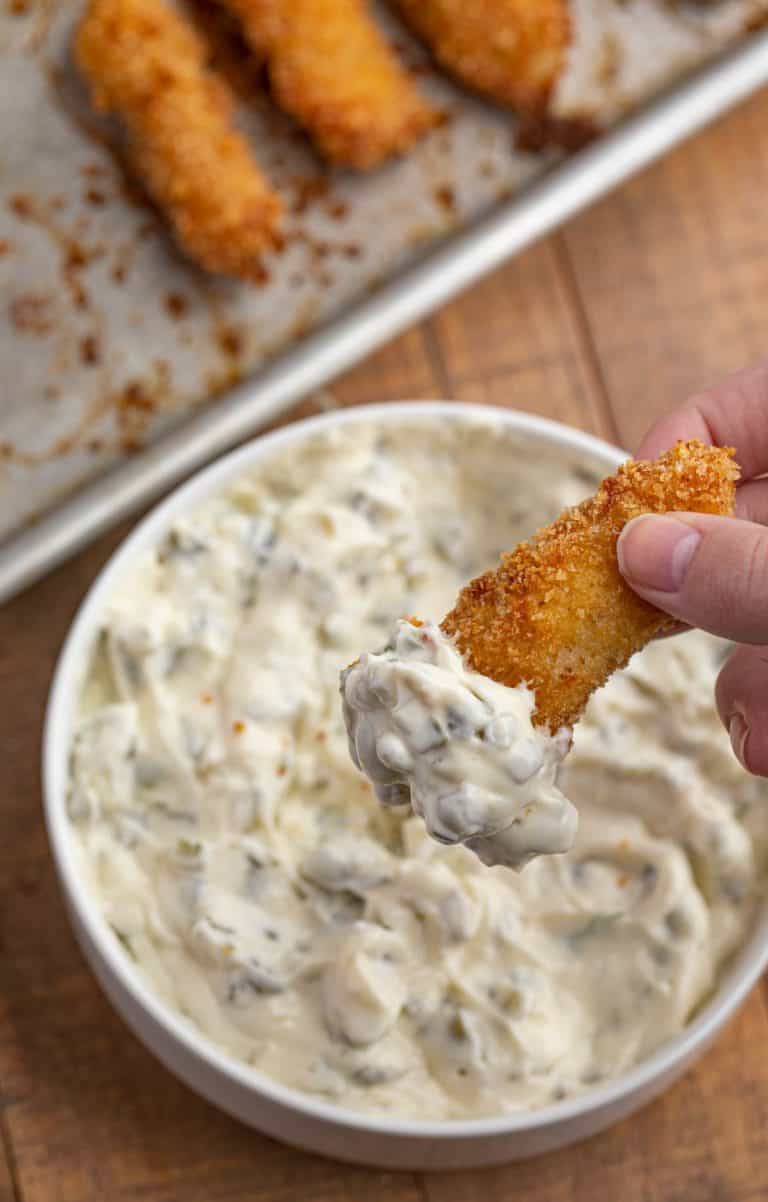 This Classic Tartar Sauce was a version of all three of them that I sort of randomly came up with and it makes for the PERFECT tartar sauce replacement. I haven't bought another jar of tartar sauce since.
The recipe, if you can even call it one, is so simple that the only thing I want to warn you about is that you really want to give it a bit of time to rest so the flavors can really come together. If you don't you basically just have pickle mayo, which is fine, but it won't taste like tartar sauce.
I've seen a few other variations of Classic Tartar Sauce on the web which you can totally incorporate into your recipe:
Instead of dill pickles you can chop up bread and butter pickles.
Instead of pickles, you can use sweet relish.
Instead of pickle juice you can use ½ the amount of lemon juice.
Instead of minced onion, use ½ teaspoon of onion powder.
If you really still don't want to make your own, this is the prepared one I loved.
We're going to serve this tartar sauce on all the delicious seafood we can eat this summer including Coconut Shrimp and more.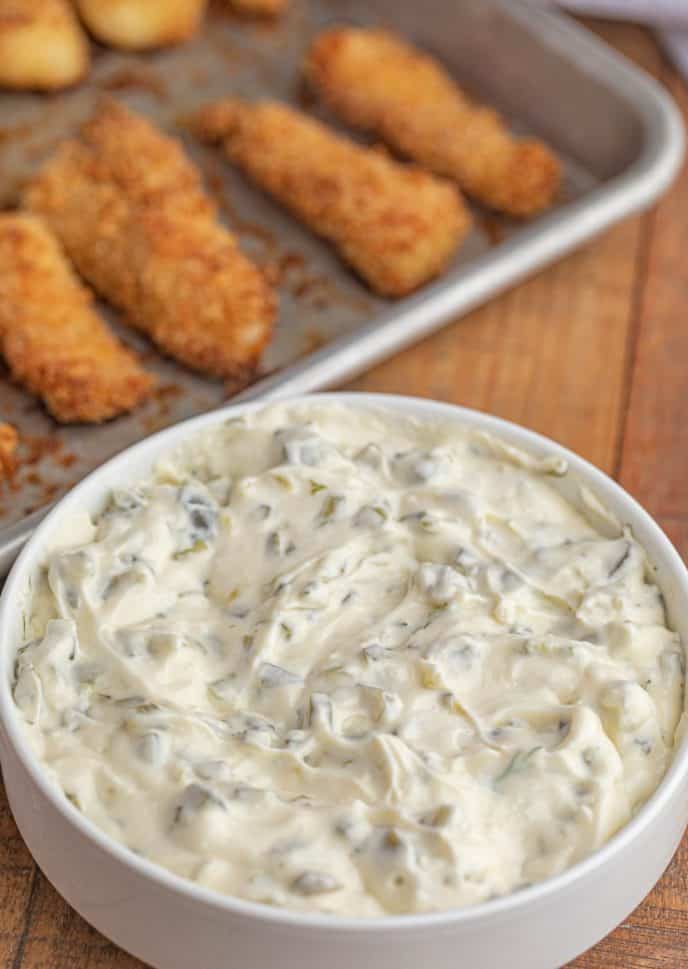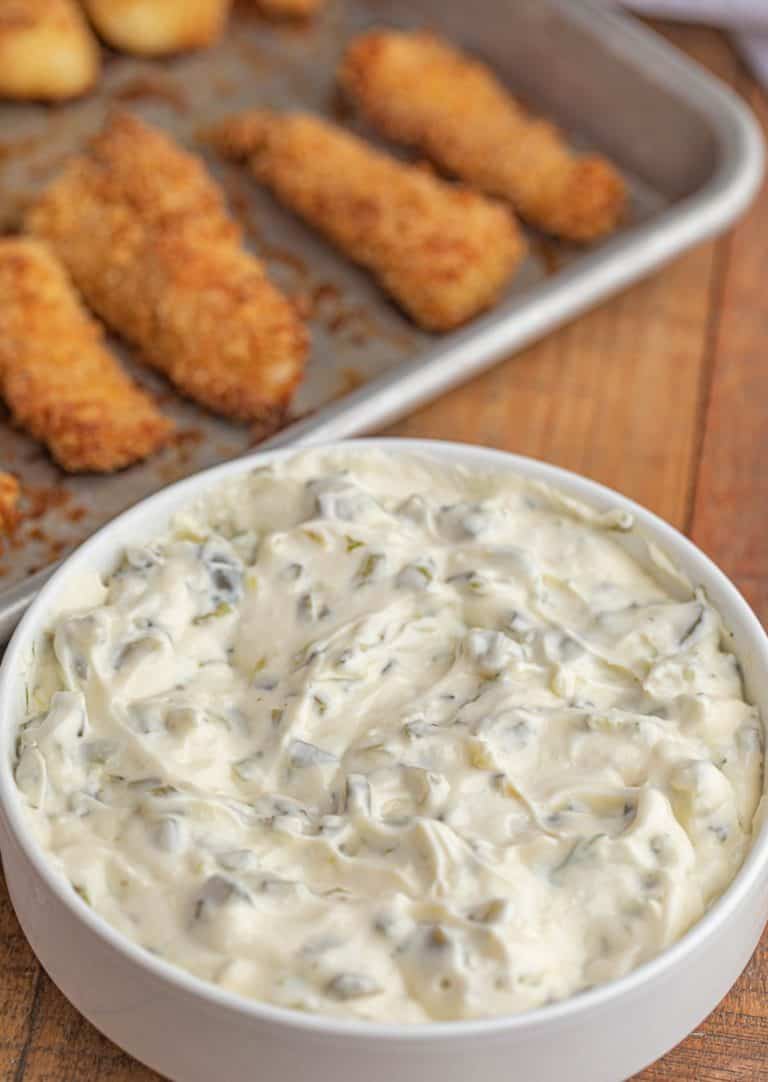 Recipe
Save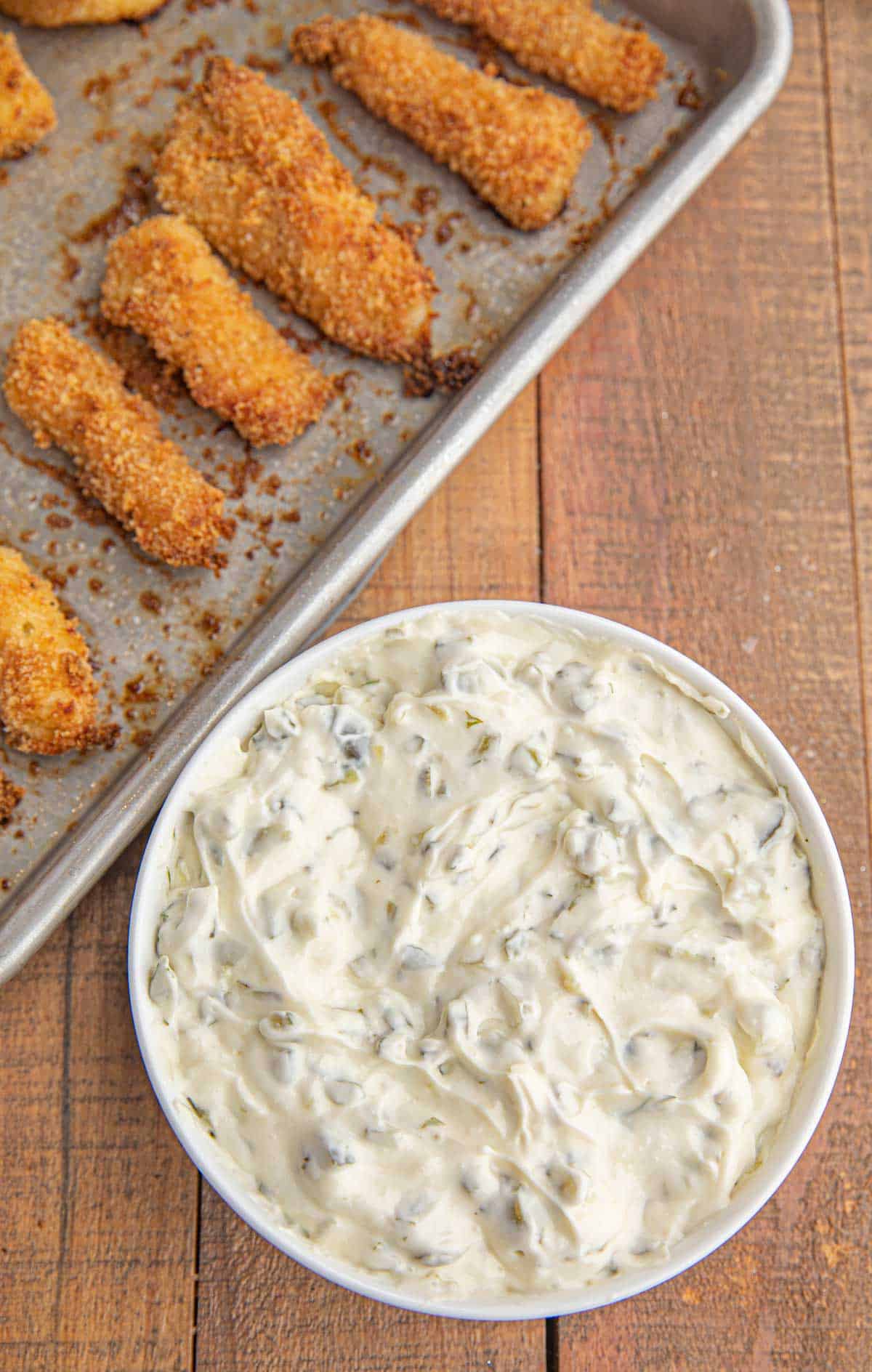 Classic Tartar Sauce
Yield:

16

servings

Prep Time:

5

minutes

Total Time:

5

minutes

Course: Sauce
Cuisine: American
Author: Sabrina Snyder
Classic Tartar Sauce made with just a few ingredients and in just a few minutes, you'll free up space on your fridge door and never buy bottled sauce again!
Ingredients
2

cups

mayonnaise

2

tablespoons

dill pickles

minced

2

tablespoons

pickle juice

2

tablespoons

minced onion
Instructions
Note: click on times in the instructions to start a kitchen timer while cooking.
Mix ingredients together in a small bowl.

Chill in refrigerator for at least 2-3 hours for the best flavor.
Nutrition Information
Yield: 16 servings, Amount per serving: 96 calories, Calories: 96g, Carbohydrates: 1g, Protein: 1g, Fat: 10g, Saturated Fat: 2g, Cholesterol: 6mg, Sodium: 103mg, Potassium: 3mg, Sugar: 1g, Vitamin A: 10g, Calcium: 1g
All images and text © for Dinner, then Dessert.
Keywords:
How To Make Tartar Sauce, Tartar Sauce
Save