Fish Sticks are an easy , healthy, crispy kid-favorite finger food made with flaky cod and panko breadcrumbs you can make at home in just 20 minutes. Skip the freezer section! 
If you're looking for kid-friendly dinners for next time, try our Ultimate Sloppy Joes, Mac and Cheese, Oven Baked Beef Tacos, or our Baked Million Dollar Spaghetti.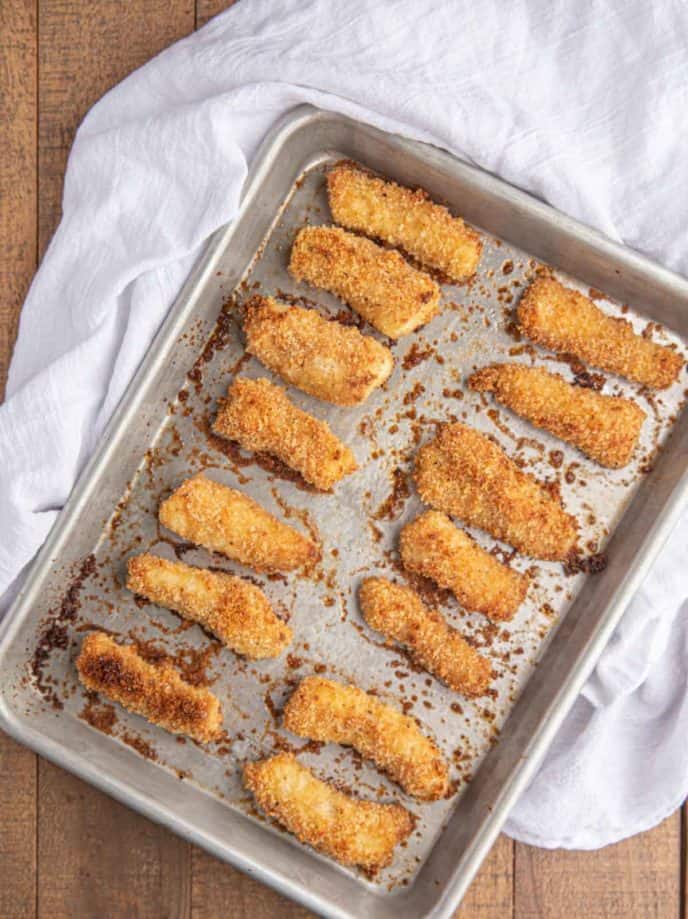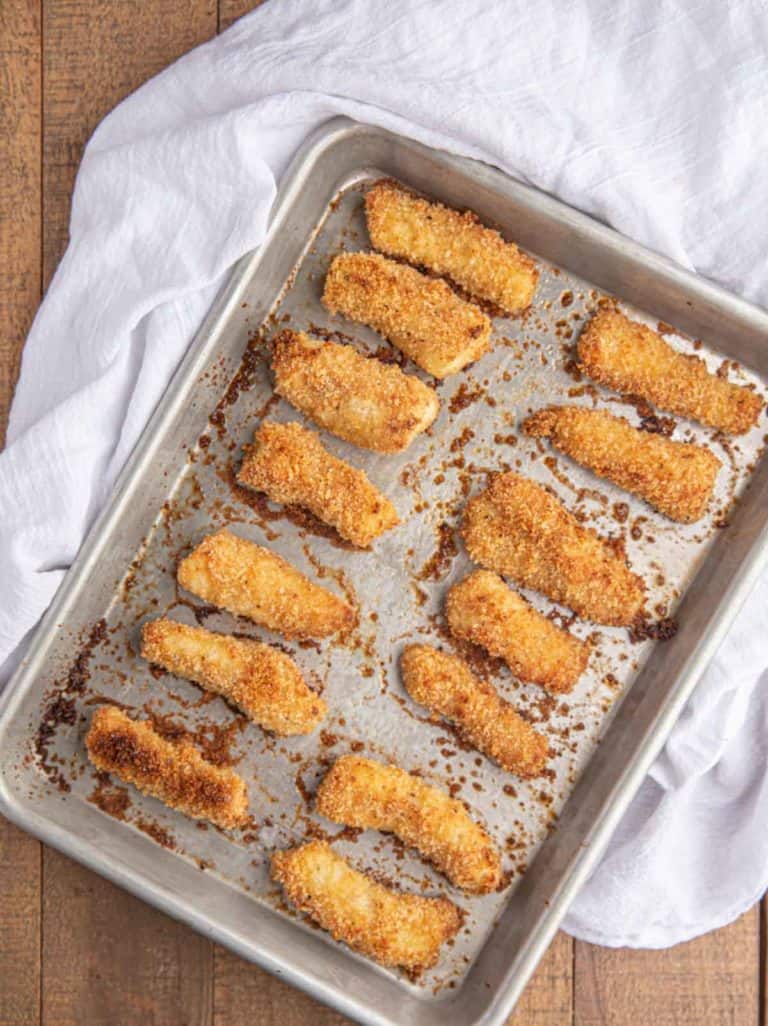 FISH STICKS
These kid-friendly fish fillets are perfect in a dipping sauce or eaten plain. From start to finish, they have a cook time of 20 minutes and are worth the very short wait.
You don't have to eat fish sticks from a box anymore (not that they aren't convenient.) This recipe takes 20 minutes from start to finish and goes great with all sorts of dipping sauces, from dijon mustard and lemon juice to homemade tartar sauce.
How to Make Fish Sticks
Start by mixing together the first five ingredients in a shallow bowl (a shallow bowl makes coating the fish easier). Crack open the eggs and mix them in a second bowl, then blend the Panko and breadcrumbs in a third. Homemade fish sticks are worth the extra dishes, we promise.
Make sure that your fish is dry by blotting it on both sides with a paper towel, and then dip it in each of the bowls, starting with the flour, then the egg mixture, then the breadcrumbs. Once your fish is thoroughly coated, place it on a baking sheet in a single layer and, very importantly, mist with vegetable oil spray. Then kick back for 12 to 15 minutes and relax.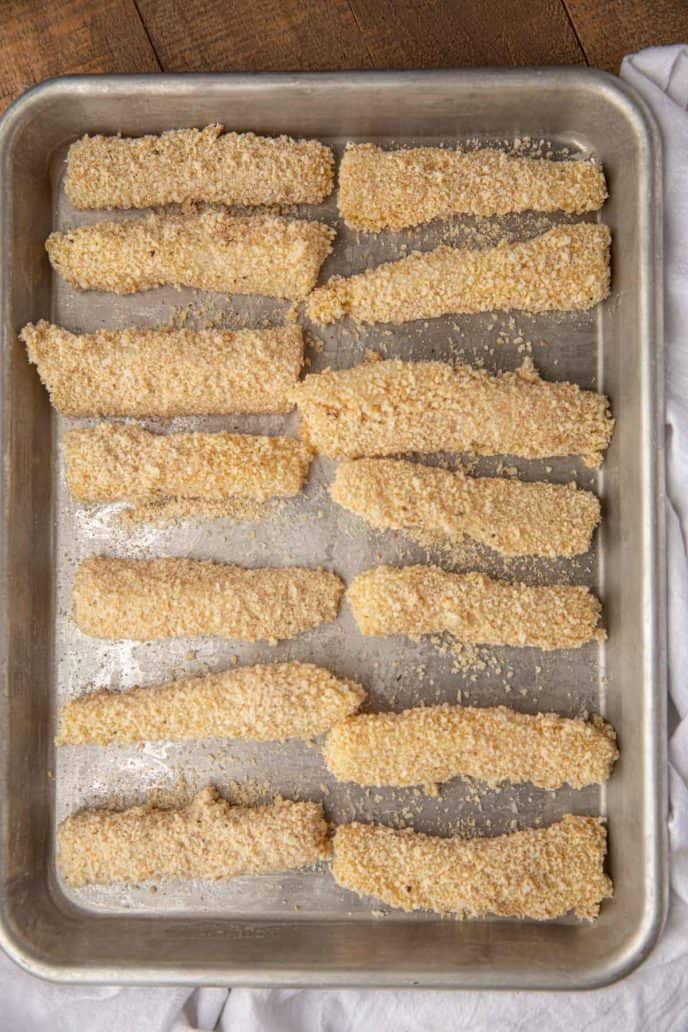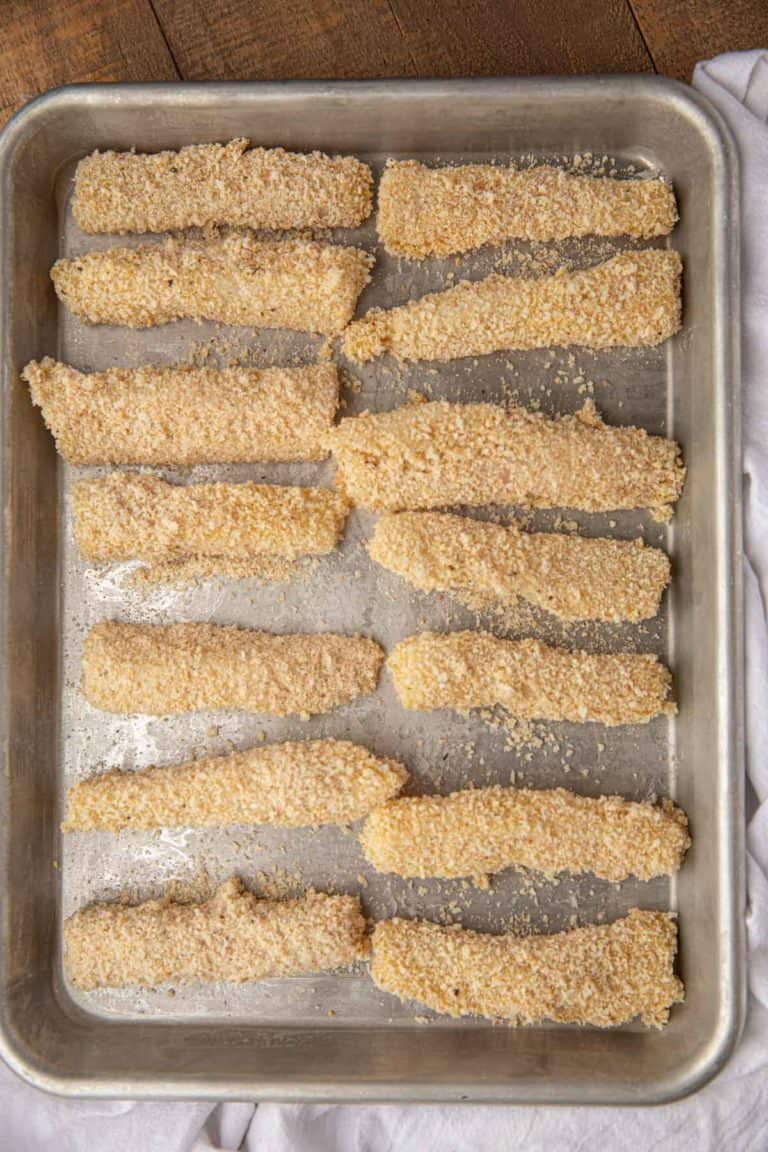 Create a free account to

Save Recipes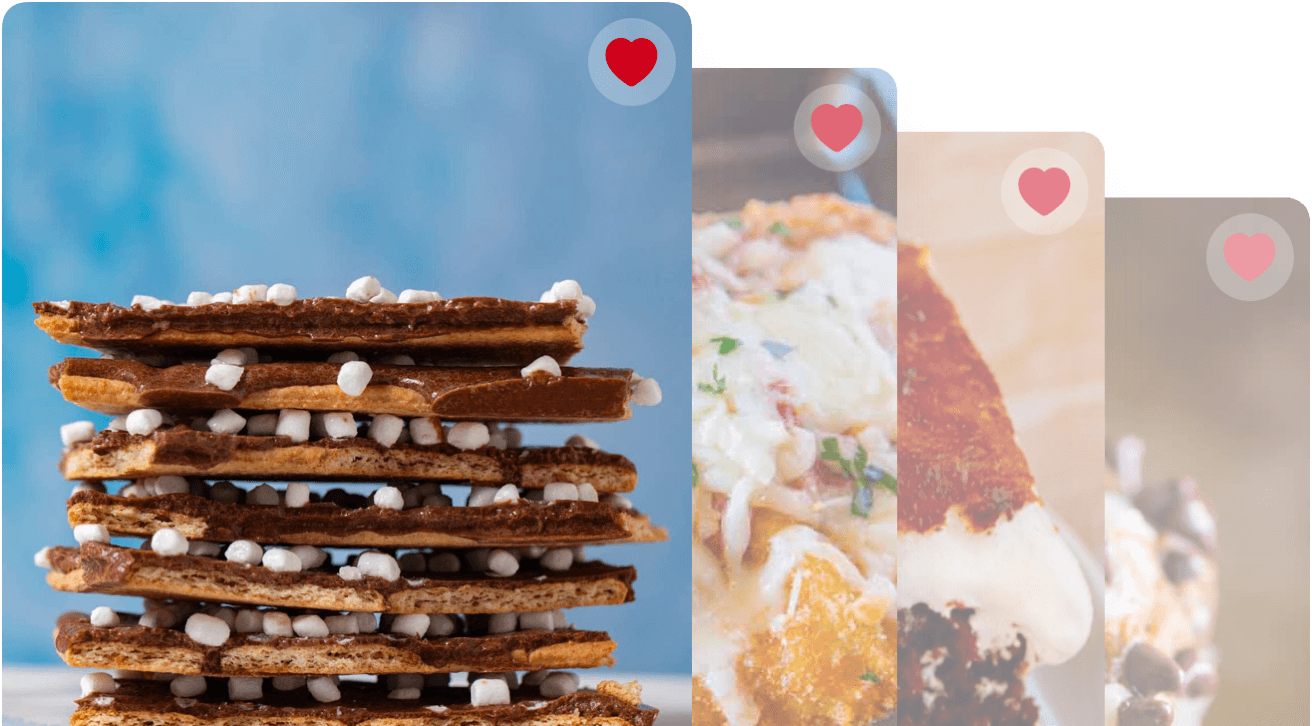 WHAT FISH IS USED FOR FISH STICKS
White fish is traditionally used to make fish sticks. White fish includes pollock, cod and haddock, and all of these fish are perfect because they cook quickly and have a naturally mild flavor.
Clarence Birdseye, one of the big names in frozen food, tried to switch out cod for herring after WWII. Birdseye had people try the herring fish sticks and cod fish sticks in a blind taste test. He was shocked that everyone preferred the cod, which he thought was the blander of the two fish. Well, Clarence, you just can't mess with tradition.
CAN FISH STICKS BE HEALTHY?
The problem is with the oil used in the breading, as well as in the cooking process. Since we are baking this recipe, it is healthier for you than fried fish sticks. You still get the golden brown crispness without the heavy oil. White fish has less fat in it than other types of meat while still being high in omega-3 fatty acids, which is good news for people who would love to cook fish every day if they could.
WHAT CAN YOU SERVE WITH FISH STICKS?
HOW DO I KNOW THEY'RE DONE?
Even if the fish looks cooked through, it is always best to check with a thermometer. According to the USDA's website, fish should be safely cooked through at 145 degrees F (62.8 degrees C). With fish, it is especially important to make sure that the temperature is right due to how sick you will be if you don't.
Once you've determined that the internal temperature is safe, you can test the texture of the fish by pressing on it gently with a fork. If the flesh flakes and the liquid that comes out is opaque, then the texture is right.
OTHER FLOURS
We used all-purpose flour for our fish sticks, but if you have an intolerance to gluten you can try this recipe with flour substitutes, such as instant oats. Pulverize them before using, and they will cook similarly to all-purpose flour, no adjustment to time or temperature needed.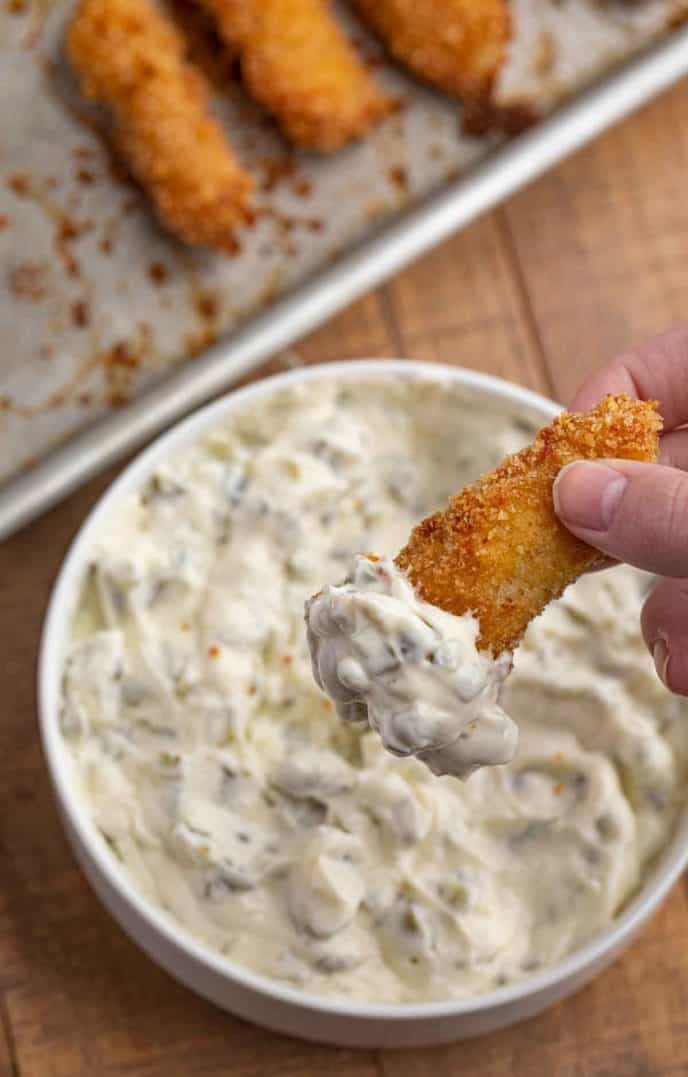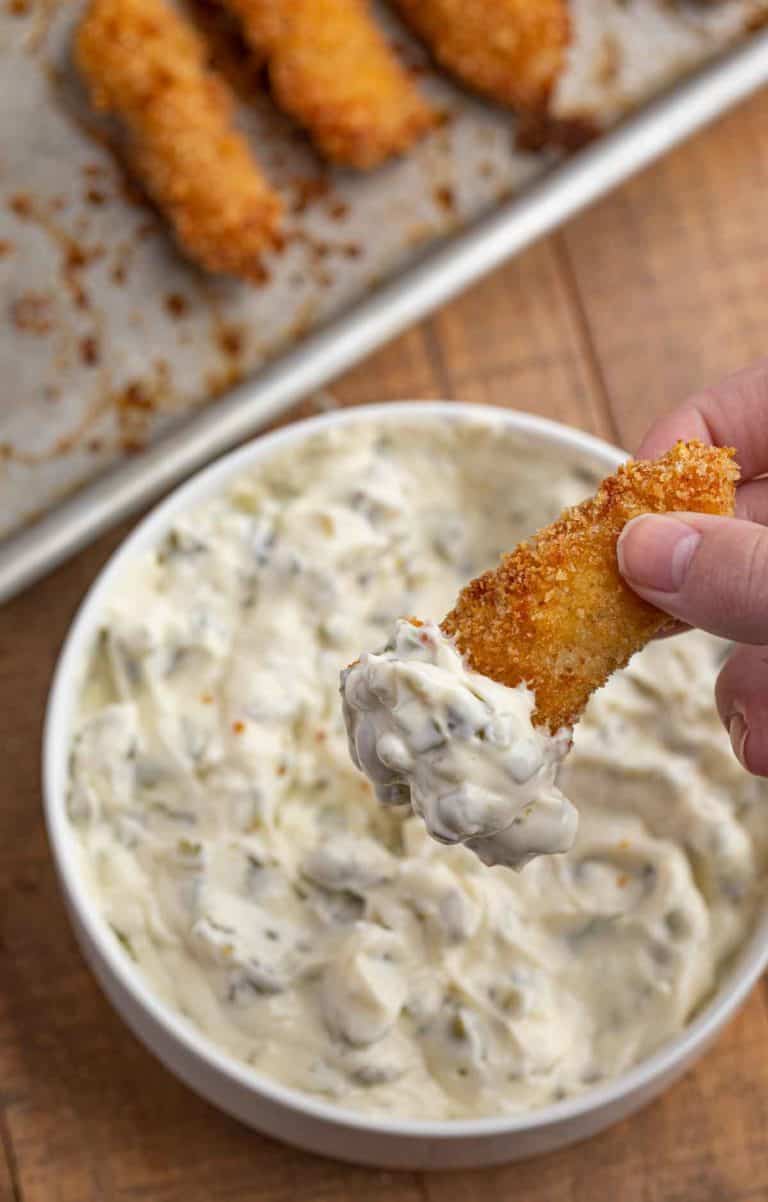 Ingredients
1

cup

flour

1

teaspoon

kosher salt

1/2

teaspoon

coarse ground black pepper

1/2

teaspoon

paprika

1/2

teaspoon

garlic powder

2

large

eggs

1

cup

panko bread crumbs

1

cup

bread crumbs

1

pound

cod fillets cut into 1-inch strips
Instructions
Preheat oven to 400 degrees F.

Mix flour with salt, pepper, paprika and garlic powder.

Beat eggs in a second bowl.

Mix panko and breadcrumbs in a third bowl.

Coat fish in flour mixture then in eggs then in breadcrumbs and place on baking sheet.

Spray with vegetable oil spray and bake for 12-15 minutes until browned.
Nutrition
Calories:
215
kcal
|
Carbohydrates:
37
g
|
Protein:
8
g
|
Fat:
4
g
|
Saturated Fat:
1
g
|
Cholesterol:
70
mg
|
Sodium:
620
mg
|
Potassium:
103
mg
|
Fiber:
2
g
|
Sugar:
2
g
|
Vitamin A:
185
IU
|
Calcium:
65
mg
|
Iron:
2.7
mg