Easy Baked Fish is a super quick recipe with cod filets, garlic salt, and paprika. Ready in under 30 minutes with an amazing, refreshing flavor.
This simple Baked Fish recipe makes a Delicious Dinner to enjoy with the whole family. Serve it up with your favorite refreshing sides like Corn Salad, Crispy Potatoes, and Roasted Green Beans.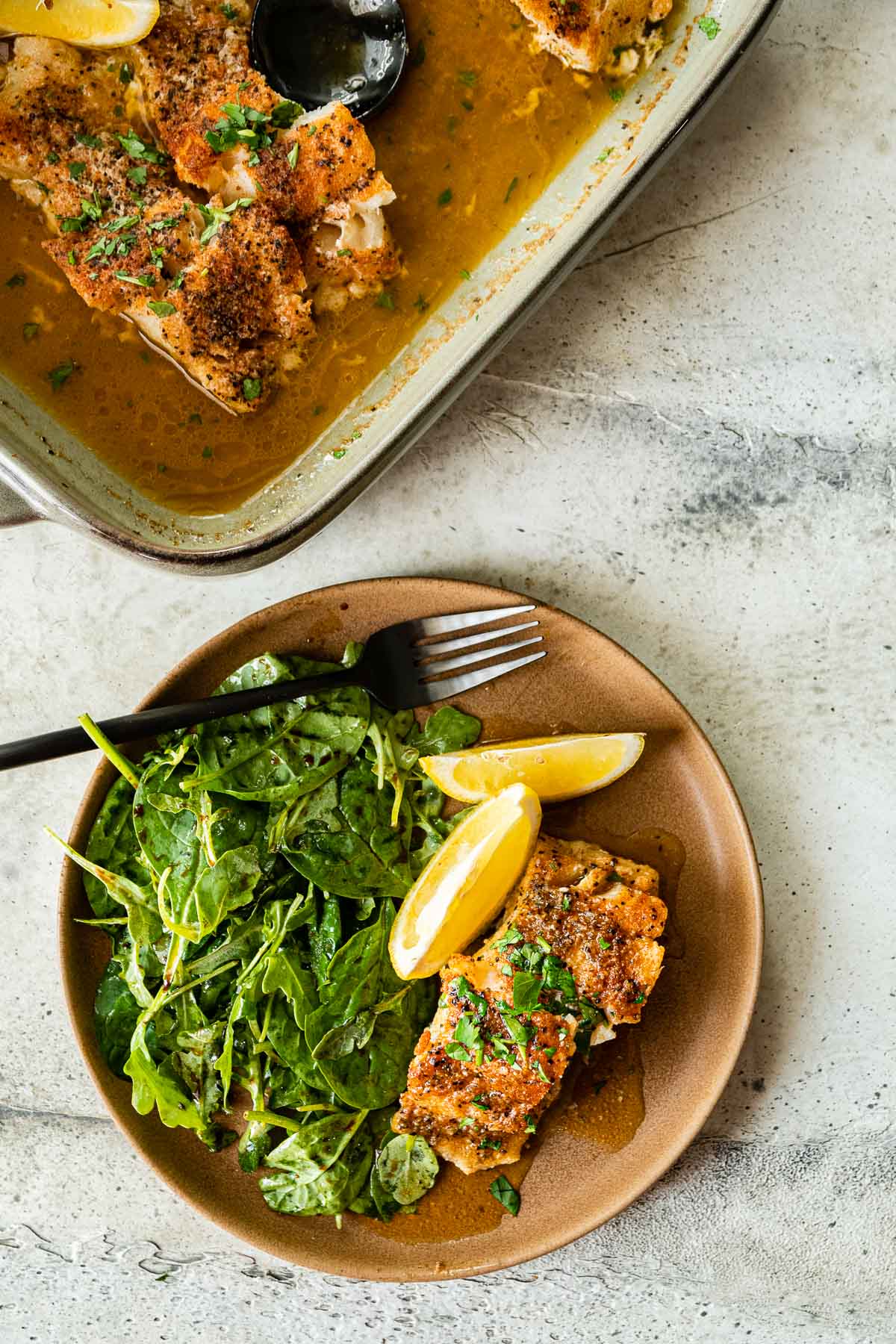 Oven-baked fish fillets are an easy way to enjoy flavorful and juicy fish any time you want. You can prep the recipe in just minutes, and then the cooking time is only another 15 minutes. It's the perfect dish that you can throw together on any busy weeknight.
Even if you aren't the hugest seafood fan, this Baked Cod Fish just might make you one. Not only is it super easy to make, but the simple flavors of paprika and garlic salt blend perfectly with the mild cod. By covering the dish in aluminum foil, all the flavors get trapped and soak into the cod for a rich, buttery, and amazing flavor. Serve it up with a dash of lemon juice and Homemade Tartar Sauce to finish.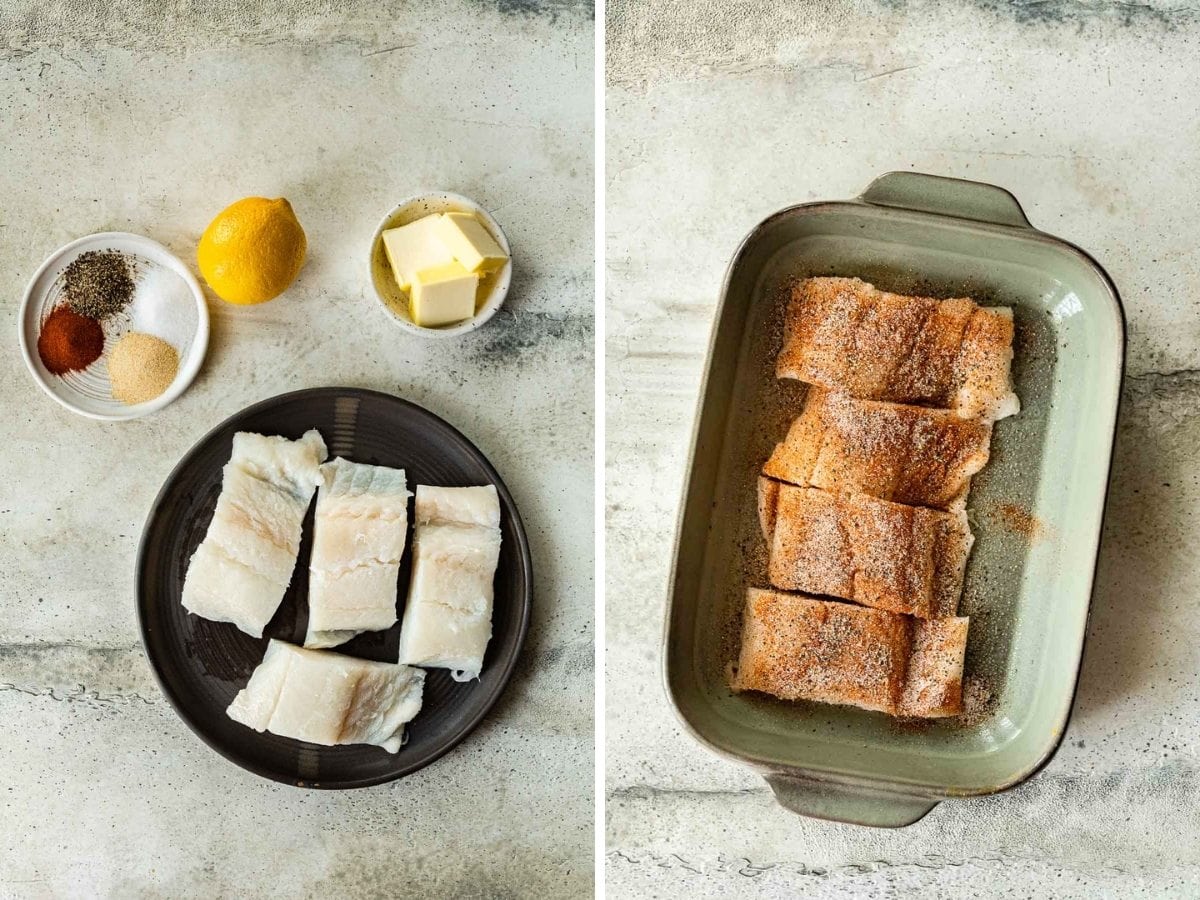 Baked Cod is also a great healthy addition to your diet. Lean meat gives you healthy protein, vitamins, minerals, and some omega-3s. You get all of that in a 20-minute meal that also tastes amazing!
More Seafood Recipes
Frequently Asked Questions About Easy Baked Fish
What does it mean for a fish to flake when it's done?
Fish will flake when it is finished cooking. You can use a fork to test it. Just use the tines to test the thickest part of the fish. Twist the fork slightly and you will see it flake or separate very easily. Cod will also look much more white than it did before it was cooked.
Do I need to flip cod while baking?
Since you are baking this cod in the oven you do not need to flip it while cooking. The heat in the oven will surround the fish and cook it on both sides.
Should I cook cod with the skin on or off?
You can eat cod with the skin on, just make sure it has been properly cleaned and the scales removed. However, the best way to eat skin on fish is to prepare it in a pan and make the skin crispy. This oven baked recipe will be best for cod with the skin removed.
Key Ingredients
Cod Fillets: Cod are great fish fillets for baking. It has a mildly sweet taste and easily bakes to a tender flakey texture. Plus, the mellow flavor is easy to season with a variety of different seasonings to experiment with the flavor you want. 
Butter: The butter is melted and then spooned over the fillets. It helps keep the meat juicy and tender as it bakes.
Seasonings: For a simple but flavor-packed recipe, the fish is seasoned with black pepper, garlic salt, and just a little paprika.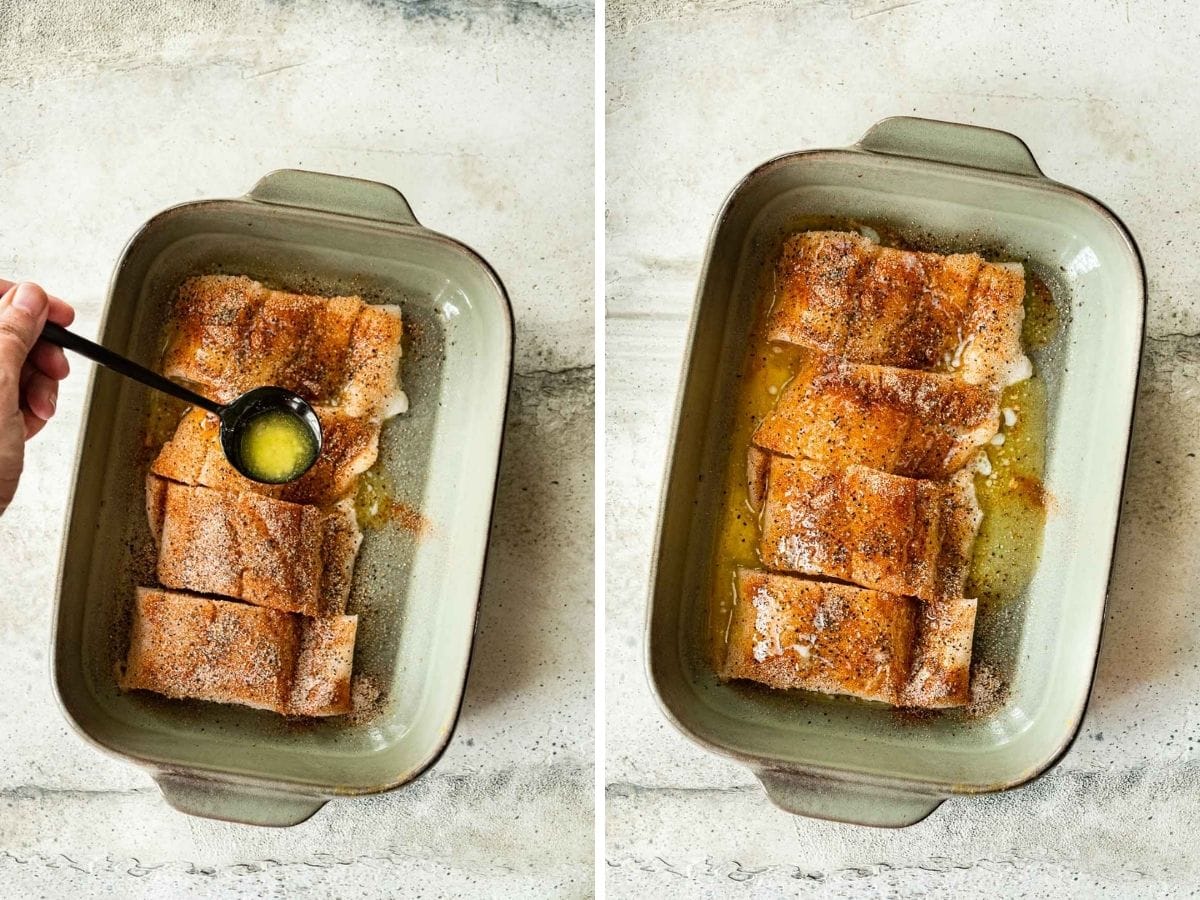 How to Make Easy Baked Fish
Prep Time: To get the recipe prepped, start by preheating the oven to 400 degrees and spraying a 9×13 inch rimmed baking sheet with nonstick cooking spray. 
Seasoning: Sprinkle a little bit of garlic salt, black pepper, and paprika over each of the fillets. Lay the seasoned fish on the prepared baking dish and spoon melted butter over each one.
Baking Time: Cover the baking dish in aluminum foil to trap the moisture as it cooks. Then put the dish in the preheated oven for 15-18 minutes. You want to keep cooking until the fish flakes when you press down gently on it. To make sure it's a safe temperature, you can double-check with a meat thermometer that it's at least 145 degrees. Top the dish off with lemon wedges to finish.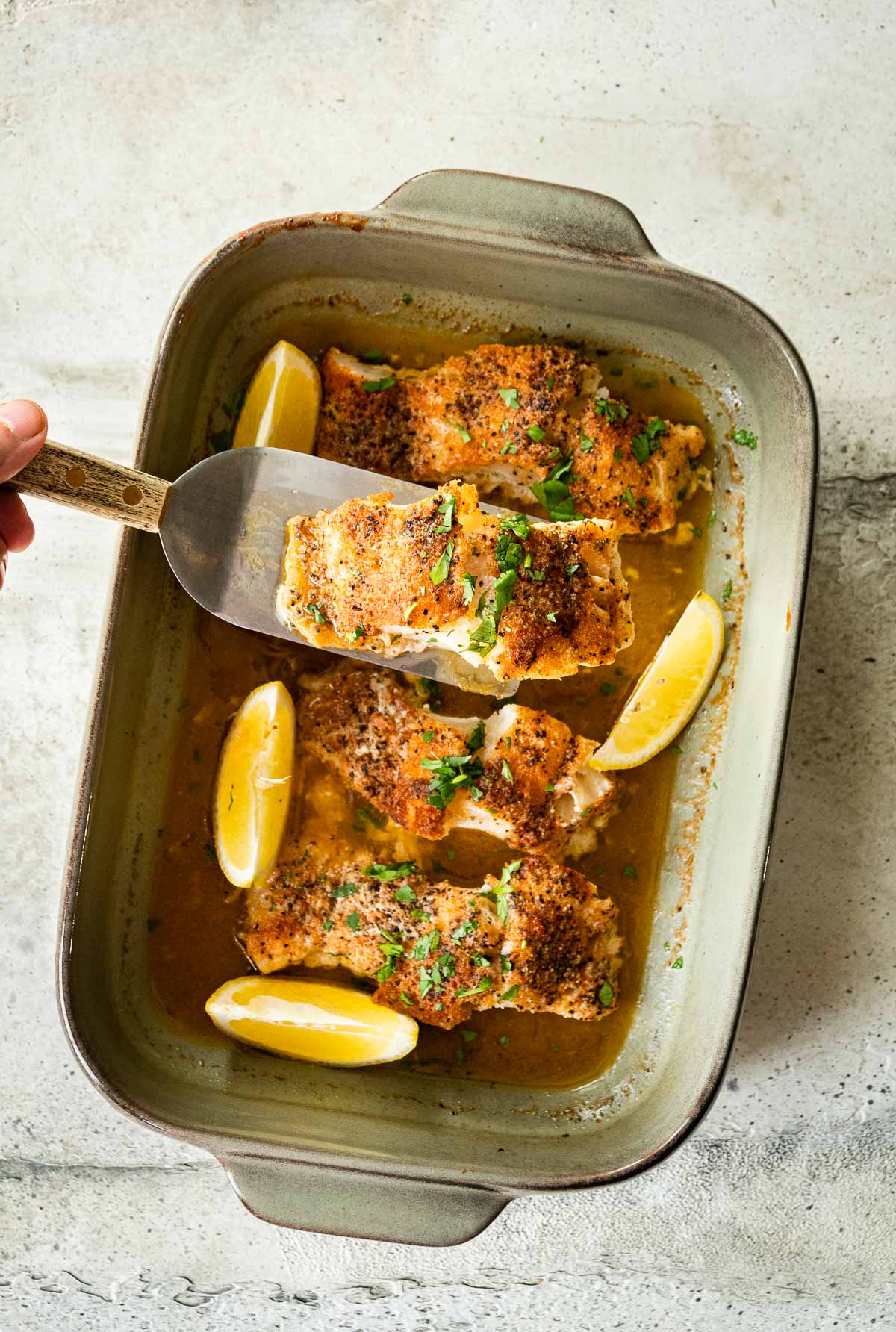 Create a free account to Save Recipes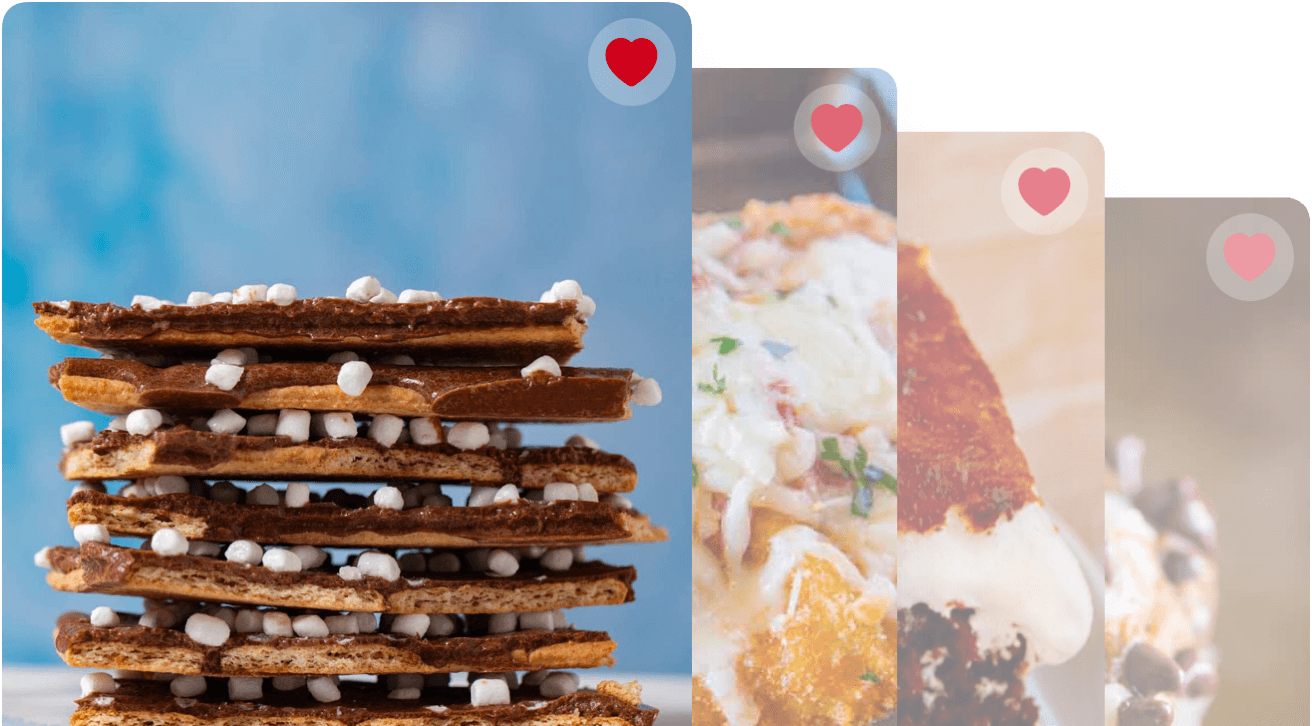 Variations
Crumb Coating: To give the Baked Fish a crispy outer layer, you can add a buttery breadcrumb coating. To make the coating mixture, combine 1 ½ cups of panko bread crumbs with 2 tablespoons of melted butter. Roll the seasoned and buttered fish in the bread crumb mixture. Spray the fillets with nonstick cooking spray and bake covered. 
Seasonings: There are lots of simple seasonings that you can sprinkle over the fish. Fresh parsley, thyme, red pepper flakes, onion powder, minced garlic cloves, or cilantro would all taste great.
Creamy Lemon Sauce: Along with the lemon wedge garnishes, you can serve the dish with a simple sauce for bright lemon flavor. To make the lemon cream sauce, add ¼ cup heavy cream, 1 tablespoon mustard, 1 ½ tablespoon lemon juice, and salt and pepper to taste to a saucepan. Whisk together, and bring to a simmer for 8-10 minutes. Then serve the Baked Fish with lemon sauce. 
Serving Ideas for Easy Baked Fish
You can serve this fish up with some delicious sides for a quick and easy dinner. However, you could also prep the fish to make another dish, or use it for a quick lunch. Here are a few ideas to get your creativity flowing.
Tacos or Burritos: Use this Baked Fish recipe to make some delicious tacos or a burrito. Top tacos with slaw and some salsa, along with a lime wedge. You can fill a burrito with rice, black beans, salsa, sour cream, or guacamole. The possibilities are endless for the toppings and fillings of your choice.
Bowls: Baked Fish bowls would make an outstanding lunch option. Fill the bowl with rice, potatoes, or go with some riced or mashed cauliflower for a healthy veggie base. Top it off with some fresh leafy greens, or a mix of veggies, pico de gallo, or corn salsa.
Sandwiches: Make some tasty Baked Fish sandwiches for any lunch or dinner. Add some tartar sauce to a soft brioche bun, then top the fish with crunchy lettuce or veggies.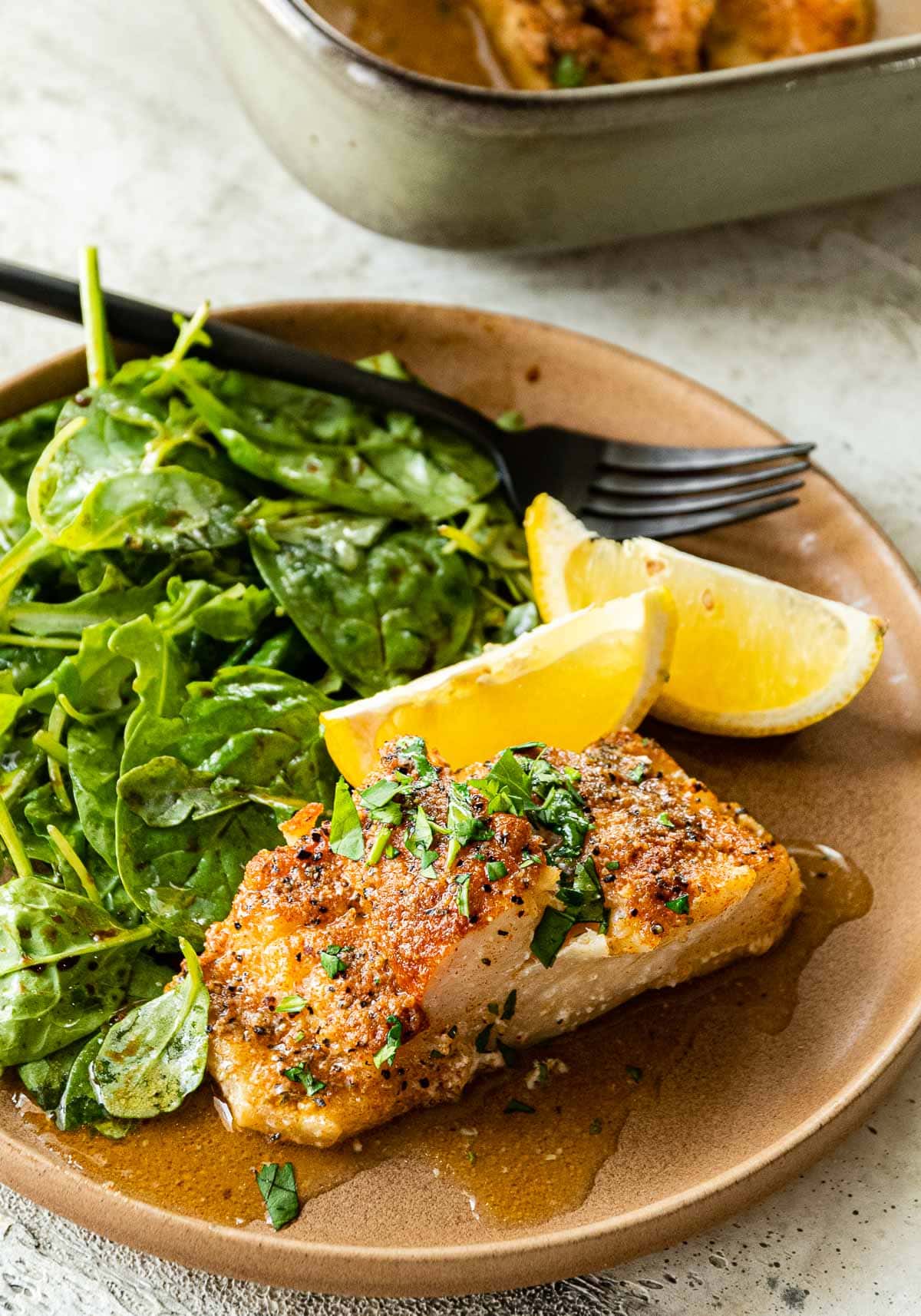 Side Dishes to Serve with Baked Fish
How to Store
Serve: You shouldn't leave cooked fish filets at room temperature for more than 2 hours.
Store: Let the codfish recipe cool down before you wrap in leftovers and store them in an airtight container.
Freeze: You can also freeze Baked Fish for up to 6 months. Just make sure it is carefully sealed before storing it.


Ingredients
1 1/2

pounds

cod

, 4 filets

1

teaspoon

garlic salt

1/2

teaspoon

coarse ground black pepper

1/2

teaspoon

paprika

4

tablespoons

unsalted butter

1

lemon

, cut into wedges
Instructions
Preheat oven to 400 degrees and spray a 9×13 baking dish with vegetable oil spray.

Season fish with garlic salt, black pepper, and paprika.

Spoon melted butter over the fish.

Cover with foil and bake for

15-18 minutes

.

Serve with lemon wedges.
Nutrition
Calories:
243
kcal
|
Carbohydrates:
1
g
|
Protein:
31
g
|
Fat:
13
g
|
Saturated Fat:
7
g
|
Polyunsaturated Fat:
1
g
|
Monounsaturated Fat:
3
g
|
Trans Fat:
1
g
|
Cholesterol:
103
mg
|
Sodium:
675
mg
|
Potassium:
723
mg
|
Fiber:
1
g
|
Sugar:
1
g
|
Vitamin A:
543
IU
|
Vitamin C:
5
mg
|
Calcium:
33
mg
|
Iron:
1
mg