Easy Shrimp Boil recipe with andouille sausage, corn and potatoes. A seafood boil is the perfect dish for a summer gathering! Made with just a little prep and in one pot, this shrimp boil is a hit!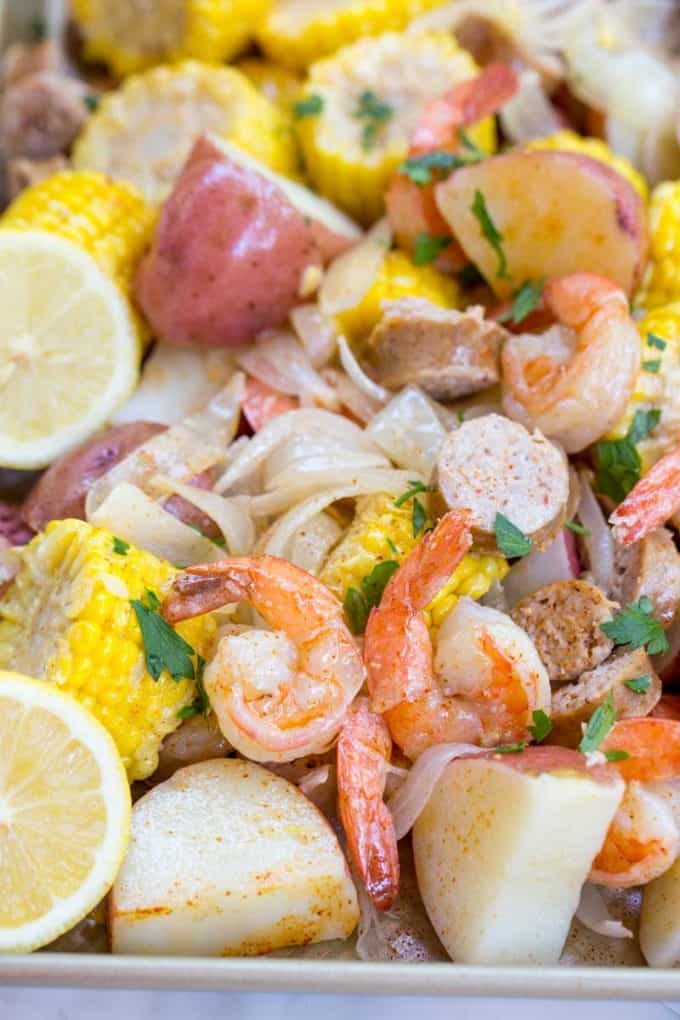 Shrimp Boil – The Perfect Summer Recipe!
My Easy Shrimp Boil recipe is one I have been itching to share with you all this summer. I am pretty thrilled that with all the craziness of summer and all the times I have made this seafood boil for clients this year, that I finally got a chance to make one for us (and you!) today. I was approached by Hefty® to feature their Hefty® Ultra Strong™ Trash Bags in this post and I totally jumped on it even though it isn't a normal ingredient for a recipe because I LOVE using trash bags for Easy Shrimp Boil events.
Seafood Boils and Extra Trash Bags
No joke, I know you're thinking, "A trash bag in a recipe?" but no, they're a huge part of the experience which I wax poetic about below. Here is something to remember about parties, shrimp boils, bbqs, catered box lunches, etc. that will save you from having a huge mess…. give party-goers an EASY way to get rid of their own garbage, and you'll avoid the piles of garbage everywhere that no one wants in the photos.
For the Easy Shrimp Boil I use about 2-3 times the bags as a normal event because of the nature of the shells and cobs it can add up. For a normal picnic event, you can either have a ton of garbage cans everywhere (not super pretty) or you can discreetly tape to the edges of the table a couple of bags. Then people can easily reach to the side to clear off the mess and you can enjoy your party WAY more.
Shrimp Boil Seasoning
Ok ok to the Easy Shrimp Boil recipe. This recipe does not use a premade box or bag of shrimp/seafood boil mix. I skip it because the shrimp boil seasoning mix is pretty easy to make if you have a spice drawer that you want to give a bit more use. If you look at the recipe and you're like, "there are three spices here I do not have" then don't go out and buy the spices just for this recipe. The pre-made bags/boxes are only a couple of dollars and easy enough to toss into the pot, but definitely still include the lemon, garlic, onions and Kosher Salt for this shrimp boil.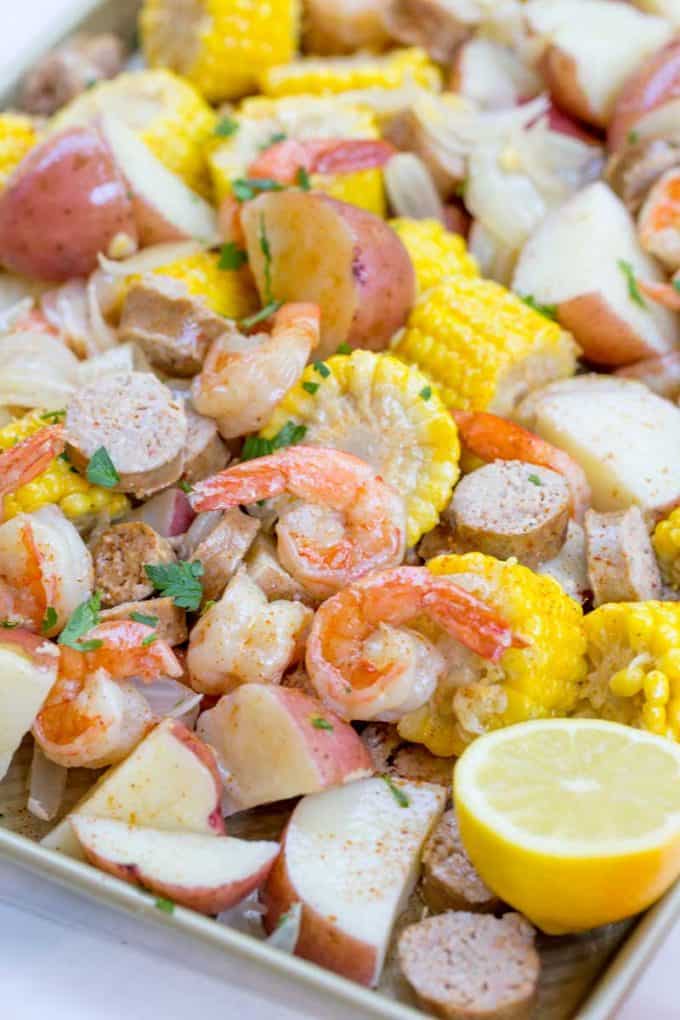 Easy Shrimp Boil recipe with andouille sausage, corn and potatoes is the perfect summer recipe to enjoy the last few weeks of summer before life goes back to normal and most meals aren't served on giant trays and newspaper.
Every Shrimp Boil Needs Hefty® Trash Bags
The Hefty® Ultra Strong™ trash bags are a huge help to the Easy Shrimp Boil recipe both in the prep and in the cleanup. With so much shrimp, sausage, potato and corn chopping I used a bag to contain all the food while the water was boiling.
Shrimp Boil Trash Tip
This is a trick we have been using for years with outdoor boils and bbq parties: tape down trash bags between guests and keep paper towels on the table with a water sprayer. You would be surprised how quickly the table would get covered in bones, shells, cob pieces and more if you don't have a quick and easy trash option. Your guests don't necessarily want to end the conversation to get up and discard trash and with these citrus-scented bags, it isn't even unpleasant to sit next to the bag. This trick always used to have clients saying "I need to remember this!!"
Side note, want to impress a party guest? Make my One Minute Chocolate Ganache recipe and watch your guests faces completely light up as you mix 2 ingredients and one minute in the microwave and make the best ganache they've ever seen. True story, I used to show every dinner party with a chocolate dessert this trick and there has been countless videos and photographs of the "magic" taken.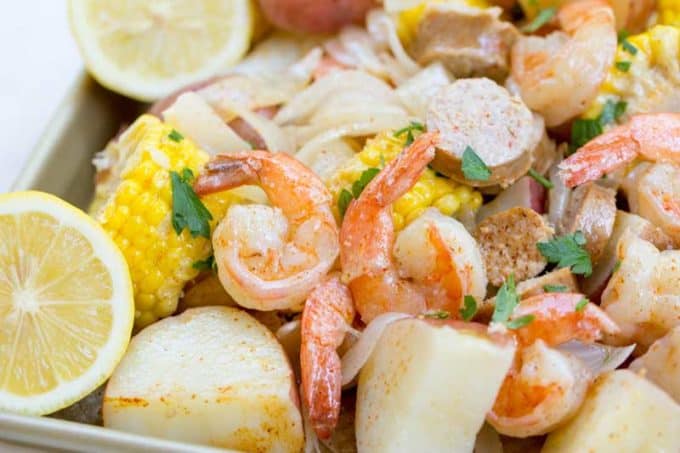 Recipe
Save

Recipe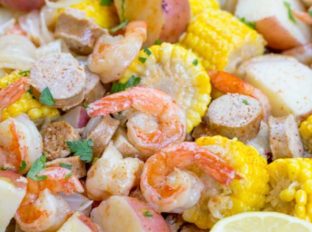 Easy Shrimp Boil
Yield:

6

servings

Prep Time:

30

minutes

Cook Time:

30

minutes

Total Time:

1

hour

Course: Main
Cuisine: American
Author: Dinner, then Dessert
Easy Shrimp Boil recipe with andouille sausage, corn and potatoes is the perfect summer recipe to enjoy and its made with a little prep and in just one pot.
Ingredients
1

lemon cut in half

1

large yellow onion

, cut into 8 wedges

3

bay leaves

8

cloves

garlic

, crushed

2

tablespoons

kosher salt

1

tablespoon

coriander seeds

4

teaspoons

yellow mustard seeds

2

teaspoons

dill seeds

2

teaspoons

whole allspice

1

teaspoon

black peppercorns

1

teaspoon

crushed red pepper flakes

1/2

teaspoon

cayenne pepper

1

pound

red potatoes

, cut into quarters

4

ears corn

, cut into three inch sections

1 1/4

pounds

large shrimp

, unpeeled

1

pound

cooked andouille sausage

, sliced

4

cups

of ice cubes

3

lemons

, cut in half for serving

Parsley for garnish

, optional

hot sauce

, optional
Instructions
Note: click on times in the instructions to start a kitchen timer while cooking.
Combine first 12 ingredients (through cayenne pepper) and 8 cups water in a large pot (preferably with a strainer insert).

Bring the mixture to a boil.

Reduce heat to medium and simmer for 5 minutes.

Add the potatoes, and corn and simmer for 10 minutes.

Remove them, along with the onions to a pan and add in the shrimp and sausage until the shrimp are just cooked through, about 3 minutes.

Turn off heat, add 4 cups ice cubes, and let the pot sit for 5 minutes.

Remove shrimp and sausage and combine with the corn and potatoes and onions on a baking sheet.

Serve with hot sauce on the side (optional) and halved lemons.
Recipe Notes
This post contains affiliate links.
Recipe adapted from Bon Appetit.
Nutrition Information
Yield: 6 servings, Amount per serving: calories
All images and text © for Dinner, then Dessert.
Save

Recipe
This is a sponsored post written by me on behalf of Hefty.