BBQ Cajun Shrimp is a New Orleans favorite made with butter, lemon, tomatoes and spices for the perfect messy delicious shrimp dish you'll crave all summer long!
We love easy shrimp recipes like Kung Pao Shrimp, Easy Honey Garlic Shrimp and Spicy Louisiana Shrimp Dip.
BBQ Cajun Shrimp
BBQ Cajun Shrimp, bring home a bit of New Orleans flavor with the spices, garlic, Worcestershire sauce and lemon butter spooned over some crispy baguette slices. You can also substitute the spices for a pre-made cajun spice mix if you'd like too, but I still recommend adding all the fresh garlic even if your spice blend contains garlic powder.
We love Cajun flavors, like Easy Cajun Jambalaya Pasta and Easy Jambalaya (Chicken, Shrimp and Andouille) so making a bbq shrimp was the a no brainer for us. We love slicing up some fresh bread, scooping piles of shrimp on top then spooning over all the delicious butter.
I promise you, this butter. There are NO WORDS. Just drool.
It's so full of flavor, and for all the additional ingredients that get added to the mix it still is distinctly a butter flavor. So rich, spicy, lemon and garlic flavored. The shrimp come alive with these flavors.

Why melt the butter so slowly?
We literally melt the butter so slowly that we melt away the tomatoes and cook them down until the butter is a beautiful shade of red from the tomatoes and paprika. Cooking it so slowly allows all the spices to really flavor the butter without allowing the butter to brown/burn.
How do you make homemade Cajun seasoning?
1/2 teaspoon salt
1/2 teaspoon garlic powder
1/2 teaspoon paprika
1/4 teaspoon ground black pepper
1/2 teaspoon onion powder
1/4 teaspoon cayenne pepper
1/4 teaspoons dried oregano
1/4 teaspoons dried thyme
Mix all the ingredients together and store in a covered container for up to three months
This is a great mix to use if you're looking to ditch the store bought mixes. It uses spices you probably already have in your pantry.
What makes the flavors so authentically New Orleans?
The reason we look to the south for this recipe (which is nothing like a typical "BBQ Shrimp") is a butter sauce with Worcestershire sauce and lemon juice. You can be creative about the cajun seasonings you want to use since you may have a jar of this in your cupboard.
New Orleans recipes are not shy about cooking with fats. In jambalaya they use butter and sausage fat. Many of the dishes are deep fried like po' boys. So cooking a pound and a half of shrimp with a cup of butter isn't crazy for those from the region.
You can of course edit the sauce as you'd like. But if you cut back the butter too much you are going to lose the magic of this sauce. I'd recommend making an alternate shrimp recipe if you lose more than half the butter. The flavors are just too different.
Second, don't skip the Worcestershire sauce though, it is the classic flavor of the dish. I know many people will substitute soy sauce for Worcestershire sauce, I promise you it is not a good idea.
BBQ Shrimp In the Oven:
To a foil lined sheet tray add all the ingredients and cook at 425 degrees for 8-10 minutes.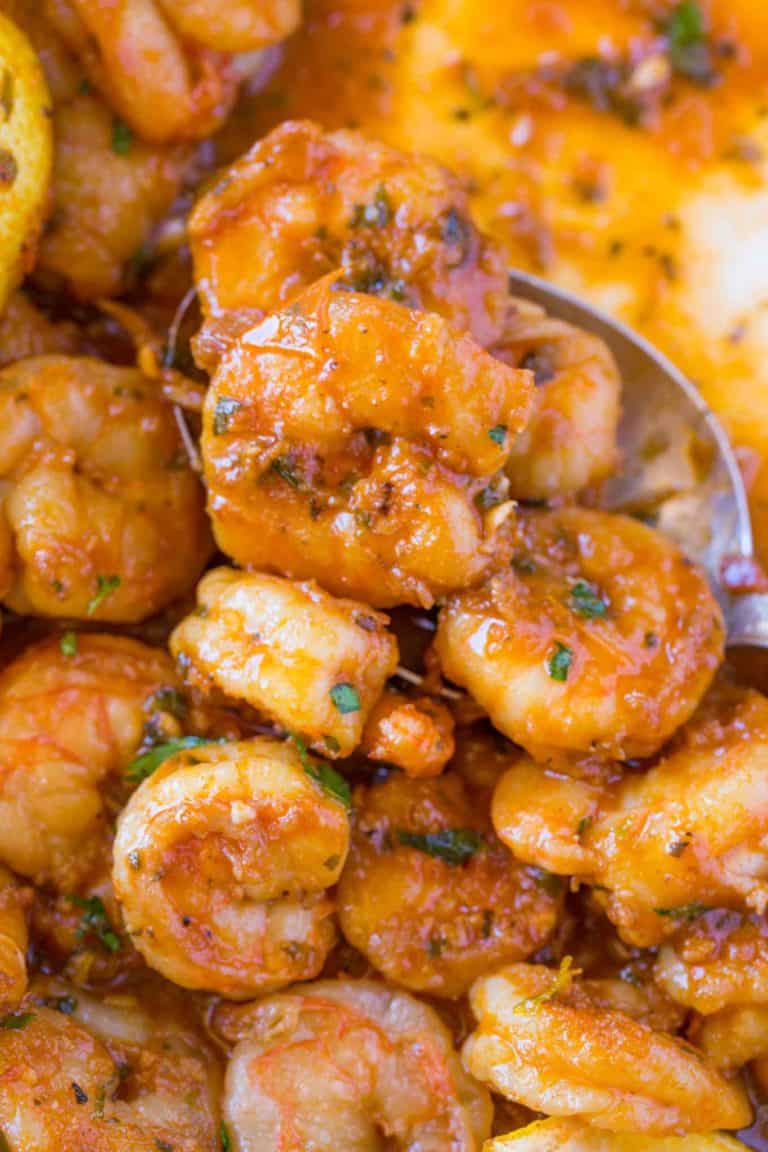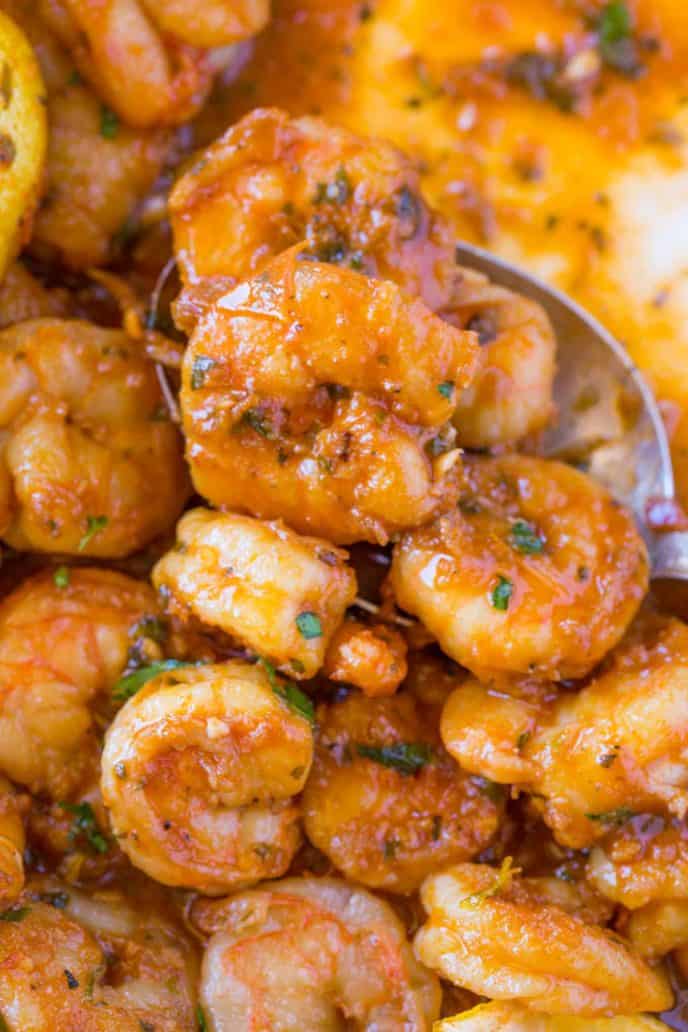 Recipe
Save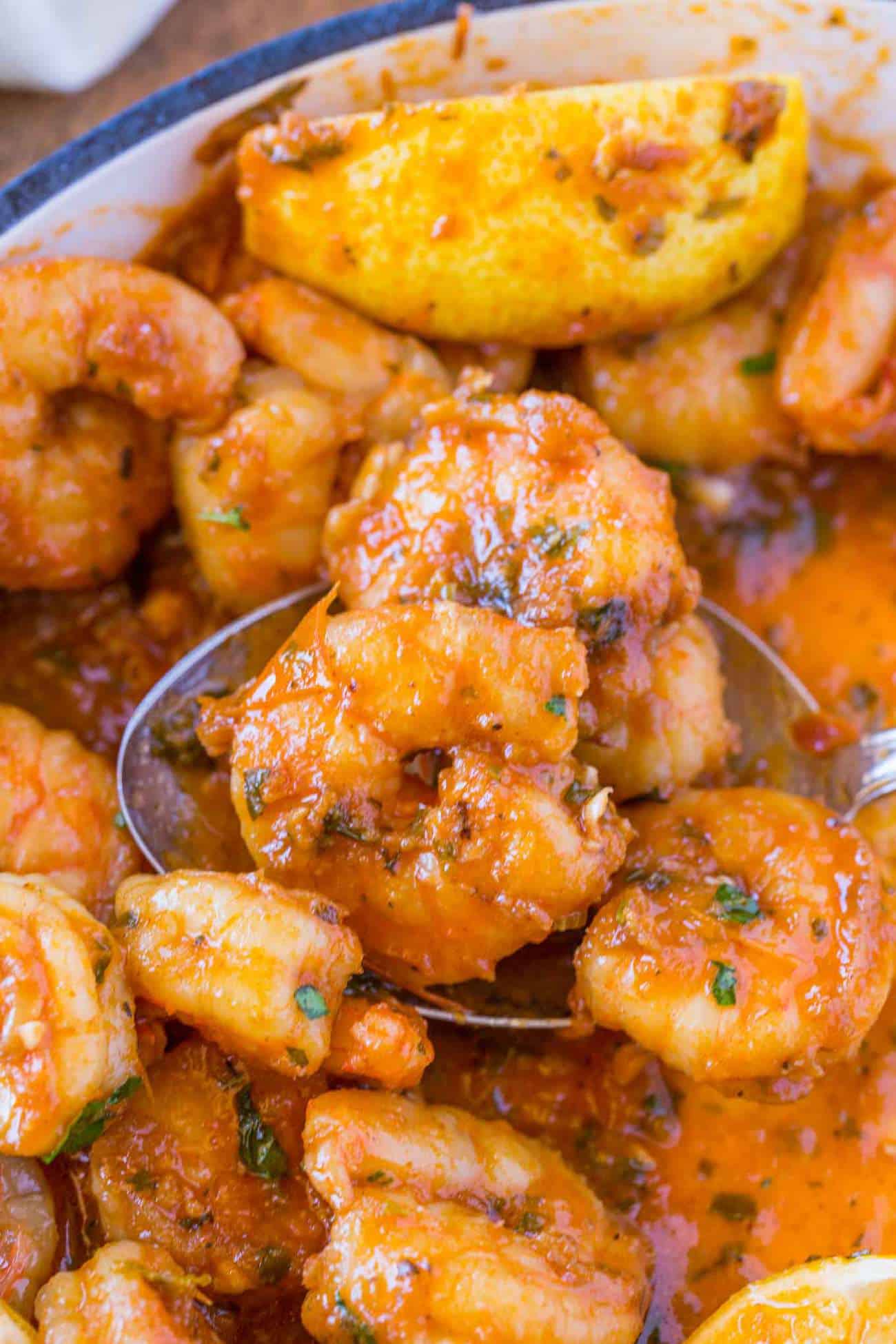 BBQ Cajun Shrimp
Yield:

4

Servings

Prep Time:

10

minutes

Cook Time:

10

minutes

Total Time:

20

minutes

Course: Main Course
Cuisine: American
Author: Sabrina Snyder
BBQ Cajun Shrimp is a New Orleans favorite made with butter, lemon, tomatoes and spices for the perfect messy delicious shrimp dish you'll crave all summer long!
Ingredients
1

cup

unsalted butter

4

cloves

garlic

chopped

1

roma tomato

chopped finely but without seeds or juices

1

lemon

juiced

2

tablespoons

Worcestershire sauce

1

bay leaf

1

teaspoon

sweet paprika

1/4

teaspoon

dried thyme

1/4

teaspoon

cayenne pepper

2

teaspoons

Kosher salt

1/2

teaspoon

coarse ground black pepper

1 1/2

pounds

shrimp

peeled and deveined (any size works here)

parsley

chopped for garnish
Instructions
Note: click on times in the instructions to start a kitchen timer while cooking.
Add the butter to the pan on medium-low heat with the garlic, tomatoes, lemon, Worcestershire sauce, bay leaves, sweet paprika, cayenne pepper, kosher salt and black pepper and let it melt together on low heat for 5-7 minutes while the tomatoes melt.

Remove the bay leaf.

When the juice of the tomatoes seems to have evaporated you're ready to add the shrimp.

Raise the heat to medium-high and add the shrimp to the pan, cooking just 1-2 minutes on each side.

Serve with additional lemon wedges, parsley and crusty bread if desired.
Nutrition Information
Yield: 4 Servings, Amount per serving: 601 calories, Serving Size: 1 , Calories: 601g, Carbohydrates: 6g, Protein: 35g, Fat: 48g, Saturated Fat: 29g, Cholesterol: 550mg, Sodium: 2576mg, Potassium: 315mg, Fiber: 1g, Sugar: 2g, Vitamin A: 1845g, Vitamin C: 25.4g, Calcium: 282g, Iron: 4.5g
All images and text © for Dinner, then Dessert.
Keyword:
BBQ Cajun Shrimp
Save