Easy Jambalaya made with Chicken, Shrimp and Andouille Sausage in under 45 minutes. Served over rice or rice cooked with the jambalaya for one pot meal.
A somewhat classic version but a great addition to the site since you all love the Cajun Jambalaya Pasta on here so much!
 Easy One Pot Cajun Jambalaya Recipe
YES I know, I know, it is traditionally made with the rice in the pot. But here's the thing, This is a giant pot of food. And unless you are serving 8 people tonight for dinner, you're going to have leftovers. And you know what that rice is going to do to that delicious jambalaya? Dry it out.
I've cooked jambalaya the traditional way and without rice in the pot and I can tell you that I love it this way significantly more. I make my rice buttery and slightly salted before pouring this over the rice and just give it a few minutes to marry the flavors together.
I've never had a single person who has actually eaten the recipe complain once they've tried it. And leftovers are a breeze because theres still liquid in the pot!
How to reheat Jambalaya:
If cooked without rice, scoop some rice into your bowl.
Ladle the jambalaya over the rice, removing the shrimp from the bowl and setting it aside.
Cover with a wet paper towel and microwave until very hot (for us this is 3-4 minutes).
Lift the paper towel, add the shrimp into the bowl and cover the paper towel back over it and let it sit for 3-4 minutes.
The shrimp will be hot but not rubbery as it would be if you were to cook it a second time in the microwave.

What is the difference between a gumbo and jambalaya?
Gumbo is a traditional stew type dish made with a roux to thicken the sauce. Jambalaya is a traditional rice based recipe made with chicken, sausage and shrimp in one pot.
How do you make Cajun seasoning? (enough for this recipe)
½ teaspoon salt
½ teaspoon garlic powder
½ teaspoon paprika
¼ teaspoon ground black pepper
½ teaspoon onion powder
¼ teaspoon cayenne pepper
¼ teaspoons dried oregano
¼ teaspoons dried thyme
Mix all the ingredients together and store in a covered container for up to three months
What is in a jambalaya?
A good jambalaya contains chicken, sausage, and shrimp cooked with the trinity of New Orleans flavors, celery, onion and bell peppers. Thyme, oregano, cajun seasoning and tomatoes are added to flavor the dish along with rice with is traditionally cooked with the rest of the ingredients or alternately served along side it.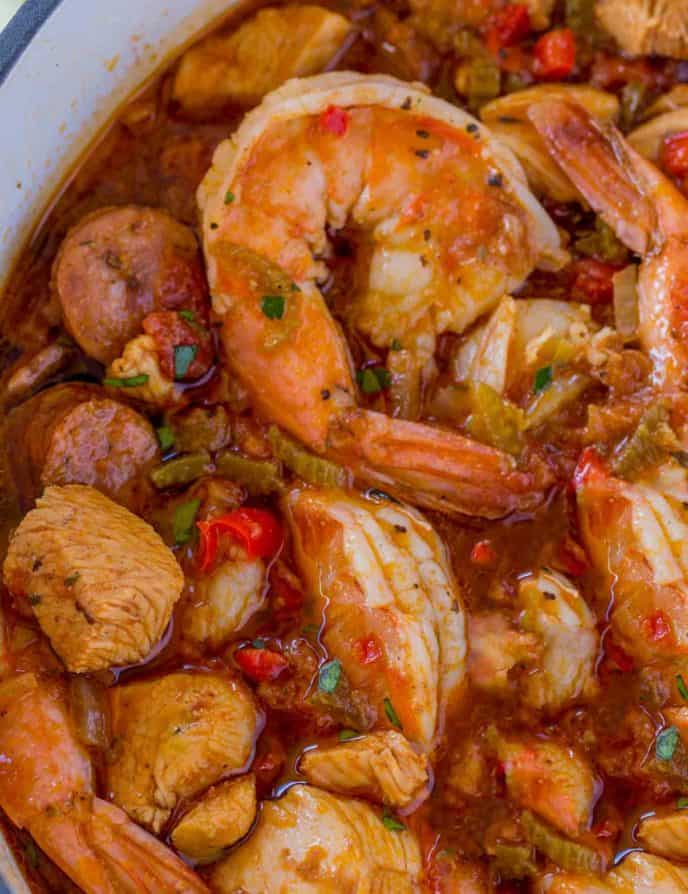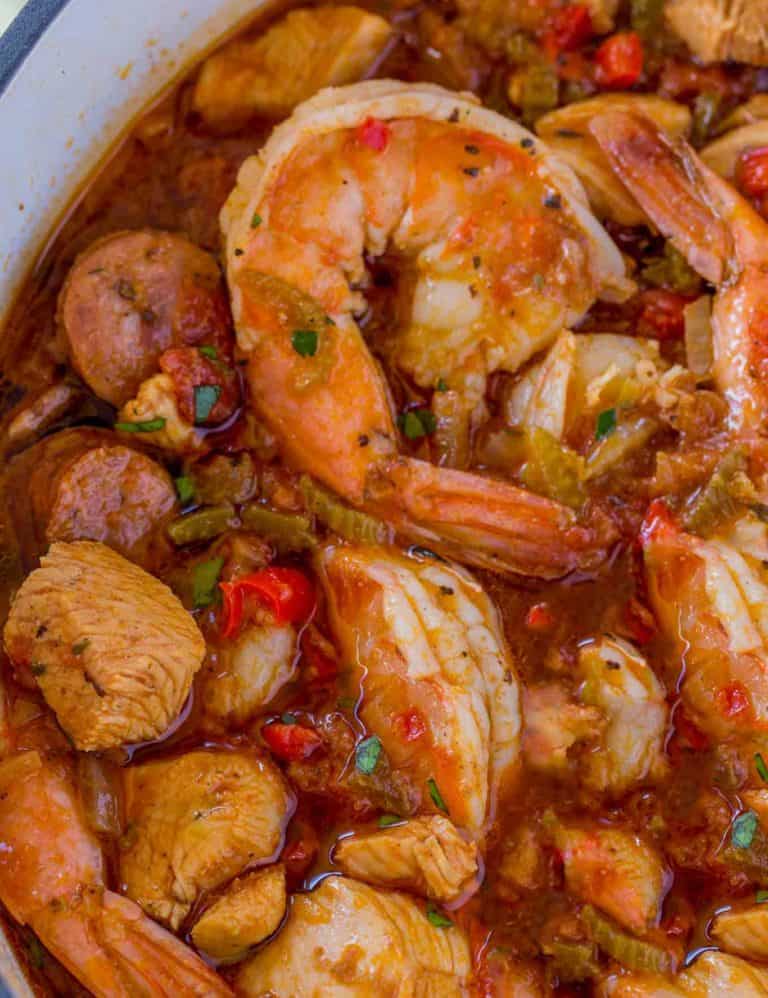 What to serve with Cajun Jambalaya?
Traditionally jambalaya is served with rice and a side of Southern Cornbread. Sometimes a Creamed Corn is served, but if serving with creamed corn I'd spice it up with some jalapeños.


Ingredients
2

tablespoons

canola oil

1

pound

andouille sausage links

, sliced

1

large onion

, chopped

1

red bell pepper

, finely chopped

2

stalks celery

, thinly sliced

2

chicken breasts

, skinless, boneless, cut into chunks

1

can (28 ounces)

diced tomatoes

2

cups

chicken broth

½

teaspoon

dried thyme

2

teaspoons

dried oregano

1

tablespoon

Cajun seasoning

½

teaspoon

cayenne pepper

1

pound

shrimp

, 13-15 count
Instructions
Add canola oil to your dutch oven on medium high heat.

Add the sausage to the pan and cook until crisp and browned.

Remove the sausage and add in the onion, bell pepper and celery.

Cook for

5-7 minutes

, stirring every few minutes.

Reduce the heat and add the chicken, tomatoes, broth, thyme, oregano, cajun seasoning and cayenne and cook, covered, for

15-20 minutes

.

Add the shrimp and sausage, stir and cook for

3-5 minutes

, uncovered, before serving.
Nutrition
Serving:
1
g
|
Calories:
165
kcal
|
Carbohydrates:
2
g
|
Protein:
24
g
|
Fat:
6
g
|
Cholesterol:
179
mg
|
Sodium:
730
mg
|
Potassium:
385
mg
|
Fiber:
1
g
|
Vitamin A:
1020
IU
|
Vitamin C:
26.4
mg
|
Calcium:
103
mg
|
Iron:
2.1
mg