Brunswick Stew is a classic Southern comfort food made with a tomato base, Worcestershire sauce, cayenne pepper, BBQ sauce, chicken, and bacon.
There's nothing quite as comforting as delicious Soups and Stews. This hearty recipe is packed with filling chicken, thick broth, potatoes, and veggies. It's an easy weeknight meal, and perfect served with Dinner Rolls or Southern Cornbread for dipping.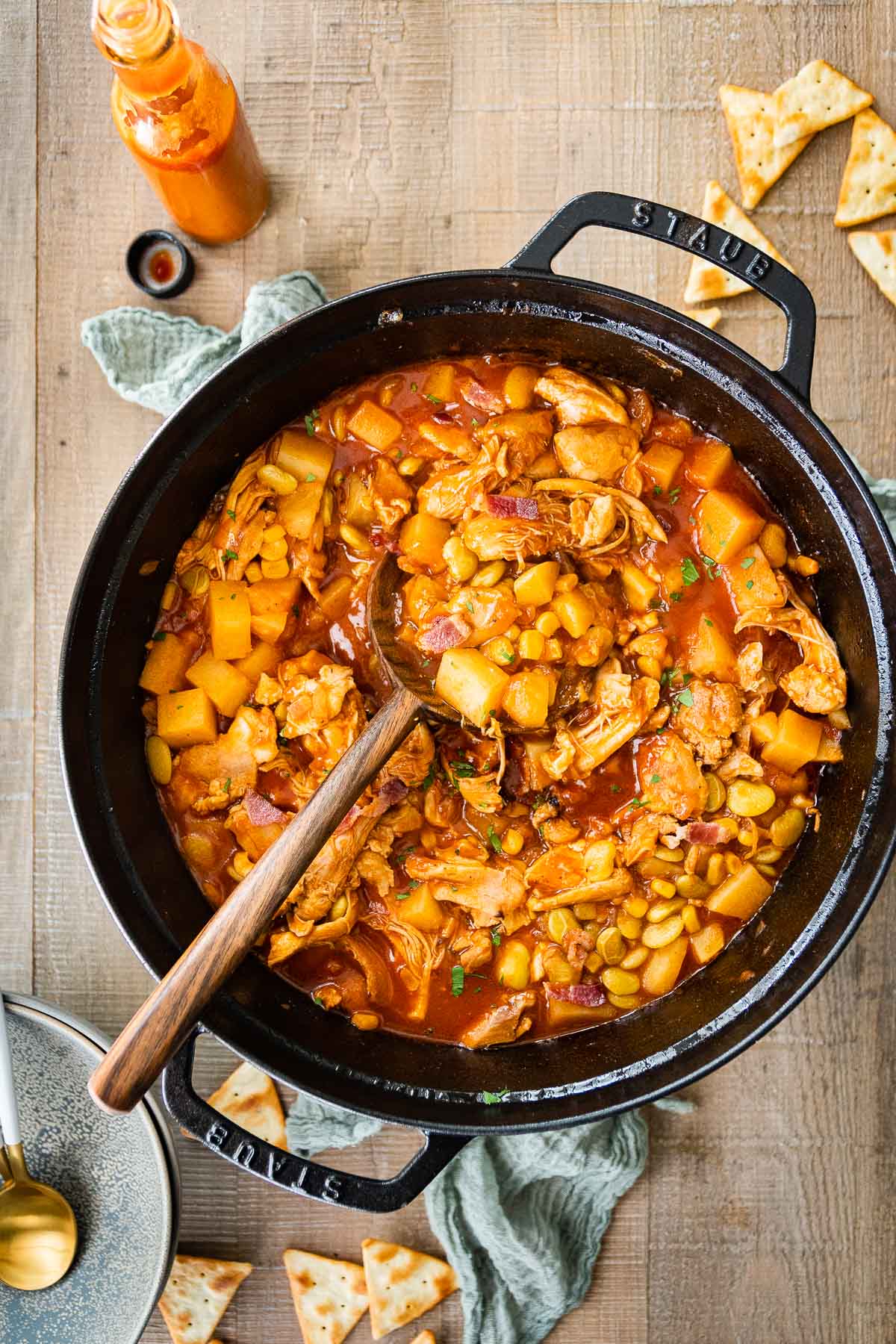 Just like Classic Beef Stew, this stew recipe is filling, warming, and so delicious. It's the ultimate comfort food made with simple ingredients like chicken broth, tomato, lima beans, potatoes, tender chicken, and crispy pork. Then the classic stew gets plenty of rich flavor and Southern soul from the Worcestershire sauce, and BBQ sauce, which give it some old-fashioned country flair. 
Easy Brunswick Stew recipes are traditionally made with simple and delicious ingredients that were readily available in the South where it came from. It's unclear where Brunswick Stew originated. Brunswick County, Georgia, Brunswick County, North Carolina, and Brunswick County, Virginia, all lay claim to this awesome stew. The only thing that's certain is that this delicious, comforting, hearty soup is a Southern American Classic.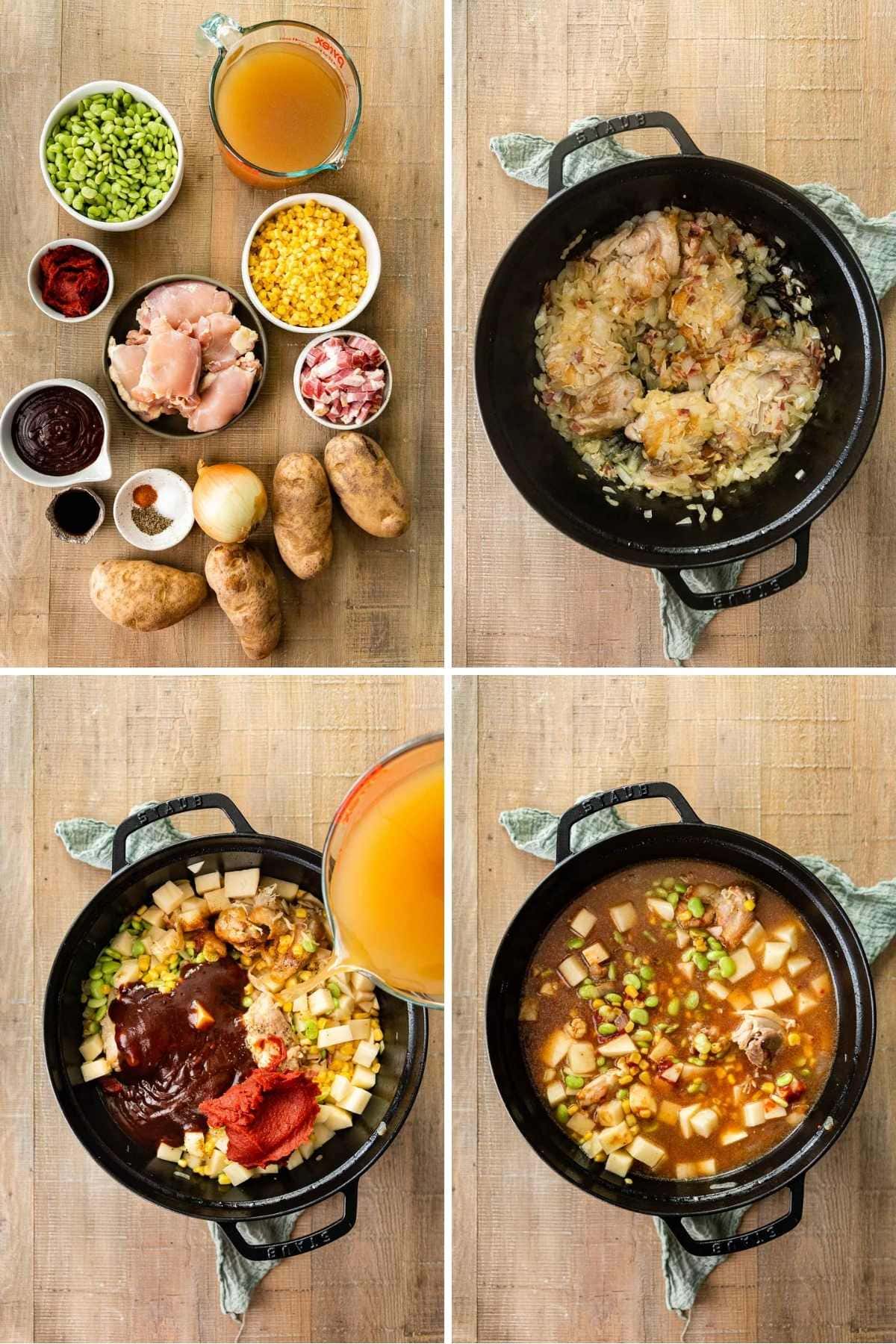 You can play up the Southern flavors even more by serving the stew with other traditional southern dishes. Coleslaw, Buttermilk Biscuits, and Baked Mac and Cheese will all make delicious additions to this already incredible meal.
More Hearty Stew Recipes
Frequently Asked Questions About Brunswick Stew
What makes Brunswick Stew unique?
Brunswick Stew gets its unique flavor from the sauces and seasonings used. The cayenne pepper and barbecue sauce, along with the smoky, salty meats flavor create that ideal flavor the Stew is known for.
How do I thicken or thin out Brunswick Stew?
If your Brunswick Stew turns out a little too thick, you can just add some broth or water to the stew. To thicken your Stew mix equal parts cornstarch and water, then add to the stew and bring to a boil. Start small, maybe with one or two tablespoons, then add more one tablespoon at a time if needed.
How to Make Brunswick Stew
Prep Time: Cut the potatoes and onions into small pieces on a cutting board, so they're ready to go right in the stew. Then cook and chop the bacon.
Chicken: Add the chicken and bacon to a dutch oven over medium heat. Continue cooking until the chicken is browned.
Cooking: Add the onion and cook until the onions are translucent, before mixing in the potatoes, corn, lima beans, Worcestershire sauce, salt and pepper, BBQ sauce, and chicken broth. Bring the cooked chicken and soup mixture to a boil, then reduce the heat and continue simmering uncovered for 1 hour. It will thicken up nicely over the hour into the perfect stew. The total time is just 1 hour and 15 minutes before you're enjoying a delicious bowl of Brunswick Stew.
Can Brunswick Stew be Made Ahead?
Sometimes it is so helpful to be able to make dinner ahead of time, especially when you know you have a busy day coming. You can easily make the Stew a day or two ahead. Just warm the stew up in the pot until it begins to bubble and serve it however you like.

Create a free account to

Save Recipes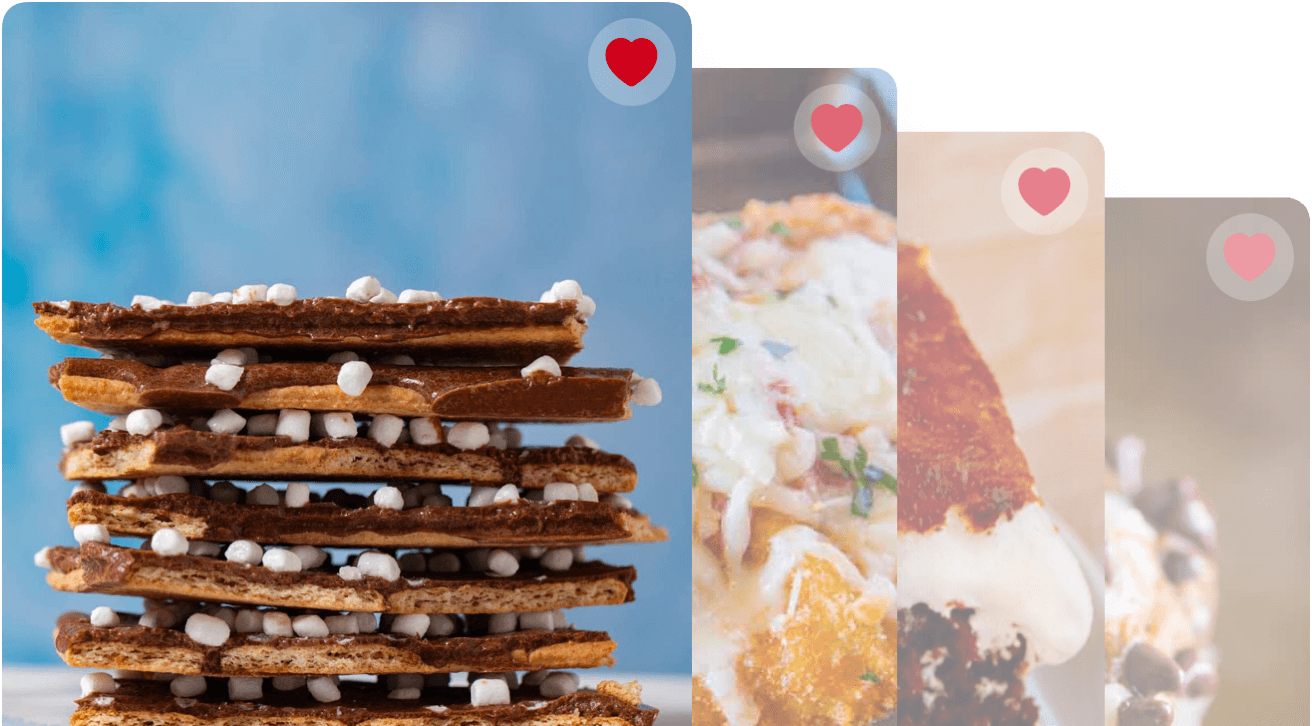 Slow Cooker Brunswick Stew
If you want to make Brunswick Stew in the slow cooker, you are in luck. It is super easy to do! Begin by cooking the bacon so it will have a firm texture in the Stew, then chop it up. You can also choose to brown just the outside of your chicken at this point. It will create a little more flavor and texture while it cooks in the slow cooker. Add the bacon and chicken in the slow cooker and then add all the other ingredients. Cook on low for 8 hours, or high for 4 hours. Remove the chicken, shred it, then stir it back into the Stew and serve.
Variations on Brunswick Stew
Garlic: You can add some extra flavor to this Georgia Stew with minced cloves of garlic. If you don't have fresh garlic, garlic powder will do nicely.
Sauces: For some spicy flavor add in hot sauce. Only add a little bit of hot sauce at a time. Mix in the hot sauce and taste test it to make sure your Brunswick Stew isn't too hot. You can add some smoky flavor to the stew without using smoked meat. Just add in some liquid smoke. A tablespoon or 2 of liquid smoke should be plenty.
Tomatoes: To add to the tomato base you can mix in some canned tomatoes. Diced tomatoes, crushed tomatoes, or fire-roasted tomatoes could all add lots of great flavors.
Add-Ins: For some more add-ins to the original recipe try mixing in diced potatoes, green bell peppers, red bell peppers, sweet onion, or stalks of celery. In place of the fresh sweet corn kernels, you can use frozen corn. Just let it thaw a while before cooking it in the stew.
Meat: Rather than cooking chicken for the stew you can use already baked Rotisserie Chicken. You could also replace the chicken with chopped beef or pork.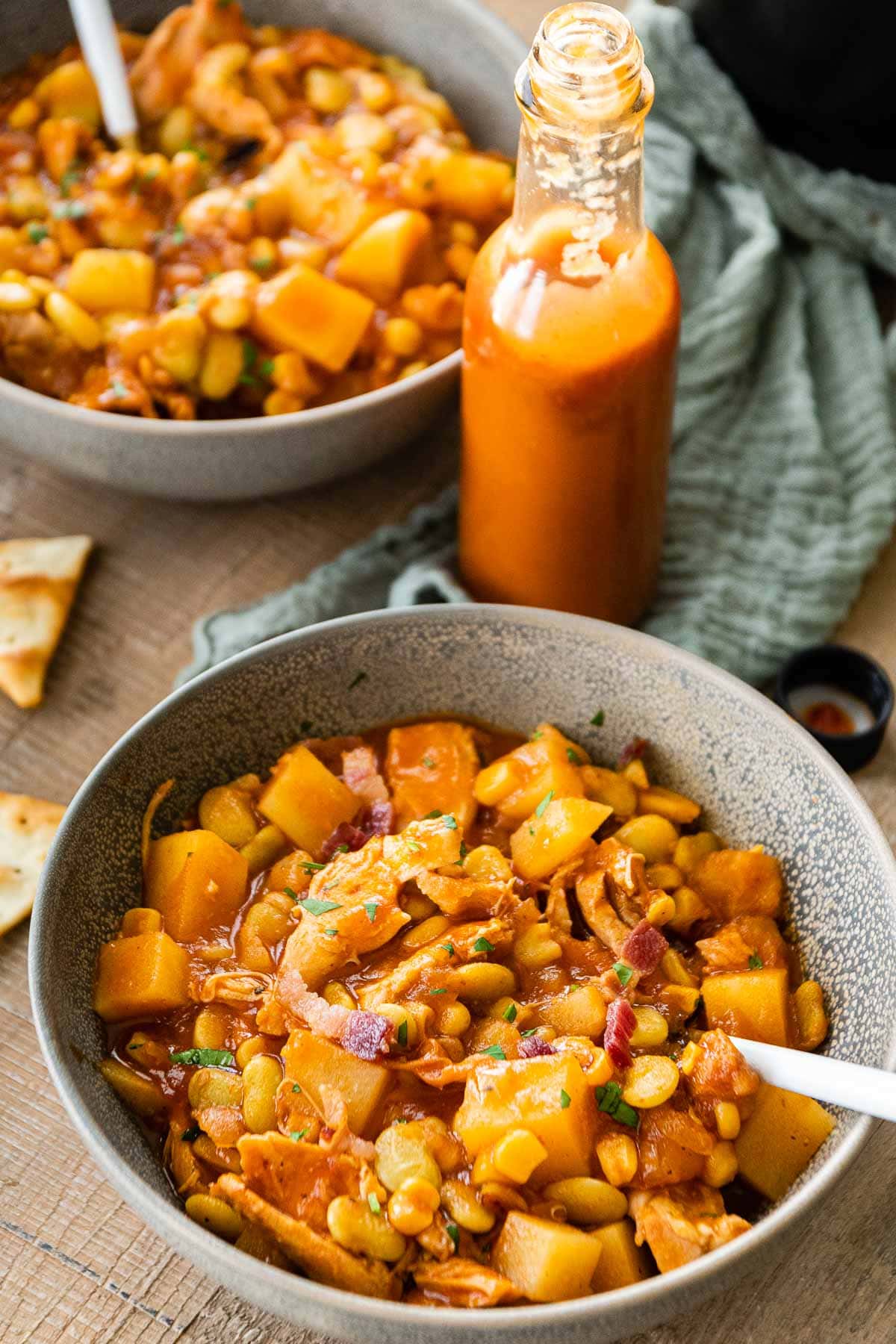 How to Serve Brunswick Stew
Bread: Brunswick Stew is so yummy, you are going to want to soak up every bit of it. A nice piece of bread will be your best tool. Choose sweet cornbread, crusty french bread, savory sourdough, buttery biscuits, or any other bread you love!
Crackers: Another way to soak up the broth and add some crunch is to serve it with your favorite crackers to dip or top off the Stew.
Rice: Spoon Brunswick Stew over fluffy white or brown rice. Choose quinoa for a more protein-filled base for your Stew. Riced cauliflower would work nicely as well.
Pot Pie: Use Brunswick Stew to fill your favorite pot pie crust for a warm, filling meal, especially in cold weather or a rainy day.
Side Dishes for Brunswick Stew
How to Store Brunswick Stew
Serve: Don't leave Brunswick Stew at room temperature for more than 2 hours.
Store: This Southern Soul Food can be stored in an airtight container in the fridge. It will keep well for 3-4 days.
Freeze: You can also freeze Brunswick Stew in an airtight container for up to 3 months.


Ingredients
8

slices

bacon

, cooked and chopped

5

chicken thighs

, boneless skinless

1

yellow onion

, chopped

4

russet potatoes

, peeled and chopped

2

cups

yellow sweet corn

15

ounces

lima beans

, drained and rinsed

1

tablespoon

Worcestershire sauce

1/2

teaspoon

kosher salt

1/2

teaspoon

coarse ground black pepper

1/4

teaspoon

cayenne pepper

1/3

cup

tomato paste

1

cup

barbecue sauce

4

cups

chicken stock
Instructions
Add the chicken and bacon together in a large dutch oven on medium-high heat and cook the chicken until it's browned.

Add the onions and cook until the onions are translucent.

Add in the potatoes, corn, lima beans, Worcestershire sauce, salt, pepper, barbecue sauce, and chicken stock. Bring to a boil then reduce to a simmer, uncovered, for

1 hour

.
Nutrition
Calories:
444
kcal
|
Carbohydrates:
49
g
|
Protein:
24
g
|
Fat:
17
g
|
Saturated Fat:
5
g
|
Polyunsaturated Fat:
4
g
|
Monounsaturated Fat:
7
g
|
Trans Fat:
1
g
|
Cholesterol:
85
mg
|
Sodium:
957
mg
|
Potassium:
1119
mg
|
Fiber:
6
g
|
Sugar:
16
g
|
Vitamin A:
361
IU
|
Vitamin C:
10
mg
|
Calcium:
46
mg
|
Iron:
3
mg