Classic Chicken Stew is a comforting weeknight dinner made with classic ingredients like chicken thighs, bacon, onion, thyme, and carrots.
When we think of stew a lot of the time Beef Stew is the first thing to come to mind, but this Chicken Stew is just as comforting and delicious. It's the perfect Stew Recipe to serve on a chilly night and warm everybody up.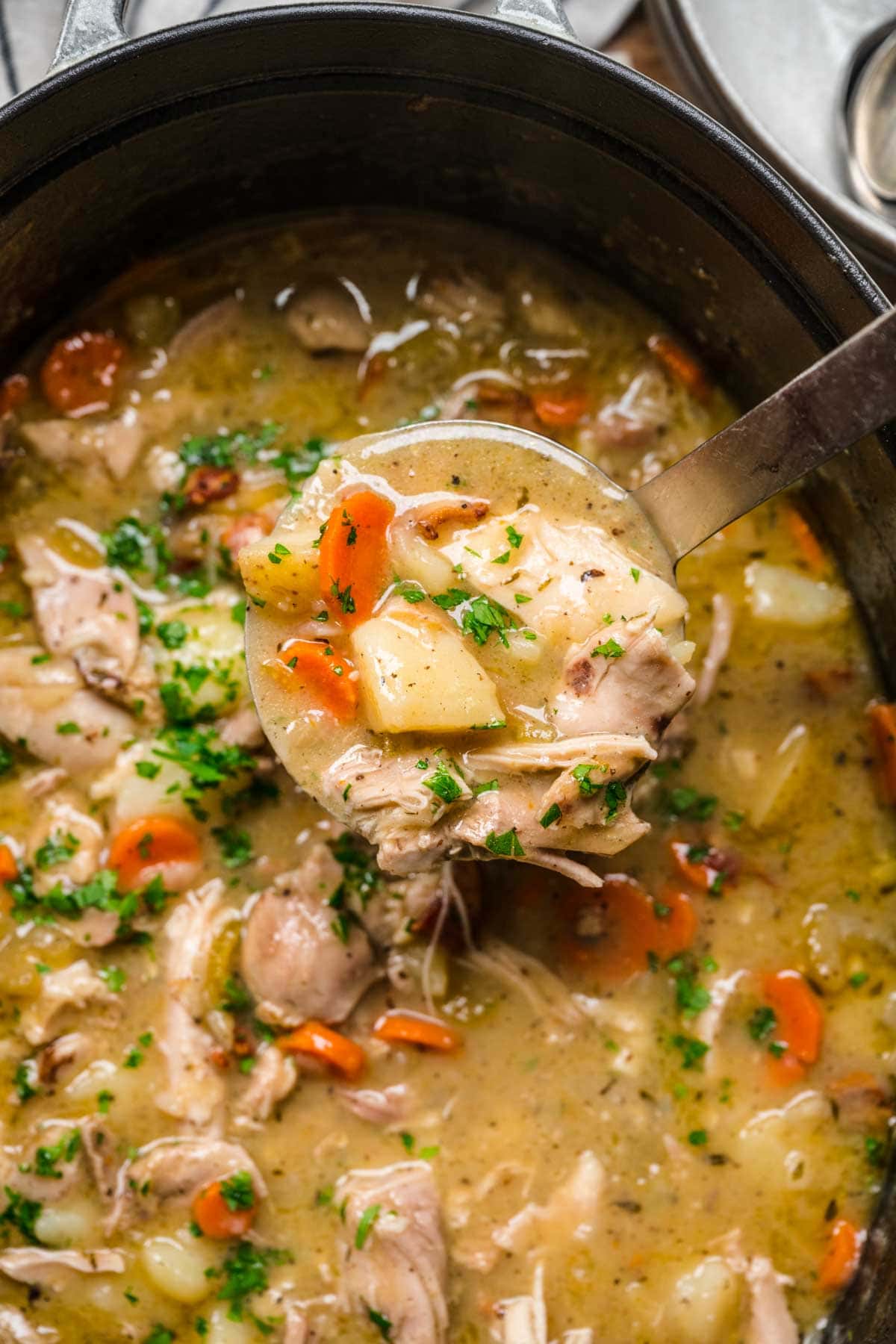 This hearty blend of chicken, potatoes, vegetables, and thick creamy broth is the ultimate comfort food and soul-warming meal. The whole recipe takes just under an hour for a classic dinner full of natural flavor and tender bites of buttery chicken. Like other hearty stews, it's perfect to serve up with some Crusty Bread for dipping and scooping up every bite of rich chicken flavor.
Along with the natural flavors of chicken and veggies, this hearty Chicken Stew has a bit more going for it. Classic Chicken Stew is also made with crispy bacon and has white wine cooked into the rich, flavorful broth. It's the perfect Chicken Stew Recipe to make a big pot of and serve a crowd. It's a satisfying classic with some more unique and delicious flavors mixed in.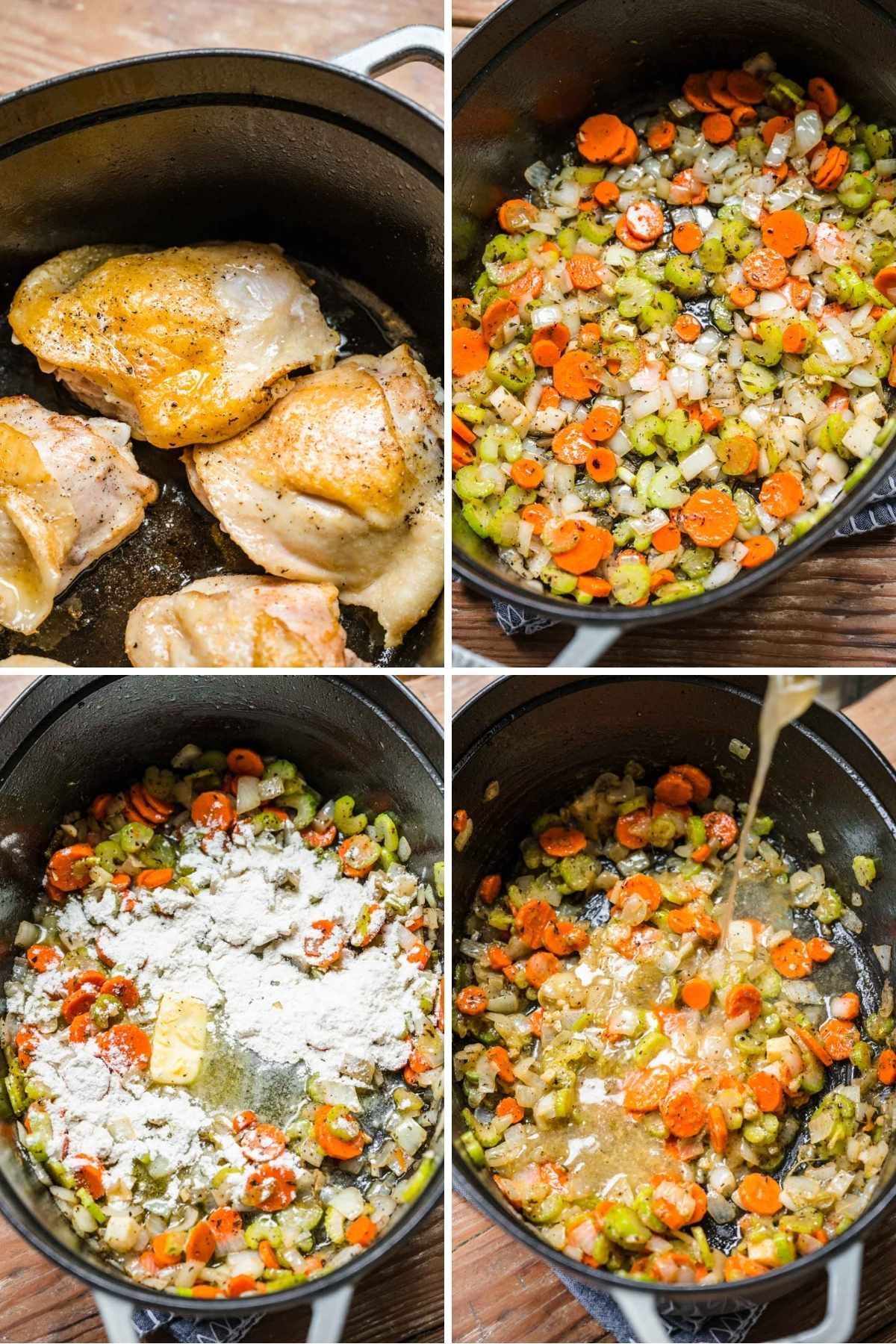 What is Chicken Stew?
Chicken Stew is a traditional dish that brings together tender pieces of chicken, vegetables, herbs, and a savory broth. Unlike Chicken Noodle Soup, this stew has a thick broth that is almost creamy, thanks to the buttery roux added at the end. The beauty of this stew lies in its simplicity; it doesn't rely on intricate spices or complex techniques to deliver its hearty flavor. Instead, the natural flavors of the ingredients shine through in every spoonful of this amazing and easy one-pot meal. 
How to Make Chicken Stew
Prep time: This stew is finished up in the oven, so make sure to preheat your oven. Chop the veggies into bite-size pieces so they're ready for the stew.
Browning meat: Put a dutch oven over medium-high heat and cook the bacon until nice and crispy. When you remove the bacon, leave the fat behind. Add the chicken thighs and brown them on both sides until golden brown.
Veggies: Take the chicken pieces from the dutch oven, and add the onions, celery, garlic, carrots, salt, pepper, and thyme. Cook for 2-3 minutes until the onions are tender and they're all cooked lightly. Add in the butter. Once the butter melts add the all-purpose flour and mix it all together.
Broth: Add the chicken broth. Use a wooden spoon to make sure the browned bits from the bottom of the pot are removed. Mix in the white wine, potatoes, chicken, and bacon next. Let them simmer on medium-low heat.
Cooking time: Uncover the Chicken Stew and cook for 45-50 minutes in the oven.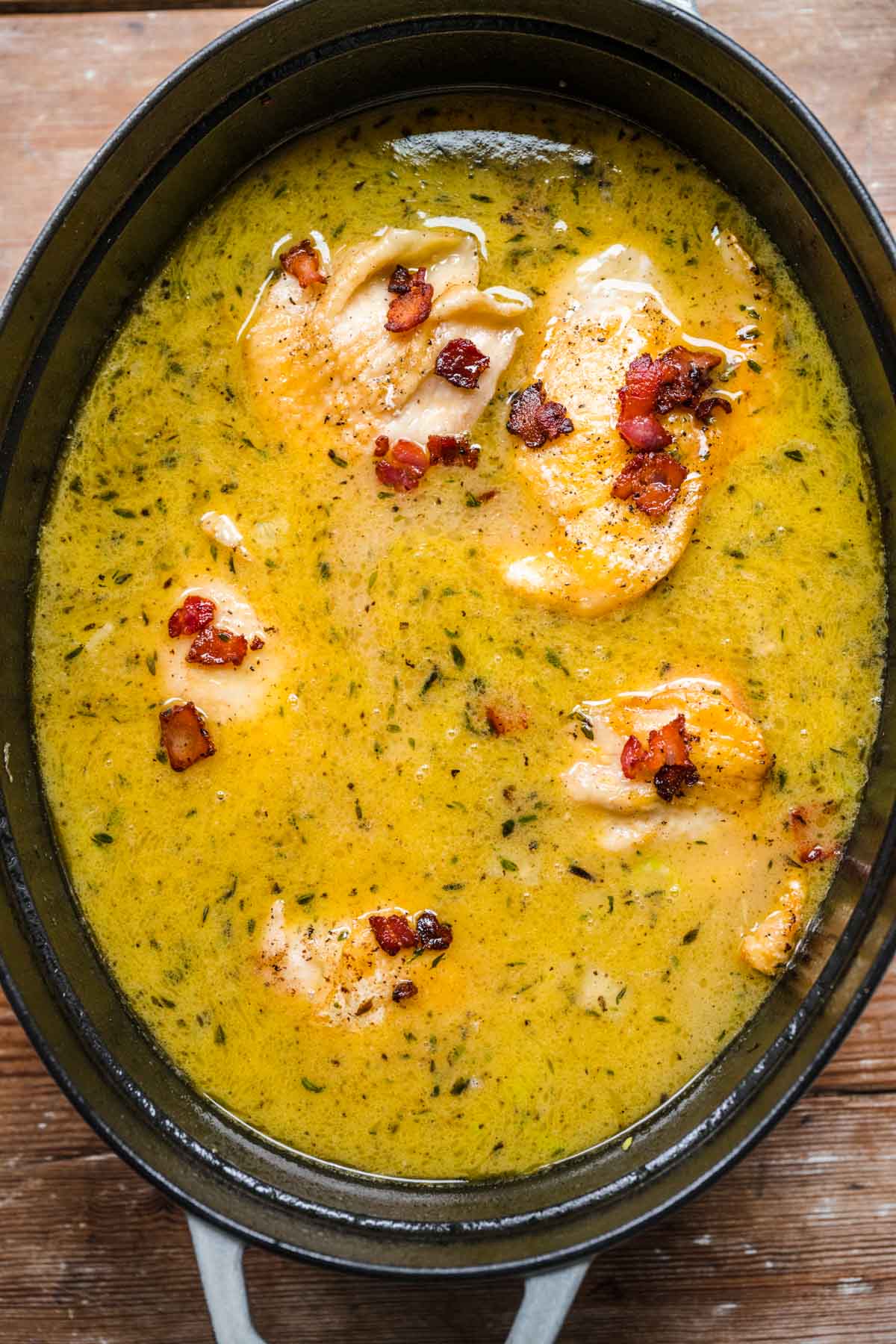 Delicious Homemade Bread Recipes
FAQs for Chicken Stew
How do you thicken Chicken Stew?
To thicken Chicken Stew, you can create a roux by combining flour with melted butter in the stew. The roux helps to absorb excess liquid and create a thicker consistency, making the stew more hearty and satisfying.
What's the best kind of chicken to use in a Chicken Stew recipe?
The best kind of chicken to use in a chicken stew recipe is boneless, skinless chicken thighs. They offer a juicier and more flavorful meat compared to chicken breasts, and their tenderness allows them to simmer in the stew without becoming dry or tough.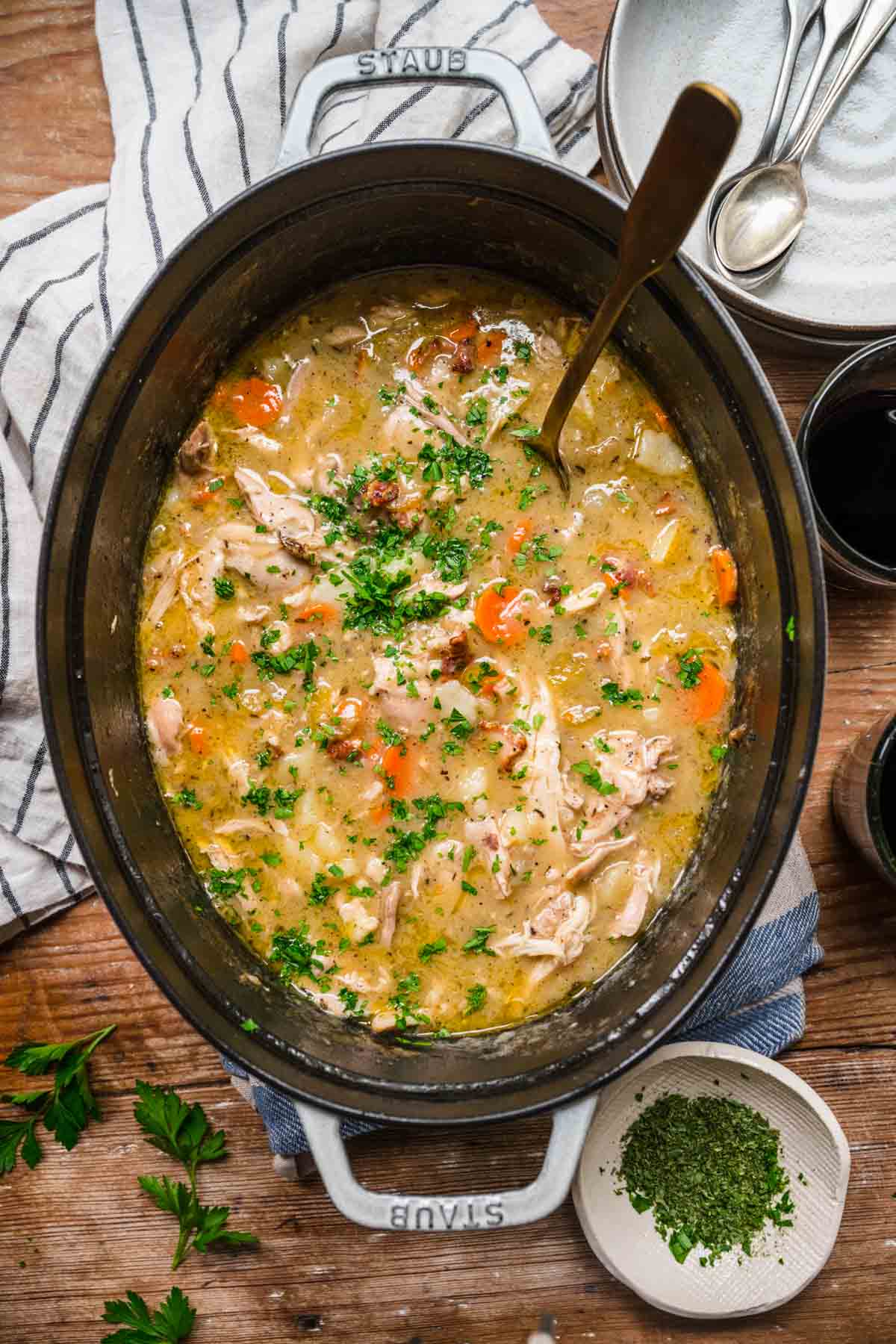 Create a free account to

Save Recipes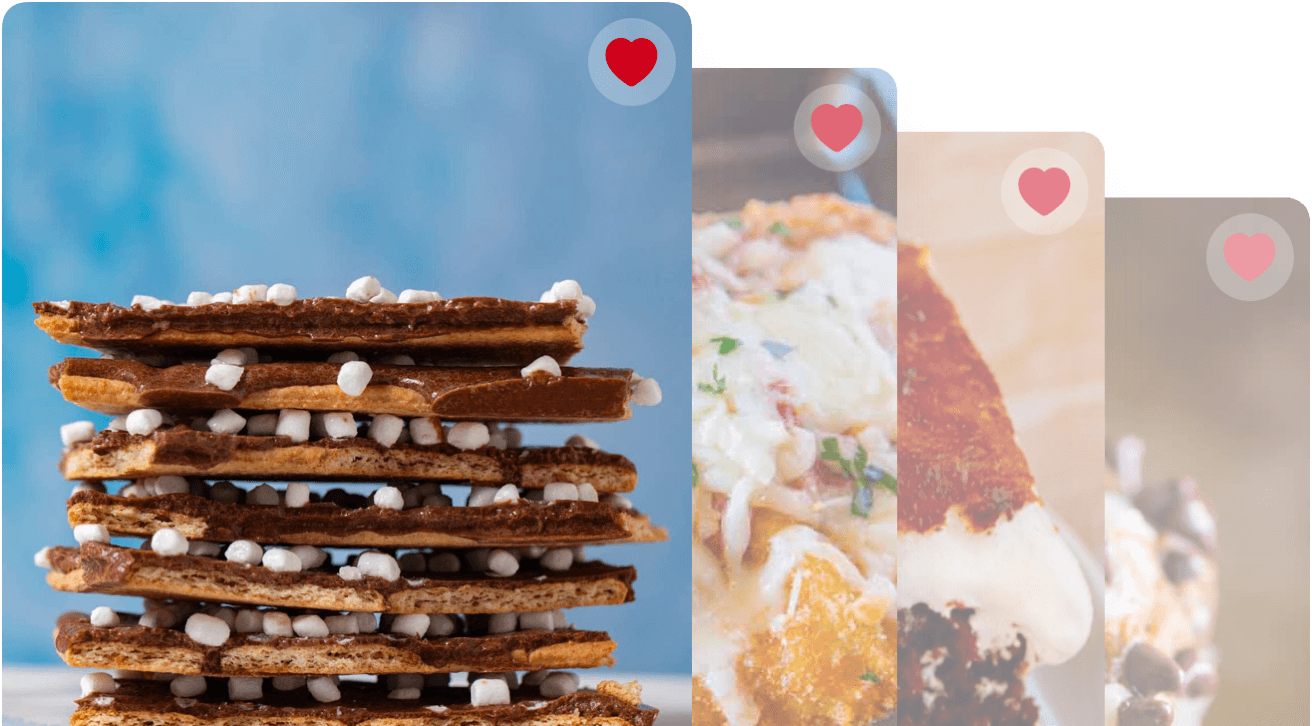 Key Ingredients
Bacon: Pieces of delicious bacon adds a savory and smoky flavor to the stew. Plus the rendered fat from the bacon also serves as a savory base for sauteing the onions and other vegetables.
Thyme: This aromatic herb has a subtle, slightly woody flavor that complements the chicken and vegetables, adding a delightful herbal note to the overall taste.
White Wine: The addition of white wine elevates the stew's flavors by imparting a mild acidity and a touch of sweetness. The wine also helps to deglaze the pot, incorporating the flavorful browned bits from the chicken and bacon for a rich depth of flavor.
Potatoes: Yukon potatoes have a waxy texture and creamy flavor, making them perfect for stewing. These potatoes hold their shape well during the cooking process, without getting grainy or falling apart.
Chicken Thighs: As the stew simmers, the chicken thighs become tender and succulent. The dark meat is perfect for stewing because it is more flavorful and stays deliciously juicy.
Aromatics: Yellow gives a sweet and aromatic flavor as it softens and caramelizes during cooking. Celery has a delicate flavor and crunch that adds a nice texture too. With its pungent, aromatic qualities, garlic imparts a robust depth of flavor to the Chicken Stew. Carrots add natural sweetness and earthy flavors, plus a nice vibrant color.
Roux: Flour is combined with butter to form a roux, which helps thicken the stew. It makes the broth velvety and rich with an extra buttery flavor.
Can you make Chicken Stew ahead of time?
Yes, Chicken Stew can be made ahead of time. In fact, its flavors often develop further when it's left to sit overnight. Prepare the stew, cool it, and then refrigerate it in an airtight container. When ready to serve, gently reheat it on the stovetop or in the oven until thoroughly warmed. You can also cut up the veggies and chicken pieces the day before and store them in separate containers, then cook up as usual.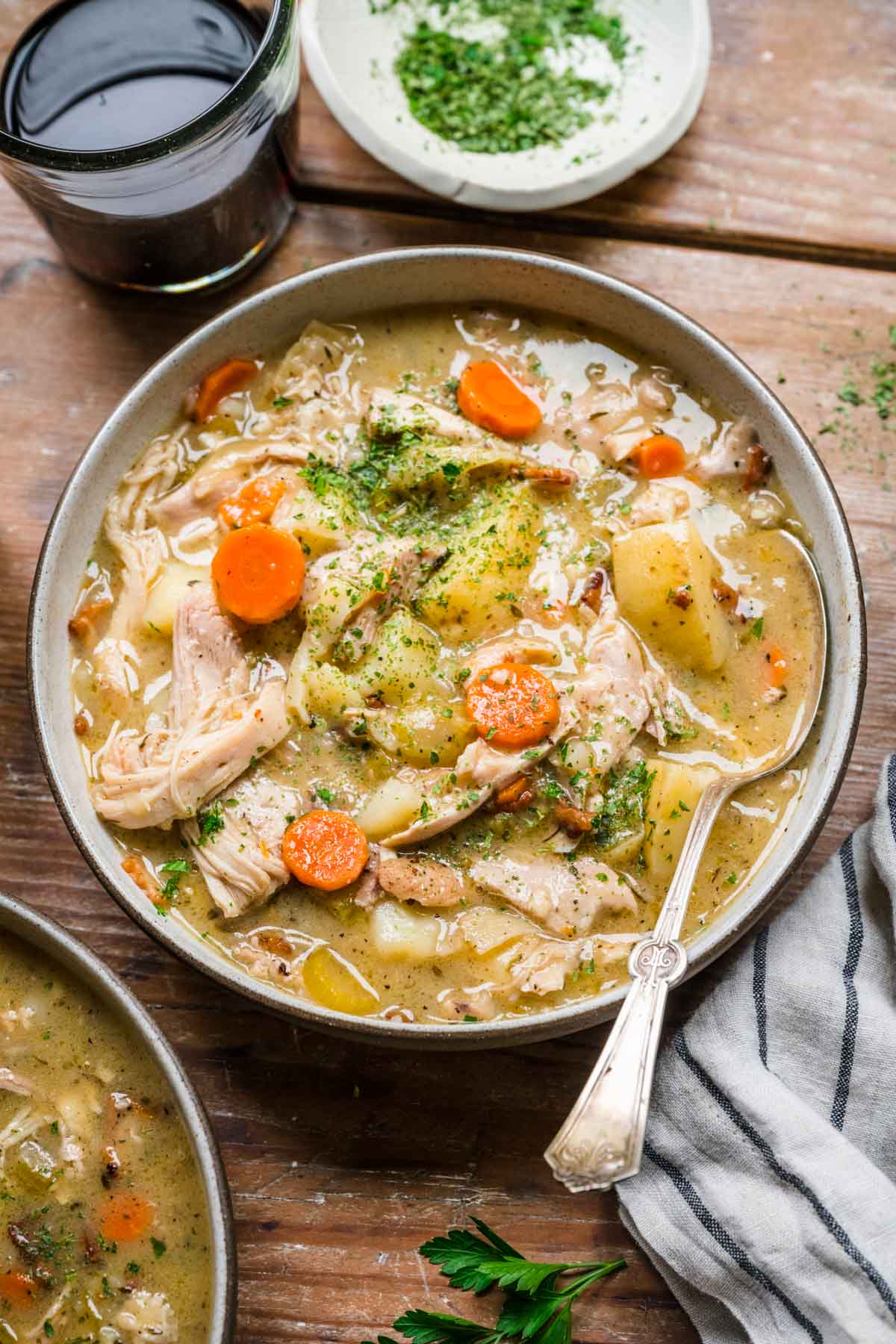 Variations
Flavorings: For some extra flavor try mixing in seasonings like bay leaf, fresh parsley, or oregano. If you add bay leaf, take it out before serving. You can also add some extra thyme sprigs for delicious fresh thyme taste. You could also add some heat by mixing in hot sauce.
Italian: For an Italian Chicken Stew, combine tomato sauce and tomato paste with Italian seasoning, then add the homemade tomato sauce to the stew. You could also use your favorite Marinara Sauce.
Cream: To make a Creamy Chicken Stew, add some heavy cream at the end. To keep the heavy cream from curdling, add some of the hearty broth to a measuring cup and chill in the fridge for 4-5 minutes. Then add the cream to the warm broth and stir the mixture back into the stew.
Vegetables: For some more vegetables add in green beans, green onions, a couple of stalks of celery, frozen corn, or sweet onion. Swap out some of the potatoes for root vegetables like parsnips, turnips or rutabagas.
Chicken: Instead of using boneless, skinless chicken thighs, you could use chicken breast. You could also use meat with chicken skin. Once you've browned the chicken, it should give you delicious crispy skin with tender bites of chicken inside.
Potatoes: Instead of using Yukon gold potatoes, you could use russet potatoes, baby potatoes, or even sweet potatoes. To replace the potatoes with a different starch, try using white rice.
Slow Cooker Chicken Stew
Brown chicken and bacon in a large skillet. Transfer to the slow cooker.
Optionally, you can saute the onions in the bacon grease, otherwise add them to the cooker.
Add all the remaining ingredients to a 6-quart slow cooker and stir.
Cook on high for 3-4 hours or on low for 6-8 hours, then serve your Slow Cooker Chicken Stew with crusty bread.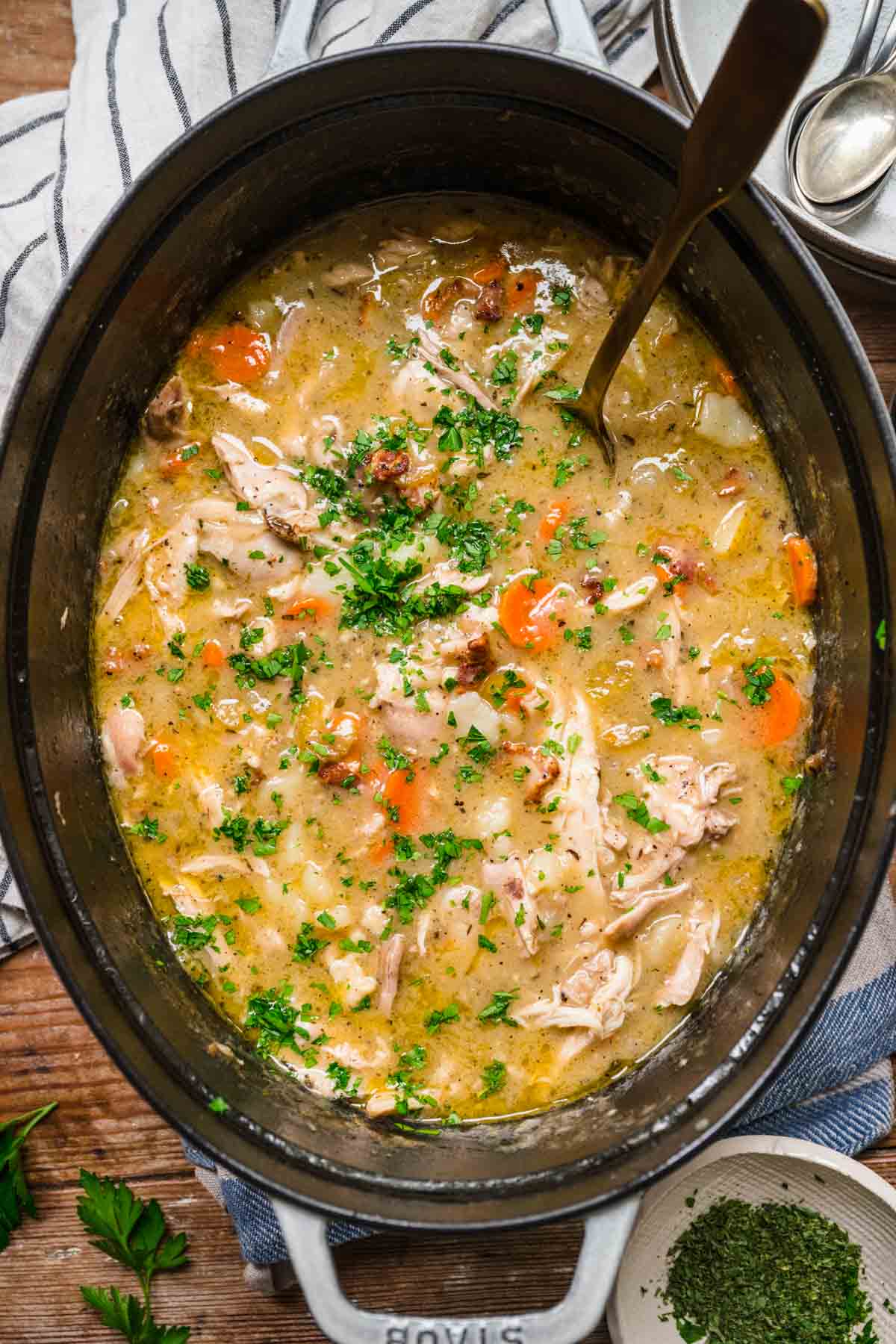 More Hearty Chicken Soup Recipes
How to Store
Store: Don't leave Classic Chicken Stew at room temperature for more than 2 hours. Let leftover Chicken Stew cool before storing it in an airtight container to keep in the fridge. It will keep well for 3-4 days.
Reheat: It's best to reheat this homemade Chicken Stew slowly on the stove top, bringing it to a simmer then cooking over medium heat until piping hot.
Freeze: You can also freeze the stew for up to 3 months. When you store it in the freezer, you can divide it into small batches in airtight containers to store in serving sizes. Let the stew thaw before reheating it on the stovetop.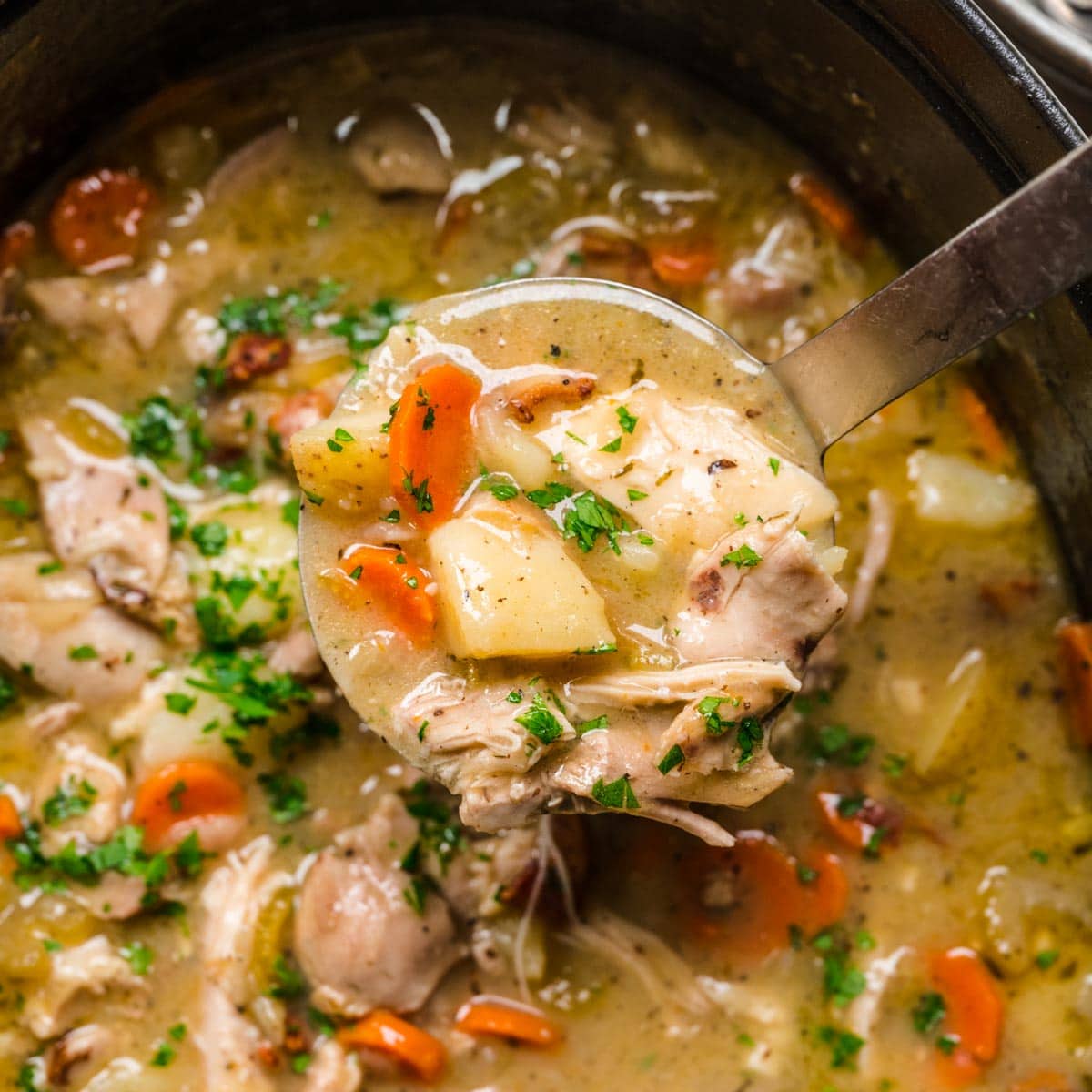 Ingredients
4

slices

bacon

, chopped

5

chicken thighs

, boneless skinless

1

yellow onion

, chopped

2

stalks

celery

, sliced thinly

2

cloves

garlic

, minced

2

carrots

, peeled and sliced

1

teaspoon

kosher salt

1/2

teaspoon

coarse ground black pepper

1

teaspoon

thyme

4

tablespoons

butter

1/4

cup

flour

6

cups

chicken broth

1

cup

white wine

2

Yukon potatoes

, cut into 2-inch chunks
Instructions
Preheat the oven to 325 degrees.

In a large dutch oven, cook the bacon on medium heat until crispy then remove, leaving the fat behind.

Add in the chicken, cooking until browned,

3-4 minutes

on each side.

Remove the chicken from the pot and add in the onions, celery, garlic, carrots, salt, pepper, and thyme. Cook for

2-3 minutes

.

Add the butter to the pot, then when melted add the flour and whisk well until the flour is absorbed.

Whisk in the chicken broth (making sure all the brown bits from the bottom of the pot are removed) then add in the white wine, potatoes, chicken, and bacon. Bring to a simmer.

Move (uncovered) to the oven and cook for an additional

45-50 minutes

.
Nutrition
Calories:
372
kcal
|
Carbohydrates:
16
g
|
Protein:
20
g
|
Fat:
23
g
|
Saturated Fat:
6
g
|
Polyunsaturated Fat:
5
g
|
Monounsaturated Fat:
10
g
|
Trans Fat:
1
g
|
Cholesterol:
99
mg
|
Sodium:
1263
mg
|
Potassium:
553
mg
|
Fiber:
2
g
|
Sugar:
3
g
|
Vitamin A:
2931
IU
|
Vitamin C:
11
mg
|
Calcium:
41
mg
|
Iron:
2
mg