Crispy Rotisserie Chicken Thighs are juicy and tender on the inside, with a crispy, flavorful skin seasoned with garlic, onion, paprika and cayenne.
These savory chicken thighs pack all the flavor of a Homemade Rotisserie Chicken, ready in a fraction of the time! Sure to become one of your favorite Chicken Recipes, Crispy Rotisserie Chicken Thighs feature this easy Rotisserie Chicken Seasoning that can be stored in your pantry for use in many baked chicken recipes.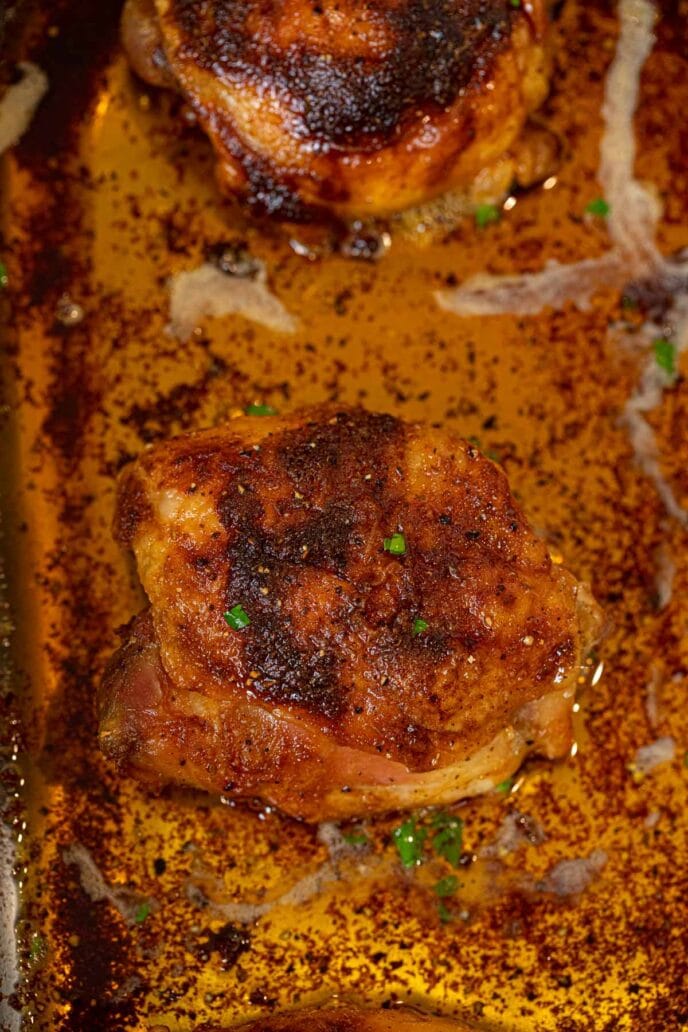 CRISPY ROTISSERIE CHICKEN THIGHS
If you enjoy the thigh meat from a whole rotisserie chicken, you'll be delighted to try these Crispy Rotisserie Chicken Thighs! Since the thighs are usually on the bottom of the baking dish when cooking a whole chicken, the skin tends to remain soggy compared to the crispier breast skin on top. Now you can enjoy the flavors of rotisserie chicken thighs, with every piece crisped to perfection.
Chicken thighs are a very popular cut for many reasons. They remain moist and tender when cooked, they have a tasty skin that crips up nicely, and the bone adds tons of flavor while cooking. Even boneless skinless thighs are tender and flavorful. If you'd like to use boneless and skinless chicken thighs, just reduce cooking time by 5 minutes.
Crispy Rotisserie Chicken Thighs are also great to throw on the grill, or cook in an instant pot. Leftover thigh meat can be shredded and used for tacos or burritos, added to soups, or on top of a rice and veggie bowls. Or chop up and sear the baked chicken thighs to use in recipes like Halal Cart Chicken and Rice.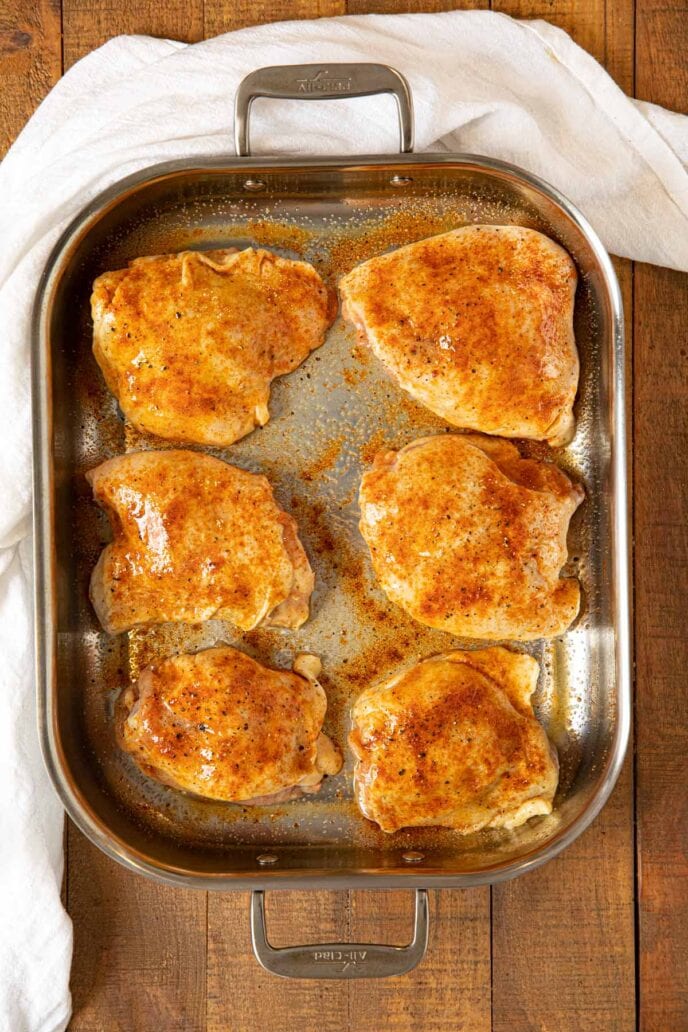 If you have chicken leg fans in your family, this recipe also works well with chicken leg quarters, which is the thigh and drumstick still connected. Increase the cooking time to one hour.
You do not need to flip these chicken thighs while cooking. Keeping the thighs skin side up will make the texture nice and crispy. Make sure to use a meat thermometer to cook chicken to 165 degrees.
Crispy Rotisserie Chicken Thighs are a versatile main dish that goes well with just about everything! Some favorite recipes to serve alongside include Baked Mac and Cheese, Sautéed Green Beans, Garlic Roasted Potatoes, and Easy Greek Salad.
MORE OVEN BAKED CHICKEN RECIPES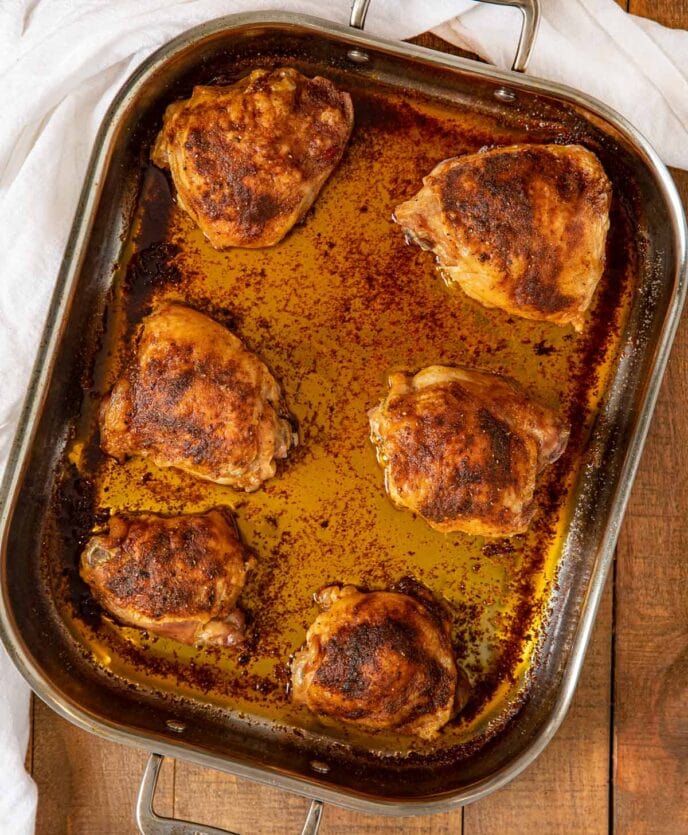 Create a free account to

Save Recipes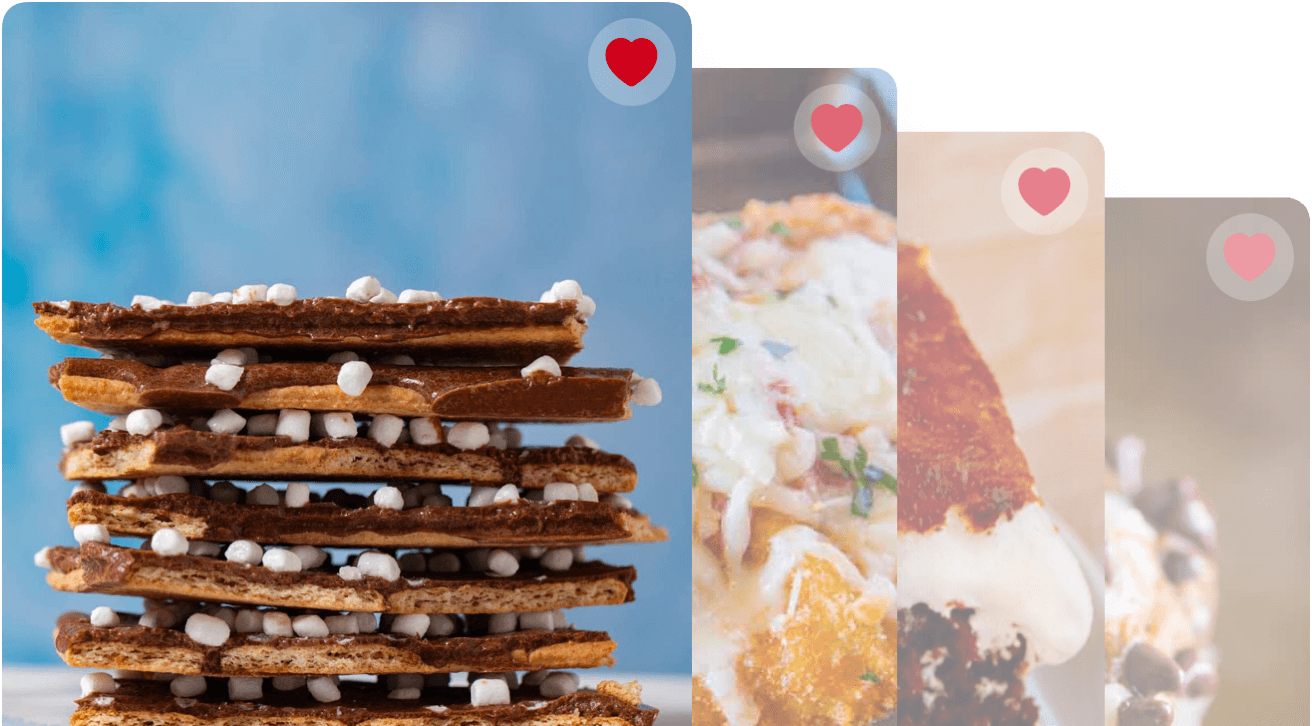 VARIATIONS ON CRISPY ROTISSERIE CHICKEN THIGHS
Lemon Pepper Crispy Chicken Thighs: rub chicken with 1 tablespoon of lemon pepper seasoning mix before baking.
Chinese Five Spice Crispy Chicken Thighs: coat chicken with 1 tablespoon of Chinese five spice blend before baking.
Taco Seasoned Crispy Chicken Thighs: rub chicken with 1 tablespoon of Taco Seasoning before baking.
Instant Pot Crispy Rotisserie Chicken Thighs
Season chicken thighs with 1 tablespoon Rotisserie Chicken Seasoning.
Pour 1 cup of water into the Instant Pot, and add chicken thighs on top of trivet.
Secure lid and set manual high pressure for 12 minutes, or 10 minutes if using boneless skinless chicken thighs.
Natural release for 5 minutes before quick release and removing lid.
Place thighs on a baking sheet and broil on low for 3 minutes to crisp skin, monitoring closely.
EASY SIDES TO SERVE WITH CRISPY ROTISSERIE BAKED CHICKEN THIGHS
HOW TO STORE CRISPY ROTISSERIE BAKED CHICKEN THIGHS
Serve: Crispy Rotisserie Chicken Thighs can be left at room temperature for up to two hours before they should be stored.
Store: Store chicken thighs in the refrigerator, wrapped in foil or in an airtight container, for up to four days.
Freeze: After chicken cools completely, remove meat from the bones and place in a freezer bag. Freeze up to 4 months.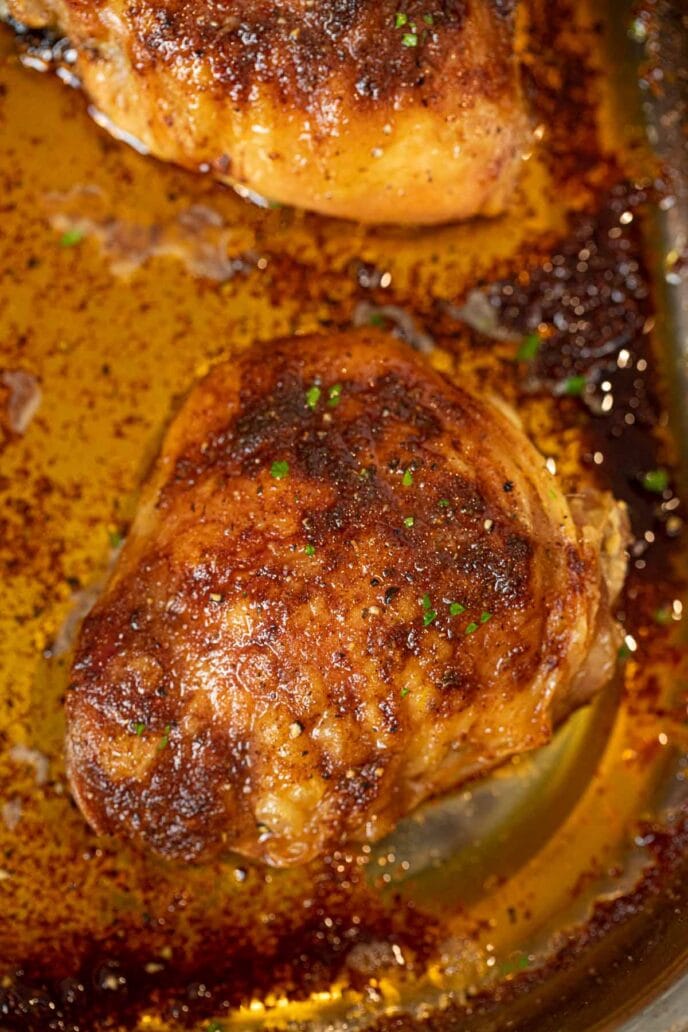 Instructions
Preheat oven to 400 degrees.

Pat chicken thighs dry with paper towels and coat with the Rotisserie Chicken Seasoning.

Arrange chicken thighs in baking dish and roast for

35-40 minutes

.
Nutrition
Calories:
316
kcal
|
Carbohydrates:
1
g
|
Protein:
23
g
|
Fat:
24
g
|
Saturated Fat:
6
g
|
Cholesterol:
142
mg
|
Sodium:
111
mg
|
Potassium:
296
mg
|
Vitamin A:
113
IU
|
Calcium:
12
mg
|
Iron:
1
mg