Filipino Adobo Chicken is a flavorful dish marinated and cooked in a tangy sauce with whole peppercorns. An easy meal the family will love!
Filipino recipes are delicious and underrated since other Asian Recipes are more popular in the United States. But if more people try this Adobo Chicken recipe it would even give the crazy popular Orange Chicken a run for its money in the flavor department, as well as Polynesian-style Loco Moco, and of course the delicious Thai Basil Chicken.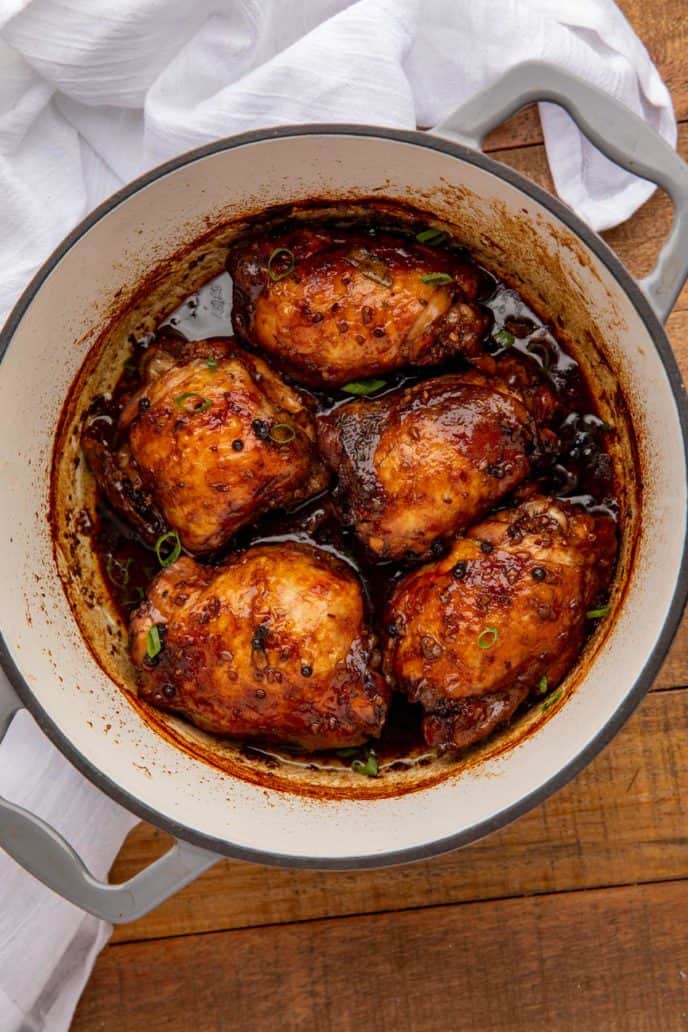 Filipino Adobo Chicken is more than just the casual national dish of the Philippines; this savory chicken dish is a symphony of flavors deeply embedded in the culinary tapestry of the Philippines. "But what is adobo chicken?" you might ask. Originating from the Spanish term "adobar," which means marinade, this Filipino chicken dish uniquely blends vinegar, soy sauce, garlic, bay leaves, and black peppercorns to create a savory, slightly tangy, and altogether addictive flavor profile. Each ingredient sings its own tune but harmonizes perfectly, resulting in a dish that's both rich and refreshing.
Whether you're looking to reminisce about a trip to the Philippines, introduce your family to international flavors, or simply make a hearty and flavorful chicken dish, Filipino Adobo Chicken is a timeless choice that can be enjoyed on any occasion. While the use of vinegar might seem unorthodox to some, it is this ingredient that sets this Filipino Chicken Adobo recipe apart and provides its signature tang.
The method of marinating chicken in vinegar not only imparts flavor but also has historical significance. Before refrigeration was widespread, vinegar served as a preservative, keeping meat fresh in the tropical climate of the Philippines. The peppercorns and bay leaves, on the other hand, add aromatic layers that elevate the dish from simple to sublime.
Yes, there are a lot of bold flavors in this chicken adobo recipe. But once the chicken is done marinading and you braise it in the oven you won't believe how amazing the flavors are. It isn't too salty, or too vinegary. It isn't too spicy from pepper, it is in fact completely well-balanced and perfectly served over Easy Wild Rice.
How to Make Filipino Adobo Chicken
This dish is deceptively simple to prepare right in the comfort of your home. With a handful of pantry staples and some patience, you can recreate this Filipino classic and take a delightful culinary trip to the Philippines. Check it out!
Bone in Chicken: This chicken is braised over a long period of time until it is tender, so bone-in skin-on chicken is necessary.
Marinate for 4 hours: The time it marinades allows the chicken to absorb all the flavors of the garlic cloves, soy sauce, vinegar, and pepper. Do not skimp on the marinating time. Marinate overnight if possible.
Braise the chicken: Transfer chicken pieces to the Dutch oven. Cook the chicken pieces covered first skin side down, then uncovered in the marinade skin side up until it is browned and the chicken adobo sauce is thickened. Cooking times are 30 minutes covered, and 30 minutes uncovered. Garnish the finished dish with green onions and serve hot over white rice! 
Frequently Asked Questions
What makes Filipino Adobo unique?
Arguably, unlike Mexican adobo, which is a chili-based marinade paste/seasoning used to flavor meat, Filipino Adobo is a method of cooking involving meat in its marinade of the unique ingredients of vinegar, bay leaf, whole peppercorns, and soy sauce – ingredients not typically found in classic Mexican-style adobo.
Can I use chicken breasts instead of thighs?
Yes, but thighs tend to be juicier and more flavorful. If using breasts, monitor closely to avoid overcooking.
Why marinate for 4 hours?
Marinating infuses the chicken with flavors, ensuring a richer taste and tender meat. Even better flavor comes if marinated in the fridge overnight.
Is it mandatory to use white vinegar?
Traditional recipes use white vinegar, but apple cider vinegar can be a good substitute for a slightly different flavor profile.
Can I cook this on the stovetop?
Absolutely! Simmering on the stovetop may require more frequent stirring and checking, but the result will be just as delicious.

Create a free account to

Save Recipes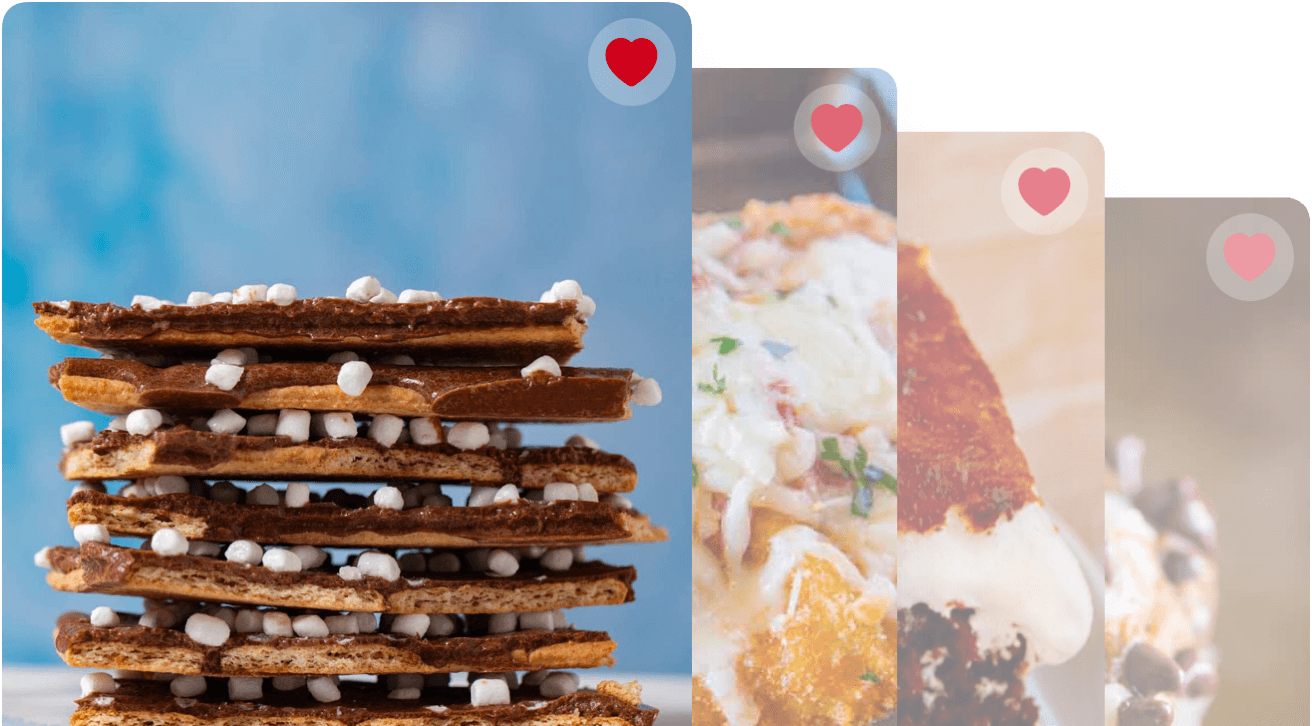 Key Ingredients in Filipino Adobo Chicken
Filipino Adobo Chicken is a timeless dish, reflecting the heart of Filipino culinary traditions. If you're sourcing these everyday ingredients, the basics like soy and vinegar are likely in your pantry. Either way, you can easily source these simple ingredients from your local grocery store. Check it out! 
Chicken Thighs: Chicken thighs and chicken legs are the two best cuts of chicken to use in this Filipino dish, be sure to use bone-in and skin-on. It is not recommended to use chicken breasts in this recipe, nor skinless chicken thighs. Chicken drumsticks work great too! Technically boneless chicken thighs will work too but might not be as juicy as the bone-in version.
Soy Sauce: We use low-sodium soy sauce in all recipes as the sodium in regular soy sauce is just too high and the flavors are too salty in recipe testing. Keep in mind that dark soy sauce is more salty and light soy sauce is, ironically, more salty.
White Vinegar: We have tested this adobo recipe with rice vinegar, cane vinegar, apple cider vinegar, and white wine vinegar and the classic version with distilled white vinegar is the best option for you to use.
Bay Leaf: Do not skip this ingredient and be sure to remove them before serving. Bonus points if you can find fresh bay leaves.
Garlic Cloves: Garlic is a prominent flavor in this recipe and must be included. It is not recommended to substitute with powdered garlic if possible.
Black Pepper: You need a full tablespoon of whole black peppercorns, do not add ground black pepper to this recipe, or your palate will be blown out.
Instant Pot Chicken Adobo Recipe
Add the marinaded chicken and sauce to your instant pot and set the pressure to high for 15 minutes.

Remove the chicken and place it

on a sheet pan and place it under the

broiler to crisp.

Reduce the

remaining sauce on the sauté setting of the

instant pot until reduced by half.
Slow Cooker Chicken Adobo Recipe
Add all the ingredients and the chicken skin side up into a large slow cooker and cook on low heat for 6-7 hours.

Remove the chicken and place it

on a sheet pan and place it under the

broiler to crisp.

Remove the

remaining sauce from the slow cooker, and

reduce on your stovetop in a small saucepan until thickened.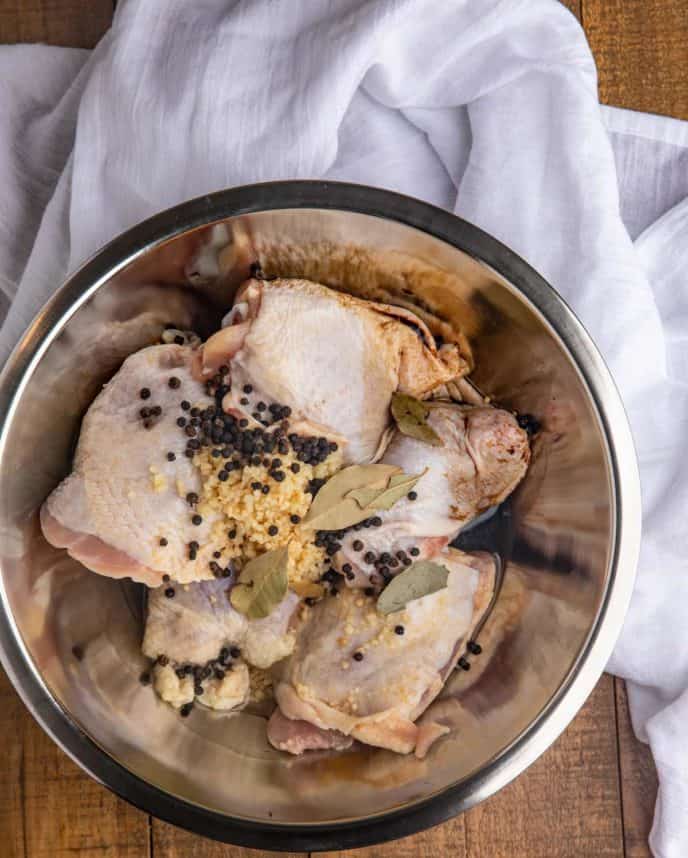 Can Filipino Adobo Chicken Be Made Ahead of Time?
Yes! This dish's flavors develop beautifully over time. If you want to prepare it a day ahead, simply follow the cooking instructions and let it cool. Store in an airtight container in the refrigerator. When ready to serve, gently reheat on medium heat on the stovetop until warm. The enhanced flavors from the marination will delight your taste buds even more!
Substitutions in Filipino Adobo Chicken
Soy Sauce: If sodium is a concern, opt for a low-sodium soy sauce or Tamari for a gluten-free version. Liquid coconut aminos are also a great substitution. 
White Vinegar: Apple cider vinegar or rice vinegar can be used, offering a slightly different but delightful tang.
Variations on Filipino Adobo Chicken
Looking for some more incredible flavor? The beauty of Adobo lies in its versatility. While chicken is popular, you can venture into variations that reflect personal preferences or regional influences.
Coconut Adobo: Add a can of coconut milk for a creamier, richer sauce; and serve with Coconut Rice.
Sweet & Spicy Adobo: Toss in a tablespoon of red chili pepper flakes or sliced fresh red chilies for an added kick alongside a tablespoon or two of brown sugar (or white sugar), depending on how your preferred level of sweetness. 
Adobo with Potatoes: Incorporate chunks of potatoes to soak up that delicious sauce, making the dish even heartier.
Vegetarian Adobo, replace chicken with firm tofu cubes or mushrooms.
How to Serve Filipino Adobo Chicken
For a complete meal, Adobo Chicken pairs wonderfully with white rice, absorbing the flavorsome sauce, and roasted vegetables.
More Fantastic Vinegar-Based Recipes
How to Store Filipino Adobo Chicken
Serve: After cooking, it's best to consume the Adobo Chicken within 2 hours if left at room temperature. Keep covered when not serving.
Store: In an airtight container, this dish will keep well in the refrigerator for up to 3 days.
Freeze: You can freeze the cooked Filipino Adobo Chicken in the sauce for up to 2 months. Thaw in the refrigerator and reheat on the stovetop on medium-high heat for best results.



Ingredients
6

chicken thighs

, bone-in, skin-on

1/2

cup

soy sauce

1/2

cup

white vinegar

4

cloves

garlic

, crushed

1

tablespoon

black peppercorns

4

bay leaves
Instructions
Add all the ingredients together in a large bowl and marinade for 4 hours.

Heat oven to 375 degrees, add the chicken skin side down to a large dutch oven along with the sauce and bake, covered, for

30 minutes

.

Uncover, turn the chicken over and glaze with the sauce. Then cook, uncovered, for an additional

30 minutes

until the chicken is browned and the sauce is reduced.
Nutrition
Calories:
270
kcal
|
Carbohydrates:
3
g
|
Protein:
21
g
|
Fat:
19
g
|
Saturated Fat:
5
g
|
Cholesterol:
111
mg
|
Sodium:
1168
mg
|
Potassium:
303
mg
|
Fiber:
1
g
|
Sugar:
1
g
|
Vitamin A:
95
IU
|
Vitamin C:
0.7
mg
|
Calcium:
24
mg
|
Iron:
1.4
mg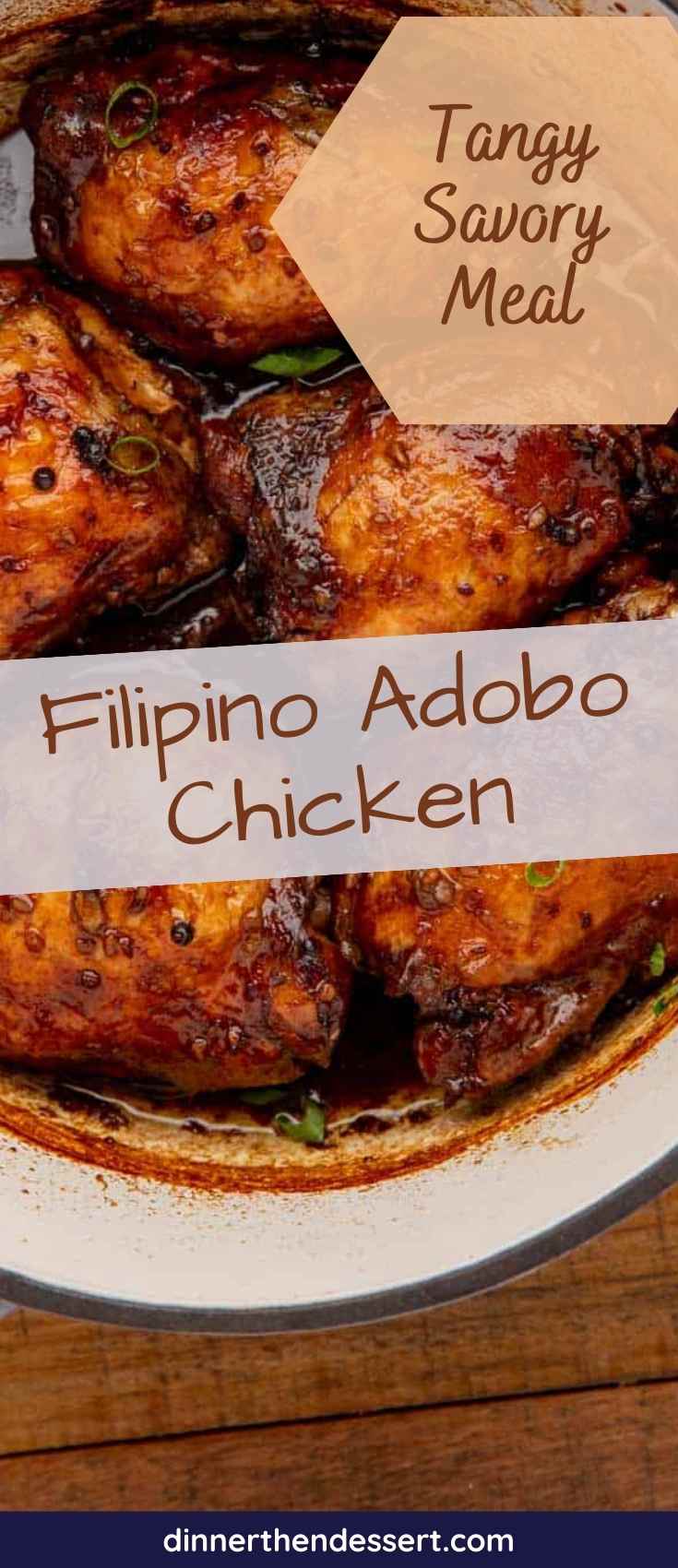 Photos used in a previous version of this post.