Amish Vinegar Slaw is lighter and tangier than a classic mayo-based slaw. Made with shredded cabbage, onion, apple cider vinegar, and dry mustard.
This is the perfect quick Side Dish that you can bring along to BBQs, potlucks, and family gatherings. Unlike Creamy Coleslaws, the cabbage mixture is tossed with a simple, tangy vinegar-based salad dressing instead of classic creamy coleslaw dressing.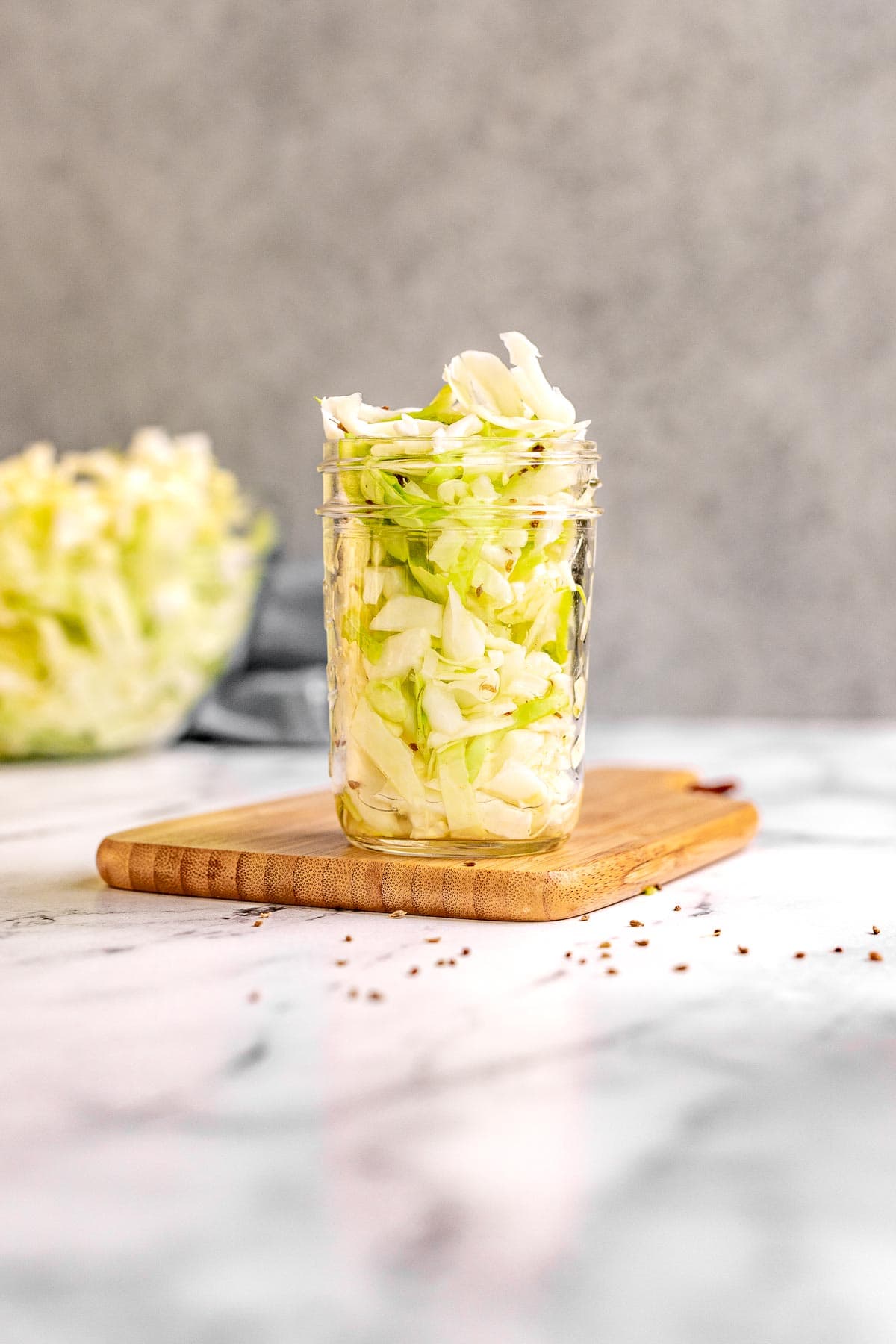 AMISH VINEGAR SLAW
Amish Vinegar Slaw just might become your favorite coleslaw recipe ever. Its light, tart flavor from the vinegar cider dressing makes it the most refreshing side to enjoy on a hot day. Making it without the mayonnaise gives the homemade coleslaw a lighter taste and more crispy texture that's sure to make it a favorite dish!
This is also the perfect recipe to make in advance and store in the fridge. Since there's no creamy dressing, the Amish Slaw keeps its fresh texture longer. You can start the prep time a couple of days in advance. After slicing the vegetables, and a brief cooking time for the dressing, all you have to do is mix it all together and cover the dish. Let the coleslaw chill until you're ready to serve for the perfect make-ahead dish.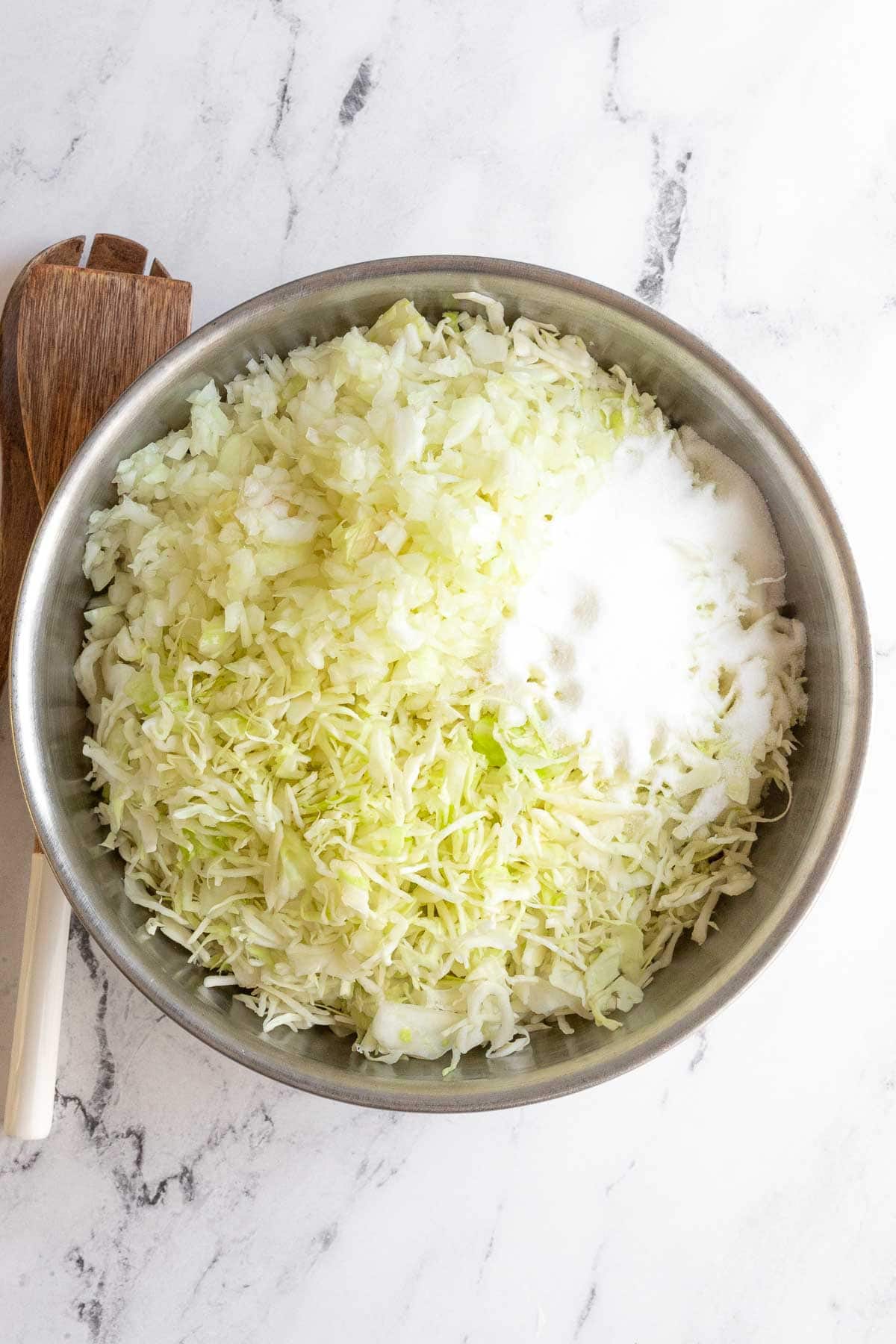 You can put out Amish Vinegar Slaw in a serving bowl at your next BBQ or big dinner. It would taste amazing served over Pulled Pork Sandwiches, or Fish Tacos. You can also serve it along with other fresh side dishes like Creamy Macaroni Salad and Milk Boiled Corn for an amazing and refreshing summer meal.
MORE COLESLAW RECIPES
KEY INGREDIENTS
Grated cabbage: The base of this recipe is made with shredded green cabbage. You can buy pre-packaged coleslaw mix, so that you don't have to shred cabbage yourself. However, a lot of coleslaw mixes have a vegetable mixture of carrots, red cabbage, and green cabbage. For this version, you just want a of head green cabbage. If you can't find a package of simple green cabbage, you can shred a head of cabbage yourself. Use a sharp knife or food processor to slice the fresh cabbage into small pieces.
Onion: Along with the green cabbage, the other vegetable in the recipe is yellow onion. Slice a medium onion into small pieces just like the cabbage, and toss the grated onion and cabbage together.
Vinegar: White vinegar is used in most classic coleslaw ingredients. It has a sharp, strong taste, that is balanced out in this recipe by the tart and tangy apple cider vinegar. Together, the two kinds of vinegar make the perfect base for the slaw dressing.
Spices: Celery seed, salt, and dry yellow mustard are mixed with vinegar and cooked into a strongly flavored and delicious dressing.
Granulated sugar: Between the bold, savory, and tart flavors of cabbage, onion, and vinegar, you need the sugar to balance it all out with some sweetness. Whisking in 1/2 cup white sugar is the perfect way to cut the more bitter flavors.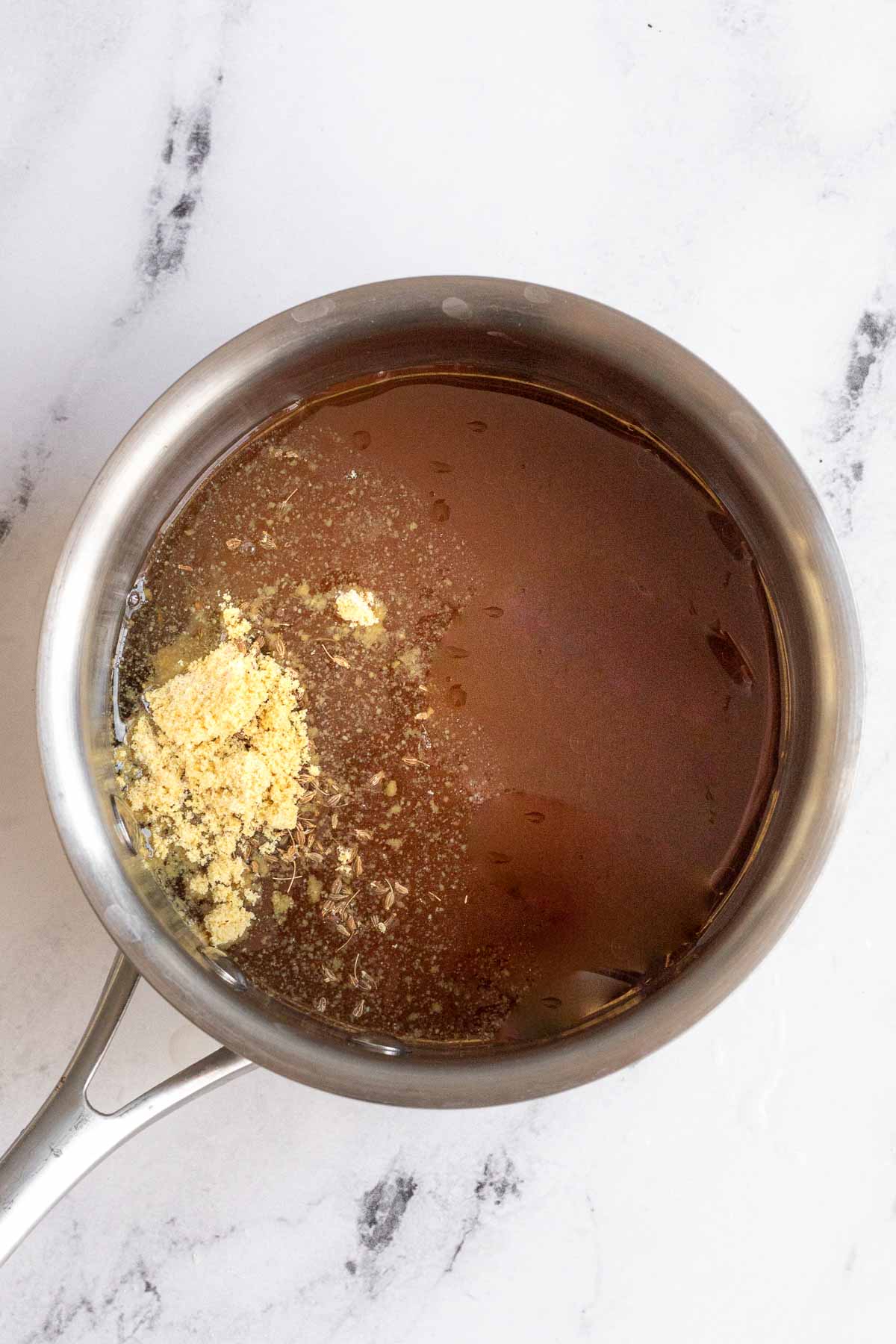 HOW TO KEEP COLESLAW CRISP
An easy trick to keep your Vinegar Coleslaw nice and crisp is to toss the shredded cabbage in salt. Then let the cabbage sit for 30 minutes. The salt will draw out excess moisture so that the vegetables can stay more crispy. Before tossing together the recipe, rinse the cabbage in cold water, then dry it with paper towels.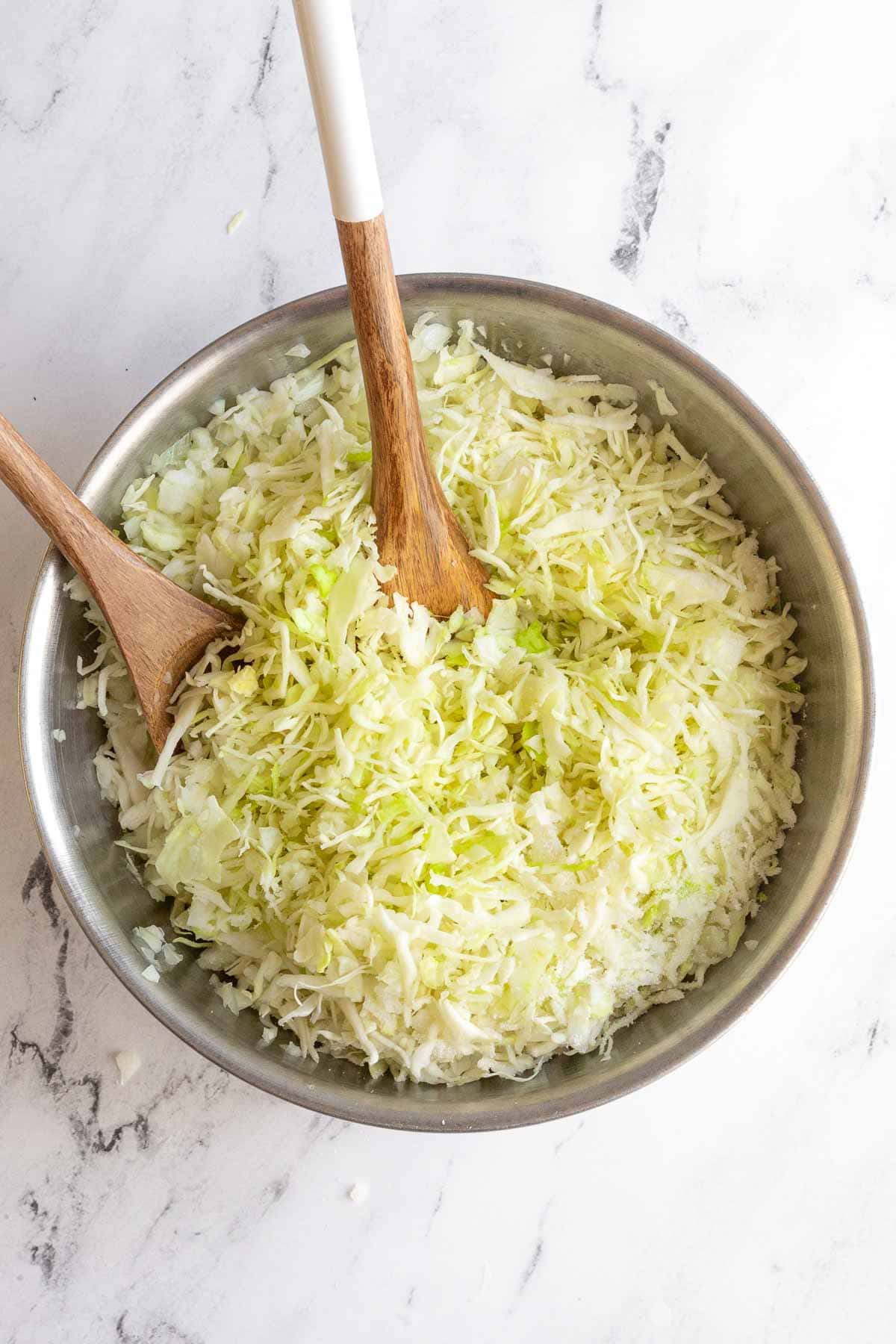 VARIATIONS
Lemon vinegar coleslaw: For some citrusy flavor in the Amish Slaw, whisk a couple of tablespoons of fresh lemon juice with the dressing. You could also use lime juice if you prefer.
Vegetable mixture: Instead of just sticking to the classic green cabbage, you can try tossing some more variety in the vegetable mixture. Green onions, grated carrots, garlic, cucumber, or broccoli would go great. You could also make a pepper cabbage mix with yellow, red, or green bell peppers.
EASY SIDE DISHES
HOW TO STORE
Serve: You don't want to leave this delicious slaw at room temperature for more than 2 hours.
Store: If you have leftovers, you can cover the quick side dish in plastic wrap and store it in the fridge for up to 2 weeks.
Freeze: This vinegar-based slaw stores a lot better than classic creamy slaw. Carefully seal the recipe and keep it in the freezer for up to 2 months. Let it thaw in the fridge to enjoy this delicious freezer slaw recipe.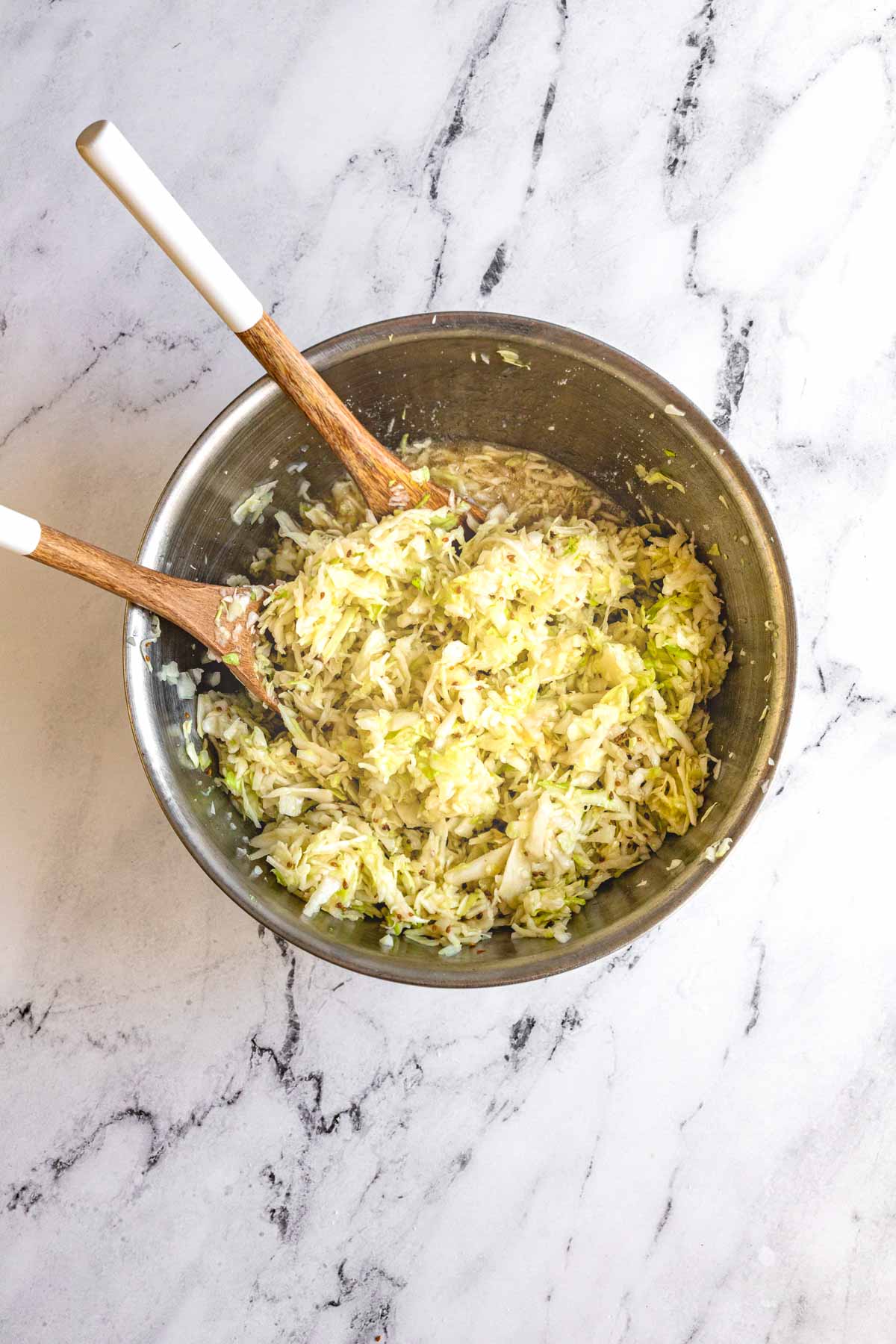 Recipe
Save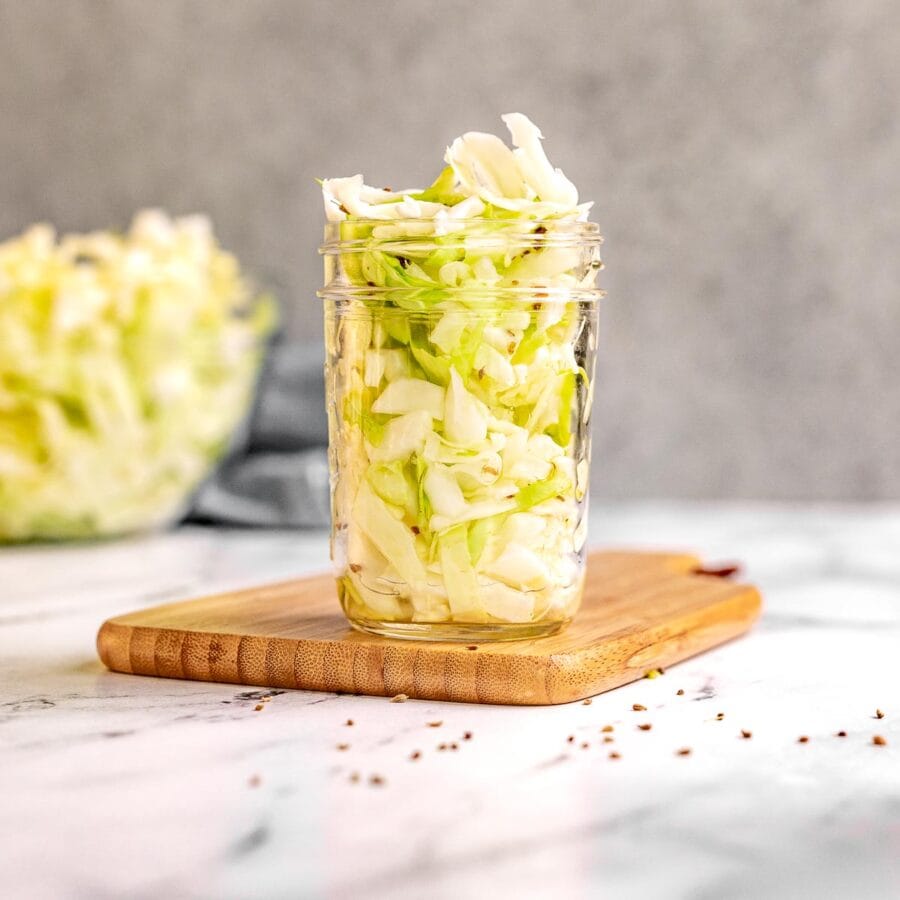 Amish Vinegar Slaw
Yield:

8

Servings

Prep Time:

5

minutes

Cook Time:

2

minutes

Total Time:

4

hours

7

minutes

Course: Sides
Cuisine: American
Author: Sabrina Snyder
Amish Vinegar Slaw is lighter and tangier than a classic mayo-based slaw. Made with shredded cabbage, onion, apple cider vinegar, and dry mustard.
Ingredients
32

ounces

finely shredded cabbage

, no carrots or red cabbage

1

yellow onion

, finely diced

1/2

cup

sugar

1/2

cup

white vinegar

1/2

cup

apple cider vinegar

2

teaspoons

celery seed

1

teaspoon

kosher salt

1

teaspoon

dry mustard

3/4

cup

vegetable oil
Instructions
Note: click on times in the instructions to start a kitchen timer while cooking.
In a large bowl add the shredded cabbage, onion, and sugar.

In a saucepan add the white vinegar, apple cider vinegar, celery seed, kosher salt, dry mustard, and vegetable oil.

Bring to a boil on medium heat and cook for 2 minutes.

Let cool to room temperature then pour over the cabbage, stirring well to coat.

Refrigerate at least for 4 hours if not overnight.
Nutrition Information
Yield: 8 Servings, Amount per serving: 268 calories, Calories: 268g, Carbohydrates: 21g, Protein: 2g, Fat: 21g, Saturated Fat: 17g, Sodium: 314mg, Potassium: 233mg, Fiber: 3g, Sugar: 17g, Vitamin A: 112g, Vitamin C: 43g, Calcium: 60g, Iron: 1g
All images and text © for Dinner, then Dessert.
Keyword:
Amish Vinegar Slaw
Save