Easy Coleslaw Macaroni Salad is a creamy pasta salad recipe with the taste and crunch of coleslaw. The perfect side dish for summer events!
It's hard to think of any better BBQ Side Dishes than Macaroni Salad and Coleslaw, but what if you put them together? This is the ultimate cold Summer Salad Recipe for all your family gatherings and barbecues.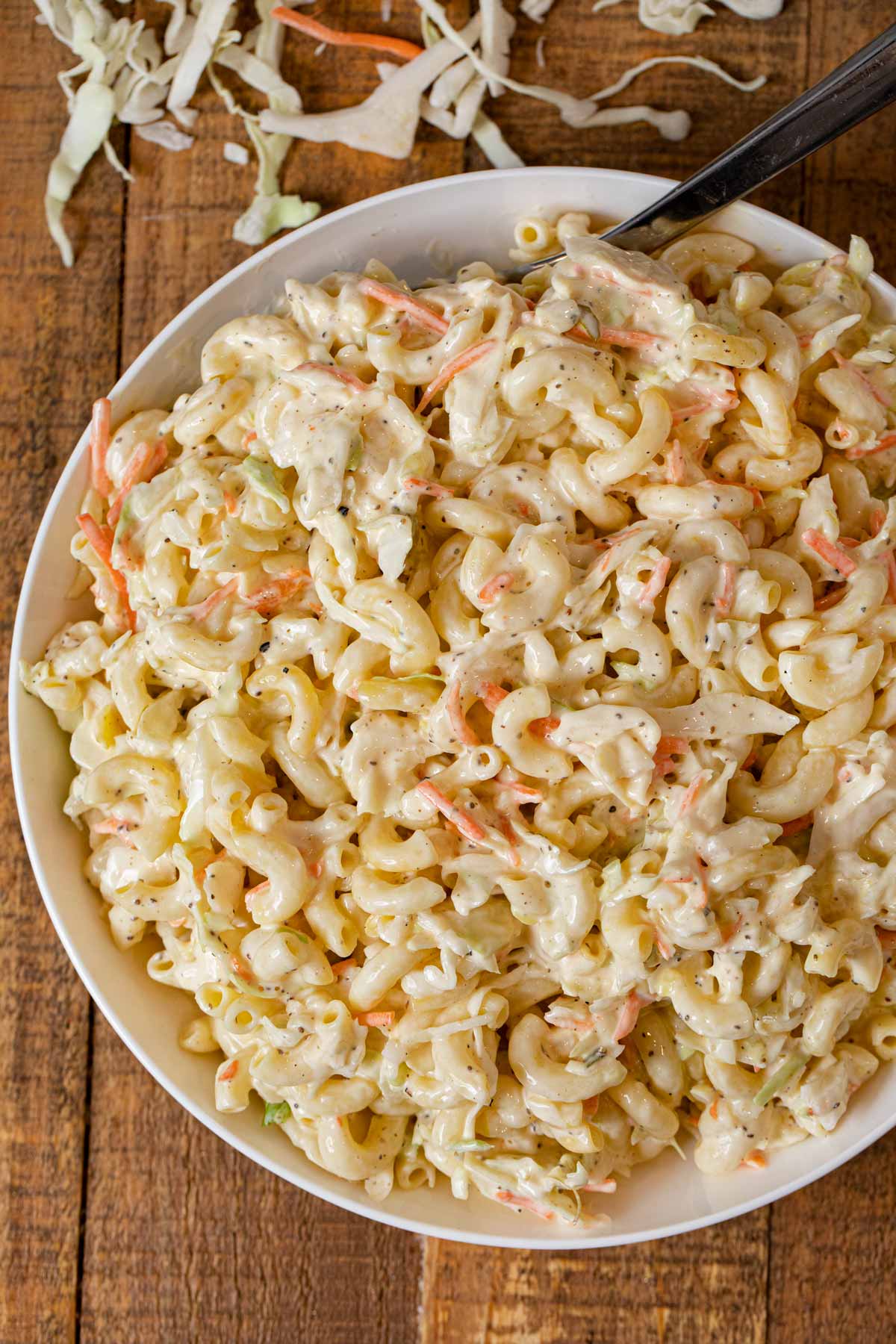 Easy Coleslaw and Macaroni Salad is the perfect cold side dish for cookouts, potlucks, or weekday lunches all summer long! It's a quick and tasty pasta salad that wows thanks to a bag of coleslaw mix and a simple but rich homemade dressing with mustard, relish, celery seed and a bit of sweetness. This creamy salad with amazing crunch is the absolute best side for summer dinners like BBQ Chicken and Grilled Pork Chops.
Coleslaw Macaroni Salad is one of the easiest dishes to make. Once you've cooked the macaroni, it's a simple matter of whisking together the creamy dressing and then tossing it with the slaw and cold noodles. It only takes a few minutes to throw together, then just leave it in the fridge for a few hours to set. Simple as that!
You are definitely going to want to double this amazing creamy, cold salad recipe for your summer cookouts because people will be coming back for seconds and thirds! One thing to note though if you are making it ahead, wait to add the package coleslaw mix until a couple hours before your event for maximum crunch factor! The Macaroni Pasta Salad keeps well in the fridge for a few days, but the cabbage will lose its amazing crunch as it soaks up the delicious salad dressing.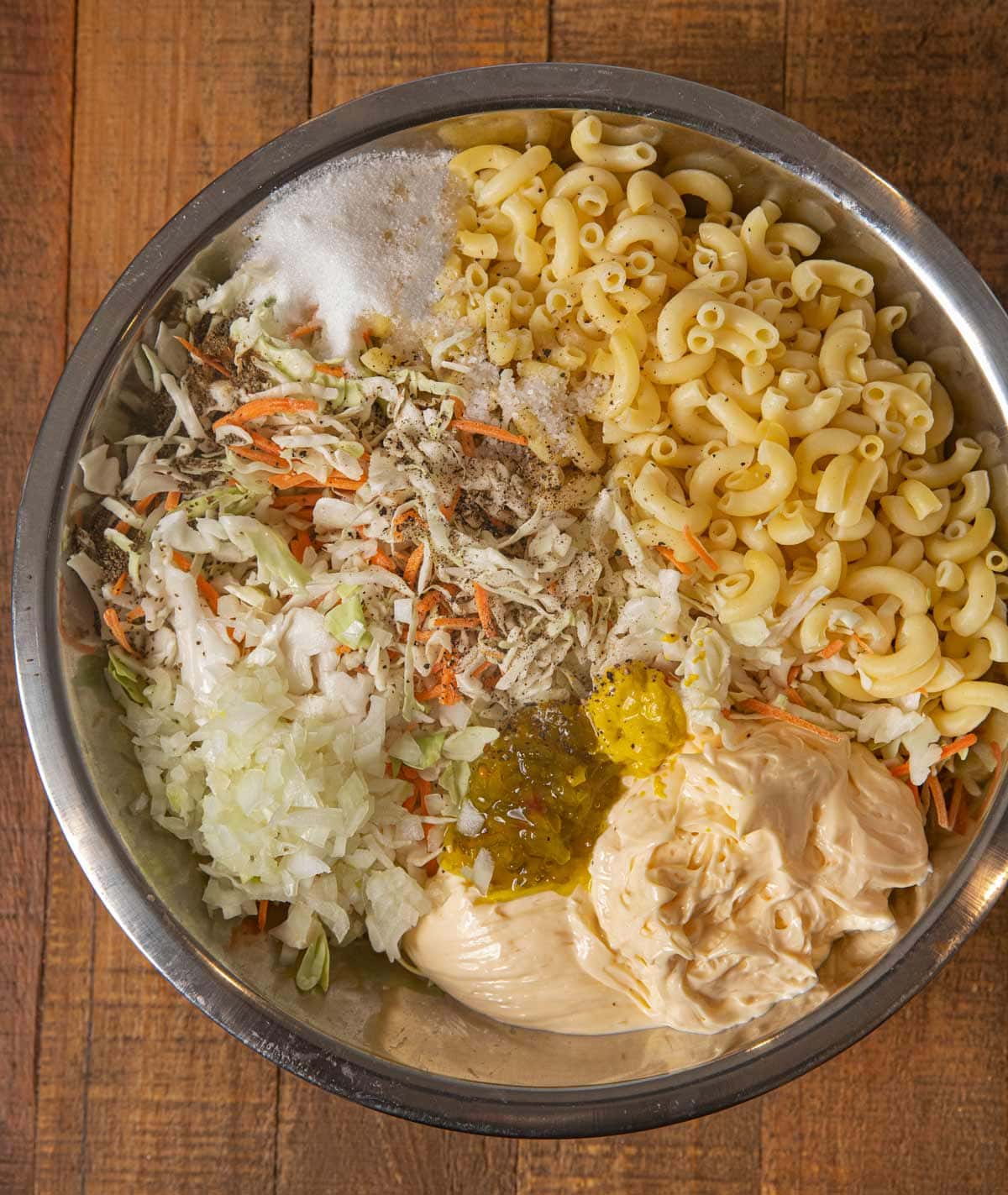 What is Coleslaw Macaroni Salad?
Easy Coleslaw Macaroni Salad is a mash up of two classic deli salads in one delicious dish. It combines a simple coleslaw recipe with a homemade coleslaw dressing with tender macaroni noodles. The creamy pasta salad has all the flavor and amazing crunch of coleslaw so it's truly the best of both popular summer side dishes.
Why should you make homemade Coleslaw?
It's easy to pick up a bottle of dressing or follow how to make coleslaw from a bag of mix, but making it from scratch is just as easy and tastes a million times better. The delicious homemade coleslaw in this pasta salad recipe is creamy, crunchy, and packed with flavor from celery seeds, mustard, cabbage, and relish. The best part of making it homemade is you get to pick the ingredients, like adding shredded kale or broccoli stems, or using other flavorful yet simple coleslaw recipes like Sweet Coleslaw or Amish Vinegar Slaw.
How to Make Coleslaw Macaroni Salad
Dressing: Whisk the mayonnaise, mustard, relish, vinegar, sugar, salt, pepper and celery seeds together in a large bowl.
Combine: Add the cooked pasta and bag of coleslaw mix to the dressing. Toss until well mixed and completely coated.
Chill: Cover the bowl and refrigerate for 2-4 hours before serving. If you are making the night before, wait to add the cabbage until a few hours before you want to serve to keep it from being watery.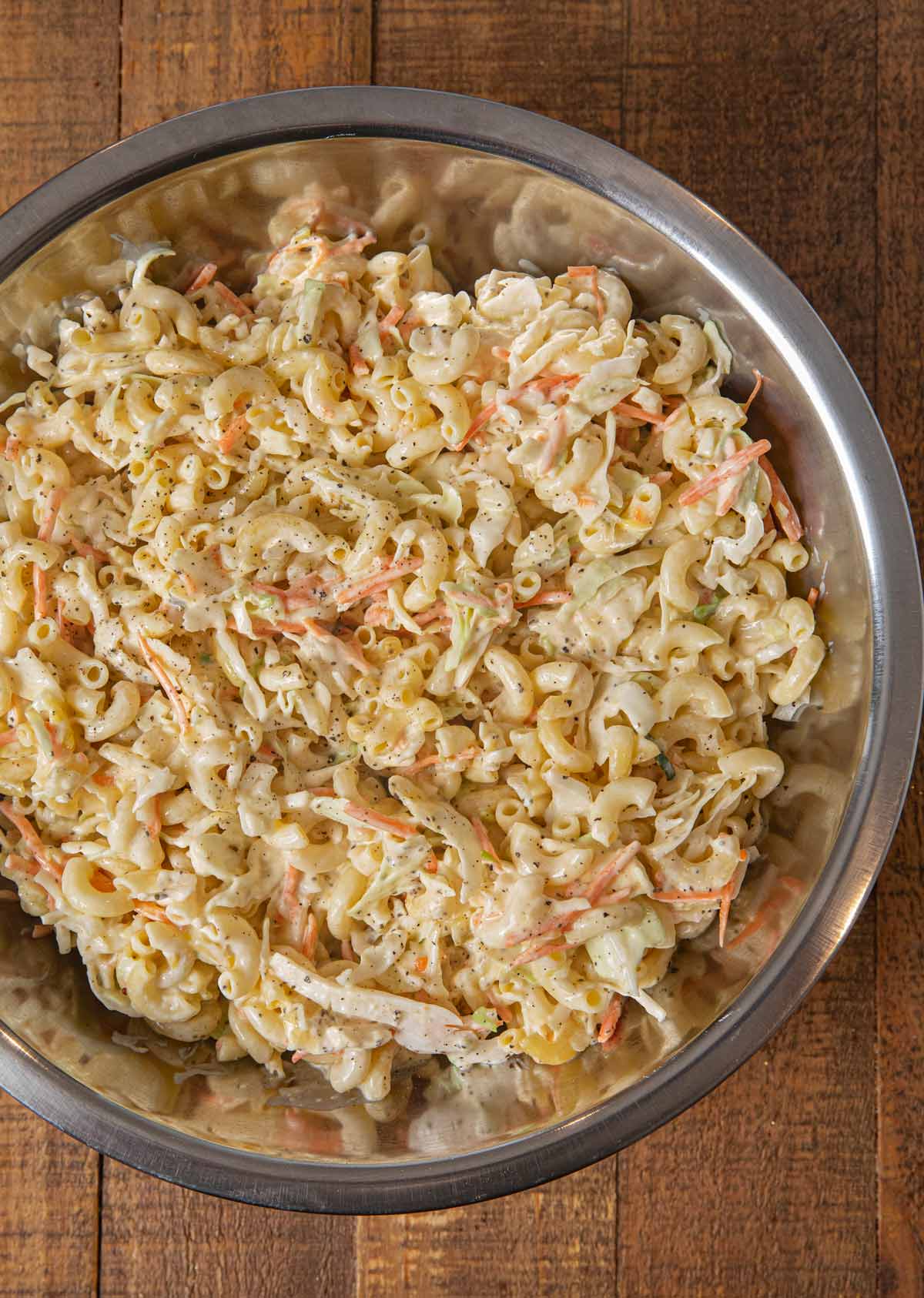 More Fun, Delicious Twists on Pasta Salad!
FAQs for Coleslaw Macaroni Salad
What do you put in coleslaw?
Coleslaw typically consists of shredded cabbage and may also include other vegetables such as carrots or onions. It is dressed with a creamy sauce, often made with mayonnaise, vinegar, sugar, and spices.
How much coleslaw dressing do you use?
As a general guideline, for 1 pound of coleslaw, starting with approximately ½ to ¾ cup of dressing is a good amount. It's best to start with a smaller amount and gradually add more dressing as needed, ensuring the coleslaw is evenly coated but not overly saturated. Adjust the quantity of dressing based on taste and desired creaminess.
How do you make your coleslaw not watery?
To prevent coleslaw from becoming watery, you can sprinkle a small amount of salt over the shredded vegetables and let them sit for a few minutes to draw out excess moisture. Afterward, squeeze or pat dry the vegetables before combining them with the dressing. This will help maintain the coleslaw's crispness and prevent it from becoming watery.
Can you eat coleslaw as a salad?
Coleslaw is commonly served as a side dish or topping for sandwiches, burgers, or tacos, but it can also be enjoyed on its own as a refreshing and crunchy salad. With the pasta added, it can be a filling lunch dish all on its own too.

Create a free account to Save Recipes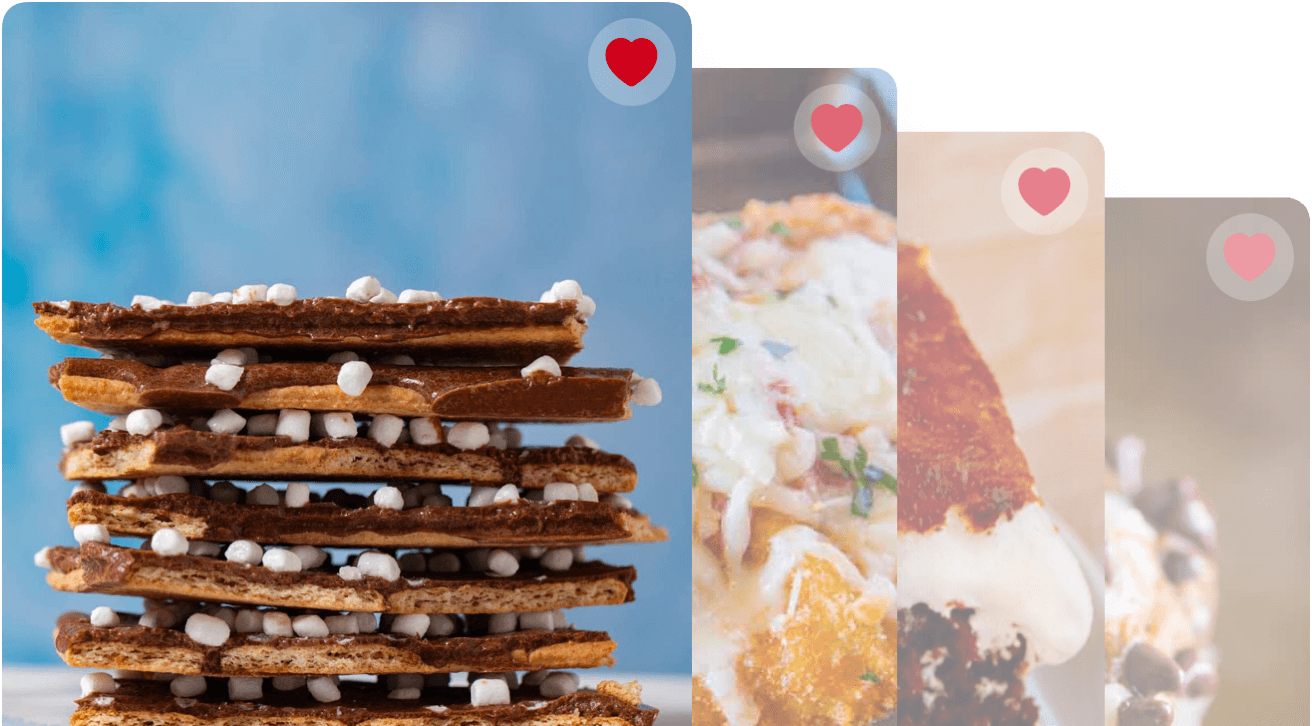 Key Ingredients
Dressing: This simple dressing recipe is a combination of creamy slaw dressing with mayonnaise, yellow mustard, apple cider vinegar, sugar, and celery seed. There is also some relish added for an extra briny tang. It is creamy, tangy, herby, and slightly sweet.
Celery Seed: Celery seed is a teeny little seed that adds a big punch of earthy, herbal flavor to deli salads like this Coleslaw Mac Salad. You can always make this coleslaw recipe without celery seed, or you can swap it with celery salt and just eliminate the regular salt.
Macaroni: Elbow macaroni is perfect for pasta salad because the curved shape and hollow inside capture lots of the delicious creamy rich dressing. You want to cook it to al dente, then rinse and drain well. Unlike hot dishes, you want to rinse pasta for cold dishes so the starch doesn't make your dressing gummy.
Onion: Mince the yellow onion finely so you get a subtle onion taste without overpowering the salad.
Cabbage Mix: Coleslaw cabbage mix typically includes shredded cabbage and sometimes other vegetables like carrots. If you are using a mix with colorful cabbage, like red or purple, keep in mind that after a day or two, it will blend in and dye the rest of the salad.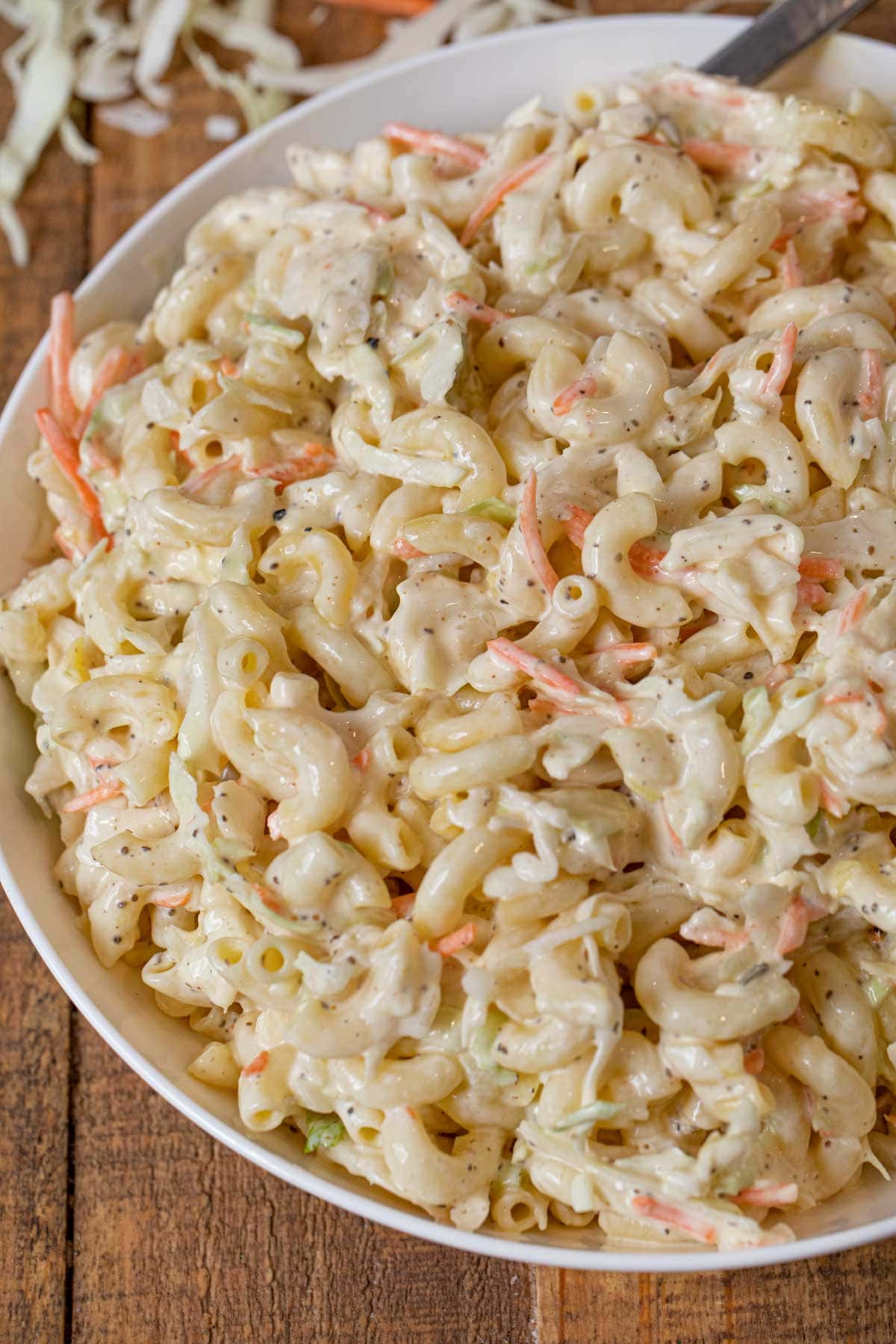 Can you make Coleslaw Macaroni Salad ahead of time?
You can make the components of the Coleslaw Macaroni Salad ahead of time, but you should serve it the same day you make it because if it sits overnight it will become watery. You can cook the pasta a day or two ahead and store it with or without the dressing. Then the day you want to serve it, toss everything with the slaw and let chill for a couple hours so it can soak up the flavors but still be crunchy.
Variations
Pasta: You can swap the elbow macaroni for any other short cut pasta that you prefer or happen to have in the pantry. Penne, rigatoni, orecchiette, or orzo would all work nicely.
Yogurt: For a lighter creamy slaw, exchange the mayonnaise for Greek yogurt. Greek yogurt does a good job keeping the same coleslaw texture you want, but it is much more healthy.
Sweetener: If you want a slightly healthier sweetener, try using honey. You'll exchange it in equal parts so use ¼ cup honey to replace the sugar and mix it in thoroughly with the other ingredients.
Add-ins: For some flavor add-ins try mixing in dill, chives, or some lemon juice. If you want some extra vegetables, chop up cucumbers or shred broccoli stalks to toss in. You could also add frozen peas to the mixture.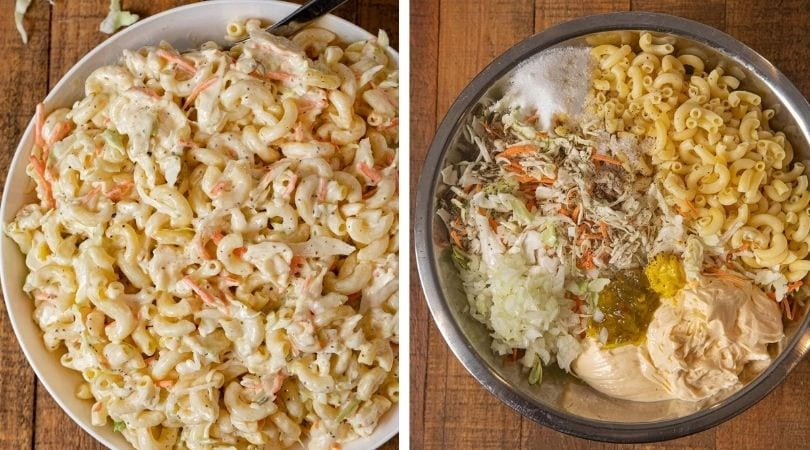 Homemade Coleslaw Cabbage Mix
What you'll need: Green cabbage, some red cabbage if desired, and a carrot.
Cabbage: You can either shred your cabbage in a food processor or with a knife. Either way, start by cutting the head into fourths and then cutting out the core. If you're using a food processor, just put ¼ in at a time to shred. For the knife, slice each wedge horizontally into thin strips of cabbage. About 1 head should be plenty.
Carrot: To shred the carrot, either use a hand grater or a food processor attachment. You can also add shredded kale or broccoli stalks. Once you've shredded the cabbage and any other veggies, mix them together and your slaw is ready for this delicious salad.
How to Store
Serve: Because of the mayonnaise base in the dressing, you want to keep this salad chilled unless serving. It can be at room temperature for up to 2 hours, but it's best to keep it on ice at least if possible.
Store: Cover the salad or put it in an airtight container to store in the fridge. It should keep well for 3-4 days. Keep in mind it will naturally get a little watery. Just give it a good stir before serving leftovers and add a little more mayo to make it creamier.
Freeze: This recipe won't freeze well because the mayonnaise and dressing will all separate. It's much better to make a fresh batch.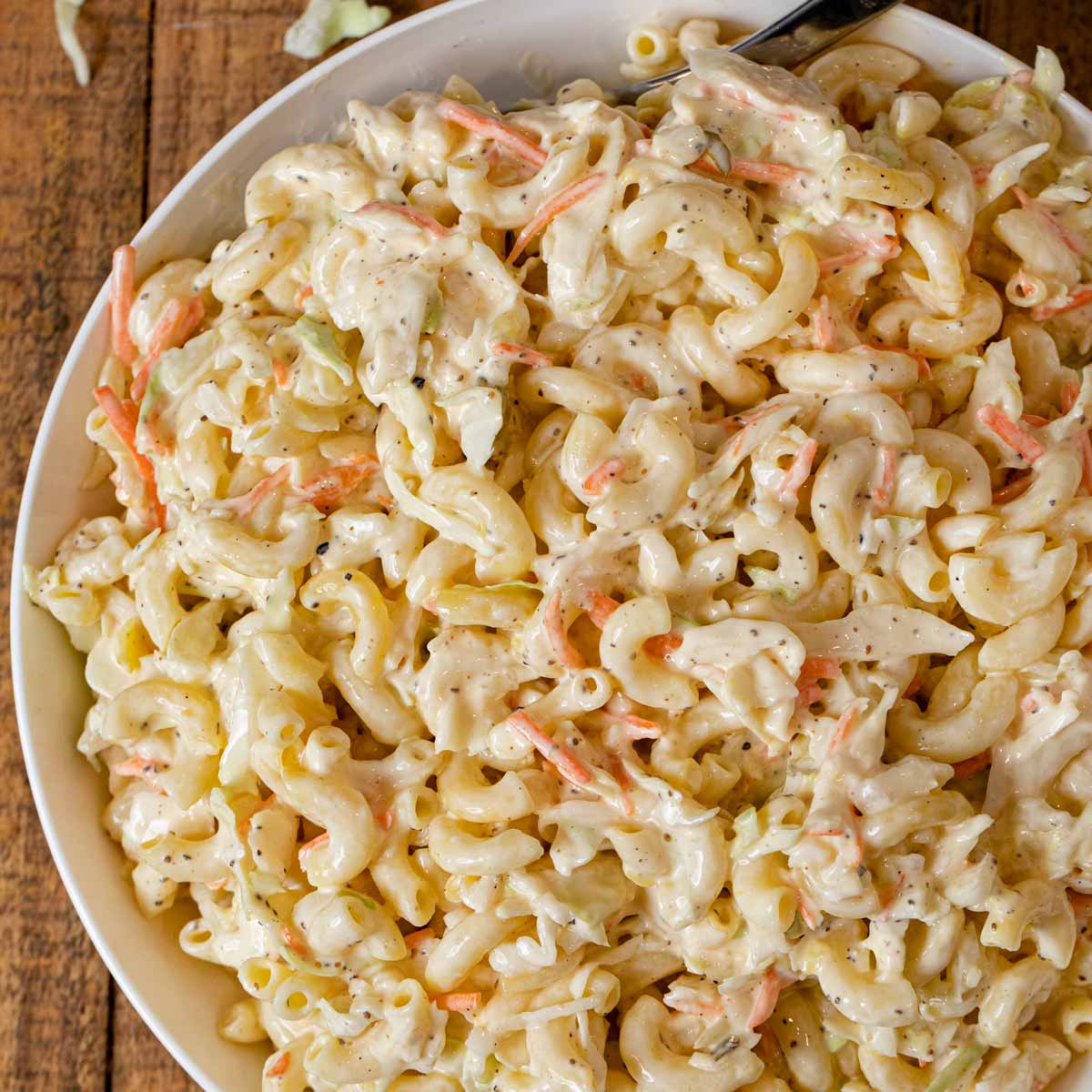 Ingredients
2

cups

mayonnaise

1

tablespoon

yellow mustard

2

tablespoons

relish

, sweet or dill is fine

1/4

cup

apple cider vinegar

1/4

cup

sugar

1

teaspoon

kosher salt

1/8

teaspoon

coarse ground black pepper

2

teaspoons

celery seeds

1

pound

elbow macaroni

, cooked and drained

1/4

yellow onion

, minced

16

ounces

coleslaw cabbage mix
Instructions
In a large bowl whisk together mayonnaise, mustard, relish, vinegar, sugar, salt, pepper, and celery seeds.

Add pasta and cabbage mix.

Toss well.

Refrigerate for at least

2 hours

before serving.
Nutrition
Calories:
392
kcal
|
Carbohydrates:
59
g
|
Protein:
9
g
|
Fat:
14
g
|
Saturated Fat:
2
g
|
Cholesterol:
9
mg
|
Sodium:
785
mg
|
Potassium:
258
mg
|
Fiber:
3
g
|
Sugar:
12
g
|
Vitamin A:
95
IU
|
Vitamin C:
21
mg
|
Calcium:
47
mg
|
Iron:
1
mg