Thai Meatball Peanut Satay is a juicy homemade meatballs recipe served with a rich, creamy peanut butter sauce and crunchy peanut topping.
These Asian-inspired recipe combines Classic Chicken Peanut Satay with easy Beef Meatballs. You can serve this delicious meatball recipe up as a Main Dish or stick toothpicks in each meatball and put them out as an Appetizer.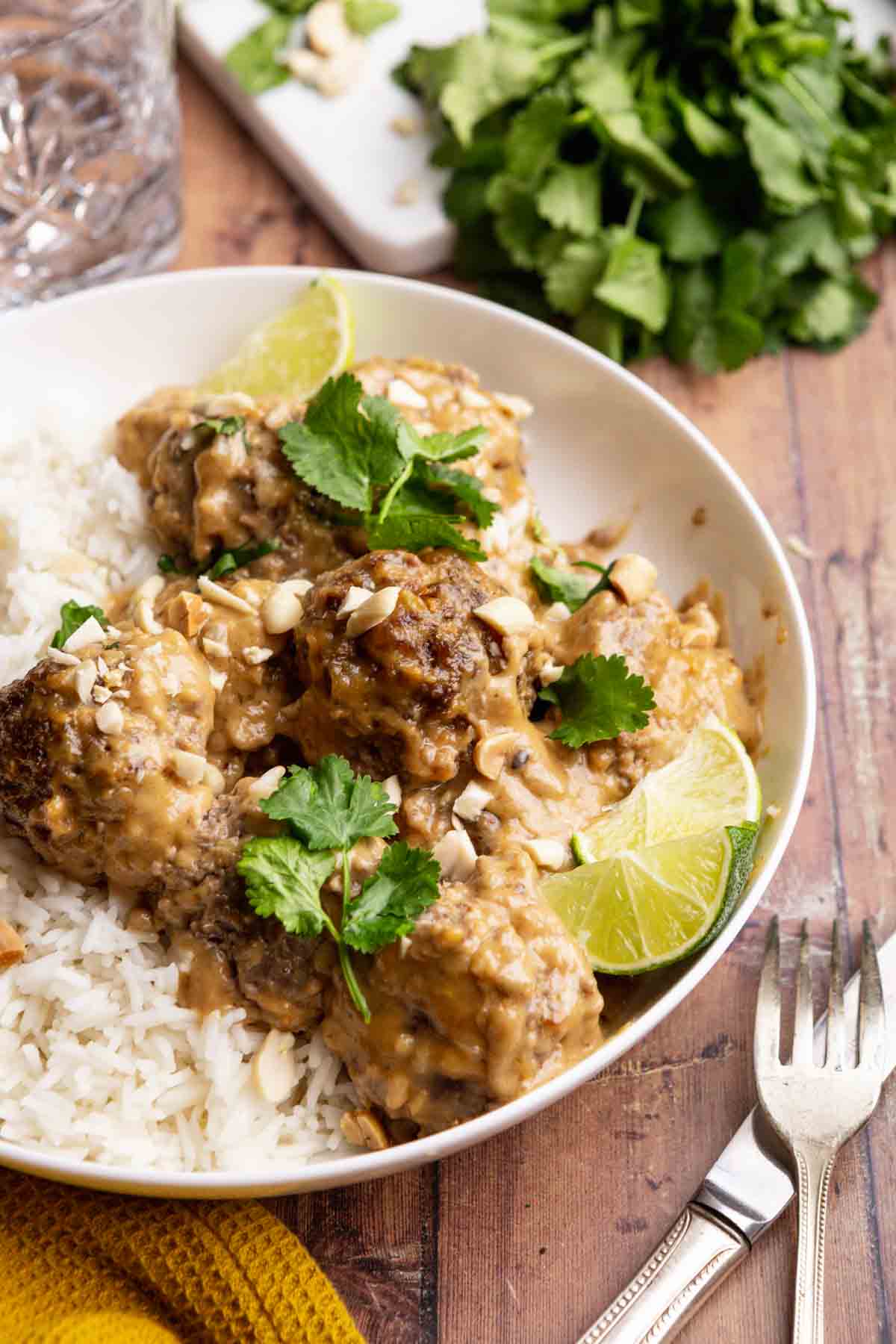 The creamy peanut sauce in this Asian Meatball Satay is a complete game-changer. They cover the meatballs with peanut, coconut, honey, lime, and spice flavors. The complex flavor of the sauce all comes together beautifully and is just perfect for this simple meatball recipe. It's so good you'll want to use the peanut dipping sauce to serve up with other meat dishes.
To make Peanut Satay Meatballs into a complete meal, just serve them over your choice of delicious rice. It would taste great with Baked Brown Rice, Steamed White Rice, or cauliflower rice. Just scoop the meatballs over the sticky rice and spoon any extra peanut sauce over the top for an easy comfort food dish. Leftovers will keep for days so these meatballs make a quick and delicious lunch meal prep, especially with some Steamed Veggies to make it healthier.
Another great thing about this meatball recipe is that you can cook the meatballs and store them for months for a quick protein on busy weeknights. When ready to serve, simply bake the meatballs from frozen and prepare the peanut sauce fresh. Coat the meatballs with peanut sauce and garnish with chopped peanuts and cilantro to serve. 
How to Make Thai Meatball Peanut Satay
Prep time: Start by preheating your oven to 400 degrees, and spraying a 9×13 inch pan with nonstick cooking spray. Add the bread slices and milk to your stand mixer so that the milk has time to soak into the bread.
Onions: Melt butter in a large pan, then add the minced yellow onions. Cook on medium-low until translucent. Be sure to remove the onions from heat before they begin to brown. Let them cool.
Meat Mixture: Add the ground beef, cooked onion, eggs, minced garlic cloves, salt, pepper, and Worcestershire sauce to the mixing bowl over the bread. Mix on low. It should break apart the bread and combine it with the other ingredients. When just combined, turn off the mixer and use an ice cream scoop to form the mixture into about 1 1/2-inch meatballs.
Cooking Time: Place the meatballs on the prepared baking dish and cook uncovered for 20-22 minutes.
Peanut Sauce: Make the delicious sauce while the meatballs are baking. Add coconut milk, peanut butter, soy sauce, honey, rice wine vinegar, fresh lime juice, sesame oil, garlic, and ginger to a large pot. Stir the creamy sauce, and set the stove to medium-high heat. Cook for 4-5 minutes until it's thickened.
Serve: Add the baked meatballs to the sauce once it has thickened. Stir to coat and cook for 1 minute. Serve meatballs with peanut sauce over rice or with steamed veggies. Top them off with crushed peanuts and fresh cilantro as a garnish.
FAQs for Thai Meatball Peanut Satay
What is Thai Satay?
Thai Satay is a dish made of skewered and grilled meat, typically chicken or beef, marinated in a flavorful blend of herbs and spices. The dish is often served with a rich dipping sauce made from peanuts. These easy beef meatballs have the same delicious satay flavorings and rich peanut sauce for dipping.
Is Satay Sauce the same as Peanut Sauce?
Satay sauce and peanut sauce are similar but not the same. Satay sauce is typically made with peanuts, coconut milk, spices, and other ingredients like lemongrass and tamarind, while peanut sauce is a simpler mixture of peanut butter, soy sauce, and other flavorings. However, some recipes may use the terms interchangeably.
Why is my peanut sauce watery?
If your peanut sauce is watery, it could be because you added too much liquid or didn't cook it long enough. To thicken the sauce, you can simmer it over low heat until it reduces and thickens, or you can add a cornstarch slurry (a mixture of cornstarch and water) to help thicken it. Another option is to use less liquid or more peanut butter in the recipe to achieve a thicker consistency.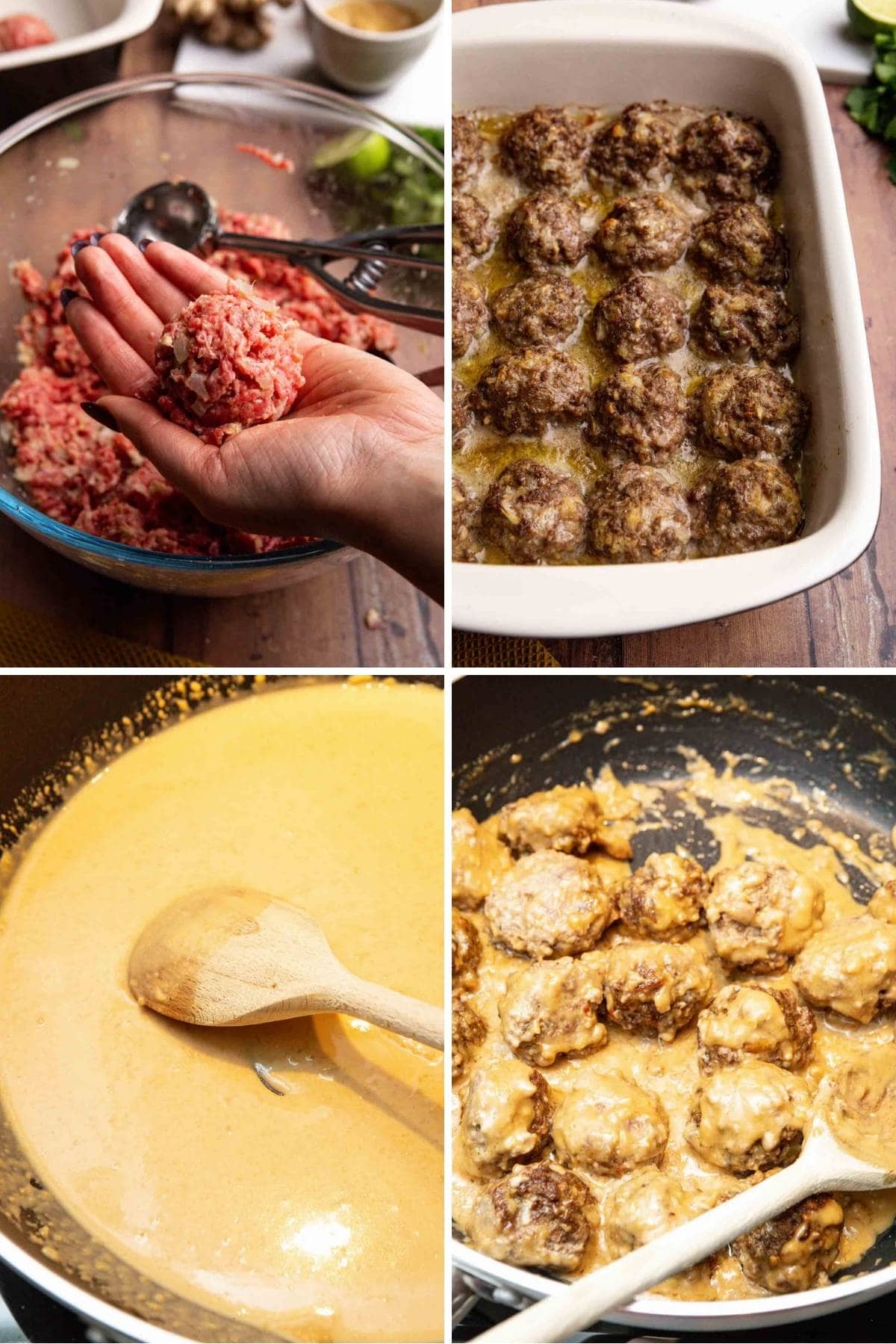 Create a free account to

Save Recipes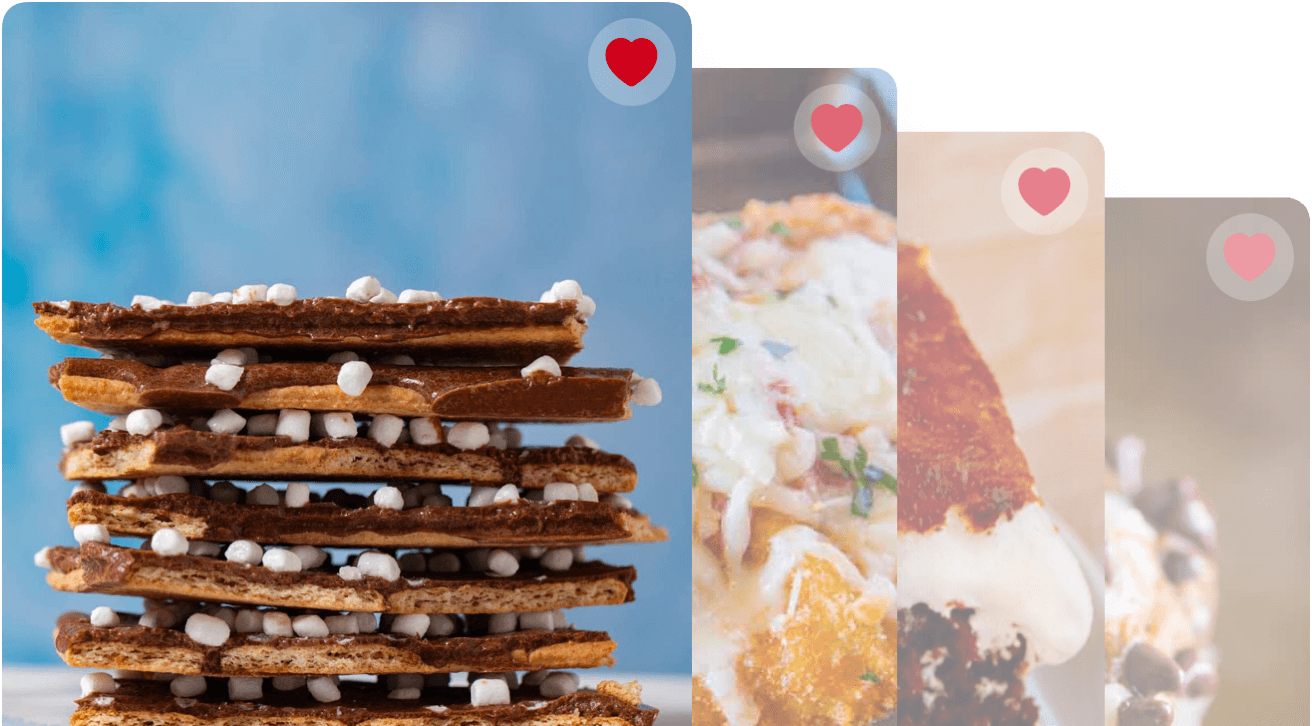 Key Ingredients
Bread: Three slices of bread are used to bind the meatballs together and provide a tender texture. The bread is soaked in whole milk, adding richness and moisture to the meat mixture.
Ground Beef: This recipe calls for two pounds of 80/20 ground beef, which has a higher fat content than leaner ground beef. This adds flavor and juiciness to the meatballs so they stay moist while they bake.
Eggs: Two large eggs are used to help bind the meat mixture together, resulting in meatballs that hold their shape and have a tender texture.
Coconut Milk: Half a can of coconut milk is used as the base for the peanut sauce, providing a rich and creamy texture and a hint of sweetness.
Peanut Butter: Using creamy peanut butter is the easiest way to get the delicious peanut flavor and rich silky texture to the sauce.
Seasonings: Soy sauce brings saltiness and umami, rice wine vinegar adds tanginess and acidity, lime juice adds a bright citrus note, sesame oil is nutty and aromatic, and honey adds a touch of sweeteness. All together these seasonings provide depth and balance each other out for a complex, balanced sauce.
Garnish: Just like a traditional Thai Satay, these meatballs are garnished with chopped cilantro to brighten up the richness and crushed peanuts for some delicious texture.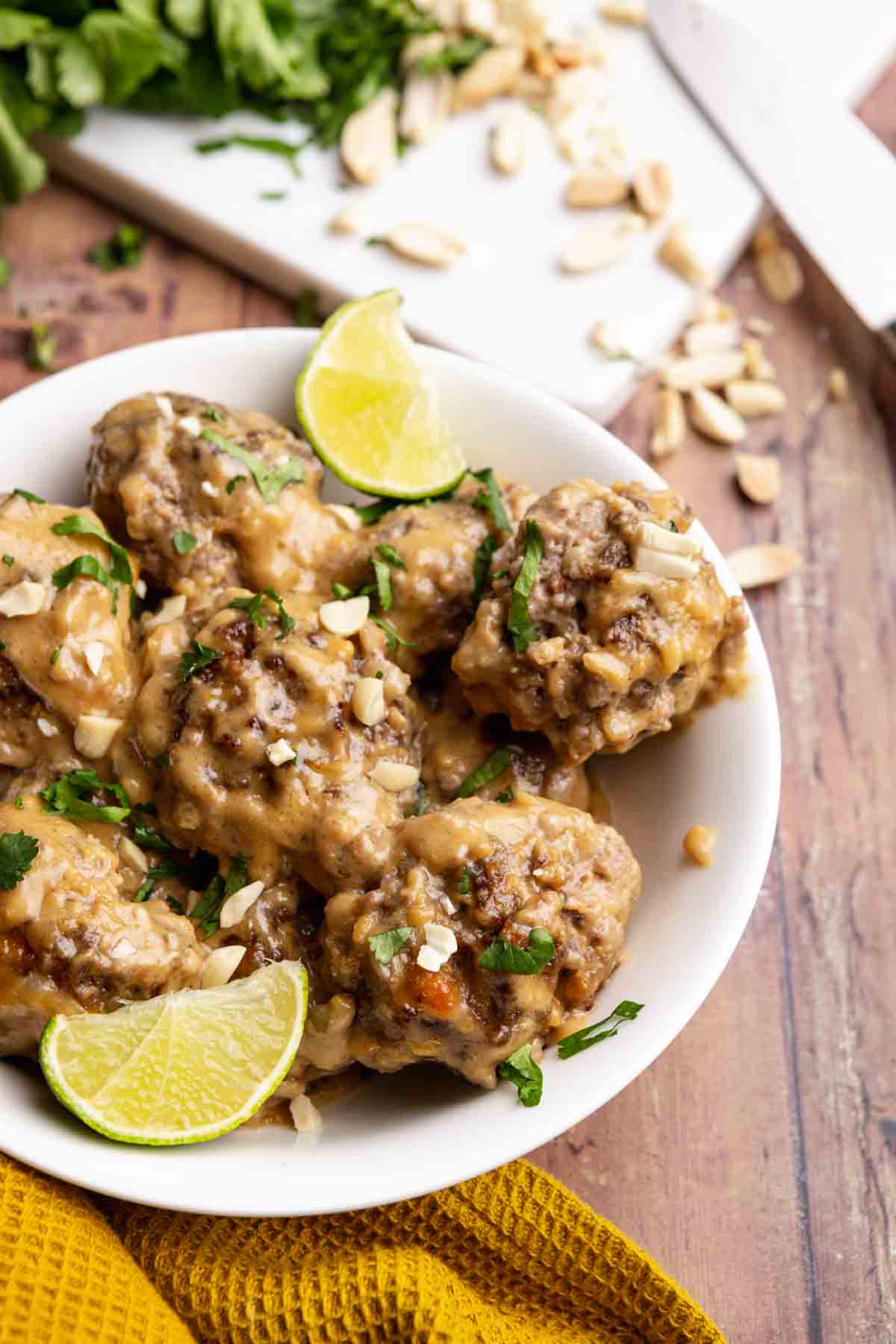 Can Thai Meatballs Peanut Satay be made in advance?
Yes, Thai Meatballs Peanut Satay can be made in advance. You can make the meatballs ahead of time and store them in an airtight container in the refrigerator for up to 3 days. You can also make the peanut sauce ahead of time and store it in an airtight container in the refrigerator for up to 1 week. Reheat the meatballs in the oven at 350 degrees for 10-12 minutes, or until heated through. To reheat the peanut sauce, warm it in a saucepan over low heat, stirring occasionally, until it reaches your desired consistency.
Variations
Seasonings: Try adding seasonings like red pepper flakes, Thai basil, garlic, grated ginger, or fresh mint to the beautiful sauce. You could also top the meatballs off with sliced green onions before serving.
Spicy: If you want to add some heat to this recipe, just add a dash of hot sauce to either the meatball mixture or peanut sauce. Sriracha sauce will work nicely for this, just be careful not to use too much and make it too spicy to enjoy. You can also chop fresh chile peppers of your choice and add them to the meatballs.
Meat: Instead of ground beef, you could use ground chicken, pork, or turkey in this meatball recipe, or do a mixture of 2 or more. If using leaner meat like turkey or chicken, add a tablespoon of oil to make up for the missing beef fat.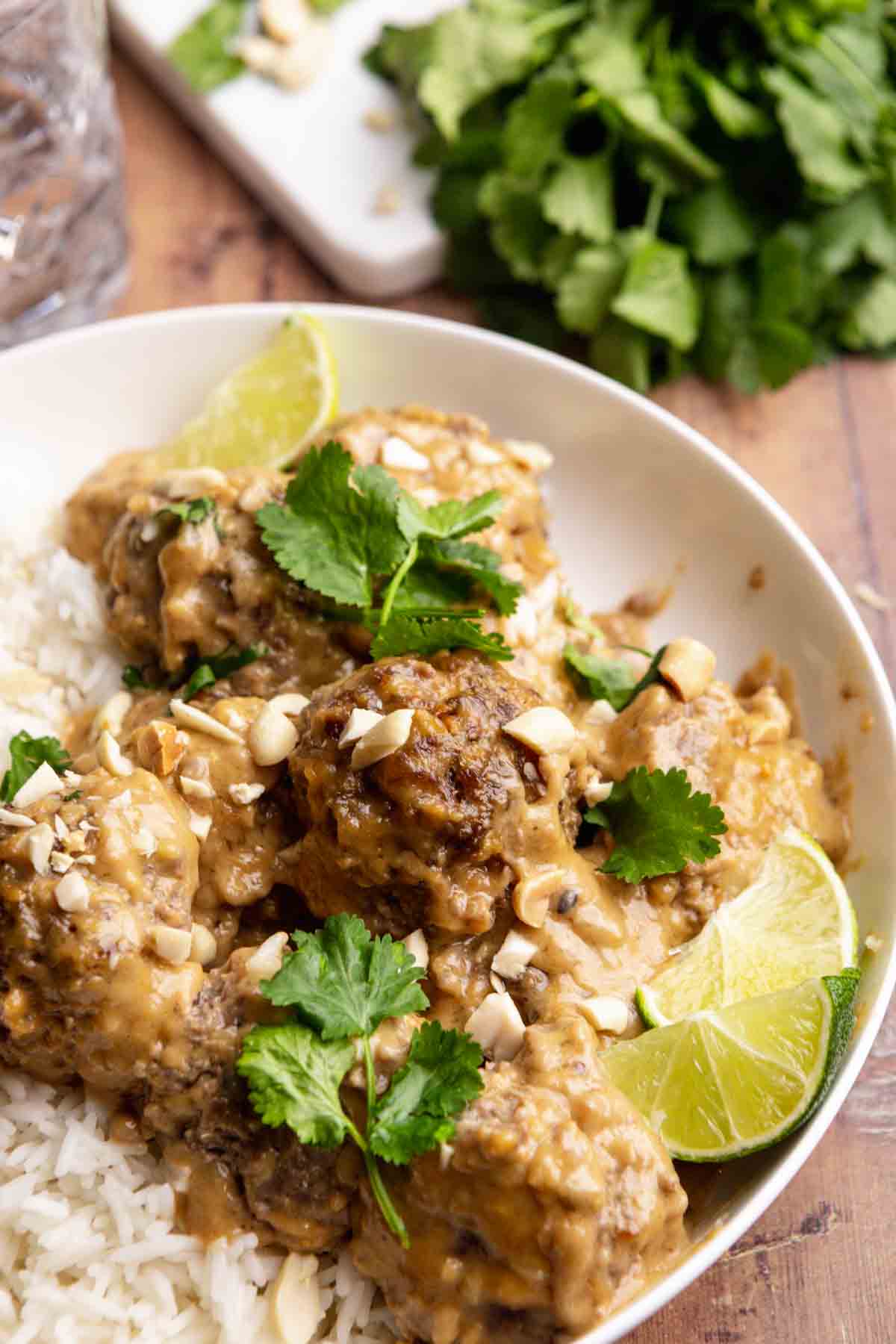 More Fun, Delicious Meatball Recipes
How to Store
Store: Don't leave Peanut Satay Meatballs at room temperature for more than 2 hours. If you have leftovers, you can put the meatballs and peanut sauce in an airtight container and store in the fridge for 3-4 days.
Reheat: Reheat the meatballs on a baking sheet in the oven at 350 degrees until heated through. To keep them from drying out, you can place them in a small baking dish and add a tablespoon of broth then cover with foil and reheat in the oven.
Freeze: You can keep cooked meatballs without the sauce in the freezer for 3 months in an airtight container. Reheat frozen meatballs without thawing first, or let them thaw overnight in the fridge first.


Ingredients
Meatball Recipe:
3

slices

bread

1/3

cup

whole milk

1/2

yellow onion

, minced

3

tablespoons

unsalted butter

, divided

2

pounds

ground beef

, (80/20)

2

large

eggs

3

cloves

garlic

, minced

1

teaspoon

kosher salt

1/2

teaspoon

cracked black pepper

1

teaspoon

Worcestershire Sauce
Instructions
Preheat oven to 400 degrees and spray a 9×13 baking pan with vegetable oil spray.

In the bowl of your stand mixer add the milk to the slices of bread.

Melt the butter in a pan and add the minced yellow onions.

Cook on medium low until translucent but not browned.

Remove from heat and let cool.

In your bowl with the milk-soaked bread add the rest of the meatball ingredients, including the cooked onions.

Mix it on low until the bread is broken apart and the meat is combined with the ingredients (using the stand mixer and not your hands helps keep the mixture cold and tender).

Using a meatballer/ice cream scoop or your hands scoop them into balls about the size of a ping pong ball.

Cook, uncovered, for

20-22 minutes

.

While the meatballs are cooking, in a large pot, add the coconut milk, peanut butter, soy sauce, honey, rice wine vinegar, lime juice, sesame oil, garlic, and ginger.

Stir well then turn on heat to medium-high.

Cook for

4-5 minutes

until sauce has thickened.

Remove meatballs from baking sheet and add to sauce.

Cook for

1 minute

until well coated.

Garnish with crushed peanuts and cilantro.
Nutrition
Calories:
334
kcal
|
Carbohydrates:
11
g
|
Protein:
19
g
|
Fat:
24
g
|
Saturated Fat:
11
g
|
Polyunsaturated Fat:
2
g
|
Monounsaturated Fat:
9
g
|
Trans Fat:
1
g
|
Cholesterol:
91
mg
|
Sodium:
428
mg
|
Potassium:
388
mg
|
Fiber:
1
g
|
Sugar:
5
g
|
Vitamin A:
168
IU
|
Vitamin C:
2
mg
|
Calcium:
50
mg
|
Iron:
3
mg