Shrimp in Lobster Sauce is an easy, budget friendly recipe for Chinese food at home! Stir-fried shrimp, carrots, and frozen peas in a rich garlic sauce.
Making Chinese Food at home is a budget friendly way to enjoy decadent (pricey) takeout seafood dishes like Honey Walnut Shrimp and Cantonese lobster sauce stir-fry!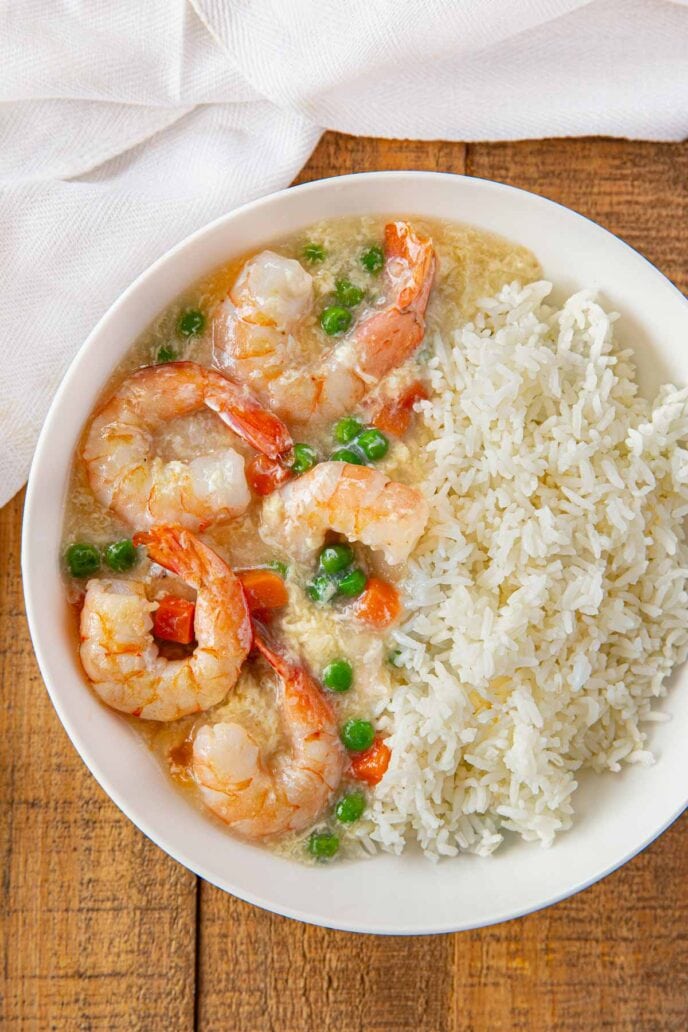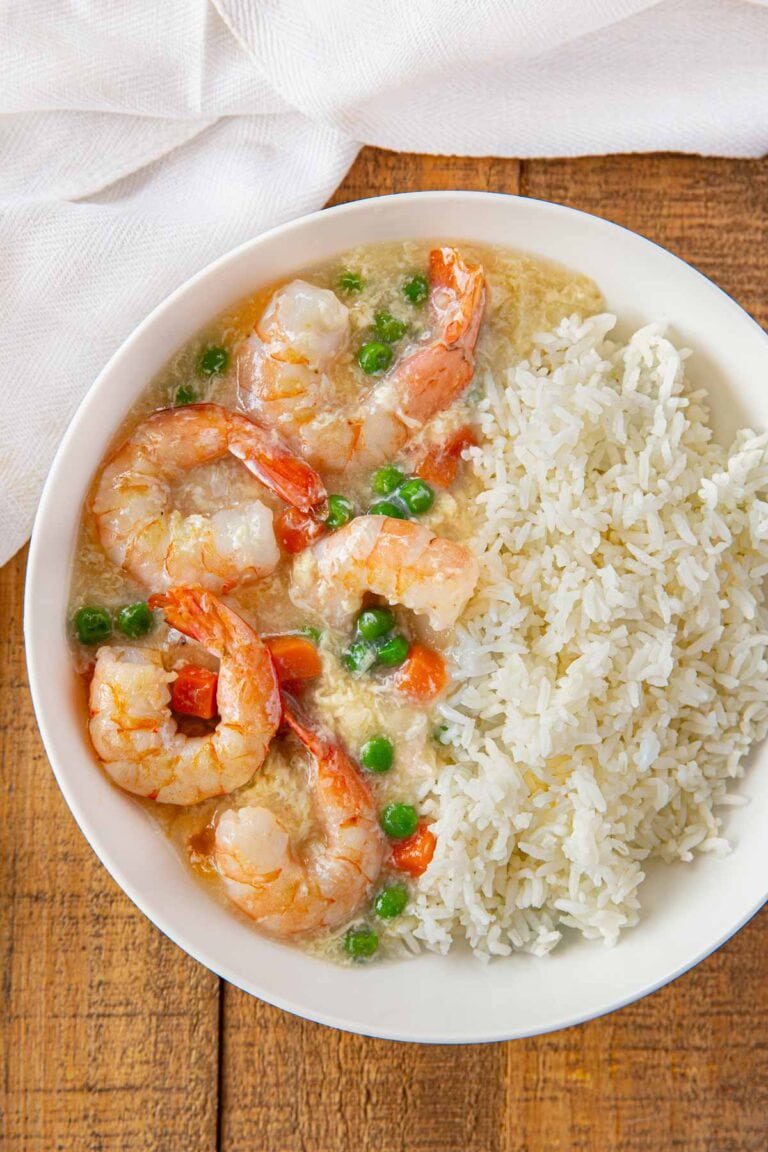 SHRIMP IN LOBSTER SAUCE
Lobster anything just sounds luxurious, doesn't it? Despite the fancy name, there isn't actually any lobster in this dish. Lobster sauce refers to the Cantonese way of cooking and serving lobster, but Chinese restaurants realized it tastes just as delicious with much less expensive shrimp.
This Shrimp in Lobster Sauce recipe may not have lobster but it does have lots of decadent, rich flavor from the egg, and beaten egg. The egg is slowly whisked in, like Hot and Sour Soup, so the sauce thickens and the egg is cooked without scrambling.
Shrimp in Lobster Sauce has "white sauce", but doesn't have heavy cream or flour like other cuisines. A white sauce in Chinese food is broth-based instead dark sauces like soy sauce or teriyaki sauce. This lobster sauce recipe doesn't have any fermented black beans, you get a beautiful golden sauce that is full of shrimp flavor.
Serve Shrimp in Lobster Sauce with simple sides like Steamed White Rice and Fried Rice to soak up all the delicious, rich sauce! It pairs well with takeout favorites like Chow Mein and Orange Chicken. You can use Shrimp in Lobster Sauce as a filling for Lettuce Wraps too.
More Delicious Chinese Food Recipes You NEED to make:
Tips for Shrimp in Lobster Sauce
There are quite a few ingredients and steps to make Shrimp in Lobster Sauce, so read the recipe through at least once before you start making this dish.
Even though there are lot of components to making Shrimp in Lobster Sauce, the cooking part goes fast. Have everything prepped ahead of time and on hand so you don't overcook your shrimp or sauce.
A wok is the best pan for stir-frying, it cooks everything at high heat evenly and quickly. You can use a large skillet, just make sure it's big enough that your shrimp won't be crowded.
Stir in the cornstarch slurry a little at a time. The sauce should be thick and stick to a spoon but not gloopy. If the sauce is too thick, add chicken broth. If it is too thin, add more cornstarch mixture.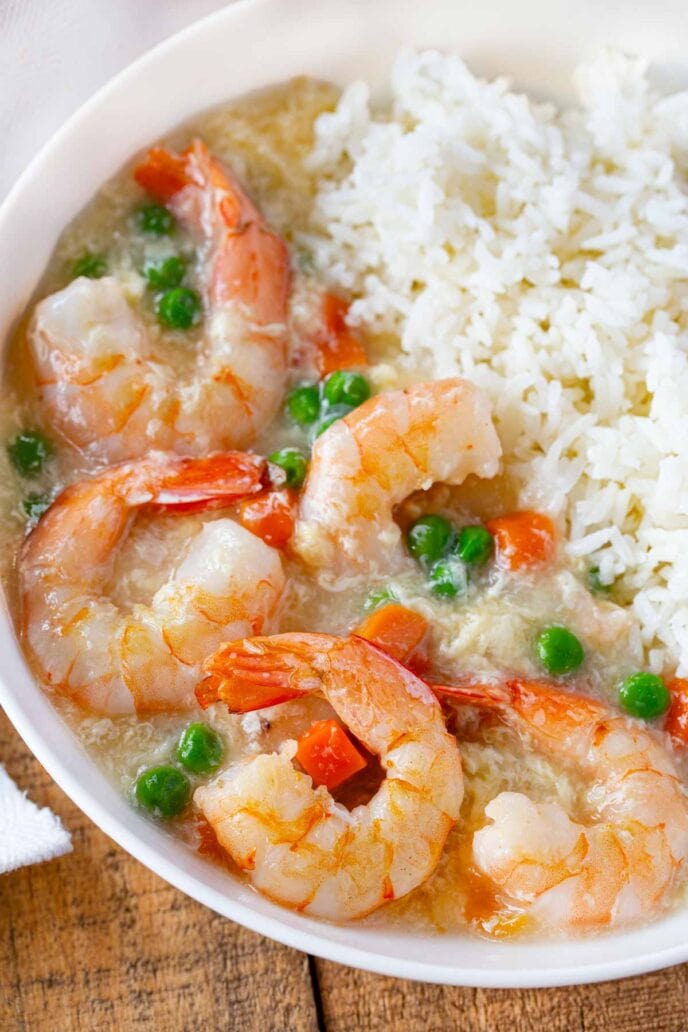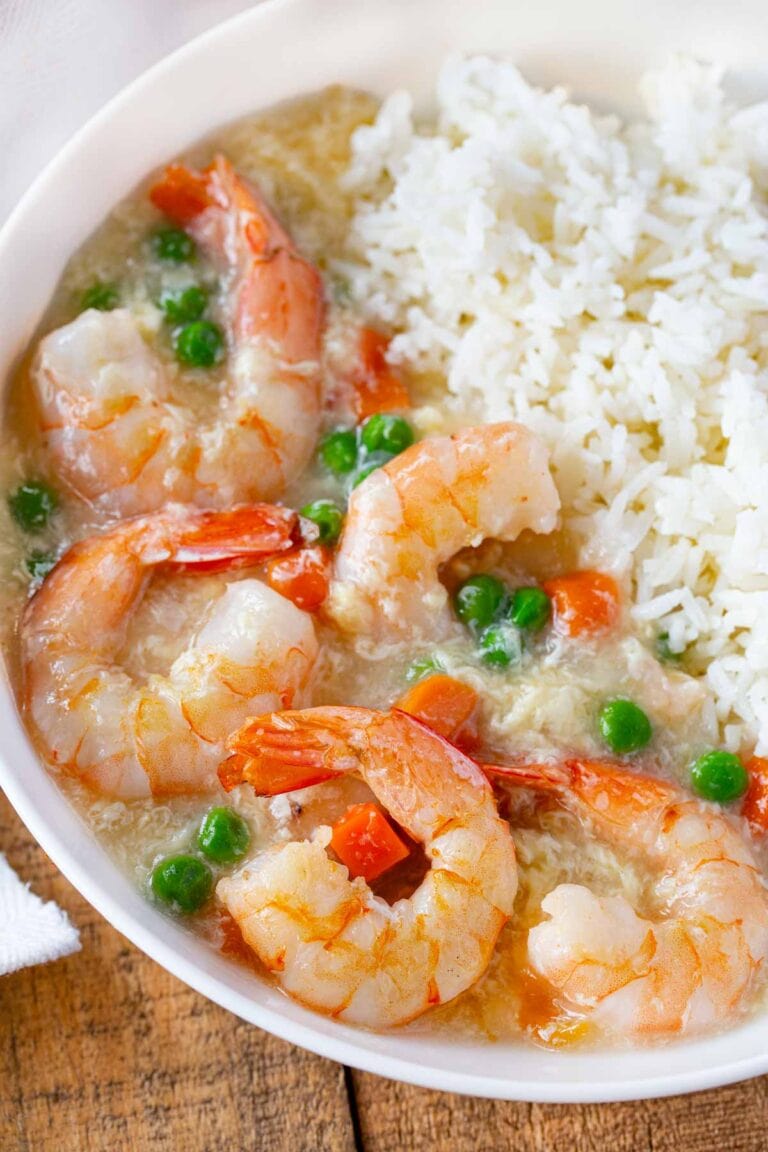 Create a free account to Save Recipes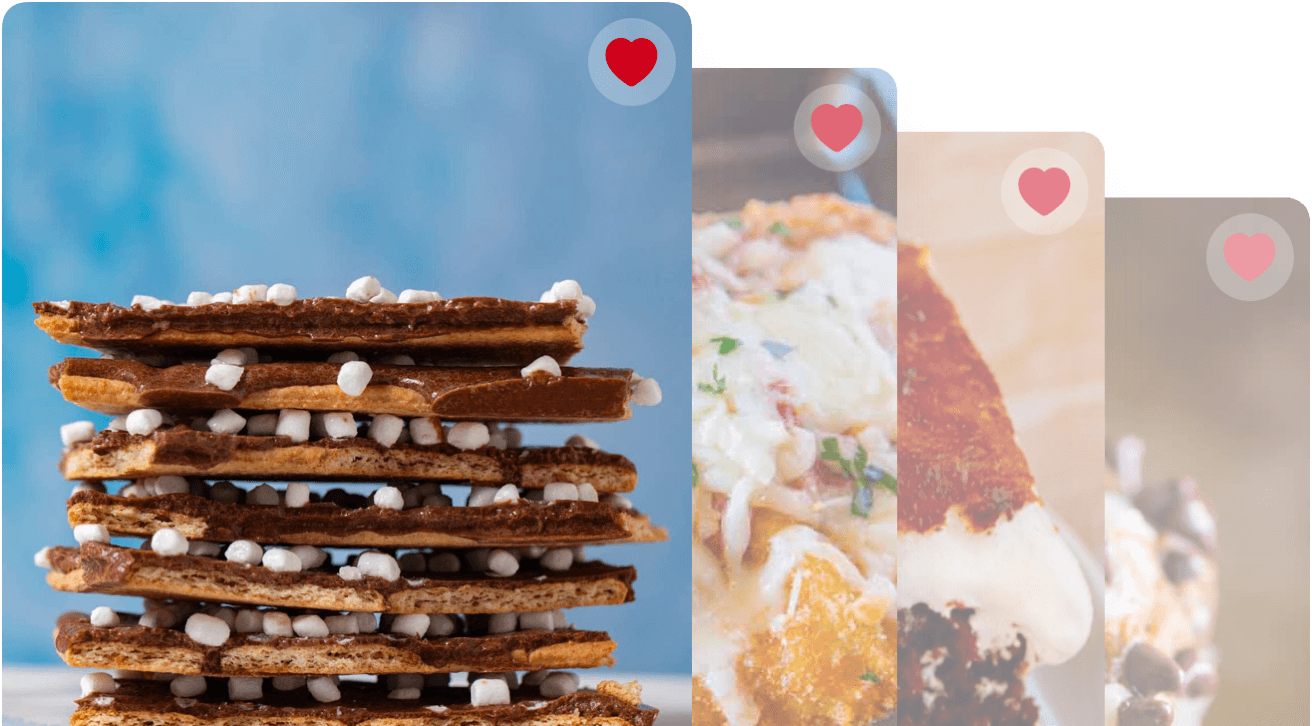 VARIATIONS ON SHRIMP IN LOBSTER SAUCE
Lobster: If you want to add some real lobster flavor, soak lobster shells in boiling water to make a lobster stock and use that instead of water.
Chicken Stock: Instead of using water you can also use chicken broth or chicken stock in this Lobster Sauce recipe.
Pork: The pork mince adds a lot of savory flavor to Lobster Sauce but you leave it out or substitute ground turkey if you can't eat pork.
Black Beans: Use 2 tablespoons fermented black beans for richer, traditional lobster sauce recipe. You can get fermented beans at Asian markets or some grocery stores.
Veggies: Stir in frozen veggies like peas and carrots blend, onions, bell peppers, mushrooms or snow peas. Garnish Shrimp in Lobster Sauce with chopped green onions, parsley, or basil.
Seasonings: Add in seasonings like ground ginger, fresh ginger, sesame oil (see note about oil), oyster sauce, or red pepper flakes. You can use rice wine instead of the sherry wine.
Cooking Oil: You can use different oils when stir-frying like vegetable oil, canola oil, olive oil, coconut oil, or peanut oil. Sesame oil should only be used as a seasoning, too much will overpower any other flavors.
MORE CHINESE MAIN DISH RECIPES:
HOW TO STORE SHRIMP IN LOBSTER SAUCE
Serve: Shrimp with Lobster Sauce is best fresh and hot and can be kept at room temperature for up to 2 hours.
Store: Store leftover Shrimp in Lobster Sauce in the refrigerator in an airtight container. Add chicken broth a tablespoon at a time when reheating if the sauce is too thick.
Freeze: Shrimp in Lobster Sauce is not a dish that will freeze well. Cooked shrimp gets rubbery when frozen and reheated. The sauce doesn't not reheat well either.


Ingredients
2

tablespoons

cornstarch

, divided

2

teaspoons

cooking sherry

1

pound

large shrimp

, 13-15 count, peeled and deveined

1/4

cup

vegetable oil

2

cloves

garlic

, minced

1

cup

water

2

tablespoons

soy sauce

1/4

teaspoon

sugar

1/2

teaspoon

salt

1

cup

peas

, frozen, defrosted and drained

1

cup

carrots

, diced

1

large egg

, beaten
Instructions
In a large bowl, add 2 teaspoons of cornstarch to sherry and toss with shrimp.

Add oil to a large skillet over medium-high heat and cook the shrimp for

3-5 minutes

.

Remove shrimp from the pan.

While shrimp is cooking, combine 1 cup water, soy sauce, sugar, salt and remaining cornstarch in a medium bowl.

Add garlic, carrots and peas and stir well, and cook until fragrant, about

30 seconds

.

Add sauce and simmer for about

2-3 minutes

until sauce thickens.

Stir the sauce quickly while drizzling in beaten egg.

Add shrimp back to skillet and stir well before serving.
Nutrition
Calories:
375
kcal
|
Carbohydrates:
10
g
|
Protein:
32
g
|
Fat:
22
g
|
Saturated Fat:
14
g
|
Cholesterol:
347
mg
|
Sodium:
1712
mg
|
Potassium:
295
mg
|
Fiber:
2
g
|
Sugar:
3
g
|
Vitamin A:
337
IU
|
Vitamin C:
20
mg
|
Calcium:
186
mg
|
Iron:
4
mg