jump to recipe
Crispy Sesame Chicken
This post may contain affiliate links. Read my disclosure policy here.
Crispy Sesame Chicken is easy to make with super crispy batter and delicious sesame sauce you'll skip the takeout and done in just 30 minutes!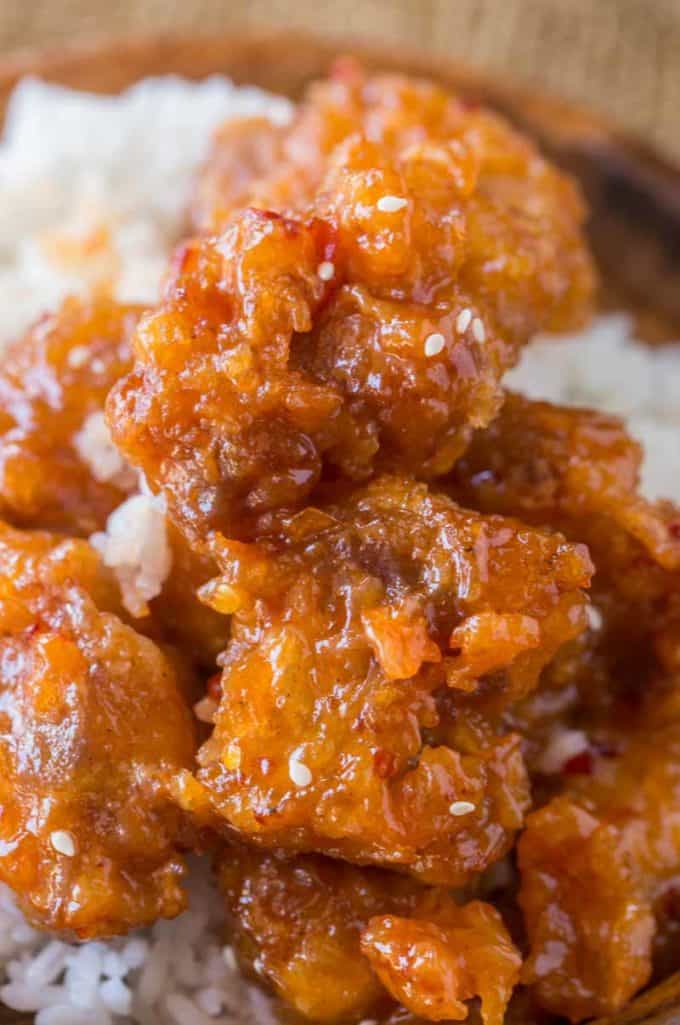 Crispy Sesame Chicken is one of our favorite take out options when we aren't looking for a recipe that is sweeter like Panda Express Orange Chicken (Copycat) or Sweet and Sour Chicken and something not quite as spicy as General Tso's Chicken.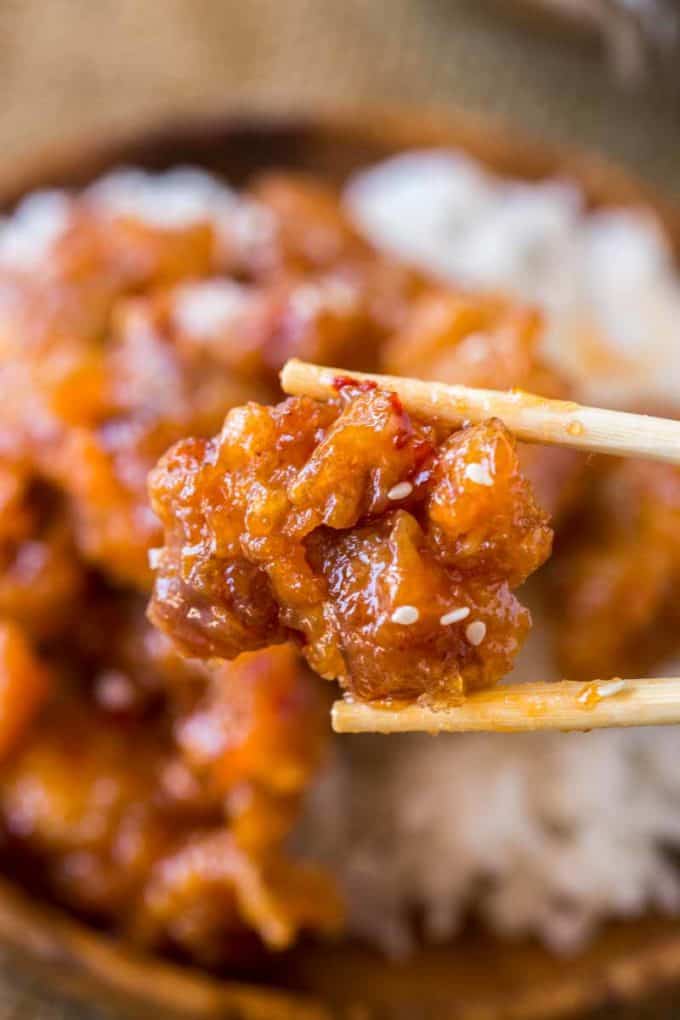 Tools used in the making of this Crispy Sesame Chicken:
Wok
: The best way to cook quickly and over high heat for Asian dishes, this wok is the perfect stir fry pan.
Rice Vinegar
: Readily available in almost all grocers these days, this is a great vinegar to keep on hand. It does have a hint of sweetness to it, so don't replace with any other vinegar except perhaps a red wine vinegar if you absolutely need to.
Soy Sauce
: Nothing much to say here except Kikkoman has the best flavor overall and I always recommend reduced sodium.
Sesame Oil
: The flavor of sesame oil in this dish is unmistakeable and not really able to be substituted. Some Asian grocery stores will try and sell less expensive options that aren't actually sesame oil, so just be sure the one you're buying is authentic sesame oil.
Pig Tail Flipper
: This tool is one of three that I couldn't live without. My chef's knife, my tongs and this. It is a tiny sharp point thats curled like a pig's tail. It allows you to pick up and flip foods without disturbing breading or crushing it with tongs and FAST.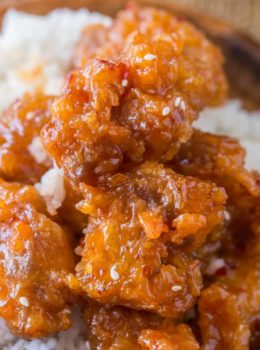 Crispy Sesame Chicken
Crispy Sesame Chicken is easy to make with super crispy batter and delicious sesame sauce you'll skip the takeout!
Prep Time 15 minutes
Cook Time 15 minutes
Total Time 30 minutes
Ingredients
SESAME CHICKEN SAUCE:
1/4 cup soy sauce
1/4 cup rice vinegar
1/2 cup brown sugar
1 tablespoon corn starch
1/3 cup water
2 teaspoons sesame oil
1/2 tablespoon sesame seeds
TEMPURA BATTER:
1/2 cup cornstarch
1/2 cup flour
2 egg whites
1/2 cup cold seltzer water
Oil for deep-frying
CHICKEN:
1 lb chicken thighs boneless and skinless cut into 1? chunks
2 teaspoons sesame oil
1/4 teaspoon crushed red pepper
1 tablespoon minced garlic
vegetable oil for deep frying
Instructions
To make the sauce mix all the ingredients together.

To prepare the batter, add the ingredients together until just combined.

Add the chicken pieces to the batter and coat while heating 3 inches of oil to 350 degrees.

Add the chicken pieces (I use my pig tail flipper to prevent batter from coming off).

Fry until golden brown.

In a large wok or skillet add the sesame oil to the frying pan.

Add the garlic and red pepper flakes and cook for 30 seconds.

Add in the sauce and the chicken and coat quickly.

Serve immediately (with additional sesame seeds if desired).
Dinner, then Dessert, Inc. owns the copyright on all images and text and does not allow for its original recipes and pictures to be reproduced anywhere other than at this site unless authorization is given. If you enjoyed the recipe and would like to publish it on your own site, please re-write it in your own words, and link back to my site and recipe page. Read my disclosure and copyright policy. This post may contain affiliate links.