Asian Chicken Salad with Sesame Peanut Dressing is an easy recipe with veggies, crunchy peanuts, chicken, and a homemade Asian spicy peanut dressing.
This flavorful Asian salad makes the perfect lunch or Dinner Recipe and is the perfect way to use up leftover Chicken Breast. You're sure to love how the fresh salad ingredients and sesame peanut dressing bring the chicken to life in a whole new dish.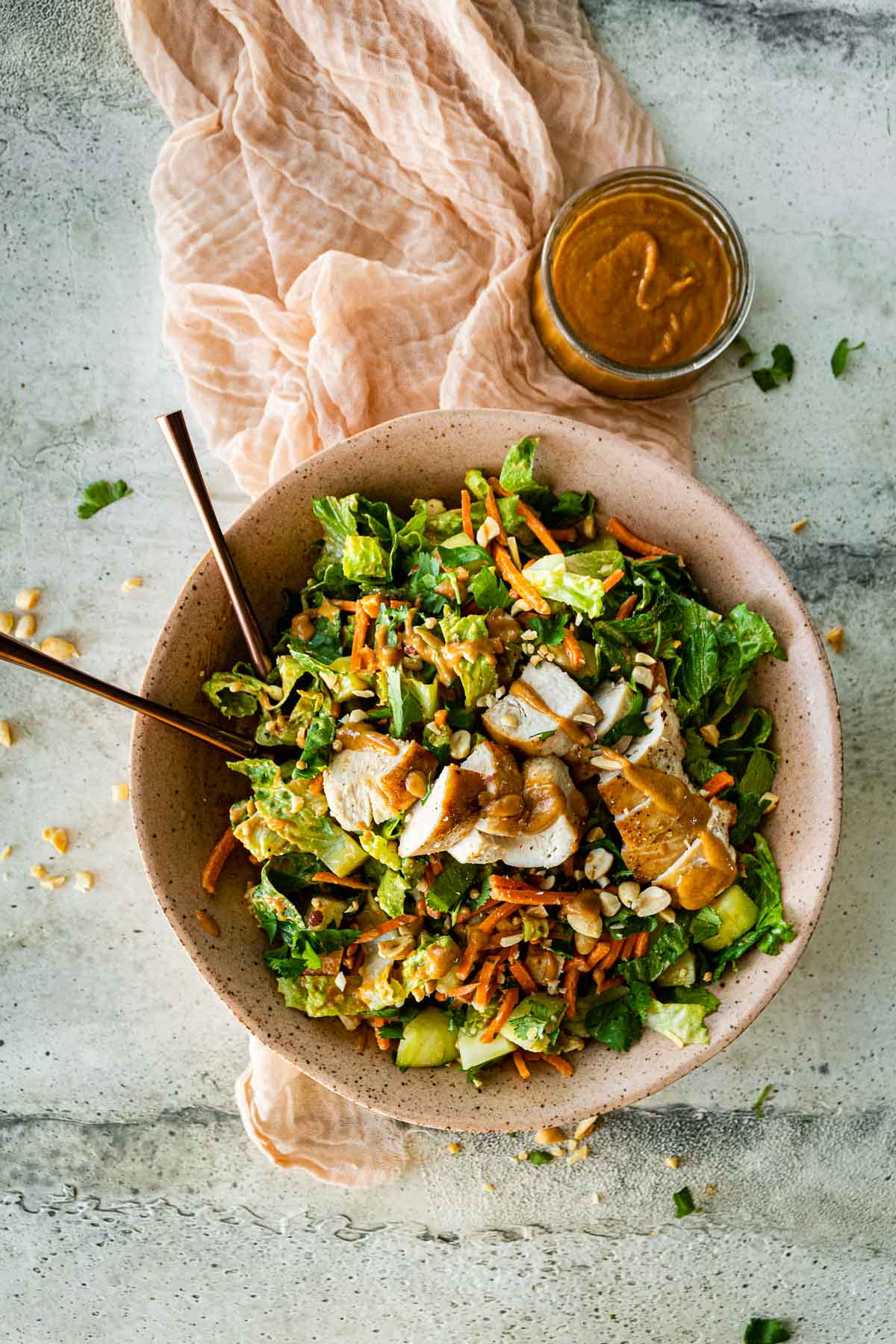 This tasty Asian salad is so easy to toss together. As long as you have already cooked chicken, it only takes a few minutes to whisk together the dressing and combine the ingredients. The next time you're craving Asian cuisine, but don't want to make a big recipe or order takeout, this salad is the way to go!
If you make a big batch and leave the dressing on the side, you can keep it in the fridge for an easy lunch to grab for a few days. Just toss together a big salad on the weekends. Then separate it into serving-sized Tupperware in the fridge for grab-and-go school and work lunches. 
You could also use Asian Chicken Salad as a side dish for a homemade Asian buffet. Make other favorite Asian recipes like Sweet and Sour Pork or Orange Chicken. It's a fun way to change up weeknight dinner without going out to a restaurant. You can even make extra Sesame Peanut Dressing and use it as a sauce for other dishes.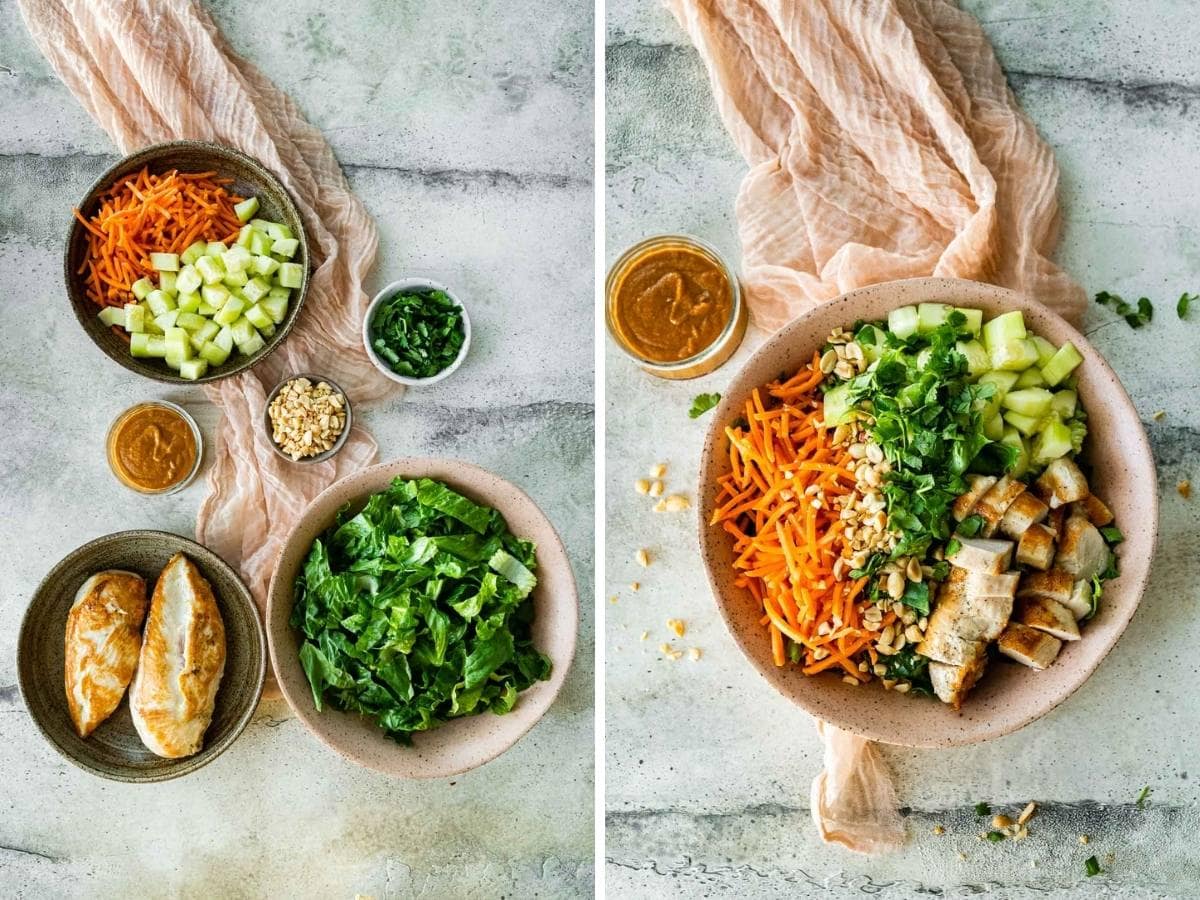 More Peanut and Chicken Recipes
How to Make Easy Asian Chicken Salad with Sesame Peanut Dressing
Prep: Start by prepping your ingredients. Chop the romaine lettuce, peel and slice the cucumber, shred the carrot, and coarsely chop the peanuts and cilantro. Take the leftover or store-bought cooked chicken breast from the fridge, and cut it into bite-sized pieces. Once the ingredients are prepped, you're ready to assemble the salad!
Dressing: Whisk together the peanut butter, soy sauce, rice wine vinegar, sriracha, sesame oil, and water to make the dressing. It may take a little time to work the creamy peanut butter into the other liquid ingredients.
Salad: To assemble the Asian Chicken Salad add the lettuce, cucumber, chicken, and carrots to a large bowl. Drizzle the sesame peanut dressing on top and toss until the salad is coated. Garnish with the cilantro and peanuts before serving.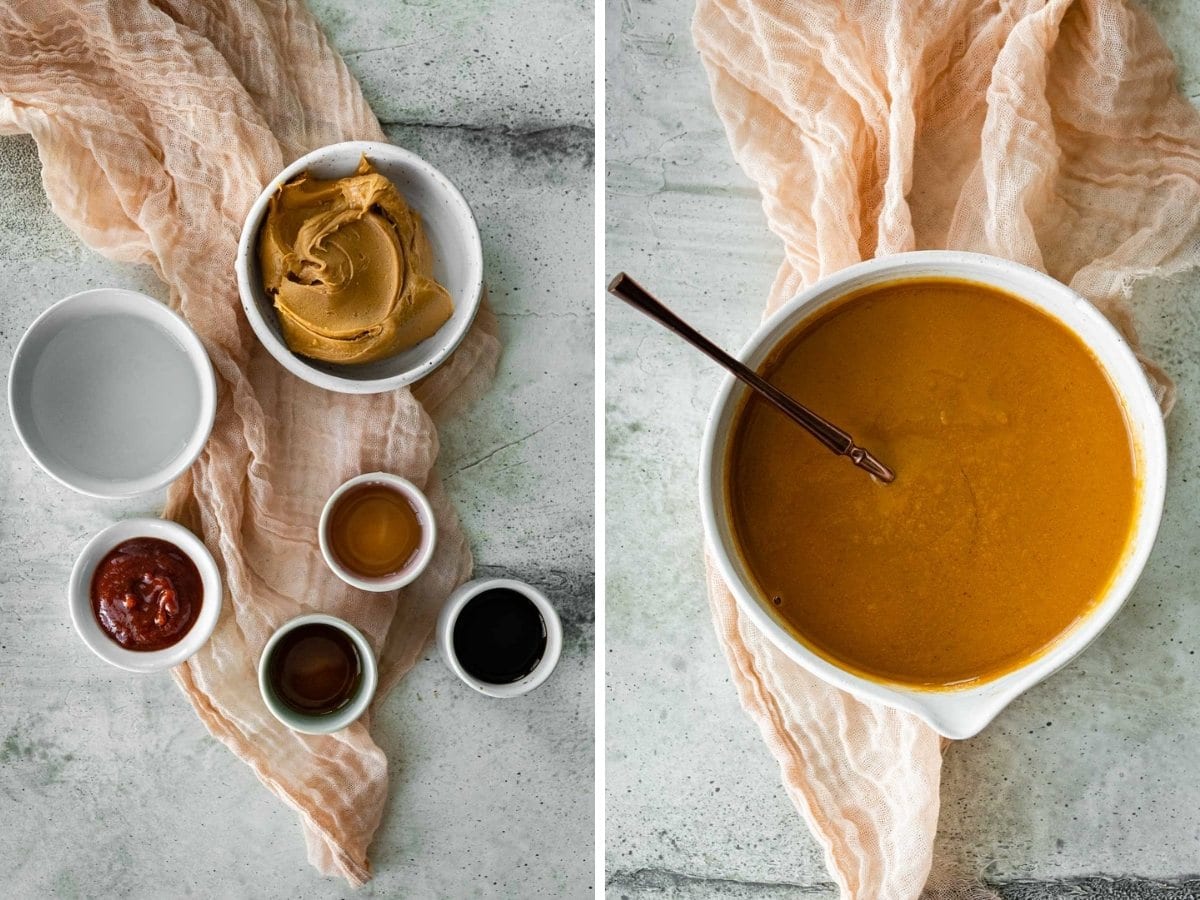 Frequently Asked Questions About Asian Chicken Salad
How small should the vegetables be chopped for Asian Chicken Salad?
You should chop the vegetables pretty small so that the ingredients mix together well and you can enjoy multiple vegetables in every bite. About ½ inch pieces will work well, but you could go a little smaller or larger if you prefer.
How should the chicken be prepared for Asian Chicken Salad?
You can use some leftover chicken for this salad, or make it fresh. Either way, any baked, grilled, or roasted chicken will do. You could even cut up chicken and stir fry it in a pan for a quick preparation.

Create a free account to Save Recipes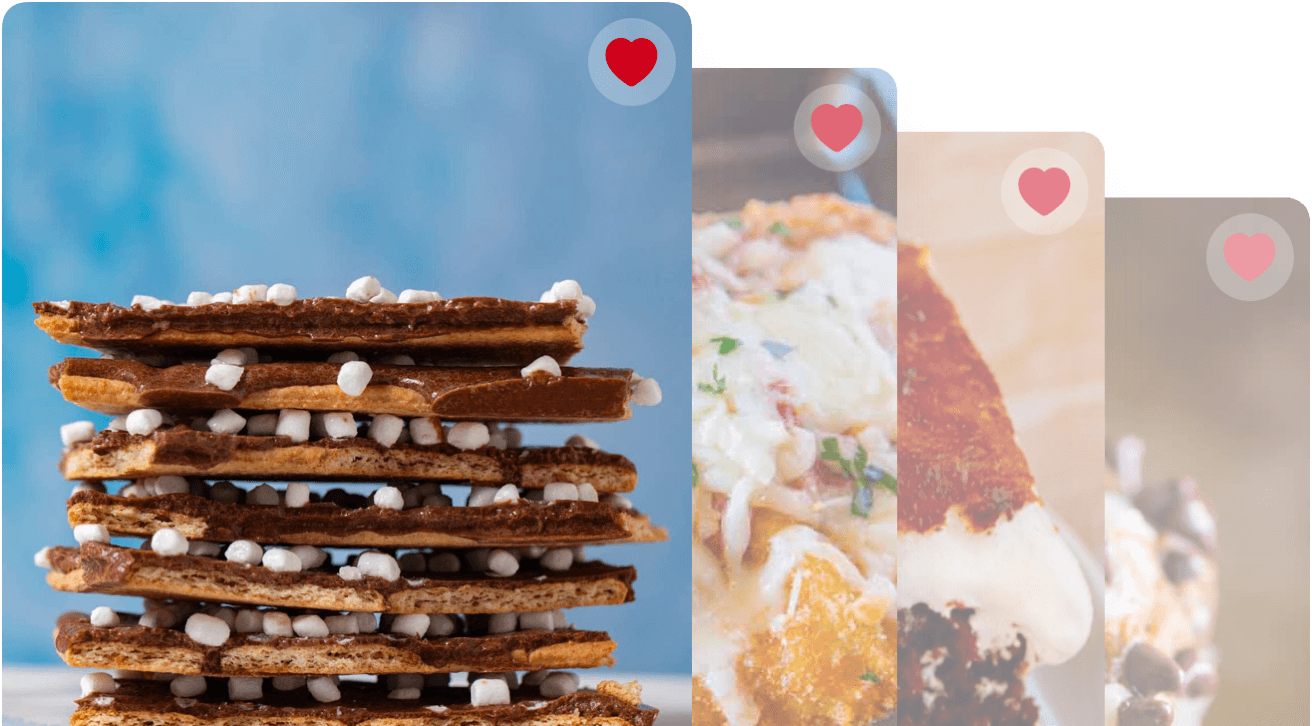 Variations on Asian Chicken Salad with Sesame Peanut Dressing
Protein: Although chicken and peanuts are a classic combo, you can try using different kinds of meat like pork or turkey in this salad. If you want to make a vegetarian version, you could also use tofu or chickpeas to keep it high in protein.
Peanut Butter: You can alter the recipe depending on what kind of peanut butter you use. Mix in creamy peanut butter for a smooth dressing, or add extra crunchy peanuts to the salad with a crunchy peanut butter. Whichever peanut butter you happen to have in the pantry will taste great. 
Vegetables: There are so many delicious vegetables you can chop up and add to the salad. Spinach, bell peppers, sugar snap peas, and cabbage are a few good options. However, the choices are endless. Use the vegetables you love to eat.
Nuts: Try changing up the recipe by adding different kinds of nuts along with the peanuts. You can toss in cashews, pecans, or chopped almonds. Another option is sprinkling sesame or sunflower seeds over the top before serving.
Spicy: Depending on how much heat you want in the Asian Chicken Salad you can increase or decrease the amount of sriracha in the dressing. Make sure to check the taste as you go, so you don't make it too spicy. You could also mix in some cayenne pepper or chili flakes for some extra heat.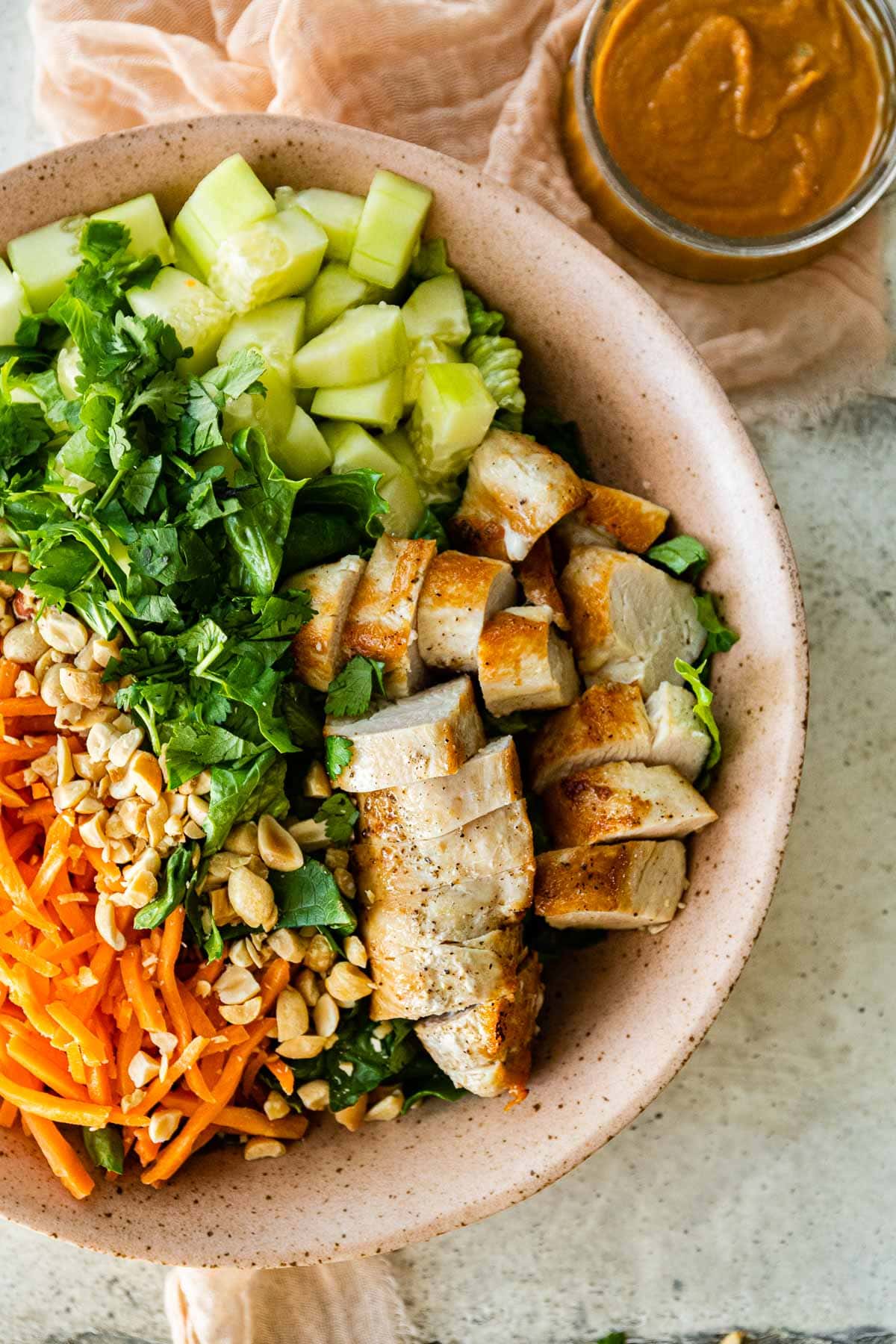 More Delicious Asian Recipes
Serving Ideas for Asian Chicken Salad with Sesame Peanut Dressing
Wrap: Chop up your salad into small pieces, toss it in the dressing, and roll it up in a wrap for a delicious on-the-go lunch.
Appetizer Salad: This salad is hearty enough to serve as a main course, but you could also serve it before your next dinner. You can even omit the chicken to make this a lighter appetizer or side salad.
Skewers: Serve this salad in skewer form by cutting the vegetables in chunks large enough to place on skewers with chunks of chicken. Brush the skewers in the Sesame Peanut Dressing, plate them on a platter, then sprinkle chopped peanuts and cilantro over the top for a pretty finish.
Individual Servings: Prepare the salad, toss in the dressing, and scoop into individual cups to serve to a crowd, at a bbq, picnic, or any place where it will be convenient to have individual servings.
How to Store Asian Chicken Salad with Sesame Peanut Dressing
Serve: Don't leave your Asian Salad at room temperature for more than 2 hours.
Store: If you keep the dressing on the side so the lettuce doesn't get soggy, you can easily store leftover salad in the fridge. Kept sealed, it should stay good for 3-5 days. 
Freeze: Asian Chicken Salad, is best served fresh, and a lot of the ingredients won't freeze well. If you haven't eaten it in the 5 days it's better to toss it and start fresh.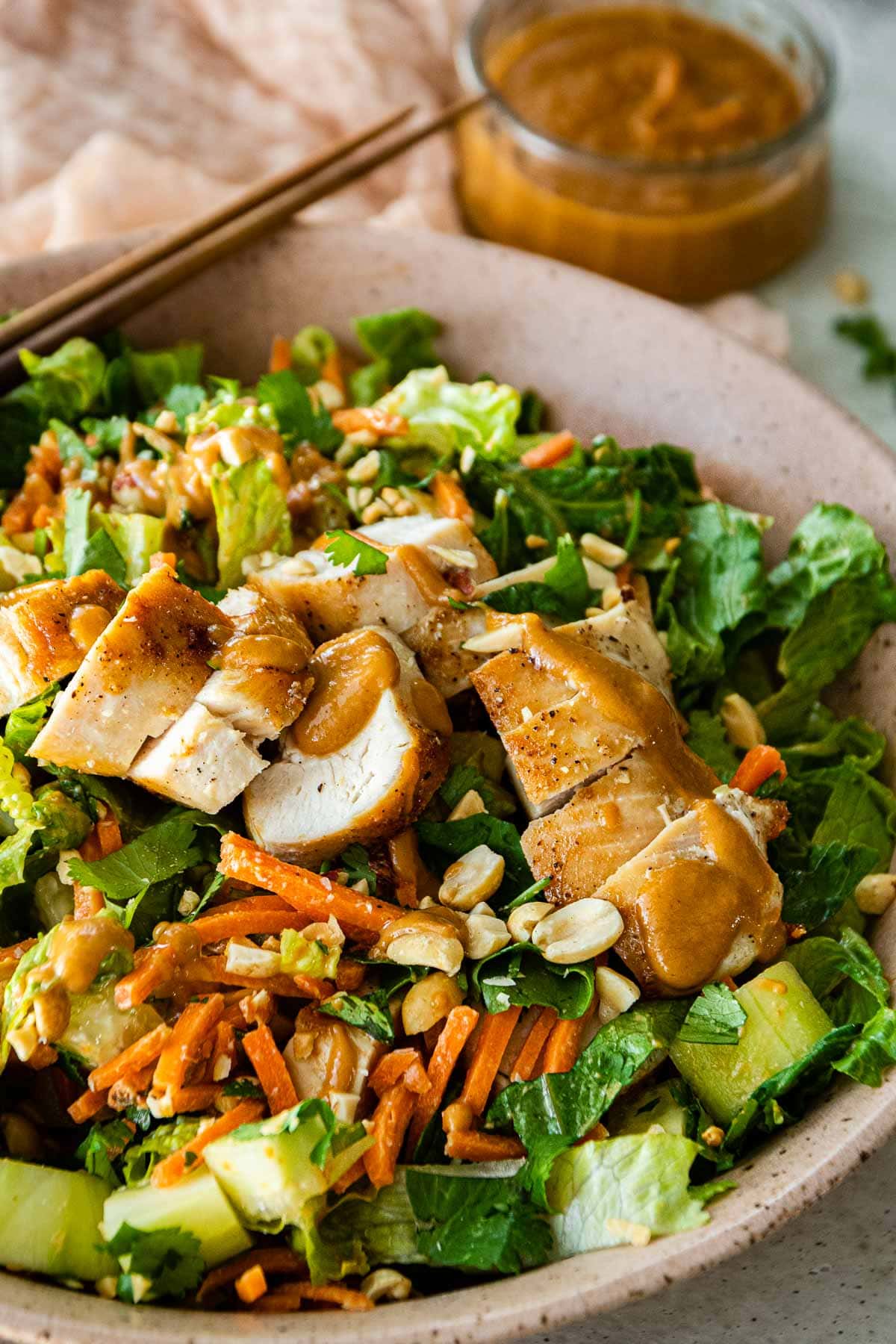 Ingredients
Chicken Salad:
6

cups

romaine lettuce

, chopped

1

cucumber

, peeled and chopped

2

cups

chicken breast

, cooked and chopped

1

medium carrot

, shredded

1/4

cup

peanuts

, chopped

1/4

cup

cilantro

, chopped
Instructions
To make the dressing, whisk together peanut butter, soy sauce, rice wine vinegar, sriracha, sesame oil, and water.

To make the salad, to a large bowl add the lettuce, cucumber, chicken, and carrots.

Toss with dressing, garnish with cilantro and chopped peanuts.
Nutrition
Calories:
246
kcal
|
Carbohydrates:
10
g
|
Protein:
18
g
|
Fat:
16
g
|
Saturated Fat:
3
g
|
Polyunsaturated Fat:
4
g
|
Monounsaturated Fat:
7
g
|
Trans Fat:
0.01
g
|
Cholesterol:
32
mg
|
Sodium:
295
mg
|
Potassium:
583
mg
|
Fiber:
3
g
|
Sugar:
4
g
|
Vitamin A:
5890
IU
|
Vitamin C:
6
mg
|
Calcium:
47
mg
|
Iron:
1
mg