Korean Ground Beef
This post may contain affiliate links. Read my disclosure policy here.
Sweet and Spicy Korean Ground Beef with all the flavors of your favorite Korean BBQ but for a third of the cost and kid friendly!
Korean Ground Beef
Korean Ground beef is the quick weeknight version of your favorite Korean restaurant. A plate of sweet and spicy beef made easier with the use of ground beef instead of short ribs.
Cooking with ground meat is an easy way stretch your dollar and you don't have to sacrifice flavor. Two of our favorite dishes we've been eating recently have been Ground Kung Pao Chicken (1 Pan!) and Ground Orange Chicken (1 Pan!) which taste exactly like takeout, but much easier to make and with less fat!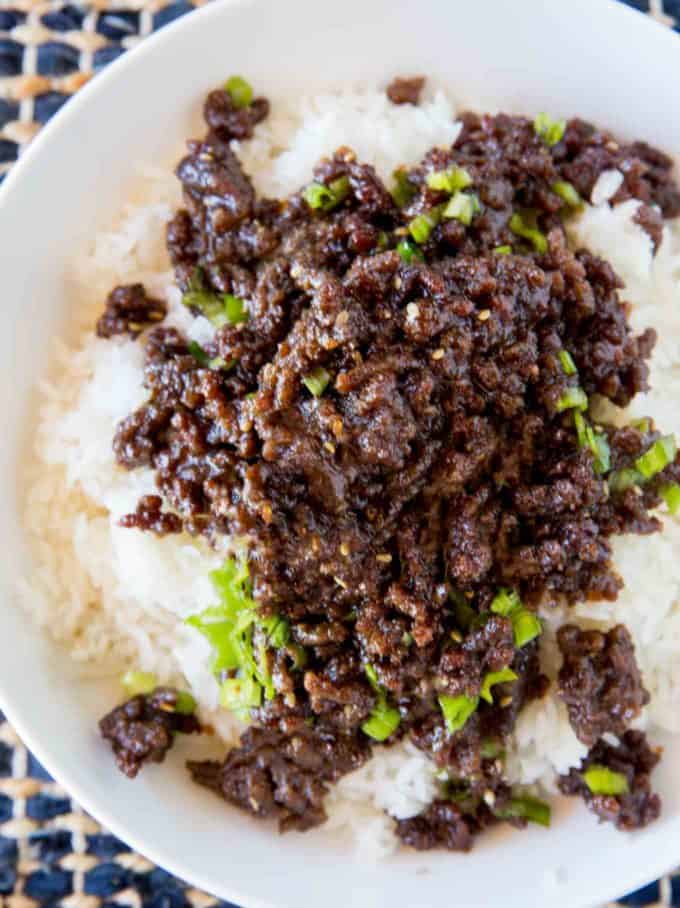 This recipe was originally posted with a wilted slaw. If you'd like to make the slaw it is listed in the notes under the recipe card.
If you look at the bottom (admittedly tiny) pictures you'll see a creamy sauce on there. Here is one of my favorite hacks. I hesitate to even post it but we love it so much I'm going to.
If you're a fan of Sriracha.
Japanese Spicy Mayo Recipe:
2 cups Mayonnaise
2-3 tablespoons Sriracha
When you finish a bottle (or if you're not close, use a new squeeze bottle) take off the top and wash it really well.
Add the mayonnaise (we use light) to the bottle using a funnel into your almost completely empty bottle.
Shake it up, test the flavor. Add more in 1 teaspoon at a time from your new bottle.
When you've got the right heat level, shake really well then refrigerate for at least 1 hour.
In a day or so the flavors will meld together perfectly making the classic Japanese Spicy Mayo you love and pay way too much for in the restaurants. 😉 That's what the lighter bottle in the background of the pictures below is.
MY OTHER RECIPES
Some tips for this Korean Ground Beef:
Make sure you drain off some of the fat you've rendered from the beef. Or use a leaner cut of beef.
You can have an even deeper flavor with dark brown sugar.
If you don't have fresh garlic or ginger, use ground garlic and ground ginger in its place (1/2 teaspoon of each)
To make this taste more like takeout brown the beef really well and keep the chunks larger.
Want more Asian Food Recipes?
Tools used in the making of this Korean Ground Beef:
Sesame Oil: The flavor of sesame oil in this dish is unmistakeable and not really able to be substituted. Some Asian grocery stores will try and sell less expensive options that aren't actually sesame oil, so just be sure the one you're buying is authentic sesame oil.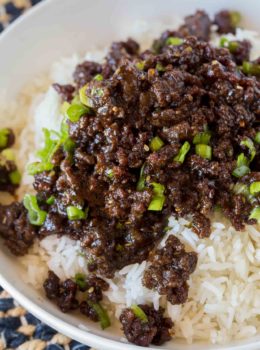 Korean Ground Beef
Sweet and Spicy Korean Ground Beef with all the flavors of your favorite Korean BBQ but for a third of the cost and kid friendly!
Ingredients:
1 pound lean ground beef
1 tablespoon sesame oil
3 cloves garlic , minced
1 teaspoon fresh ginger, minced
1/2 cup brown sugar
1/4 cup lite soy sauce
1 teaspoon sriracha
2 green onions, only the green parts
Directions:
Heat a large pan over medium high heat.
Brown the meat with sesame oil, garlic and ginger.
Drain 75% of the fat, add brown sugar, soy sauce, and Sriracha.
Cook until the liquid has reabsorbed and the meat is shiny but not soupy.
Top with green onions, toss together and serve.
Wilted Slaw:
6 cups sliced napa cabbage
2 carrots , grated
2 green onions , diced from tip to tail, excluding the root
2 teaspoons sesame oil
1 teaspoon canola oil
To make the slaw, put the Napa cabbage, carrots, sesame oil and canola oil in the skillet the meat just came out of.
Cook for 4-5 minutes until the water has evaporated.
All images and text ©
Made this recipe?
Show me what you made on Instagram or Facebook and tag me at @DinnerthenDessert or hashtag it at #dinnerthendessert.
Dinner, then Dessert, Inc. owns the copyright on all images and text and does not allow for its original recipes and pictures to be reproduced anywhere other than at this site unless authorization is given. If you enjoyed the recipe and would like to publish it on your own site, please re-write it in your own words, and link back to my site and recipe page. Read my disclosure and copyright policy. This post may contain affiliate links.