Crispy Baked Scallops are buttery and crispy with panko, Parmesan Cheese, paprika, butter and olive oil baked in just 15 minutes.
If you like easy to make sea food, like Pesto Shrimp or Crispy Fried Calamari, or if you liked my Pan Seared Scallops you should definitely try this recipe.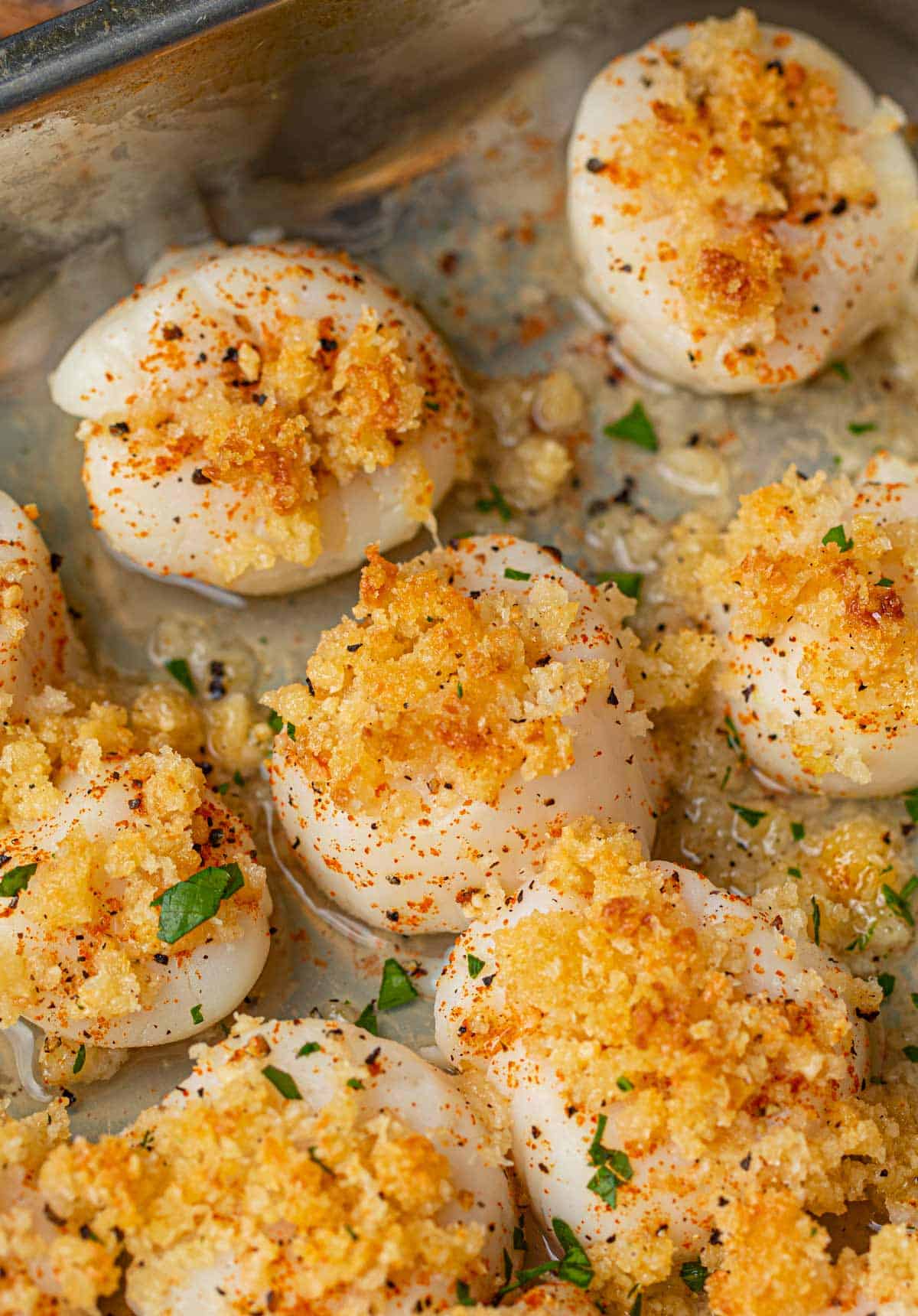 BAKED SCALLOPS
Baking scallops in butter not only gives them a delicious taste, it makes the outside crisp and flavorful and the cook time is incredibly short. If you want a classy, high brow dinner but either can't find a sitter or don't want to pay for a gourmet restaurant, this is an easy you can make at home.
Scallops are a delicious shell fish that has a rich flavor, a springy texture and tastes absolutely fantastic when drenched in butter. This recipe combines paprika, black pepper, Parmesan Cheese and breadcrumbs to make a golden brown, flavorful topping for the scallops that add just enough flavor to make this dinner unique and delicious.
HOW TO MAKE BAKED SCALLOPS
Preheat your oven to 400 degrees.
Pat the scallops dry with a paper towel and remove the tough side-muscle.
Place scallops in a single layer in the prepared baking dish.
Mix the breadcrumbs, Parmesan cheese, spices, butter and olive oil.
Top the scallops with the mixture
Put them in the oven and bake until the scallops are opaque (about 15 minutes).
Broil the scallops for a minute or two if the topping isn't browned.
VARIATIONS
Lemon juice: drizzle the juice from a freshly squeezed lemon over the top of the scallops for some extra zesty flavor.
White wine: add a little bit of white wine to the bottom of the pan. the scallops will absorb the flavor as they cook.
Au Gratin: closely layer scallops together in a baking dish and then cover them in a thick layer of your choice of cheese, casserole style. Once you bake them, the cheese will add a yummy savory flavor.
Bay scallops: bay scallops are a smaller variety of shellfish but are equally as tasty. If the bay variety are all that you have available, don't worry! You can still make this great tasting scallop recipe as an entree or as a tasty appetizer.


Create a free account to

Save Recipes
What to serve with Baked Scallops:
The Unsung Trivia – Scallop Trivia
Up until pretty recently, scallops weren't actually eaten very much. They were valued for their beautiful, scalloped edged shells (see what I did there?) and the meat was pretty much ignored. Kind of shockingly, the reasons that scallops weren't a favorite was because they were considered too sweet.
The scallop is the official state shell of New York.
Scallops use their shells to "jump" around in the water.
How to Store Baked Scallops:
Serve: for the good of your insides, don't leave scallops out for longer than 2 hours.
Store: once cooked, you can store scallops for up to 2 days.
Freeze: in an airtight container, you can keep scallops for up to 3 months in the freezer.
WHEN ARE THEY SAFE TO EAT?
According to the USDA's website, scallops are considered cooked through and safe to eat when the internal temperature reaches 145 degrees F (62.7 degrees C).
While some sushi restaurants serve raw scallops that seafood is sourced through incredibly thoughtful channels that your local grocer may not be utilizing, so it is best to not serve your scallops raw.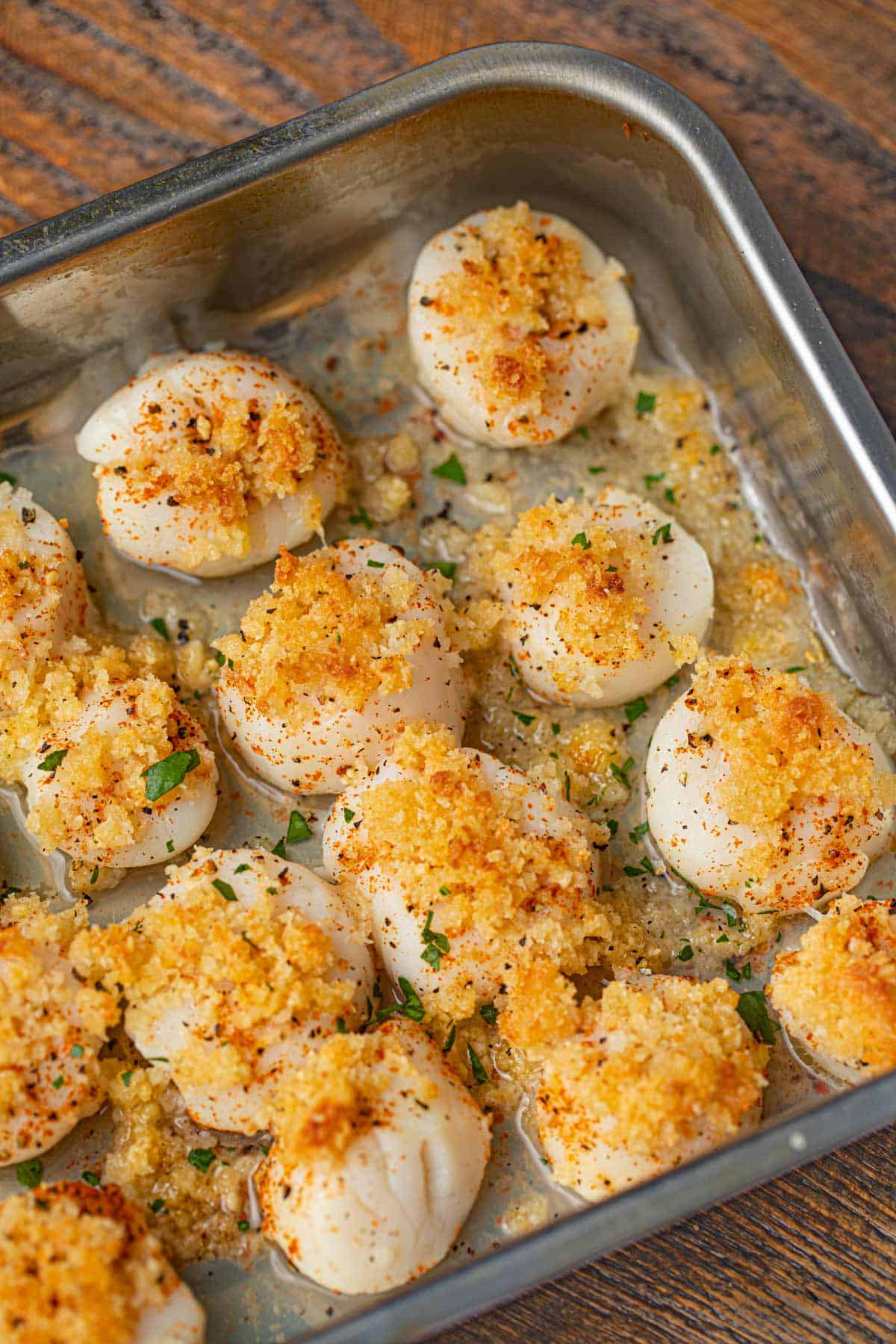 Ingredients
16

large

sea scallops

, (1 - 1 ½ pounds)

1/2

teaspoon

kosher salt

1/4

teaspoon

coarse ground black pepper

1/4

teaspoon

paprika

1/8

teaspoon

cayenne pepper

1/2

cup

panko bread crumbs

4

tablespoons

Parmesan cheese

, grated

2

tablespoons

parsley

, chopped

4

tablespoons

unsalted butter

, melted

2

tablespoons

extra virgin olive oil
Instructions
Preheat oven to 400 degrees.

Dry scallops well with paper towel and remove any attached side-muscle on the scallop by pinching and tearing it away from the scallop (the muscle is much tougher to eat than the scallop).

Combine the salt, pepper, paprika, cayenne, panko, Parmesan, parsley, olive oil, and butter in a bowl stirring well until combined.

Place the scallops into an 8x10 baking dish, then cover with the bread crumb mixture.

Bake for

15-18 minutes

or until the topping is browned.
Nutrition
Calories:
296
kcal
|
Carbohydrates:
10
g
|
Protein:
17
g
|
Fat:
21
g
|
Saturated Fat:
9
g
|
Cholesterol:
62
mg
|
Sodium:
564
mg
|
Potassium:
272
mg
|
Fiber:
1
g
|
Sugar:
1
g
|
Vitamin A:
645
IU
|
Vitamin C:
3
mg
|
Calcium:
86
mg
|
Iron:
1
mg