Pan Seared Scallops sautéed in a delicious browned butter with garlic in under 10 minutes. Restaurant level food you can make faster than pasta.
If you've gone the seafood route with us before by trying our Easy Shrimp Broil, Crab Salad or Crispy Fried Calamari, you'll remember how easy it is to turn everyday seafood into a classy dinner with little effort.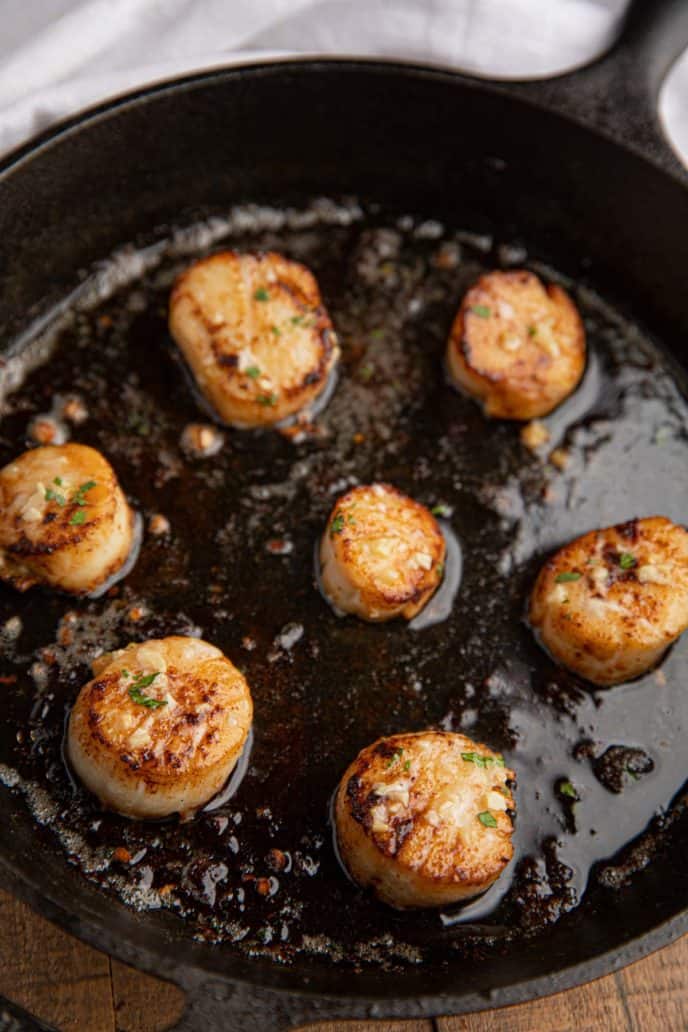 PAN SEARED SCALLOPS
Pan Seared Scallops are a quick and easy dinner option you may not immediately consider when thinking of your next weeknight meal (I know, most people would think salmon or shrimp when they think seafood), but scallops are just as easy and I would argue more delicious than both salmon and shrimp!
People love seafood, and scallops hold a special place in the hearts (and stomachs) of many cultures. There's even a Catholic saint whose symbol is a scallop shell. Since they don't naturally have a very strong taste, you can add scallops to a lot of other dishes without overpowering the flavor. Try them in pasta, chowder, or as a garnish for the proteins, like steak. There really isn't a place scallops don't belong.
This is an easy recipe to try for weeknights or when you're in a rush, since scallops are a delicious, quick dish that will make it look like you spent hours preparing them when they really only take a few minutes. The most important part is making sure the scallops get up to the right temperature before you eat them.
HOW TO COOK SCALLOPS
Start out by rinsing off the scallops after you've taken off the side muscles. Make sure you dry them completely (I use paper towels or a clean dish towel for this) or they won't brown properly or get a good sear when you sauté them. Add dashes of salt and pepper to season them.
Put your cast iron or nonstick skillet on the burner on high heat and then add your butter and olive oil to it.
Set your scallops in the pan in a single layer with a spatula or tongs (be careful, because the butter and oil will spit in a hot pan.)
Sear scallops for 1 minute on both sides and then lower the temperature to medium heat. (Do not move the scallops as they're cooking, they won't get as browned as they should).
Add the garlic, then cook for another 20 seconds.
Move the scallops to a plate and serve them up.
Pan Seared Scallop Flavor Variations
Lemon juice or lemon wedges: adding just a little citrus to fish amplifies the natural flavor and goes great with the garlic and butter and makes a great pan sauce. For some texture, you can use lemon zest as well.
White wine: use white wine with melted butter and olive oil mixture to give the scallops a very different flavor.
Shallots or chives: try finely chopping up these onion varieties if you want to give this dish a kick.
Parmesan: sprinkle a little parmesan onto the scallops right before you take them out of the pan and let the leftover heat melt it for a mild but delicious addition.
What to Serve Pan Seared Scallops with:
Creamy Garlic Mashed Potatoes: rich and creamy, with garlic notes that will match the scallops, this mashed potato recipe is a winner.
Spaghetti Squash: this is a lighter side dish that still brings out the garlic, butter flavors. But then again, this squash goes well with almost anything.
Rainbow Roasted Vegetables: fun to make, pretty to look at, tasty to eat. All you have to do is cut them up, arrange them and roast them.

Create a free account to

Save Recipes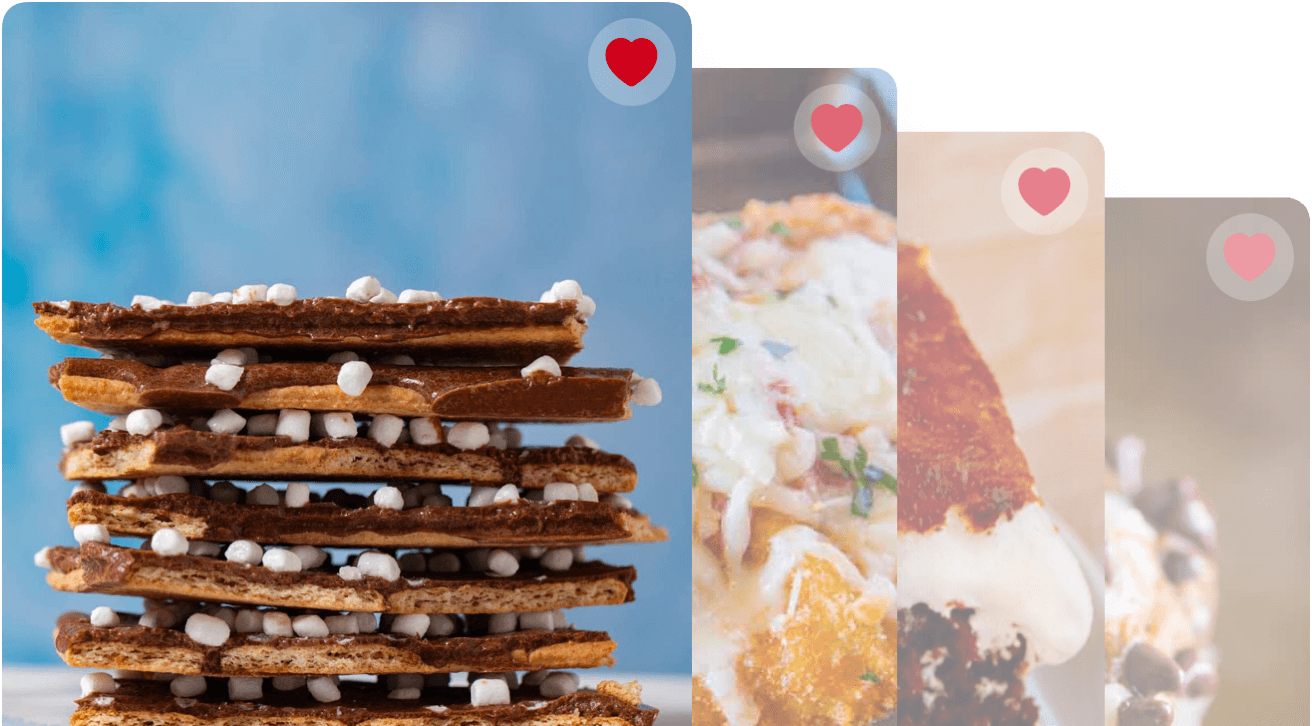 WHY EAT SCALLOPS?
Scallops are basically only made up of water and protein, with a tiny bit of fat. They can be up to 80% protein with relatively low calories and, depending on what you cook them with, they have no carbs. They are also pretty obviously gluten-free. If you remove the butter in this recipe and just use olive oil, our pan seared scallops are a healthy, low-fat dinner. Another very good reason to eat them is because they're delicious.
THINGS TO AVOID/TROUBLESHOOTING
When buying your ingredients, look for large sea scallops. You can tell whether or not they are good a few different ways. Here are ways to tell if they are not good.
Shiny or wet-looking: This means they are not too fresh, unless you're buying live ones that are in water when you get them. Wet scallops that have been out water for a long time are leaking something.
Soft: Scallops should be firm. Squishy scallops are a no-no. This means that the meat is not fresh and has started to go very bad.
Stinky: If you go to buy your scallops and they smell like old fish, that is a definite sign that they are at best not fresh and at worst a gastrointestinal nightmare. Fresh scallops should smell a lot like saltwater.
CAN YOU EAT SCALLOPS RAW?
With proper preparation, you can eat some seafood raw. However, for our scallop recipe you definitely want the internal temperature to be 145 degrees F (62.7 degrees C), which is a universally safe temperature for cooked fish and shellfish, according to the USDA's website. Cooking scallops is also a good way to make sure that bacteria is properly removed from your meal before you eat it.
STORAGE
Serve: for the good of you and your insides, don't leave scallops at room temperature for more than 2 hours.
Store: you can store cooked scallops in the fridge for up to 3 days before it becomes a bad idea to eat them.
Freeze: if you keep them in an airtight container, cooked scallops are good frozen for up to 3 months.
Pan seared scallops are a great way to eat gourmet without paying the gourmet price. Even if this is your first time cooking, you're sure to impress.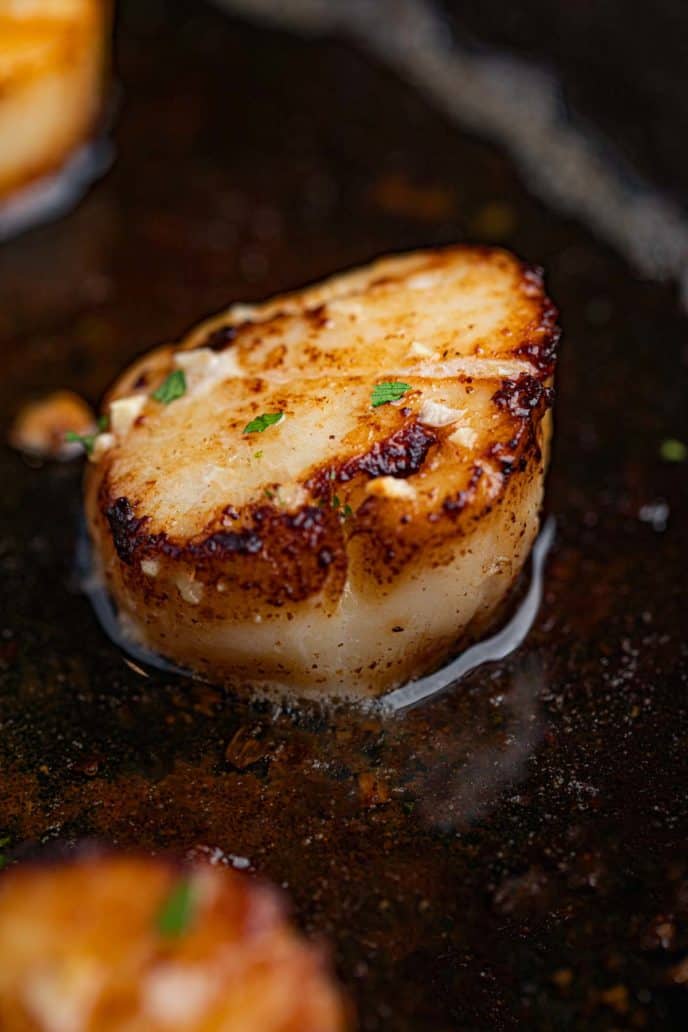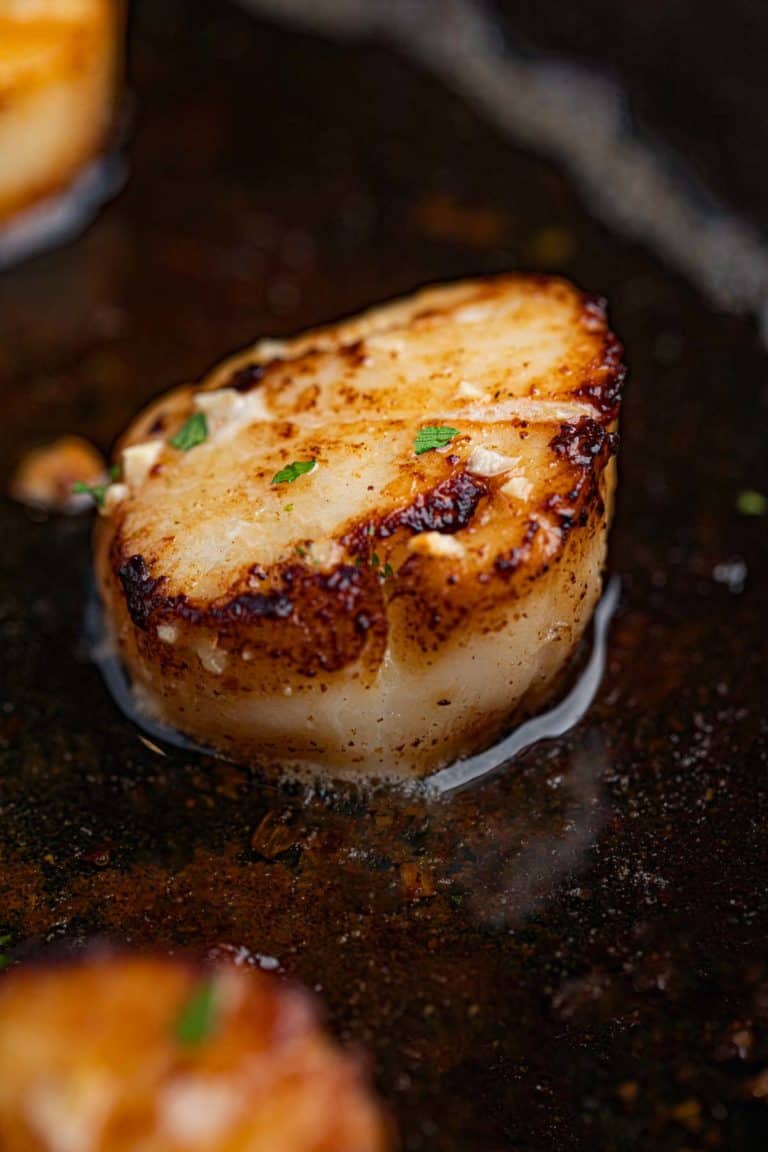 Ingredients
1 1/2

pounds

dry sea scallops

, approximately 12

3

tablespoons

unsalted butter

1

tablespoon

olive oil

1/2

teaspoon

Kosher salt

1/4

teaspoon

ground black pepper

3

cloves

garlic

, minced
Instructions
Remove the small side muscle from the scallops, rinse with cold water and thoroughly pat dry.

Add the butter and olive oil to a large skillet on high heat.

Add the salt and pepper to your scallops.

Sear the scallops for

1 minute

then flip, and sear the second side for

1 minute.

Lower the heat to medium, add the garlic and cook for an additional

20 seconds

then remove from heat and serve.
Nutrition
Calories:
227
kcal
|
Carbohydrates:
6
g
|
Protein:
21
g
|
Fat:
13
g
|
Saturated Fat:
6
g
|
Cholesterol:
63
mg
|
Sodium:
959
mg
|
Potassium:
358
mg
|
Sugar:
1
g
|
Vitamin A:
260
IU
|
Vitamin C:
0.7
mg
|
Calcium:
17
mg
|
Iron:
0.6
mg