The Ultimate Guide for How to Cook Spaghetti Squash: including great spaghetti squash recipes that swap out pasta and extra carbs for baked spaghetti squash!

How to Cook Spaghetti Squash
For everyone who has anxiety about the difficulty of preparing baked spaghetti squash, I have news for you. It is super EASY.  There are few things easier than cooking spaghetti squash in your oven. And it's a skill you want because if you read on, you'll realize there are some amazing spaghetti squash recipes you'll want to make!
I can understand the frustration. Most people have anxiety because they don't know how to cut spaghetti squash. The squash itself can be intimidating. YES, this vegetable can be slightly difficult to split. Okay, maybe more than "slightly."
How to cut spaghetti squash?
Spaghetti squash is like any other hard squashes you find in the autumn, like butternut squash, acorn squash or pumpkin. Cutting through it is scary/dangerous and requires concentration. Think cutting a watermelon but 3 times harder to pierce.
Peel a band around the middle of the squash. I don't mean peel deeply, just peel off the outermost layer. The fear of cutting the squash is of the knife slipping while you're putting a lot of pressure on the vegetable.
Place your squash into a plush kitchen towel to help anchor it while cutting in half.
After you wash the spaghetti squash be sure to dry it really well. Water is your enemy and will raise the risk of the squash slipping and you injuring yourself.
Use a serrated knife. I use my rock 'n chop (I know, I know its from an infomercial but I LOVE IT).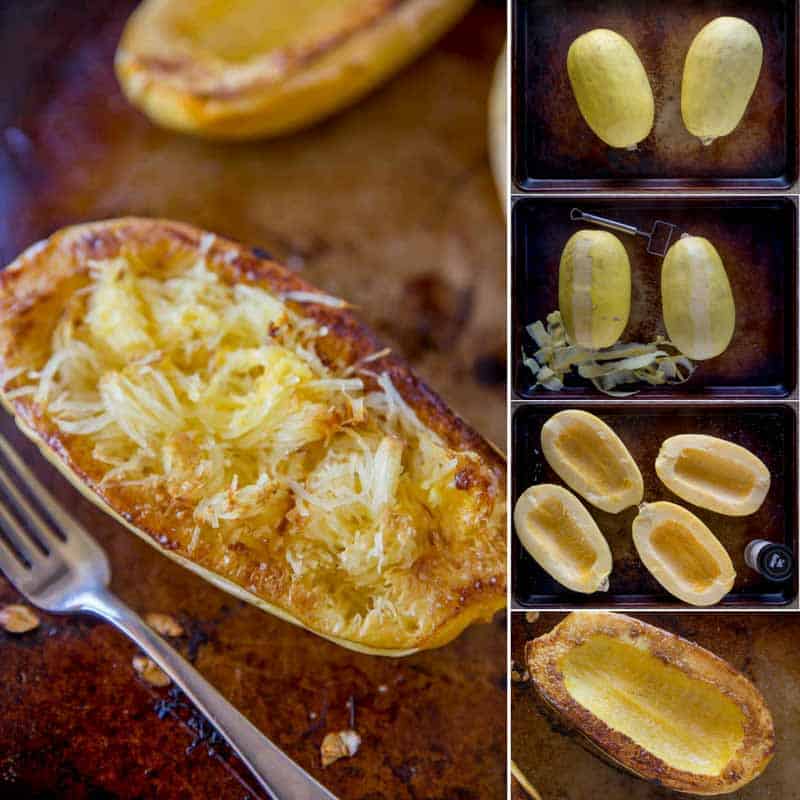 How to Cook Spaghetti Squash in the microwave:
Place the cut sides down in a microwave-safe dish. Cover with dripping wet paper towel. Microwave on high for 10-12 minutes or until you can poke through the skin of the squash easily with a fork. Let cool for five minutes before turning over and scraping out the squash.
How to Cook Spaghetti Squash whole:
Preheat the oven to 375 degrees. Using a sharp small knife, pierce the squash 10-15 times all over. Cook for 45 minutes, then flip to the other side and cook and additional 45 minutes. Remove from oven, wait five minutes before slicing open the spaghetti squash and scraping out the strands.
What do I season Spaghetti Squash with?
Classic: Salt, pepper, oil.
Greek: Salt, pepper, garlic powder, rosemary, dill, oregano, olive oil.
Italian: Salt, pepper, basil, oregano, garlic powder, olive oil.
Steakhouse: Salt, coarse black pepper, thyme, butter.
Mexican: Salt, pepper, cumin, cayenne, oregano, canola oil.
Middle Eastern: Salt, pepper, cumin, coriander, oregano, olive oil.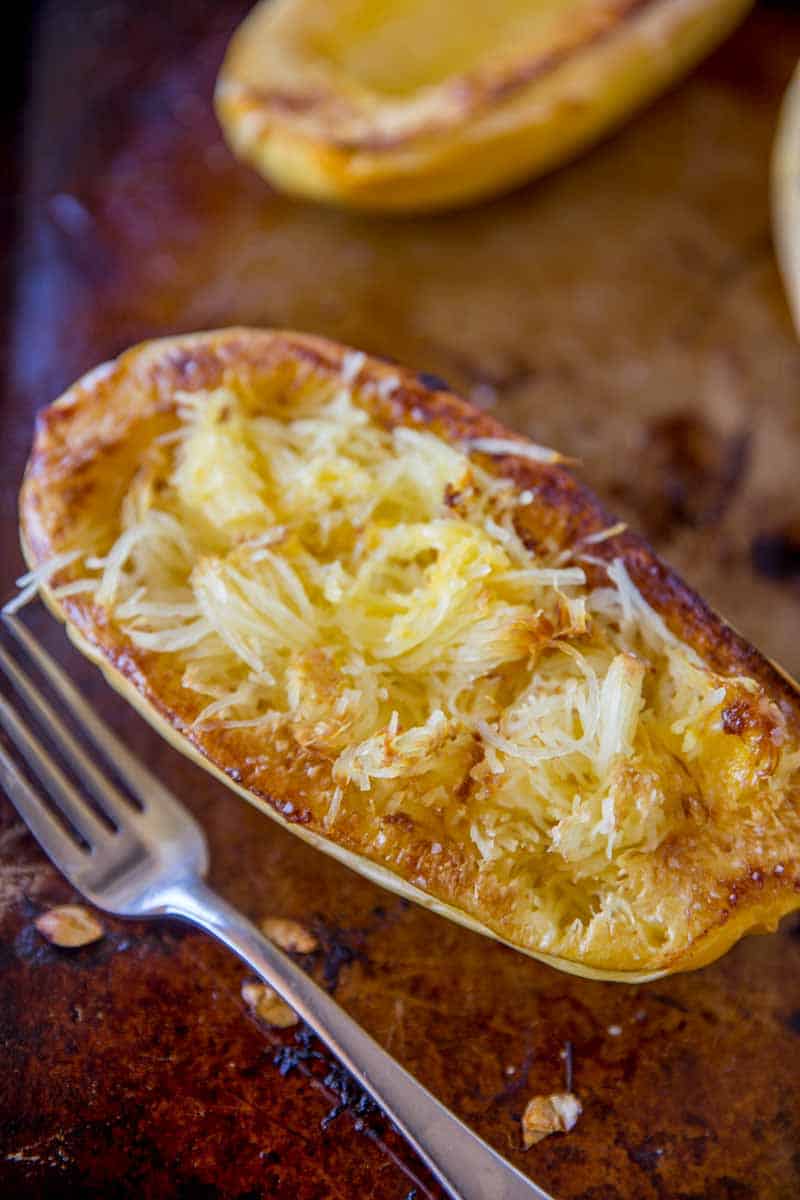 How long can you keep spaghetti squash:
Cooked:  Refrigerate 

baked spaghetti squash

leftovers and use within three-five days.
Uncooked: At room temperature, you can keep spaghetti squash for 1-2 months until you see signs of spoilage (look below).
Freezing Instructions: You can freeze baked spaghetti squash strands for 4-6 months if you put it in a freezer safe container and remove as much air as possible. I add a bit of oil to the squash to give it a second barrier of protection.
How do you pick a good spaghetti squash:
Golden yellow in color.
Look for one WITH a stem, that is firm and feels heavy for its size.
Avoid ANY cracks in the skin and check for soft spots (this is indicative of a spoiling squash). You want spaghetti squash with a firm, dry rind free of soft spots and cracks.
Avoid any that seem moist or don't have a stem as they may increase the risk of internal spoilage that you may not otherwise feel or see.
If the squash is shiny it is likely not ripe yet, so avoid it.
Baked spaghetti squash may seem like a bit of departure from the most popular recipes on the site. BUT I have some big news brewing that I can't wait to share with you all about some new recipes you're going to love me for in the new year when all your dietary resolutions are strongest. We're up to our eyeballs in development now!
spaghetti squash recipes
A lot of spaghetti squash recipes involve swapping out pasta for baked spaghetti squash because it's healthier for you, and tastes delicious. You feel satisfied without the heavy carbs. Below are some of my favorite "pasta" spaghetti squash recipes!
If you want to try some stuffed baked spaghetti squash recipes my friend Allyson has a few I love! Broccoli Cheese Stuffed Spaghetti Squash and Caprese Stuffed Spaghetti Squash are both hits with our whole family.
Tools Used in this How to Cook Spaghetti Squash tutorial:
Vegetable Peeler: I've been using this peeler for 7 years and it is still as sharp and as easy to peel as EVER. Also, it peels in the thinnest layers so you don't waste food.
Rock 'n Chop Knife: My favorite kitchen tool (the knife I love is the second from the top) I've had it over a dozen years and it is going STRONG.
Sheet Pan: A classic, inexpensive sheet pan that is high quality and can hold up to high temperatures in the oven.


Ingredients
2

spaghetti squash

washed

1/2

teaspoon

kosher salt

1/8

teaspoon

ground black pepper

1

tablespoon

canola oil
Instructions
Preheat the oven to 400 degrees.

Using a peeler, peel a band around the squash (picture a rubber band that goes over the stem) to remove the shiny outermost layer.

Using a heavy knife, slice the squash in half.

Scoop out the seeds and extra fibers in the center.

Season with the salt, pepper and oil and rub it all over the cut side of the squash.

Place cut side down onto a baking sheet and cook for

40-45 minutes

.

Remove from oven, turn over and using an oven mitt to hold it (it will be SUPER hot), scrape out the squash with a fork into spaghetti like strands.
Nutrition
Calories:
181
kcal
|
Carbohydrates:
33
g
|
Protein:
3
g
|
Fat:
6
g
|
Saturated Fat:
1
g
|
Sodium:
373
mg
|
Potassium:
521
mg
|
Fiber:
7
g
|
Sugar:
13
g
|
Vitamin A:
579
IU
|
Vitamin C:
10
mg
|
Calcium:
111
mg
|
Iron:
1
mg