Eggplant Bake is new take on a classic Italian American favorite with savory eggplant slices layered with three cheeses and seasoned marinara.
If you've tried all sorts of pastas and noodles for dinner but really want something outside the box to serve, Eggplant Bake is a simple but tasty recipe to try. The easy meal prep and short cook time make this a fun weeknight meal that is also vegetarian friendly. If you liked this recipe, you should try some of other unusual Italian dinners, like Italian Antipasto Skewers, Easy Calzones, or Cheesy Tex Mex Pasta.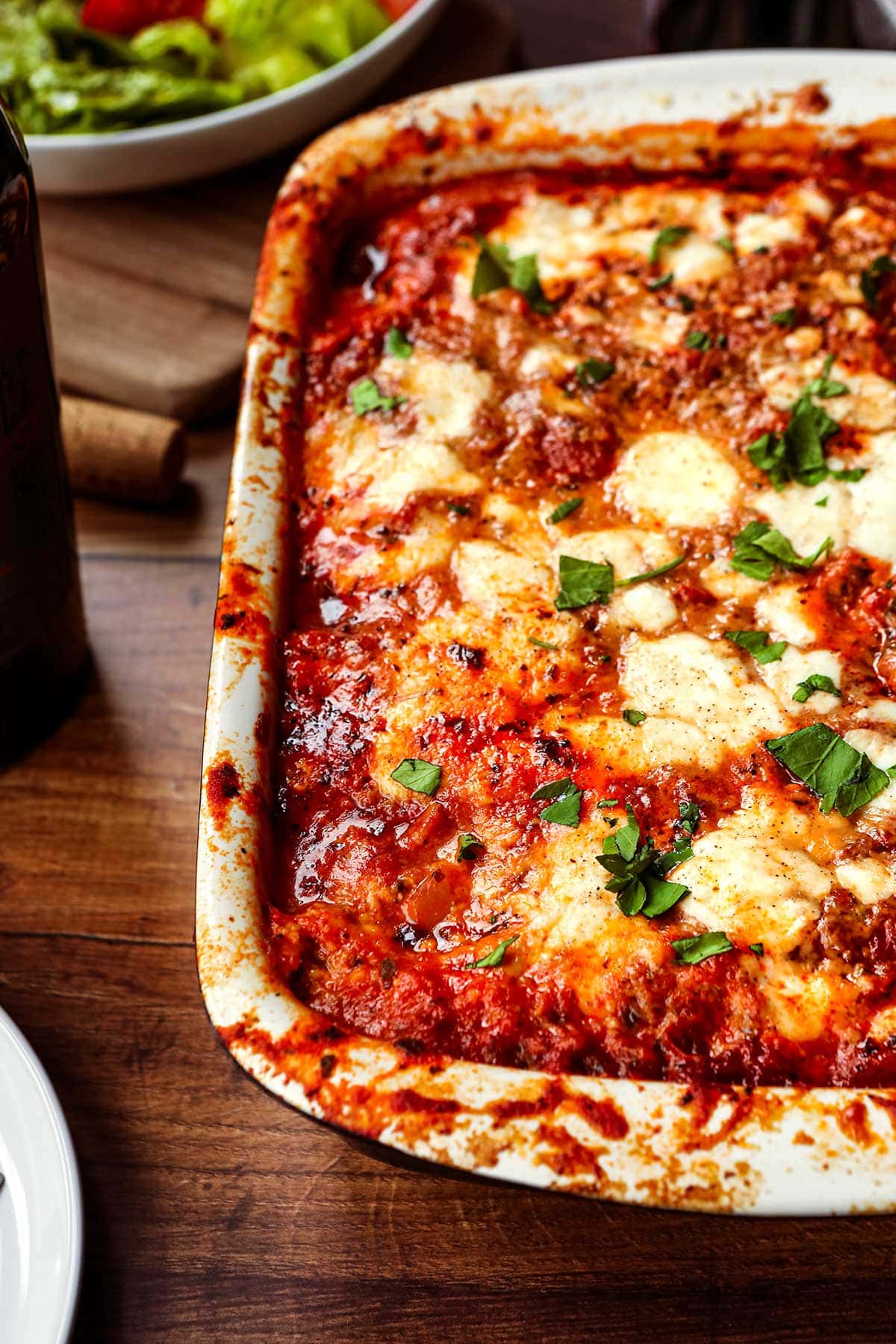 Anyone can make a baked Italian meal out of pasta, but you're missing out if you've never made an Eggplant Bake. Not only is this version hearty, filling, and delicious, it's also a vegetarian friendly version of a favorite Italian American dish that is good for you. 
Eggplant slices are layered with mozzarella, ricotta, and parmesan cheeses. Add marinara sauce that's been seasoned with fresh garlic, onions, and oregano, then it's all baked until it's bubbly, gooey, and delicious.
More Italian Recipes
How to Make Eggplant Bake
Prep: Thinly slice the eggplant and preheat the oven. Get out a wire rack and set the eggplant slices out on it. Add salt and let them sit for about 20 minutes, then flip them over and repeat. This is an important step that keeps the eggplant from getting soggy during the baking process. Once the eggplant is has sweated out some of its liquid, dry them with paper towels and put them on a plate for later.
Marinara Sauce: Heat the oil in a skillet on medium heat. Once it's hot, add your garlic cloves and sauté until aromatic, then add the oregano and onions. Cook until the onions are translucent. Season with salt and black pepper. Add the marinara sauce and mix it until everything is warmed through.
Cheese Mixture: In a medium bowl, mix the egg, parsley, ricotta, and Parmesan Cheese together.
Layers: Spread a layer of the marinara sauce across the bottom of the pan until it's lightly coated. You don't need a lot of the sauce, just enough to keep everything from getting stuck to the dish. Arrange a single layer of the eggplant in the baking dish, then add a layer of cheese mixture, then a layer of mozzarella. Repeat until you've filled the dish. Top the bake with marinara sauce.
Bake: Cover with aluminum foil and put it in the oven. Once it's cooked, garnish it with parsley and serve it up once it is cool.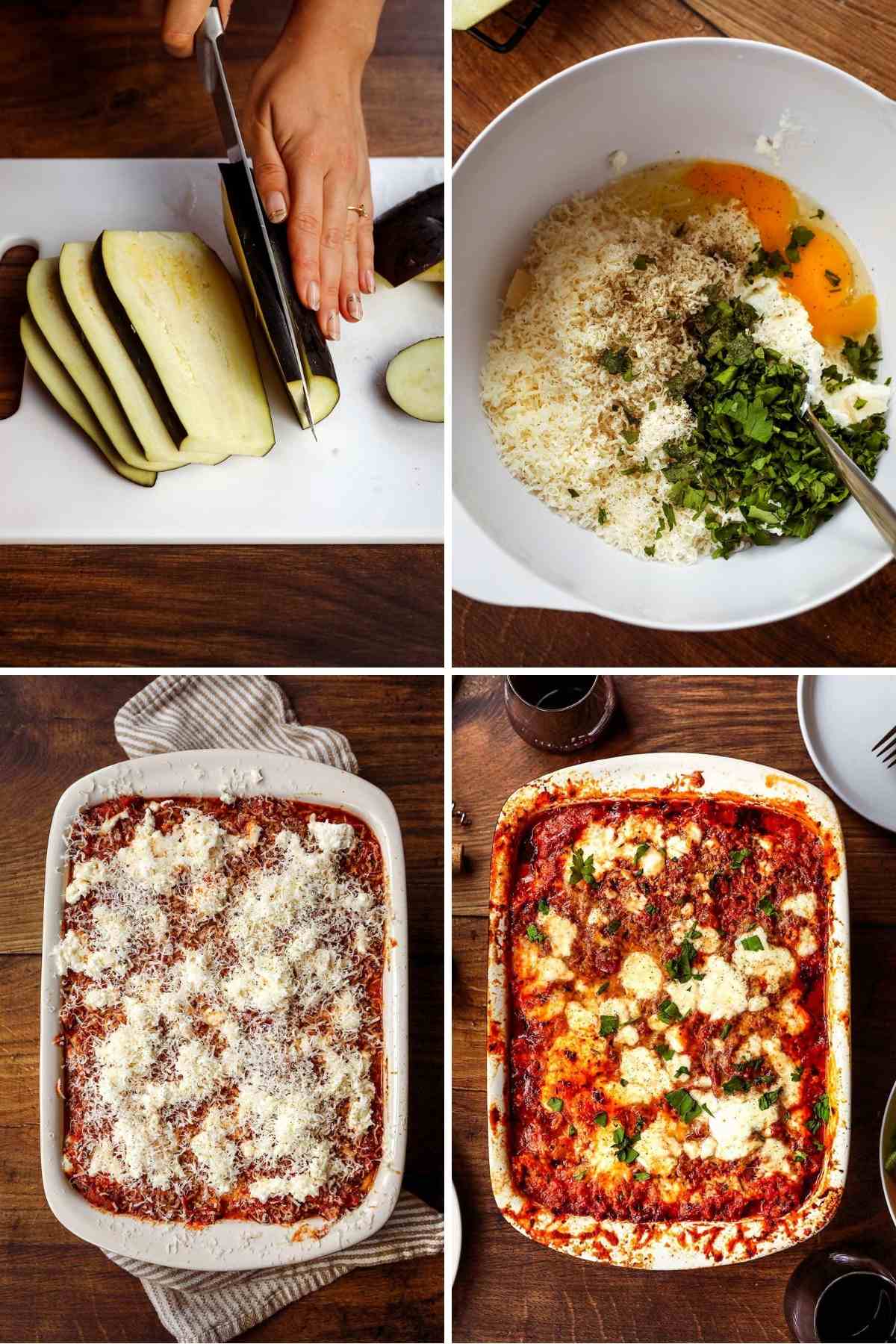 Create a free account to

Save Recipes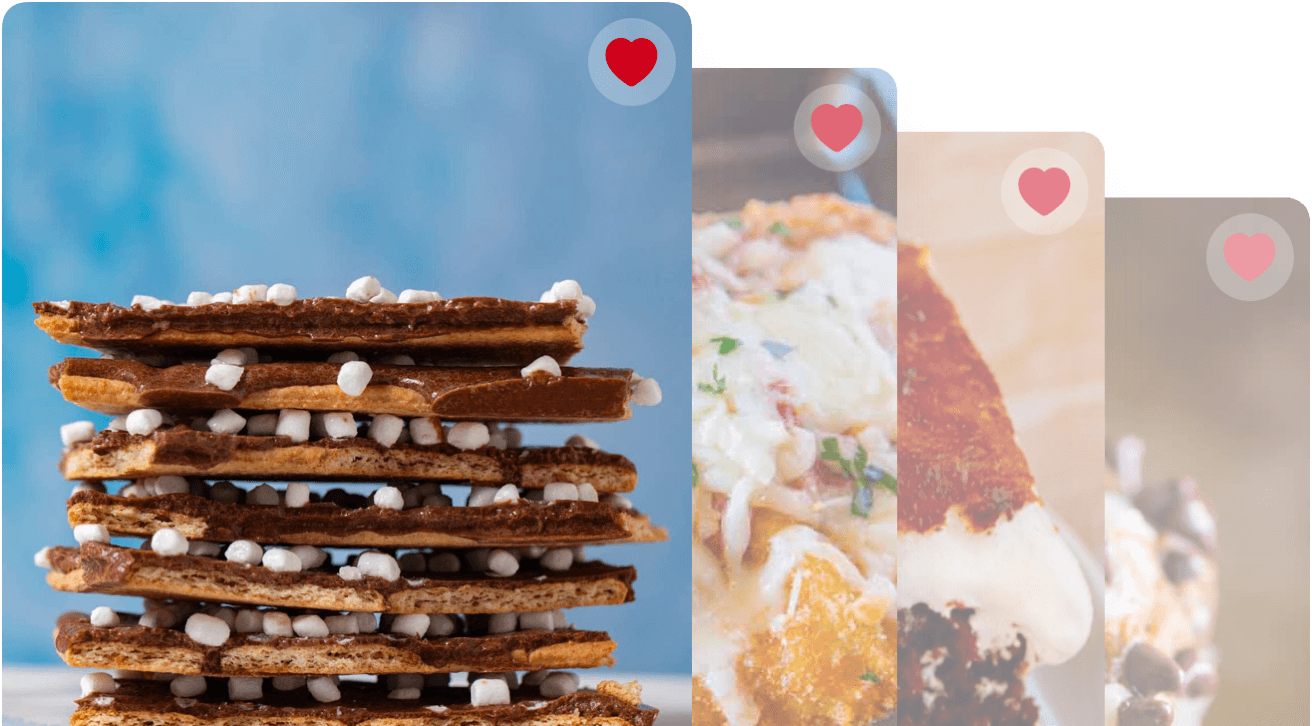 Frequently Asked Questions
What cheeses can be used for Eggplant Bake?
You can use a few other varieties of cheese to get a different flavor and texture from your Eggplant Bake. Some great ones to try are gruyere cheese, fontina cheese, or pecorino cheese.
Can I make this recipe with zucchini?
If you aren't a huge fan of eggplant or just happen to have a lot of zucchini lying around that you are trying to use up, you can slice them up thin and use them instead. The only thing you need to consider is zucchini has a lot more moisture in it and may need to be drained before eating.
Is Eggplant a berry?
Eggplant is a berry (really!), and it is part of the nightshade family. One member of the genus is incredibly lethal, to the point where eating just two berries can kill a person. Potatoes, tomatoes, tobacco, and chili peppers are also members of the nightshade family which made people afraid to eat them for a long time (although tobacco is still super toxic, to be fair). The Italians called eggplants  "crazy apples," or "mala insana," during the renaissance. "Crazy Apple Bake" sounds absolutely delicious.
Variations on Eggplant Bake
Spicy: Add some spice to your Eggplant Bake by sprinkling in some cayenne pepper, or crushed red pepper. You can also add a dash or two of your favorite hot sauce to the marinara sauce as you're preparing it.
Crunchy Topping: If you like a nice crunchy topping on your baked dishes you can mix some panko breadcrumbs with the Parmesan cheese and use that as your last topping layer before you bake the Eggplant.
Marinara Sauce: You might want to try this recipe with your favorite marinara sauce, however you can also play with the flavors a bit and even try some sauces you haven't before, like a vodka sauce, a pink sauce, or even a meat sauce with ground beef, chicken, or pork.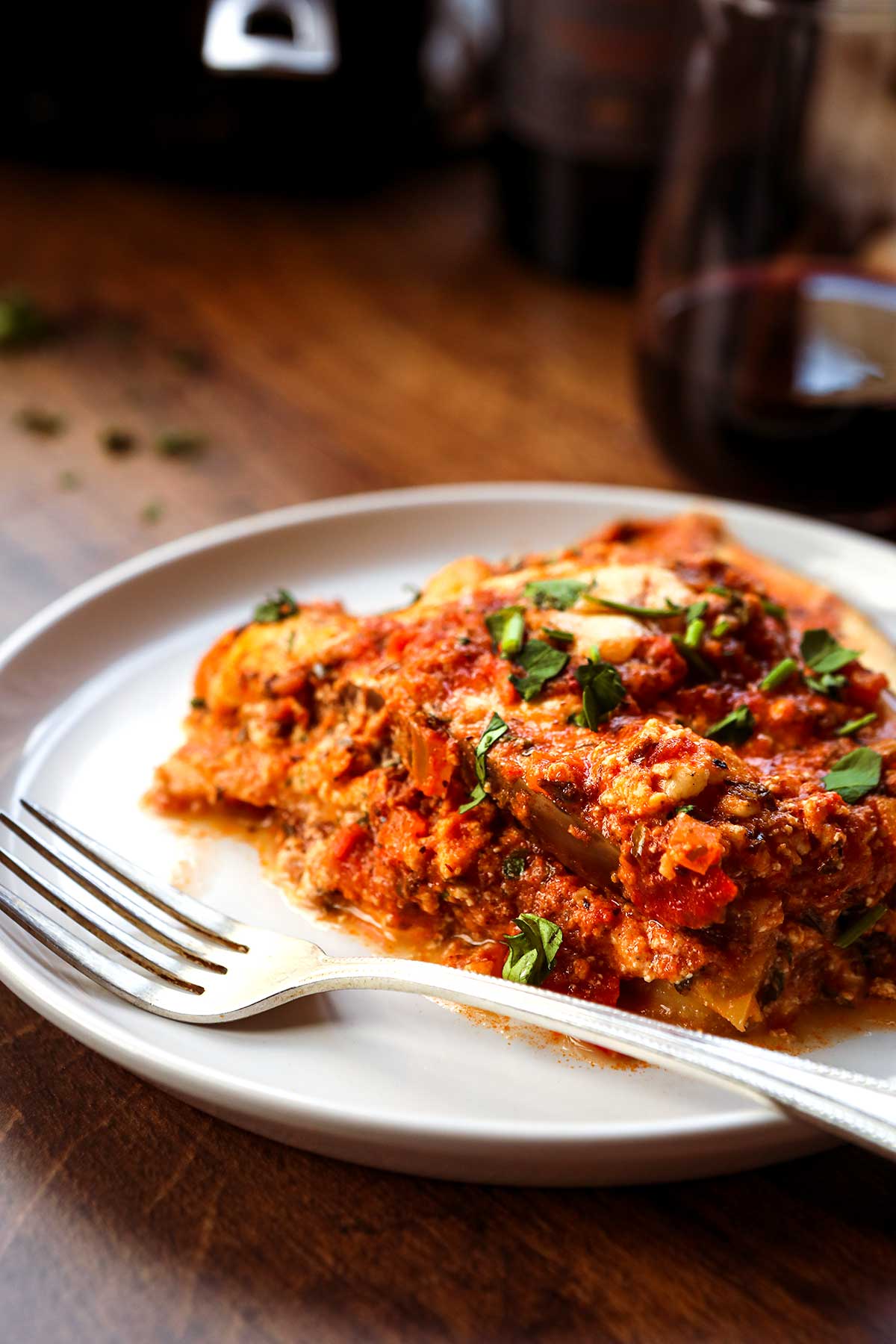 Serving Ideas
Side Dish: This Bake makes a wonderful main dish, but you could also use it as a side dish. Slice into smaller squares and serve Eggplant Bake alongside Baked Chicken Thighs, Crispy Breaded Chicken, or Ribeye Steak.
Individual Servings: Instead of preparing this bake in layers you can make individual servings of Eggplant Bake by place the slices of Eggplant on a cookie sheet, and topping each one with a scoop of sauce and cheese. Bake until bubbly.
Potluck: This dish goes beyond the dinner table at home. It will be a big hit at your next potluck. It's a big crowd pleaser as this is vegetarian, yet a familiar comfort food that everyone wants to dive into.
What to Serve with Eggplant Bake
How to Store Eggplant Bake
Serve: Considering all of the cheese in this recipe, you shouldn't leave the Eggplant Bake out for longer than 2 hours.
Store: Leftovers will be good in the fridge for about 4 days before going bad.
Freeze: Frozen Eggplant Bake is good for about 2 months.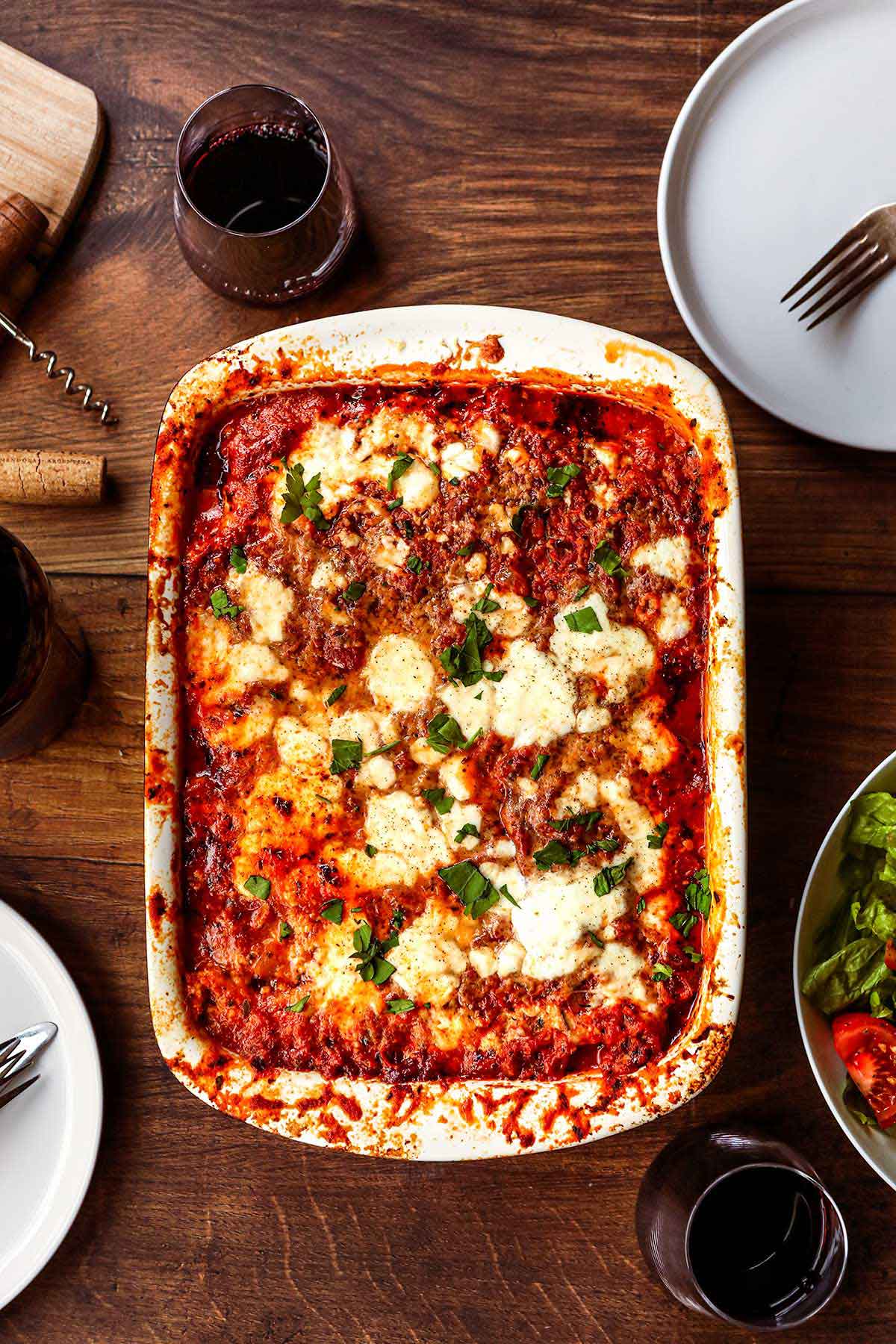 Ingredients
2

medium eggplants

, about 6 to 8 inches long

2

teaspoons

kosher salt

1

tablespoons

olive oil

3

cloves

garlic

, minced

1

yellow onion

, diced

2

teaspoons

dried oregano

6

cups

marinara sauce

8

ounces

part skim ricotta

1/2

cups

freshly grated Parmesan

1

large egg

1/4

cup

fresh parsley

, chopped, plus more for garnish

2

cups

light mozzarella

, shredded
Instructions
Preheat oven to 400 degrees.

Cut ends of eggplants and slice thinly, about ¼ inch thick. Lay slices on a cooling rack and season with salt. Let sit for

20 minutes

. Flip, season again, and let sit for another

20 minutes

. Pat dry with paper towels.

In a large skillet over medium heat, heat oil. Sauté garlic for

1 minute

, then add onions and oregano. Season with salt and pepper and cook until onions are translucent. Add marinara and cook until warmed through.

In a medium bowl, combine ricotta, Parmesan, egg and parsley. Season with salt and pepper.

In a 9×13 baking dish, spread a thin layer of marinara sauce, a single layer of eggplant slices, a layer of ricotta mixture, then a layer of mozzarella; repeat layers. Top last layer of eggplant with marinara sauce, mozzarella, and Parmesan.

Cover with foil and bake for

35 minutes

, then garnish with parsley and serve.
Nutrition
Calories:
202
kcal
|
Carbohydrates:
17
g
|
Protein:
13
g
|
Fat:
11
g
|
Saturated Fat:
5
g
|
Polyunsaturated Fat:
1
g
|
Monounsaturated Fat:
4
g
|
Trans Fat:
0.002
g
|
Cholesterol:
44
mg
|
Sodium:
1420
mg
|
Potassium:
736
mg
|
Fiber:
5
g
|
Sugar:
9
g
|
Vitamin A:
1092
IU
|
Vitamin C:
15
mg
|
Calcium:
278
mg
|
Iron:
2
mg