Crispy Thin Onion Rings (With a Secret Ingredient!)
This post may contain affiliate links. Read my disclosure policy here.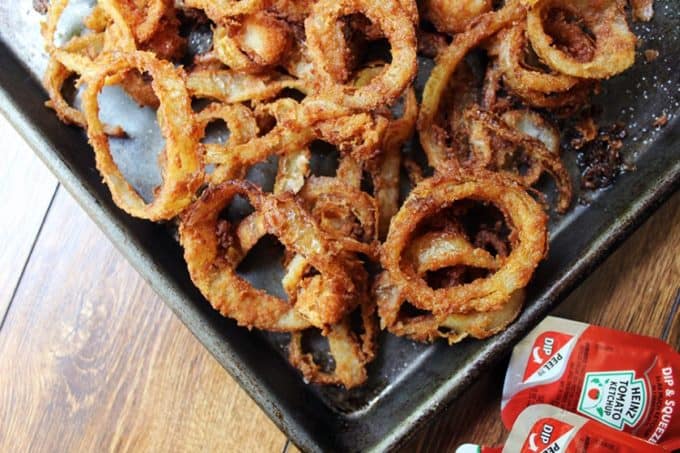 Is it too early to give up on New Year's Resolutions yet? Yes? Darn. Okay, fine… at least these aren't beer battered onion rings, so that makes them slightly healthier right? Crispy Thin Onion Rings are just like the ones you'd find in your local steakhouse. Covered in a thin layer and shatteringly crisp, you'll want to make a whole second batch just to be willing to share.
Onion rings are a side dish most people don't make at home because they aren't really a popular frozen food in the grocery store, they aren't nearly as awesome baked and people tend to be a bit fearful of frying.
To make these onion rings you really don't need any special equipment. I use my trusty cast iron skillet, tongs and a couple of large ziploc bags. The rings are thin enough you only really have to care about the color of the outside, there isn't a batter to be concerned with cooking through. For the pancake mix I use a fancier variety than you need to (a gift from my husband's aunt, she loves sending us Williams-Sonoma mixes), but Bisquick works great for this recipe. I have made it with Bisquick probably…oh I would guess 20 times? It is delicious. I think any pancake mix would work for you for the most part, this recipe is very hands off and easy.
Also if you go the lazy route like me and use the two ziploc bags you won't have pancake mix spilling or any mixing bowls to wash! There is a New Year's Resolution I am helping you keep, keeping the house as clean as possible!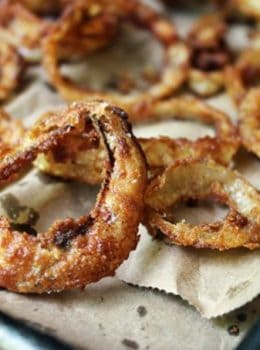 Crispy Thin Onion Rings (With a Secret Ingredient!)
Easy delicious steakhouse-style Crispy thin onion rings! Made with just five ingredients and so good you'll eat most of them as you cook them!
Prep Time 40 minutes
Cook Time 10 minutes
Total Time 50 minutes
Ingredients
4 medium white onions
1 cup milk , whole or 2%
3 eggs , beaten
1 tsp salt
2 cups pancake mix
Canola Oil , for frying
Instructions
Slice your onions into rings 1/4 inch thick.

In a large ziploc bag as the onions, eggs, milk and salt.

Close the bag TIGHTLY with some air in it so it is kind of like a pillow and carefully shake until all combined.

Let the air out, reclose and put in the fridge for as long as you can up to 2 hours.

Drain the onions and toss with the pancake mix (ok I will be honest here I use a second large ziploc bag, add the pancake mix and onions and shake....NO dishes or mess! Only a frying pan to wash!

Using tongs tap excess pancake mix off onions against the side of the bag.

In a cast iron skillet add oil 1/3 the way up the pan (I use my skillet, if you use a pot, add a couple inches worth of oil)

Fry rings until golden brown 1-2 minutes.

Drain fried onion rings on brown paper bag or on a cooling rack.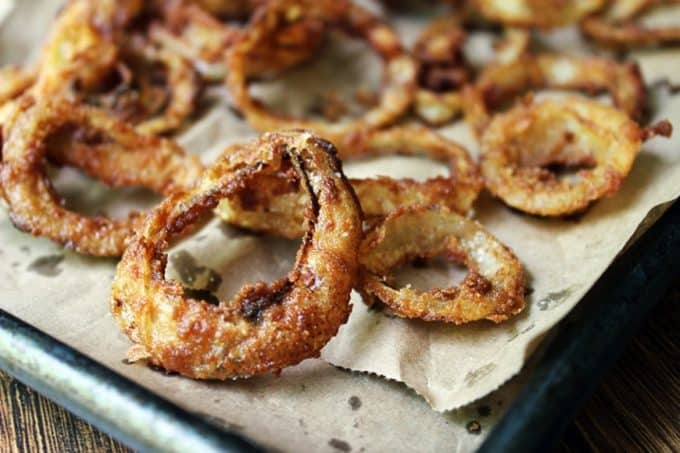 Dinner, then Dessert, Inc. owns the copyright on all images and text and does not allow for its original recipes and pictures to be reproduced anywhere other than at this site unless authorization is given. If you enjoyed the recipe and would like to publish it on your own site, please re-write it in your own words, and link back to my site and recipe page. Read my disclosure and copyright policy. This post may contain affiliate links.