All the flavors of your favorite Italian Antipasto salad on one deliciously easy skewer! Pepperoni, tortellini, pepperoncini and artichoke heartini (kidding, but c'mon it was on a roll!) drizzled with balsamic glaze. Your party guests will love you for these.
Not sure about you guys, but the holiday parties are officially underway here! I've helped create a number of them and have attended a few already and I've seen a pretty similar thread running through them.
People love food on a stick. I'm telling you in the eight parties I've been to since Labor Day (not including the handful of kids birthday parties where sticks are frowned upon), six of them have had food on skewers.
So I took an informal poll which consisted of me hanging by the skewers and interviewing people with a skewer as a mic (ok ok I only did that with my husband because I only make that much a fool of myself in front of him) and basically just asked why they like them.
Quick answer was that they were fork free which made them easier to eat. That they had multiple flavors so it wasn't as boring as the same bite over and over again and that it was easy to get a bit of everything without negotiating a large spoon around a bowl.
DONE.
So I came home and began planning the party were having and came up with some skewers. Some are "duh" like the caprese skewers with mozzarella, basil, tomato and balsamic glaze. One was playful with the Halloween Candy Skewers (these were a HUGE hit at a party and were the very first thing to go… even before triple Oreo cupcakes).
Today's skewer seemed like a no brainer to me as I was walking through my favorite local grocery store and passed the antipasto bar they had in the prepared food section. I grabbed a container and got to work assembling my favorite mix of flavors.
The result is easy, with the most time being put into boiling the prepared tortellini (I use this one from Italy), and delicious! The spice of the pepperoni, the sweet vinegar of the balsamic glaze, the tender tortellini filled with ricotta and spinach, the briney flavor of the pepperoncini and the artichoke hearts. This skewer is going to be a solid contender for favorite bite at your next party!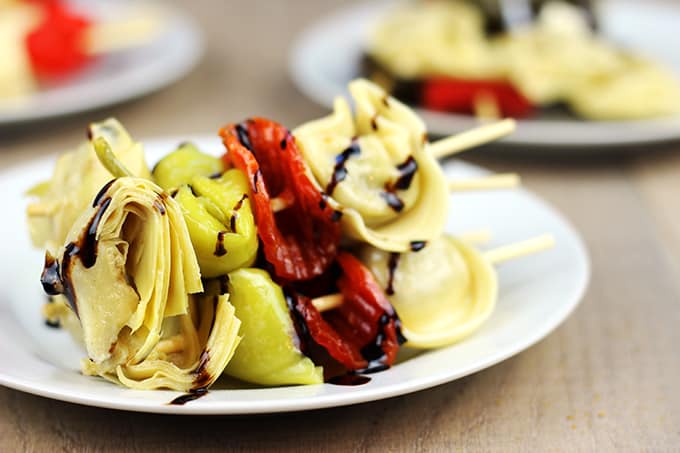 PS We need to discuss balsamic glazes for a second here. I am a HUGE fan of them, having made my own many times, the ease and lack of overpowering vinegar smell in your kitchen is more than enough to hopefully convince you to buy yours pre-made. It is also significantly less expensive. The amount of vinegar it takes to cook down into a glaze will cost you more than this glaze which is fantastic.
In my humble opinion it is better than any other that I have tried, especially the Trader Joe's brand. I bought that thinking everything they sell is so delicious this must be too. But the flavor of their glaze is sort of whomp whomp, definitely nothing to write home about. It tastes dull, whereas this one tastes like a delicious balsamic glaze punch to the face! Trust me, give it a shot and if you don't like buying online, I know most major grocery stores carry this brand too. (No sponsored shout out here, I've been using this brand for almost a decade now and I <3 them).


Ingredients
24

tortellinis

(I use Spinach and Ricotta, sausage is also a great flavor)

24

slices

Pepperoni

(extra thick cut spicy)

24

Italian Pepperoncinis

(piece them and squeeze out the liquid)

24

artichoke heart quarters

1/4

cup

balsamic glaze

2

tablespoons

butter
Instructions
Cook the tortellini to the manufacturers specifications.

An optional but delicious step, brown some butter in a pan and toss the cooked tortellini in it.

To brown butter melt over medium heat, it will begin to foam as it melts. When the solids drop to the bottom of the pan and it looks like a very light colored tea, you can turn it off so it doesn't start to burn. It is best to use a light colored pan for this so you can see the color of the butter, but if not judge it by putting a spoon into the butter.

For the pepperoni, to bring out the flavor I let them brown in a pan for a couple of minutes to get them a bit crispy and to lose the flavor of the cold pork fat.

Add your items to your skewer, one per skewer in any order you would like.

Drizzle your balsamic glaze over the top.
Nutrition
Calories:
75
kcal
|
Carbohydrates:
4
g
|
Protein:
1
g
|
Fat:
6
g
|
Saturated Fat:
1
g
|
Cholesterol:
5
mg
|
Sodium:
213
mg
|
Potassium:
31
mg
|
Fiber:
1
g
|
Sugar:
1
g
|
Vitamin A:
493
IU
|
Vitamin C:
17
mg
|
Calcium:
12
mg
|
Iron:
1
mg